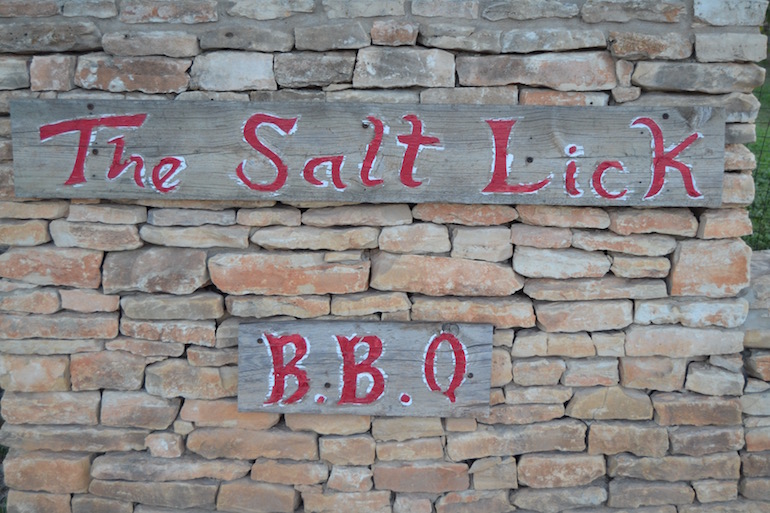 BBQ is arguably one of my favorite meals. We rarely make it at home because 1) it can be a hassle to make, and 2) it's not always super healthy for you. Naturally, I had to try some Texas BBQ while in Austin.
Before I jump into my experience at the Salt Lick BBQ, let me give you a little background on my friend Rebecca. Rebecca is an Austin native, and throughout the school year, she'd complain about how Indiana didn't have good BBQ. Having grown up in the Indianapolis area, I knew that to be wrong, but she wouldn't believe me. She'd say, "Claire, you just have to try Texas BBQ to understand what I mean."
Now that I've tasted Salt Lick BBQ, I know what she means.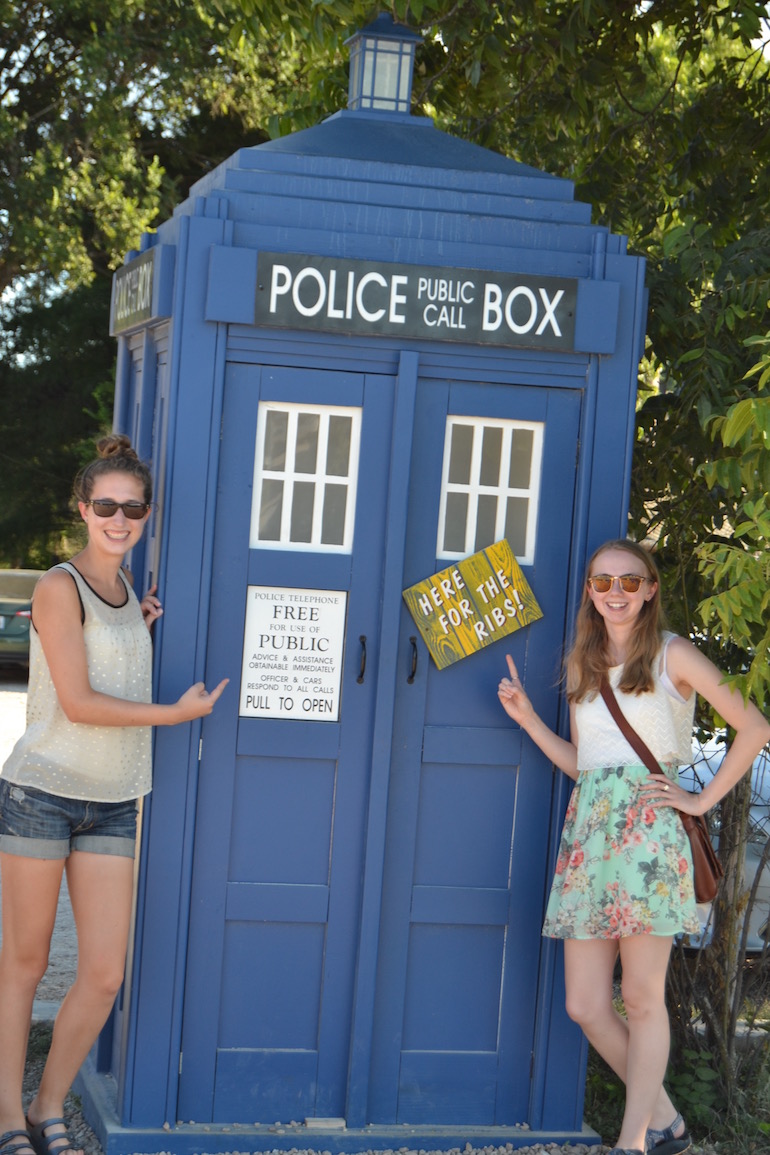 Our trip to the Salt Lick BBQ started off on the right foot. The Doctor was visiting from out of town, which was the first good sign of the evening. I mean, c'mon, if a man who's tried cuisine from every time period bothers to swing by for some BBQ, then it must be some damn fine cooking.
The second good sign of the evening was walking into a room full of people happily chowing down on any number of BBQ sandwiches, ribs, and what looked like some killer coleslaw.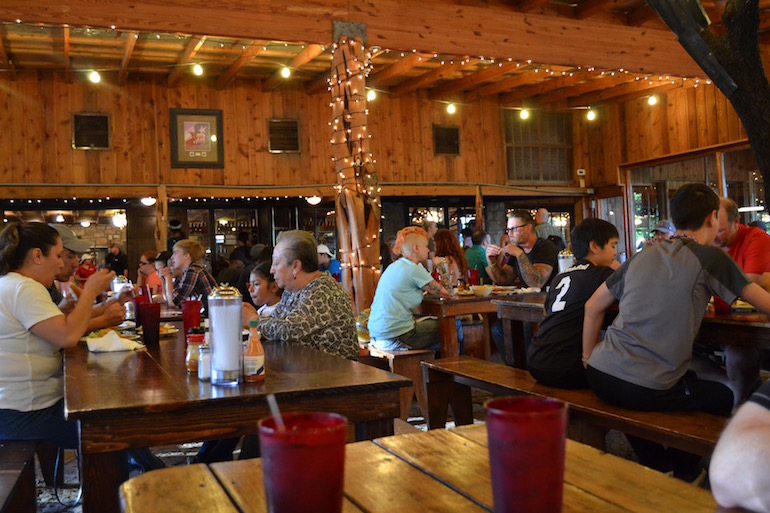 At the Salt Lick BBQ, you can see the meats being cooked before your very eyes. Everything is done over an open pit in the kitchen, and the entire place smells heavenly. For dinner, I had the pork ribs, which came with baked beans, coleslaw, and potato salad. The table was also given the fluffiest bread I've ever had, which tasted amazing with a drizzle of their homemade BBQ sauce on it.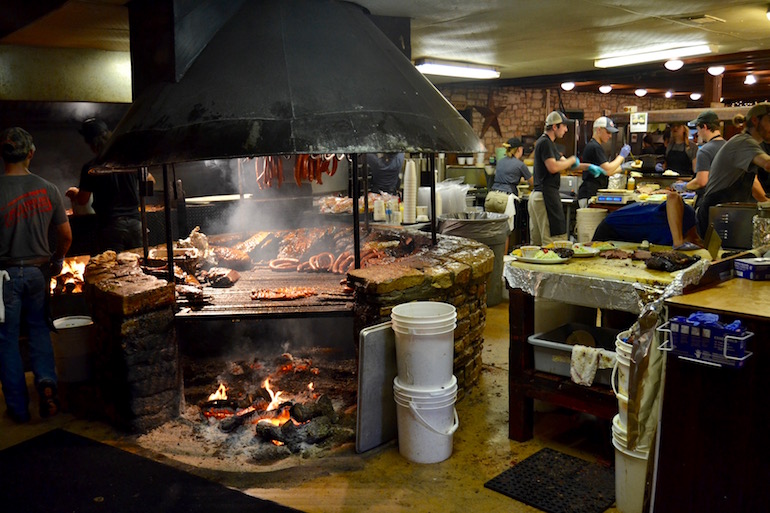 Nothing at the Salt Lick tastes like you'd imagine it to (at least, not if you're from the Midwest—I'm not sure how you all take your BBQ). The ribs were melt-in-your-mouth tender, and the homemade BBQ sauces (spicy and regular) tasted a bit like honey mustard. It sounds a bit odd, I know, but the smokiness of the ribs paired with the sweet mustardy BBQ was such a unique flavor combo and tasted incredible.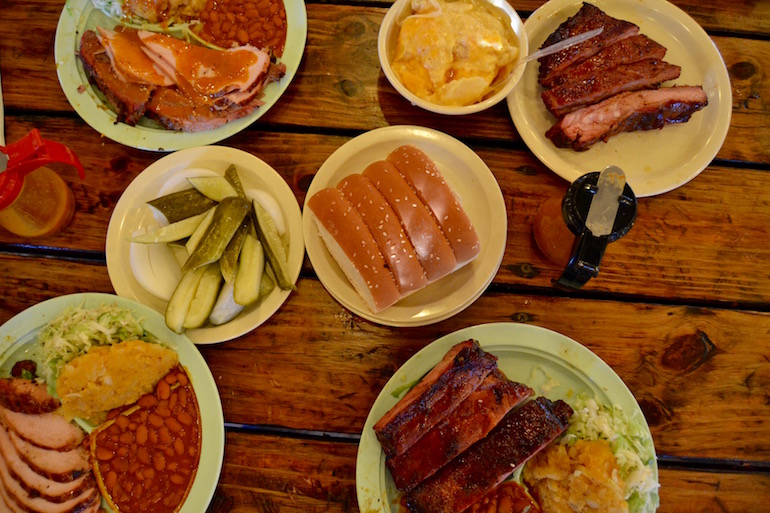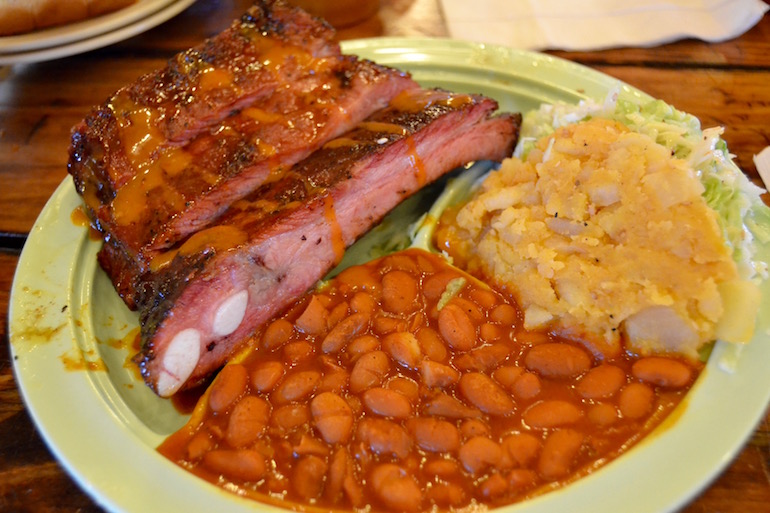 The coleslaw had a vinegar-based dressing, which kept it from sitting heavily in the stomach. The potato salad was pretty standard as far as ingredients go, but was obviously freshly made and might tasty. The baked beans really stole the show for me though, because they were incredibly smoky and tasted rather like refried beans. I'm not sure if this is a Texas thing or what, but I highly recommend trying these bad boys if you're ever at the Salt Lick BBQ.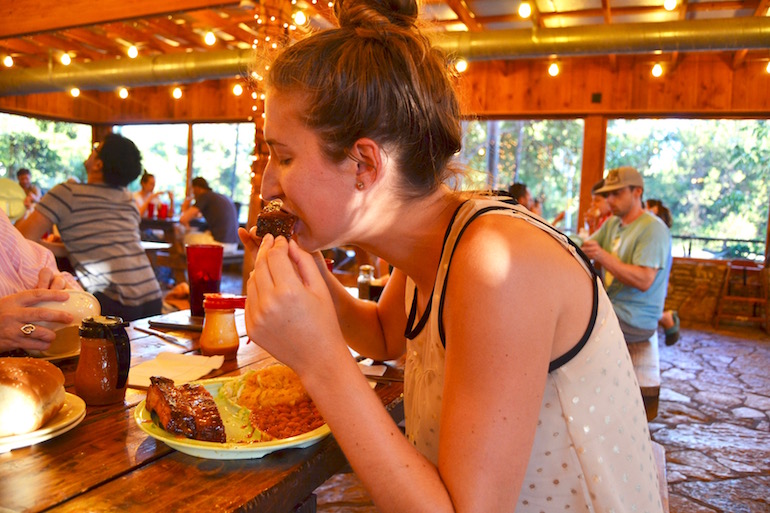 After washing down our incredibly filling dinner with a few glasses of iced tea, we wandered around the Salt Lick property. Rebecca's family explained how it had grown from a one-man operation to a Texas-wide favorite in a matter of years. There's also a small vineyard on-site where the restaurant gets grapes for its wine.
If you'd rather eat your BBQ in the summer air, be sure and snag a table outside. The inside seating is just as good, but it's a tad bit noiser and you can't hear the live music as well.
All in all, the Salt Lick BBQ is a must-visit when in Austin. Make sure and bring some cash though, as the original location is cash only. It's also BYOB, so don't forget your favorite tipple!
Are you a BBQ fan? What's your must-have side dish? I'm a coleslaw girl myself, but I've never been one to turn away delicious food of any kind.
Signing off,
Claire