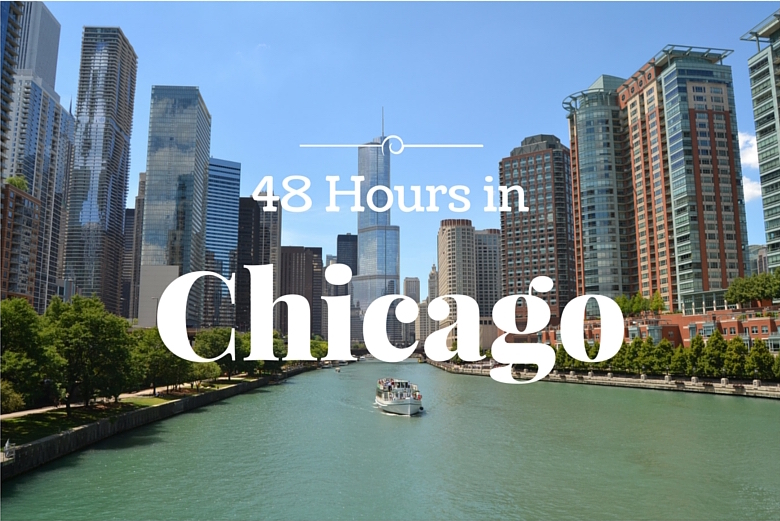 As you probably saw on my Instagram, I spent the weekend in Chicago with my friend Julia. She's interning at UChicago this summer (super swanky, I know), so naturally I drove up to visit her in her cool new digs. We had a whirlwind weekend filled with lots of fun and even more food. This 2-day guide is catered more towards the summer, as that's when I visited, but you can easily edit this to fit your travel needs.
If there's anything you think I left out that's a Chicago must-see, feel free to leave me a comment with your city faves!
Day 1: Lincoln Park Zoo & Magnificent Mile
You know what they say: breakfast is the most important meal of the day. Hit up Eleven City Diner in Lincoln Park for breakfast. Their brunch is fantastic, and the portions are the size of your face. Unless you plan on skipping lunch (which I don't recommend), you might want to split your breakfast with a travel buddy.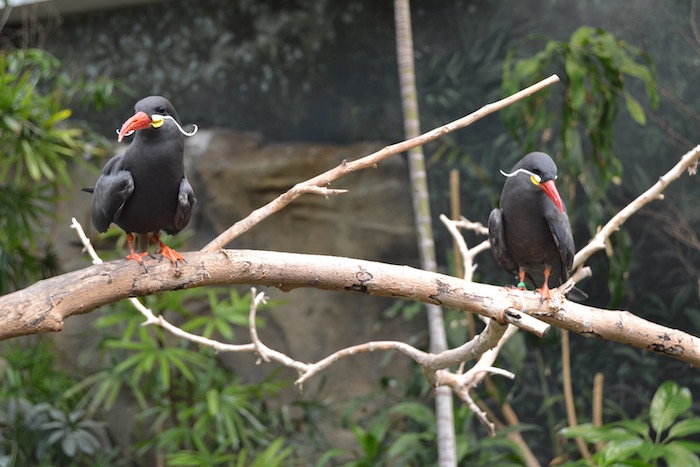 After breakfast, walk a few blocks Southeast to the Lincoln Park Zoo. The zoo is totally free and well worth visiting. My favorite exhibit was the cat house, but after my last post are you really that surprised? Lincoln Park Zoo also has a phenomenal bird exhibit and gorilla enclosure. The zoo will take you a good 3+ hours to explore, so plan on having a late lunch (which is no big deal after a huge breakfast at Eleven City Diner).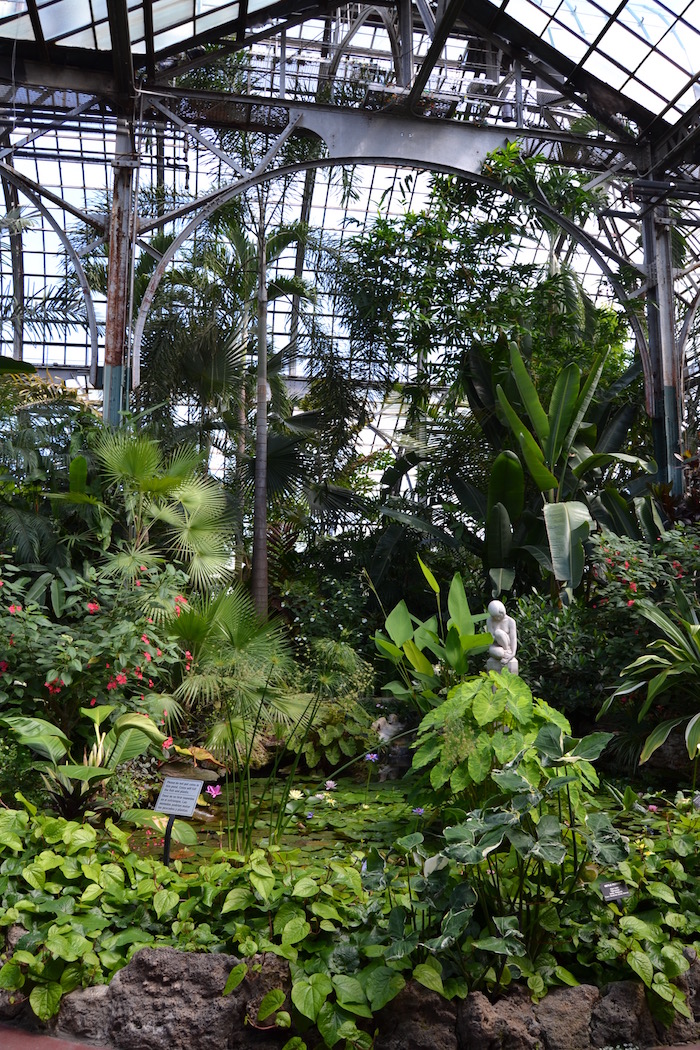 After the zoo, be sure and make a pit stop at the Lincoln Park Conservatory, which is not even 20 feet from the zoo's back entrance. Entrance to the conservatory is also free and your stop won't take you but half an hour to enjoy (unless you're a huge botanist; in which case, plan for more time).
My favorite space in the conservatory is the fern room. Signs reminding you that these ferns belong to the age of the dinosaurs greet you at the door and foreshadow the coming mini-dinosaurs that dot the entire display. Julia and I got a kick out of the dinosaur displays and made it a game to spot as many as we could (the pterodactyls hanging from the ceiling threw my count off).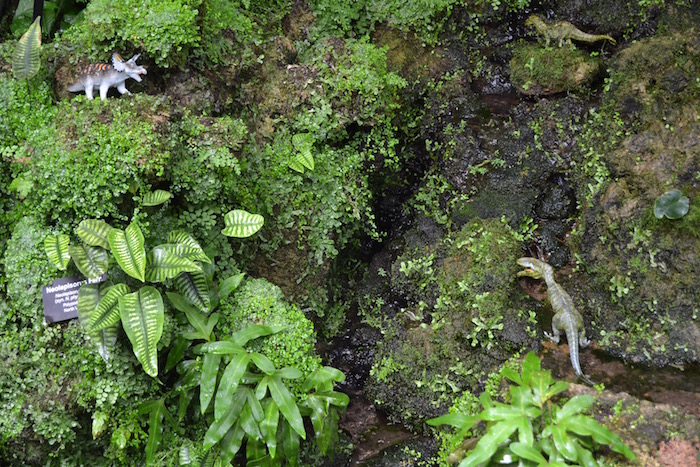 After a morning of letting your inner child run free, walk (or uber) the 2-ish miles to Lou Malnati's for a few slices of Chicago's signature deep-dish pizza. Now, I need to make a confession. I kind of hate deep-dish pizza; it's too cheesy and tastes kind of like grease to me. With that said, I loved the pizza I had at Lou Malnati's. There was the perfect crust-to-cheese ratio on my slice, and it tasted heavenly. As it turns out, I've been eating crappy deep-dish my whole life without knowing it!
If you still have room for more after your pizza, walk to Amorino's for a cup of to-die-for gelato. Be warned, this gelato is a bit pricey ($5 for a small cup), but it's so good.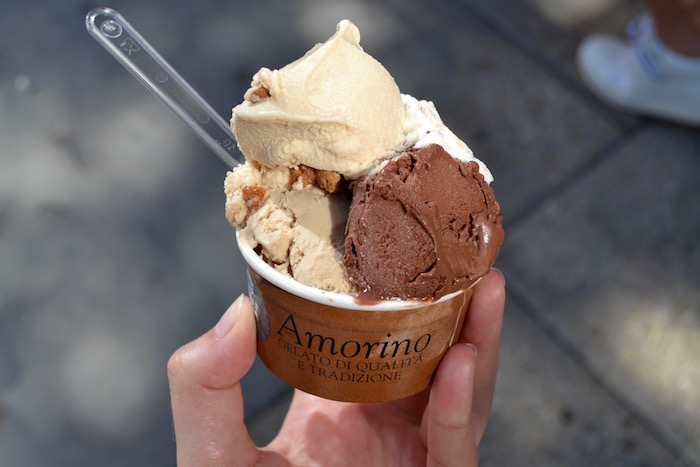 From here, you're in the perfect spot to walk the few blocks to the Magnificent Mile and spend the rest of your day window shopping. After buying a few gifts for your favorite blogger (wink wink), you'll have made your way to Millennium Park, where the famed Bean sits. Snap your obligatory tourist photos and rest your feet before heading out for dinner at Shake Shack.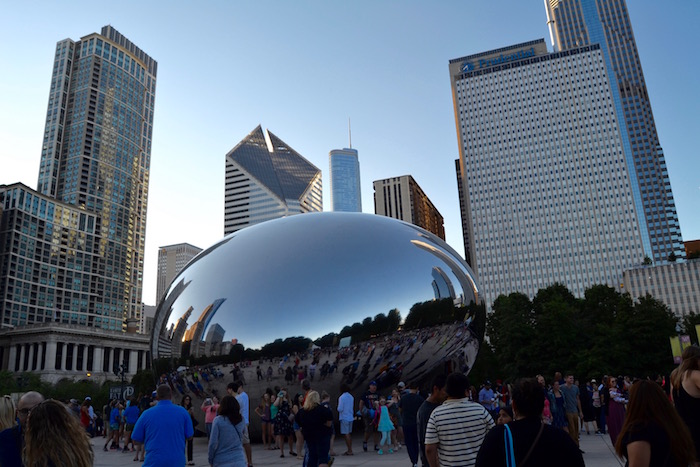 I know what you're thinking: Shake Shack? Really? Yes, I know it's a chain, but it's an east coast thing and most folks to the west have never had it. As such, it's your duty to try their burgers at least once (and the shakes and fries and…well, just try as much as possible).
If you're not totally exhausted after dinner, head on over to Grant Park to see if there are any free concerts going on. Julia and I stumbled upon a free Cole Porter concert being performed by the Grant Park Symphony Orchestra and had an amazing evening in the park.
Day 2: Museum of Science and Industry & Navy Pier 
The Museum of Science and Industry will likely take you all morning and into the early afternoon. As such, you'll probably want to get there when it opens (around 9:30am) and sneak a granola bar into your bag as a snack for later.
For breakfast, I'd recommend grabbing a bagel and some fruit from a local grocery store (my go-to where I stayed was Whole Foods). The admission to the museum is a bit steep ($18), so don't feel like you need to pay for an expensive breakfast before setting out.
The Museum of Science and Industry is absolutely amazing. Much like Munich's Deutsches Museum, the Museum of Science and Industry has an array of exhibits ranging from a realistic coal mine to a (miniature) fairy castle. It's one of those rare museums that has something for everyone and that somehow makes technology a fun experience for even the most avid science haters (i.e. me).
For lunch, make your way over to Navy Pier to eat a massive burger at DMK Burger Bar (I'd recommend taking an Uber—it's only a few bucks if you opt for the carpool option). DMK is a Chicago staple and has a few locations across the city. Chicago Magazine named DMK's French fries the best in Chicago, if that tells you anything about the quality of this place.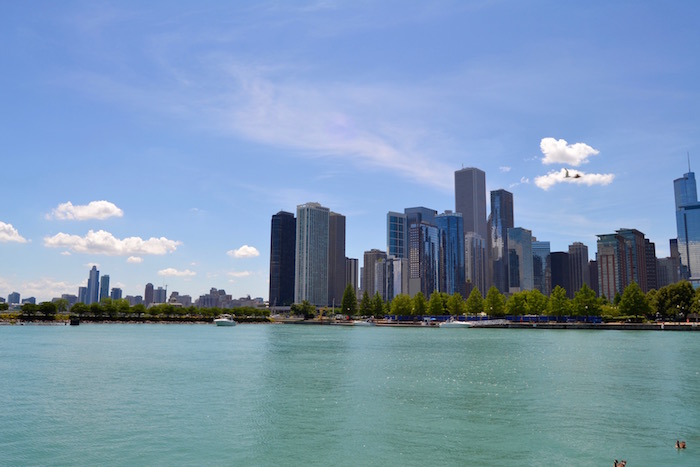 After lunch, take a relaxing stroll along Navy Pier. If you're up for it (and have some extra cash to burn), take a spin on the Ferris wheel to get an epic view of the city. If you're looking to save some cash, just walk to the end of the pier and you'll get a great view of the skyline as well.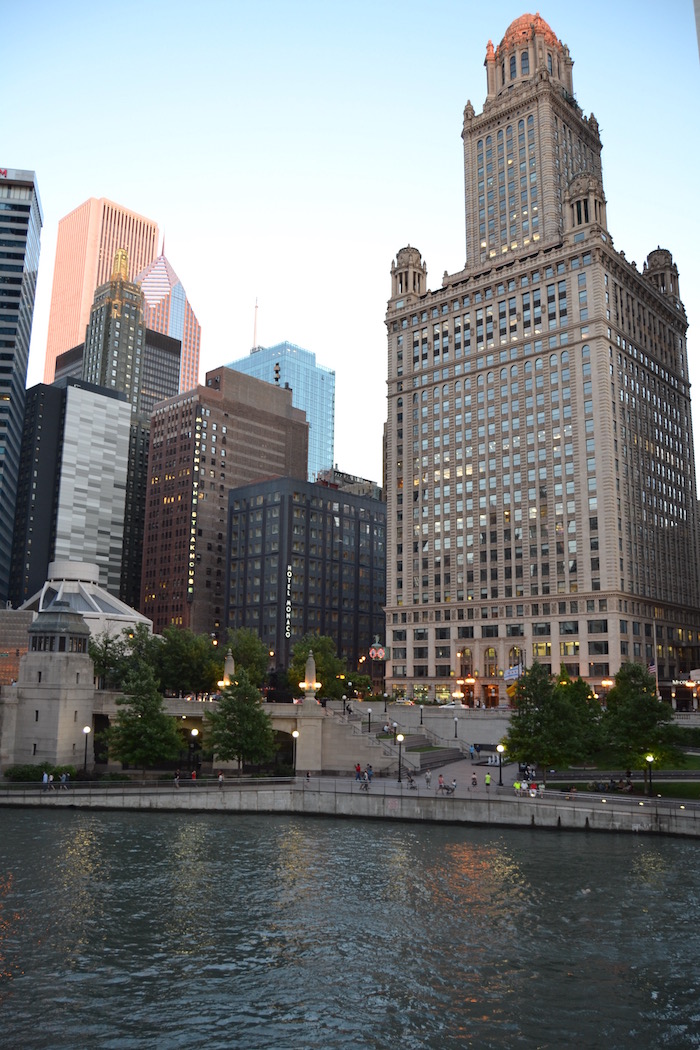 By now, you'll have seen the main attractions in Chicago—meaning you're free to do as you please. I personally love wandering along city streets and just taking in the skyscrapers. If you're up for more walking, you can access the River Walk easily from Navy Pier. The riverwalk is a great place to see the city from a new perspective and to just chill out for a little while.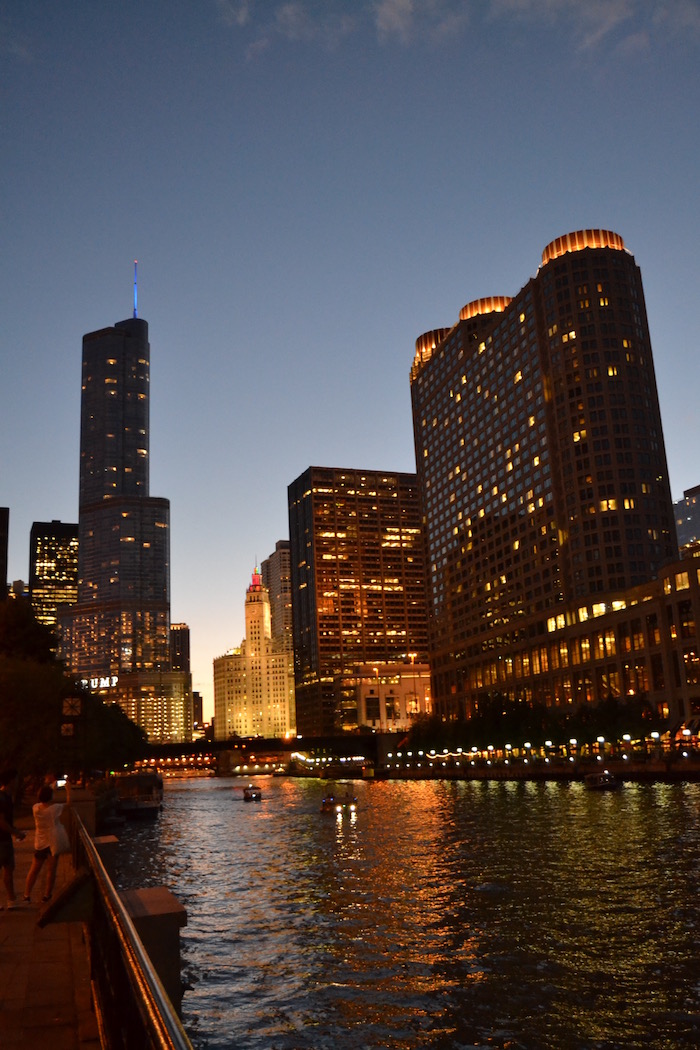 Since it's your last evening in Chicago, be sure and end your stay with a killer dinner. Quartino's has some of the best Italian food I've ever eaten (including all the yummy food I ate in Italy). Quartino's is deceivingly affordable, despite its fancy interior. This is the only Italian restaurant I'll order spaghetti and meatballs at (because, hello? I can make that at home).
Something about their spaghetti is ridiculously good—it must be because its hand-made pasta. If you have room left for dessert I highly recommend getting either the Coppa al Banana (caramelized banana and vanilla gelato—yum!) or the Zeppole (Italian doughnuts dunked in dark chocolate).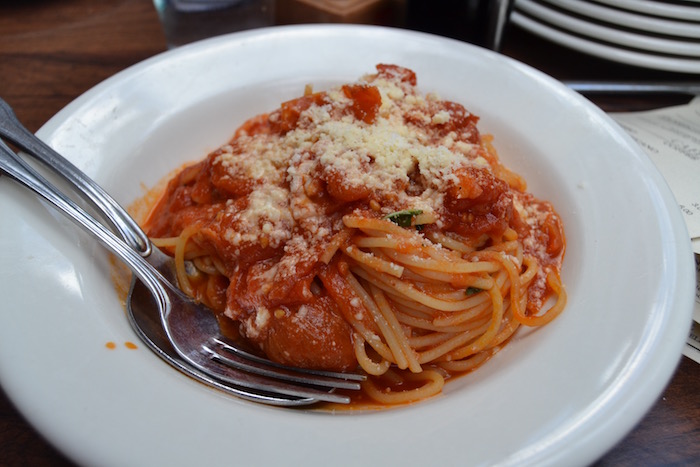 Hopefully you found this guide helpful! If you think I left anything crucial off this guide, leave me a comment letting me know. And if you've been to Chicago before, I'd love to know what your favorite things to do are.
Signing off,
Claire