Sorry for my absence on the blog last week; I've been busy with last-minute get togethers with my family and gathering up all the things I need to bring with me to Germany. Luckily for me, the wait is almost over! I leave tomorrow, and I don't think it's really hit me yet that I'll be out of the country for a few months. I feel oddly calm…
Anywho, as I was packing I thought I'd take some pictures to show you guys my preparation for this adventure. That being said, I didn't take as many photos as I probably should have because, let's face it, shoving enough clothes to last you five months into a suitcase isn't exactly a glamorous looking process. Hopefully you'll be able to glean some good packing tips from this post. In a nutshell, here's the method to my madness:
1. Pick your shoes
Comfort is key here, but as we all know, tennis shoes aren't exactly the height of European fashion at the moment. I opted for my comfiest boots and two pairs of canvas sneakers for casual days. I'm also bringing along my tennis shoes for my workouts and a pair of weather-proof boots for when it rains. Laying your shoes out first will help you choose your outfits more wisely.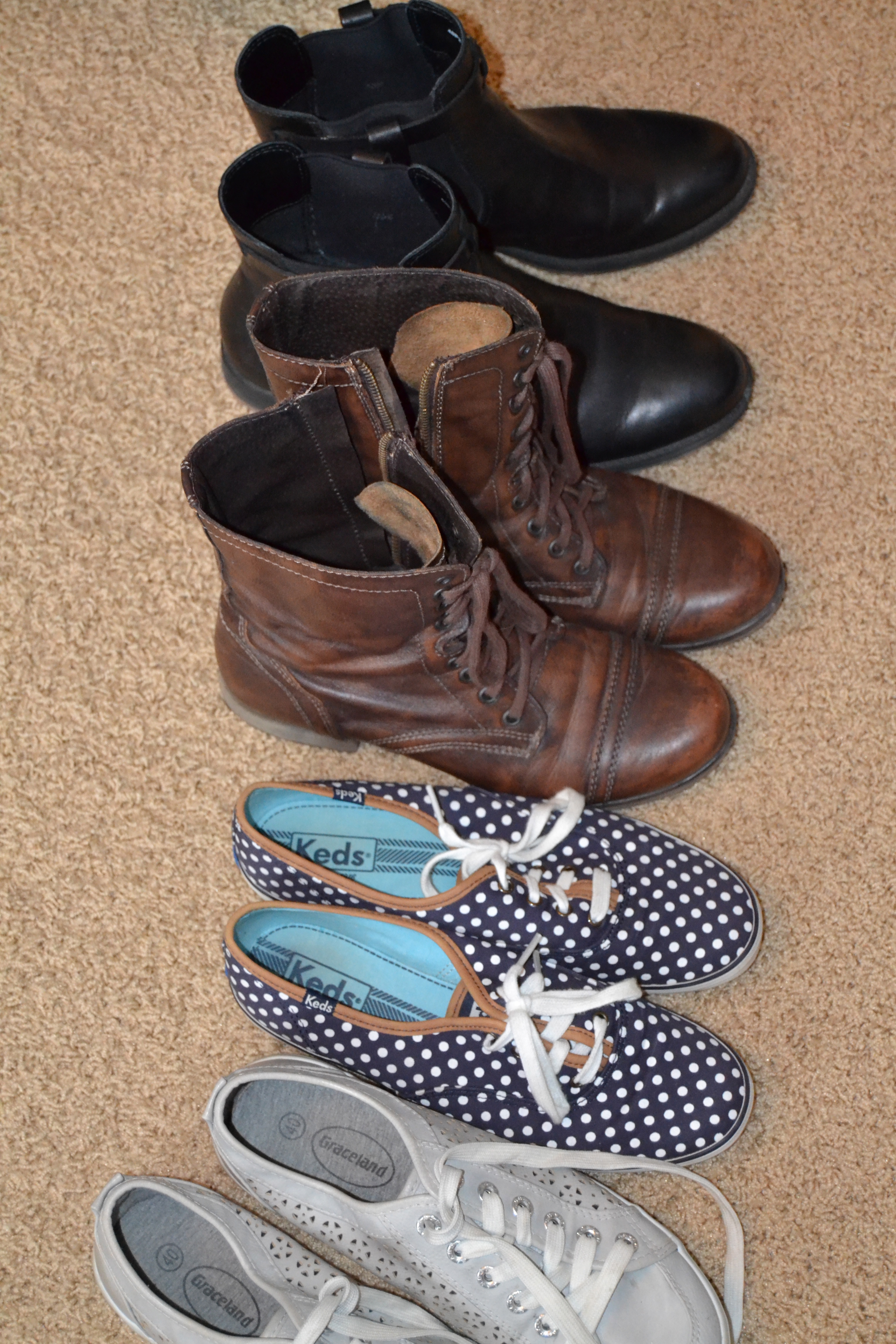 2. Roll the bottom layer
In an effort to save some space, I rolled my jeans, shorts, tank tops, and workout clothing to form an even bottom layer for the rest of my clothing. This worked out quite well, and I'm hoping my jeans come out less wrinkled than they normally do when I just fold them on top of one another (I'll let you know if this works out!). This will also keep everything from getting squished together when my suitcase is tossed around as the rolls keep everything more stable.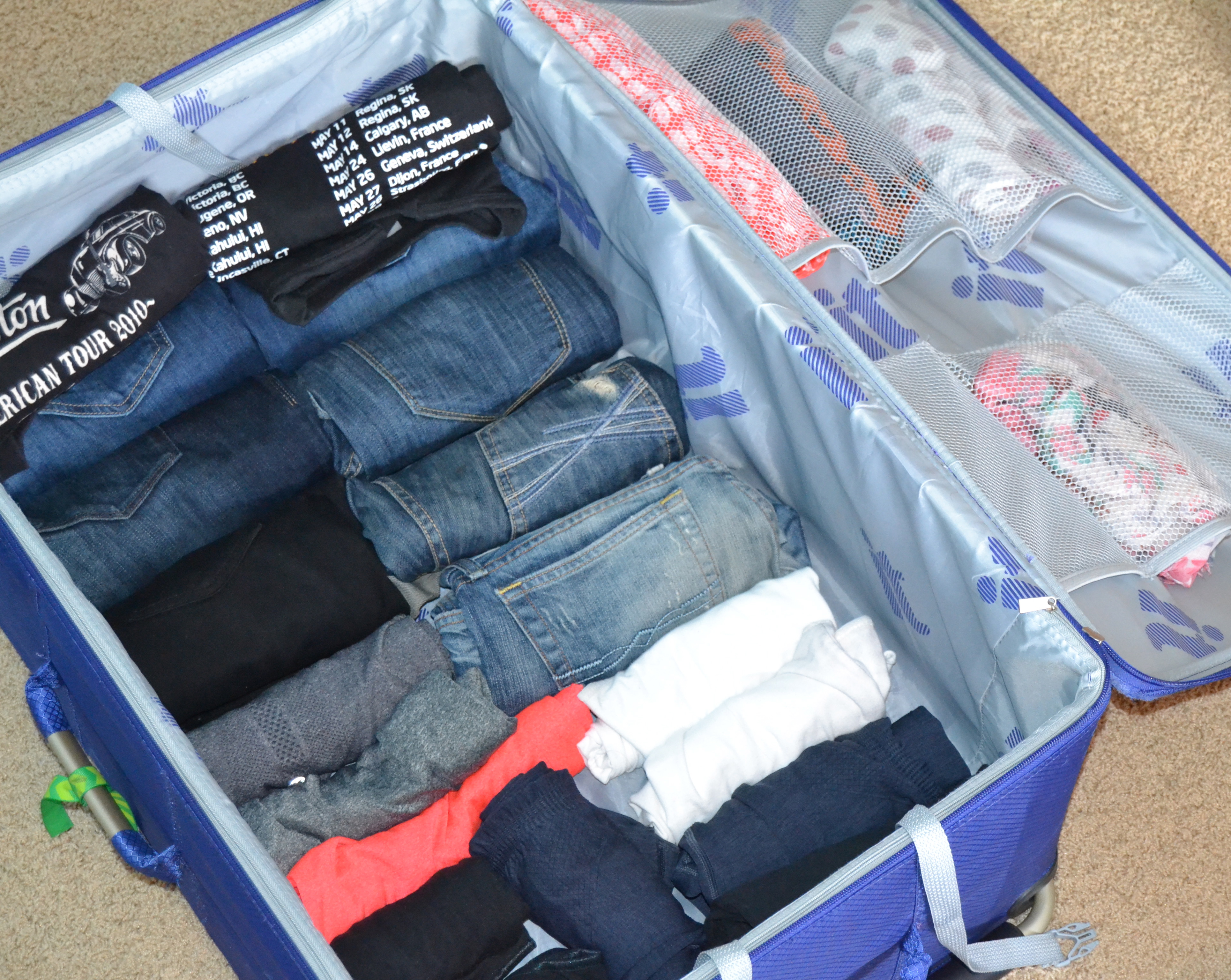 3. Narrowing down your outfits
This is always the hardest part of packing for me. It's like I suddenly have the urge to bring along a shirt that I haven't worn all year because the nagging voice in my brain keeps saying, "what if this is the one time you'll really want it?" Do yourself a favor and ignore that voice. I first laid out potential layering pieces and held everything up to make sure each shirt fit with more than one cardigan or scarf. I read somewhere that if you're going away for just a week you should try to pack three shirts for every pair of pants you bring. I didn't really do that, but I just thought it'd be a helpful tidbit to share. Once I selected my tops, I folded them into a packing cube to help them remain wrinkle-free and to reduce the amount of space they took up.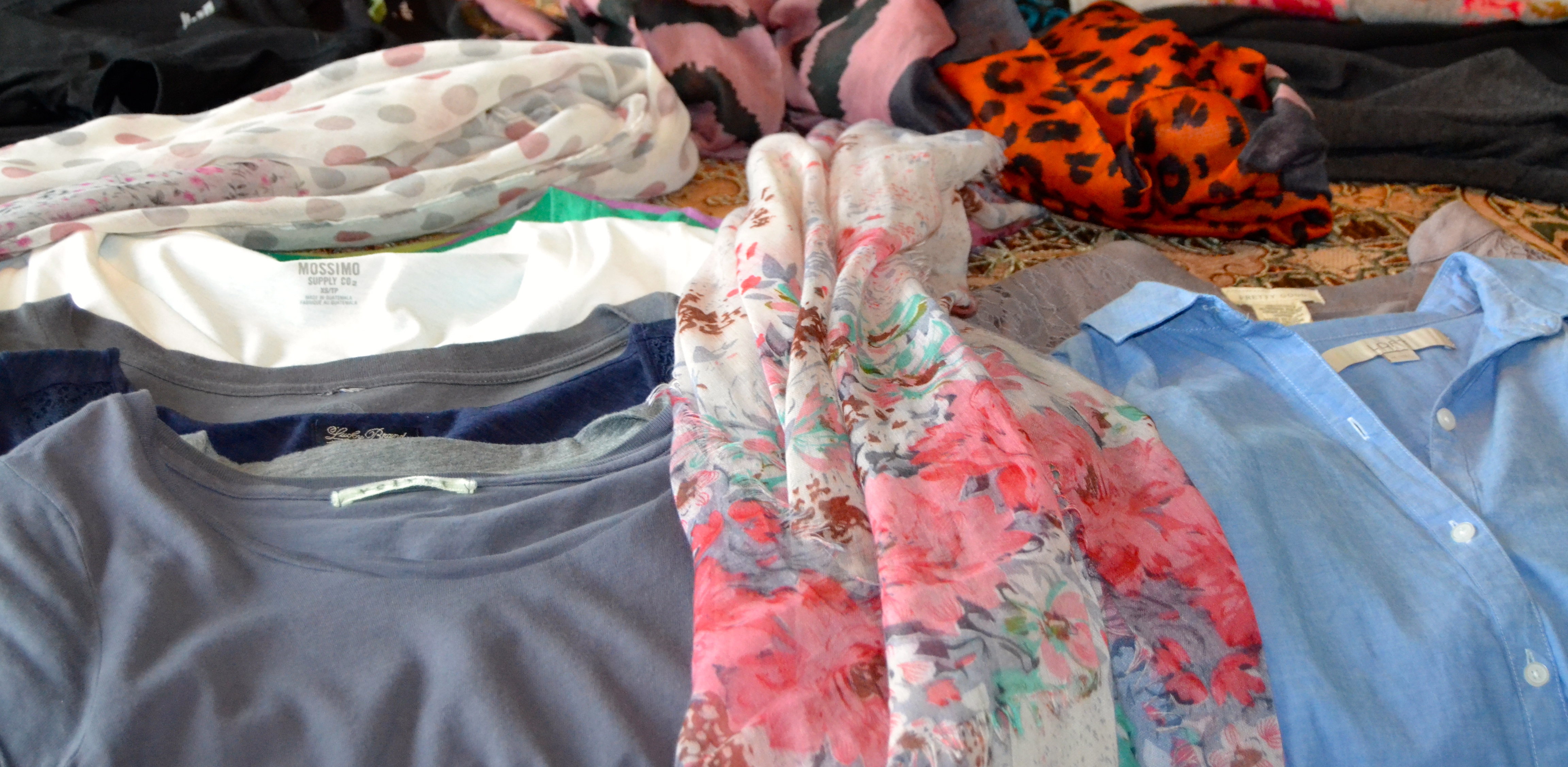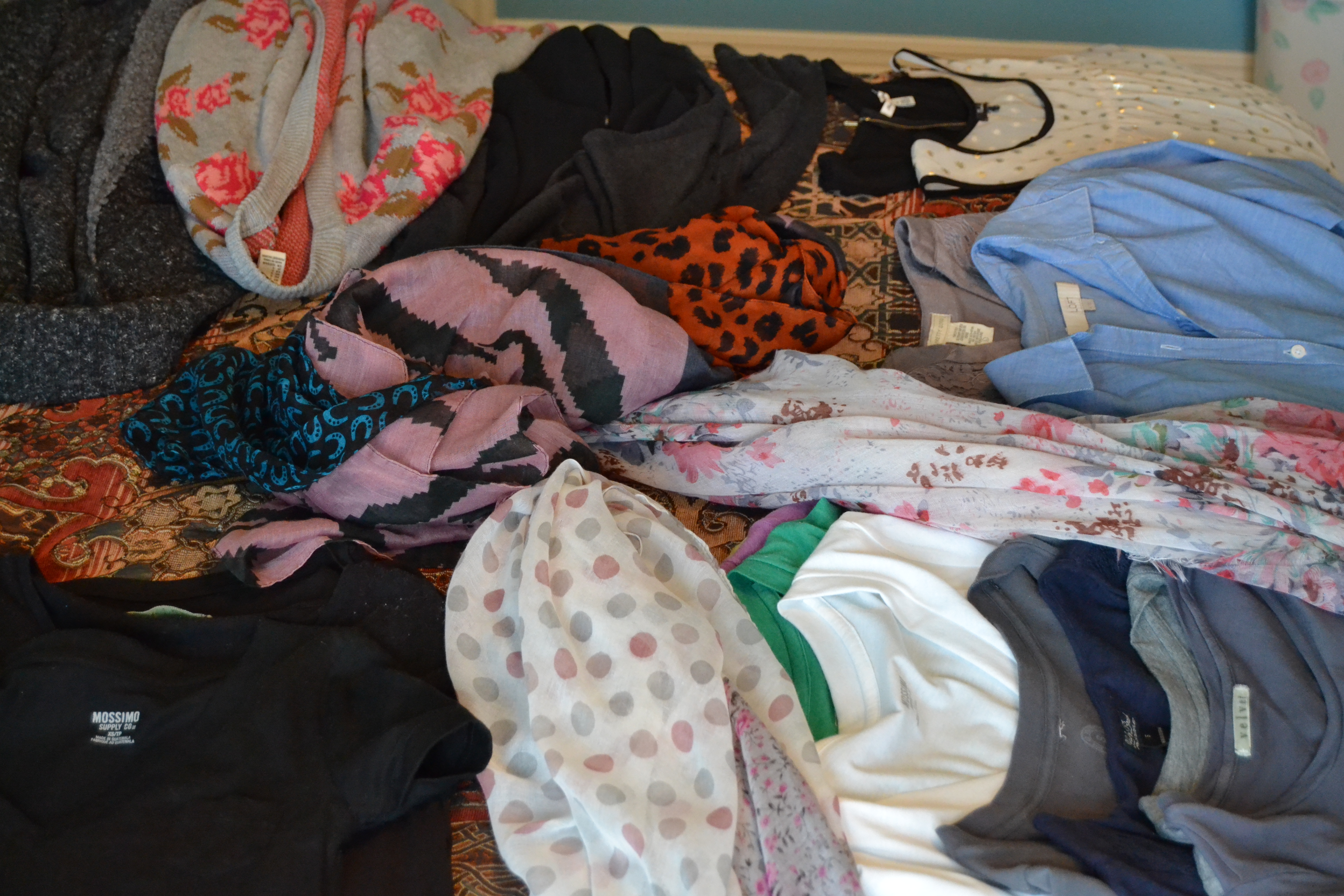 4. The finishing touches 
This is arguably the most unattractive, least organized looking suitcase, but trust me when I say that it works! You can't really tell from this photo (like I said before, I didn't document as well as I should have), but there are many layers in my bag. First, I have my rolled clothing. Then, I laid down my two packing cubes, followed by my shoes and toiletries. My boots are stuffed with my socks and underwear to save a little space and keep them from getting squished while flying. On a side note, layer your bras together and put a few pairs of socks underneath them to keep them from getting bent out of shape.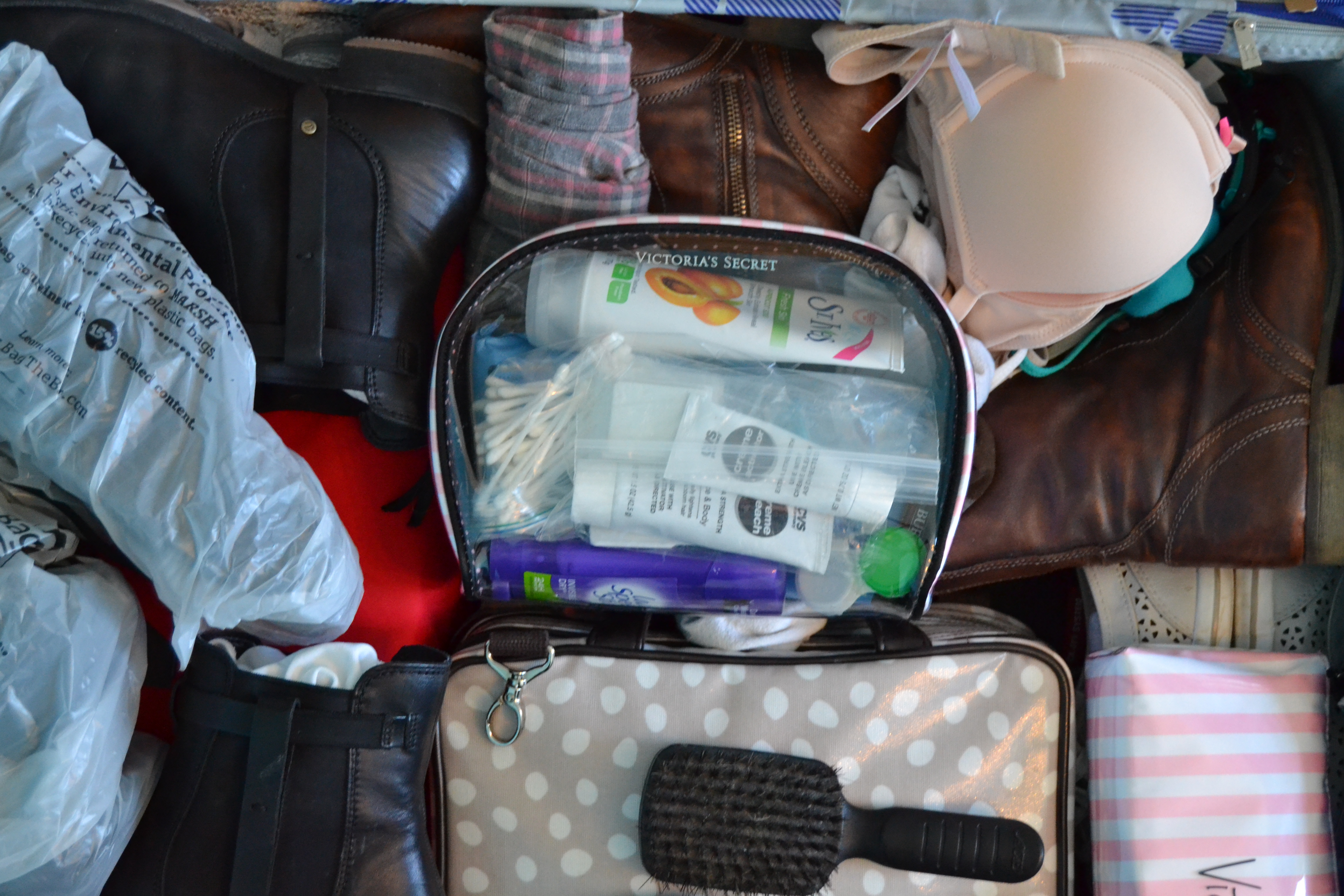 Are you proud of me for getting everything to fit? I sure am, although I do have a few things to put in my carry-on suitcase, but that's okay. Let me know if there are any space-saving tips I should've used so I can be an even smarter packer when I return to the US.
Signing off,
Claire