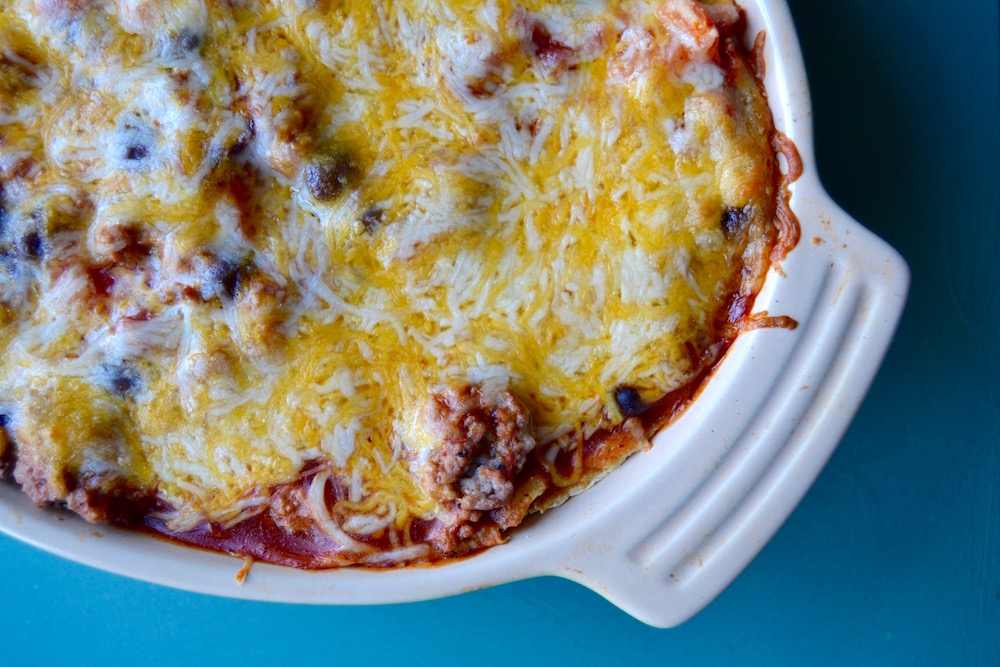 If I'm being 100% honest, this enchilada casserole recipe was created out of sheer laziness. I had envisioned making beautiful enchiladas in my favorite lime green baking dish and snapping some photos of them lined up perfectly in the pan.
And you know what happened? My first tortilla crumbled when I was rolling in the filling and I was too lazy to bother with the whole rolling thing after that. So I started layering the tortillas and filling to make what I'm calling an enchilada casserole.
Since I made this, I've realized that this sort of casserole is apparently a thing on Pinterest (I really am middle aged at heart, I'm telling you). So while I'm not the genius cook I thought I was, this enchilada casserole recipe is still incredibly flavorful and is definitely worth making.
Ready in 30 minutes, this dish is about as easy as it gets. Fry up the filling in a big pan, then stack all the ingredients in a casserole dish and bake until warmed through. It's foolproof and you don't have to worry about how it looks thanks to the layer of gooey cheese on top (you're welcome).
If you make this dish, please tag me in your photos!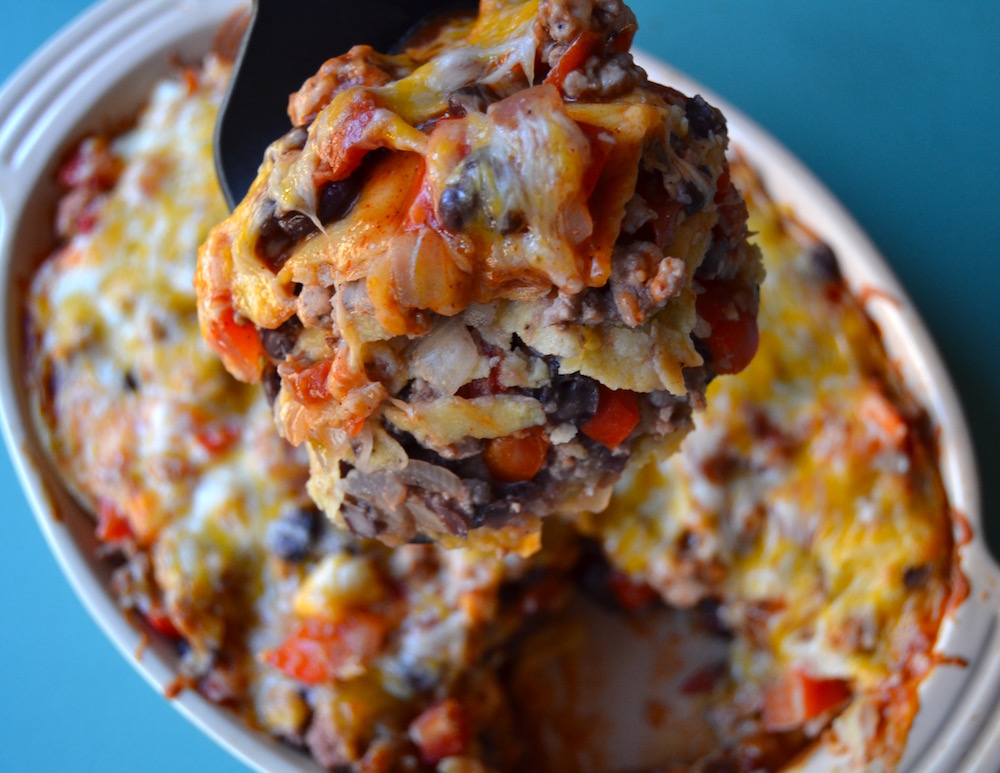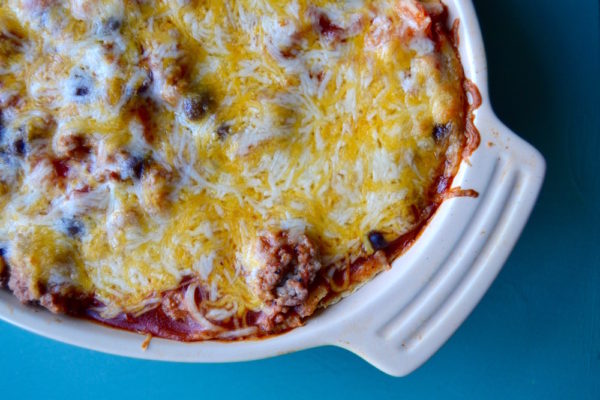 | | |
| --- | --- |
| | |
Instructions
Preheat the oven to 375ºF.

Dice the onion and pepper. Mince the garlic.

Put the olive oil in a large skillet and bring to medium-high heat. Add in the onion and pepper and sauté until they begin to soften.

Add the ground pork to the same skillet. Season to your liking with salt and pepper and add the chili powder. Then cook until the pork is browned.

Add in the garlic, Rotel tomatoes, and black beans. Heat for 2-3 minutes until warmed through. Remove skillet from the heat.

Pour 2-3 tablespoons of the enchilada sauce into the bottom of a medium-sized baking dish (this will make sure nothing sticks to the bottom). Then place 3-4 tortillas on the bottom of the dish, making sure it's completely covered. The exact number you'll use will depend on how large your baking dish is.

Scoop 1/3 of your filling onto the tortillas. Make sure the filling is evenly distributed. Then layer more tortillas on top of the filling and repeat that process until the filling is used up.

Pour the rest of the enchilada sauce on top of the casserole, making sure to cover everything. Sprinkle with cheese.

Bake for 15-20 minutes, or until the cheese is bubbly.
More recipes you'll love: