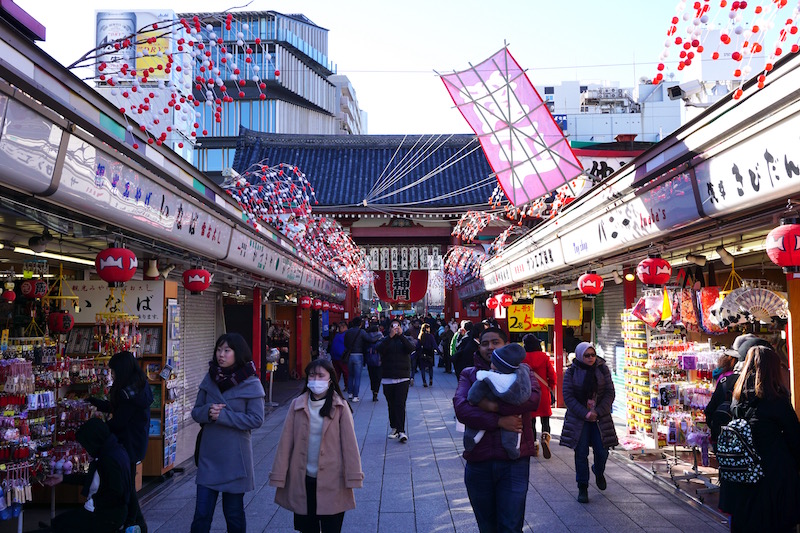 Visiting Sensoji Temple is an absolute must when in Tokyo. It's the city's oldest temple and its size is simply stunning. I'm kicking off my Japan posts with Sensoji Temple because it was hands down the site I was most excited to visit while in Japan. Luckily for me, our hotel was just a few subway stops away from Sensoji, so it was incredibly easy to visit.
Getting There
Sensoji Temple is tucked away in the Asakusa region of Tokyo. Fittingly, the subway stop you should get off at is called Asakusa Station (the signs are in English and Japanese, so don't worry about not knowing when to get off). Two blocks or so down the street is the Kaminarimon Gate (or the "Thunder Gate," you might hear it both ways), which is known for its iconic giant lantern. This is the ideal place to start your trip to the actual temple, as the gate leads to a long shopping street filled with street vendors.
My family and I visited Sensoji Temple early in the morning (we arrived around 10 or 10:30am, I think), and it ended up being the perfect time to visit. By this point, most of the stalls were open, and although there were still many visitors milling around, even more had arrived by noon. If you're worried about missing some shops by arriving early, know that you can always revisit the shopping street later. It's worth it to get some quality time in the temple before it gets too crowded!
Nakamise Shopping Street
Nakamise is the street lined with vendors that leads up to the temple. You definitely want to bring some yen with you to purchase a few souvenirs here. There are a few stalls with lovely postcards and woodblock prints, but the vast majority sell food of some kind (which I am absolutely fine with!). My personal favorite treats were the various seasoned rice crackers (a few vendors have free samples—score!) and the variety of sweet cakes filled with red bean paste.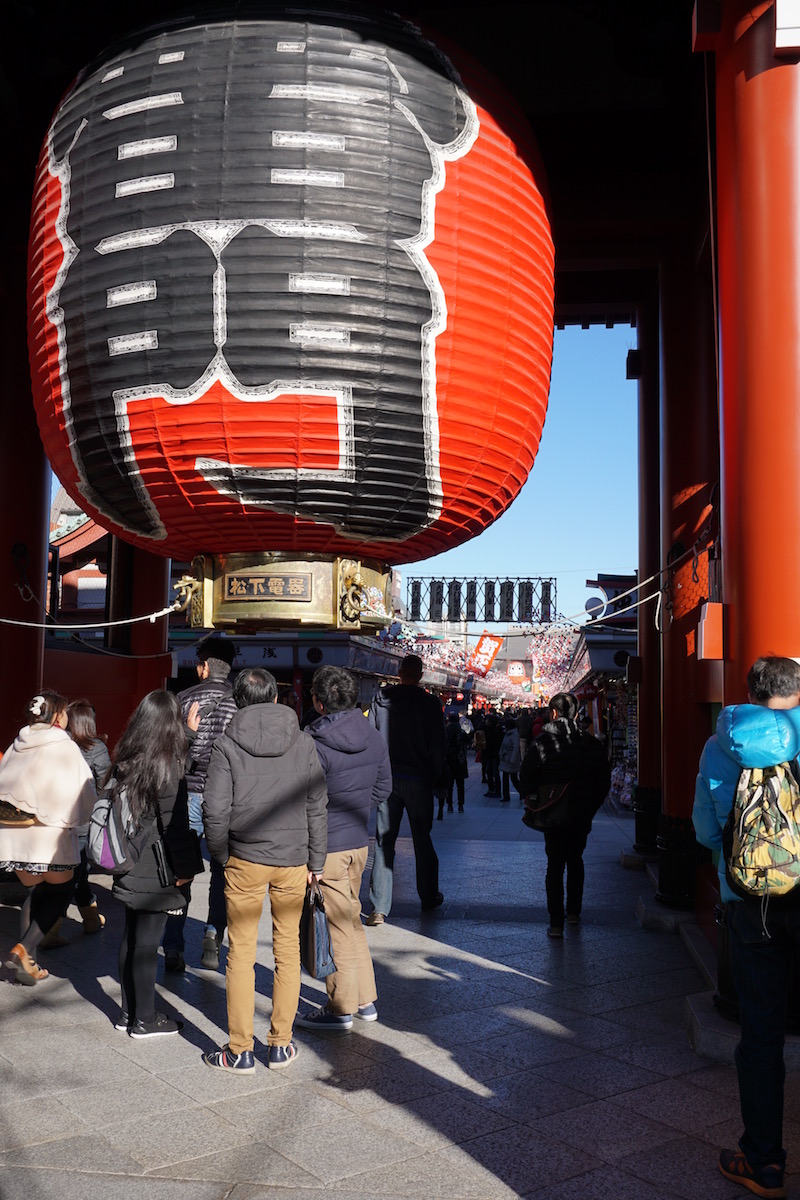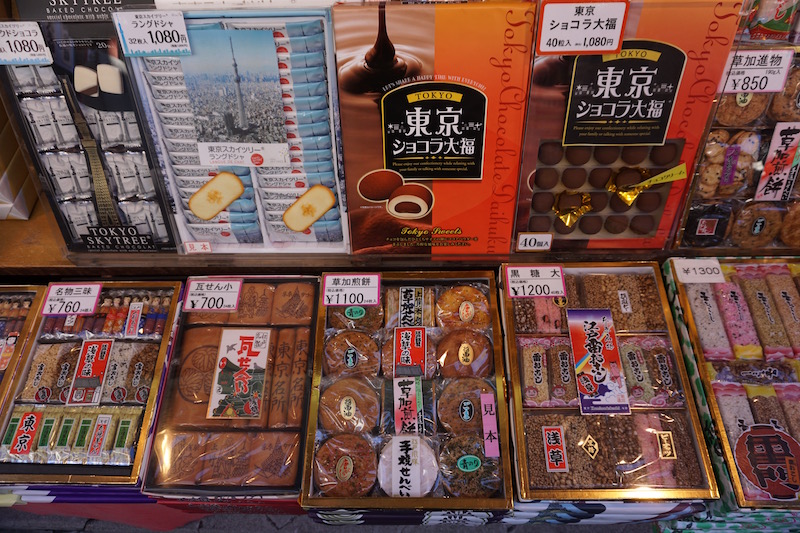 To the non-Japanese reader, "cake" and "red bean paste" sound a bit odd when used to describe the same treat. The bean paste is extremely sweet and has just a slightly gritty texture to it. When put inside the mild, sweet cake, it's really wonderful! Almost every food stall sells these cakes (most in the shape of the temple or a fish), but only a handful make them fresh in front of you. Definitely buy a few of the fresh cakes. They're fairly inexpensive (I think ours were eight for $6 or something like that) and are worth experiencing.
Although most of the vendors don't speak English, they're all super polite (especially considering how many tourists they have to deal with each day). Just be careful when taking photos, as some stalls don't allow it. When in doubt, ask if a photo is okay and you should be fine.
The Temple
The Temple itself is really quite impressive to look at. It's huge, first of all, and my camera lens was unfortunately not up to the challenge of capturing the entire temple in one shot. When you enter the second gate at the end of Nakamise, you're first greeted by a raised, smoking pit, which I believe is where you're supposed to cleanse yourself in the smoke (I'm guessing based on what I saw others doing). There's also a place to wash your hands, again to cleanse yourself before entering the temple (I think).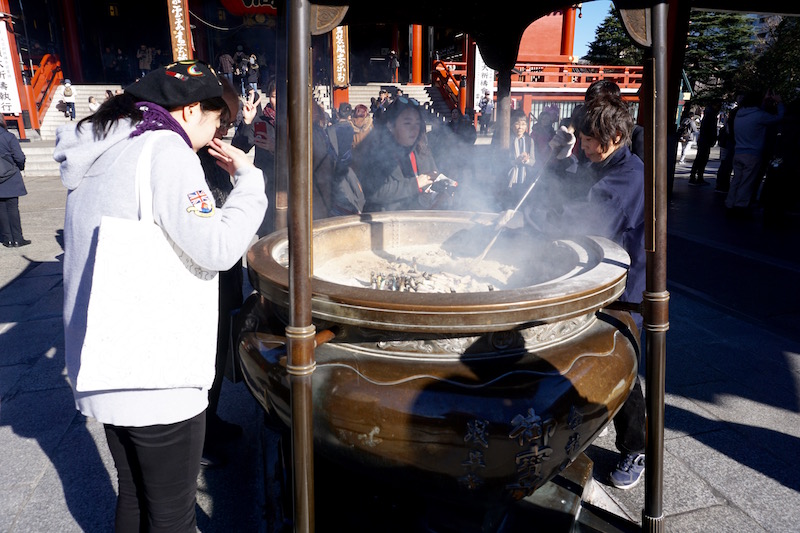 The temple has this gorgeous vaulted ceiling, and a sectioned off space for worshippers to pray. You can't take photos of this area for obvious reasons, but it made it into some of my shots simply because the entire temple is open-air. Though many people in the temple were chatting away, I recommend keeping your voice lowered in respect of those coming to pray.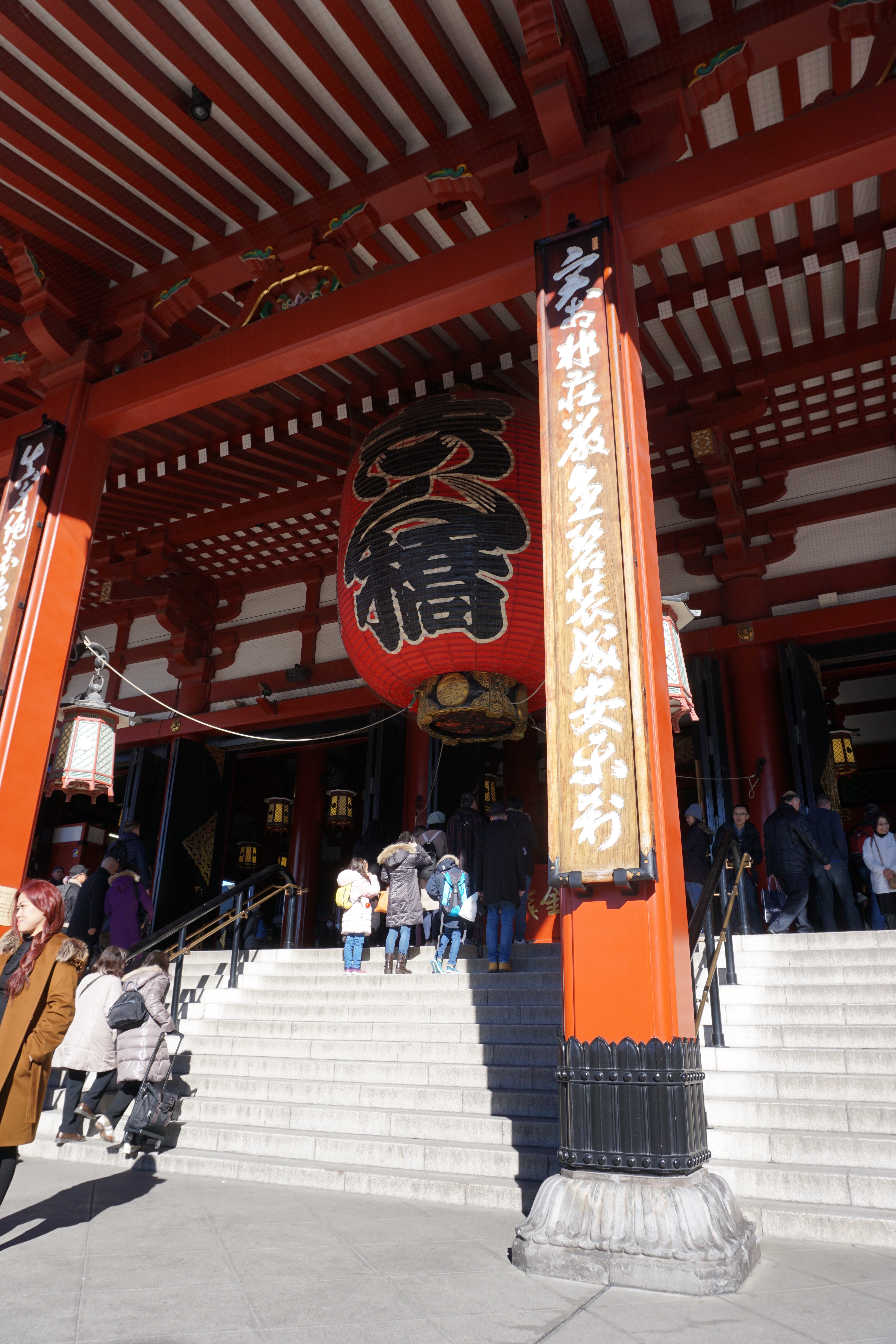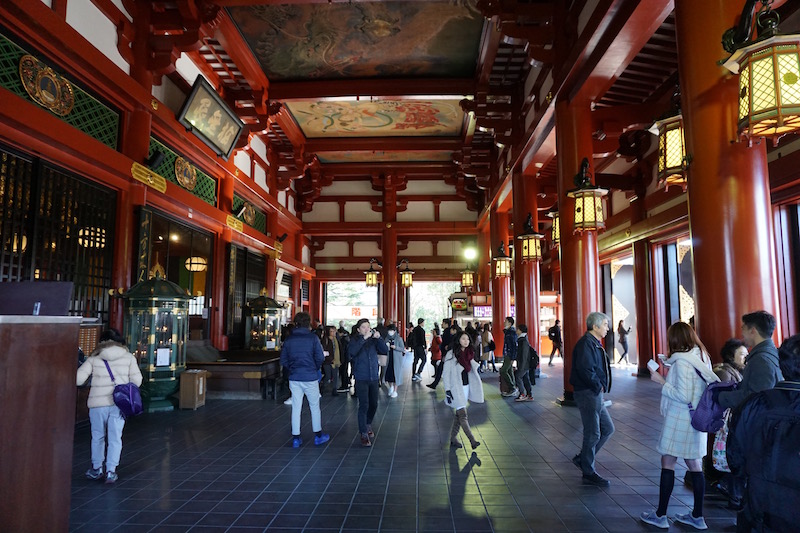 Probably my favorite part of the temple was getting my fortune told. To get your fortune told, you pay 100 yen (about $1), then shake a box with dozens of wooden sticks inside. Eventually, a stick pops out of the box, and you have to match it to the corresponding box. The numbers were all in Japanese, but a nice couple helped me pick out which number box matched my stick.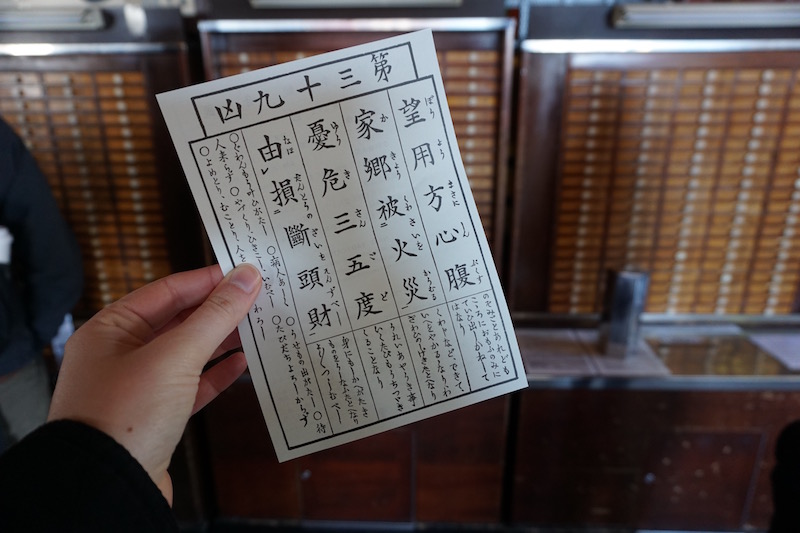 Don't worry if you get a bad fortune like I did, we all have rough days! Hopefully 2017 will turn my luck around.
After the Temple
The Asakusa region is a lovely place to walk around. The side streets are just begging to be photographed, and there are plenty of restaurants to pop into if you get hungry. Orange Street is just a block or so away from Nakamise and has some nice boutiques scattered down it. If window shopping isn't your thing, just hop back on the subway from Asakusa Station and make your way to another nearby hotspot. The Imperial Palace and gardens is just a few stops from Asakusa, so that'd be a good place to start!
Not to dictate your trip to Tokyo, but if you don't visit Sensoji Temple, you're not visiting the city properly. You can easily spend a solid half day at the temple and its surrounding streets without feeling rushed, so take your time when visiting.
Are you a window shopper? I definitely am, but many of my friends aren't, which surprises me. Though I do get bored in sport shops, so I can understand where they're coming from.
Can't wait to share more of my Japan trip with you!
Signing off,
Claire