This guide covers what to do in Granada, Spain, including tips for visiting the Alhambra plus unique activities in this historic city.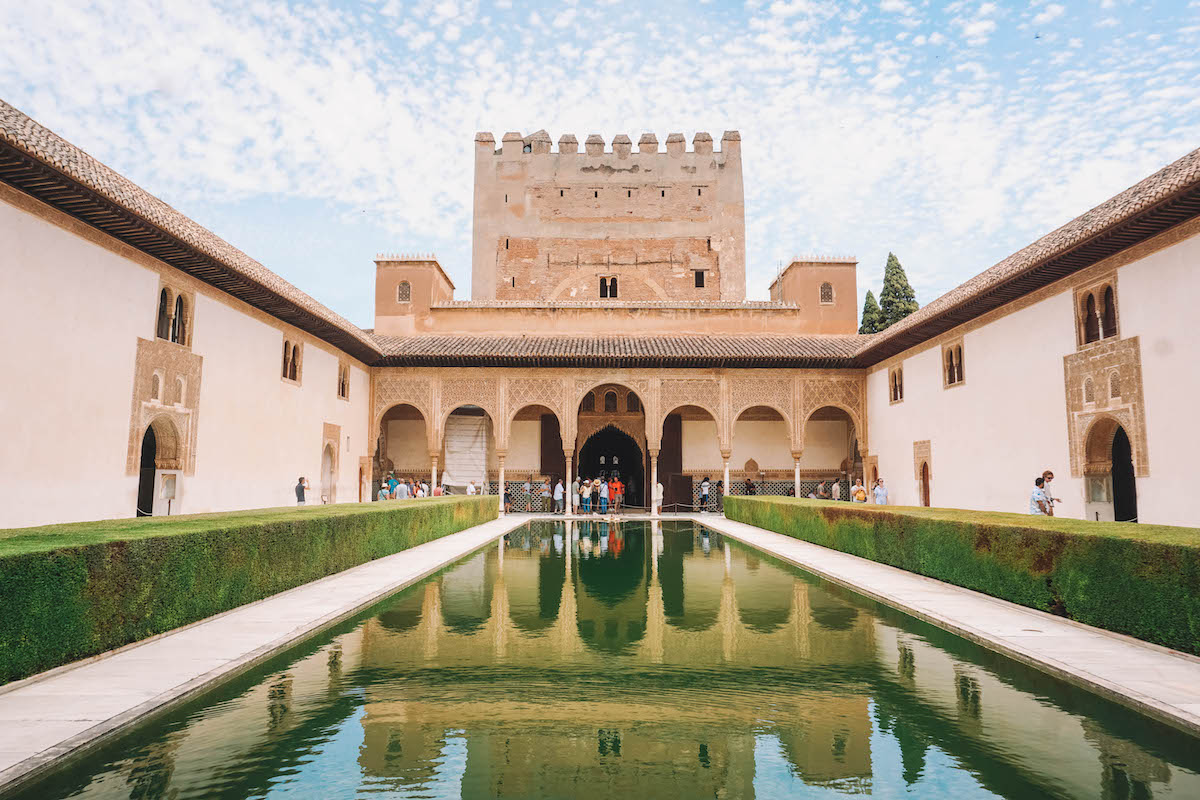 Granada, Spain is a city unlike any other. It was ruled by the Muslims for centuries and was the last city in Spain to fall back into the hands of the Catholic monarchy in 1492. Throughout the city, the mixed influence of the Catholics and Muslims is still apparent in the diverse blend of architectural styles, cultures, and foods.
Today Granada is a vibrant university city as well as being one of the most historically important in all of Spain. Many people visit Granada as a day trip from Malaga or Seville simply to see the Alhambra, a massive 9th century Muslim fortress complex. However, I strongly urge you NOT to do that because there are so many more things to do in Granada than just tour the Alhambra.
In this post, I'll be sharing what to do in Granada, Spain — including a few underrated attractions that many tourists don't bother visiting! I'll also answer some FAQs about visiting Granada.
Table of Contents
Map of the Top Attractions in Granada
What to Do in Granada, Spain
I continually uncovered hidden gems throughout the city that I didn't find during my online research. Below is a mixture of the top tourist attractions in Granada, plus some underrated attractions I hope excite you as much as they did me!
If you have any questions about the attractions listed in this Granada, Spain travel guide, leave me a comment at the very end of this post! Here are the BEST things to do in Granada, Spain:
1. Tour the Alhambra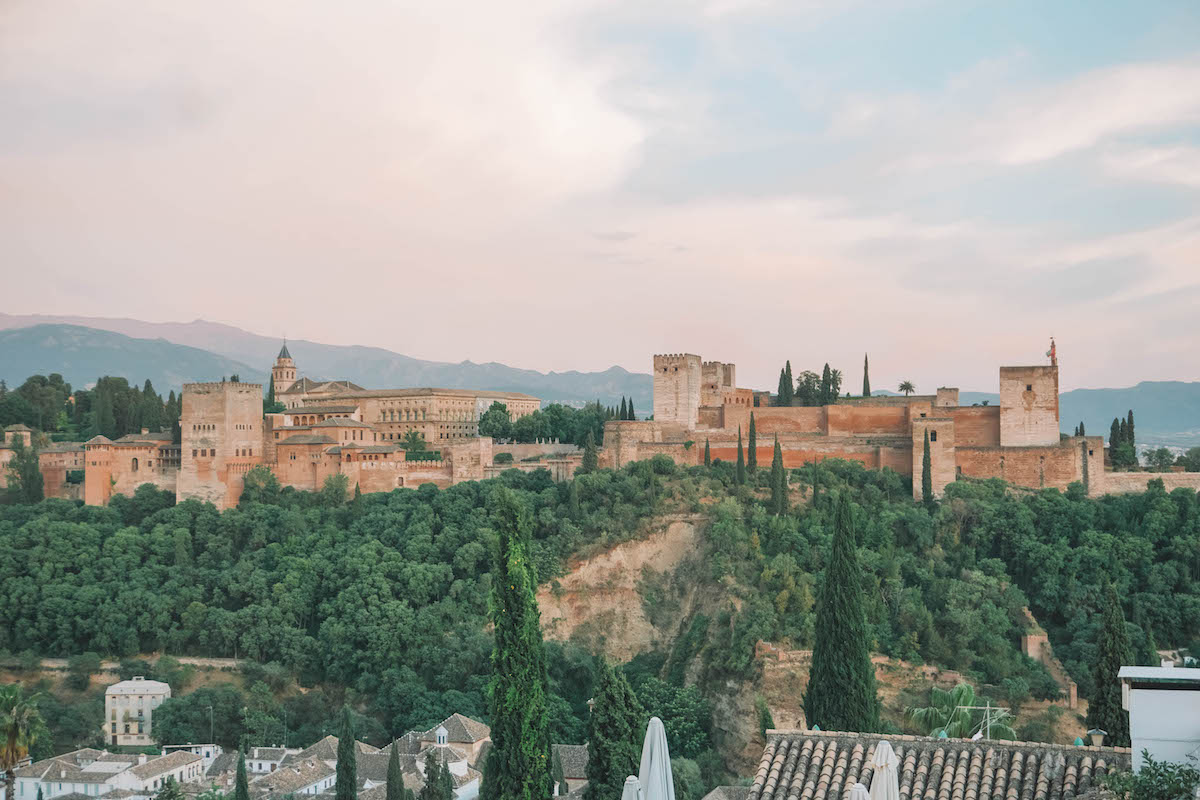 Time needed: Half day
The Alhambra is one of the absolute best things to do in Granada, and is one of the most popular tourist attractions in all of Spain. It's a MASSIVE complex set atop one of the city's highest hills.
It began as a military fortress in the 9th century, but has undergone many changes since then. In the 13th century, it became the royal residence of the Nasrid kingdom. Muslims ruled over much of Spain for many generations, and the Arabic architecture is still easy to spot throughout the entire Alhambra.
However, after the Catholic reconquest of Spain, the Alhambra became a Christian court in 1492. Thus, you'll see a unique blend of Christian and Muslim architecture throuhgout the complex.
Despite being a key defense point in the city, the Alhambra is by no means a stark stone fortress. There are lush gardens, babbling fountains, and countless views of the city to be enjoyed during a visit to the Alhambra.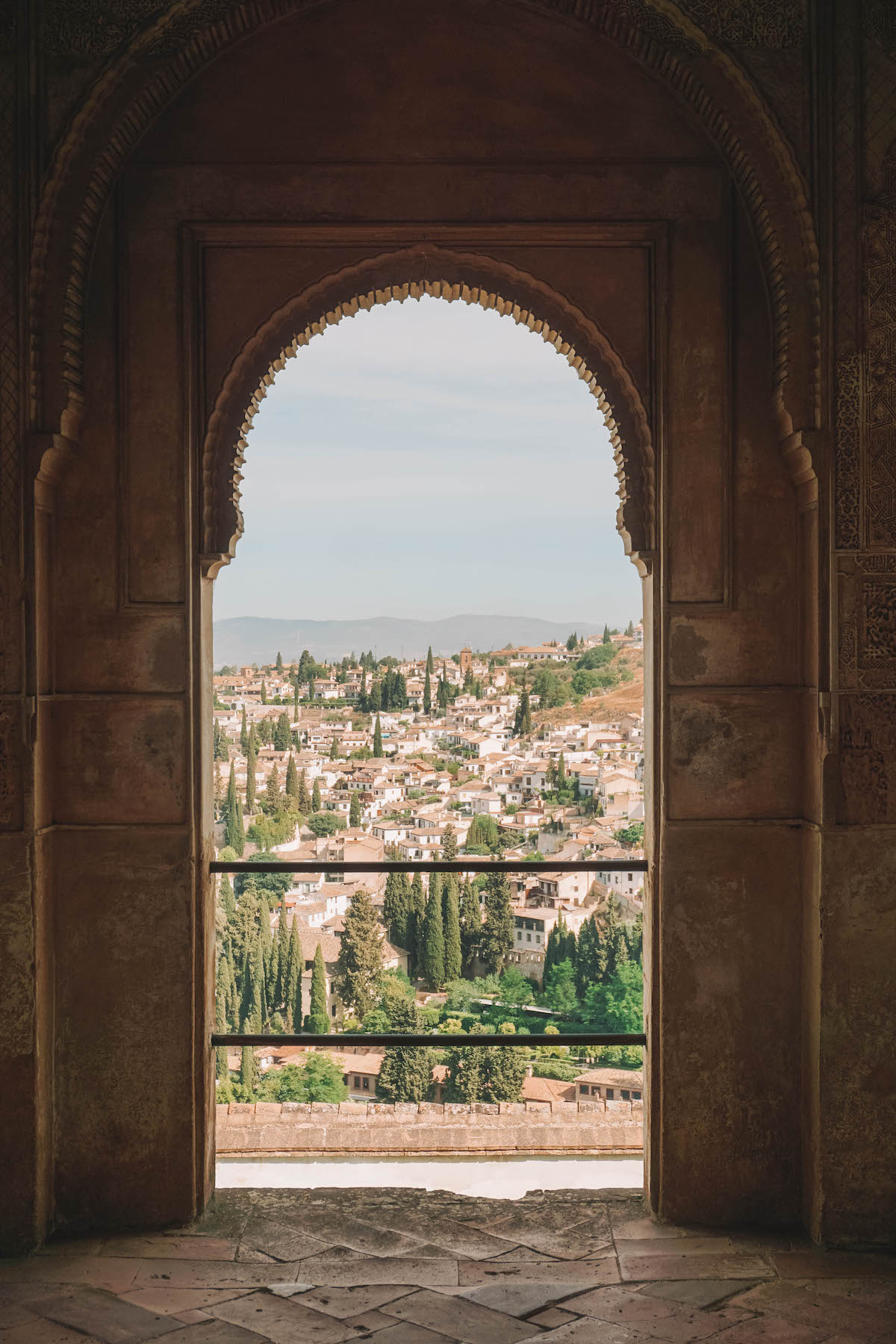 To make the most of your visit to Granada's Alhambra, I highly recommend paying extra for a tour guide. I booked mine through Get Your Guide and would recommend the experience! Because the Alhambra is so large (I can't repeat that enough!), it's almost impossible to know which route to take through the complex, not to mention it would take ages to listen to an audio guide. So, paying extra for a tour guide is well worth the cost!
However, if you opt to visit the Alhambra on your own (i.e. sans tour guide), note that you must pay extra to visit the Nasrid Palaces. When you're issued your ticket to the Alhambra, it will have a time slot written on it. That is NOT when you should enter the general complex; that's the time you have to be at the door to entrer the royal palaces.
You can enter the Alhambra complex right when it opens and stay until closing, if desired. You only need a time slot booked to visit the royal palaces.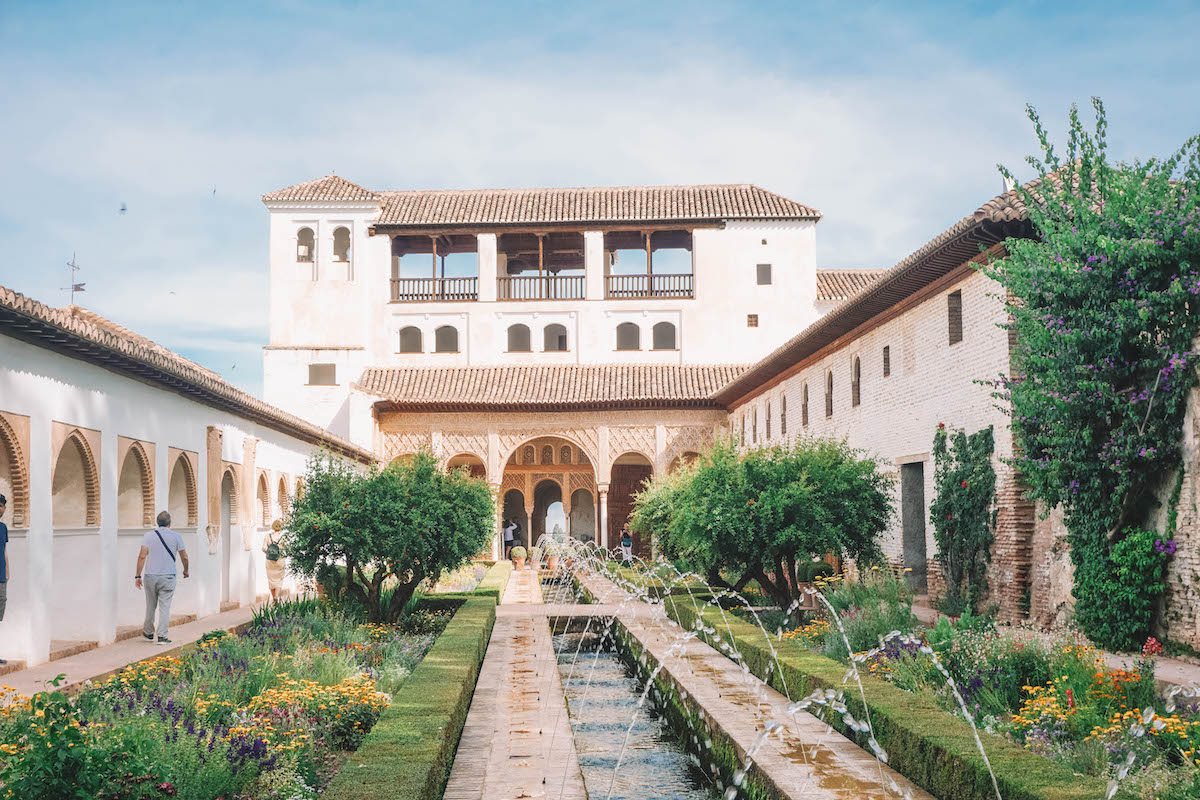 When touring the Alhambra, these are the main structures within the complex that you should plan on visiting:
Generalife — the summer residence of the royal family.
Alcazaba — the oldest part of the Alhambra. It served as the main military outpost of the complex.
Charles V Palace — built after the Catholic reconquest. It was never finished and now houses two small museums.
Nasrid Palaces — where the royal family lived. It can only be visited with an extra ticket that you purchase at same time as general admission. You need a time slot to visit the palaces.
There are too many facts and tips I could share about the Alhambra, but I'll leave it at that for now. My parting advice will be that 8,000 people are allowed into the Alhambra per day — if crowds bother you or you want to take good photos, get there right when the complex opens!
Tip: Bring a reusable water bottle. There are water fountains all over the complex. Keep chugging water and wear sunscreen because you'll be exposed to direct sunlight on the side of a hill!
2. Visit the Granada Cathedral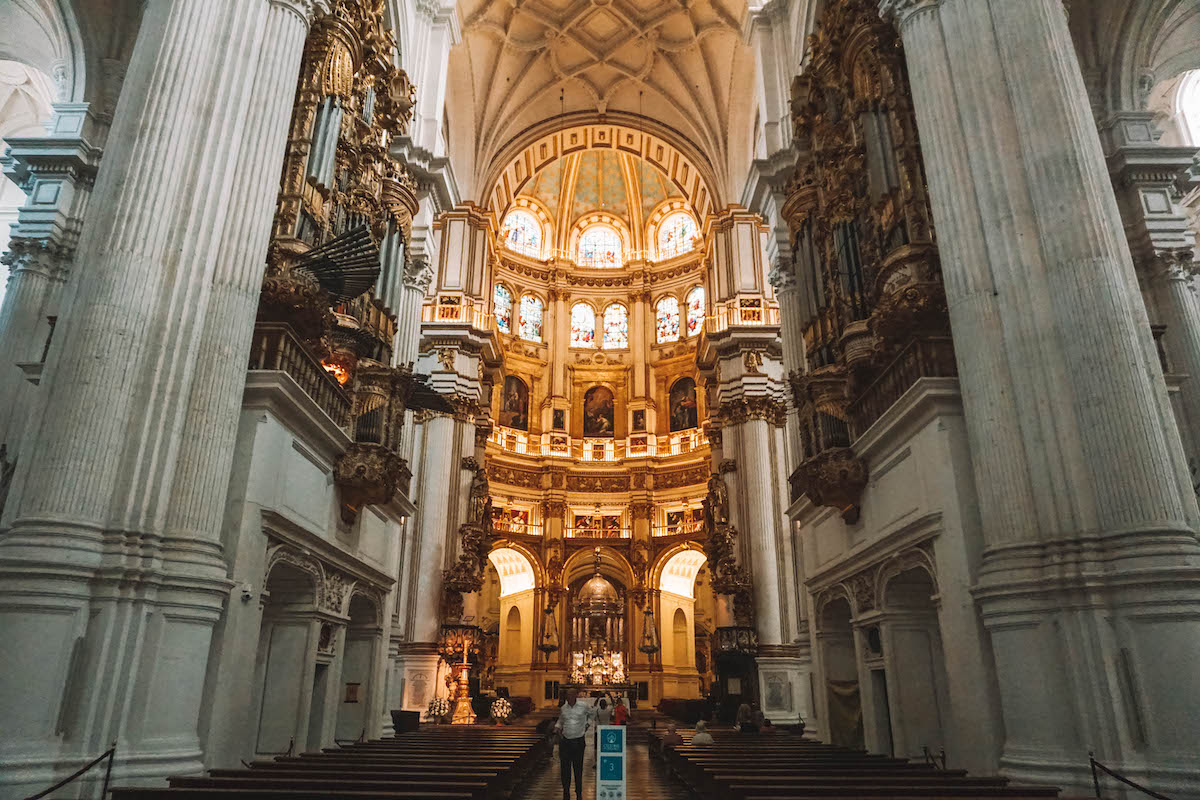 Time needed: 45 minutes
Officially called the "Cathedral of the Incarnation," the Granada Cathedral took a whopping 181 years to build. It was built on the site of the Great Mosque. After the Catholic reconquest of Spain, the Christians got rid of all the mosques in the city — either by demolishing them or redesigning elements of them to transform them into Christian churches.
Because it took so long to finish, the Granada Cathedral boasts a unique blend of architectural styles. It's mostly built in the style of the Spanish Renaissance, but a discerning eye can spot the varying architectural elements.
Tip: There's lots to look at and admire here. Be sure to download the audio guide to learn more about the cathedral's history.
3. Visit Royal Chapel of Granada
Time needed: 30 minutes
Attached to the cathedral (but only accessible with a separate ticket), the Royal Chapel of Granada is the burial place of Queen Isabella of Castille and King Ferdinand II of Aragon. These are the famous catholic monarchs who led the reconquest of Spain and expelled the Muslims from the country.
The Chapel is small, but historically significant and therefore one of the top things to do in Granada. In addition to seeing the tomb of Isabella and Ferdinand, there's also a small sacristy musuem attached to the main chapel.
If you're traveling on a budget or are tight on time, this isn't necessarily a "must-see" attraction in Granada. However, if you have the time and enjoy religious sites, I think you'll really like the Chapel!
4. Explore the Albaicin Neighborhood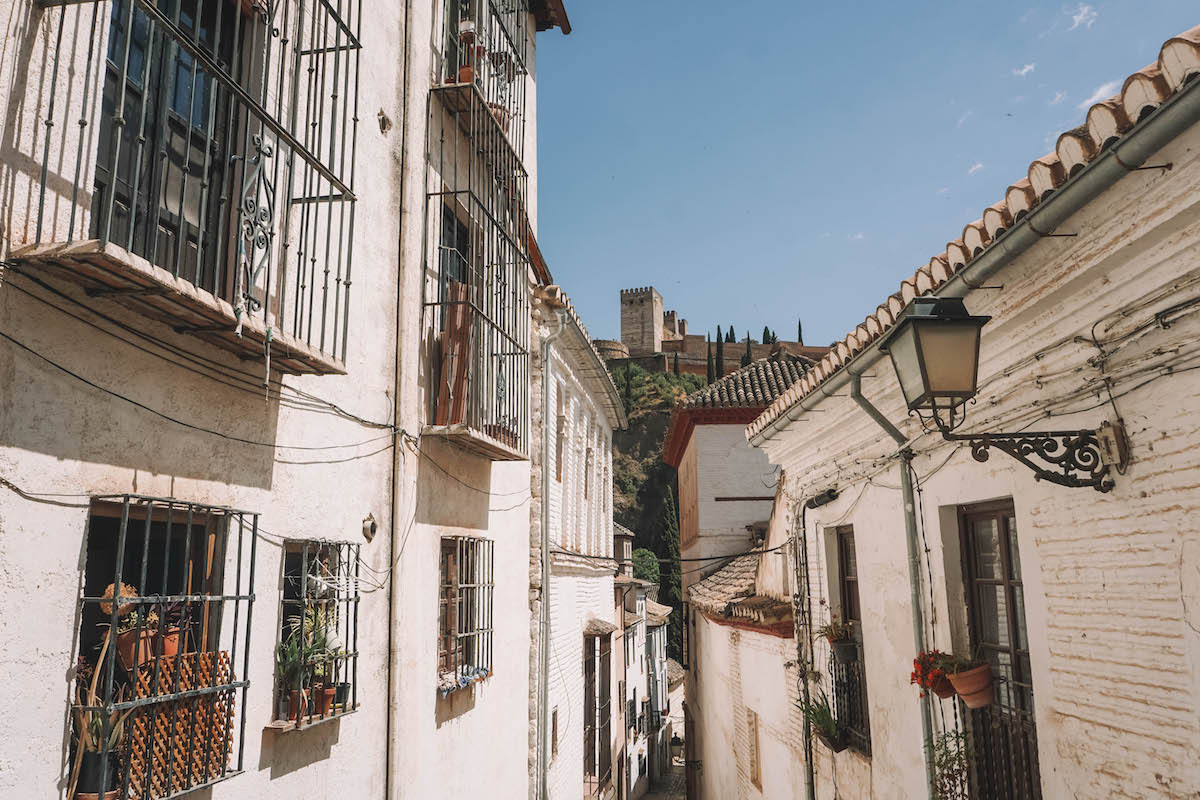 Time needed: 2+ hours
From the walls of the Alhambra, it's impossible to miss the sea of white-washed houses on the opposite hill. This is the Albaicin neighborhood of Granada, sometimes called the Old Town. Albaicin is stunning! The neighborhood has largely retained its medieval street plan, so expect lots of winding, narrow streets that you'll definitely get lost in.
This protected UNESCO World Heritage Site also boasts many miradors, or scenic overlooks. Mirador de San Nicolas is the most famous, but there are plenty more to uncover on your ramblings.
While exploring Albaicin, keep an eye out for street-level structures that look a bit like pizza ovens — those are actually the old, boarded over cisterns that locals used to draw their water from! There are 27 in total throughout the neighborhood that for generations supplied fresh water to residents.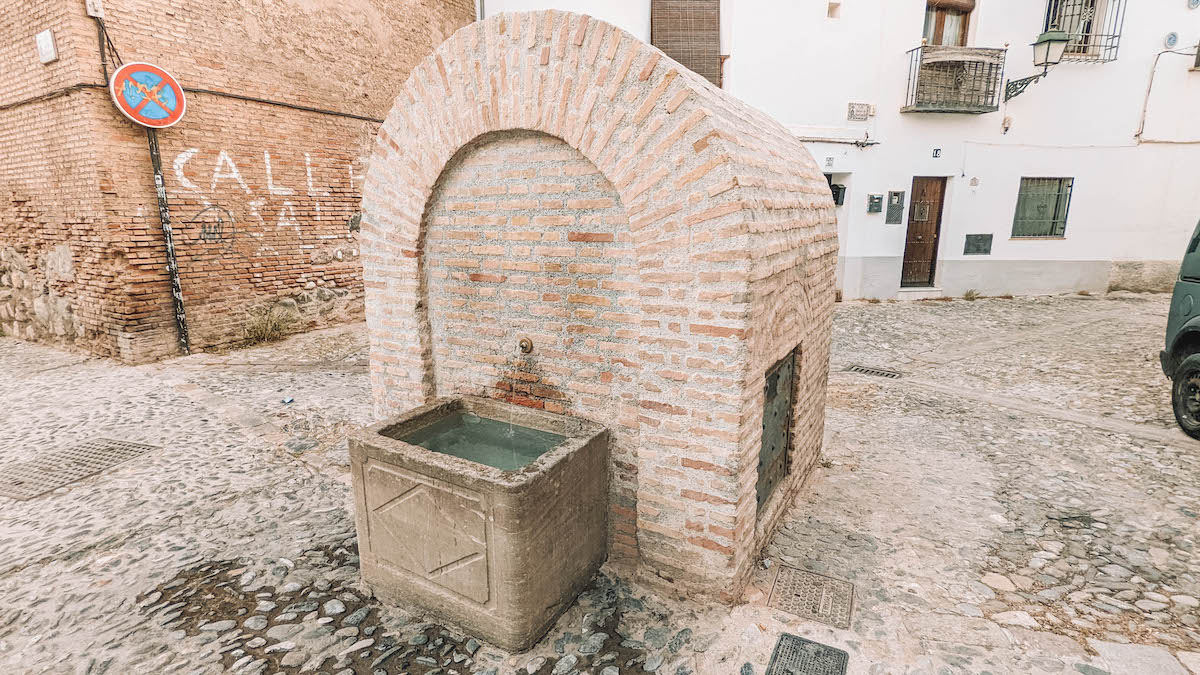 The best (i.e. richest) families in Granada lived close to the base of the hill, near the river. The further up the hill you travel, the worse off the familes would have been. The cistern network dates back to the 11th century and is no longer in use. My tour guide said that locals kept a turtle in each cistern to test the water quality; if the turtle was found dead in the morning, they knew the water quality had been compromised (poor turtle!).
Another notable feature of the Albaicin neighborhood are the Carmen, or houses with inner gardens. It's impossible to see these homes from the street since the gardens are all walled off. Today such gardens are mostly kept for leisure, but in the past carmens allowed families to be self-sufficient and grow their own food.
There are also plenty of pretty churches to pop your head into throughout Albaicin. Getting lost in Albaicin is one of the best things to do in Granada!
Tip: There are water fountains at most of the main miradors throughout Albaicin, so bring a water bottle with you and refill often because it gets very hot.
5. See the Caves of Sacromonte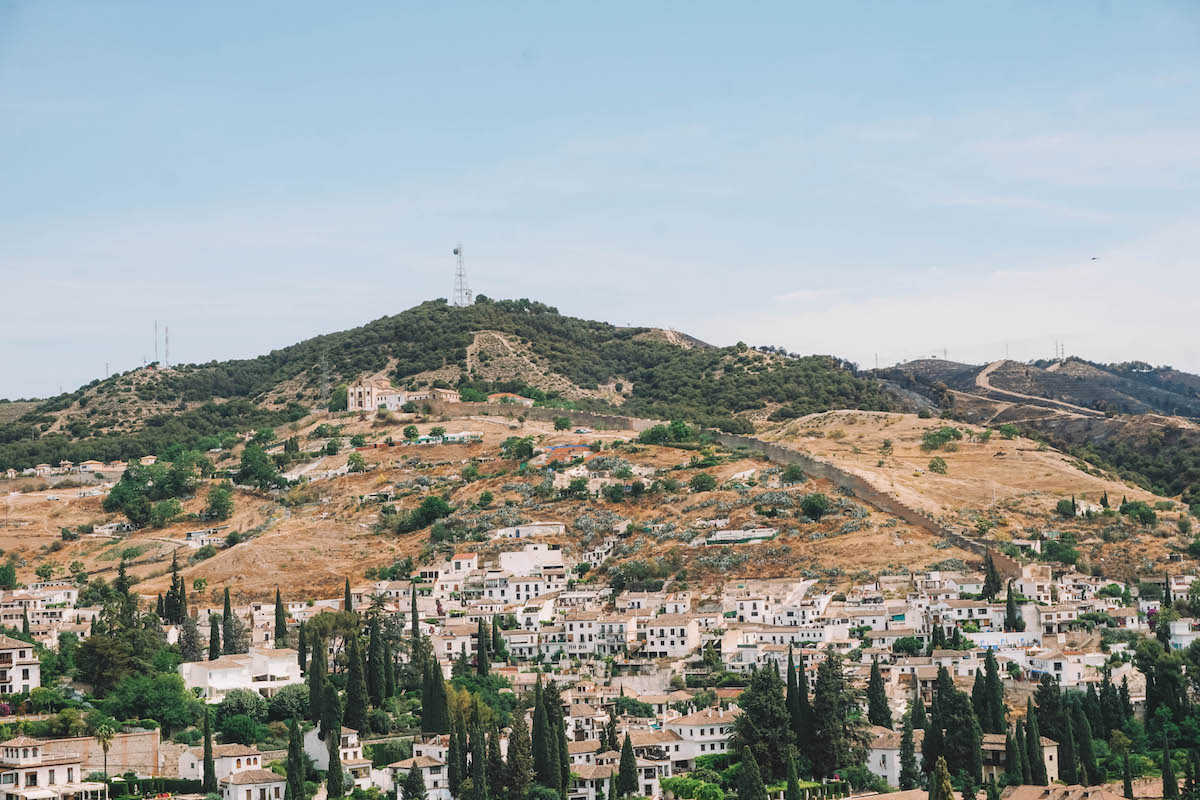 Time needed: 2+ hours
The other famous neighborhood in Granada is Sacromonte. It's thought that the gypsies* (see note below) of Granada have lived in the caves of the Sacromonte district since the 15th century.
It's believed that the gypsies migrated from India, then traveled up through Egypt before settling throughout Europe. They were known for their skill with animals and quality handicrafts, and they also provided cities with cheap labor where needed. Thus, these nomadic people found a long-term home in Granada as well as many other parts of Europe.
To this day, the gypsies of Sacromonte live in caves burrowed into the side of the mountain. These are by no means dark, dripping caves, but rather warm, white-washed caves fitted out with modern conviences like Wi-Fi, running water, and so forth.
In Granada, the best flamenco shows can be found in the caves of Sacromonte. Otherwise, you'll want to explore on foot to enjoy the views. I took a guided walking tour of the Albaicin and Sacromonte neighborhoods and highly recommend doing so yourself.
Sacromonte is a residential area, and without a guide I would never have learned so much about the history of the caves and the local culture there. It's one of the top things to do in Granada though, so still visit even if you don'y have time for a full tour!
*A note about the term "gypsy" in this blost post. Note that I normally never call anyone a gypsy because I was taught in school that it's a derogatory term. However, all of the tour guides I had in Granada referred to Sacromonte as the "Gypsy quarter" and said they're a beloved part of the community. They said that "Gypsy" is not a bad term in Granada.
I couldn't find other info online that gave these peoples a specific name (such as "Sinti" or "Roma," which I've read elsewhere). If you have specific thoughts on the matter, feel free to leave me a constructive comment below.
6. Take a Free Walking Tour
Time needed: 2 to 3 hours
If you're unsure what to do in Granada besides visit the Alhambra, I suggest taking a walking tour. Granada has a rich history that spans many centuries, which you won't learn about simply by visiting the main tourist attractions. To put Granada's history into perspective, a walking tour of the city is a must!
I went on a free walking tour with Walk in Granada. They offer tours of the city center (which is your typical walking tour with a basic history of the city) as well as tours of the Albaicin and Sacromonte districts. I took the Albaicin / Sacromonte tour and have only good things to say about it!
As I mentioned above, Albaicin is a stunning neighborhood, but because it's primarily residential I never would have learned about its key role in Granada's history had I not gone on this walking tour. Albaicin and Sacromonte are the two oldest residential areas in Granada, so they're definitely worth touring with a local guide!
Tip: Although labeled as a free walking tour, the Walk in Granada tours are really pay-what-you-want. Be sure to bring cash so you can tip your guide!
7. Visit the Bañuelo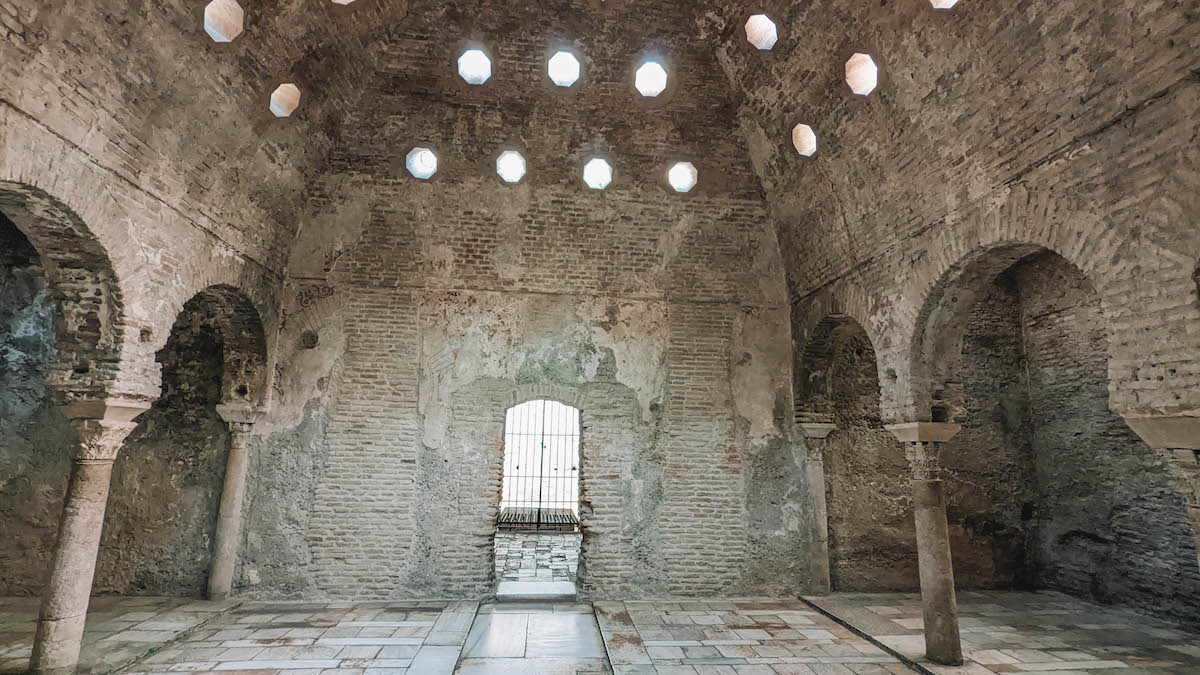 Time needed: 15 to 20 minutes
The bañuelo is a small but beautiful Arabic hammam (bath house) that dates back to the 11th century. The hammam is divided into three sections: a cold room, a warm room, and a hot room. There are no signs to read or artifacts on display, just the beautifully preserved bath rooms with starry ceilings.
The hammam is compact, so you can see the entire site in under 30 minutes. For such a small space, the 5 Euro ticket may seem steep. However, it also grants you entrance to a few other (small) historic sites in the city.
If you're on a tight budget, the bañuelo in Granada may not be the best use of your funds. But at the same time … how many 11th century Arabic bath houses have you seen in your life?! I'd never seen one before, and as a history lover I thought the 5 Euros was worth the opportunity of admiring such beautiful architecture even if the experience was shortlived.
8. Relax at Plaza de Bib-Rambla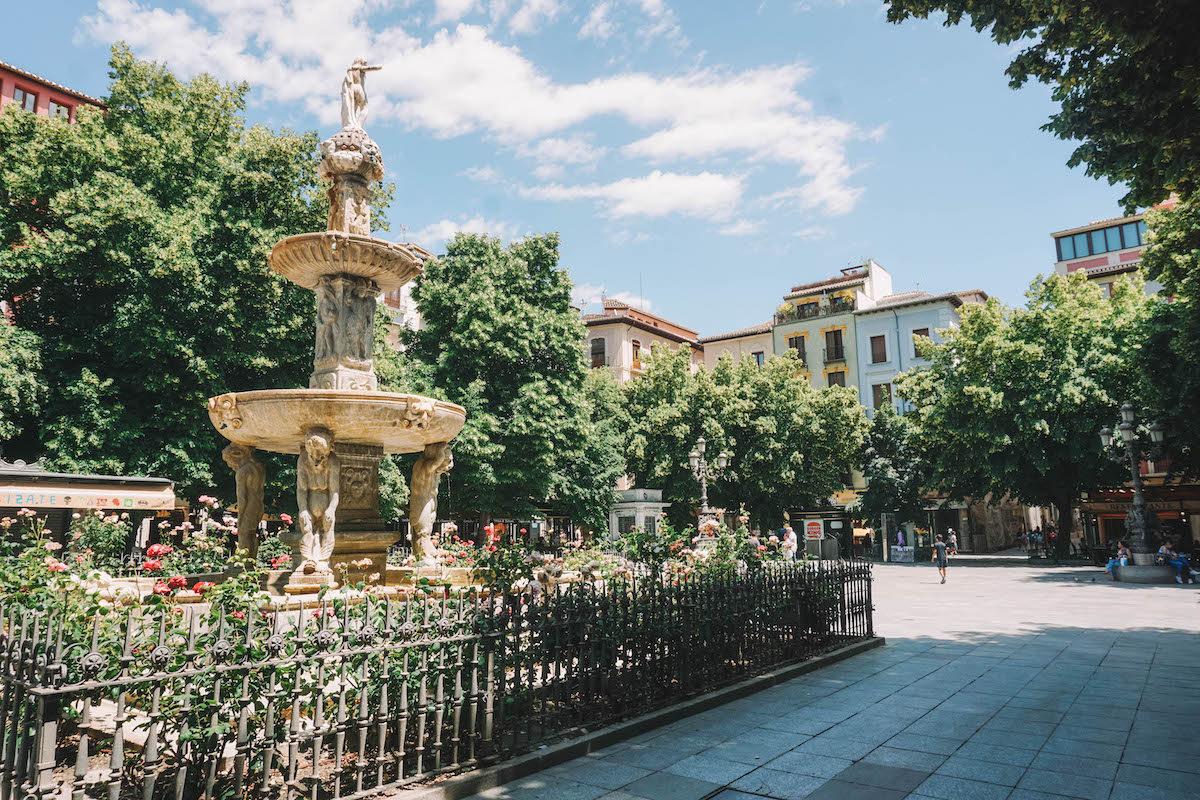 Time needed: 15 minutes (just to walk around the plaza, more time needed to eat obviously!)
In the heart of the city, just by the cathedral, you'll find a lovely square lined with shops and restaurants called Plaza de Bib-Rambla. Despite being smack in the center of the tourist center, this square doesn't feel overtly touristy.
It's a nice place to grab a bite to eat, sip a tinto de verno, and watch the world go by. If you need a sweet treat to cool you off, I recommend the ice cream at Martonela!
9. Buy Sweets from a Convent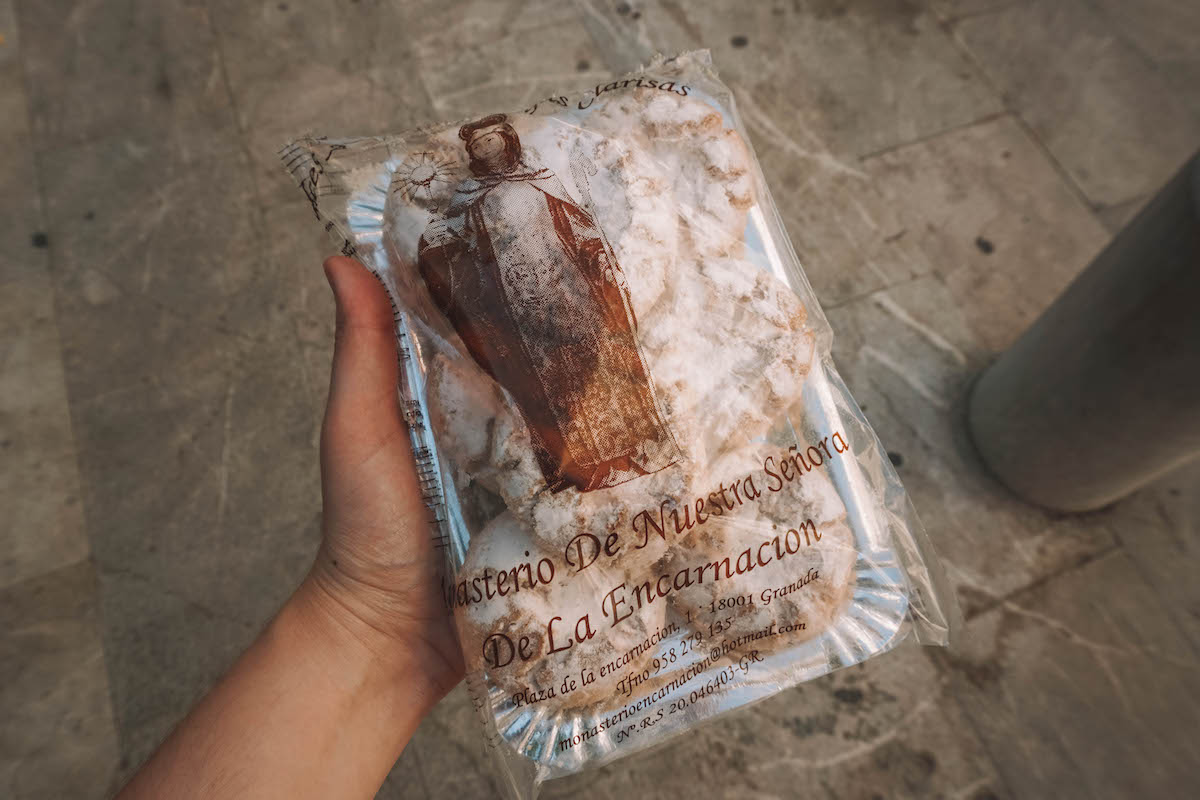 Time needed: 10 minutes
Easily the most memorable experience I had in Granada was purchasing homemade cookies from cloistered nuns. During my aimless wanderings through the city center, I stumbled upon what appeared to be (yet another) church.
On one of the doors, a simple piece of printer paper had been laminated and taped up. I don't speak Spanish, so to me the sign read "something-something-something Dulces."
One of the very few Spanish words I know is dulces, which means "sweets." So seeing "sweets" with an arrow drawn next to it made my weary feet forget how tired they were, and I scurried over to buy some treats for myself.
Unbeknownst to me, it wasn't a regular church — it was a convent! Of cloistered nuns! Which I only discovered after ringing the doorbell and being spoken to by an unknown woman through what appeared to be a large turntable set into the wall.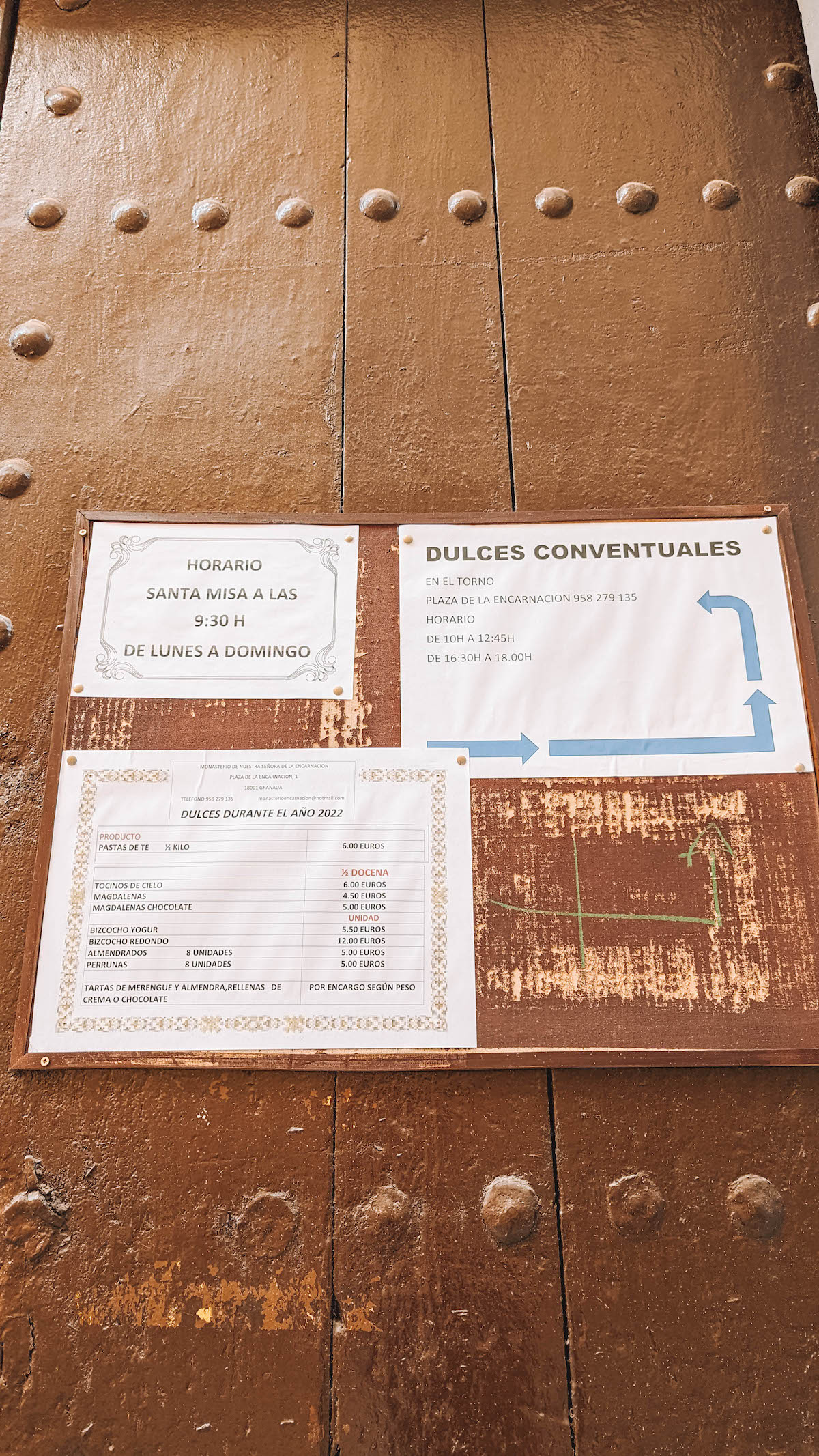 But I'm getting ahead of myself! Here's what you can expect when buying sweets from a convent or monastery in Granada (if they're cloisterd):
Ring the bell or buzzer at the entrance to notify someone that you're there.
Wait for someone to greet you (you won't see them!).
Tell them what you want. I don't speak Spanish, so I just said the name of the sweet listed on the menu and that did the trick.
Place your money on the turntable (or into whatever donation box /money system that have set up).
Wait for them to put your sweets on the turntable and rotate it towards you.
Once they've taken the money, you can leave. Don't forget to say "Gracias!"
Every convent or monastery could run things differently, but that was my experience and the cookies I bought were excellent — and cheap! I got a package of eight homemade cookies for 5 Euros, which seemed like a bargain to me.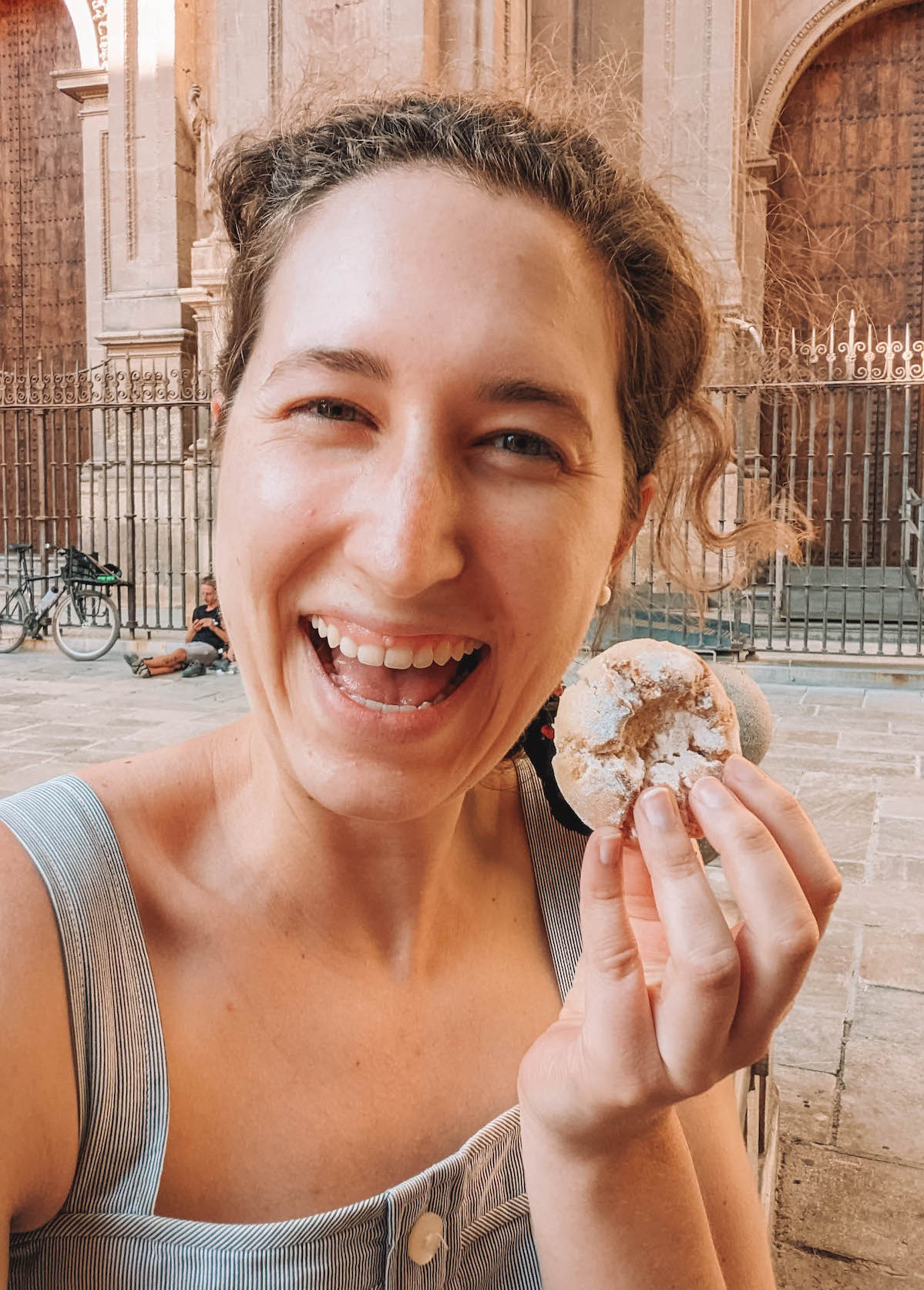 Buying sweets from a local convent or monastery is a great way to sample the local food, support a local institution, and the entire experience is just so interesting! Not every church, convent, or monastery sells sweets, so keep your eyes peeled for those hidden gems. This is one of my personal favorite things to do in Granada!
Tip: The convent I purchased sweets from in Granada was called the Convento de la Encarnación de Granada. I've marked it on the map embedded at the very top of this post.
10. Attend a Flamenco Show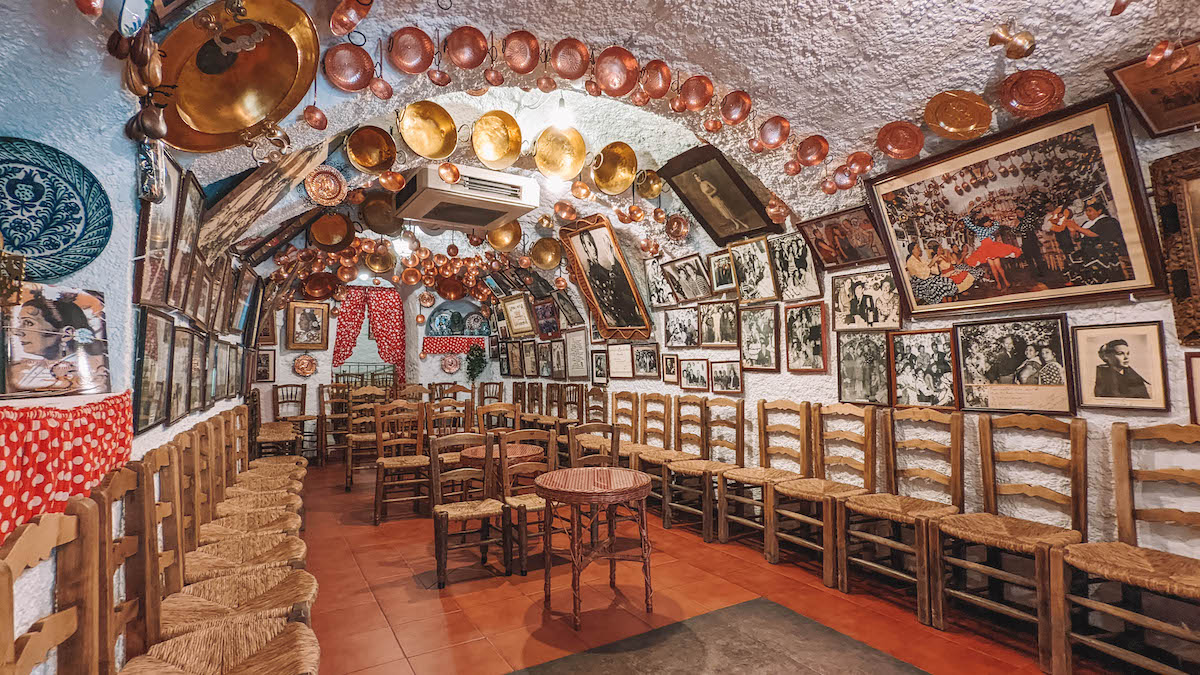 Time needed: 1 hour
Seeing a flamenco show is up there with the Alhambra as being one of the top tourist attractions in Granada. The local form of flamenco is called "Zambra."
Having never seen another flamenco show in my life, I can't speak to how Zambra differs from other forms of flamenco. However, the Zambra show I attended featured lots of dancing, singing (very throaty and raw), guitar playing, hand clapping and thigh slapping. The performers used their bodies like instruments — I've never experienced anything like it before!
For the most traditional flamenco shows in Granada, you need to head to the caves of Sacromonte. I HIGHLY recommend booking a show at Zambra Maria la Canastera.
The performance is hosted in a cozy cave with whitewashed walls and copper pots covering the walls and ceiling. There was minimal introduction to the show; the performers filed in and things kicked off immediately. The Zambra performace was an hour long and was high energy the entire time.
Zambra Maria la Canastera has a very intimate venue — the cave holds perhaps 40 to 50 people — so be sure to book your ticket in advance! Seeing a flamenco show was one of my absolute favorite things to do in Granada, and I cannot recommend the experience enough!
11. Visit the San Jeronimo Monastery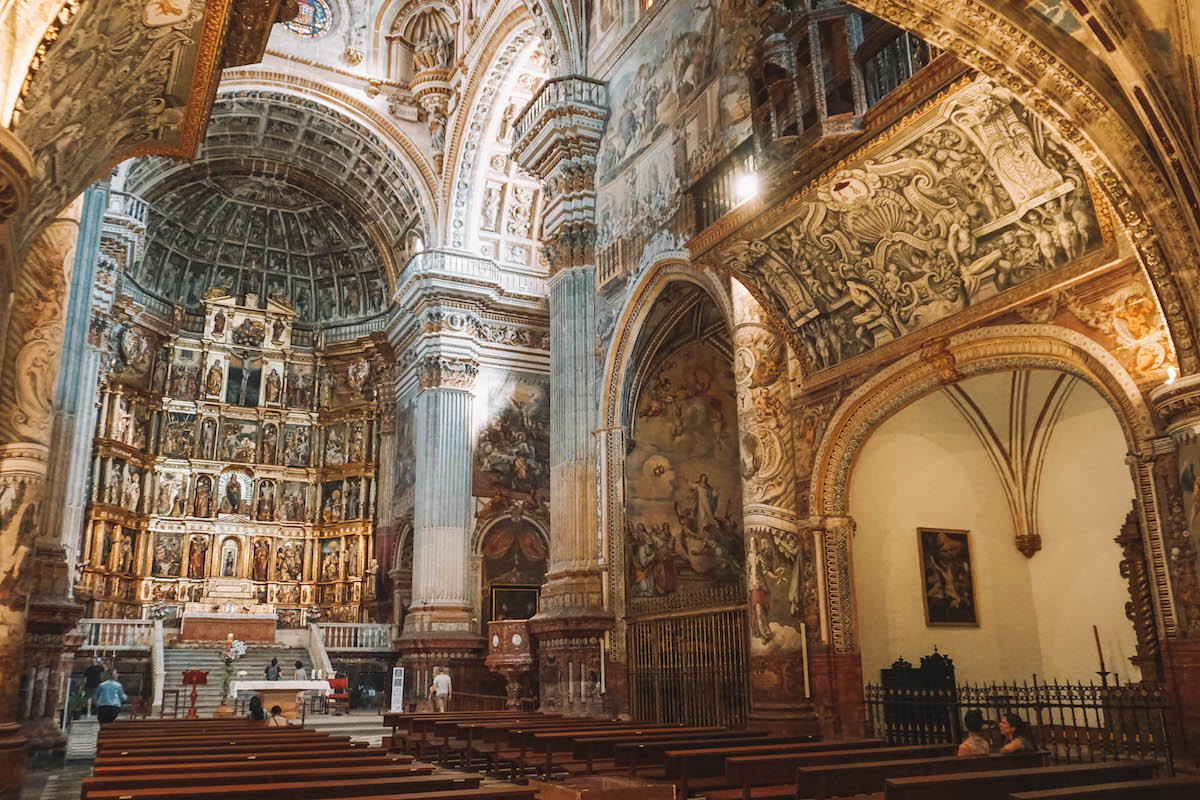 Time needed: 45 minutes to 1 hour
In addition to the cathedral, there are many more beautiful churches, monasteries, and convents to discover. One of the best-known is the San Jeronimo Monastery, which was completed in 1547. It was the first monastery to be built in Granada after the reconquest of Spain by the Catholic monarchy and was built on the site of a former 14th century mosque.
The monastery was built in honor of the Great Captain, Gonzalo Fernández de Córdoba. He was one of the two commissioners who negotiated the surrender of Granada by the Muslim rulers.
For nearly 300 years after its completion, the San Jeronimo Monastery was the most prosperous in the city. Monks have lived onsite on and off over the years, and an order of Hieronymite monks currently call the monastery home.
12. Watch the Sunset From a Mirador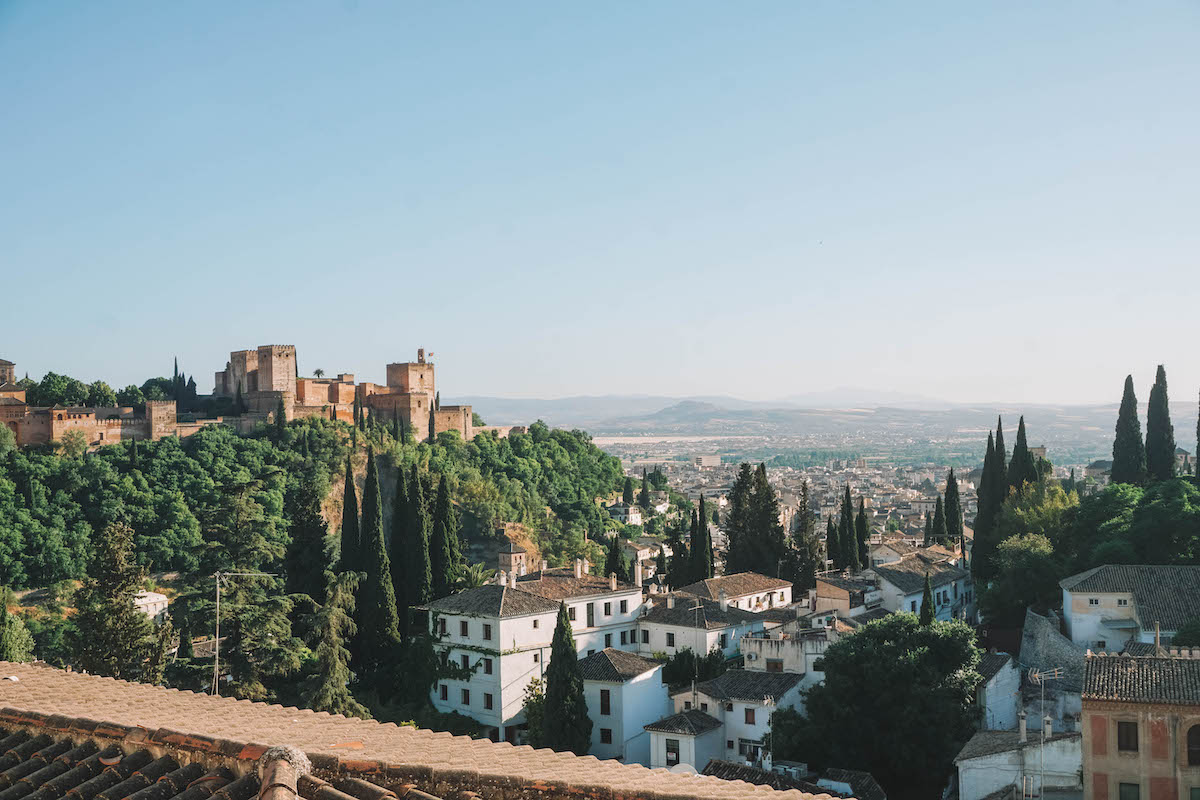 Time needed: 45 minutes
Miradors are scenic overlooks; in Granada, most of the miradors can be found in Albaicin and Sacromonte with stunning panoramic views of the Alhambra. Mirador de San Nicolas is the most popular spot to watch the sunset in Granada, and while it's certainly a gorgeous view it's not an experience I'd recommend. Since it's so well known, Mirador de San Nicolas becomes crowded and noisy near sunset — that's not the vibe I want when watching the sunset!
What most people don't realize is that the entire Albaicin and Sacromonte neighborhoods are littered with gorgeous viewpoints of the Alhambra! This area is set on a steep hillside facing the Alhambra, so you're guaranteed to have a good view anywhere you go.
Lesser known miradors I recommend for watching the sunset in Granada are: Mirador de la Vereda de Enmedio, Mirador Placeta de Carvajales, and Mirador Sacromonte. If you're looking for the top attractions in Granada, watching the sunset is a memorable (and free!) activity anyone will enjoy.
13. Explore the Gardens of Carmen de los Mártires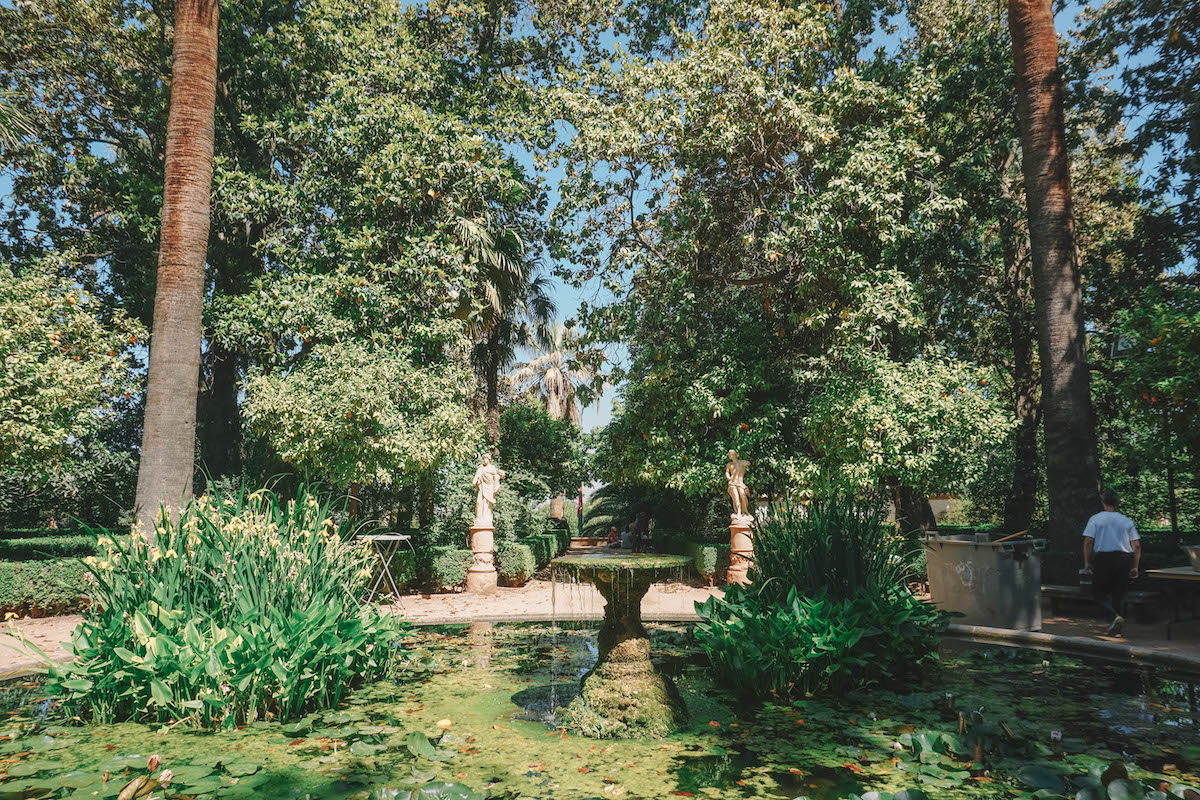 Time needed: 90 minutes
A Carmen is a house with a garden (a typical feature of old homes in Granada!). However, most of the remaining Carmen are private homes that tourists can't access.
While you likely won't get to see a "regular" Carmen, you can visit a luxury Carmen that's now open to the public. Carmen de los Martires is a stunning 19th century mansion with a sprawling park and garden complex.
Highlights of a visit to Carmen de los Martires include:
The Central Garden — a beautifully designed French Baroque garden near the house
The "lake" — Really an elevated irrigation pond, with a small island in the center that you can cross over to visit
The English-style garden — perfect for getting lost in!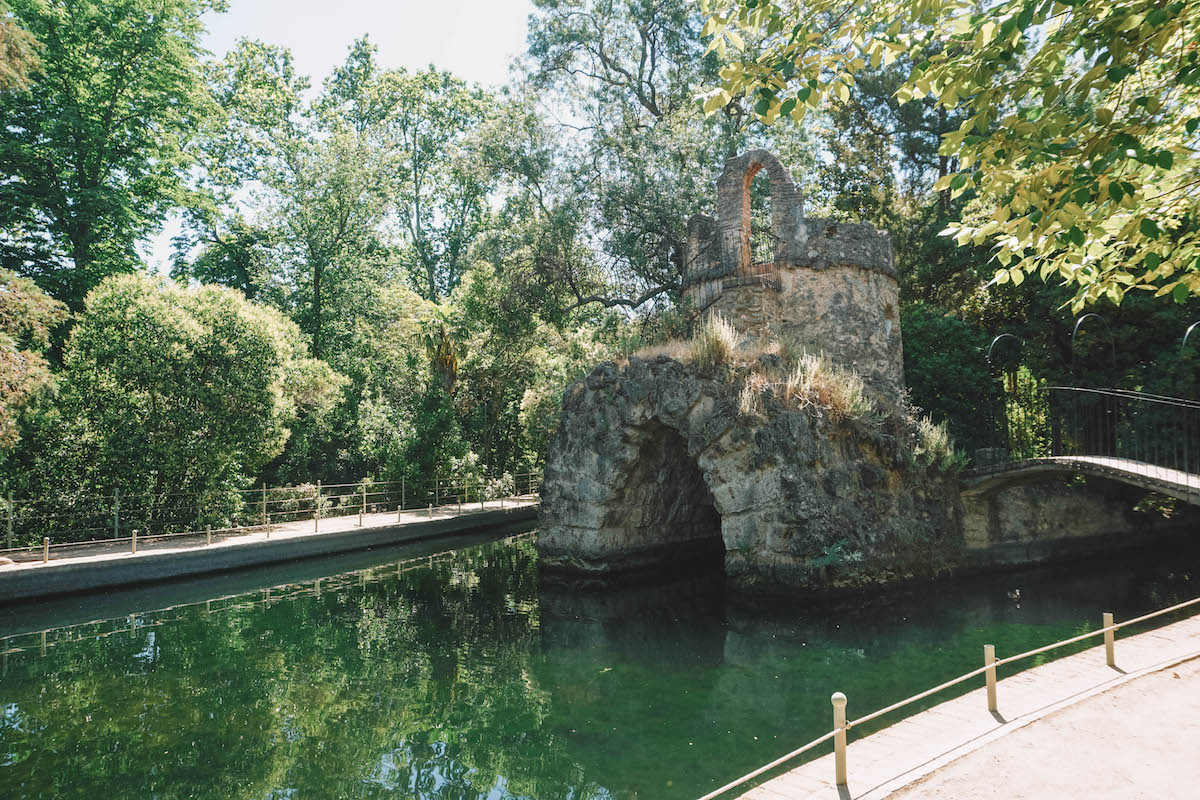 There are lots of quiet corners to rest your feet throughout the grounds at Carmen de los Martires, just be sure to pack a bottle of water as the grounds are extensive and you'll work up a sweat if you visit in the afternoon.
During your ramblings, listen closely for the peacocks calling to each other across the property. You'll also want to track down the Mirador de los Carmen Mártires for a lovely view of the city.
To get to Carmen de los Martires, I recommend walking here from the city center. The path will take you through the imposing Puerta de las Granadas and up a steep cobbled path before finally reaching a paved road. It's a fun adventure just to get here!
Tip: You can't enter the mansion itself, but the gardens and park are free to visit.
14. Visit the "La Cartuja"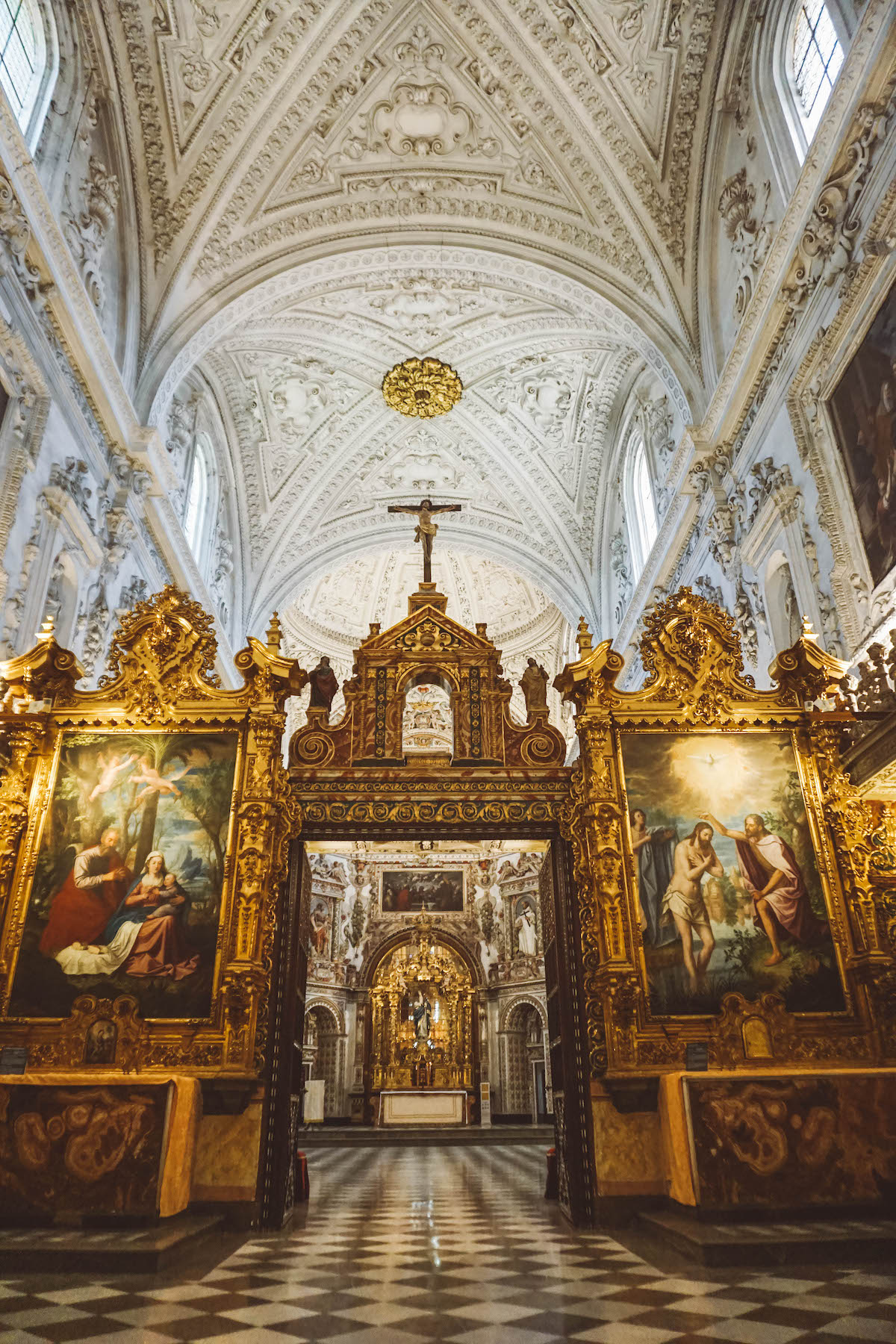 Time needed: 1 hour
Officially called the Monasterio de Nuestra Señora de la Asunción (the Carthusian Monastery of Granada), "La Cartuja" is a lavishly decorated Spanish Baroque church atop a hill just outside the city center. Building began on the church in the 1500s but it wasn't completed until the mid-1700s.
Words cannot describe how opulent the church is (which is ironic given that the Carthusian monks who lived here took vows of silence and fasting and lived as hermits). Looking at La Cartuja from the outside, you'd have no idea there was a treasure trove of gems, gold, and precious stones awaiting you.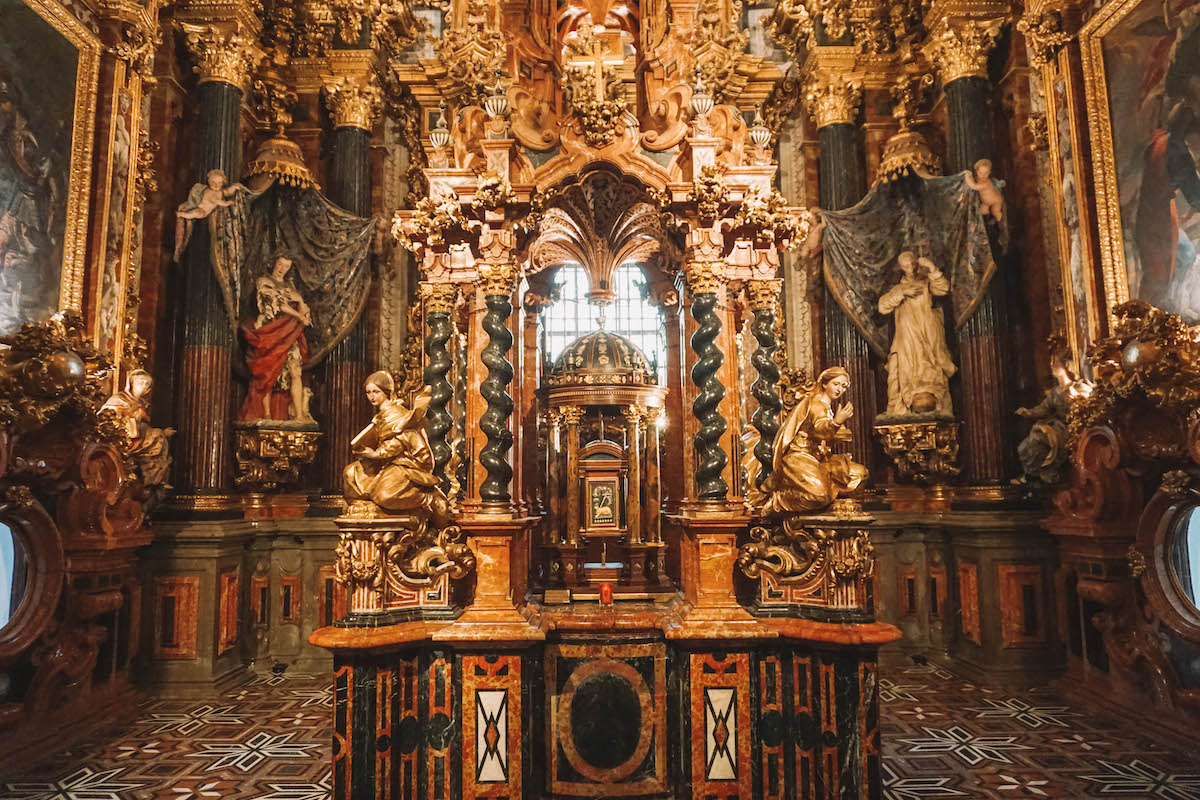 The church is divided into a few different sections: the nave, the chapel, and the sacristy. The chapel and sacristy are hidden from view when you first enter the church, so be sure to walk up behind the main altar to find the "hidden" rooms. The tabernacle within the sacristy is a mindboggling work of art; I can't even begin to guess how much time, effort, and money went into crafting it!
After oohing and aahing over the interior of the church (you'll have a crick in your neck by the end of your visit, guaranteed!), rest your feet in the tranquil inner courtyard. A grove of orange trees is planted here, and there's plenty of shade to keep you cool.
I spent the better part of two hours reading in the inner courtyard, during which only two other tourists disturbed my solitude. I got the feeling that La Cartuja is a bit of a hidden gem in Granada, perhaps because it takes rouhgly 30 minutes of walking up a steep hill to access. The longer trek is absolutely worth it though — this is one of my personal top things to do in Granada!
15. Go Window Shopping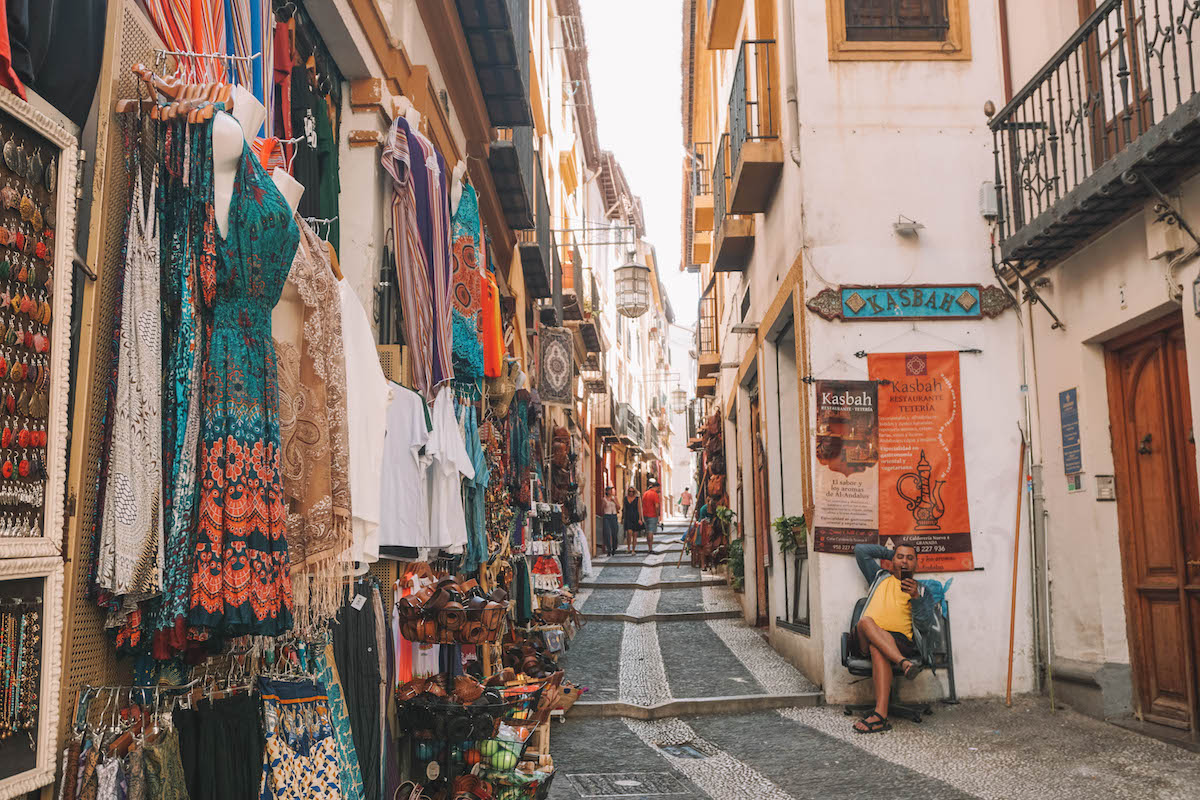 After you've seen the top sights in Granada, you can either rest your feet or go shopping. You know which option I picked!
There are lots of great shopping streets in Granada. The ones I passed through included:
Reyes Catolicos — the main shopping street, expect mostly chain stores.
Carrera del Darro — runs by river in Albaicin neighborhood, lots of cute tourist trinkets
Calle Calderería Nueva — is lined with Arab tea houses, lots more tourist trinkets here
Calle Mesones — a pretty pedestrian street near the cathedral, more boutiques than chain stores
La Alcaicería — former grand bazaar, now just a street selling souvenirs (it's a good photo spot, albeit very touristy!)
FAQs About Granada, Spain
What's Granada famous for?
The Alhambra! I read somewhere that it's the second most popular attraction in all of Spain, after La Sagrada Familia in Barcelona.
How many days are needed in Granada?
Three days in Granada was perfect for me. It gave me enough time to see the main sites, plus I also got to see some lesser known attractions that were further outside the city center. Granada isn't a city I recommend seeing at a fast pace; it really is best enjoyed more slowly.
What to see in Granada in a day?
Lots of people treat Granada as a day trip from bigger cities in Andalucia, and while it's not enough time to see many attractions, you'll get a basic feel for the city. If you truly only have one day in Granada, you'll want to spend half a day at the Alhambra. Then, explore the Albaicin neighborhood on foot. Depending on when you plan on leaving, you may also have time to visit the cathedral in the afternoon and could possibly see a flamenco show at night.
What does "Granada" mean?
Granada means "Pomegranate" in Spanish. The pomegranate is the symbol of the city — look out for street posts with pomegranates topping them! They're everywhere, so they're impossible to miss.
What are the top 5 things to do in Granada?
The absolute top 5, must-do attractions in Granada are:
Touring the Alhambra
Attending a Zambra flamenco show
Exploring the Albaicin neighborhood
Visiting the Cathedral
Watching the sunset at a mirador
How to get around Granada?
On foot! If you're driving through Andalucia I recommend parking your car in Granada and leaving it there. And under no circumstances would I recommend driving a car through Albaicin or Sacromonte.
Is Granada safe for tourists?
Absolutely! I traveled to Granada by myself and walked around the city at all hours of the day and felt perfectly safe. Granada is a university city, so there are always people around.
What's the best time to visit Granada?
Shoulder season. I was there late May and even then I about melted in the heat. There were also sizeable crowds at the Alhambra even in May. As such, I think the best time of year to visit Granada is March / April or September / October.
Until Next Time, Granada!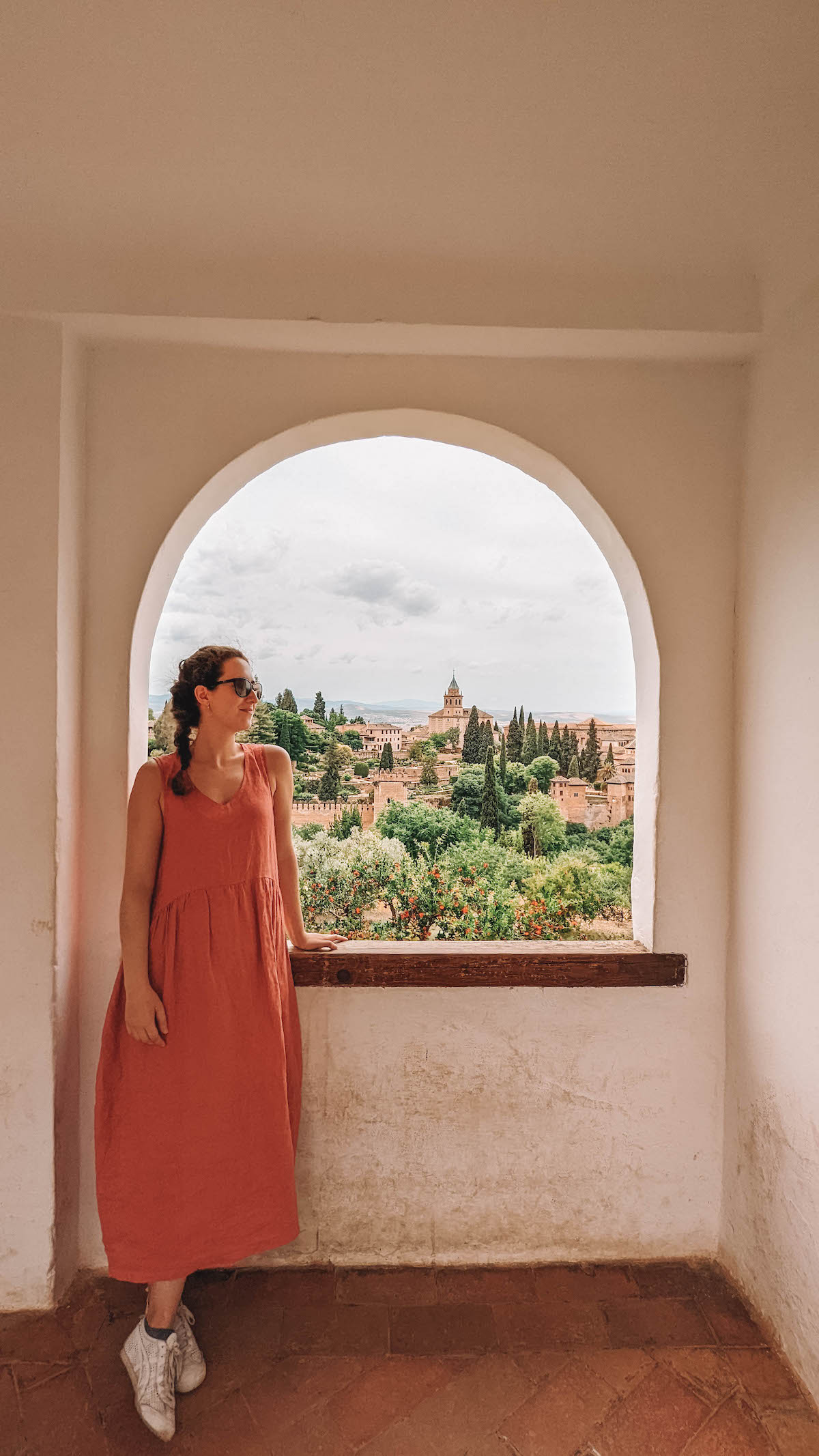 Granada is so much more than the Alhambra! It's a vibrant city with a fascinating history and a rich culture. Although many people spend just a day in Granada, I recommend planning three days here to fully immerse yourself in the city.
If you have any questions about what to do in Granada, Spain or any of the attractions I've mentioned in this post, leave me a comment below!
Don't forget to follow me on Instagram to keep up with my adventures in Berlin and beyond!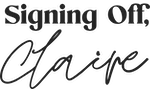 More Places to Visit in Andalusia, Spain: