Planning a trip to Andalucía? This southern Spain 2-week itinerary will take you through the best cities and towns in Andalucía. Even better, you can get to all the places via train if you don't want to rent a car!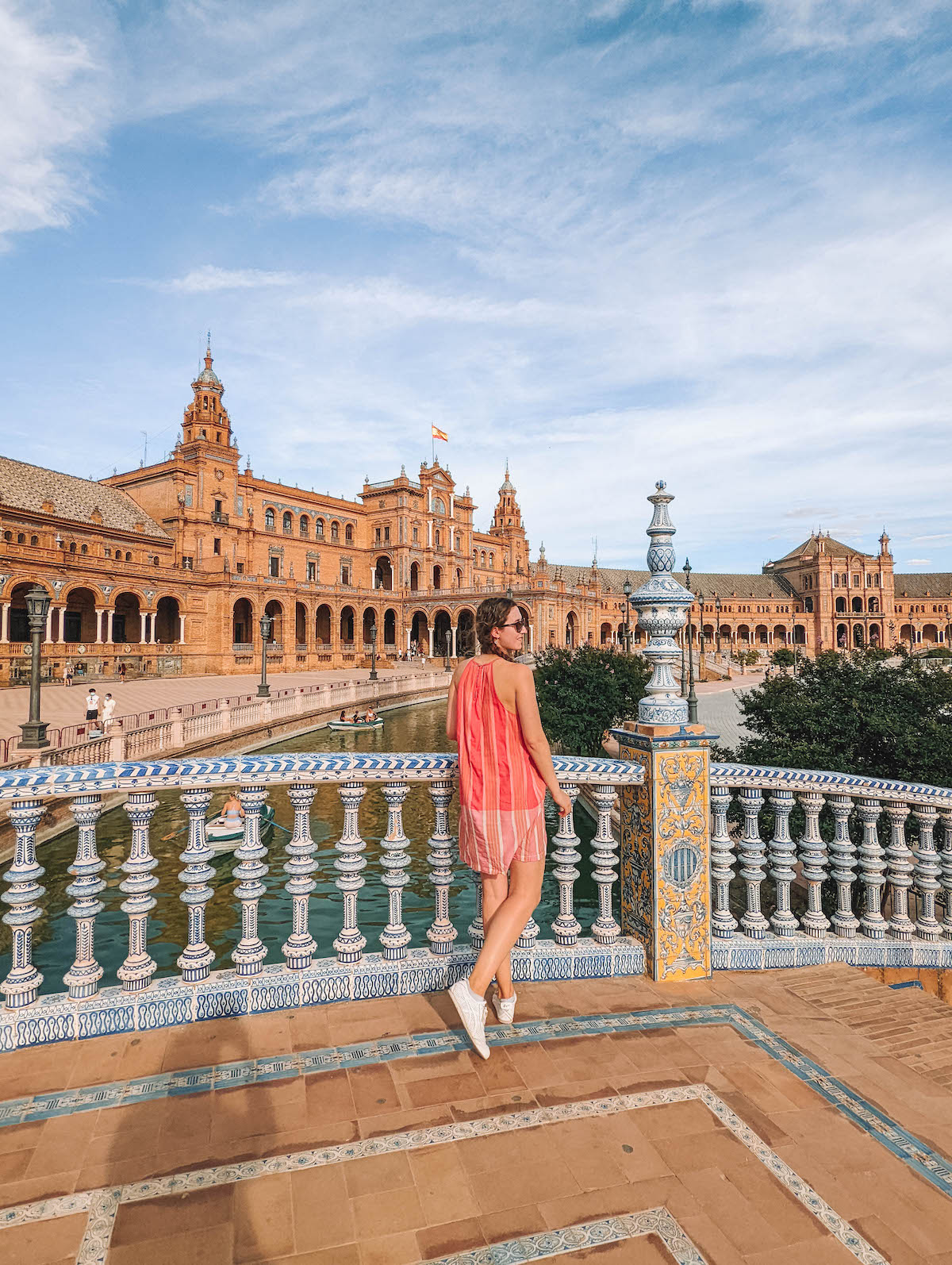 Madrid and Barcelona may be the best known cities in Spain, but my heart belongs in Andalucía!
After the Muslims invaded Spain in 711 AD, they called the southernmost part of the country "Al-Andalus." Near the end of Reconquista — a war between the Christians and the Muslims to gain total control of Spain that spanned seven centuries — Al-Andalus was the last remaining portion of the country that still belonged to the Muslims.
The centuries spent under Muslim rule has imbued the entirety of present day Andalucía with a unique culture you won't find elsewhere. In each city of Andalucía, you'll find mosques-turned-churches, stunning Mudejar architecture, and a cuisine that combines ingredients and flavors from both cultures.
While you could plan a 2-week trip to Spain anywhere you'd like, I highly recommend spending your time exploring Andalucía. 2 weeks in southern Spain will give you a taste of Spanish culture as a whole while offering a more nuanced experience wholly unique to Andalucía.
Below is a Spain itinerary for 14 days. I've gone into as much detail as possible about what to do in Andalucía, but you'll notice that I've included links to my detailed city guides as well — otherwise this blog post will turn into an e-book!
How Many Days Do You Need in Spain?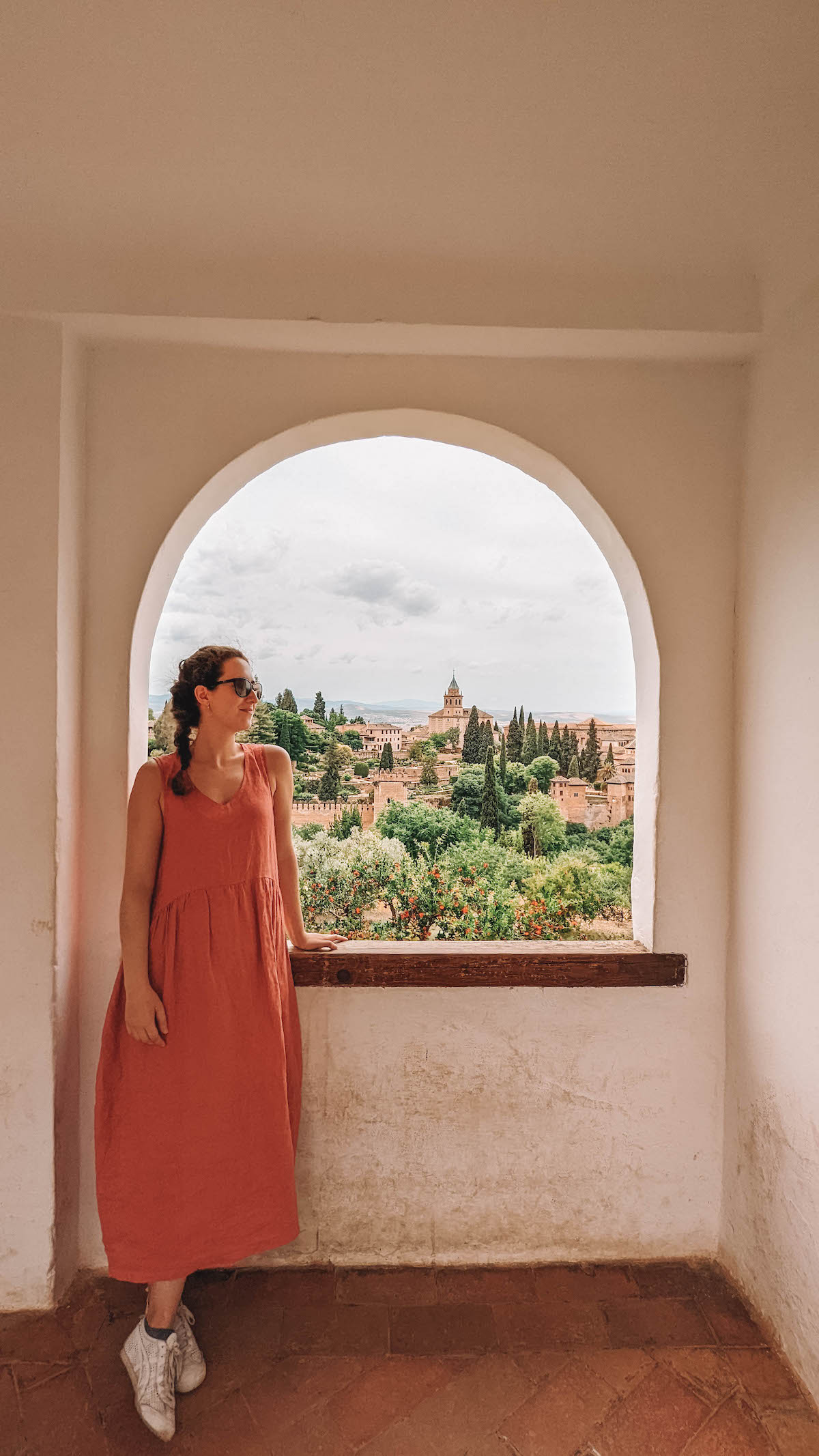 In a perfect world, we'd all be able to spend 3+ months in Spain to fully immerse ourselves in the culture and see the main sights. However, that's not how life works and I know your vacation time is limited.
2 weeks in Spain is just enough time to see three to six cities and towns — the exact number depends on how many activities you pack into your days and the size of cities you visit. (This itinerary comfortably fits five major cities in Southern Spain!)
I'll focus solely on the main cities in Andalucía in this itinerary. I'm of the opinion that it's better to focus on one specific area rather than waste time traveling from one end of the country to another just to see the big cities.
You could of course adjust this itinerary to spend just one week in Spain if that's all the time you have. If that's the case, I think your best call would be to visit Seville and Granada if you've never been to either!
What's the Best Time to Visit Spain?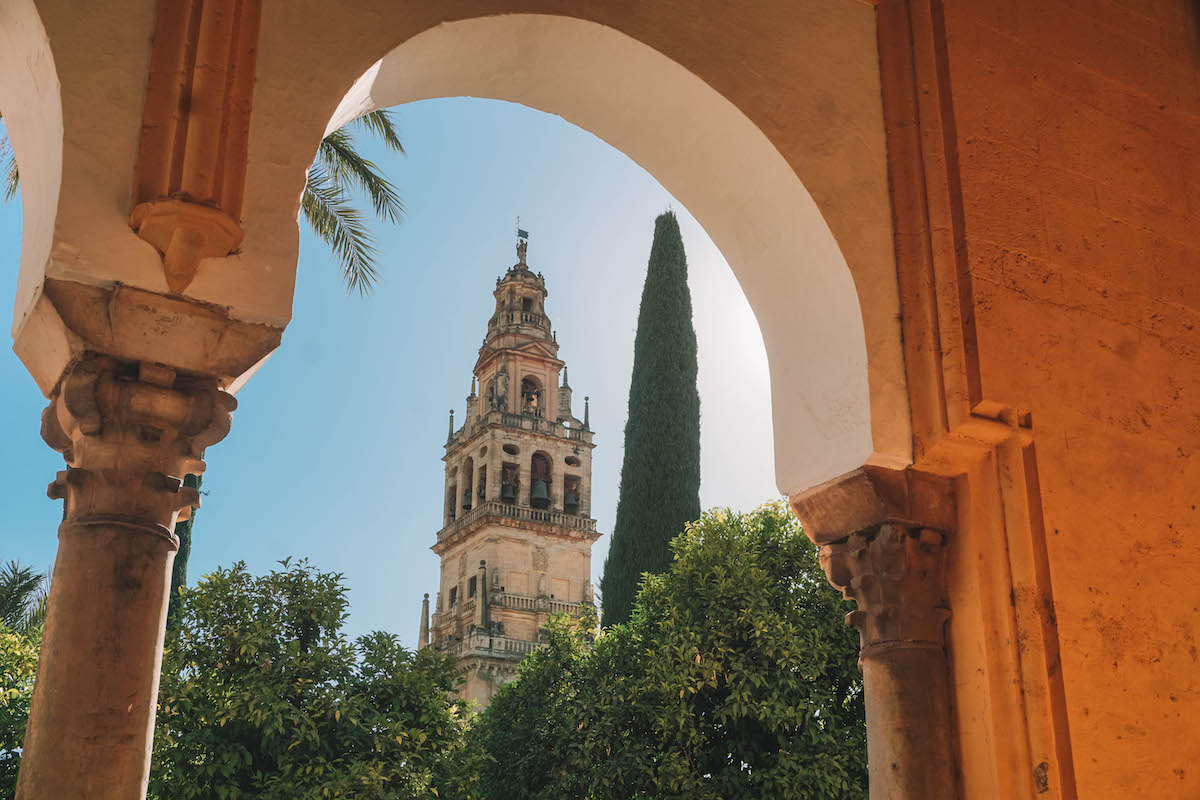 I recommend planning a trip to Andalucía during shoulder season (March / April or September through November). I visited southern Spain at the end of May, thinking I'd beat the worst of the crowds and would experience cooler temperatures. Wrong! It was 90ºF+ most days and major attractions, like the Alhambra in Granada, were packed with people.
The next time I visit Spain, I plan on going in the early spring!
Overview of This Spain 2-Week Itinerary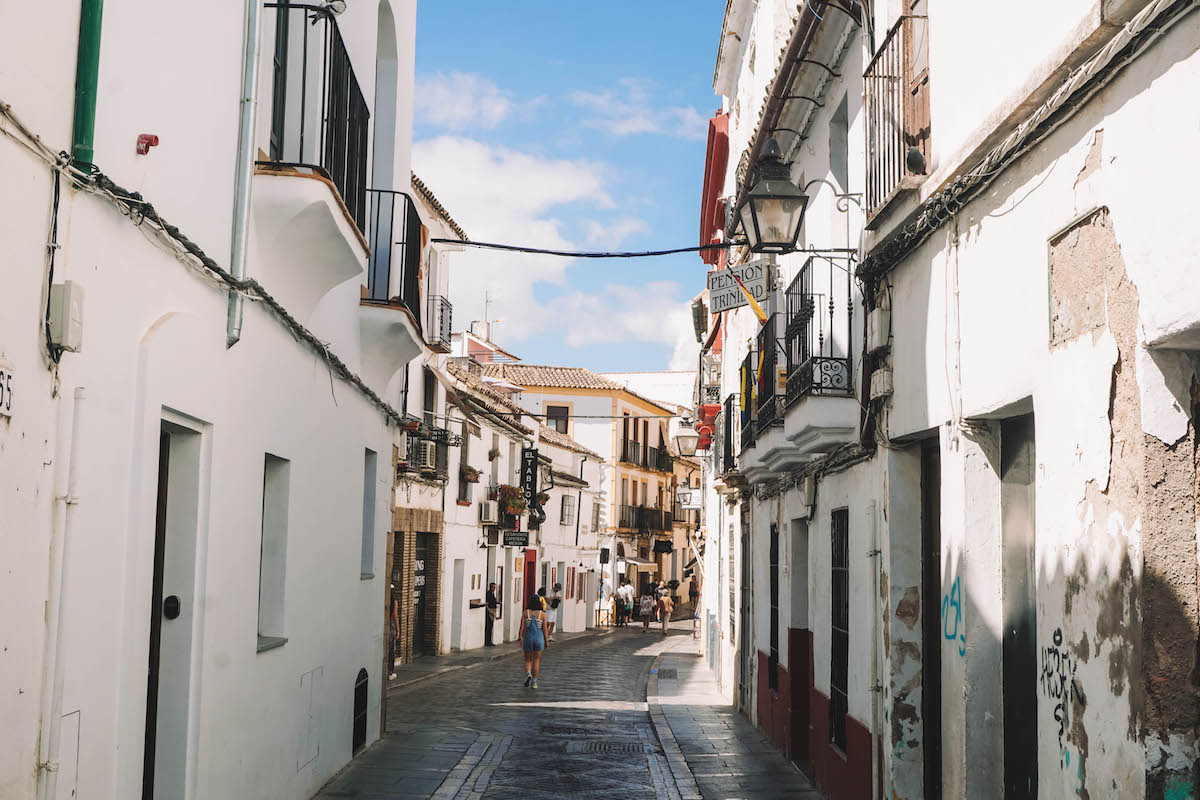 You'll note that I didn't include Barcelona or Madrid in this southern Spain 2-week itinerary. You can OF COURSE visit one or both of these cities, but I prefer to travel a little slower these days. If I'm going to go to Barcelona or Madrid, I'd rather have at least 5 full days in each place — which would have eaten into most of my 2-week trip to Spain!
So know that there are no itinerary police holding you accountable. Travel wherever you want, but I think this is the best 2-week Spain itinerary for those of you (like me!) who want to visit lots of different cities and see a variety of sights without having to run yourself into the ground each day.
All that being said, here's an overview of this 2-week Andalucía itinerary:
Days 1 – 3: Málaga
Days 4 – 6: Granada
Days 7 – 8: Córdoba
Days: 9 – 10: Ronda
Days 11 – 13: Seville
Day 14 has been left blank to account for travel between cities. It's better to have a little wiggle room in case your arriving flight is delayed, you miss your train, etc.
Where Should You Start and End a 2-Week Trip to Spain?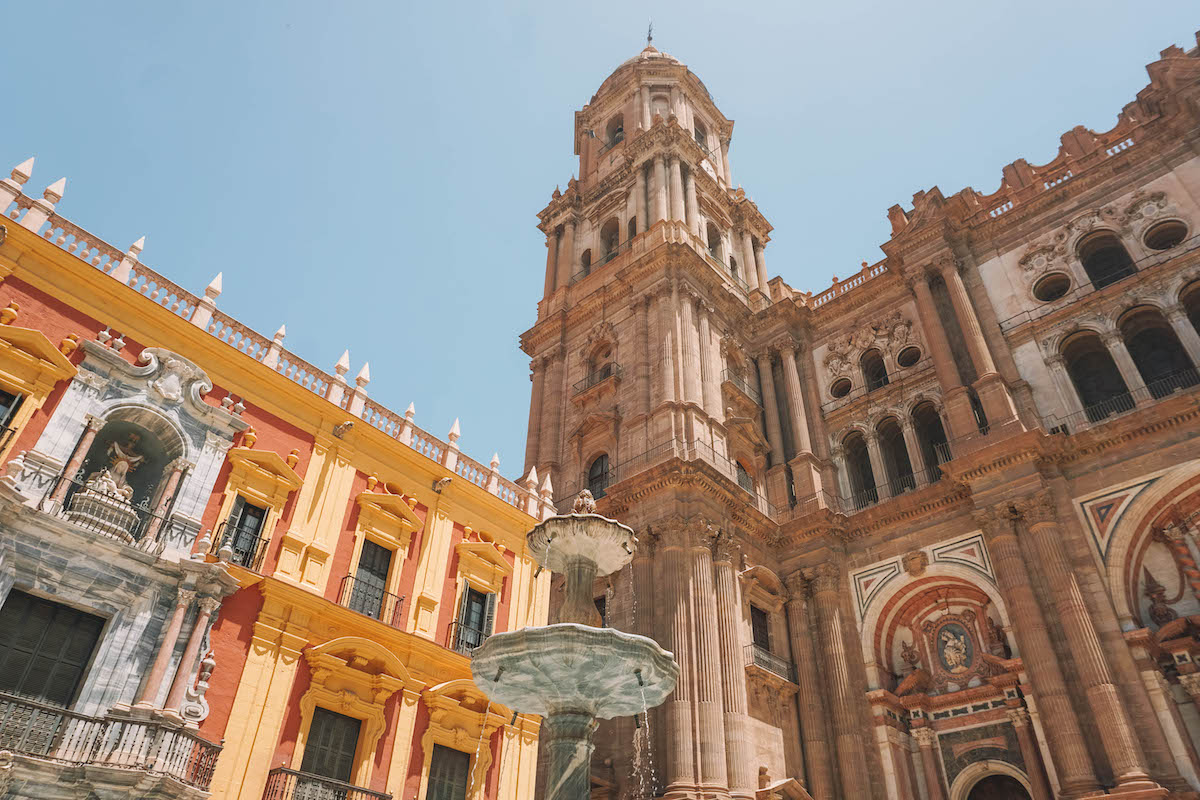 This southern ​​Spain 2-week itinerary begins in Málaga and ends in Seville. You could also flip flop the itinerary if you find better flight prices flying into one city versus the other.
Or, you may find it easier and cheaper to fly into Madrid and then drive or take the train to Málaga to start your 14 days in Spain. That will obviously add on time and eat into your trip, but sometimes needs must!
Car, Bus, or Train? How to Get Around Southern Spain
Most itineraries I referenced for planning 2 weeks in Spain suggested renting a car to traverse Andalucía. They said it was easier and quicker to do so, but I had zero desire to spend extra money on a rental car, nor did I want to deal with parking in foreign cities on my own.
I was worried that taking a train around southern Spain would prove confusing or time-consuming, but it was actually so incredibly easy and affordable!
From my personal experience, I can assure you that this 2-week Spain itinerary can absolutely be done by train! The longest train journey is just under 3 hours, and it will be at the end of your trip.
Note that many of the trains leave either first thing in the morning or in the late afternoon. I recommend boarding the morning trains (none require you to get up ridiculously early, don't worry!).
Also, you should plan to arrive at the train stations 20 to 30 minutes before departure. In Spain, you're required to go through a quick security check before boarding your train. They'll X-Ray your suitcase and check your ticket, and then you're off!
Lastly, please note that I walked from the central train stations to each of my hotels and AirBNBs. So know that the train stations of each city listed in this 2-week Andalucía itinerary are very close to the city centers!
Best Way to Book Train Tickets in Spain
The Renfe website (i.e. the Spanish railway's official website) is an absolute nightmare to use. Every time I tried to book a ticket, the site crashed.
Save yourself a major headache and book your train tickets through a third-party provider like Omio. I did manage to book a couple tickets through Renfe after much hair-pulling, as I noticed that Renfe sometimes had additional train times listed that weren't shown on the Omio site. So check both sites, but book through Omio if possible.
Of course, you can also wait to book your tickets in person at the train stations. There are ticket machines everywhere and they're easy to use. The prices may be more expensive day-of, but it would give you the flexibility to alter your itinerary if that's important to you.
Southern Spain 2-Week Itinerary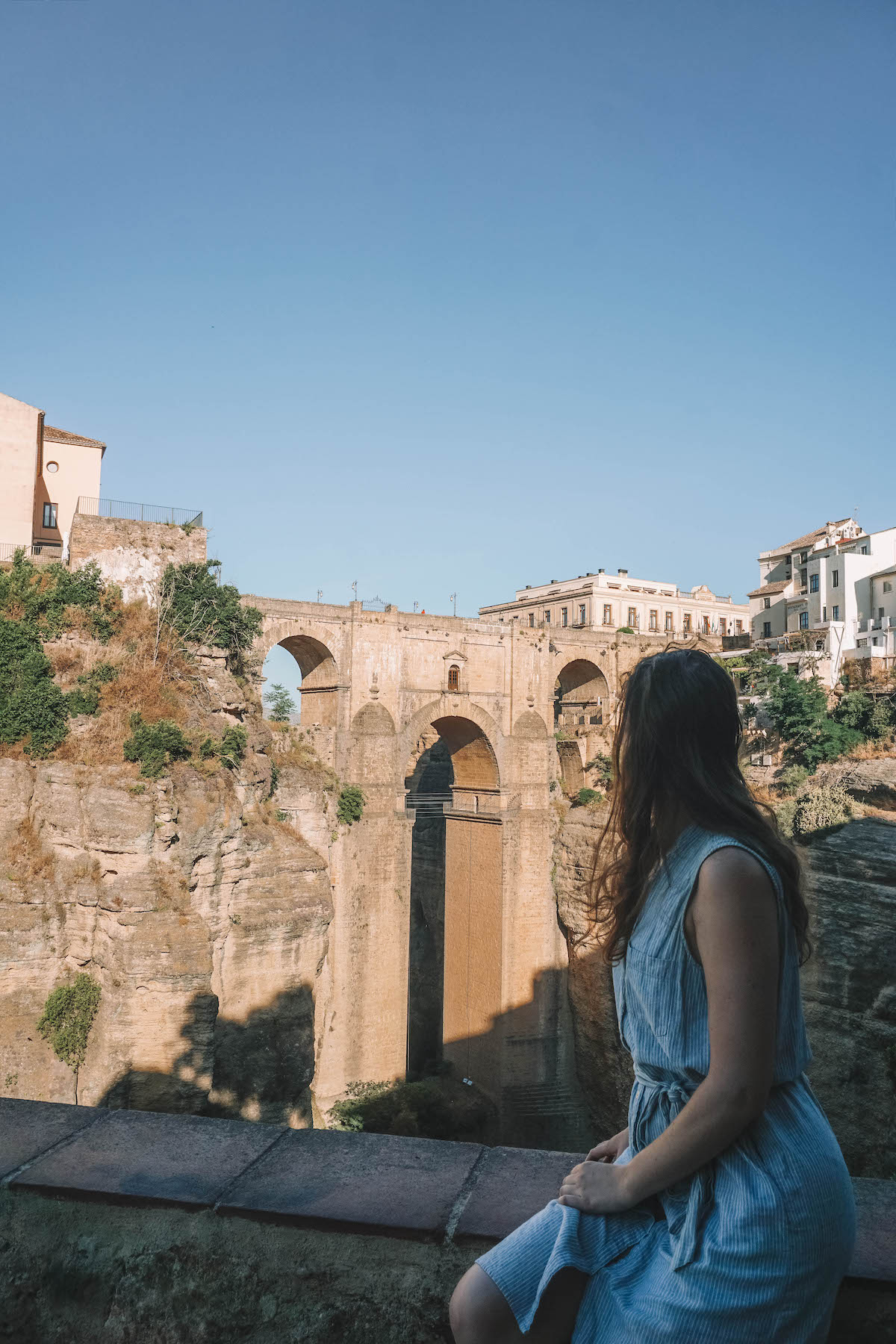 I've already given quite a few tips for making the most of your 2 weeks in Southern Spain, but here are a few quick reminders before I FINALLY dive into the full itinerary.
First and foremost, you can get to all of the cities mentioned on this itinerary via train. No need to rent a car!
Second, you can mix and match this itinerary as you see fit.
Thirdly, I've given broad overviews of each day's activities but have linked to my ultra detailed city guides in each portion of the itinerary. Read those posts for more information on the individual attractions. I wanted this itinerary to be, well, an itinerary (i.e. a broad overview of how to plan a 2-week trip to Spain).
Spain Itinerary Days 1 – 3: Málaga
One of the gems of southern Spain, Málaga is a gorgeous port city that boasts one of the biggest and best preserved Old Towns I've had the pleasure of visiting. Málaga is also the birthplace of Pablo Picasso and Antonio Banderas, and the locals are very proud of their famous sons!
Of all the places in Andalucía, Málaga is one of the better ones for understanding how the Romans, Muslims, and Catholics shaped the region's culture. The absolute top attractions in Málaga are undoubtedly the beautiful cathedral, the Alcazaba, and Gibralfaro Castle.
Below is a bulleted itinerary for 3 days in Málaga, but you can read LOTS more about the specific attractions in my full Málaga city guide.
Day 1 in Malaga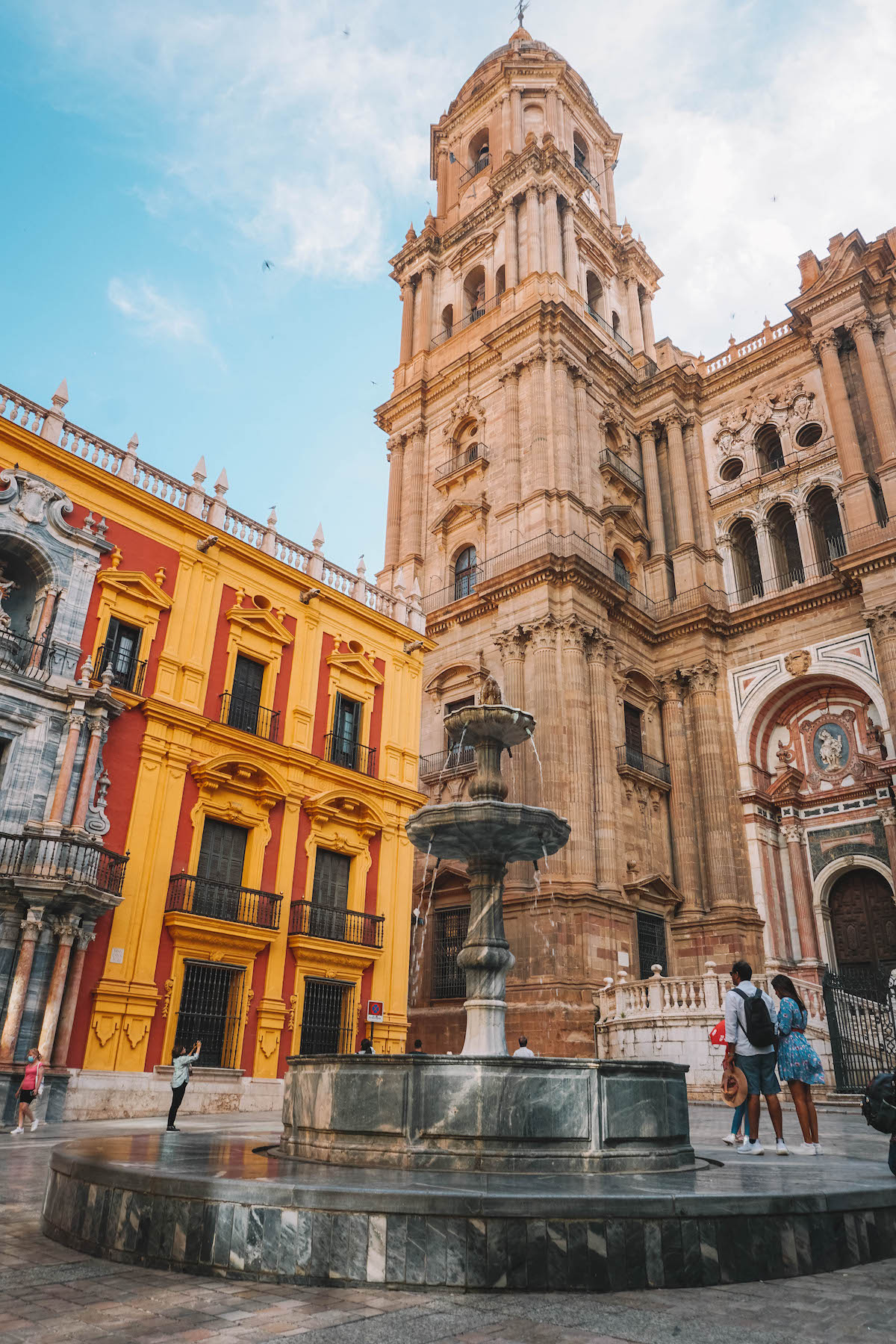 Free walking tour — Malaga Adventures has a detailed 3-hour, free walking tour of the city center. This is the best way to learn about the history of the city, plus it gives you a chance to ask a local for restaurant and activity recommendations!
Cathedral and rooftop (shown above) — Nicknamed La Manquita (little lady with one arm), Málaga's cathedral took more than 200 years to get to its current state … and it was never finished! It's one of the most stunning cathedrals I've visited, and I highly recommend paying extra to climb to the rooftop for an unparalleled view of both the unfinished cathedral and the city center.
Malaga Museum — Housed in what was originally the city's customs house, the Malaga Museum is a small but impressive museum that boasts a variety of art and artifacts meant to give visitors a closer look into the city's past.
Explore the Old Town — After packing your brain with key historic facts, enjoy window shopping getting lost in the Old Town! Calle Marqués de Larios is one of the most expensive shopping streets in all of Spain, and there are many more side streets to discover.
Day 2 in Malaga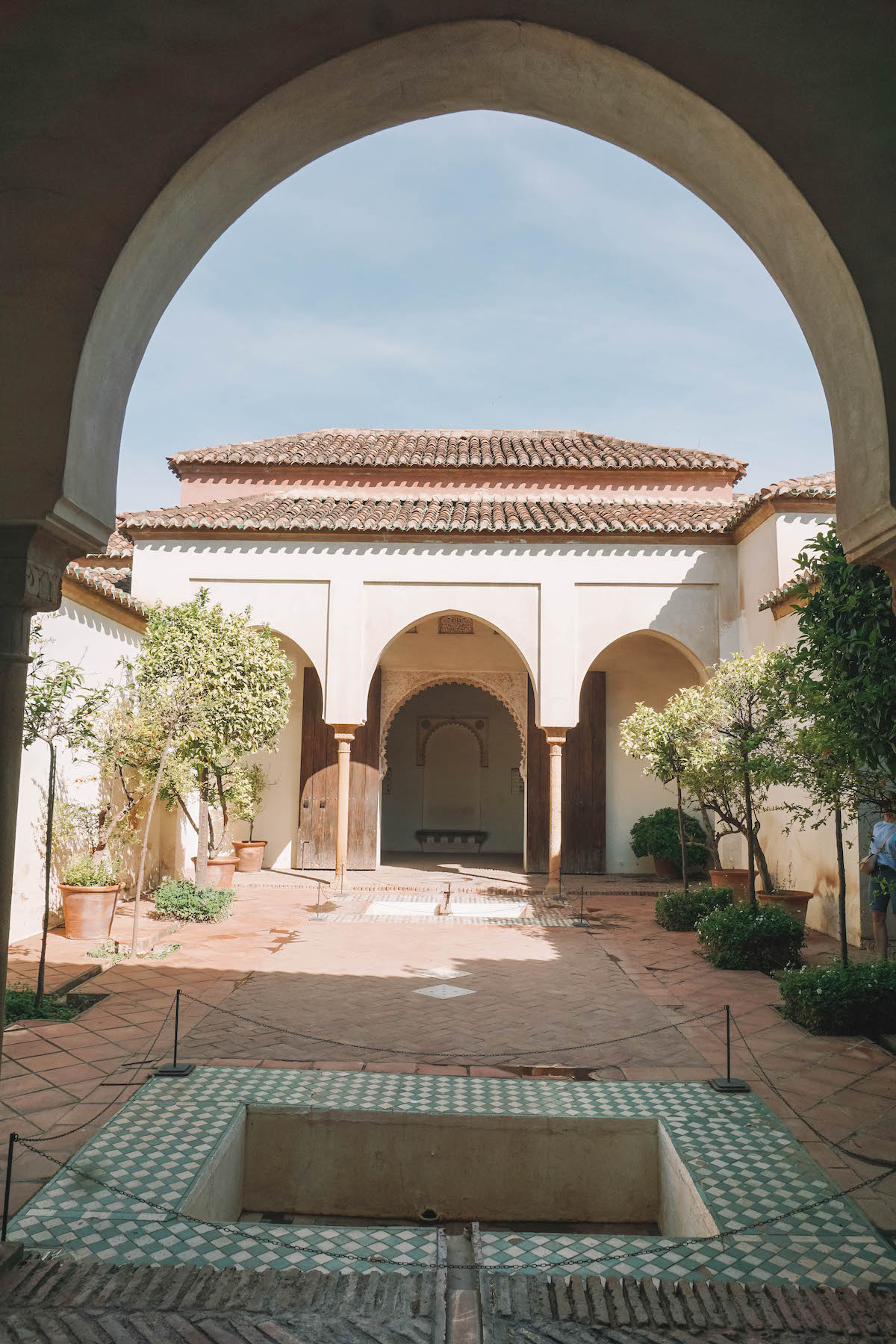 Alcazaba (shown above) — A former Muslim fortress that was built in the 11th century as a means of defending the port. The interior of the fortress has lots of hidden gardens and babbling fountains, and is a surprisingly peaceful place to visit.
Roman Theater — Built by the Romans in the 1st Century BCE, the Roman Theater is now in ruins. The city has built platforms over the ruins so you can walk directly over them and get a sense of how the theater must have operated in its heyday.
Gibralfaro Castle — Gibralfaro Castle was built in the 1300s to improve the city's defenses. Like the Alcazaba, the castle was built by the Muslims. The views from the castle's parapets are absolutely stunning!
Picasso Museum — The perfect place to escape the afternoon heat! Picasso was born in Málaga, and this museum owns more than 230 of his works of art. If Picasso doesn't pique your interest, I can also highly recommend the Carmen Thyssen Museum as an alternative.
Day 3 in Malaga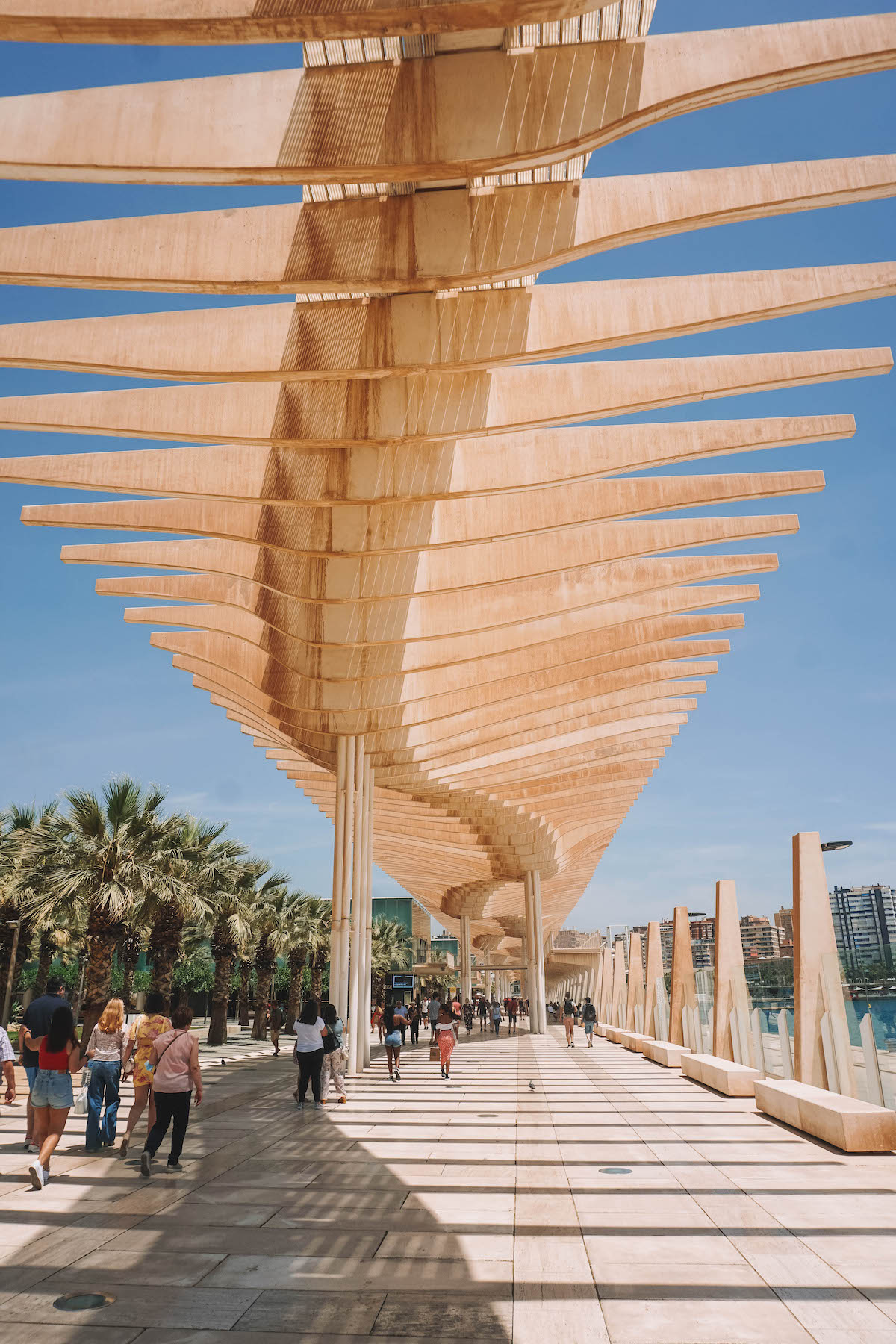 Muelle Uno (shown above)— A section of the port of Málaga that's been transformed into an open-air shopping and dining center.
Playa de la Malagueta – The local beach! It can become crowded in the summer, so arrive early to claim a spot. You can spend the morning here, or the entire day. OR enjoy a walk along the sand before continuing with the attractions below.
Mercado Central de Atarazanas — A covered market in the city center with vendors selling fresh produce, seafood and meats, dried fruits, and almonds. Grab some fresh fruit, almonds, and other nibbles here to take with you to the gardens!
La Concepcion Botanical Gardens — An underrated Málaga attraction! The gardens are located on the historic La Concepcion. After touring the various gardens, I recommend finding a spot in the shade to enjoy your snacks from the market and maybe read a book or call home, if desired.
Spain Itinerary Days 4 – 6: Granada
Granada was ruled by the Muslims for centuries and was the last city in Spain to fall back into the hands of the Catholic monarchy in 1492. Granada is home to one of the top tourist attractions in all of Spain: the Alhambra.
Many people visit Granada as a day trip from Seville or Málaga, but I don't recommend doing that as there's SO much more to do and see than simply tour the Alhambra.
Below you'll find an itinerary for 3 days in Granada. For more details on the individual attractions listed below, check out my full Granda city guide.
Day 1 in Granada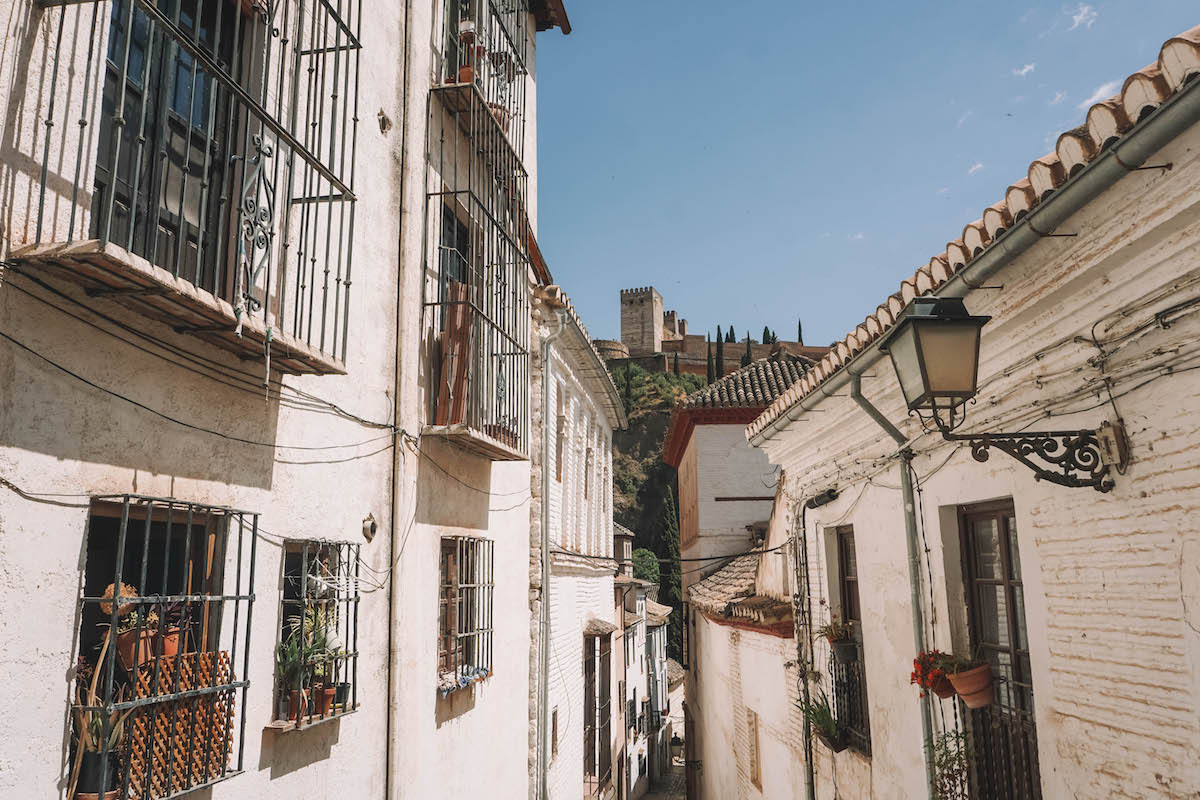 Cathedral — Built on the site of the Great Mosque following the Catholic reconquest of Spain. The cathedral contains a unique blend of architectural styles, but it was built mostly in the style of the Spanish Renaissance.
Guided walking tour — Granada has a long history, which you won't learn about simply by visiting the main tourist attractions. Walk in Granada offers a more traditional pay-what-you-want walking tour, as well as a walking tour of Albaicin and Sacromonte. Choose whichever interests you more!
Sacromonte / Albaicín (shown above) — The "Old Town" areas of Granada directly facing the Alhambra. They're mostly residential, but there are many white-washed alleyways to meander through as well as scenic overlooks (Miradors) offering up spectacular views of the city.
Bañuelo — An 11th century Arabic hammam (bath house) that's been beautifully preserved.
Sunset — Most itineraries say to watch the sunset from Mirador San Nicolas, but it fills up quickly and is noisy and crowded. Instead, watch the sunset from Mirador de la Vereda de Enmedio, Mirador Placeta de Carvajales, or Mirador Sacromonte.
Day 2 in Granada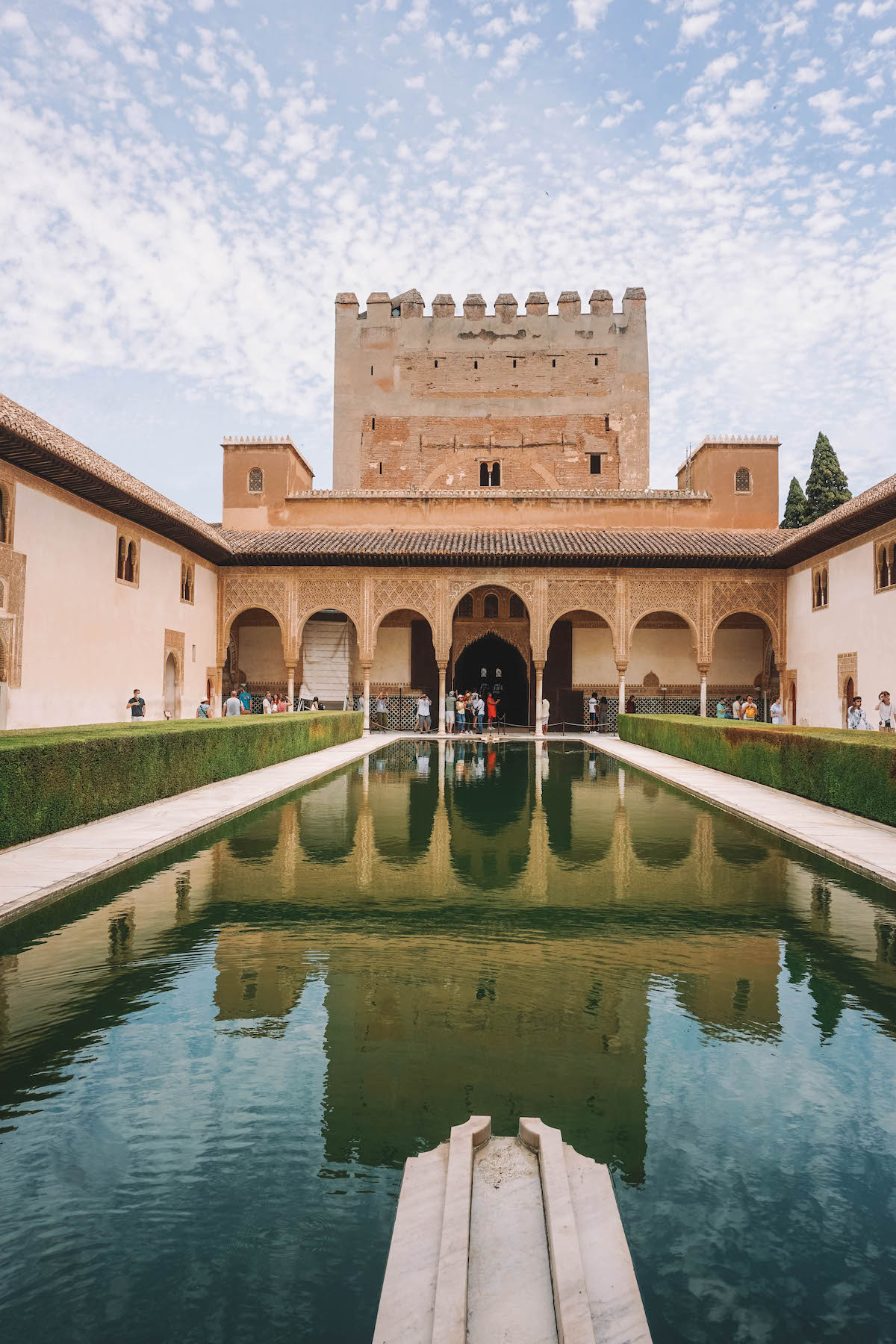 Alhambra (shown above)— The top attraction in Granada! It's a massive complex that was originally built in the 9th century as a military fortress, but it was expanded upon over the centuries to also serve as the royal residence.
Rest! — Even if you visit first thing in the morning, you'll be wiped after walking for hours around the Alhambra complex in the sunshine. Schedule a rest period into your day to ensure you don't become overheated. (Seriously, please do this! Even if it's just relaxing at a cafe for an hour with a cold drink.)
Window shop and explore some more — Popular shopping streets include the Reyes Catolicos, Carrera del Darro, and Calle Calderería Nueva. If you're up for a little adventure, try to find a local convent or monastery selling sweets! (Check out my full Granada guide linked above for info on where I bought my convent cookies.)
Flamenco show — You can't leave Granada without attending an authentic flamenco show in the caves of Sacromonte! The local style of flamenco is called Zambra, and the entire performance is absolutely electrifying.
Day 3 in Granada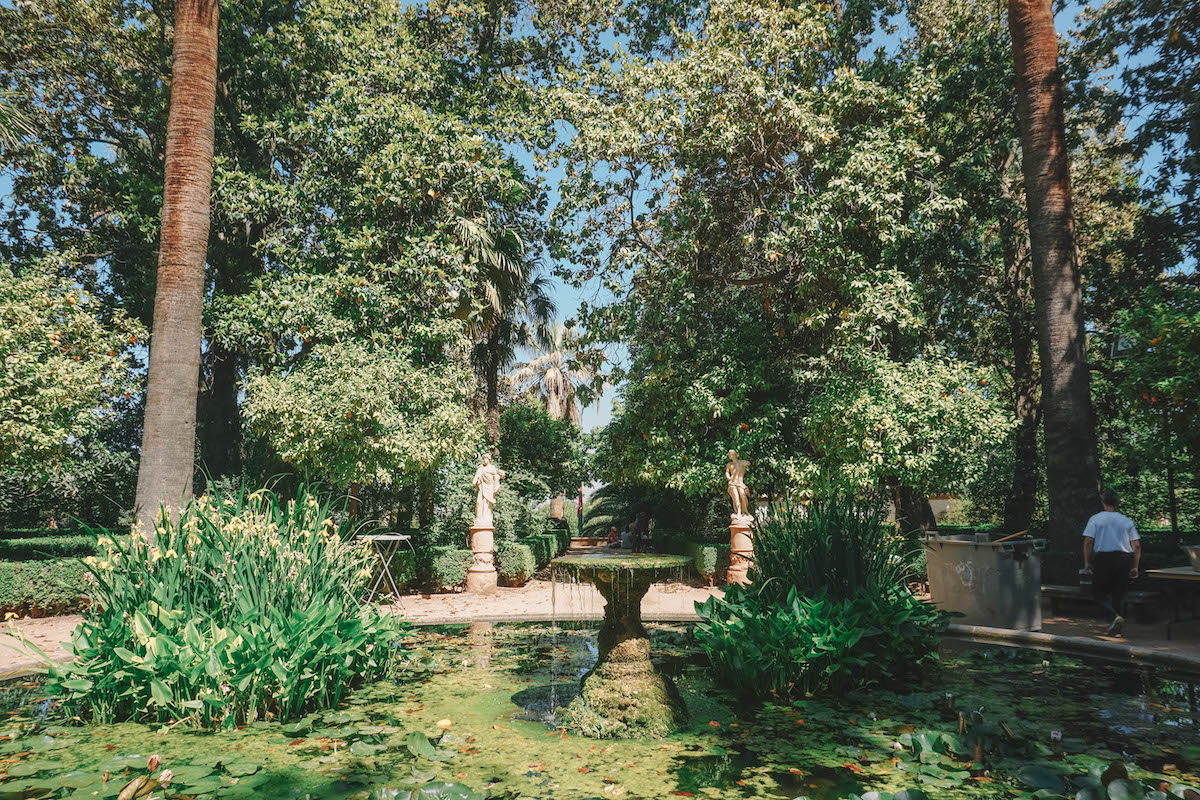 Carmen de los Mártires (shown above) — A stunning 19th century mansion with a sprawling park and garden complex.
San Jeronimo Monastery —The first monastery to be built in Granada after the reconquest of Spain by the Catholic monarchy.
Monasterio de Nuestra Señora de la Asunción ("La Cartuja") — A lavishly decorated Spanish Baroque church atop a hill just outside the city center. Emphasis on "lavishly decorated." This place is insanely beautiful! If you don't have the time or desire to visit both monasteries on today's itinerary, pick this one over San Jeronimo.
Spain Itinerary Days 7 – 8: Córdoba
Córdoba was formerly the capital of Islamic Spain and was also once the largest and most advanced city in all of Europe. Today Córdoba is best known for its Mosque-Cathedral, "La Mezquita," which integrated the original mosque architecture with the Christian cathedral built on the site.
There are enough attractions in Córdoba to fill two leisurely days of adventuring, but one full day will also give you enough time to see the main sights. If you want to alter this itinerary for 2 weeks in Southern Spain, this is one place you could do it.
For more information on the Córdoba attractions listed below, check out my full Córdoba city guide.
Day 1 in Córdoba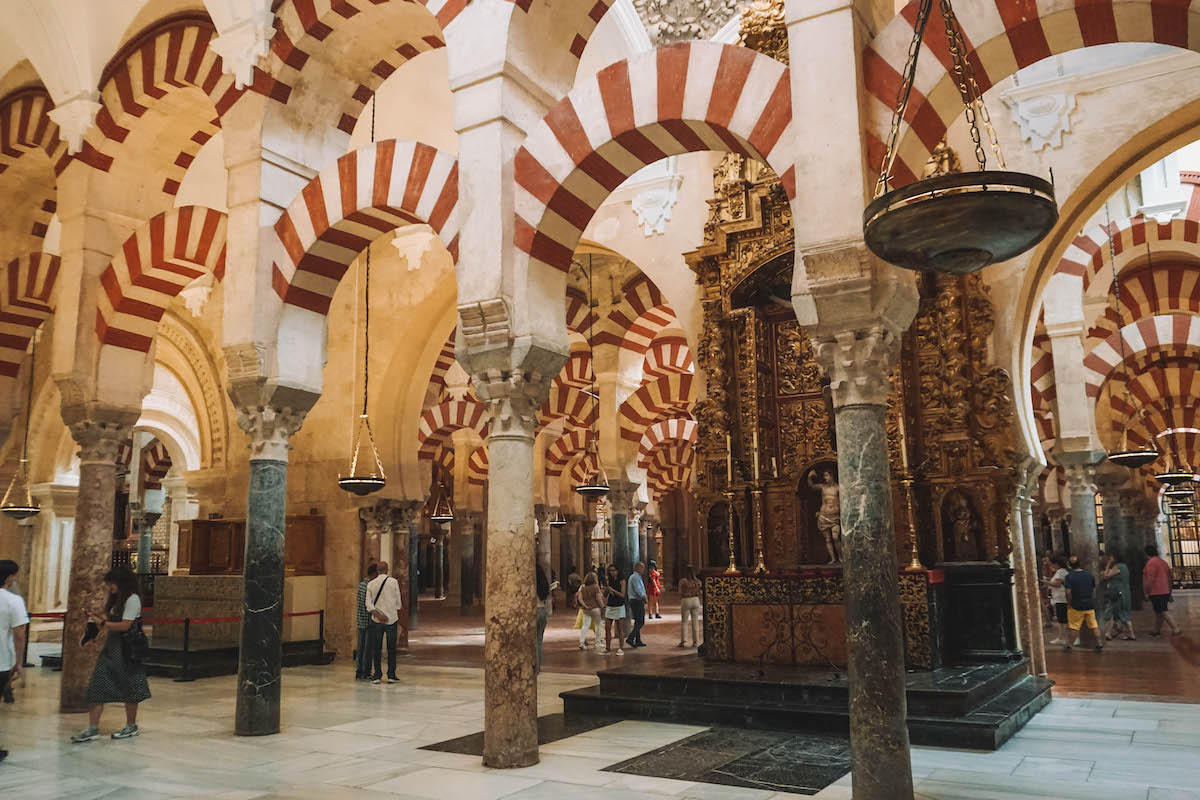 Mosque-Cathedral (Mezquita) — A former Islamic mosque that was converted into a Catholic cathedral in the 13th century. The original mosque architecture has been integrated into the cathedral, rather than destroyed and built over.
Flower Street — A quaint white-washed alleyway near the Mezquita lined with bright blue flower pots. A great photo opp!
Roman Bridge (+ Calahorra Tower, if desired) — The Puente Romano was first built in the 1st century by the Romans. The view from the opposite bank makes for a great photo! Calahorra Toweris a fortified gate along the bridge that now houses the Museo Vivo de Al-Andalus.
Alcazar of the Catholic Monarchs — A fortress that also served as a palace. It's where the Catholic monarchs Ferdinand and Isabella lived for eight years during the Reconquista. The interior of the fortress isn't anything to write home about, but the gardens are beautiful!
Almodóvar Gate — One of only three remaining medieval city gates. Walk through the gate to reach the former Jewish Quarter, where there are lots of shops and restaurants.
Day 2 in Córdoba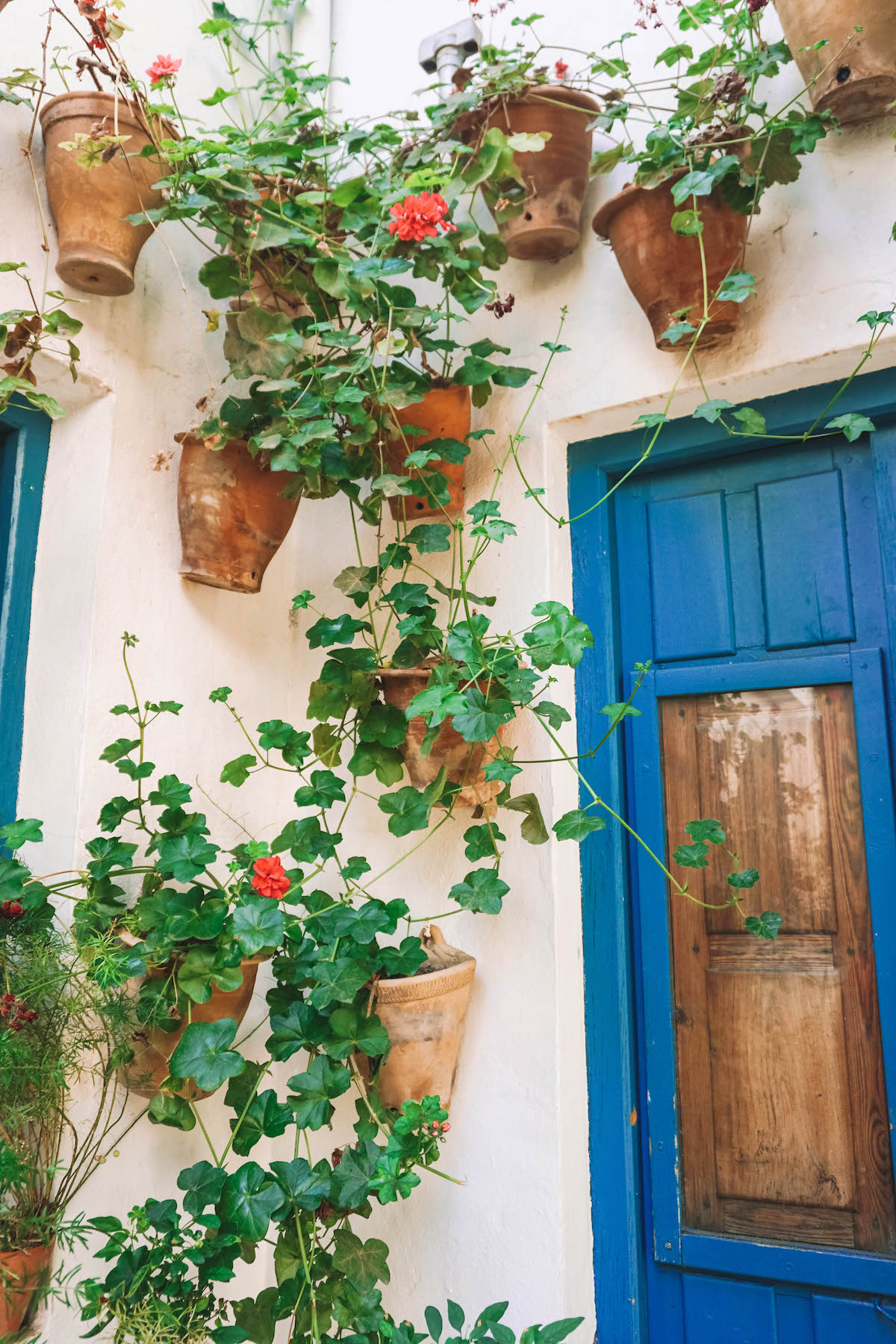 Palacio de Viana (shown above)— A 15th century palace with 12 stunning patios (the lush inner courtyards that Córdoba is known for!).
Templo Romano — Ruins of what was once the largest Roman temple in the city.
Plaza de las Tendillas — Nearby square with a fountain and pretty cafes.
Window shopping in the Old Town b— Return to the Old Town to shop, grab a drink, or enjoy an afternoon siesta back at your hotel.
Plaza de Corredera — A residential square with bars and cafes at street level. It's fairly quiet during the daytime, but at night it's packed with locals all chatting over their drinks. This is a relaxed, family-friendly spot, not a party destination!
Spain Itinerary Days 9 – 10: Ronda
Ronda is one of the prettiest towns in all of Spain! The Old Town is set high above the El Tajo Gorge and connects to the modern part of the town via the 322-high Puente Nuevo bridge. This was one of Ernest Hemingway's favorite haunts, and the town's iconic bridge is said to have inspired scenes in his novel, For Whom the Bell Tolls.
Like Córdoba, you could get away with one full day in Ronda if there are other cities you're dying to pack into your 2 week-trip to Andalucía. However, my two days in Ronda were some of the most magical of my entire 2 weeks in Spain! The town's small size makes it perfect to explore at your leisure.
For lots more detail on the Ronda attractions I've shared below, read my full guide to Ronda.
Day 1 in Ronda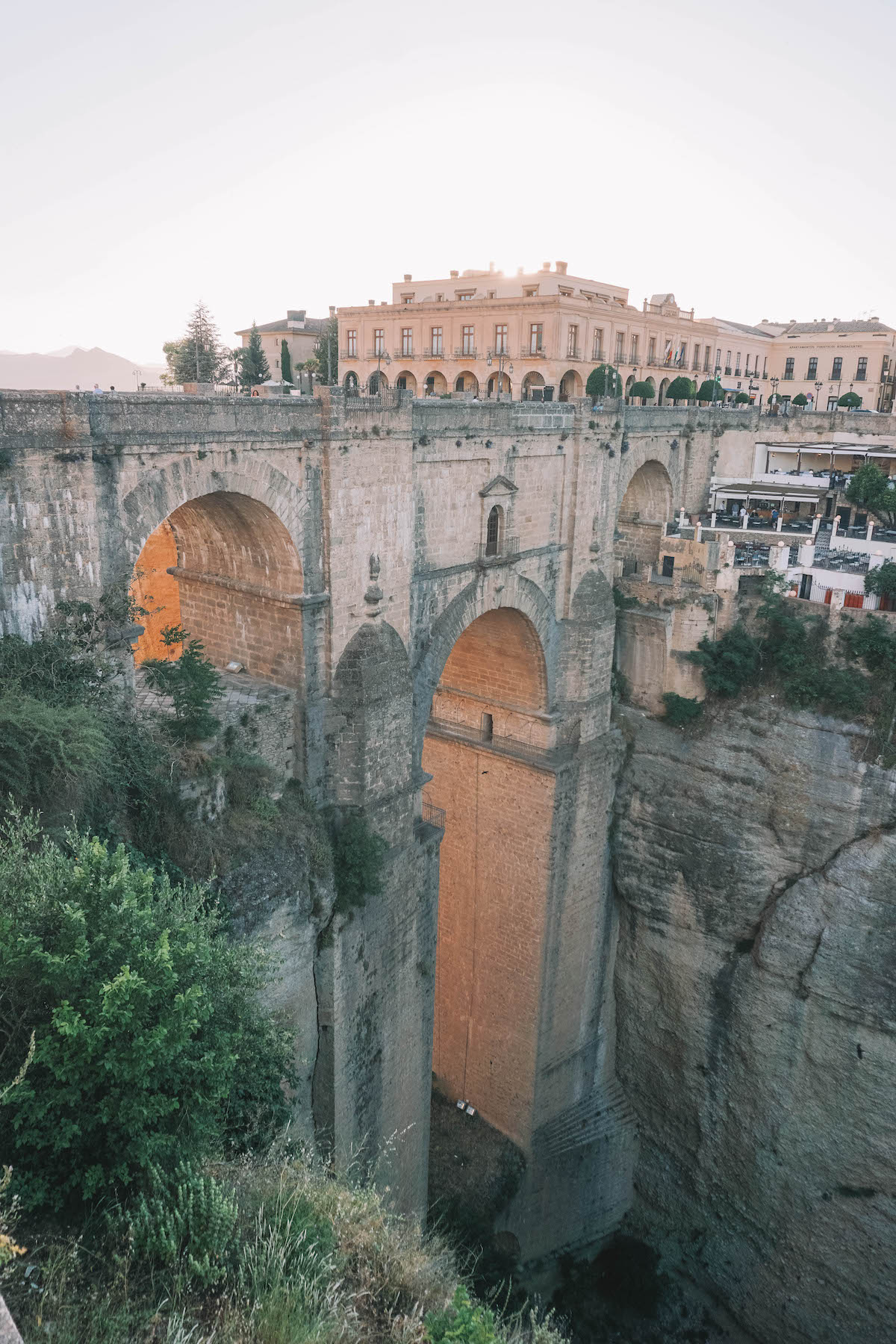 Bullring — The oldest and largest in all of Spain.
Mirador de Ronda overlook (shown above, right) — Near the bullring. It's a gorgeous vista with views of the surrounding countryside.
Puente Nuevo (shown above, left) — The main attraction of Ronda. Words can't describe how beautiful this bridge is! (In my full guide linked above, I've also shared my favorite spots to photograph the bridge.)
Murallas de la Cijara (old city walls) — The best preserved section of the old city walls is near the Puerta de la Cijara.
Arab baths — 13th century Arab baths that have been lovingly preserved and restored.
Walking tour — End your first day in Ronda with a guided walking tour of the Old Town. The tourism board offers a 90-minute tour that I highly recommend!
Day 2 in Ronda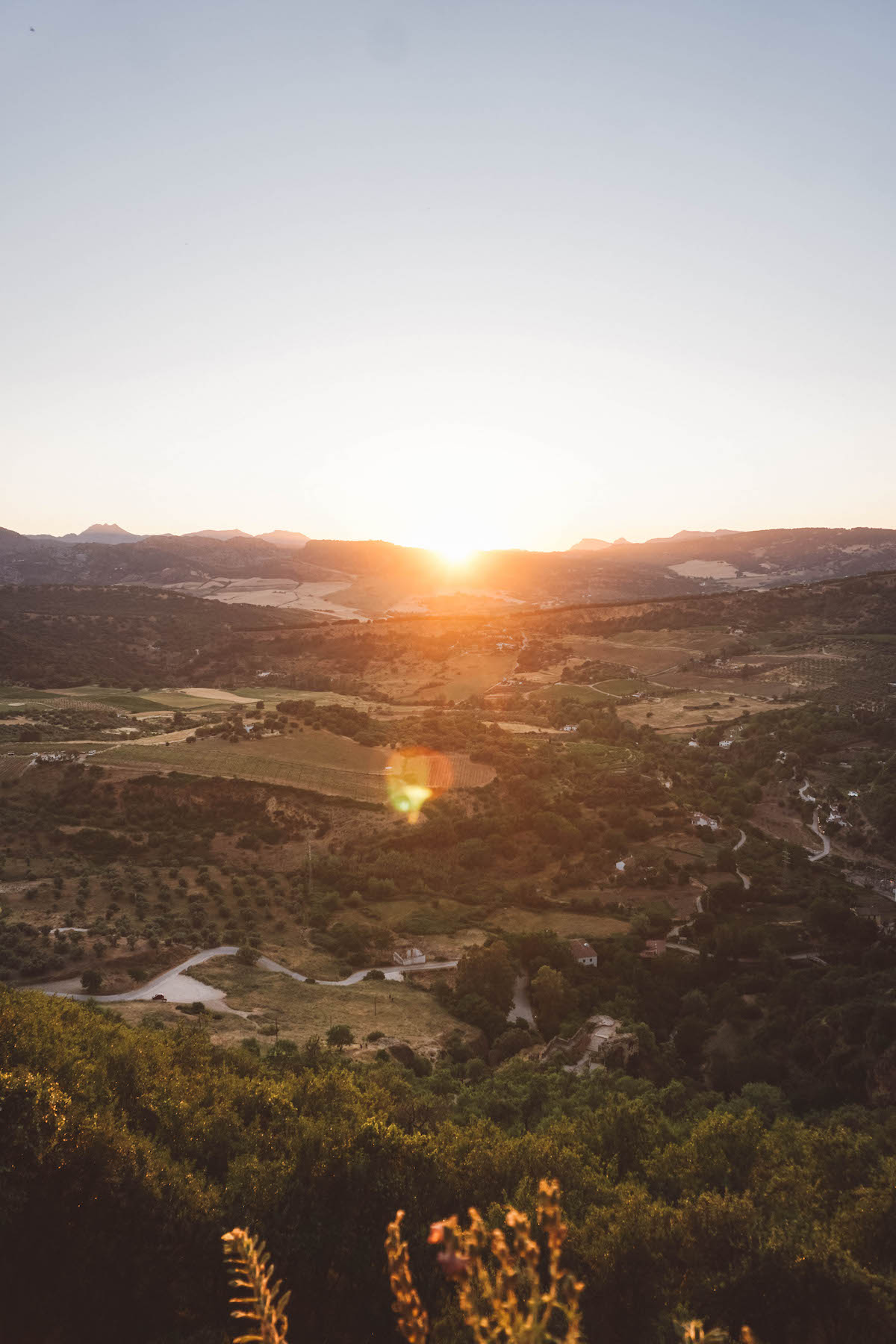 Jardines De Cuenca — Lovely hanging gardens on terraces set over the El Tajo gorge, facing the bridge. This is a good spot to come in the morning to photograph the sun rising over the bridge!
Puente Viejo — Another pretty (albeit less impressive) bridge in Ronda.
Collegiate Church of Santa Maria la Mayor — The inside of the church isn't that impressive, but the viewing decks from the rooftop offer an amazing view of the Old Town and surrounding countryside.
Casa Museo Don Bosco — An old home-turned-sanatorium that operated until 2008. The home is very small, but the gardens with their cliffside views are the main attraction.
Sunset — You could watch the sunset by the Puente Nuevo bridge, but I recommend finding a quiet spot to sit at the Plaza de María Auxiliadora.
Spain Itinerary Days 11 – 13: Seville
Seville flourished under Muslim rule and rose to further prominence under the Catholic monarchy following the discovery of the Americas. Much of Spain's trade with the Americas was facilitated in Seville, making it the country's richest city for nearly 100 years.
Seville is the most diverse city on this southern Spain 2-week itinerary, both in terms of attractions and the local culture. It's also the biggest city on this itinerary, so if you have the time and desire you can certainly spend more days here either to explore the city more in depth or to take day trips.
Read my full Seville itinerary for more details on the attractions listed below!
Day 1 in Seville
Royal Alcazar — A palace complex originally built by the Muslims to offer them a more strategic position next to the port (i.e. where the city's wealth flowed in). Arrive first thing in the morning to avoid waiting in a long line.
Cathedral (shown above, left)— The largest Gothic cathedral in the world, and the third largest in general!
Giralda Tower — The symbol of Seville! La Giralda was originally the minaret of the mosque that stood on this site. In the 17th century, the cathedral's bell tower was built atop the minaret.
Maria Luisa Park — Palace gardens that were donated to the city and transformed into a sprawling public park. The park is divided into smaller gardens and gathering areas, making it a fun spot to explore.
Plaza de España (shown above, right)— End your day here to watch the sunset! The Plaza de España was built for the Ibero-American Exhibition of 1929 and was designed to showcase Spain's accomplishments in industry and architecture.
Day 2 in Seville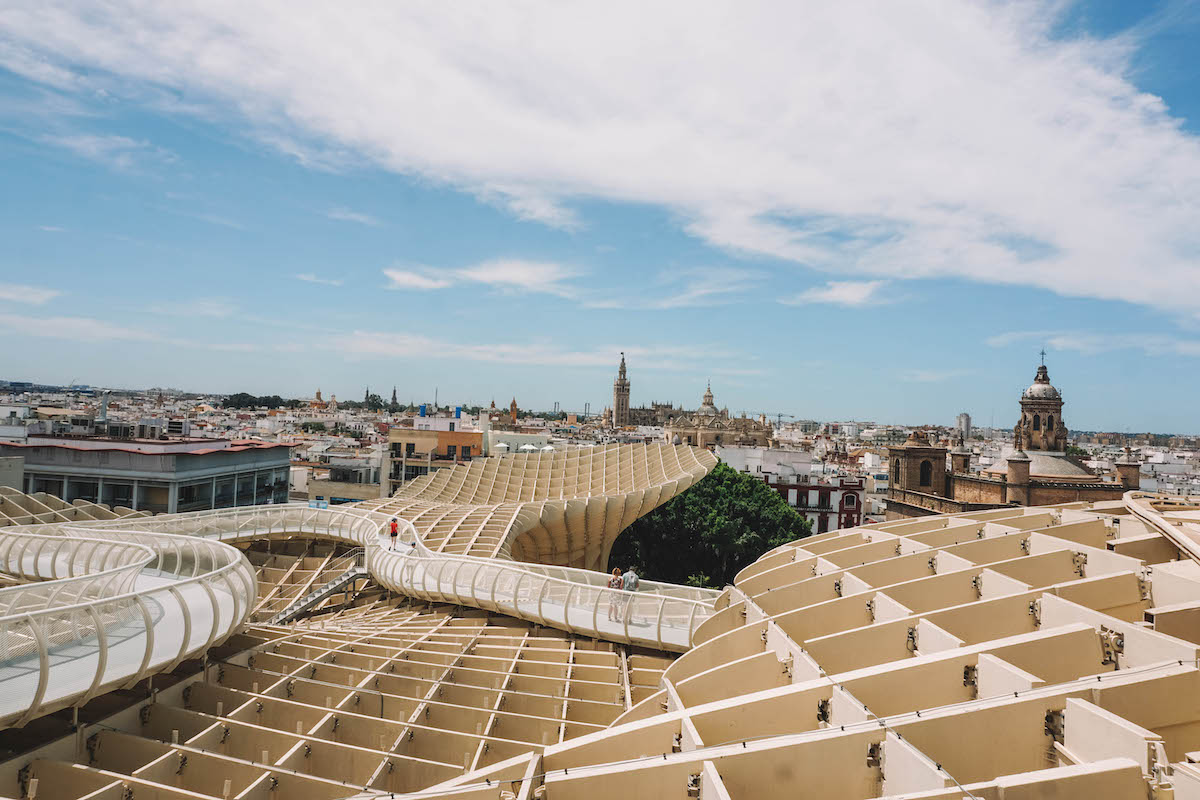 Setas de Sevilla (shown above)— A wooden structure in Encarnacion Square that has a walkway and viewing platform on top. If it's not in your budget to ascend to the viewing platform, the structure is still really cool when seen from below.
Lebrija Palace — A 16th century palace that was heavily renovated in the 20th century to accommodate a private collection of ancient Roman mosaics. If you love house museums, you MUST come here!
Collegiate Church of El Salvador — A pretty Baroque church that was built on the site of what was the Great Mosque in Muslim Seville.
Museum of Fine Arts — An art museum housed in the former La Merced convent. This is a great spot to end the afternoon as a means of escaping the heat!
Day 3 in Seville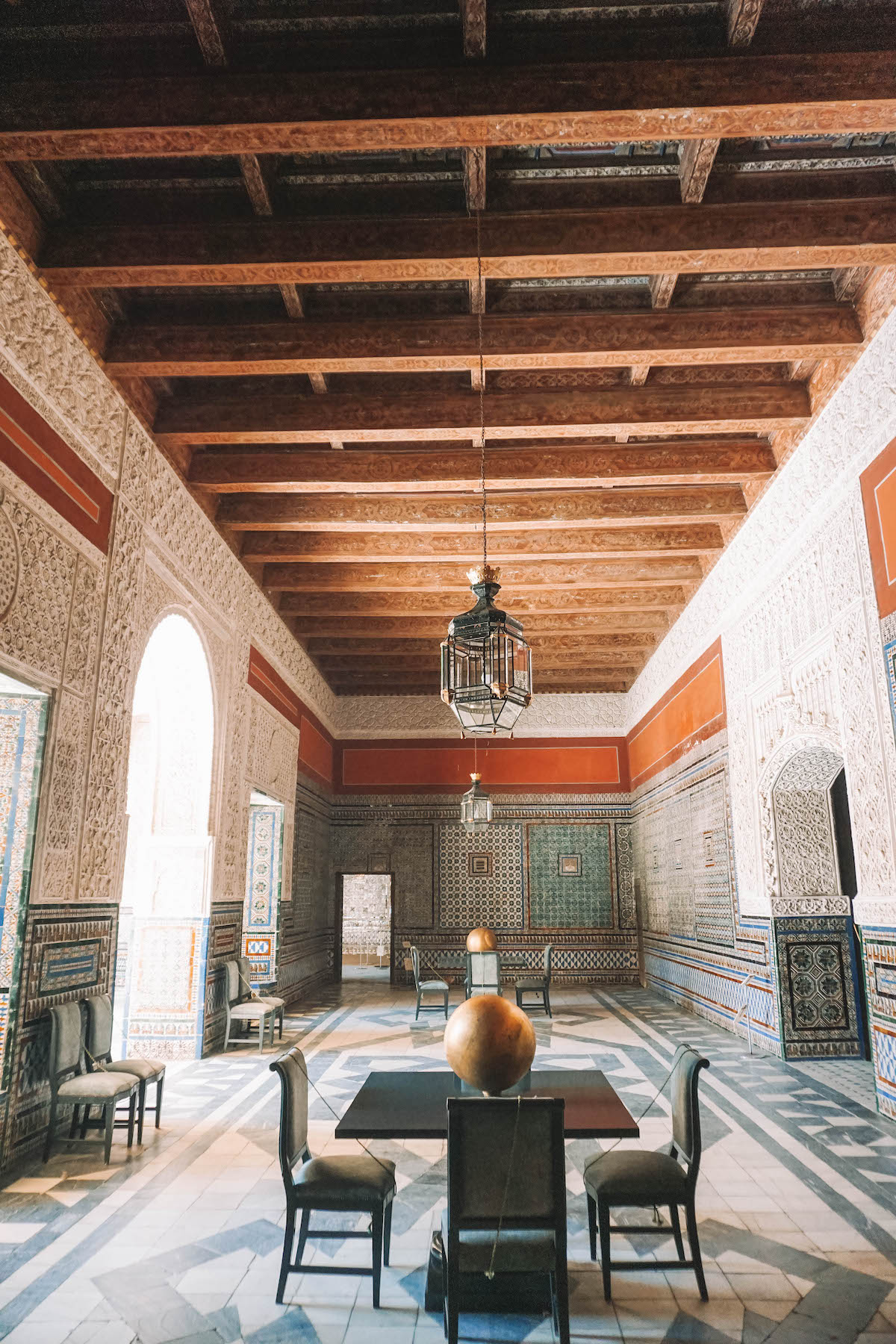 Walking Tour of Triana — The free Sandemans walking tour of Triana offers a unique perspective on Seville's 2,000-year history.
Mercado de Triana — A covered market selling fresh produce and seafood. There are also restaurants inside, which is where I recommend grabbing lunch today.
Archivo de Indias — Free to enter! The Archives of the Indies houses 80 million pages and maps (all original!) relating to Spain's massive empire from the 18th to 19th centuries.
Casa de Pilatos (shown above)— A 15th century palace decorated with azulejo (Spanish glazed tiles).
Free time to explore! — Seville is walkable, and there's a lot packed into the city center. Give yourself some free time to wander the streets and enjoy your final afternoon in Spain.
Adios, Andalucía!
Hopefully this southern Spain 2-week itinerary have given you plenty of information — and then some! — to make planning your vacation easier. If you have any questions about planning a trip to Andalucía, don't hesitate to leave me a comment below!
Don't forget to follow me on Instagram to keep up with my daily adventures in Berlin and beyond!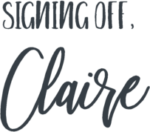 More Places to Visit in Southern Europe: