Athens is a diverse city with so many exciting things to see and do. Here are the top places to see in Athens, Greece!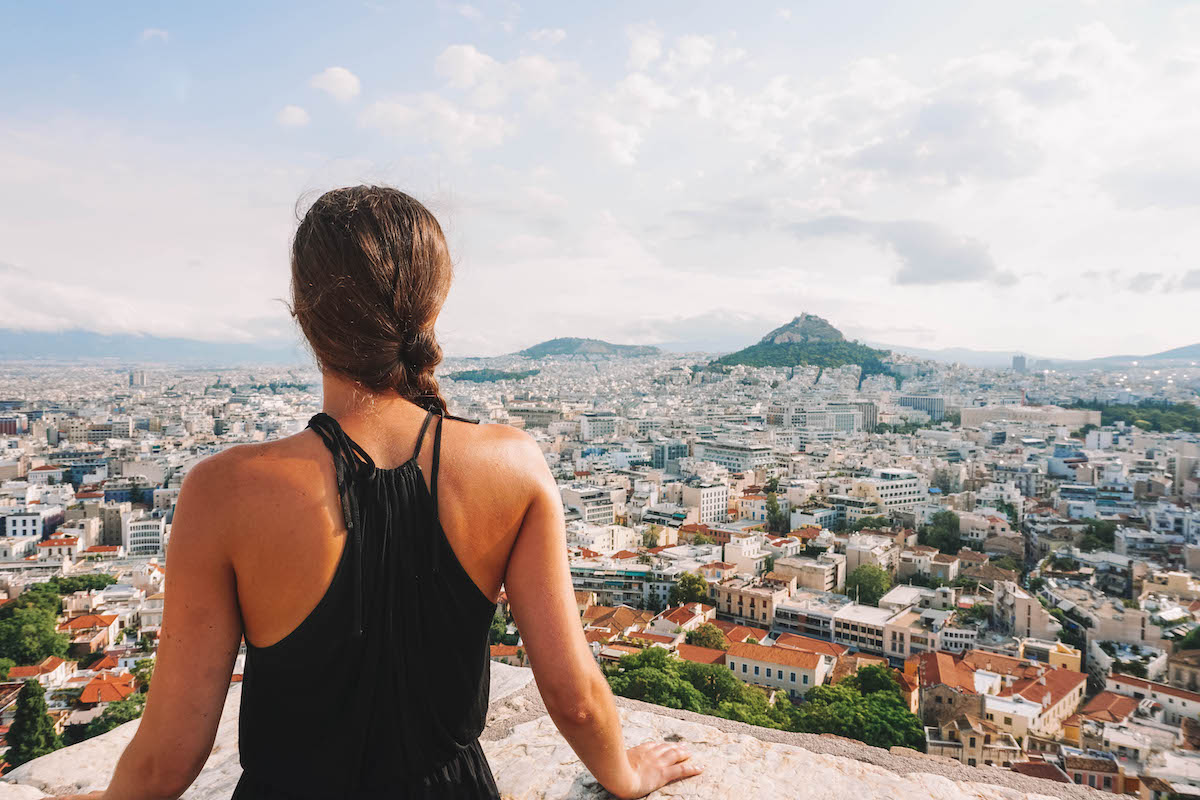 A bucket list destination for many, Athens is a city unlike any other. Walking down any given street, you're as likely to see a modern shopping center as you are the stumps of marble pillars from an ancient temple. Athens seamlessly blends the ancient with the modern, and each neighborhood has a totally different vibe.
With the exception of popular tourist destinations like the Acropolis, almost every building is covered in graffiti. Shop owners hang out in the street smoking cigarettes, and hawkers camp out in squares trying to get you to buy whatever knick-knacks they're selling.
Having spent most of my adult life in NYC and Berlin, I thought I knew what to expect when visiting Athens, but this historic city exceeded all my expectations. There are SO many fun things to do in Athens, Greece, but I've done my best to compile the absolute top attractions in this post.
Many of the main attractions in Athens, Greece are "touristy" in the sense that the historical information is available in multiple languages and, yes, there will be crowds. But that doesn't mean they're not worth visiting! After all, many of the top places to see in Athens that I mention in this post have been around for thousands of years!
Keep reading for a comprehensive list of what to do in Athens, Greece plus recommendations on what to eat and answers to commonly asked questions.
Table of Contents
Click "show" to see the full table of contents for this post. You can jump around the post as desired by clicking on the individual sections listed below.
Visit the Acropolis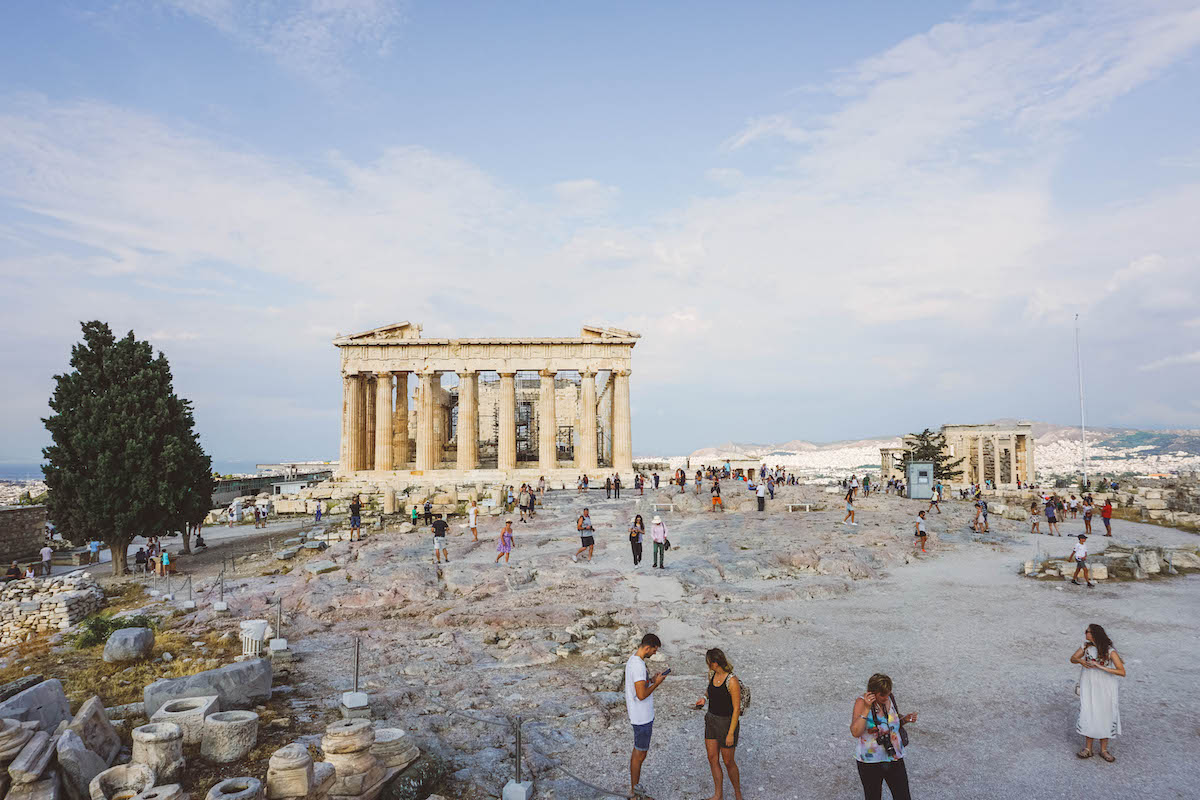 If you visited Athens without seeing the Acropolis, you visited Athens wrong. The Acropolis is a complex of ancient buildings that have survived more than 25 centuries of war, fire, invasions, and exposure to the elements. The site of the Acropolis has had many different functions — both religious and cultural — over time, but it's best known as being a site of religious worship for the cult of the city's patron goddess, Athena. It's one of the main attractions in Athens, Greece and is absolutely not to be missed!
I won't go into detail about every single archaeological site on Acropolis Hill as that could easily be a blog post in itself. However, I've listed my personal highlights from my visit to the Acropolis below.
Before I detail what to see at the Acropolis, here are some IMPORTANT TIPS to make your visit the best it can possibly be:
BUY A COMBO TICKET — I hope the all caps got your attention. You should book your tickets directly through the Ministry of Culture and Sports website (the interface isn't user-friendly, so do your best). A "combined ticket" costs just 10 Euros more than a single-entrance ticket to the Acropolis, but it grants you one-time access to the Acropolis, Ancient Agora, Roman Agora, Hadrian's Library, Olympieion, Kerameikos, and Aristotle's School. That's an absolute bargain! The ticket is valid for five days after you visit the first site.
Book an early time slot — We arrived at the Acropolis 15 minutes before it opened (it opens at 8am) and were blessed with nearly two hours of solitude at the Acropolis. Yes, there were a few other early birds there with us, but for the most part we had the place to ourselves before the massive crowds arrived.
Visit the Parthenon first — That's where the crowds will flock first, so arrive early, head straight to the Parthenon, and then see the other Acropolis sites at your leisure as you walk back towards the exit.
What to See at the Acropolis: Parthenon
The highlight of any trip to the Acropolis is without a doubt the Parthenon. The Parthenon served as the city's main temple to the goddess Athena and was completed in 438 BCE. It's an astounding 70 by 30 meters, and once housed a massive 12-meter tall gold and ivory statue of the goddess.
Today the Parthenon is mostly in ruins, but enough of the temple remains to give you an idea of its former grandeur. You may not approach the Parthenon or enter it, but you can walk around the entire structure and take as many photos as you want.
Seeing the Pathenon was my favorite part of my trip to Athens. Because it's such a well-known cultural icon I was worried it'd be a let down in real life, but it exceeded my expectations, and then some.
Tip: Even if you get to the Acropolis right when it opens, I recommend hoofing it straight to the Parthenon to admire it at your leisure before the crowds descend on the site. You can then see the remaining sites of the Acropolis on your way back down, at a slower pace.
What to See at the Acropolis: Beule Gate
The Beule Gate serves as the entrance to the Acropolis, so it's impossible to miss. A French archaeologist named Ernest Beule discovered the ancient gate in 1852 and subsequently named it after himself (oh, to be an archaeologist!).
The gate is thought to have been erected in 27 BCE. Take a moment to appreciate the fact that you're literally walking through history on your way to the top of Acropolis Hill.
What to See at the Acropolis: Erechtheion
On the north side of Acropolis Hill is another structure dedicated to Athena (you had to have seen that coming; the city is named after Athena, after all!). Although dedicated to Athena, the Erechtheion is a unique structure in that it contains multiple rooms that were meant to accommodate additional religious cults. So, other gods and goddess were worshiped under the same roof.
The Erechtheion is most famous for its south porch, which is easy to see from the walking path. Instead of columns, it's supported by caryatids, which are beautiful sculpted maidens. The columns you see on the "Porch of the Maidens" aren't the originals. They were replaced with replicas in order to preserve the precious originals for posterity.
Tip: You can see five of the original caryatids in the Acropolis Museum. They have an accompanying display that details the painstaking restoration process as well!
What to See at the Acropolis: Temple of Athena Nike
On the southwestern edge of Acropolis Hill is the Temple of Athena Nike. It was completed in 421 BCE and is yet another temple dedicated to the city's patron goddess. Surrounding the temple are reliefs of Athens watching the god Nike performing various tasks.
What to See at the Acropolis: Theater of Dionysus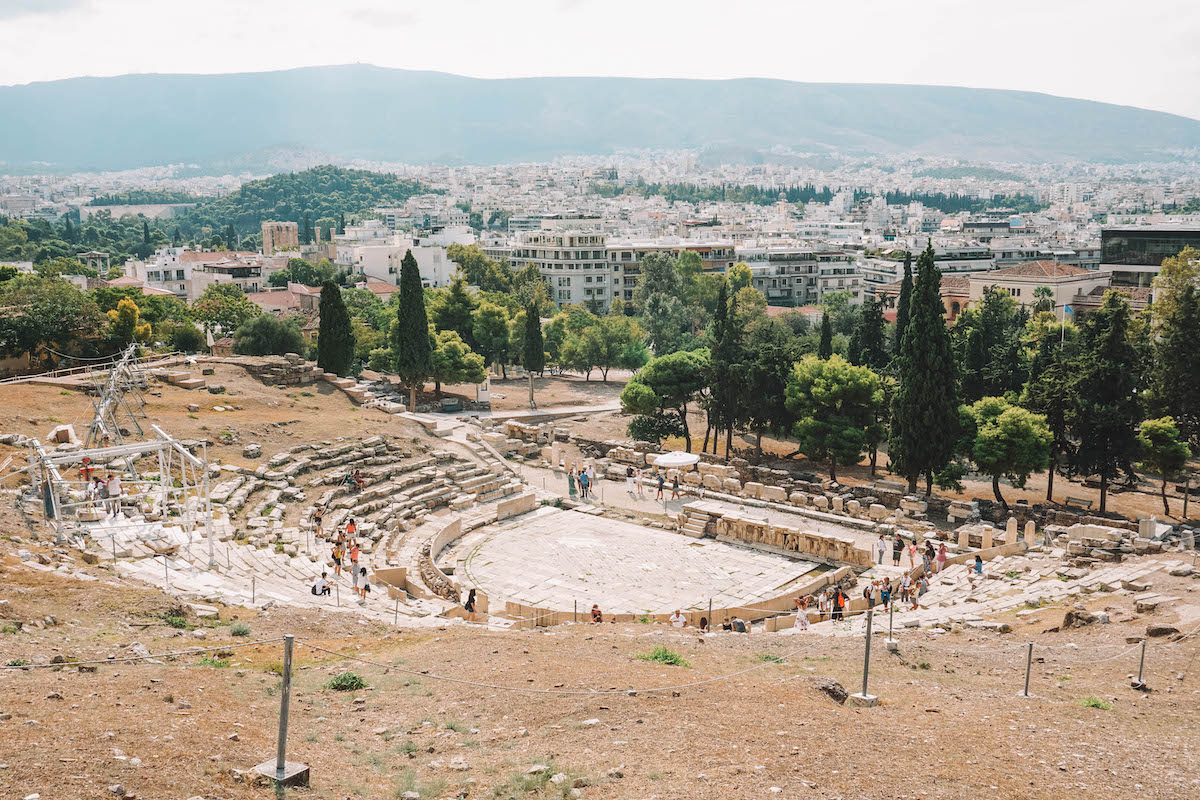 On the south side of Acropolis Hill sits the Theater of Dionysus. It was built near the Temple of Dionysus, who was the god of fertility, harvest, winemaking, and theater — among other accolades.
Festivals dedicated to Dionysus were held in this theater, and some of the world's first ever plays were performed here. It's thought that the theater could hold up to 17,000 spectators, with the most important people naturally enjoying front row seats.
Visit the Many Other Archaeological Sites in Athens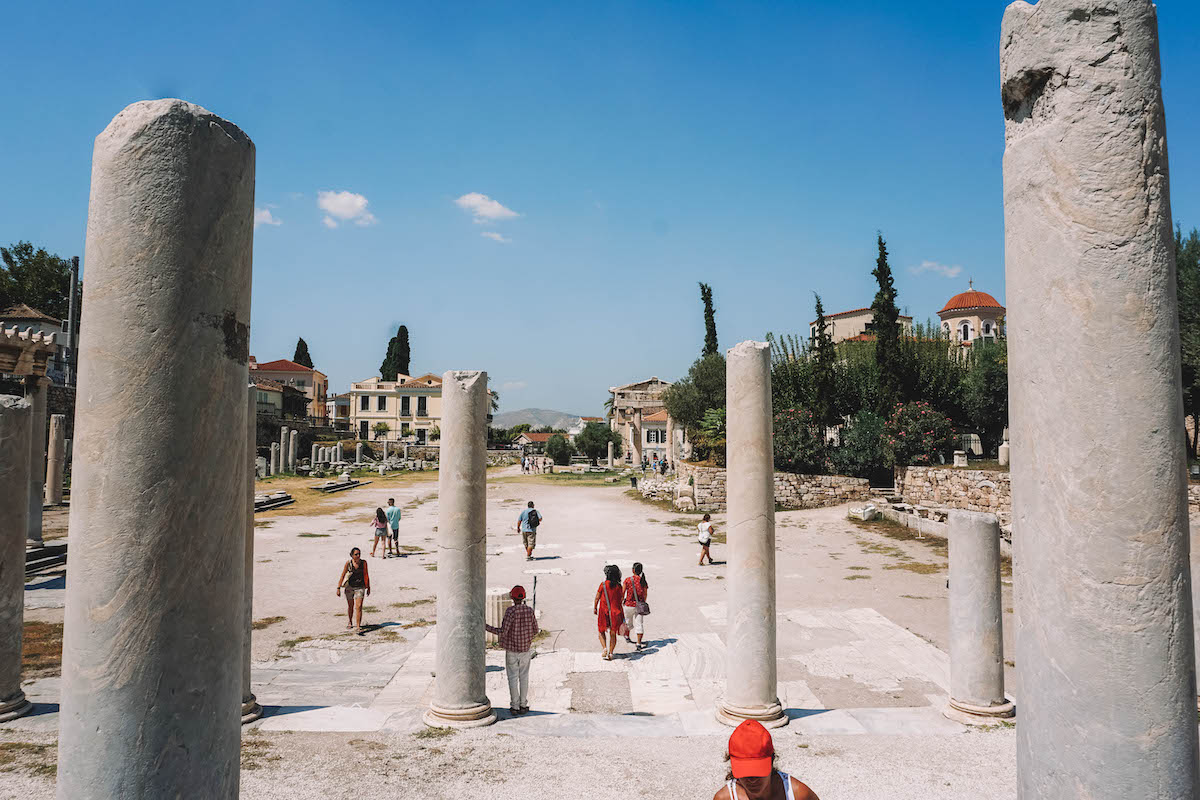 Many of the best sights in Athens are the archaeological sites. In addition to the Acropolis, some of the top places to see in Athens include: the Temple of Olympian Zeus, Hadrian's Library, Ancient Agora, Roman Agora, and Kerameikos Archaeological Site. You can pay to visit each site individually, or you can purchase a "combined ticket" when you book your Acropolis ticket.
I highly recommend buying a combined ticket, as it costs just 10 Euros extra and is good for five days after validation. A combined ticket will save you time and money!
Below are just a few of the primary Athens historical sites. The city dates back thousands of years, so know that there are even more sites to visit. However, these are the main ones to know about.
Tip: If you plan on making a full day of these Athens historical sites, definitely pack lots of water especially if you're visiting in the summer. The sites are totally exposed to the elements and you don't want to overheat!
Ancient Agora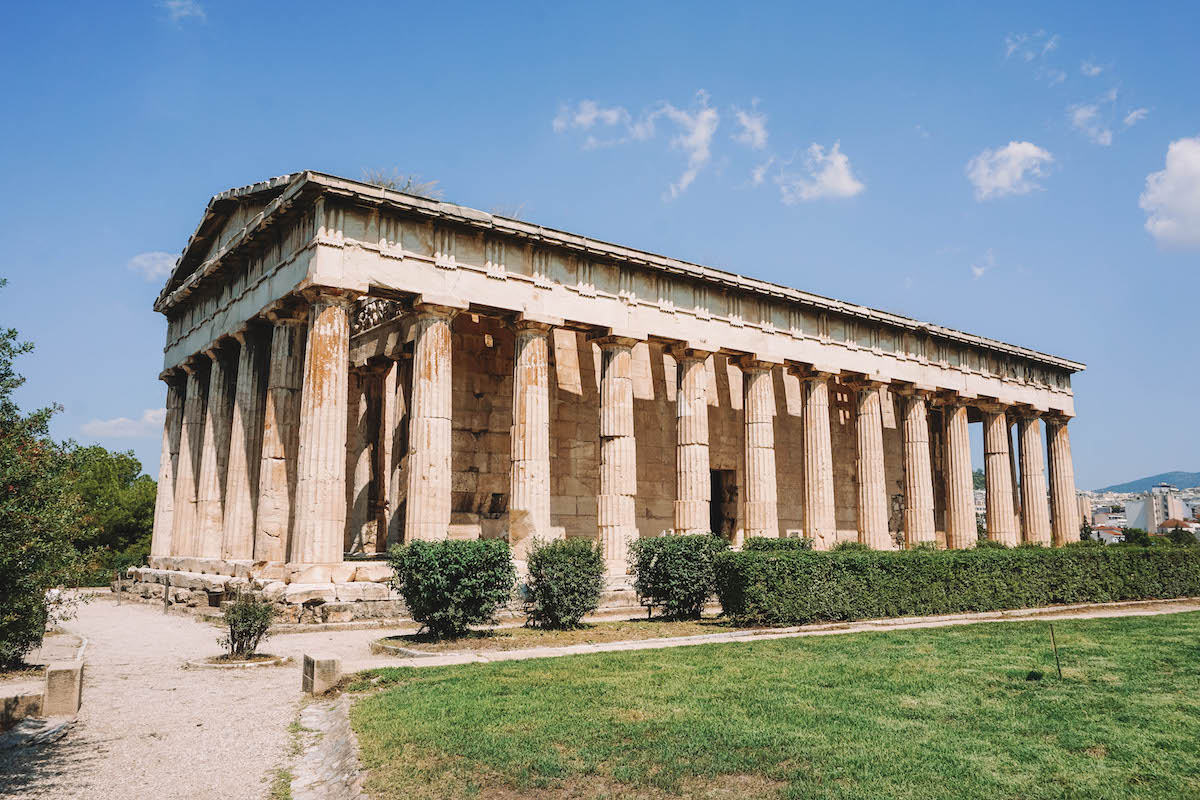 This wouldn't be a proper list of what to do in Athens, Greece if the ancient agora weren't on it! The ancient agora is the largest of the archaeological sites I'm sharing. An agora was a public square in ancient Greece. Elections, competitions, and daily trade would have been conducted on this site. In short, it served as a meeting place for ancient Athenians.
You can easily pass a couple hours at the ancient agora, but the highlight of any visit is the Temple of Hephaestus. It's one of the best preserved ancient temples in Greece, and it has an amazing view of the agora and the nearby Acropolis Hill.
The ancient agora is also home to a sizable museum that showcases some of the top finds from the years of excavations that have taken place on the site. Definitely pop your head in if you have the time!
Tip: If you're unsure what to see in Athens besides the Acropolis, I think the Ancient Agora is the second most impressive historical site!
Temple of Olympian Zeus (Olympieion)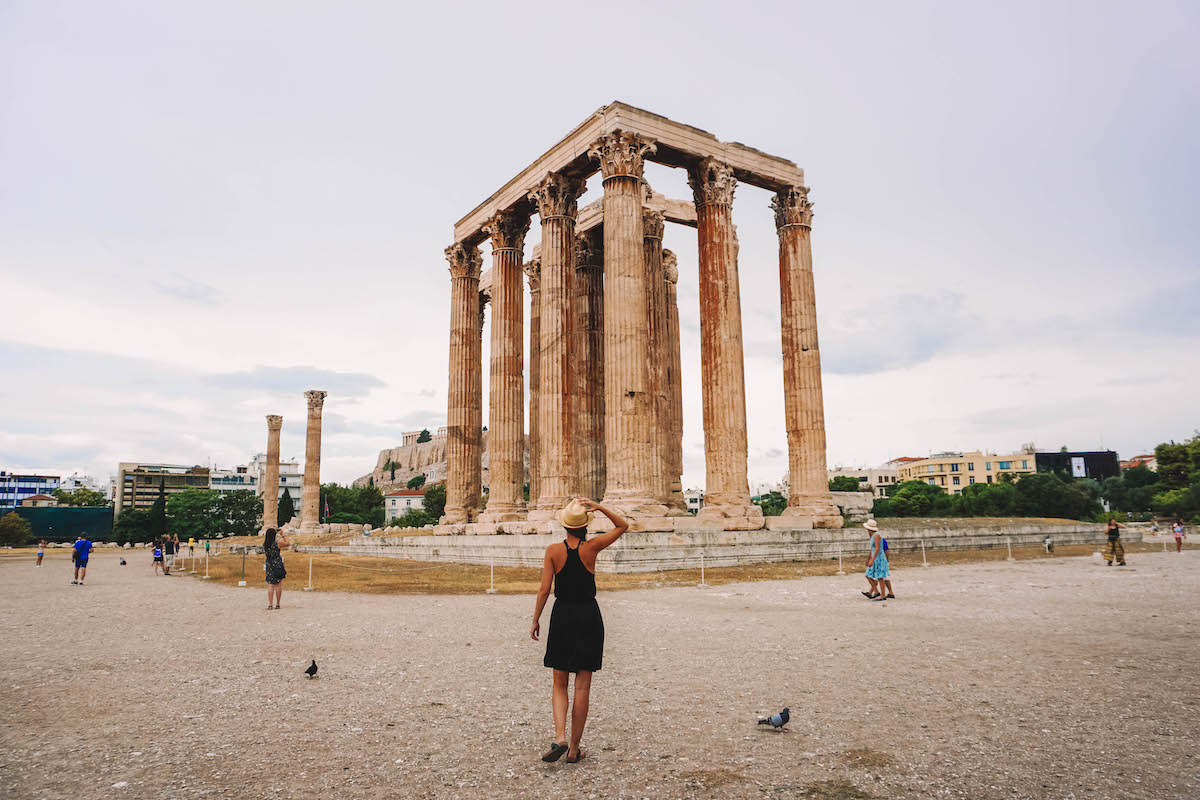 One of my personal top things to see in Athens is the Temple of Olympian Zeus (also called the Olympieion). It's a massive temple dedicated to the god Zeus that took nearly seven centuries to complete. The original structure was a staggering 96 by 40 meters, with more than 100 columns of white marble supporting it.
Just 15 of the original columns remain, but they are truly breathtaking and give you a good idea of just how impressive the original temple was. The Parthenon towering in the distance atop Acropolis Hill adds to the scene and makes a visit to the Temple of Olympian Zeus all the more special!
While exploring the temple site, be sure to visit Hadrian's Arch as well. It's located near the temple and was built to separate the old city from the new. (The Temple of Olympian Zeus was completed during the reign of emperor Hadrian, hence the nearby arch being named after him.)
Between the temple ruins and remains of Hadrian's Arch, this is without a doubt one of the top places to see in Athens, Greece!
Hadrian's Library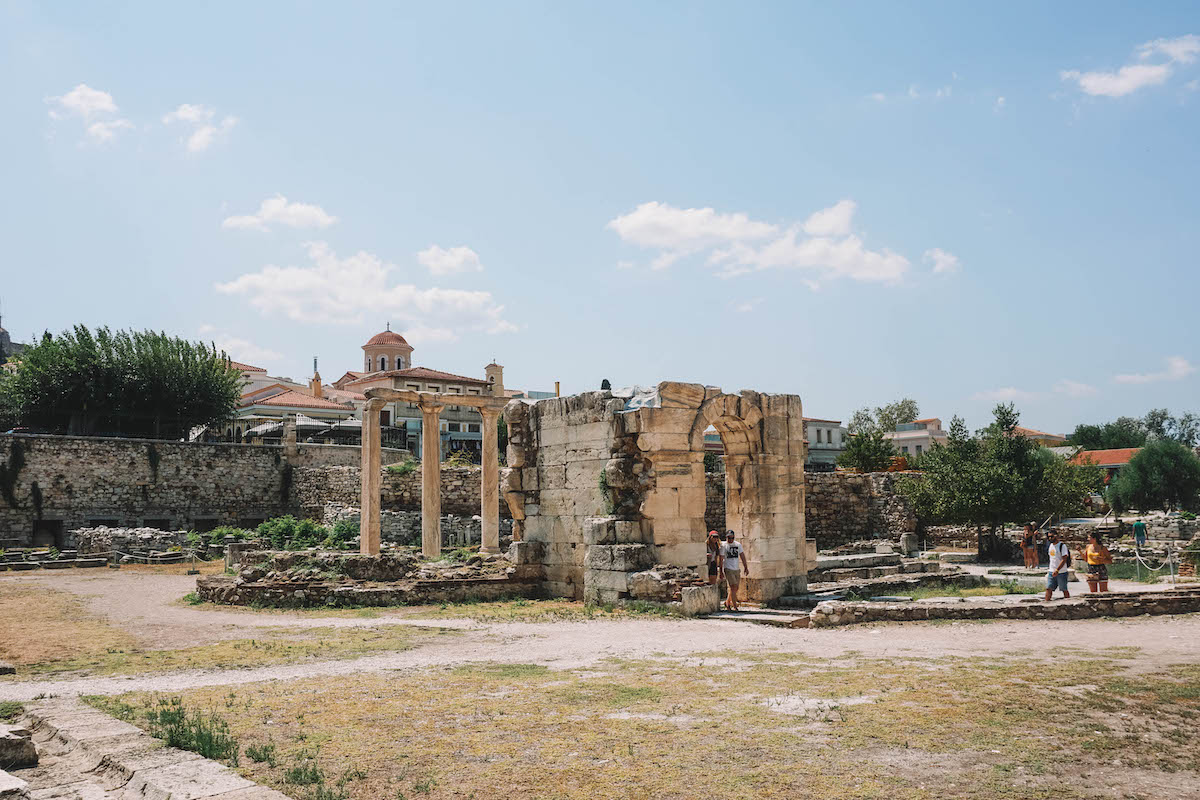 As with most of the Athens historical sites I've shared so far, the remains of this once-massive library don't do the original structure justice. Hadrian's Library was completed in 132 AD under the Emperor Hadrian. It was once surrounded by 100 eight-foot high columns and boasted an inner courtyard that may have housed an early Christian church.
Although Hadrian's Library is one of the lesser-known Athens tourist attractions, I thoroughly enjoyed exploring the historic site. It's quite small, but I think that's why far fewer people take the time to visit it.
Tip: Hadrian's Library is in the popular Monastiraki neighborhood, which I also recommend visiting when you're in Athens.
Roman Agora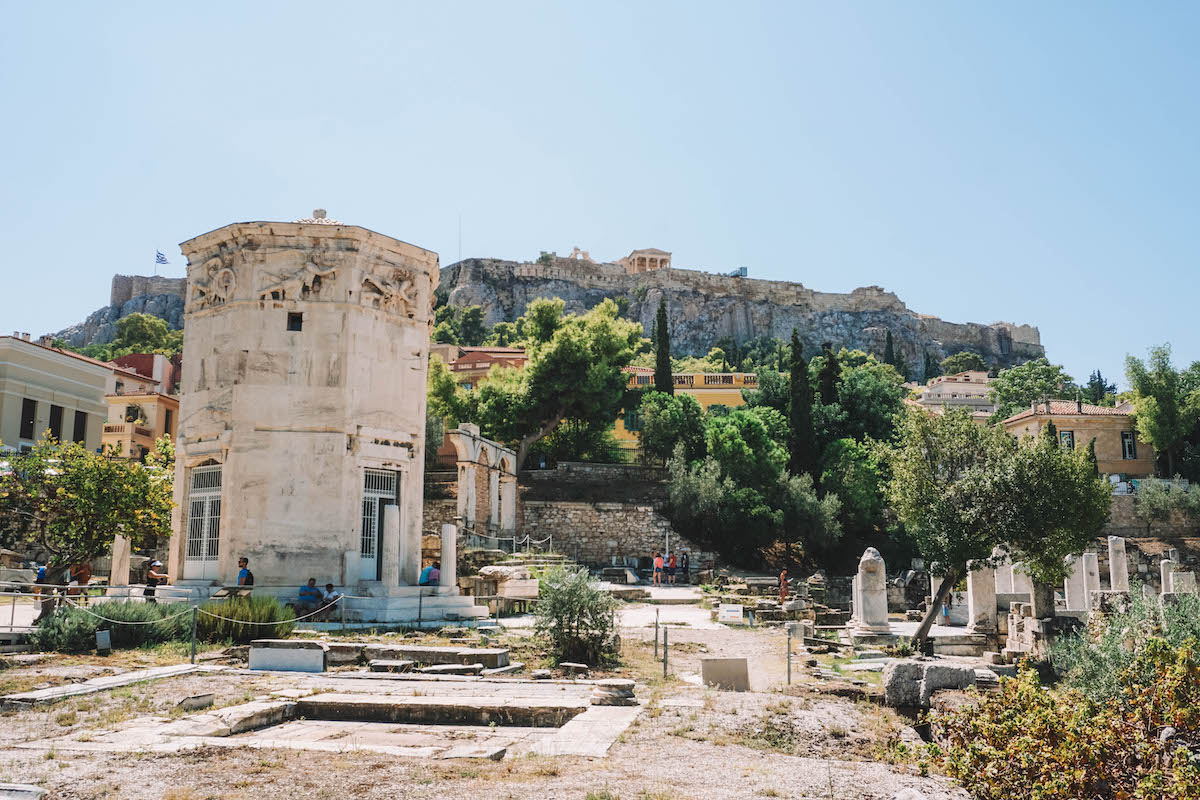 Another public square that was unearthed in Athens is the Roman agora. After the ancient agora (discussed above) fell out of use, the central market was moved to this site. It's called the Roman agora because it was used during the Roman period of Ahens.
The Roman agora is much smaller than the ancient agora, but therefore is also a lesser visited and less crowded site than the ancient agora and the Acropolis.
Keep an eye out for the "Tower of the Winds" while exploring the Roman agora! It's an octagonal structure that was used as a water clock and sundial. It's impossible to miss once you know what you're looking for!
Kerameikos Archaeological Site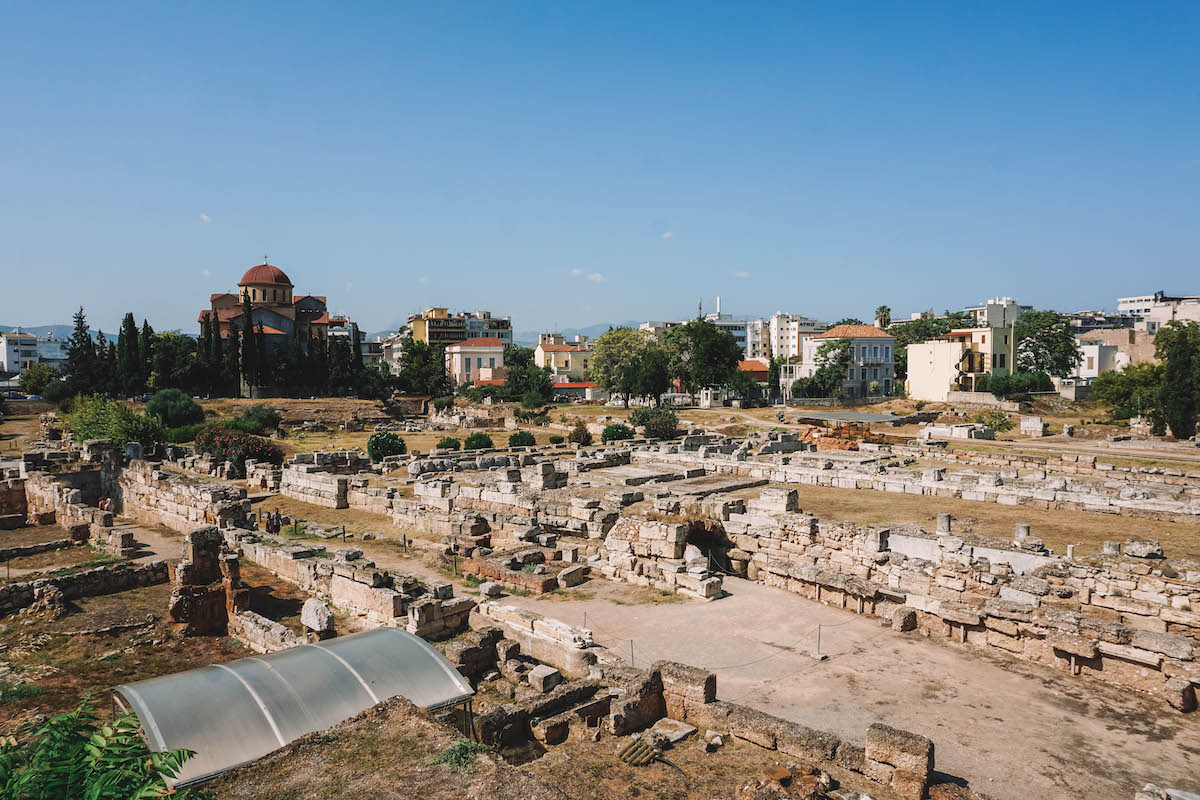 Another Athens activity to add to your bucket list is the Kerameikos Archaeological Site. I visited this site in the middle of the day during peak tourist season, and I had the place practically to myself. It gave me the impression that it's one of the lesser-known things to see in Athens, Greece.
What makes the Kerameikos site so unique is that it was a major crossroads in ancient Athens. It was once located beyond the city limits, so the remains of a city wall run through the site. In ancient Athens, it was custom to bury the dead outside the city limits, so although Kerameikos is located in the heart of modern-day Athens it's chock full of ancient graves dating back to the Roman period. In fact, it has the largest cemetery in Greece!
Tip: After examining the numerous grave markers of ancient Athens' most prominent families, check out the small museum to see other interesting archaeological finds from the site.
Relax in the National Garden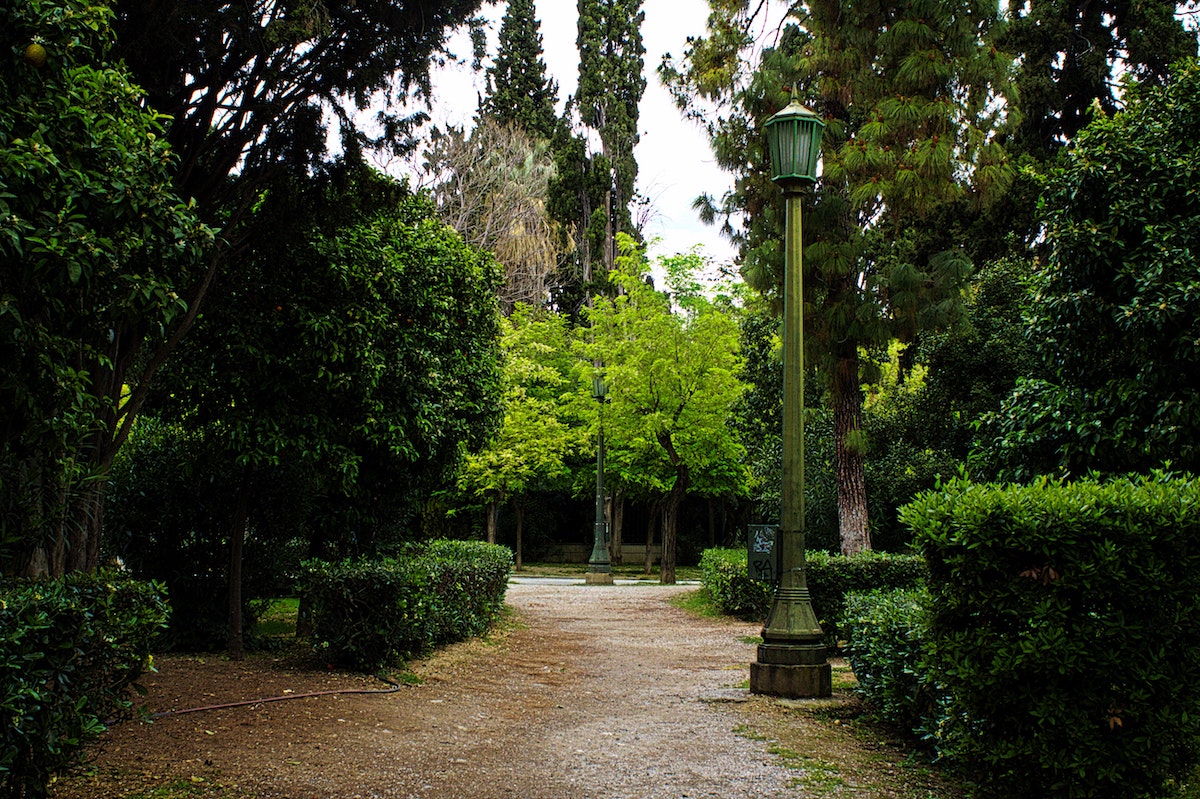 A stone's throw from bustling Syntagma Square is the lovely National Garden. The 38-acre garden was formerly the royal garden. It's free to enter, although it's surrounded by a fence so you'll need to make your way to one of the entrances to get in.
This is a good place to come to escape the busy streets. It's not so large that you need to come prepared with a list of things to see, so feel free to rest your feet and relax for a bit if that's what you need. However, there are some ruins tucked away in the garden so be on the lookout for them!
Also located within the garden are the Benaki Museum and the Museum of Greek Art. I haven't been to either, but both are on my bucket list!
Tip: The National Garden is near the Temple of Olympian Zeus, so consider stopping by when coming to or from the temple.
Buy Snacks at the Central Market
If you're a food lover, you have to visit the central market. Here, you'll find the best meat, fish, and snacks to be had in Athens. If you're staying somewhere with a kitchen, grab something at the market and cook it up yourself. Just outside the fish market are stalls selling dried herbs, nuts, and other local specialties.
Tip: Make sure to keep your bags in front of you while you're in the market; it can get crowded, and you don't want to make yourself a target for pickpockets.
Hike Mount Lycabettus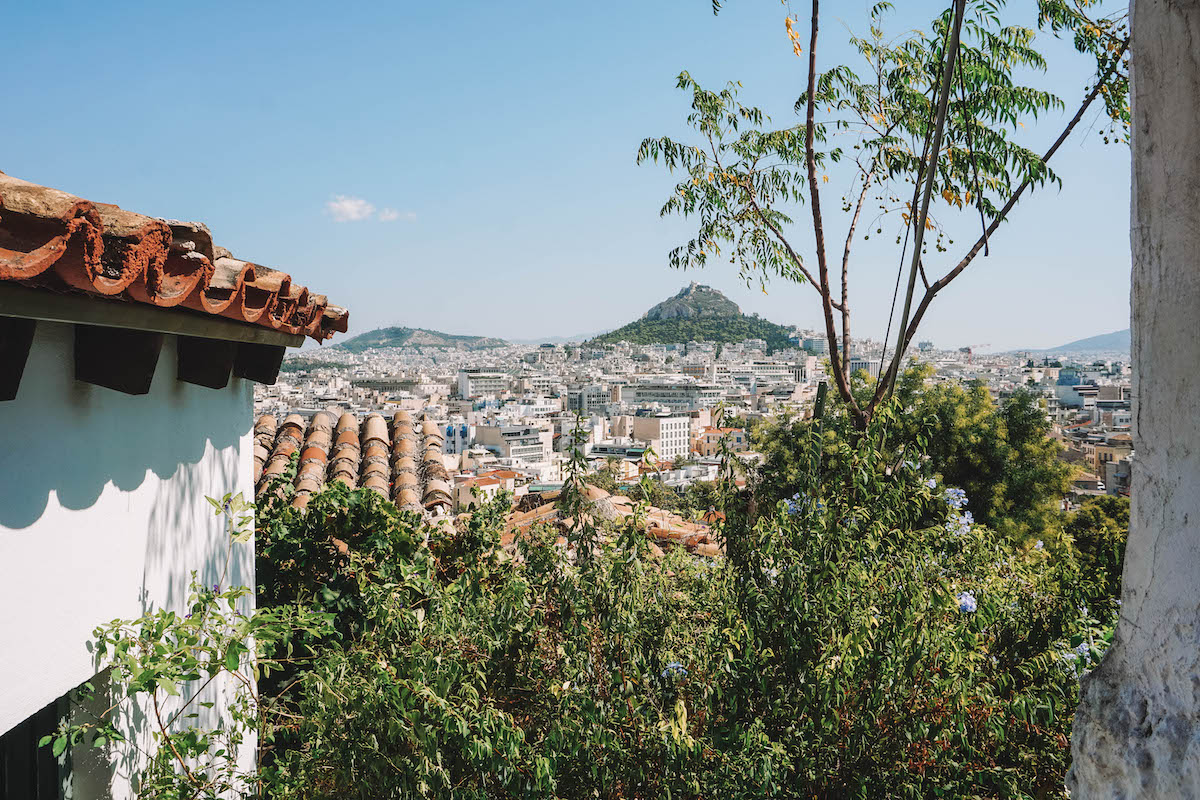 I use the term "hike" very lightly here, as it's really more of a walk up a steep incline. You can make it into an actual hike by ditching the paved path and making your own route up. But if you take the paved path like most people do, it'll take you 20-40 minutes maximum to get to the top of the hill.
No matter how long it takes you to reach the top, the view is totally worth it. From here, you can see as far as the ocean. You'll also get a good view of the Acropolis and the archaeological sites dotted around the city. I recommend hiking Mount Lycabettus early do you don't have to share the view with others.
Window Shop in Monastiraki
Monastiraki is arguably the most popular neighborhood in Athens (for tourists, at least). But despite being crowded, it doesn't feel overly touristy. You can easily spend an entire day here window shopping and visiting the nearby archaeological sites.
Hadrian's Library is right by the square, and just a few minutes down the road is the Roman agora. There are lots of tourist shops in this area, but there are still plenty of quality stores selling handmade pottery and linen clothing.
Get Your History on at the Acropolis Museum
Although small, the Acropolis Museum is first rate. The museum has artifacts taken from the Acropolis and its surrounding buildings that are too damaged to be left outside.
My favorite part of the museum was the archaeological site right under its foundations. Most of the floor if the museum is glass, which lets you get a good look of the ruins below you. It feels kind of eerie to be walking on top of a centuries-old site, but it really puts the sheer size of ancient Athens into perspective.
Go on a Food Tour
Taking a private food tour was the best thing we did in Athens. Even if you come to Greece with a list of all the foods you want to try, it's hard to track down the best places to sample everything since everything is in Greek.
On our food tour, we were introduced to lesser known Greek pastries, popular local cheeses, ouzo, and more. I didn't like everything we tried, but I'm so glad I got to taste the local cuisine at restaurants the locals actually love.
Spend All Your Cash in Plaka
Plaka is a bit ritzier than Monastiraki, and things are more expensive here. Plaka is incredibly beautiful though, and definitely worth taking a walk through. It's also a great place to grab lunch or an afternoon gelato after visiting the Acropolis.
Explore Quaint Anafiotika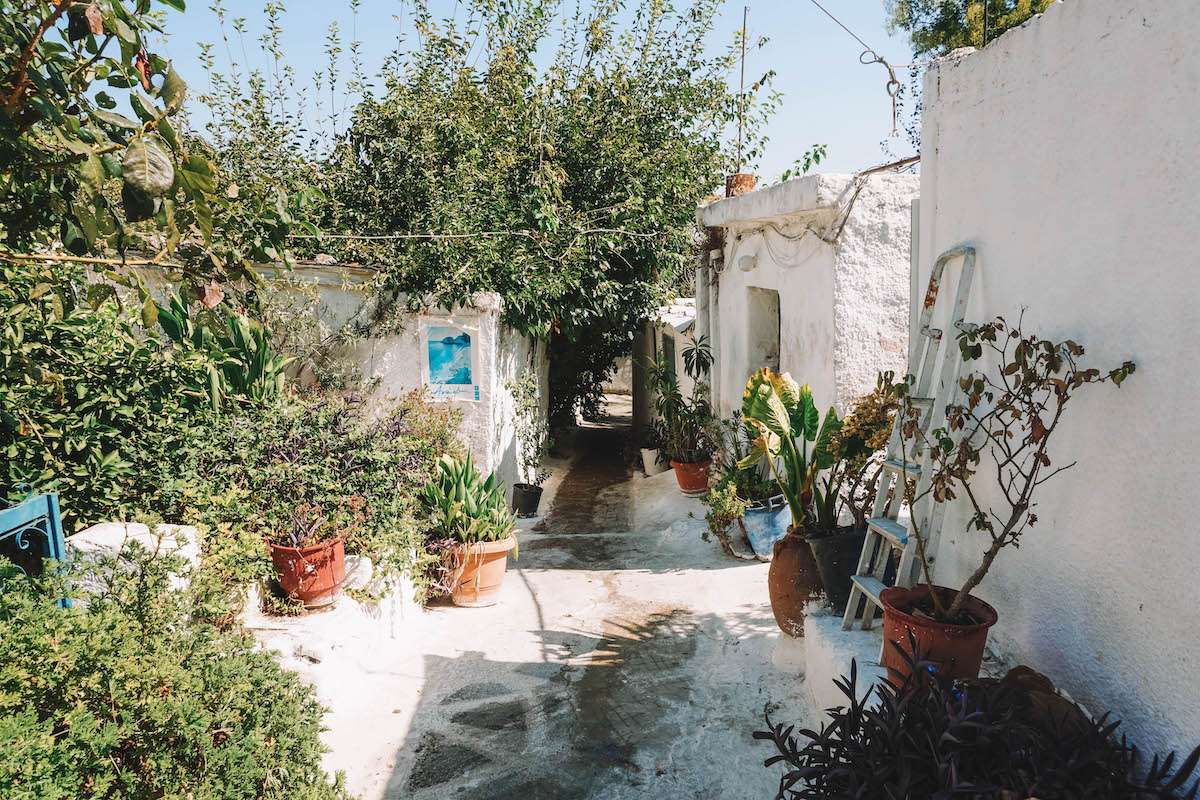 Anafiotika is technically part of the Plaka neighborhood, but I felt it deserved its own spot on this list of top places to see in Athens as it's easy to miss if you don't know to look for it!
Anafiotika is a quaint residential area with white-washed buildings and brightly colored doors. The winding pathways lead their way up, up, up the side of Acropolis Hill, and the Parthenon looms above you throughout your explorations of this picturesque neighborhood.
There's nothing "to do" in this area, but it's a stunning spot for photos — it feels like an island escape in the middle of the city! Just note that people still live in these homes, so be conscientious when taking photos.
Admire the Church of the Panagia Kapnikarea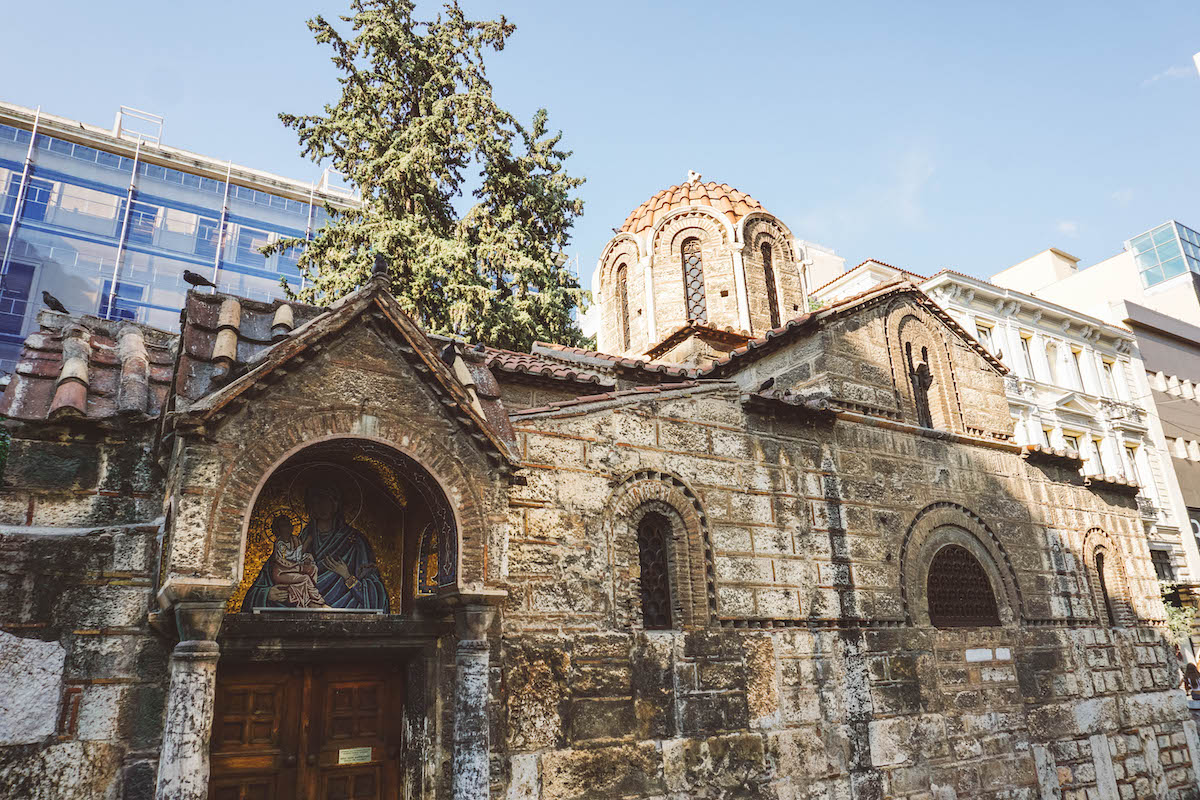 Smack in the middle of busy Ermou Street, you'll find the Church of the Panagia Kapnikarea. It's one of the oldest churches in Athens and was built in the 11th century on the remains of an ancient Greek temple. If you look closely, you'll see that the church is actually comprised of three buildings. Although not a main tourist attraction, this small church is a fun thing to do in Athens while you're out window shopping!
Window Shop in the Heart of Athens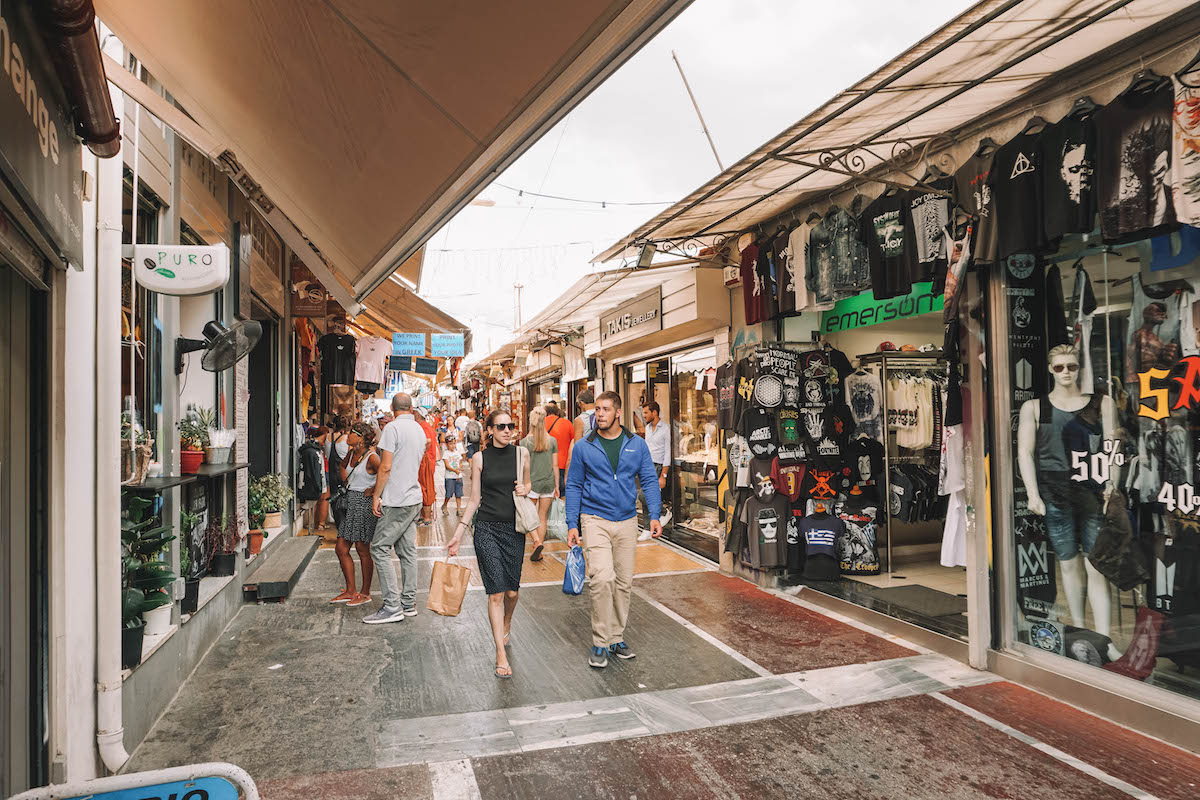 There are lots of great shopping areas in Athens, some more touristy than others. If you're wondering what to do in Athens are are feeling burnt out on archaeological sites (it's okay, we all have our limits!), you need to hit the shops!
Some good streets for shopping in Athens include:
Ermou Street — The heart of the city, has mostly chain stores.
Monastiraki Square — More touristy, has lots of souvenirs and handmade goods. Beware of pickpockets!
Voukourestiou Street — An upscale shopping street in Kolonaki neighborhoods.
Plaka neighborhood — Cute district that's pretty much packed with boutiques! (I discussed this area in more depth earlier in this post)
Explore the Kolonaki Neighborhood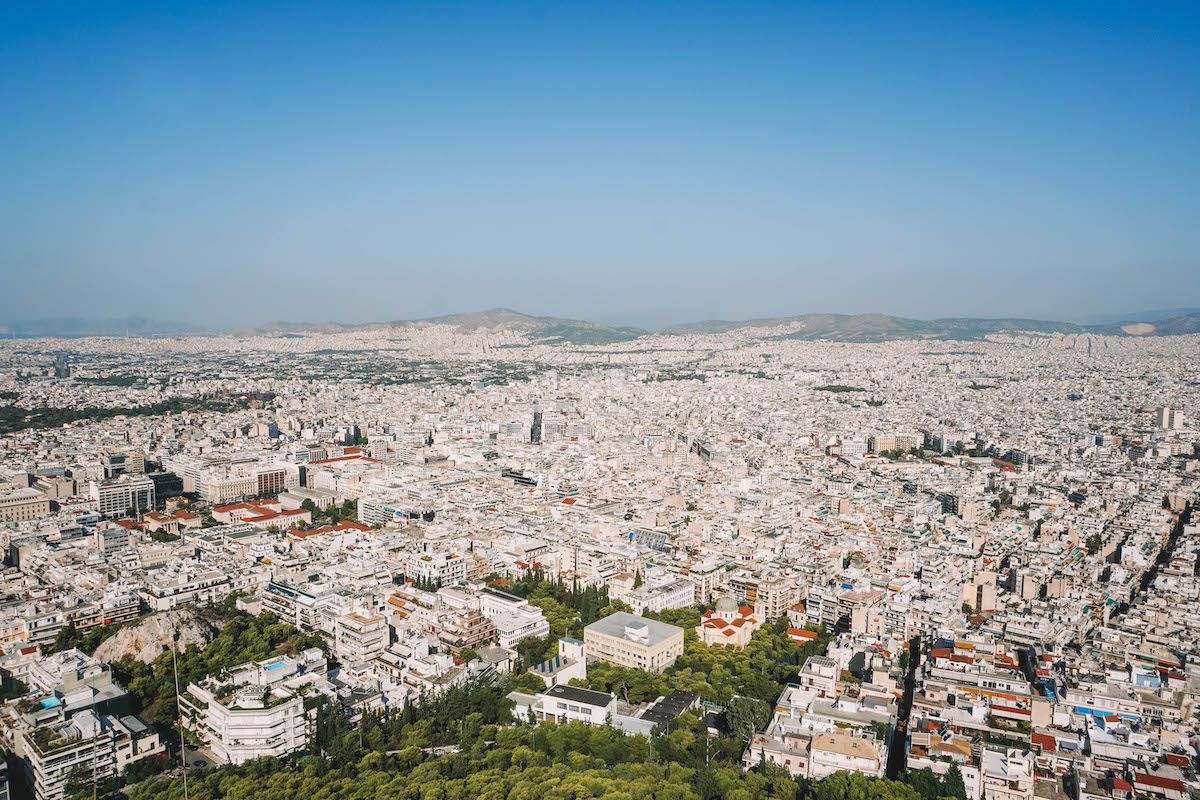 Kolonaki is probably the most luxurious of all the neighborhoods I've shared in this post. Kolonaki Square is the main draw of the neighborhood; it's the perfect spot to sip your morning coffee — although the cafes and restaurants here are pricier by Athens standards.
There are tons of shops, cafes, and restaurants in this neighborhood, but most of them are higher end brands that are geared towards international visitors.
Some of Athens best known landmarks and museums that are also located in this neighborhood are: Mount Lycabettus, the Benaki Museum, the National Gallery, and the Byzantine Museum.
Take a Day Trip to Aegina Island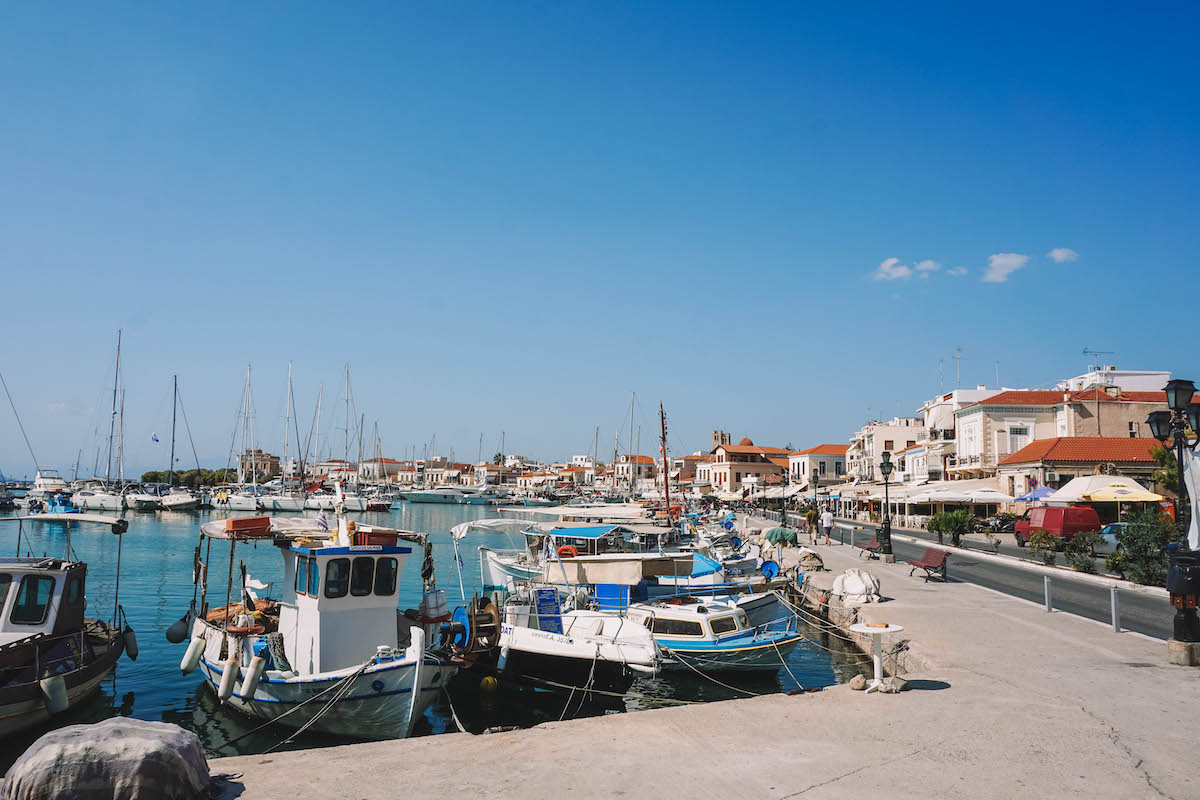 Whether Athens is your sole port of call on your trip to Greece or you've planned additional island hopping during your stay, I still highly recommend planning a day trip to Aegina Island. This small island is unlike any other I've visited in Greece. Where most Greek islands are rocky and fairly barren, Aegina Island is lush with greenery — specifically, with pistachio trees!
Aegina Town is the heart of the island and where you'll want to spend a couple hours window shopping and dining. However, you'll want to bring cash (100-ish Euros) to pay for a taxi cab to take you all over the island to see the main sites. Ask your driver about setting a day rate and have them wait for you when you get out to see the sites. You'll definitely want to see the Temple of Aphaia and the Cathedral of Saint Nektarios while you're on Aegina!
There's no easier, quicker way to get around the island in a day than with a taxi cab, so suck it up and prepare to fork over a wad of cash. It's well worth it though, especially considering the ferry ride takes less than an hour and is budget-friendly.
Tip: Aegina Island is known for its pistachios, so bring a reusable grocery bag to lug your pistachio goodies back home with you!
FAQs About Visiting Athens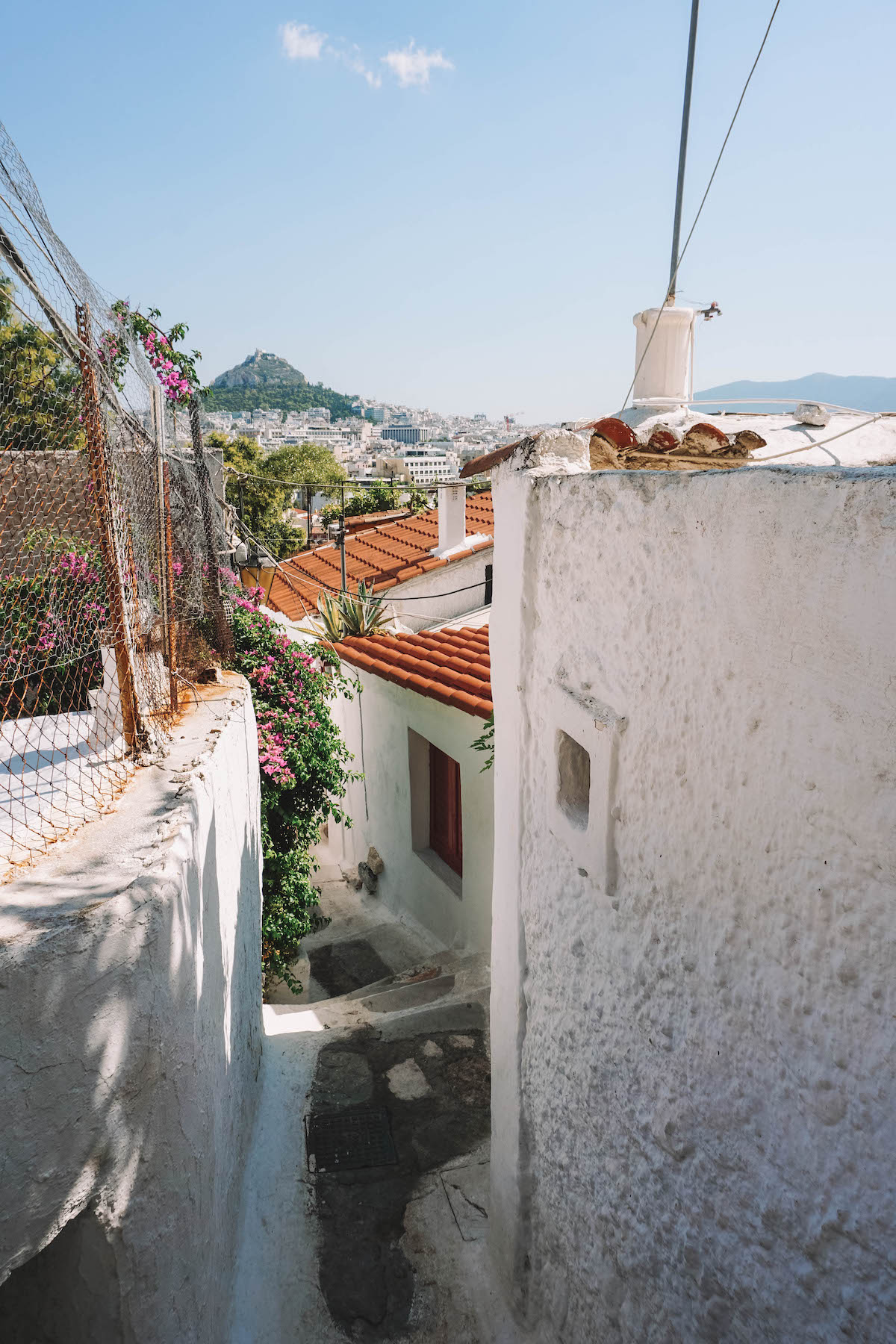 Is Athens safe for tourists?
Yes, most definitely! Athens isn't a polished looking city — there's lots of graffiti everywhere, for instance — but it's safe to explore at night and on your own. Just note that pickpockets are common, so keep valuables on your person, your hand on your purse, etc.
How many days should I spend in Athens?
At least four, but ideally more! Four days will give you enough time to see the main attractions in Athens, but if you're visiting for the first time I think five or six days is better.
What's the best time to visit Athens?
If possible, visit during shoulder season (March through May and September through October). It will still be sunny and fairly warm during the off-season, but the crowds will be much smaller. That being said, I visited in August and still had a great visit — there were just tons of people at every major historical site.
Do I need to rent a car to visit Athens? Nope! And I actually don't recommend renting a car if you'll just be staying in the city. The public transportation is easy to navigate and is fairly cheap, so you'd be better off buying a multi-day pass instead of renting a car.
What's the best way to get around Athens?
Public transportation! The signs are in Greek and English, but if you know the sites you'll be visiting throughout the day it's still helpful to jot down instructions before leaving your hotel.
What are the top things to see in Athens?
If I had to pick my absolute top recommendations for what to do in Athens, I'd say: the Acropolis, Mount Lycabettus, the Ancient Agora, and explore Monastiraki. That will give you a good mixture of history, local culture, and gorgeous views.
Can you visit the Acropolis at night?
No, the gates close at sunset so it's not possible to visit at night. Some of the ruins are lit up at night though, so depending where you are in the evening you may still get a gorgeous nighttime view of the Parthenon.
What to Eat in Athens
I have an entire guide on what to eat in Greece, so check that out for all of my food recommendations!
As for specific places to eat or source food in Athens, here are some places I loved:
Central Market — Arrive early if you plan on buying seafood. You want to get it while it's fresh! This is a great place to come if you're staying somewhere with a kitchen so you can actually cook with the fresh produce, meats, and cheeses you buy.
Krinos (Aiolou 87) — Best ever loukoumades (fried donuts slathered in honey).
Mokka Specialty Coffee (Athinas 44) — Authentic Greek coffee brewed in hot sand.
Miran (Evripidou 44) — Meats, cheeses, and charcuterie.
Estrella (a few locations) — Popular brunch spot with good-sized portions.
Map of the Top Places to See in Athens
Ready to Visit Athens, Greece?!
There are certainly more things to do in Athens that I didn't put on this list, but I wanted to highlight my personal favorite activities. Above all else, I encourage you to take things slow and give yourself the time to properly explore this sprawling city. It's easy to box yourself into the tourist neighborhoods like Monastiraki, but take the time to see where the locals live and shop as well.
If you liked this post or have any more questions about what to do in Athens, drop me a comment below!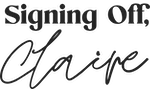 More Places to Visit in Greece: