Can't figure what to eat in Greece? These are 20 of the most popular (and delicious!) Greek foods you must try on vacation.
This post was originally published in September 2018 and was updated May 2022.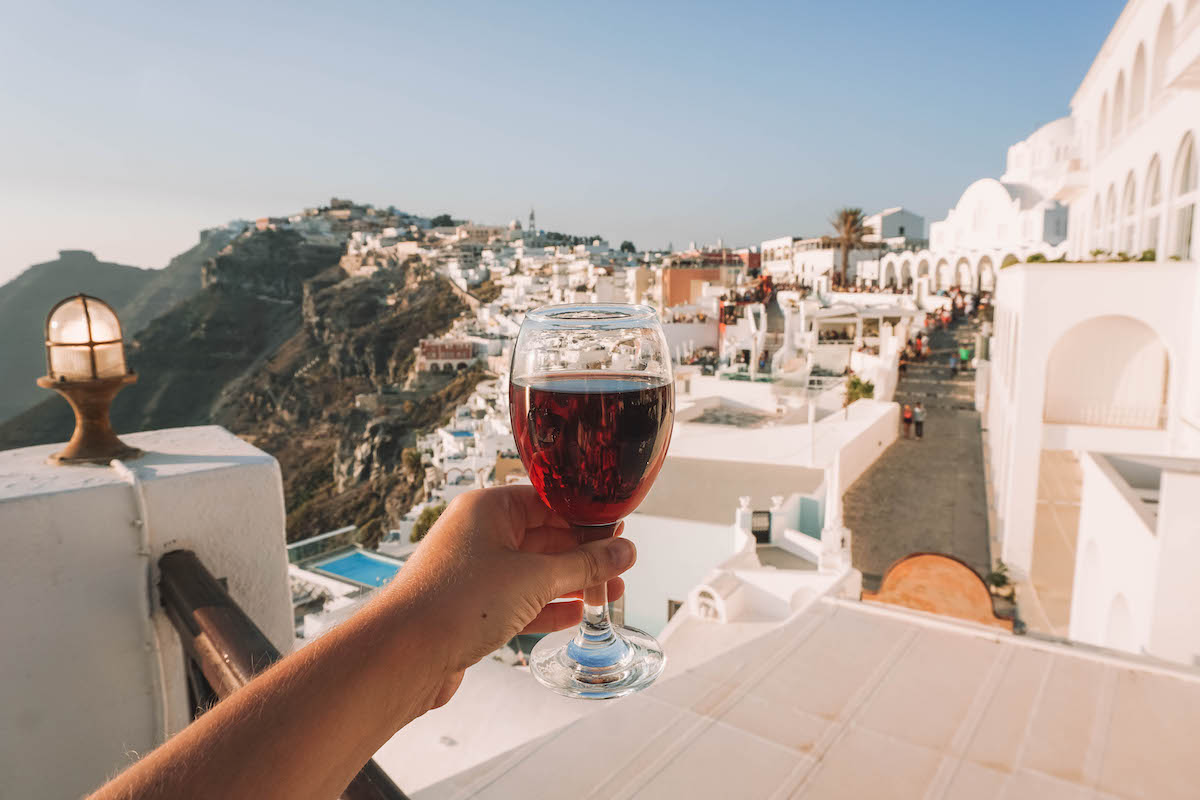 Deciding what to eat in Greece is difficult, not only because the foods all have Greek names that are tough for non-native speakers to translate, but also because of the sheer number of popular Greek foods to try. As a general rule of thumb, you can expect to see a lot of pork dishes and seafood on Greek menus, and many of the meats are flavored with fresh oregano.
The Greeks have a knack for combining unexpected ingredients to create dishes that are bursting with flavor. With so many famous Greek dishes to choose from, I recommend splitting your meals with a travel companion, if possible, so you can sample more than one dish at a time.
There are too many famous Greek dishes to list in a single blog post, but here are 20 of the BEST things to eat in Greece. I've broken down the list by snacks and appetizers, main dishes, desserts, and drinks for easier navigation.
If you use this Greece food guide during your travels, please leave me a comment letting me know which good was your favorite!
What Is the Food in Greece Like?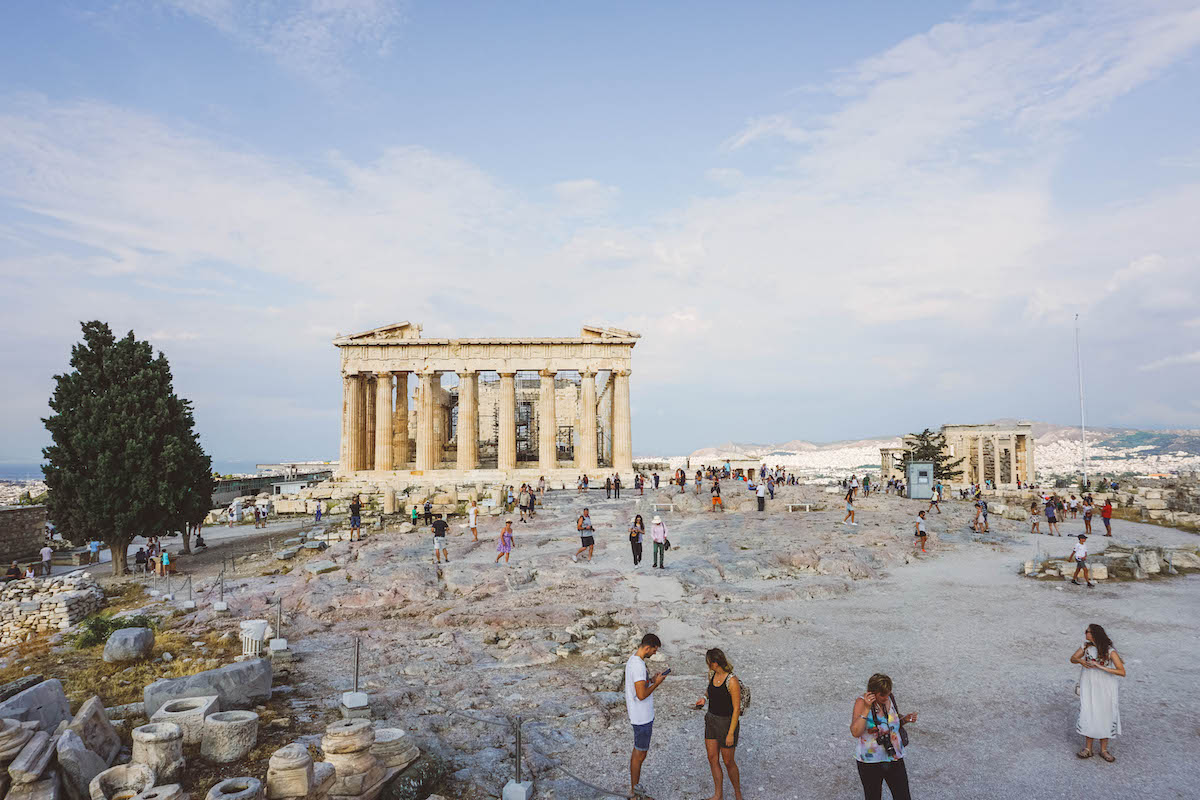 Many Greek traditional dishes utilize wheat, olive oil, meats like lamb or pork, and / or seasonal vegetables. Greece is also known for its wine, although Greek wine tastes much different than Italian wine.
Both sweet and savory foods in Greece feature feta cheese, a salty soft cheese made from sheep's milk. Some of the most popular Greek desserts are made with honey — although honey is technically not Greek! Beekeeping is thought to have been introduced to the Greeks via trade with the Middle East (although honey-based desserts like baklava and loukoumades have been part of the Greek cuisine for so long that really this is a technicality).
Expect lots of fresh herbs when you order your dinner in Greece. Oregano, marjoram, and mint are particularly popular.
Obviously, this is a very broad overview of the basis of common Greek foods. In general, my experiences eating in Greece have involved rich cuts of meat balanced with fresh veggies or fruit on the side.
Traditional Greek Appetizers / Snacks
Some of my favorite things to eat in Greece are technically considered appetizers. From creamy tzatziki to crispy zucchini balls to phyllo-wrapped feta, the Greeks know how to kick off dinner with a bang!
Spanakopita

There are a variety of pies sold in Greek bakeries, but spanakopita is arguably the most well known in the US. Spanakopita is essentially a hand pie made from flaky phyllo pastry that's filled with spinach and feta cheese. It's a delectably savory way to start your day and also makes for a great afternoon snack.
I also loved the cheese pies (called tiropita); the cheese pie we tried wasn't made with the traditional phyllo, but rather with angel hair pastry (not sure if this is the proper name). The end result was a salty, crunchy hand pie that was absolutely delicious. Definitely a traditional Greek dish worth trying!
Peanuts with Honey and Sesame

This typical Greek food is exactly what it sounds like. Peanuts are roasted and flavored with honey and rolled in sesame seeds. They're reminiscent of the candied pecans Americans make during the holidays, but are eaten year-round by the Greeks.
You should be able to find these peanuts at any Greek market. If you ask politely, you can sample a few peanuts before buying any!
Dolmades
One of the most famous dishes in Greece, dolmades are stuffed grape leaves. They're extremely soft in texture and can be quite briny, depending on where you order them. If you enjoy capers and olives, you'll probably like the flavor of dolmades. They make for a light appetizer or side dish and pair nicely with any Greek dish.
Fava

My mom and I ordered fava thinking it was Greek hummus, since that's what the waiter told us it was. Much to our surprise, we were served what looked like soup on a massive serving platter. It wasn't until we got back to our rooms that I was able to look up what fava was—as it turns out, it's a puree made from yellow split peas, garlic, and onion!
We dipped bread in it and also ate it by the spoonful and agreed that it was one of the best dishes we tried in Greece.
Feta with Honey

We were slightly skeptical of eating feta and honey together, but we were keen to try it since it's a popular Greek food. In this dish, salty feta is wrapped in crispy phyllo and then drenched in honey. It's a simple dish, but the flavor is insane.
Order this as an appetizer and keep your main dish small, as eating the better part of a block of feta is very filling.
Zucchini Balls (Kolokithokeftedes)
Kolokithokeftedes, or zucchini fritters, are extra crispy on the outside and squishy on the inside. Their flavor is slightly garlicky, and fresh herbs cut through the taste of the fried dough. This is one of those traditional Greek foods that make your eyes roll up after the first bite because they taste just that good.
Tzatziki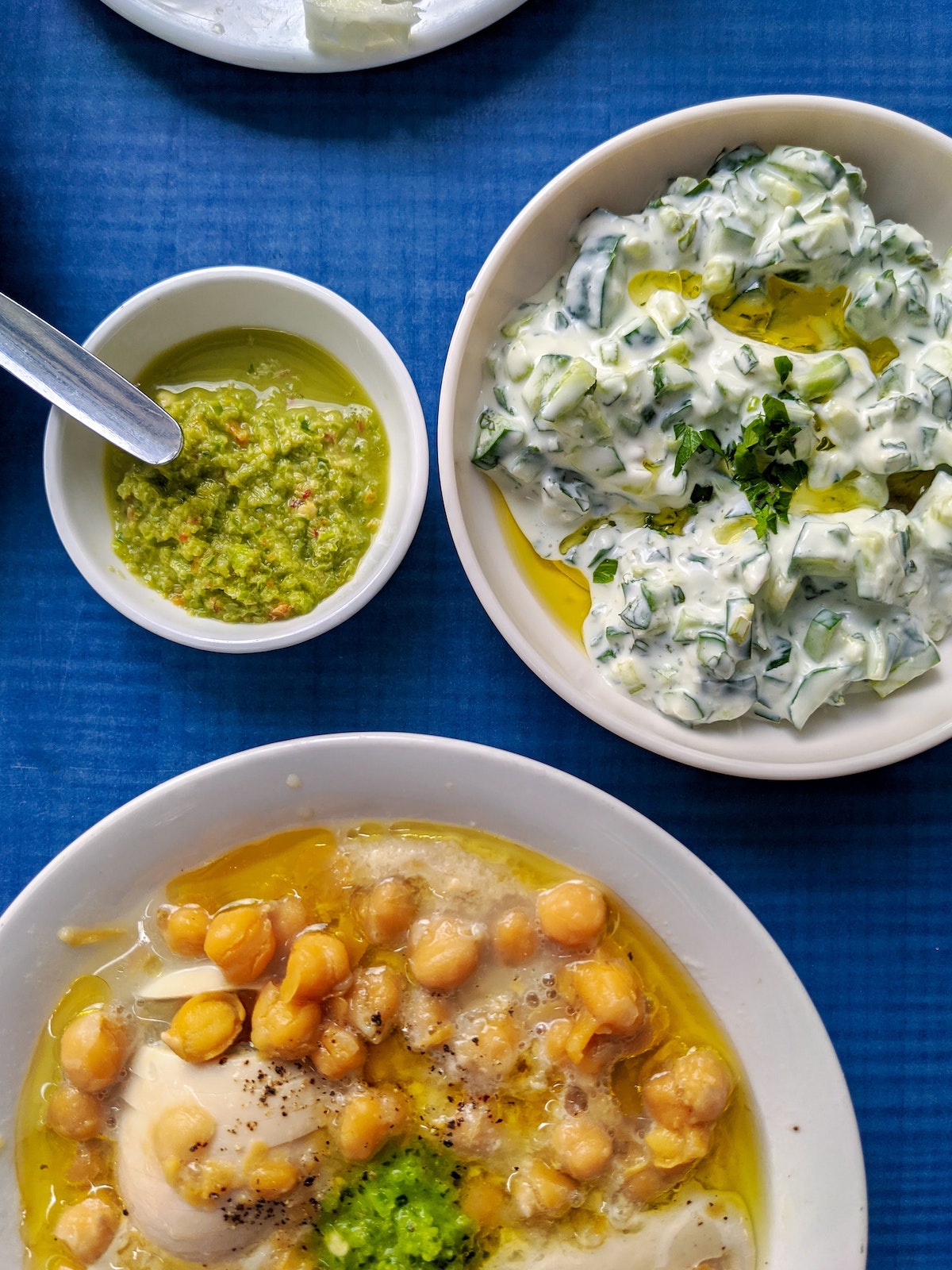 I couldn't write this Greece food guide without mentioning Greece's best-known dip! Tzatziki is a yogurt-based sauce that's used for dipping vegetables and grilled meat, as a spread in gyros, and more. It often features shredded cucumber, fresh dill or mint, olive oil, garlic, and lemon juice. I enjoyed dipping my souvlaki into tzatziki, as the sauce lightened up the flavor of the grilled meat.
Traditional Greek Entrees
You've likely heard of some of these famous Greek dishes — trust me, they're famous for good reason! Expect lots of lamb, pork, and seafood depending on the area of Greece you're traveling through. When in doubt, ask your server for a recommendation on what to order!
Souvlaki

Souvlaki was my go-to meal in Greece thanks to its simplicity and cheap price. It's essentially skewered meat that's been cooked over a grill. Souvlaki isn't served with dipping sauces, and the marinade usually features fresh oregano. If you're on a tight budget but want to experience authentic Greek food, souvlaki is a good dish to order.
Greek Salad

This typical Greek food is nothing like the salad we eat in the US. Authentic Greek salad is made with roughly chopped tomatoes, thinly sliced red onion, cucumbers, and is topped with a block of feta cheese. The salad is lightly drizzled with olive oil, and that's it. If you're served a Greek salad that has lettuce in it, you weren't given the real thing.
Gyros

If you're unsure what to eat in Greece, gyros are a classic dish that never disappoint. Gyros are traditionally made with lamb that's been cooked vertically on a rotating spit. If you order gyros at a restaurant, you'll likely be served sliced meat alongside the normal gyro fixings like red onions, tomato wedges, and tzatziki.
I actually never saw anyone chowing down on a gyro sandwich like we eat in the US, so I'm not sure if gyros are ever served like that in Greece. I actually liked the restaurant-style gyros better though, because the gyro meat and the other ingredients seemed fresher and the portions were much smaller.
Moussaka

If you like lasagna, you'll love moussaka. Instead of wide noodles, moussaka features layers of thinly sliced potato and eggplant and a savory meat sauce. It's topped with a thick (and I mean thick) layer of creamy béchamel sauce that makes this dish truly decadent.
Tip: One slice of moussaka is guaranteed to fill you up, so don't worry about ordering a side dish with your meal.
Meatballs

Another Greek food you must try are meatballs, or keftedes, which are heavily spiced with fresh parsley and mint. I enjoyed these in a tomato sauce, but they are also served plain with tzatziki or a similar dipping sauce. Although this is a fairly simple dish, these meatballs pack in a lot of flavor.
Gemista

Gemista are vegetables (often tomatoes or bell peppers) that are stuffed with rice. The rice filling can include any number of ingredients, but no matter what meats and veggies are used gemista is guaranteed to be a filling dish.
Seafood

Fresh seafood is abundant in Greece and you should enjoy the cheaper prices while you're traveling! Fried calamari is popular, as is saganaki, which is a style of cooking that features a rich tomato sauce with baked feta cheese.
I loved the shrimp saganaki we had in Rhodes, but I saw many other types of fish cooked in the saganaki style during our travels as well.
Traditional Greek Desserts
Some of the most popular Greek desserts are made with honey (baklava, anyone?). However, there are plenty of other desserts to try in Greece if honey isn't your favorite. But try everything on this list before you write if off, pretty please?
Loukoumades

Loukoumades are easily my favorite things to eat in Greece. They're light, pillowy donuts that have been drenched in honey. What makes loukoumades unique is that the dough is unsweetened. Traditionally, they're made with only flour, water, and yeast, which is why the small donuts are so fluffy in texture.
Tip: Loukoumades are served by the half dozen, and you can easily finish a plate of them by yourself because they're so light and airy. 
Baklava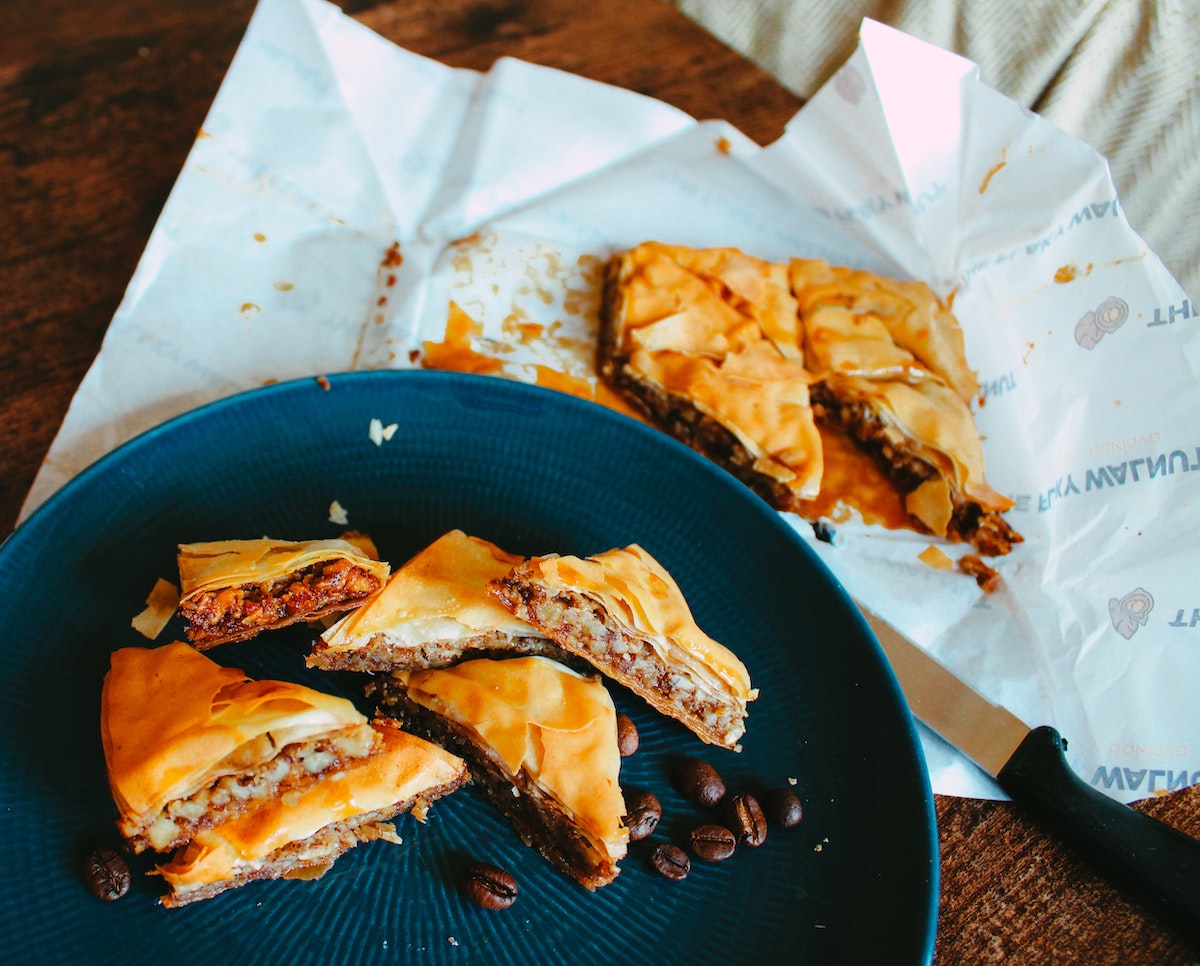 No Greek foods list is complete without mentioning baklava! Although known as a Greek food, baklava actually originated in the Middle East (a good rule of thumb is that any Greek dessert that features honey and nuts isn't originally from Greece). In this dessert, crispy phyllo is layered with chopped nuts and honey.
Baklava is extremely dense and gooey, and is tricky to make at home. Most bakeries in Greece serve a few variations of baklava, so sample them all and figure out which you like best!
Orange Cake (Portokalopita)
Better known as portokalopita, this Greek dessert is incredibly sweet and dense. What makes Greek orange cake unique is that it doesn't use any flour. Instead, it's made with torn phyllo dough. Orange syrup is poured over the freshly baked cake and is allowed to rest until the syrup has completely soaked through the cake.
Traditional Greek Drinks
Admittedly, I'm not a big fan of the most popular Greek drinks — ouzo, wine, and coffee — because I don't drink alcohol or coffee. But I did try a sip of everything on this list just in case the magic of Greece made me suddenly like these drinks. (Spoiler: I still don't like alcohol or coffee, but my travel companions gave everything rave reviews!)
Greek coffee
There's no such thing as a "regular coffee" in Greece, so don't count on getting a plain drip coffee on your vacation. Instead, opt for a cup of traditional Greek coffee.
Greek coffee is made by combining coffee grounds with water in a small copper pot and heating the mixture in hot sand. The coffee is then poured into an espresso-like cup and is meant to be sipped slowly. If you want sugar added to your coffee, you need to tell the barista when you make your order, as the sugar has to be added during the brewing process.
Greek coffee is slightly fruity in taste and the presentation makes it feel like a real treat.
Wine

I'm not keen on wine, but my mom enjoyed the wine she sampled in Greece. Santorini is famous for its white wine, which is grown in the volcanic soil of the island. But no matter where you're traveling, you should be able to enjoy wine for cheap in Greece.
Tip: If you're in an AirBNB, grab a bottle from the supermarket to save money and keep the cork as a souvenir.
Ouzo
Ouzo is a Greek liquor that's flavored with anise. You can sip on ouzo straight, but it's typically served with a glass of water and some sugar. Personally, I hated ouzo because it tasted like black licorice to me. It's a unique liquor though, and is definitely worth trying at least once in your life.
Excited to Eat These Popular Greek Foods?!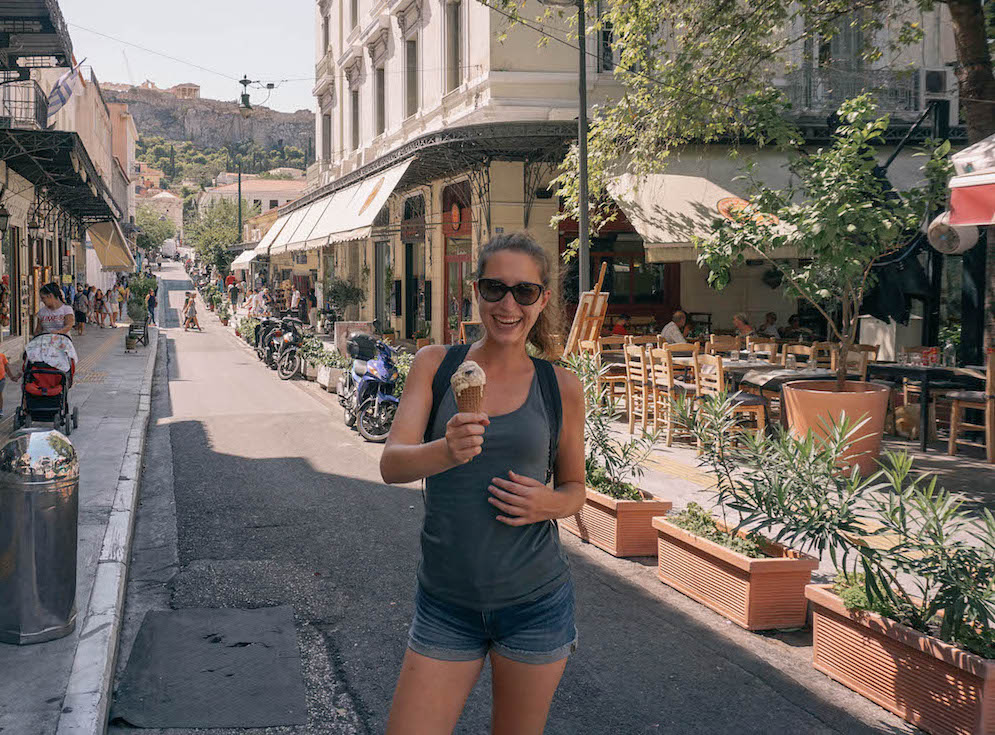 I hope this Greece food guide has proven useful for planning your epic trip to the Mediterranean. As I mentioned at the beginning of this post, there are so many more things to eat in Greece than I've squeezed into this blog post, but you've at least got a good start on the kinds of food to expect.
If you found this post helpful, be sure to leave me a comment below! And don't forget to follow me on Instagram to keep up with my travels in Berlin and beyond.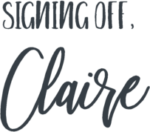 My Favorite Places to Visit in Greece: