A visit to Corfu Old Town is like a trip to Venice, minus the canals! Check out this list of things to do, including fortresses, museums and more!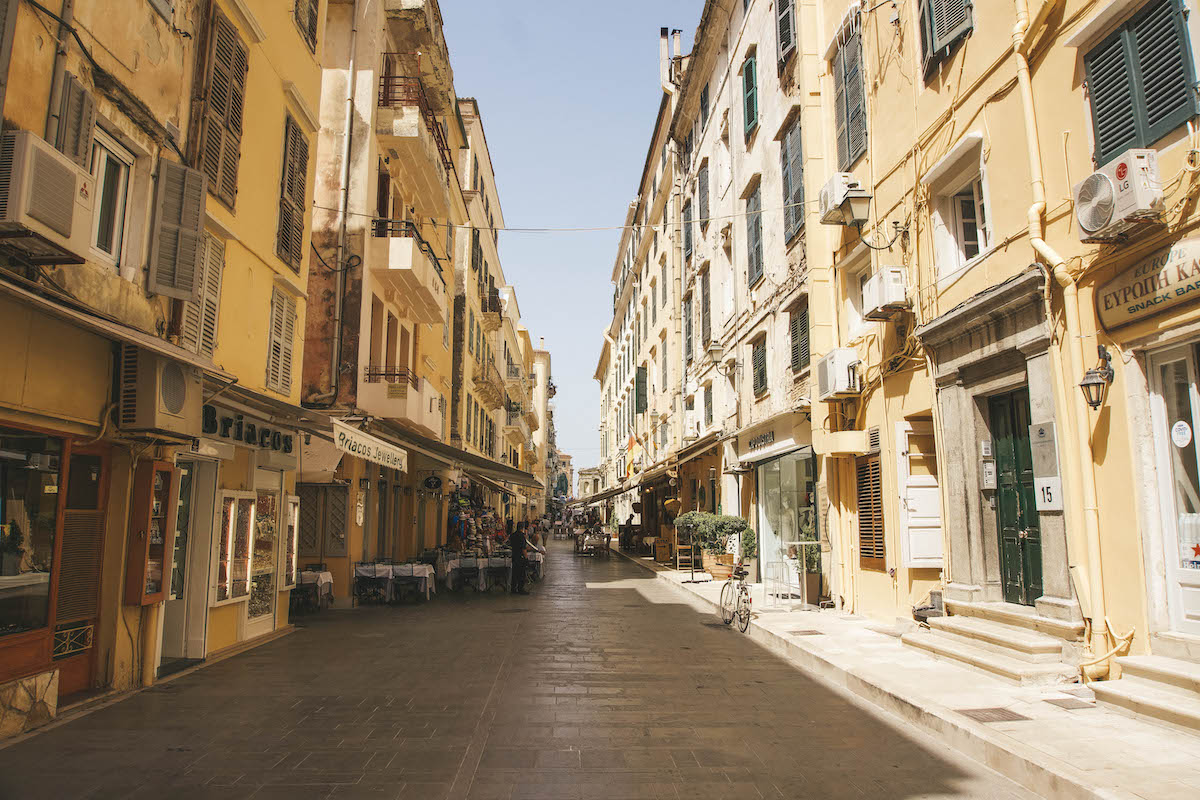 Corfu Old Town is unlike any old town area I've seen elsewhere in Greece. Corfu Town dates back to the 8th century BC and is known for its historic fortifications (the entire island is dotted with fortresses, not just the Old Town area!).
Beginning in the 15th century, Corfu was controlled by the Venetians for nearly 400 years. The Venetians valued Corfu for its strategic position in the Ionian Sea. They built many fortresses on the island to help defend against the Ottomans. Once Venetian rule ended, Corfu was alternately passed along to the French and British governments before finally becoming a Greek island in 1864.
The Venetian influence on Corfu Old Town is easy to spot. Where other Greek islands boast charming white-washed villages with bright blue domed roofs, Corfu Town has narrow, winding streets between pastel colored houses. Yes, the Old Town is "touristy" in the sense that there are lots of people milling around and many stores sell souvenirs and knick knacks, but the effect of that Italian architecture really is magical.
Today, Corfu Old Town is a UNESCO World Heritage Site that's absolutely worth visiting when you're in Corfu. 
Table of Contents
Click "show" to see the full table of contents for this post. You can jump around the post as desired by clicking on the individual sections listed below.  
Things to Do in Corfu's Old Town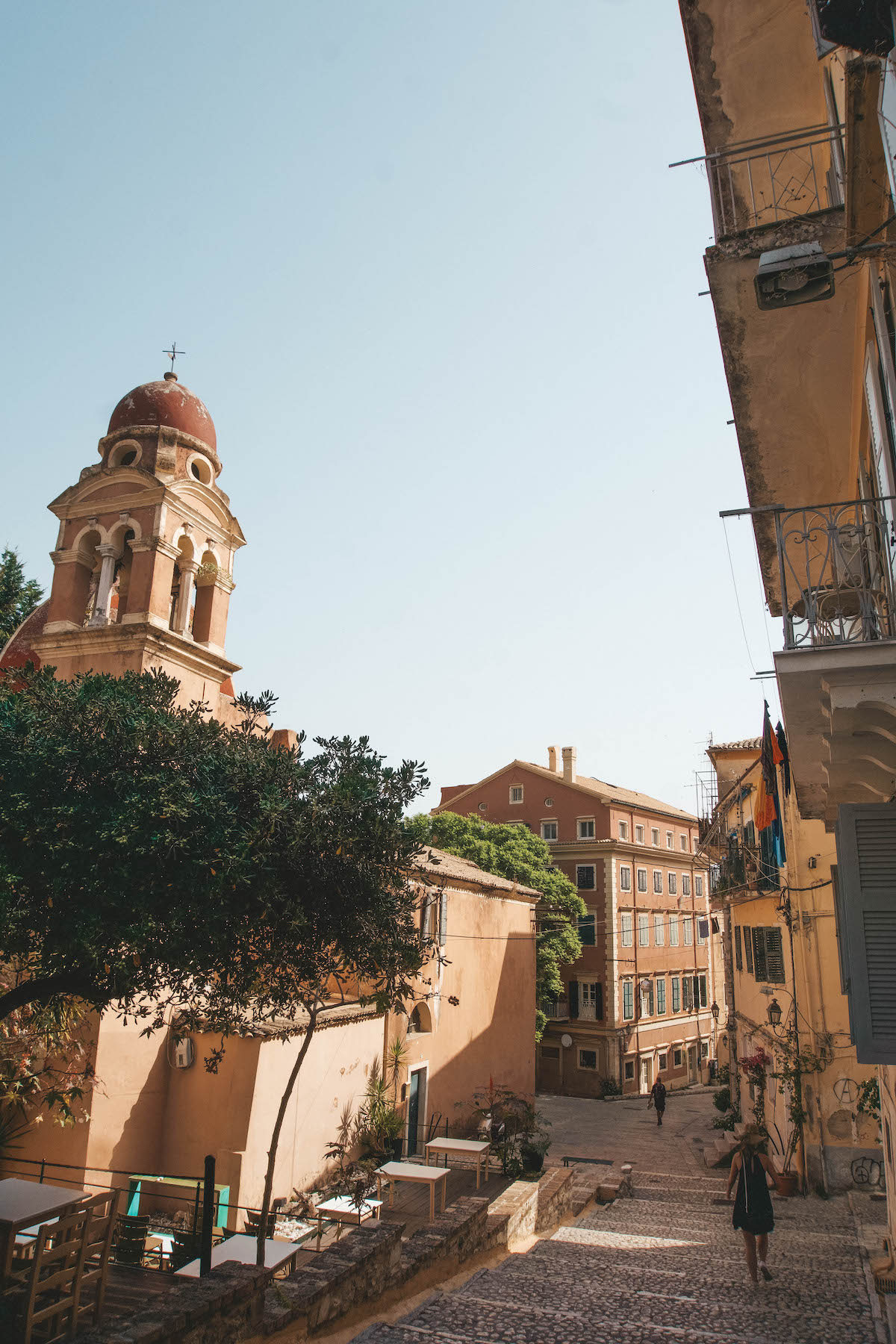 You can easily spend an entire day in Corfu Old Town, especially if you visit the museums and fortresses I've shared below. There's more to do in Corfu Old Town than what I've shared in this post, but I only ever share things I personally have experienced and loved!
Here's what I recommend doing in Corfu Old Town, in the order I suggest doing these activities.
1. Church of Agios Spyridon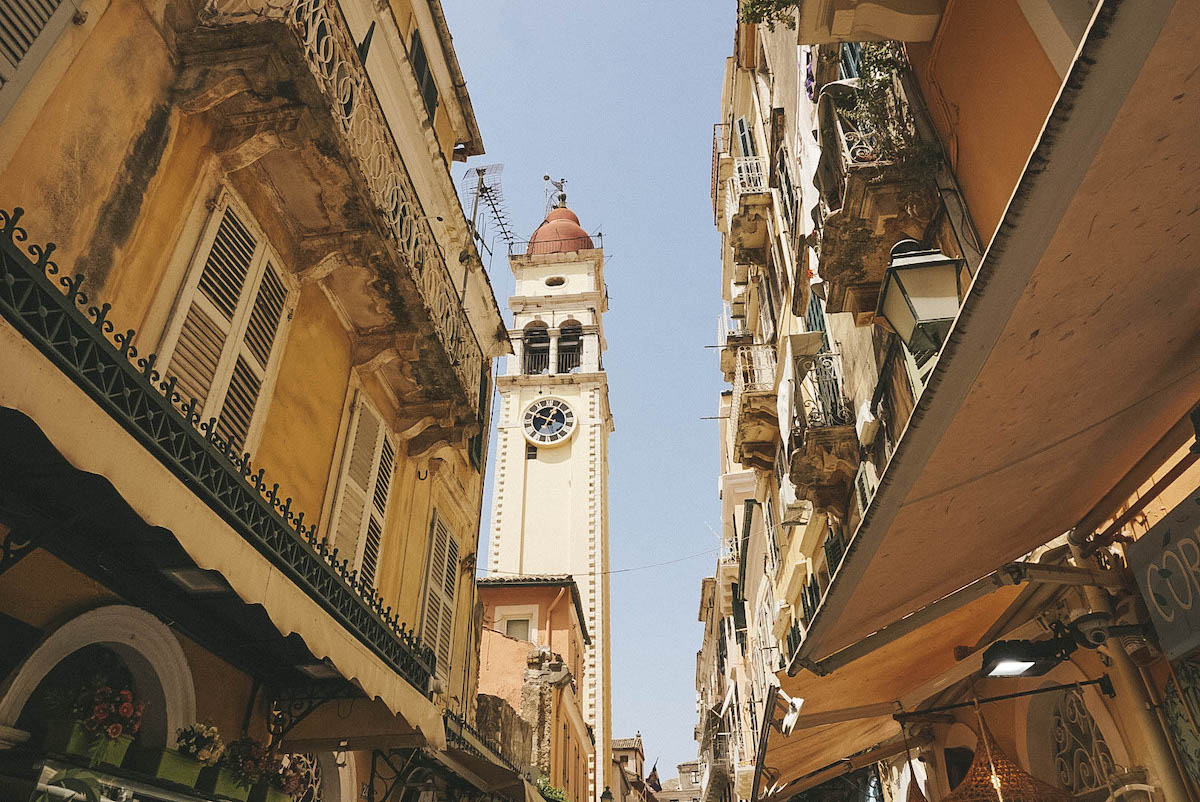 This ornately decorated church was built in the 15th century and is home to the remains of the island's patron saint, Saint Spyridon. Saint Spyridon is said to have expelled the plague from the island, so I understand why locals adore him (especially given the current state of the world!).
The Church of Agios Spyridon is free to enter. I didn't take any photos inside the church as I thought that would be rude, but trust me when I say that although it's small in size it's not lacking in any precious metals or murals. Every square inch of the place has been painted, gilded, or carved and it truly is a sight to behold.
At the front of the church, you can enter the small room that houses the remains of Saint Spyridon. Two priests stand on either side of the body, chanting in low voices. You only get a few moments to glimpse the remains, and then you'll be ushered away.
Note: I didn't see anyone from the church enforcing a dress code, but please remember that this is a Greek orthodox church and as such you should dress modestly. (Men, take off your hats; Ladies, cover your shoulders and knees, if possible. No one should enter in a bathing suit).
2. Cosmopolitan Liston and Spianada Square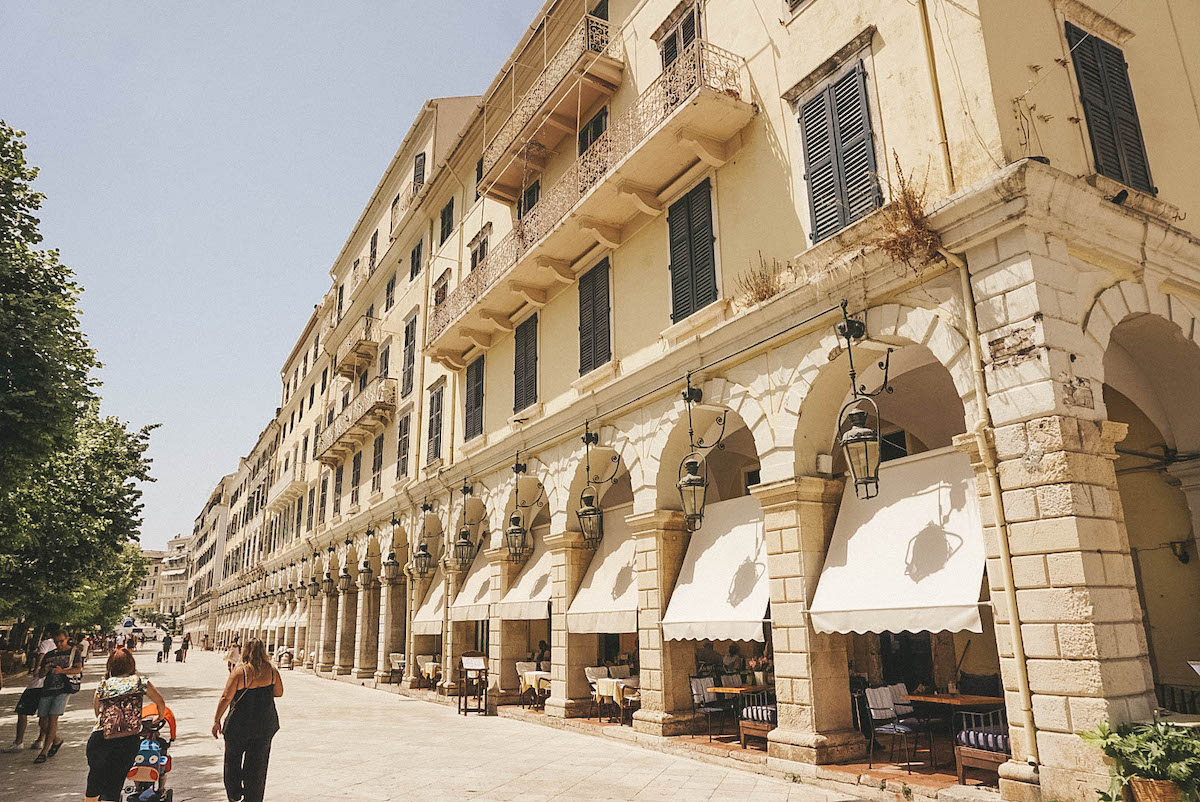 This is a two-for-one attraction since the Liston and Spianada Square are connected. The Liston is a 19th century colonnade that's inspired by Parisian architecture. There are lots of cute cafes lining the Liston, as well as souvenir shops perfect for window shopping. This are can get quite crowded, so it's not my first choice for resting my feet, but it is pretty!
On the other side of the Liston is Spianada Square, which is a large green space that connects the Old Town with the Old Venetian Fortress. Fun fact: Spianada Square is the largest square in all of Greece! Most of the square is just grass, and there's a hellish parking lot here too. (Only park here if you don't plan on moving your car for a long time).
3. Old Venetian Fortress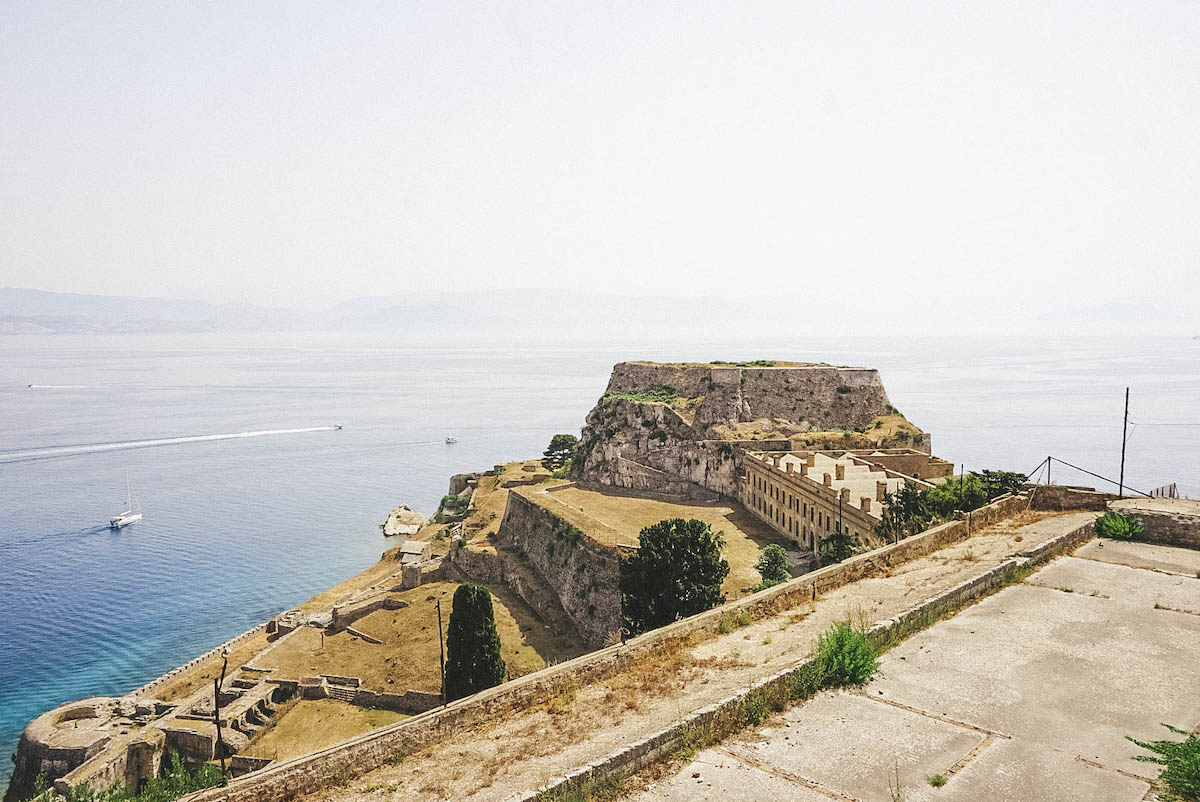 Built on the site of a former Byzantine castle, the Old Venetian Fortress was erected by — you guessed it! — the Venetians in the 15th century. The fortress is HUGE, so give yourself an hour to 90 minutes to see it all and bring water with you since the complex is built on a hill and you'll be doing lots of walking.
Within the fortress are a few smaller attractions. There's a single-room Byzantine "museum" with some interesting artifacts on display. You'll also find the Church of Saint George here; it was built by hte Brits to resemble an ancient Greek temple and is worth popping into.
For an epic view of the Old Town, climb to the top of the fortress. It won't take but 10 minutes to reach the top, but the views are worth it!
4. Boschetto Gardens
Just outside the Old Fortress you'll find the Boschetto Gardens. I'm not sure what their history is (if any), but it's a pretty spot to catch your breath after exploring the old fortress. If you're visiting Corfu in the summer, you'll need to take plenty of water breaks in the shade to avoid getting heat stroke!
5. Palace of St. Michael & St. George
The Palace of St. Michael and St. George was formerly the home of a British ambassador and later served as a summer home for the Greek royal family. Today, it houses the Museum of Asian Art. Truthfully, I didn't go into the museum because it was 107ºF that sunny Corfu morning and I wasn't sure if the museum would be air conditioned or not…
However, the building itself is beautiful, and around the back you'll find the Garden of the People. It's a great photo spot, and you can see the beach below from the overlook.
6. New Fortress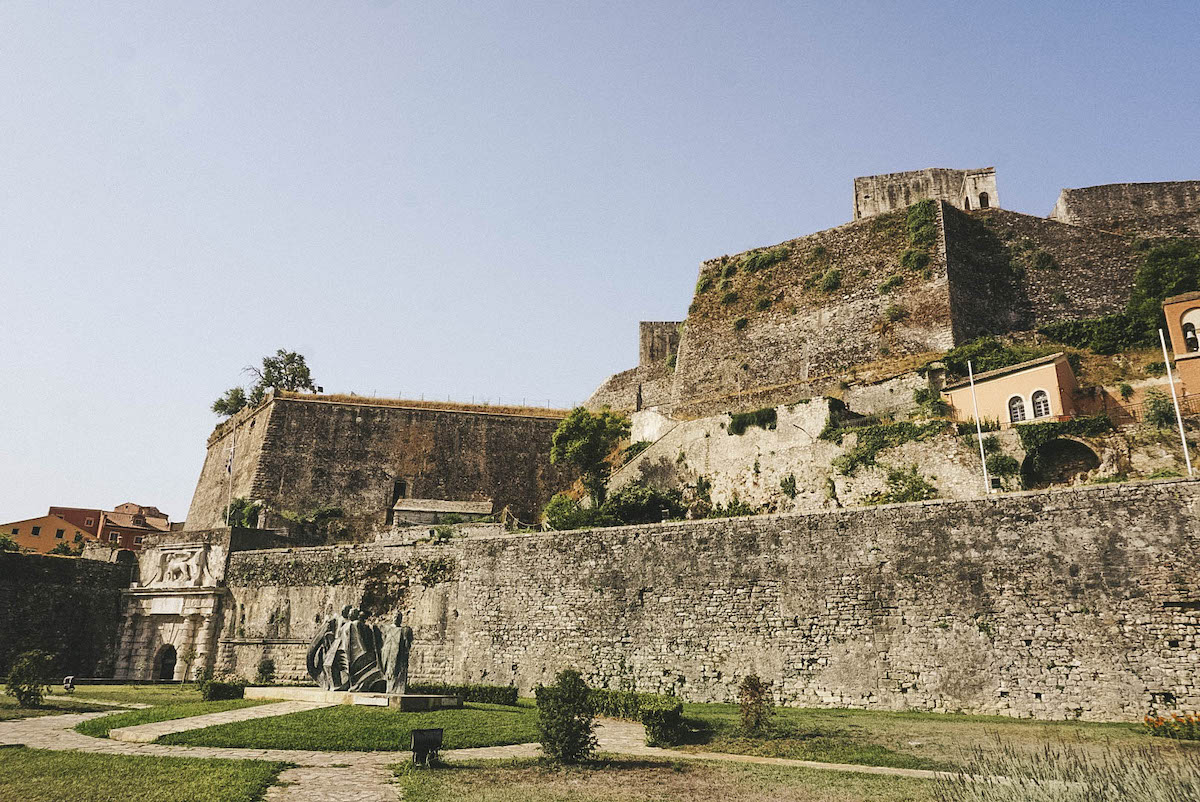 The New Fortress isn't actually all that new. It was built by the Venetians in the 16th century and is located across town from the Old Fortress. The New Fortress is free to enter, and while there's nothing to read or "do" when you're there, it's just cool to poke your head around yet another massive complex.
Plus, the views of the Old Town are gorgeous from the New Fortress. Give yourself about 30 minutes to wander around the complex — if you discover any hidden passageways, let me know for the next time I'm in Corfu!
7. Other Quaint Churches
I loved stumbling across the many "hidden" churches in Corfu's Old Town. Many of the churches seem plain enough on the outside, but once you peep your head through the door you'll be astonished at the opulence tucked away inside. This is one of the better things to do in Corfu Old Town if you have an adventurous spirit and enjoy finding hidden gems!
Some especially pretty churches in Old Town Corfu include:
Holy Metropolitan Church of the Virgin Mary Spilaiotissa, Saint Blaise and Saint Theodora Augusta (pictured above)
Holy Church of Saints Basil and Stephen
Cathedral of Saint Christopher and Jacob
8. Window Shop & Explore!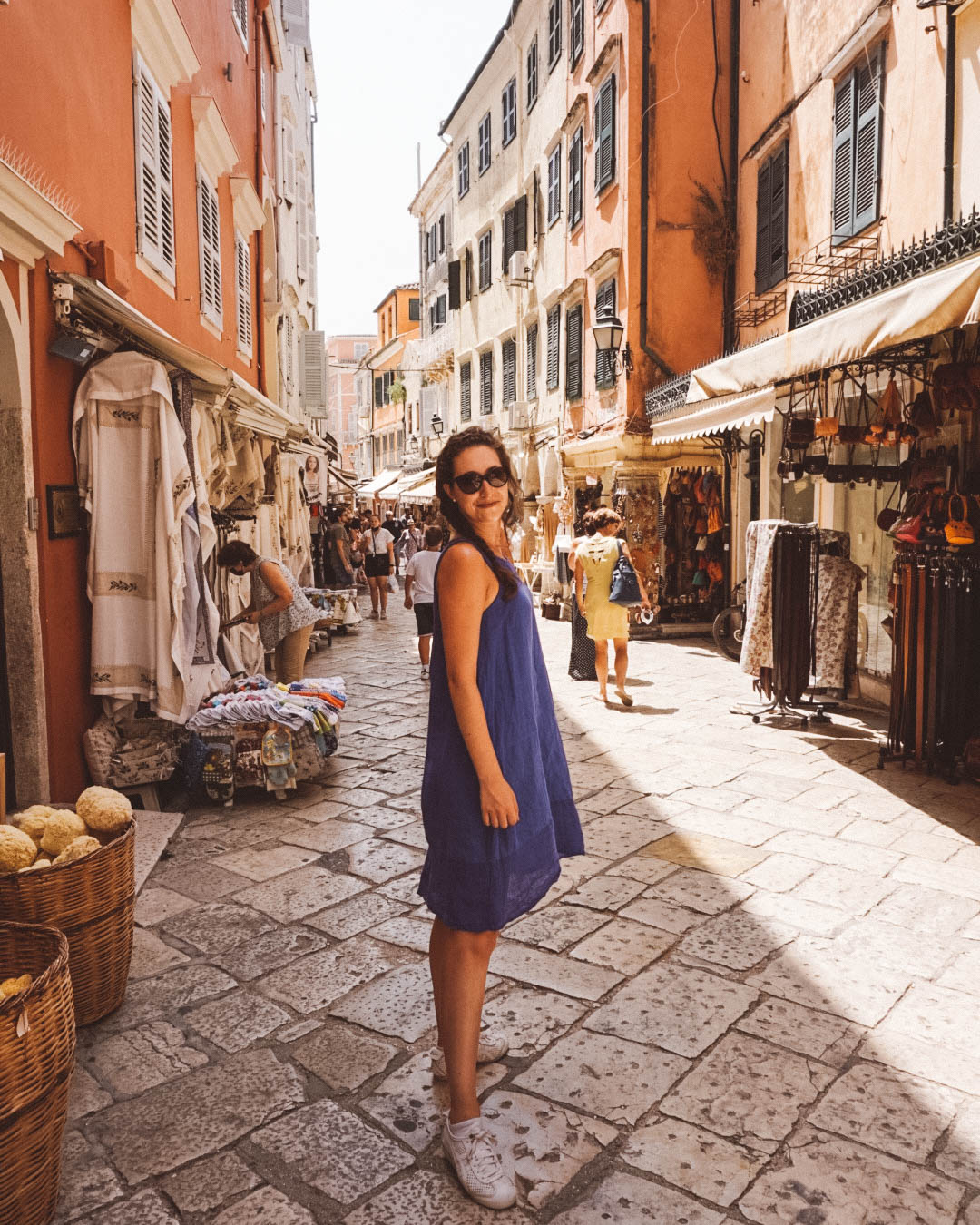 After seeing the sights in Corfu Town, give yourself a few hours to eat some gelato, nibble on a Greek pastry or two, and window shop. Corfu Old Town feels like you're walking through Venice, minus the canals. There are hundreds of winding streets and alleyways just begging you to get lost in!
There are a number of junkier souvenir shops in the Old Town, but if you keep an eye out you'll also find some local gems selling Greek linen, handmade jewelry, and more.
Ladies, I highly recommend buying a linen dress when you're in Corfu! Look out for Grande linen dresses; I bought two more in Corfu since I wear the Grande dress I bought in Athens in 2018 so often!
9. Beaches in Corfu Old Town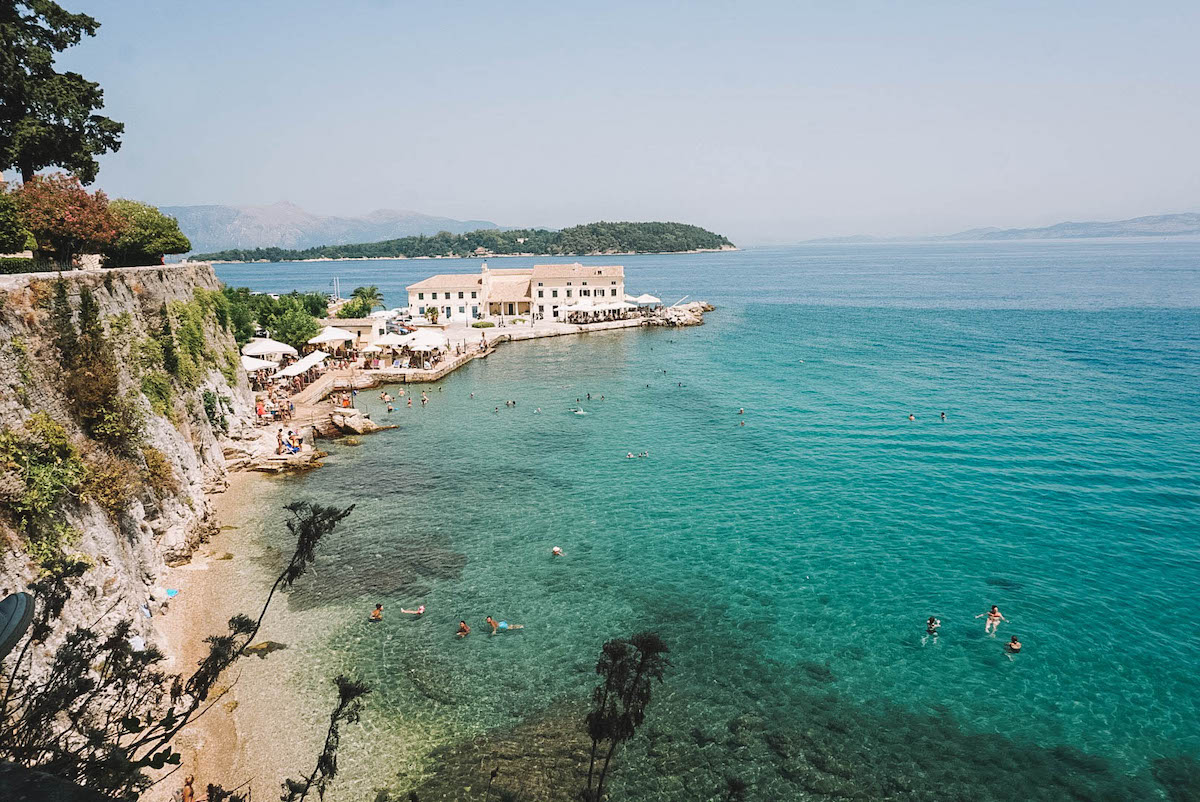 If you're dying to lay out at the beach, Corfu Town isn't my first choice for that. (Here are my favorite quiet beaches in Corfu if you're looking to unwind!)
However, if you're itching to dip your does in the water and can't leave downtown Corfu for whatever reason, your best options are to hit up Faliraki Beach or the small beach by the Corfu Town Sailing Club. Both are within walking distance of the Old Fortress.
Note that both of these beaches fill up quickly and are really just strips of sand. However, the water is nice and safe to swim in!
10. Corfu Central Market
If you've already seen the main sites and are wondering what else to do in Corfu's Old Town, check out the Central Market! It's a lovely open air market that sells all the local produce and seafood you could possibly want. It's an especially great place to come if you're staying somewhere with a kitchen so you can actually buy ingredients to cook with.
There's not much in the way of non-perishable souvenirs at the Central Market, but even if you can't cook anything where you're lodging it's worth walking through the Central Market to absorb all the sights and sounds!
What to Eat in Corfu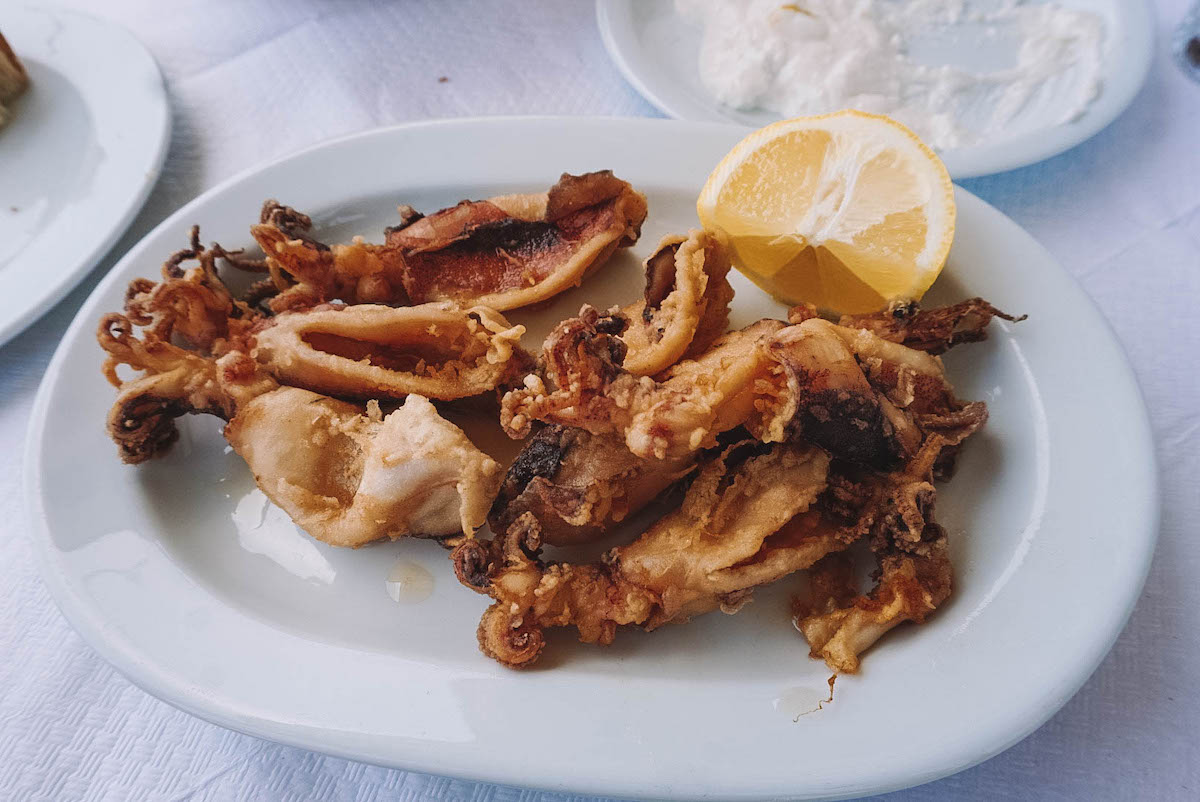 One of the best things to do in Corfu's Old Town — or anywhere on the island, really! — is taste the local cuisine. For a list of my favorite Greek foods to try nationwide, check out this post.
In addition to traditional dishes like spanakopita and dolmades, you'll find some more unique Corfiot foods on the island. Corfu's unique history and location has made it a delicious melting pot of cuisines!
Some foods Corfu is known for include:
Seafood — It's an island, after all!
Pastitsada — a pasta dish made with rooster in tomato sauce
Sofrito — slow cooked veal in wine sauce
Kumquats —are grown on the island. You'll see tons of kumquat products in the souvenir shops!
FAQs About Visiting Corfu Old Town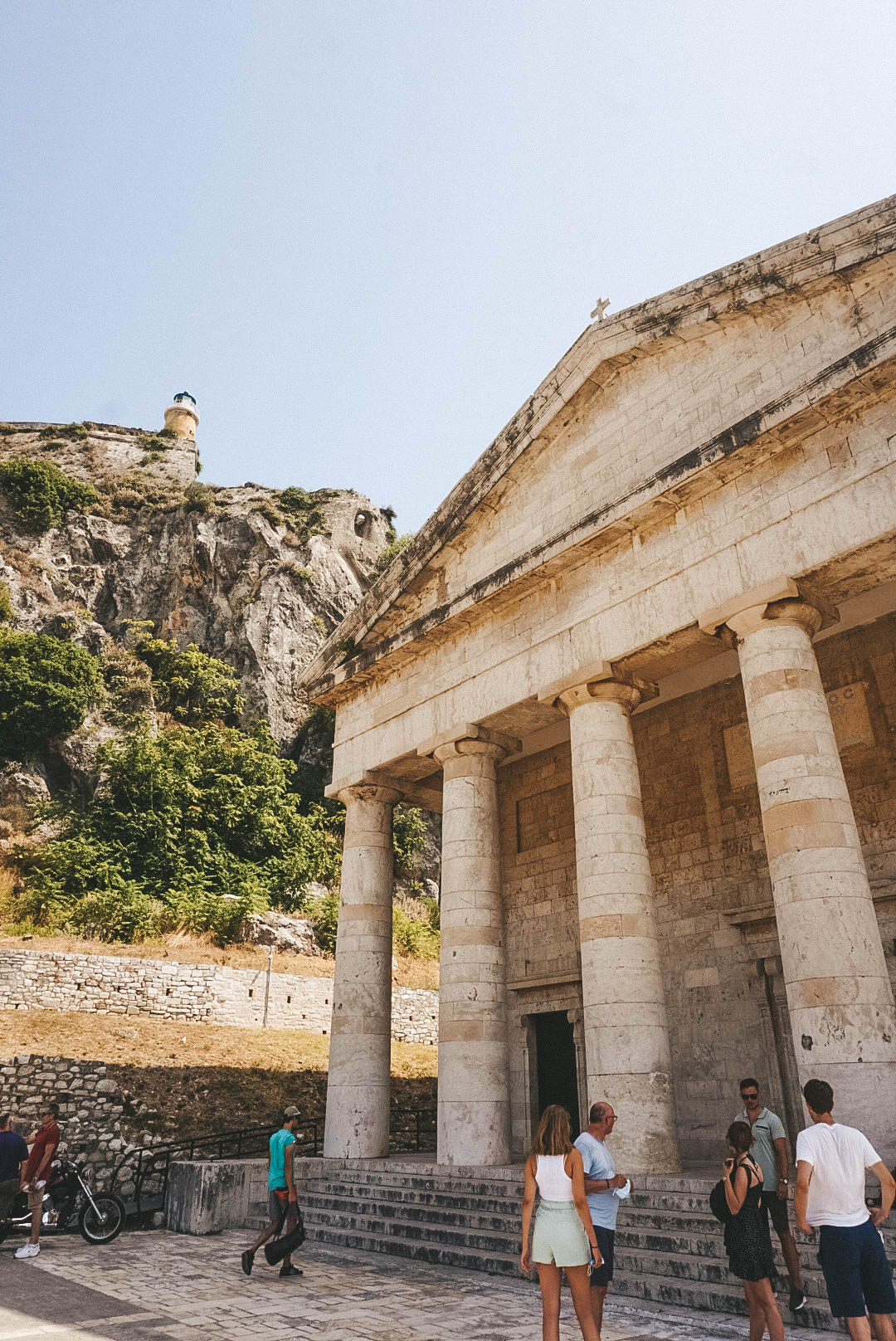 Is Corfu Town worth visiting?
Absolutely! You can easily spend an entire day in the Old Town alone, and there's a great mixture of historic sites, restaurants, shops, and more. Parking can be a nightmare, but once you've found a place to park your car you can explore on foot at your leisure.
Is Corfu touristy?
Yes, the Old Town is touristy. However, I still loved every second of my visit! It's touristy in the sense that there are lots of souvenir shops and the restaurant menus often are written in multiple languages. Corfu Town is also a popular docking spot for cruise ships, so the number of people swells considerably mid-afternoon. But the Old Town of Corfu still feels authentically Greek and I'll happily revisit every time I'm on the island.
How much time do you need to see Corfu's Old Town?
At least half a day, but if you plan on going into the fortresses and a museum, then you'd better plan on spending the better part of a full day in the Old Town. 
Are Corfu Town and Corfu Old Town the same thing?
Often the names are used interchangeably, yes.
What's the best way to get around the Old Town?
On foot! Get to the Old Town first thing in the morning so you can find a parking spot with relative ease, then hoof it. 
Where can I park in the Old Town?
We parked near the port, behind the New Fortress. Note that the parking lots fill up fast, and you'll have to pay to park. (So much better than finding a spot on the street, though). 
What's the best time to visit Corfu Town?
First thing in the morning. We visited Corfu in August, and it was hotter than hot. As such, I recommend eating a quick breakfast at your hotel or BNB, then driving straight to the Old Town. The Old Fortress is particularly brutal to explore in the middle of the day when the temperature is 90+ degrees F, so visit the big attractions before you window shop. 
Are there beaches in Corfu Town?
Yes, but they're very small and are often crowded. If you're interested in enjoying Corfu's beaches, I recommend renting a car and going elsewhere on the island.
What souvenirs should I buy in Corfu Town?
Linen clothing (I recommend the Grande brand!), kumquat products, olive oil, and spice blends are all locally made and easy to find in the Old Town!
What is Corfu called in Greek?
Both the island and the town are called Kerkyra in Greek.
What Else Is There to Do in Corfu?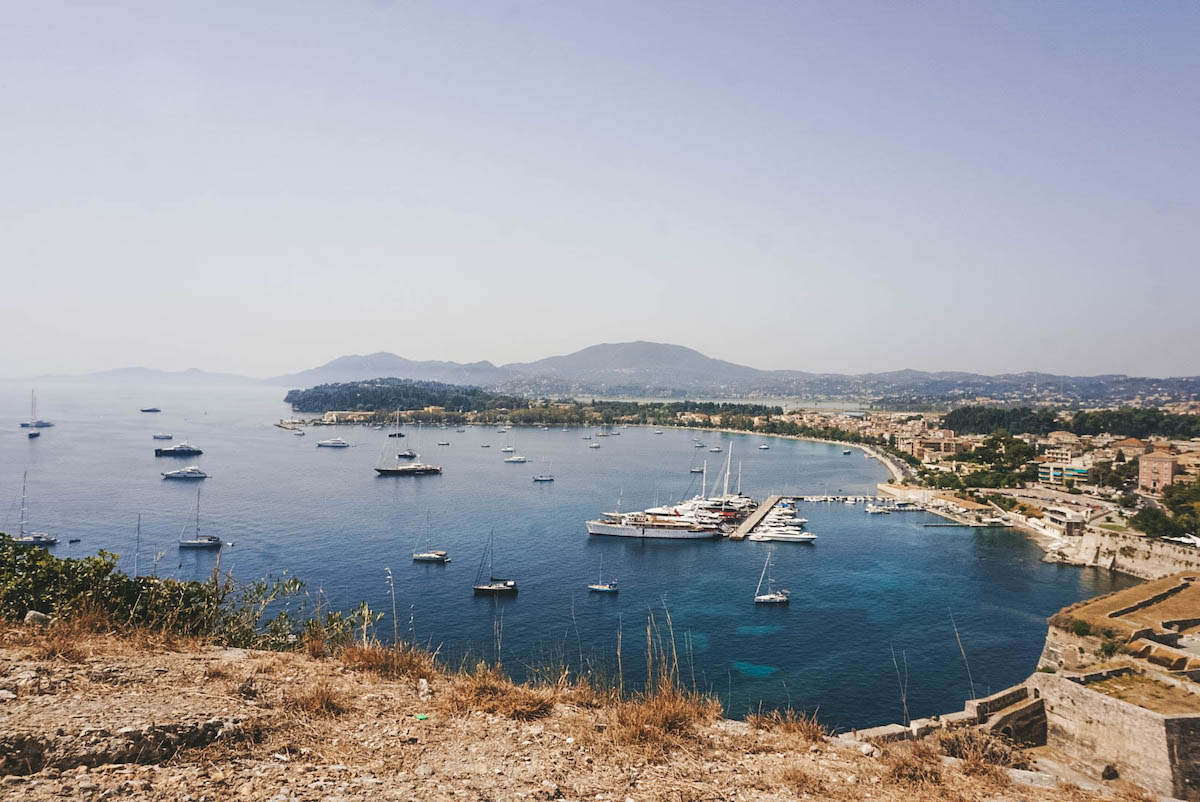 There's so much more to do in Corfu than visit the Old Town! I have a full guide to visiting Corfu with my top recommendations on things to do and see. I also wrote a guide sharing my favorite, lesser-known beaches around Corfu.
If you found this post helpful or have any questions about visiting Old Town Corfu, leave me a comment below. And be sure to follow me on Instagram to keep up with my travels!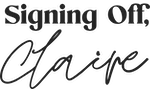 More Places to Visit in Greece: