Think visiting Santorini on a budget is impossible? Think again! These cheap Santorini activities are super fun and you won't feel like you're missing out on anything.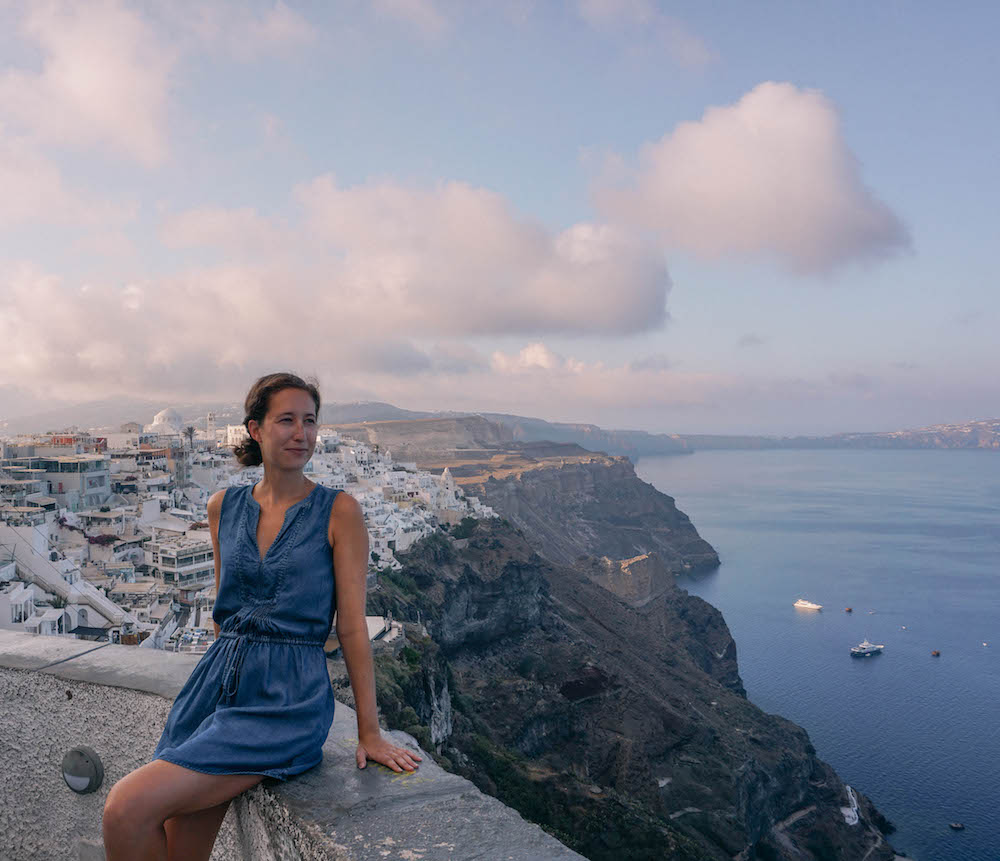 If you've been following Tall Girl Big World for a while, you may remember the epic two-week trip to Greece I took with my mom last year. We did some island hopping before ending our trip in Athens (one of my favorite cities I've ever visited, by the way!), and we had to roll ourselves back onto the plane after stuffing ourselves with Greek food. One of the stops we made in Greece was Santorini, and although I had a lot of fun on that sunny island I didn't write much about it. I was laid off the month before flying to Greece, and as soon as I flew back to NYC I was hustling to find work and grow my freelance business. So, Santorini kind of slid to the wayside and it never got the attention it deserved on the blog.
Months after that dreamy trip, I'm finally remedying that. But I didn't want to make this your usual "what to do in Santorini" post, because quite frankly, Santorini is expensive. At least, it's expensive if you do the typical tourist things and pay out the nose for boat tours and fine dining experiences. My mom and I prefer traveling on a budget though, and we always return home saying each trip was better than the last. So if you're dying to see Santorini but aren't sure you have the funds for it, know that you probably do. If you visit during the summer, your accomodations will likely cost a pretty penny, but your day-to-day activities don't have to cost much!
Below are our favorite cheap Santorini activities, with most of the things on this list costing nothing at all. I feel like this list is a short one, but that's because Santorini is a small island, and many of these activities will take up the better part of an afternoon.
Hike from Fira to Oia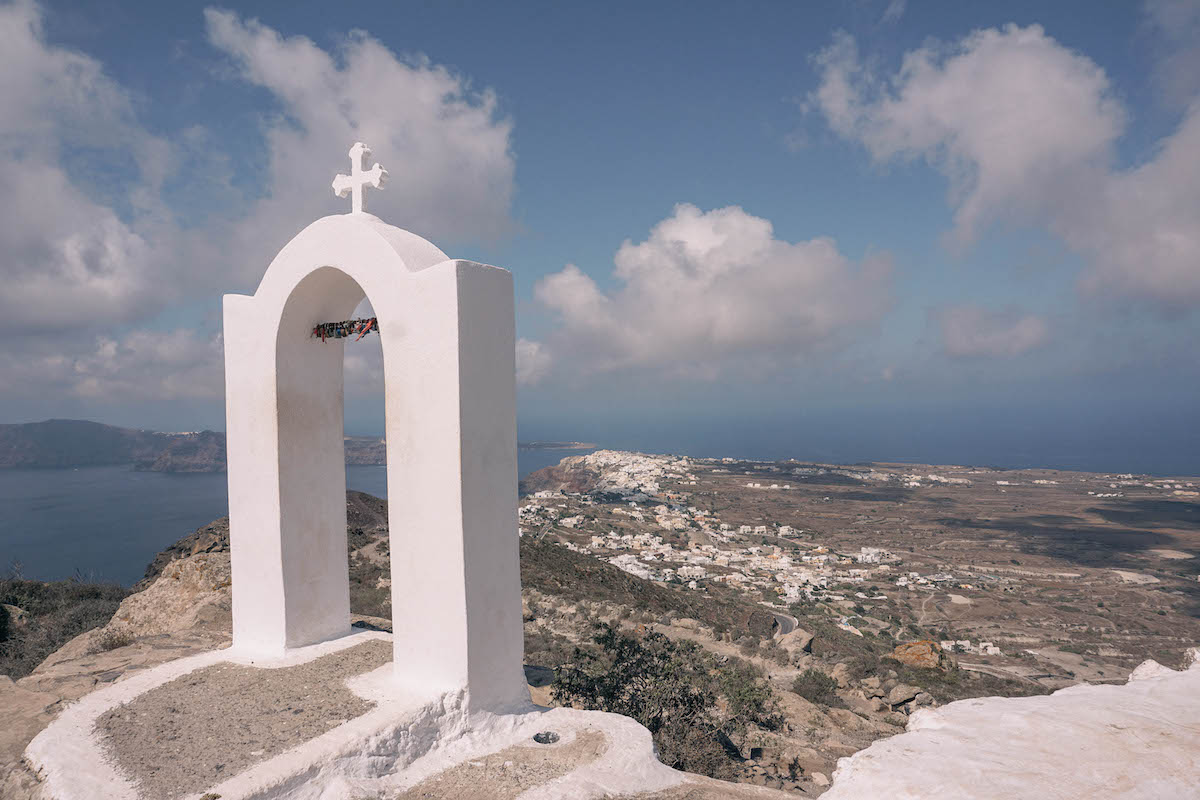 Whether you're traveling on a budget or not, hiking from Fira to Oia is a must when you're in Santorini. It's not a tourist trap in any way, and the views of the caldera are unbeatable. On the hike, you'll pass through the postcard-perfect towns of Imerovigli and Firostefani, so you can break up your hike with a little window-shopping, if needed. If you hike directly from Fira to Oia with no stops along the way, the whole trip will take you roughly three to four hours. I highly recommend waking up early so you can make it to Oia in time for a well-deserved lunch. Waking up early also means you'll see the sun rise over the quaint Greek towns — on an island so full of tourists, it's nice to have some peace and quiet first thing in the morning. Once you reach Oia, do some window shopping or go for a swim. There are busses that will take you back to Fira, and tickets are cheap (skip the taxis, as they're much more expensive).
 Read more: The Ultimate Guide to Santorini's Hike From Fira to Oia
Go for a swim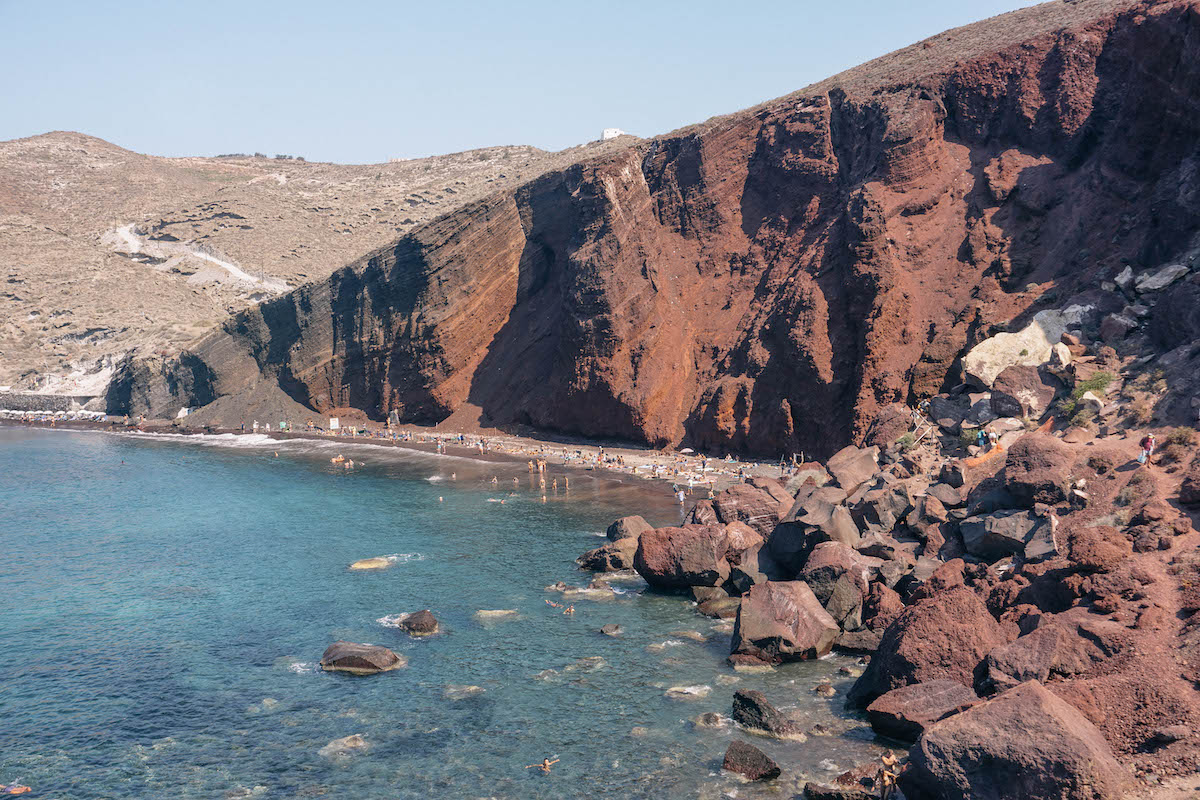 Santorini isn't known for its beaches, but it has a few great spots to swim dotted around the island. Personally, I'd steer clear of the well-known beaches that are plastered on every "Things to Do in Santorini" list — my mom and I found those beaches to be overcrowded, expensive, and downright dirty. We went all the way out to the Red Beach, only to be too grossed out to swim in the water. Cigarette butts littered the pebble beach, and tiny pieces of plastic floated in the water.
One place we absolutely loved swimming was Armeni Bay. It's in Oia near the more popular Ammoudi Bay. To get to Armeni Bay, you have to walk down lots of steps (it takes a good 20 minutes to get down all of them), but the view is worth it. This bay has a small pebble beach and few places to lay out, but the water is crystal clear and deep enough to actually go swimming. If you get hungry, there's a restaurant in the bay (the restaurant also rents out beach chairs to its customers). One thing I will note about Armeni Bay is that you're able to take a donkey ride up and down the steps, but please do NOT ride the donkeys. They are overworked and looked exhausted, and they're not given any shelter despite the fact that Santorini is incredibly hot in the summer. If you can't walk up and down all the steps to Armeni Bay, I encourage you to find another place to swim.
In general, I recommend asking a local for their recommendations on where to go swimming. The shopkeepers in Santorini are more than happy to offer advice, and their suggestions are far better than anything you'll read online.   
Visit Ancient Akrotiri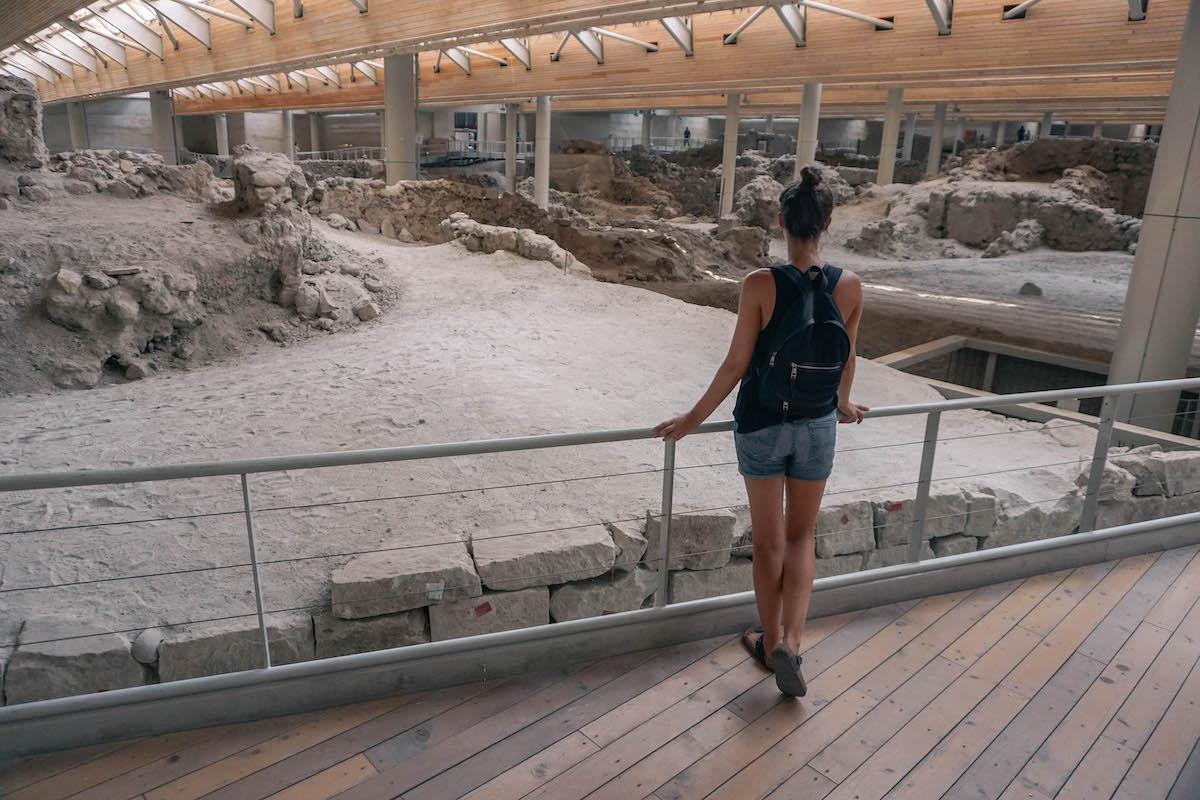 History buffs will love ancient Akrotiri. Following the eruption of a nearby volcano, Akrotiri was covered in ash and its inhabitants subsequently died. Thanks to the thick layer of ash covering the settlement, Akrotiri was beautifully preserved. The entire site is covered and walkways are suspended above the ruins. Entire homes, murals, and household items were perfectly preserved under the ash; it's actually kind of strange to walk through such a wonderfully preserved ghost town! My mom and I spent a good 90 minutes here, and we both agreed it's one of the most interesting things to do in Santorini. To get to ancient Akrotiri, take the bus from Fira (make sure to look up the time table ahead of time, as the busses have odd schedules).
Go Window-Shopping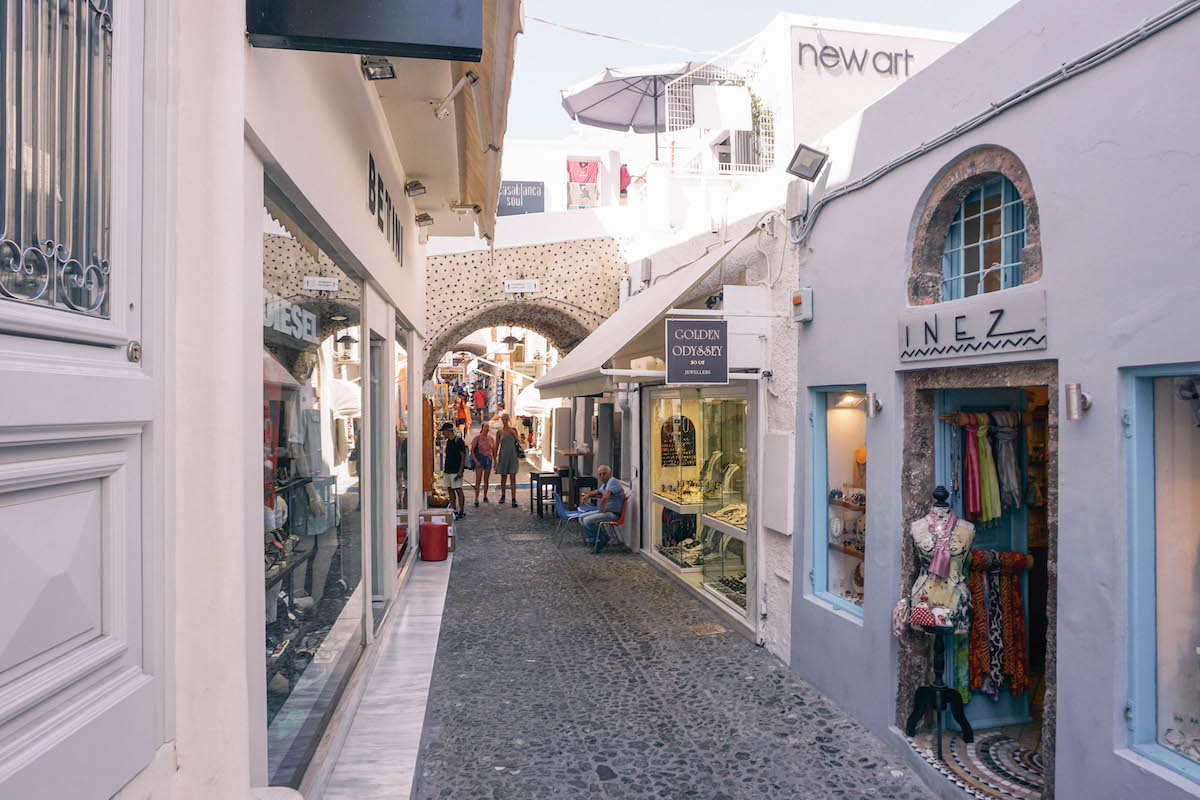 I know this is a post about what to do in Santorini on a budget, but technically window-shopping is totally free as long as you don't cave and buy something. My mom and I loved window-shopping in Santorini. I mean, we always enjoy window-shopping no matter where we are, but we were both pleasantly surprised at the quality of goods for sale on the island. I expected most of the shops to be selling low-quality tourist trinkets, but there were actually a lot of locally made goods for sale. The local pottery and jewelry shops were our favorites, but we also found quite a few clothing stores selling Greek linen dresses. One thing to note is that some of the best local shops we found were on the outskirts of Fira and Oia. Santorini is smaller than you'd expect, so don't feel like you're "wasting time" by venturing out of the areas where everyone else congregates — that's usually how you find the coolest shops!
Watch the sunset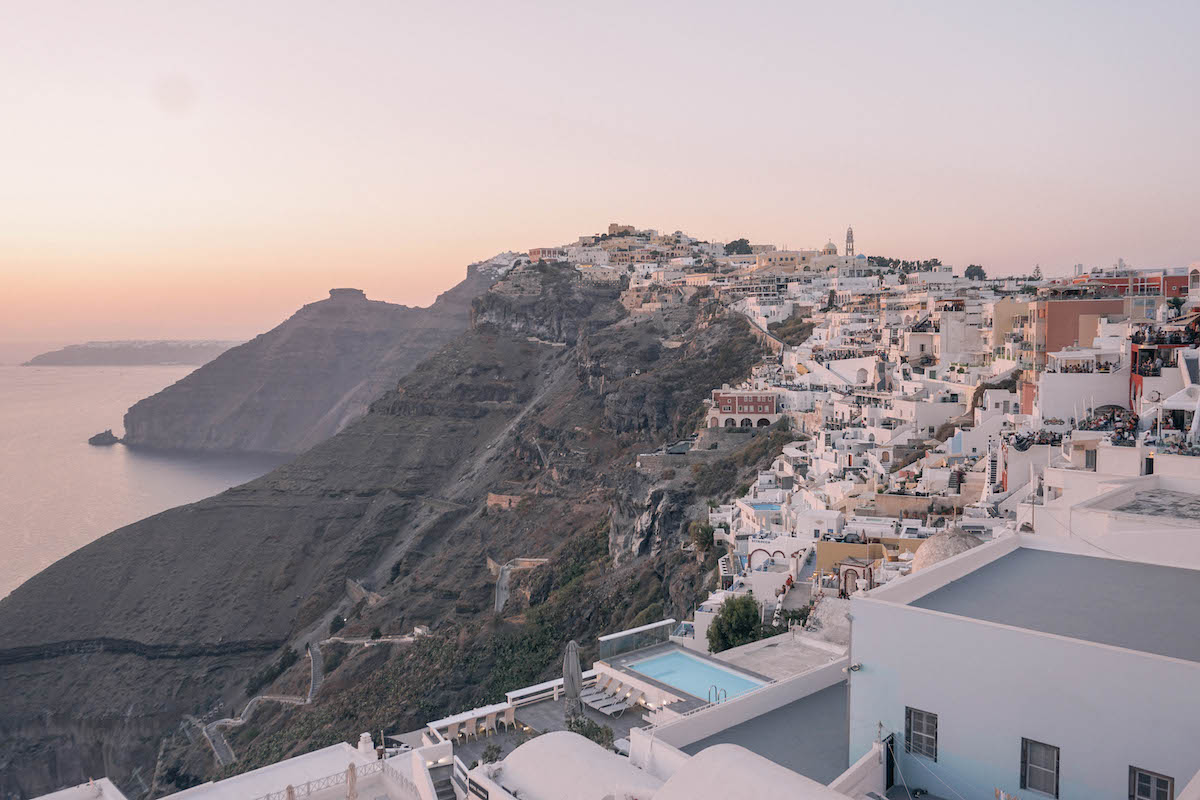 Before visiting Santorini, I didn't really get the whole "watch the sunset" thing. In my mind, seeing the sun set sounded lovely, but I wasn't expecting it to be the highlight of my trip. You can imagine my surprise when people started lining the streets nearest the caldera an hour before the sun was supposed to set. Everyone had their cameras prepped and ready, people were saving spots for loved ones to watch the sunset with them, and gradually everyone got quieter and quieter as the sun drew closer to the sea. Watching the sunset in Santorini is an event.
If you don't have the budget to enjoy it from a swanky restaurant with a view of the caldera, buy a bottle of local wine and grab some snacks from the grocery store to munch on while the sun begins its descent. The internet will tell you that the sunset is most beautiful in Oia, but I'm not convinced that's true. In Oia, you can see the sun set over the gorgeous white and blue houses, but in Fira you see the sunset behind the caldera. Both views are stunning, and you won't be disappointed no matter where you end your day.
Tell me: What's one place you've been dying to visit?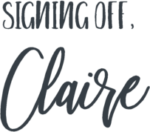 More posts you'll love:
Save this post to Pinterest!