Corfu is one of the best Greek islands for beaches! Here are the best Corfu beaches to visit if you like quieter, calmer beaches.
Corfu wasn't the first Greek island I've visited, but it just might be my favorite to date! In my experience, Greek island beaches aren't that great. Don't get my wrong, the water itself is an intoxicating shade of blue and feels incredibly refreshing after baking in the Greek sunshine. 
However, the other islands I've visited — Rhodes, Santorini, Aegina, Symi — weren't the best for laying out and getting a tan. Nor were they the best for snorkeling. So, while I spent lots of time in the water, I wouldn't necessarily recommend those particular islands to my fellow beach bunnies. 
Corfu, though? It's one of the best Greek islands for beaches! The island itself is lush and green, and there are dozens of stunning beaches all along the coast. 
What Makes These the Best Beaches in Corfu?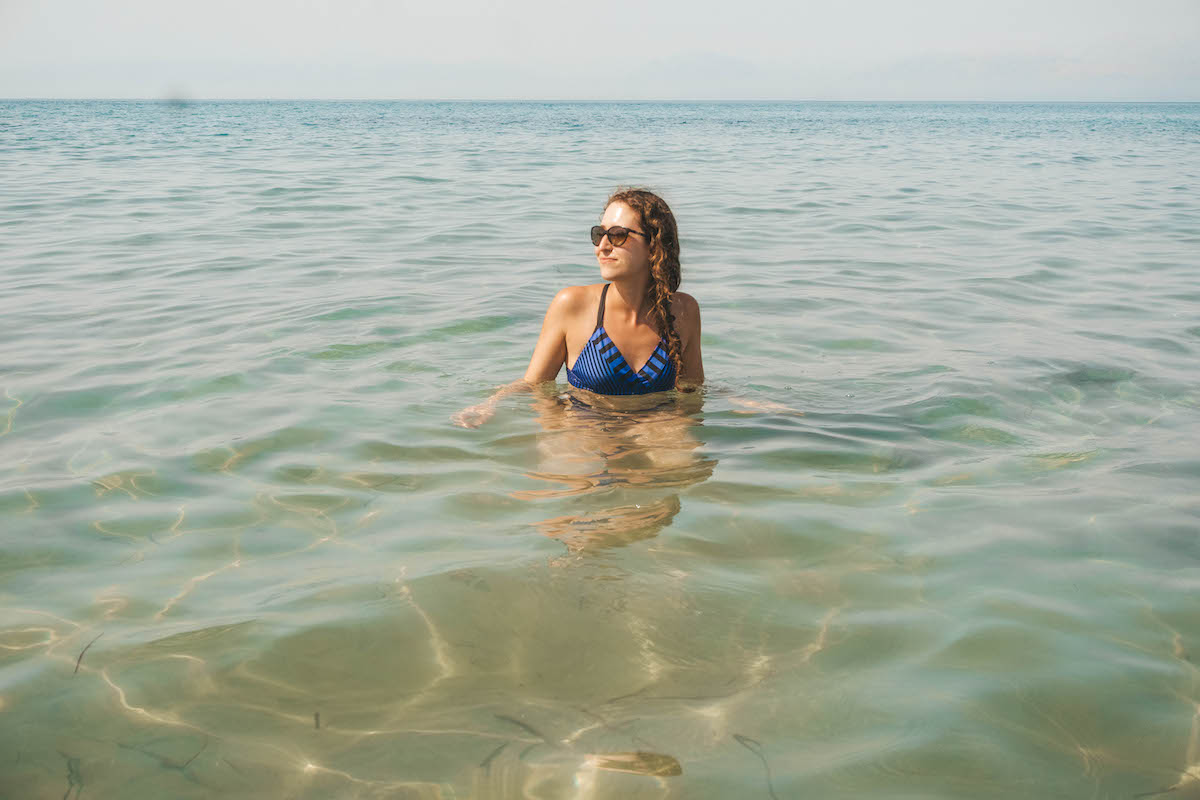 Before I share the best Corfu beaches, I wanted to quickly run through my criteria for labeling the following ones as "the best." 
The Corfu beaches shared below are mostly on the smaller, private side. 
Not as many tourists know of these beaches, so they're much less crowded (or borderline empty!). 
The water at each beach is crystal clear and oh-so blue. 
They're all fairly easy to get to, but some do require a short hike to reach. 
Since Corfu is an island, it's literally surrounded by beaches. This list of the best beaches in Corfu is by no means extensive, but I'd have put together this list for close friends and family anyways so I figured I'd publish it! 
Tip: I've popped a Google Map at the end of this post with pins for all of the beaches. 
 1. "Hidden Cove" in Barbati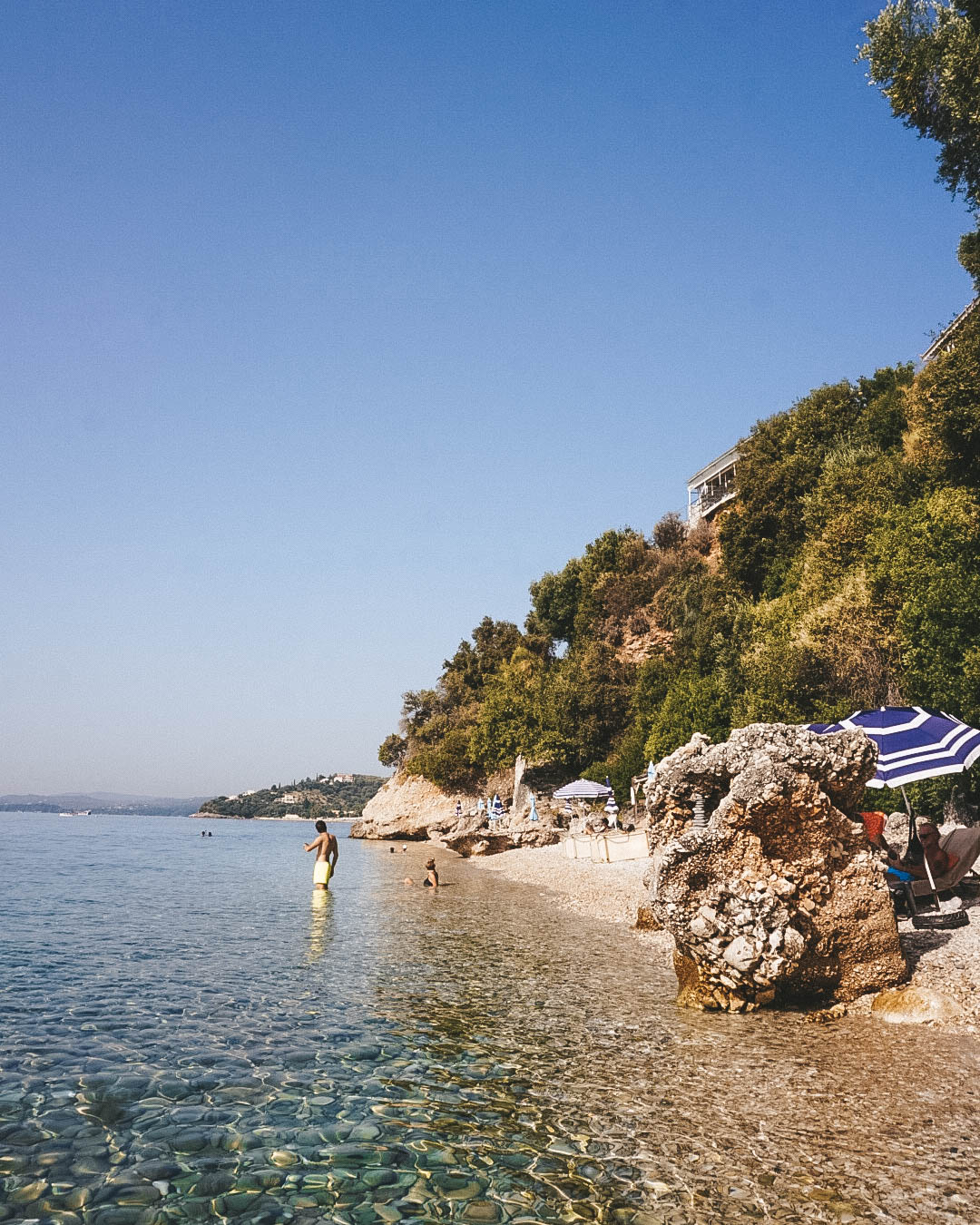 This secret beach doesn't have a proper name, but on Google Maps it's listed as the "Hidden Cove" in the town of Barbati (Mparmpati in Greek). You'll find the steps down to the beach across from the Golden Mare Hotel; just follow the white lettered sign down a set of steep steps — grab the iron grips in the wall to stabilize yourself! 
This is a very small stone beach with a handful of beach chairs for rent. Get here before 11am if you want a chair, otherwise scooch further down the beach to nab a spot in the shade. 
Of all the Corfu beaches in this post, this was one of my favorites. Yes, it's small, but there are some rocky outcroppings near the shore that make it a great snorkeling spot! Plus, no boats come near this beach, so you can swim far out into the water safely. 
Tip: Don't confuse this beach with the much larger, more popular Barbati Beach just down the street. 
2. "Engagement Bay" in Kassiopi
Ironically, before I knew the unofficial name of this picturesque bay I'd jokingly told my friend Paulina that if anyone wanted to propose in Corfu, this would be the spot. Again, there's no official name for this beach listed online, but some kind stranger on Google Maps dubbed it "Engagement Bay."
You can reach this beach on foot in about 20 minutes if you're coming from Kassiopi's town center. You'll follow a paved road up a hill for a few minutes, and the dirt path down to the beach will be on your left. Look out for Engagement Bay from up on the road, you'll be able to see it through the trees. 
This a teensy beach that can maybe fit four couples, if that. There's a good amount of shade offered by the large rocky outcropping on the shore, and although the water was chilly the day we visited the snorkeling here was excellent. 
Because the bay is smaller and protected by lots of rocks, the blue water is incredibly still, almost like a pool. Definitely bring water and snacks with you, as the nearest restaurant is a 15- to 20-minute walk away. 
Tip: There are lots of sea urchins in the water at this beach. Watch where you step, they're pointy! 
3.  Avlaki Beach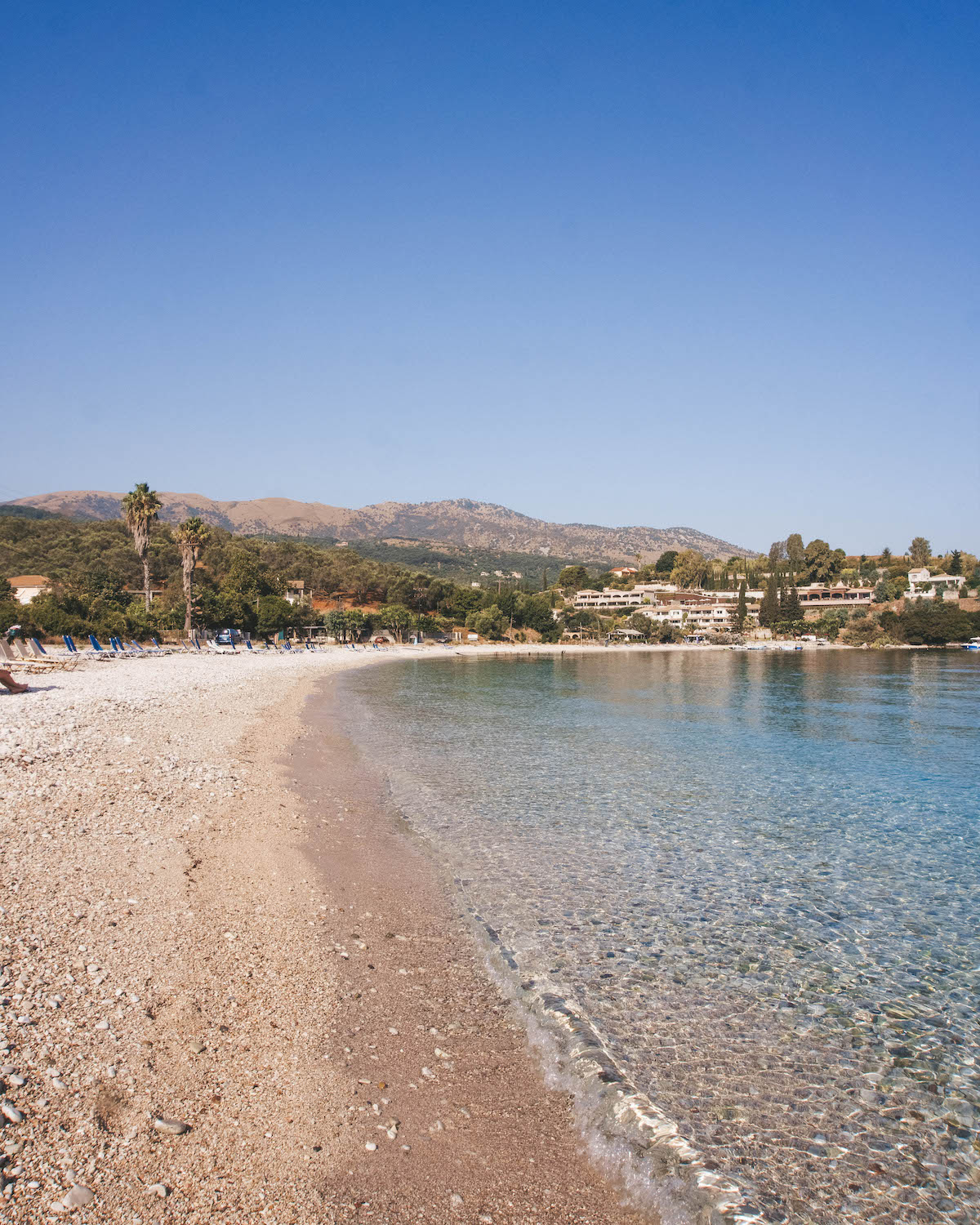 One of the larger beaches on this list, Avlaki Beach is on the northeast coast of Corfu. It's yet another stone beach with plenty of sunbeds to rent. Definitely rent a sunbed and an umbrella here as there are no other sources of shade along the beach. 
Avlaki Beach isn't as picture-perfect as some of the other Corfu beaches on this list, but it's a great spot to spend an entire day near the water. It's not a great snorkeling spot, but the water is clear and refreshing. 
The nearby Avlaki Restaurant serves up pricey but delicious seafood dishes (get the mixed seafood orzo!) and there's a fruit truck that drives by selling fresh fruit. The charming town of 
Tip: Kassiopi is a short drive from Avlaki Beach; I recommend heading there for a round of window shopping and dinner after your day at the beach. 
4. Astrakeri Beach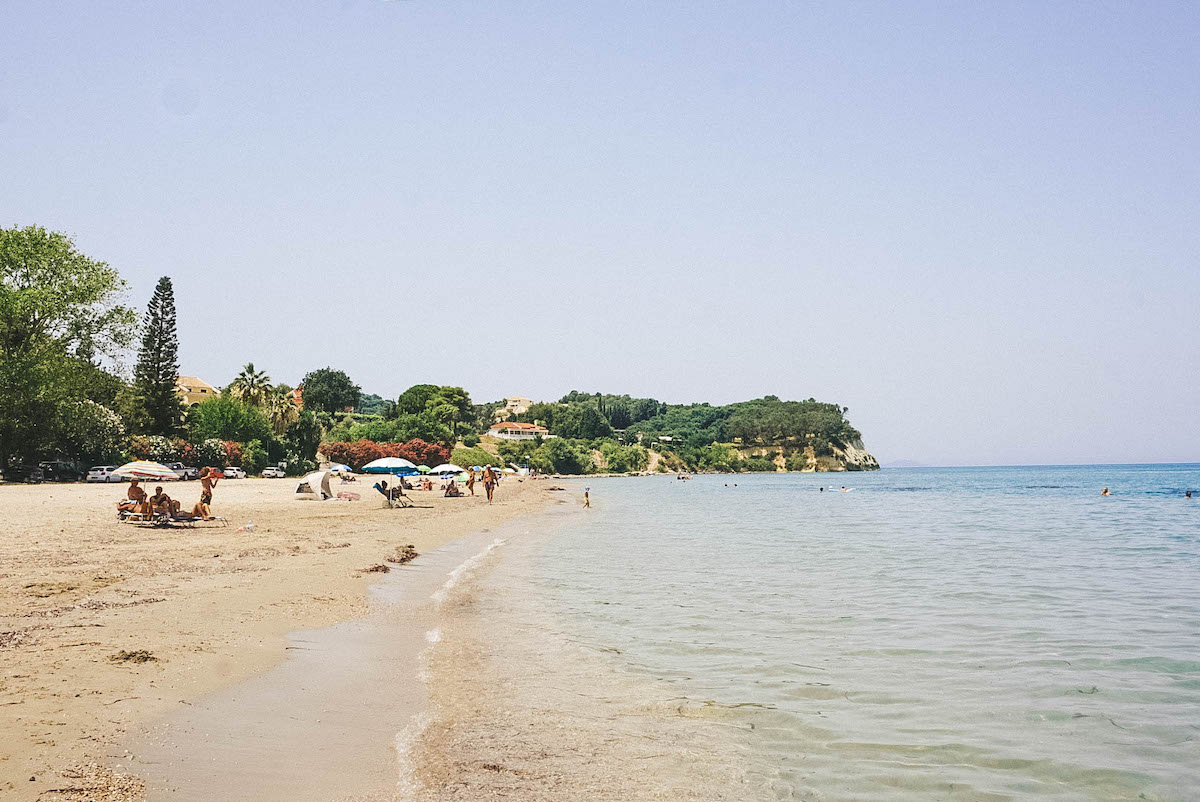 Astrakeri Beach is one of the few sand beaches on the island. It's another big beach, but it had a locals-only feel to it (I think because many visitors opt to swim at the nearby Canal d'Amour, which didn't interest me at all since it was overflowing with people). 
Astrakeri Beach is also a good place to spend most of the day. There are plenty of cushy sunbeds for rent, and there are restaurants just 5 minutes from the beaches. The Three Brothers was particularly amazing, and I ate the best fried calamari of my life there! 
If you're traveling with kids, or simply prefer not to swim in deeper waters, this is the beach for you. The water is incredibly shallow, and you have to walk far out to reach an area that's deep enough to wade. 
Tip: There's a parking lot on the beach, so no need to park your car on the street. 
5. Porto Timoni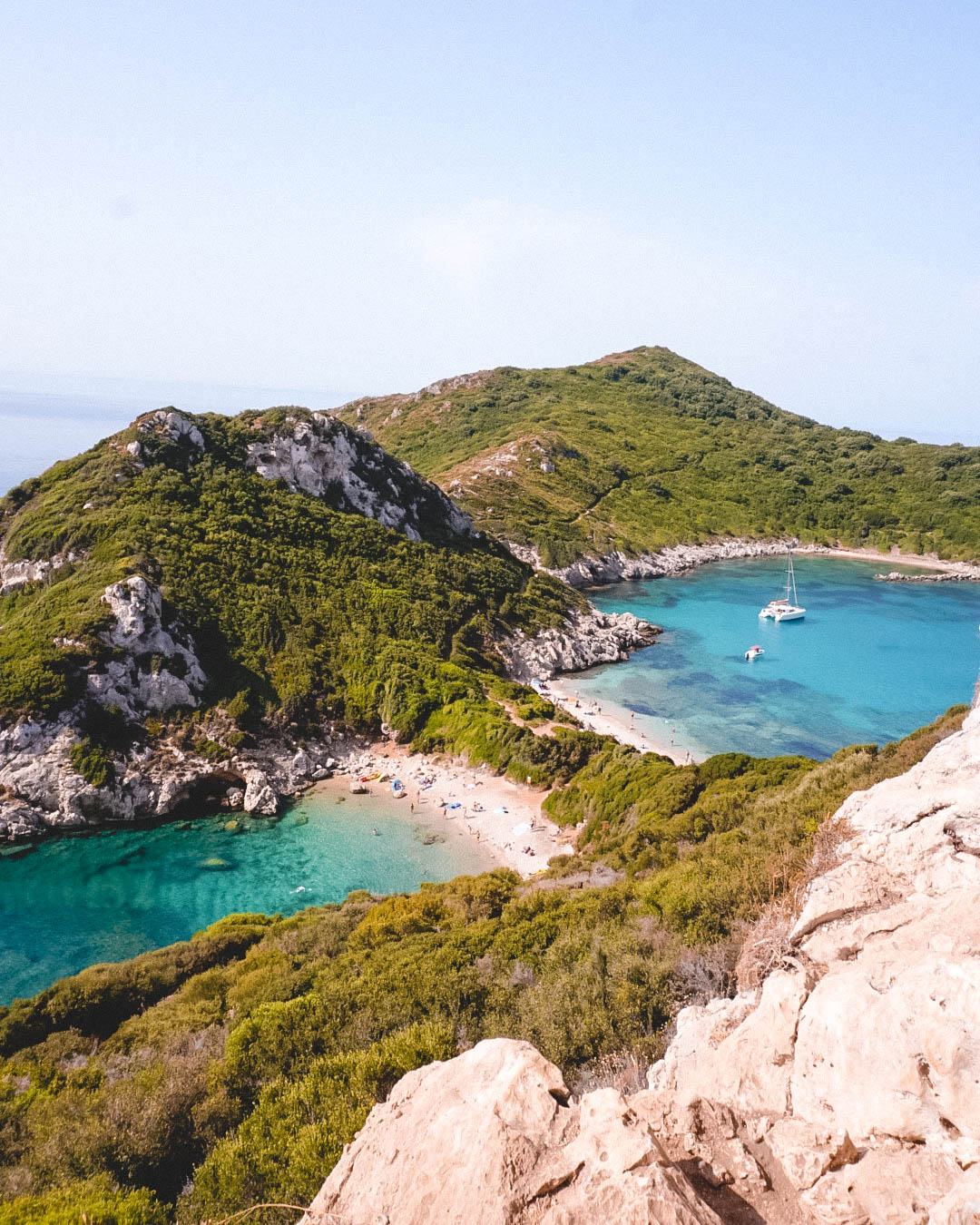 Okay, okay, you got me. Porto Timoni is neither private nor lesser known, but it's absolutely worth visiting when you're in Corfu — with a few caveats, of course! 
Porto Timoni is listed on every Corfu-related post online. As such, visitors flock here in the warmer months. If you want to have a good time at Porto Timoni, get there early. (Like, as early as you can stand it). 
One thing to note: you have to hike about 30 minutes to reach Porto Timoni. It's not a strenuous hike, but you will need to wear actual tennis shoes to reach the beach. Do NOT attempt the hike in flip flops, bring plenty of water with you since there are no amenities down at the beach. 
The beach starts really filling up around noon, so that's when I recommend hiking back up to grab lunch and head on your merry way. Although this is a gorgeous beach, I personally wouldn't stay there longer than 4 to 5 hours in the morning because I don't like sharing beaches with dozens of people. 
6. Gialiskari Beach (Near Agni Beach)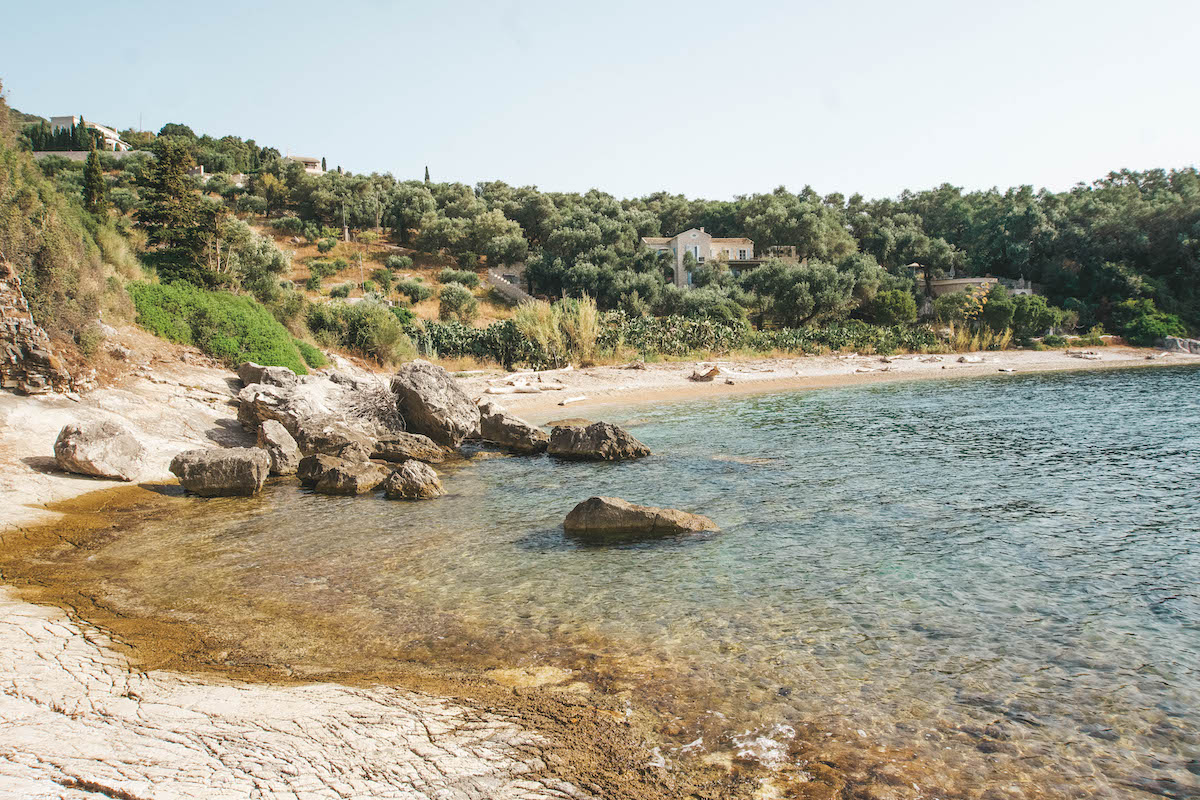 This was such a fun beach to find! Gialiskari Beach (Παραλία Γιαλισκάρι με πλάκες on Google Maps) is tucked away behind the better known Agni Beach. To reach this private beach, park at Agni Beach and look for the faded sign pointing to Gialiskari Beach. Then, follow the narrow dirt path for about 10 minutes and you'll reach your destination. 
This is the least pretty beach on this list, but it's a good size and we had it all to ourselves! You can either lay out on the pebble beach (ouch), or find a spot on the flat rocks at the base of the cliff. The water here isn't as blue as the other beaches on this list, but it's a great snorkeling spot with lots of seaweed and rocks for fish to hide. 
Tips for Visiting Corfu Beaches 
(Please enjoy this Instagram vs. Reality moment) 
Because these beaches are on the smaller side, you won't have the option to rent chairs or umbrellas at most of them. 
We found that the best beaches in Corfu were on the west and north coasts, but that was just our experience. 
Always bring big bottles of water with you and try to sit in the shade when possible. Corfu gets hot in the summer! 
Bring cash if you want to rent sunbeds and umbrellas. 
Wear water shoes if you have them. Corfu has mostly stone beaches, and the rocks can hurt your feed. 
Wear sturdy sandals (like Birkenstocks) or tennis shoes. The best beaches are often at the end of a dirt trail or hiking path. 
Only take what you're willing to bring back! Please do not litter at all. If you smoke, bring a baggie to stash your cigarette butts in. 
Bring or buy goggles on the island, the snorkeling here is incredible! 
We preferred using spray sunscreen as it's easier to apply over salty skin, just a tip if you hate reapplying cream sunscreen like I do. 
Map of the Corfu Beaches I Mentioned 
These Are Just 6 of the Best Beaches in Corfu!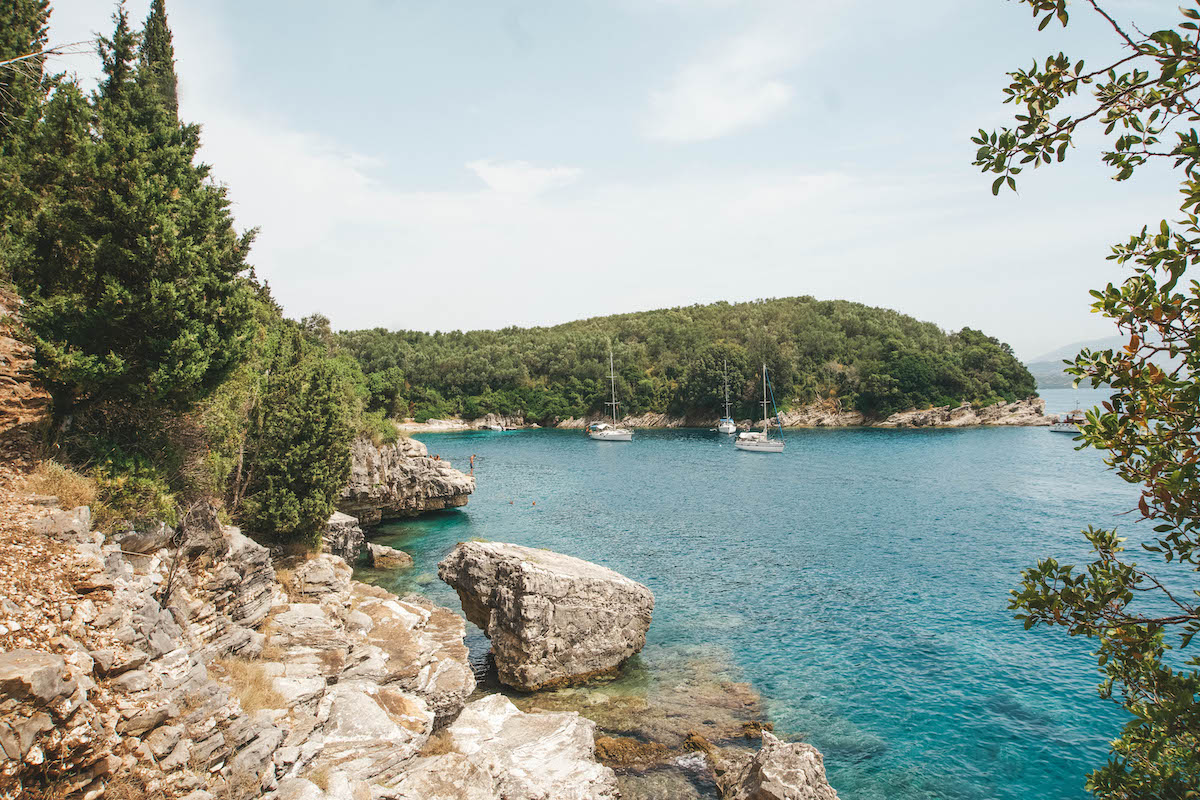 Corfu is one of the best Greek islands for beaches, and I'm already dying to go back! If you look at a map of Corfu, there are easily 40+ beaches marked on it. Obviously, I only have a handful to share with you in this post but they really are some of the gems of the island. 
In my experience, the best beaches in Corfu aren't the big ones marked on the map. Rent a car and take some time to research beaches and read the reviews on Google Maps. If you go that route, you won't be disappointed! 
Tell me: How often do you go on beach vacations?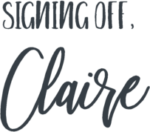 More Beautiful Greek Islands: