Scuba diving, epic viewpoints, beaches — Corfu has a little of everything! Here are the best things to do in Corfu, Greece.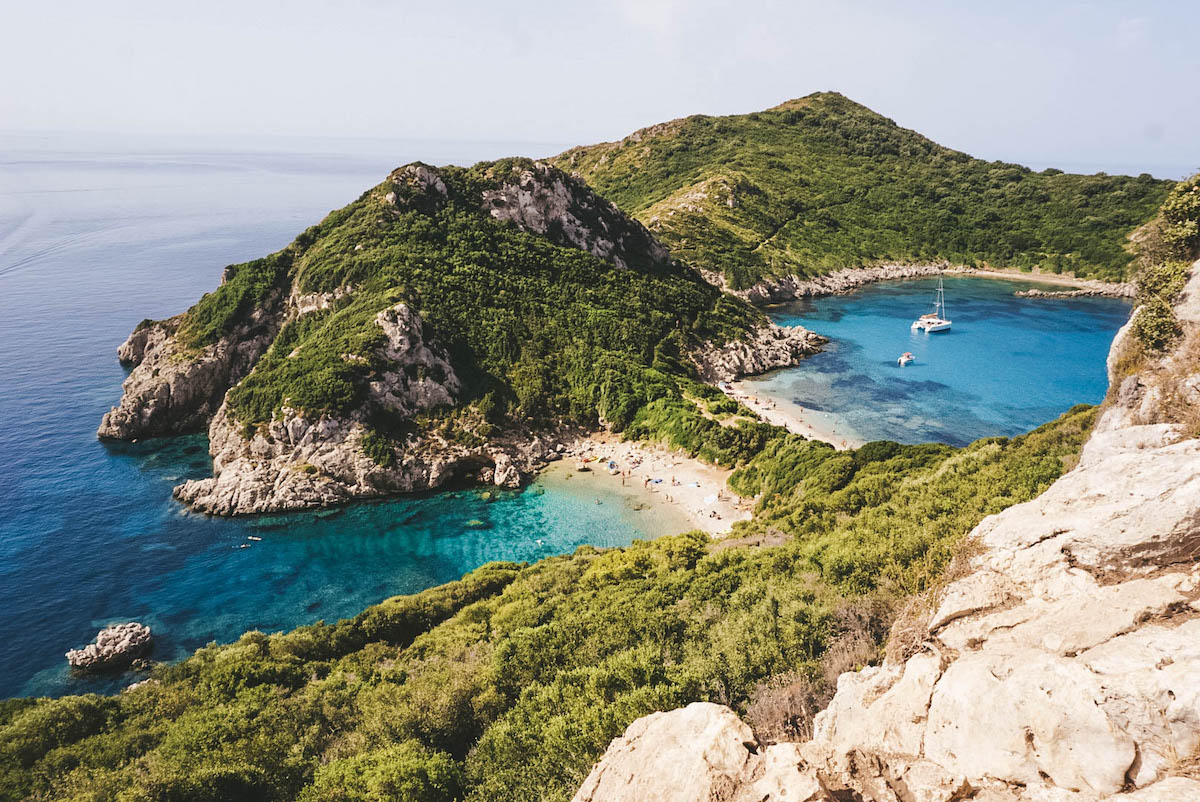 One of the most beautiful Greek islands, Corfu is incredibly lush and is covered with trees. It's unlike any other Greek island I've visited! The water surrounding Corfu is a gorgeous shade of blue and it's easy to find spots to swim that almost feel like you're swimming in a pool.
Corfu is located in the Ionian Sea, just across from Albania (which you can actually see from the east coast of the island!). The island was ruled by the Venetians for 400 years, and their influence can clearly be seen in the local architecture, especially in the Old Town. Corfu island was prized for its strategic position in the Ionian Sea and was used to defend the Venetian empire against the Ottomans. 
One of the many reasons I loved Corfu island is because it truly has something for everyone. Whether you prefer more adventurous vacations, want to spend entire days at the beach, or prefer visiting cultural attractions, I guarantee you'll find plenty of things to do in Corfu! 
Things to do in Corfu, Greece  
I spent just nine days on Corfu island in Greece, and while that was more than enough time to zoom around most of the island in a rental car I have no doubt I've missed someone's favorite Corfu attraction on this list. However, the following things to do in Corfu are all activities I experienced myself and absolutely loved! 
Tip: After sharing what to do in Corfu, I'll pop a quick FAQ section at the end of this post so you can more easily plan your travels. I've also shared a Google Map with pins on all the attractions! 
1. Explore Angelokastro 

The "Castle of the Angel" is a Byzantine castle that looms 1,000 feet above sea level on a steep cliff on Corfu's west coast. Angelokastro was one of the most important defensive points on the island, along with Gardiki and Kassiopi (which I'll be talking about more in depth later in this post). It was even the capital of the island at one point! 
This castle was particularly important to the Venetians when they were fighting off the Ottomans. Despite being attacked repeatedly, Angelokastro never fell into enemy hands. 
Today, you can make the short but steep hike to explore the remains of the castle. You have to pay a small entry fee, but it's worth every penny! There's not much left of the old fortress, but you'll get a good idea of how big the castle complex was and just how thick the walls were. 
I should note that the views from atop Angelokastro are incredible. You'll get a 360-degree view of the surrounding area (hence why it was such a prized defensive location to the Venetians!) and the cliffs at the base of the castle. 
Tip: The hike up to the castle takes maybe 10 minutes, but I highly recommend wearing tennis shoes. The path is very rocky and uneven. 
2. Go Scuba Diving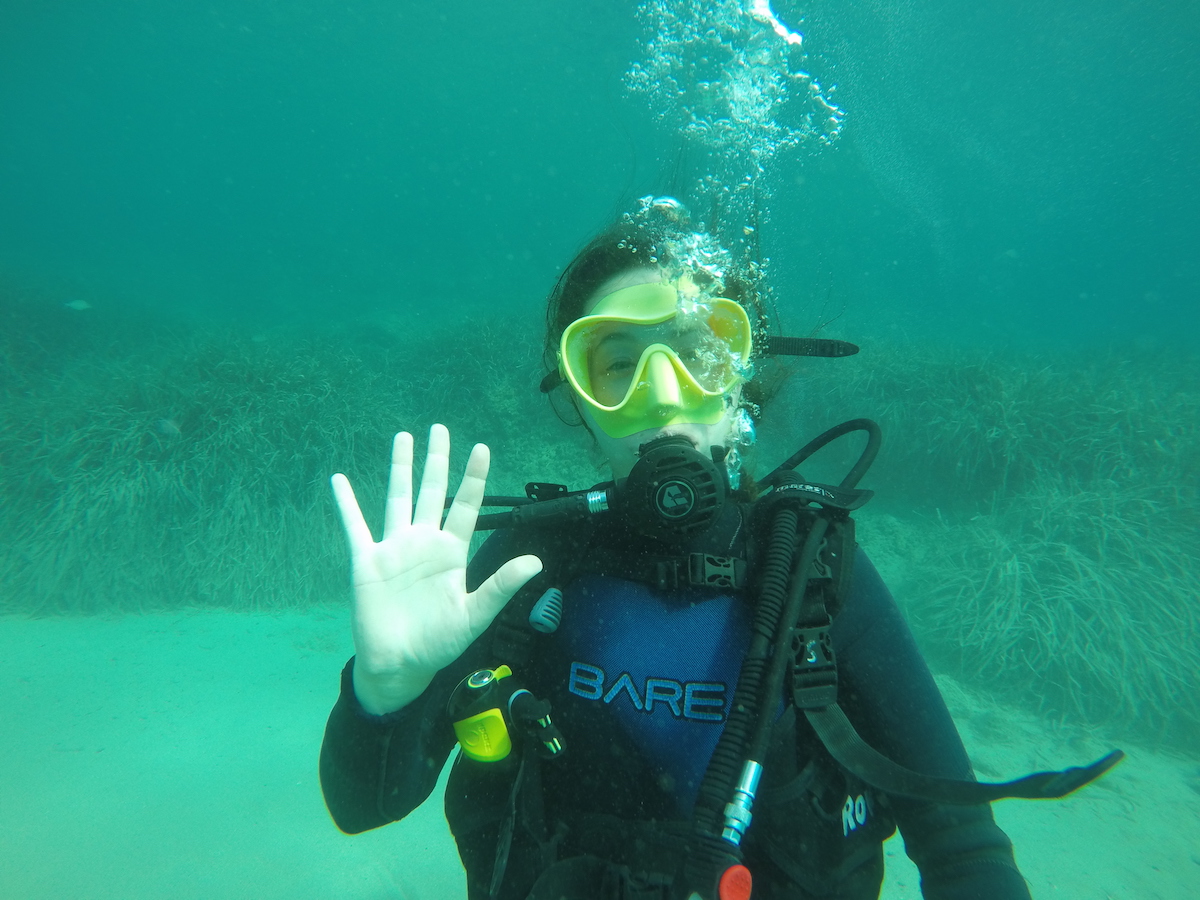 Corfu is the most beautiful Greek island I've visited to date, both above and below water. We did two dives in Corfu at the Achilleion Dive Center in Paleokastritsa. They were both beginner's dives and lasted about 35 minutes each, but the instruction beforehand lasted much longer. 
If you've never been scuba diving before, Corfu is a great place to do it! There are lots of fish to see here, unlike some of the other, more volcanic Greek islands. The dive center linked above offers scuba diving instructions in multiple languages, so call or email them ahead of time to check that they have an instructor who speaks your language. 
Tip: You can't bring an underwater camera with you when you do a beginner's dive, but for a small fee they'll take pictures and videos of you during your dive.  
3. Go to the Beach
Since it's an island, Corfu is literally surrounded by gorgeous beaches. You have your pick of the litter here! I've never seen water so clear and blue as I did in Corfu. And since it was oppressively hot during my nine-day stay on the island, hitting the beach was one of my personal favorite things to do in Corfu! 
Although there are lots of beaches in Corfu to choose from, we preferred scouting out private, smaller beaches where there weren't many people. I've actually written an entire blog post about the best beaches in Corfu, so check it out if you want my precise recommendations. 
When you go to the beach, be sure to always have a big (1.5L) water bottle with you and bring snacks! Also note that the best beaches often require a small hike to reach them, so wear very sturdy sandals, like Birkenstocks, or actual tennis shoes to protect your feet. 
I also recommend placing a pin on Google maps to mark where you parked your car. Because lots of the lesser-known, "hidden" beaches lack parking lots, you'll likely wind up parking on a random dirt road. You definitely don't want to forget where you parked your rental car! 
4. Visit Kassiopi Town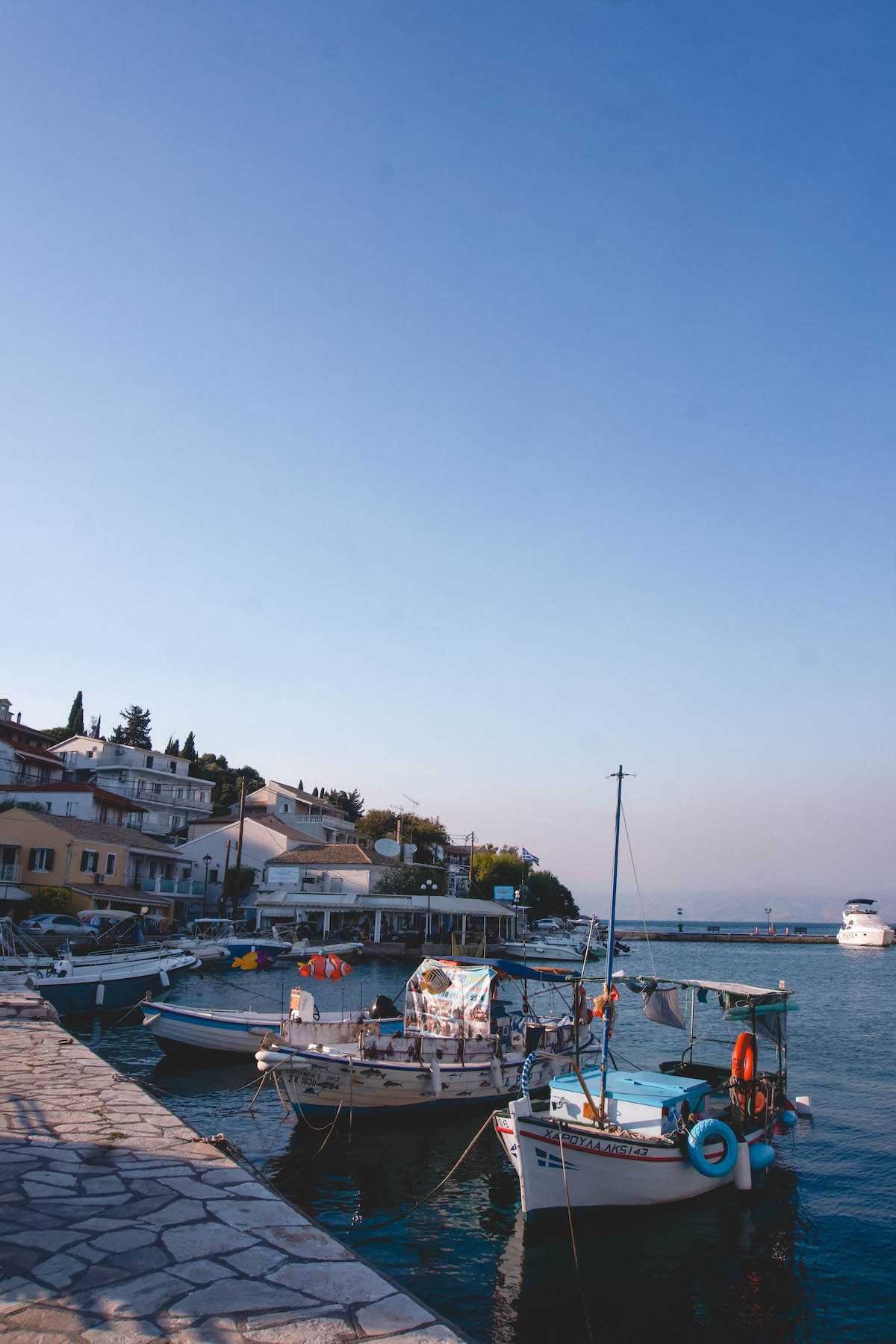 Kassiopi is the largest town on the northeast coast of Corfu. It's one of the few towns we visited that had a central shopping area where you could walk around comfortably and do some window shopping. Most of the towns we passed through were built into the cliffside and weren't made for browsing, so Kassiopi was a happy discovery! 
Kassiopi boasts lots of local shops and restaurants, and it has a beautiful marina (it's particularly lovely at sunset!). You can even see the coast of Albania from Kassiopi, which is special. My favorite attraction in Kassiopi was easily the castle, which I've written more about below since it deserves its own spot on this list of Corfu attractions. 
While you're in Kassiopi, I recommend grabbing a bite to eat at Porto Nuovo, followed by a scoop of ice cream from Cool & Fresh. For window shopping, check out Katerina's for handmade quilts and more. It may seem like a weird souvenir to buy in Greece, but I got a stunning floral quilt from Katerina's and was so impressed by the quality! 
5. Explore the Kassiopi Castle 
While you're in Kassiopi, you have to visit Kassiopi Castle! Dating back to Byzantine times, it's thought to be the oldest castle on the island. Kassiopi Castle is strategically located just across the Ionian Sea from Albania. Together with Gardiki and Angelokastro, it formed part of a defensive triangle on Corfu. 
In 1386, Kassiopi Castle was destroyed by the Venetians. Supposedly, the Genoese had taken hold of the castle and refused to leave the islands, so the Venetians forcibly kicked them out. 
After being sacked by the ruling Venetians, the castle sat abandoned for generations. As such, there's not much left of it except for the perimeter walls. However, you can still enter the complex (for free!) and walk around. 
In the castle complex are dozens of olive trees, which appear to be actively cared for and cultivated. We visited the castle around sunset and it was a truly magical experience. The setting sun, combined with the unfamiliar, overgrown terrain inside the castle complex made for an epic movie moment I'll never forget. 
6. Admire the View at Cape Drastis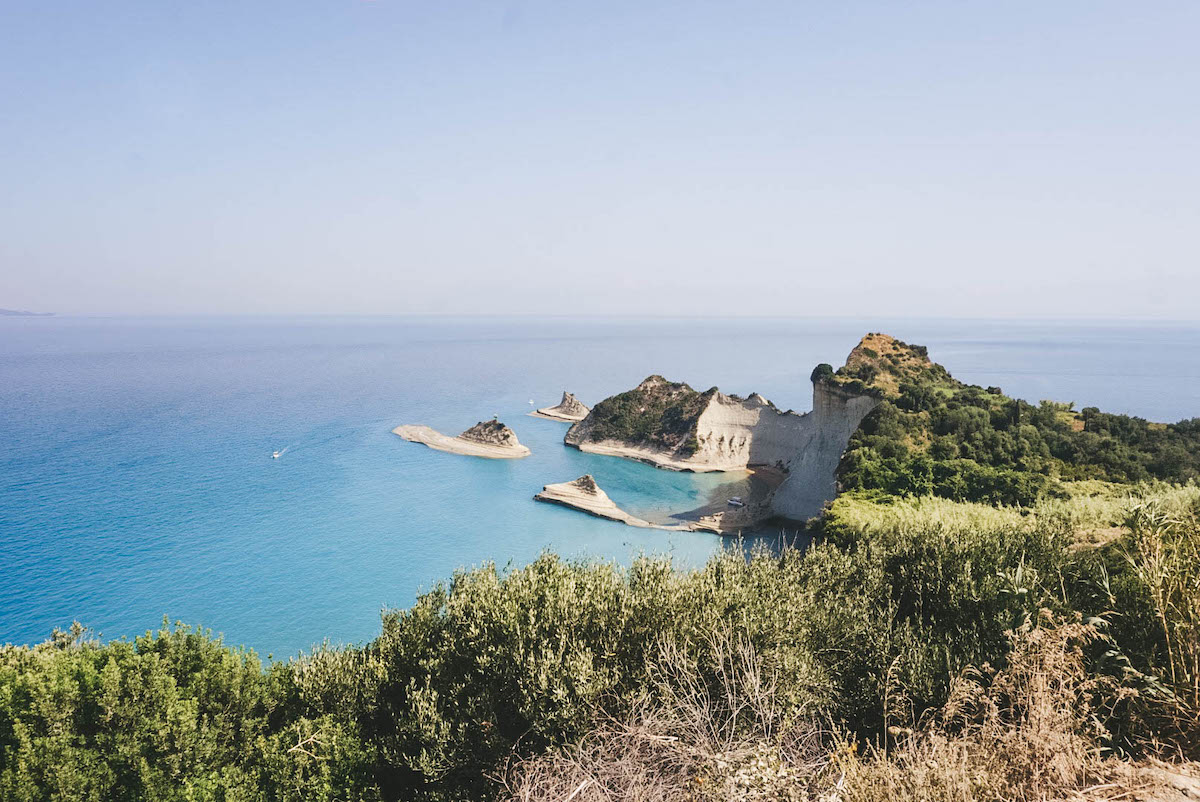 Located at the northwesternmost point of the island, Cape Drastis is a stunning lookout point in Corfu. Park your car at the small dirt lot or in the  nearby town of Peroulades, then walk out to the viewpoint and prepare to be wowed. 
Cape Drastis can only be admired from afar, unless you're able to rent a boat and sail right up to it to go swimming. Even though the walk to the lookout point is quick and easy, I recommend wearing tennis shoes because the road is extremely dusty. To avoid crowds — and getting heat stroke — I recommend visiting Cape Drastis first thing in the morning. 
7. Tour Corfu Old Town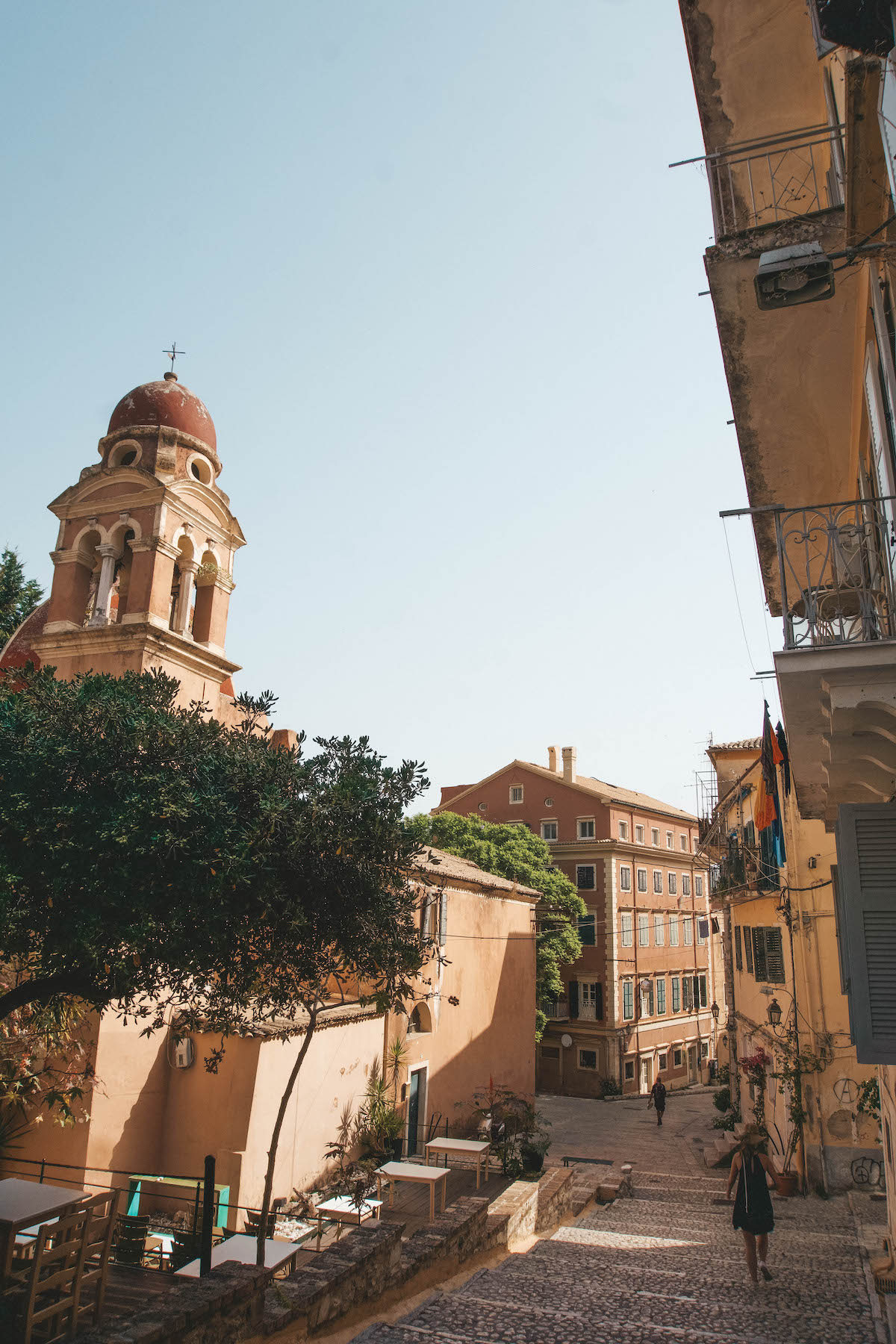 Corfu Old Town may be touristy, but I absolutely loved it! A visit to Corfu Old Town feels like you're wandering around Venice, minus the canals. (Remember: the Venetians ruled Corfu for 400 years!). 
In addition to pastel Venetian buildings with small, winding alleyways, Corfu Town also boasts a Parisian-inspired shopping arcade. The unique mix of architectural styles makes for such a special visit. 
You can easily spend half to a full day in Corfu Town, especially if you pop into the little churches throughout the town and go to a museum or two. I recommend getting here early so you can find a parking spot easily. 
There's too much to see and do here to fit into this blog post, so I've written a whole post just about things to do in Corfu Old Town. 
8. Swim at Porto Timoni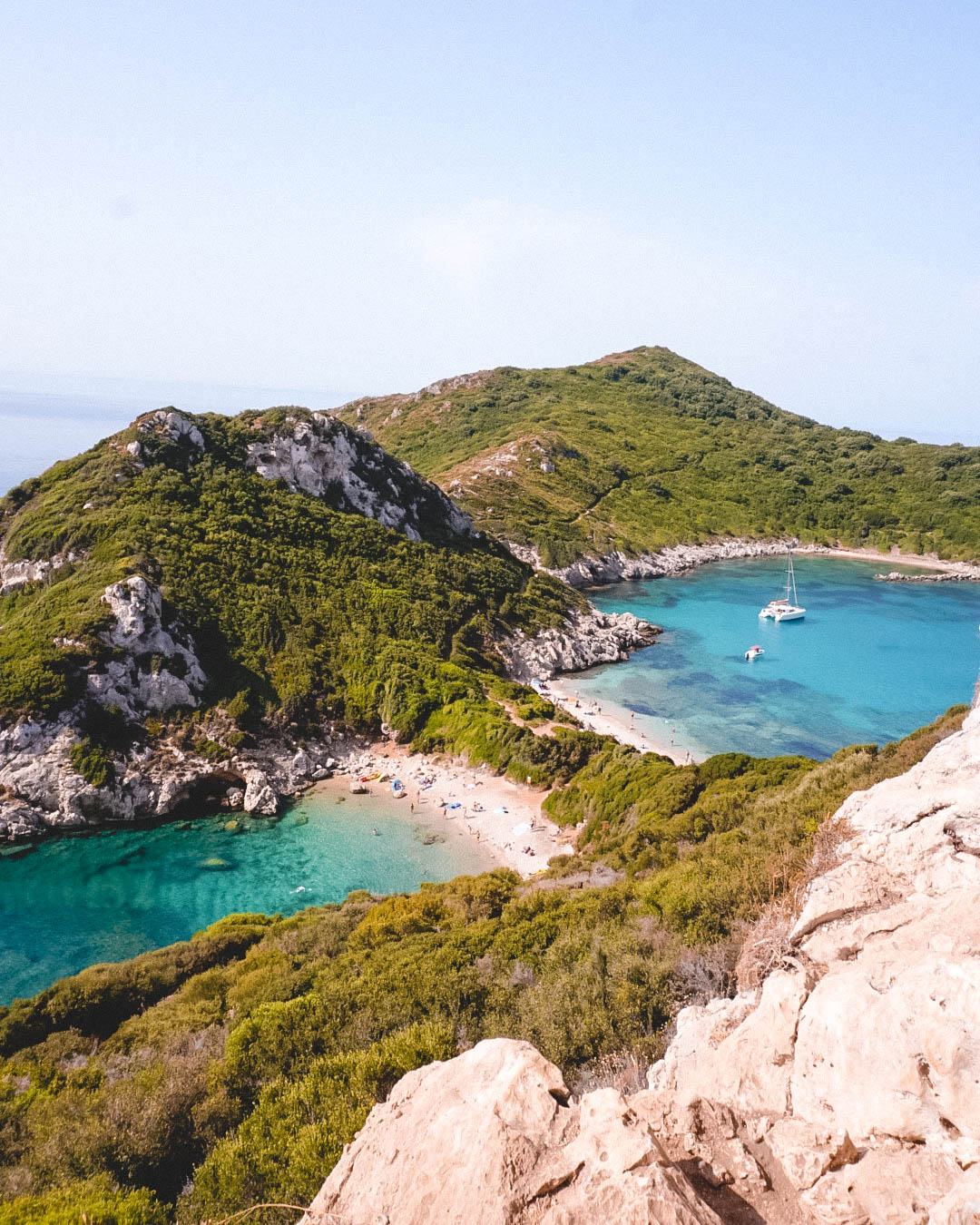 Porto Timoni pops up on pretty much every list of things to do in Corfu — and for good reason. "Stunning" doesn't even begin to describe this place, just look at the photo above! 
Swimming at Porto Timoni is a must, but I do have a few strong recommendations to help make the most of your visit. First and foremost, get there early. Like, as early as you can stand. The beach begins filling up around noon, and then it's not so fun to hang out at. 
Second, do NOT wear flip flops! To reach Porto Timoni, you have to complete a fairly strenuous, 30-minute hike. It's a true hike and tennis shoes are necessary if you value your feet and ankles whatsoever. 
Third, since you have to hike down to the beach you'll want to bring ample amounts of water and snacks with you. On that note, bring only what you're comfortable carrying on your back since you'll have to hike back up to reach civilization again. (I saw a family carrying a baby stroller down with them. I doubt they knew what they were getting themselves into!) 
9. Visit Achilleion Palace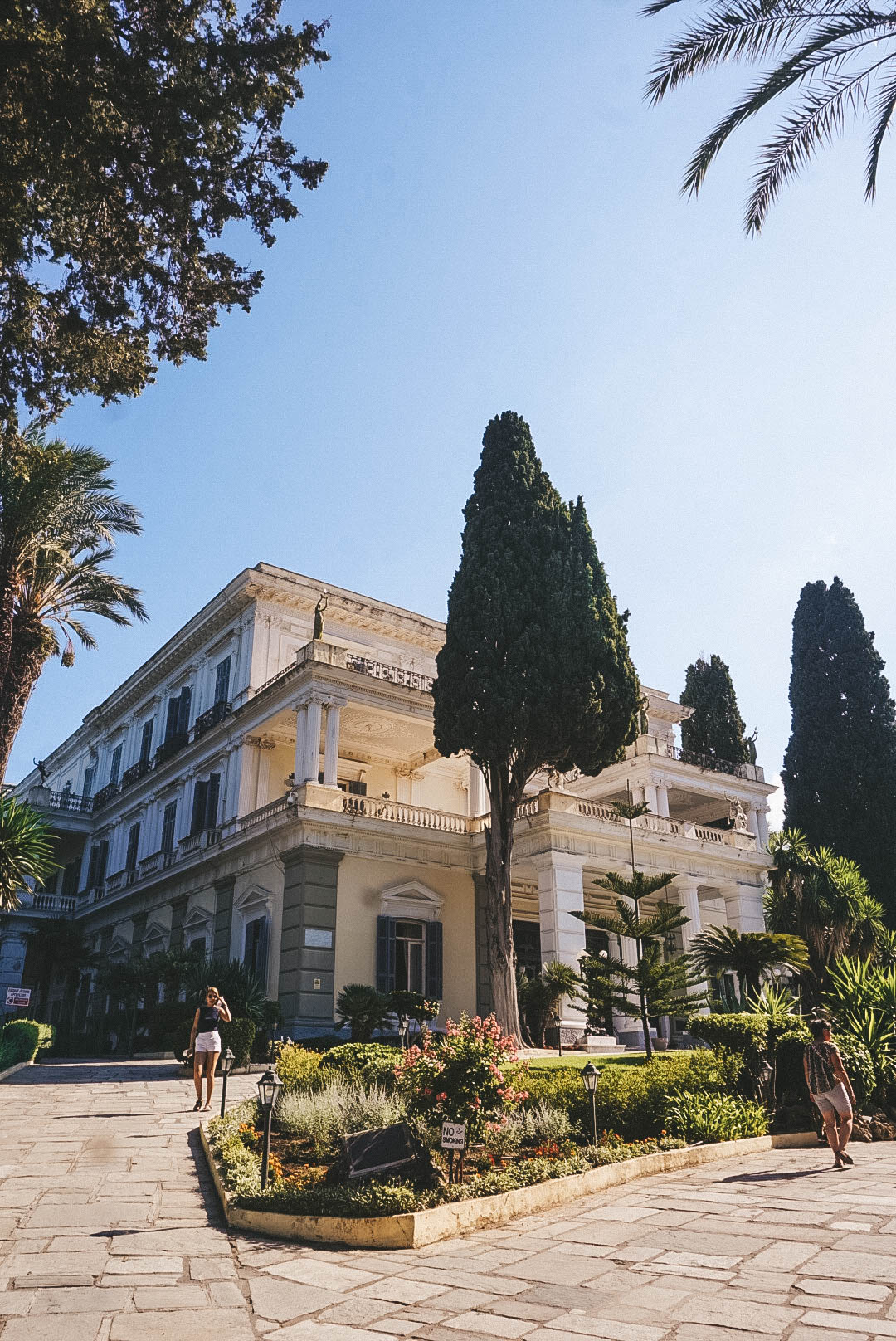 Built in 1890 for Empress Elizabeth ("Sissy") of Austria, Achilleion Palace has lived many lives since its completion. Empress Sissy lived in the palace from 1892 to 1898. Corfu was her favorite holiday destination and she spent many summers on the island. 
The 81,000-square meter palace was named after the Homeric hero, Achilles. Sissy loved all things Greek and wanted to pay homage to her favorite Greek hero. 
Following her assassination, the palace was bought by Kaiser Wilhem II. It later served as a hospital during both World Wars before being used to house technical schools, royal institutions, and even a casino at one point. 
Although many institutions have passed through Achilleion Palace, it's fallen into a state of disrepair. Today, the palace is undergoing extensive renovation work. You can only tour the bottom floor of the palace and it's set up as a small museum. To be honest, the museum is not the best quality, but the grounds are lovely! I still think Achilleion Palace is worth visiting since its history is so fascinating. 
10. Enjoy the View From Kaiser's Throne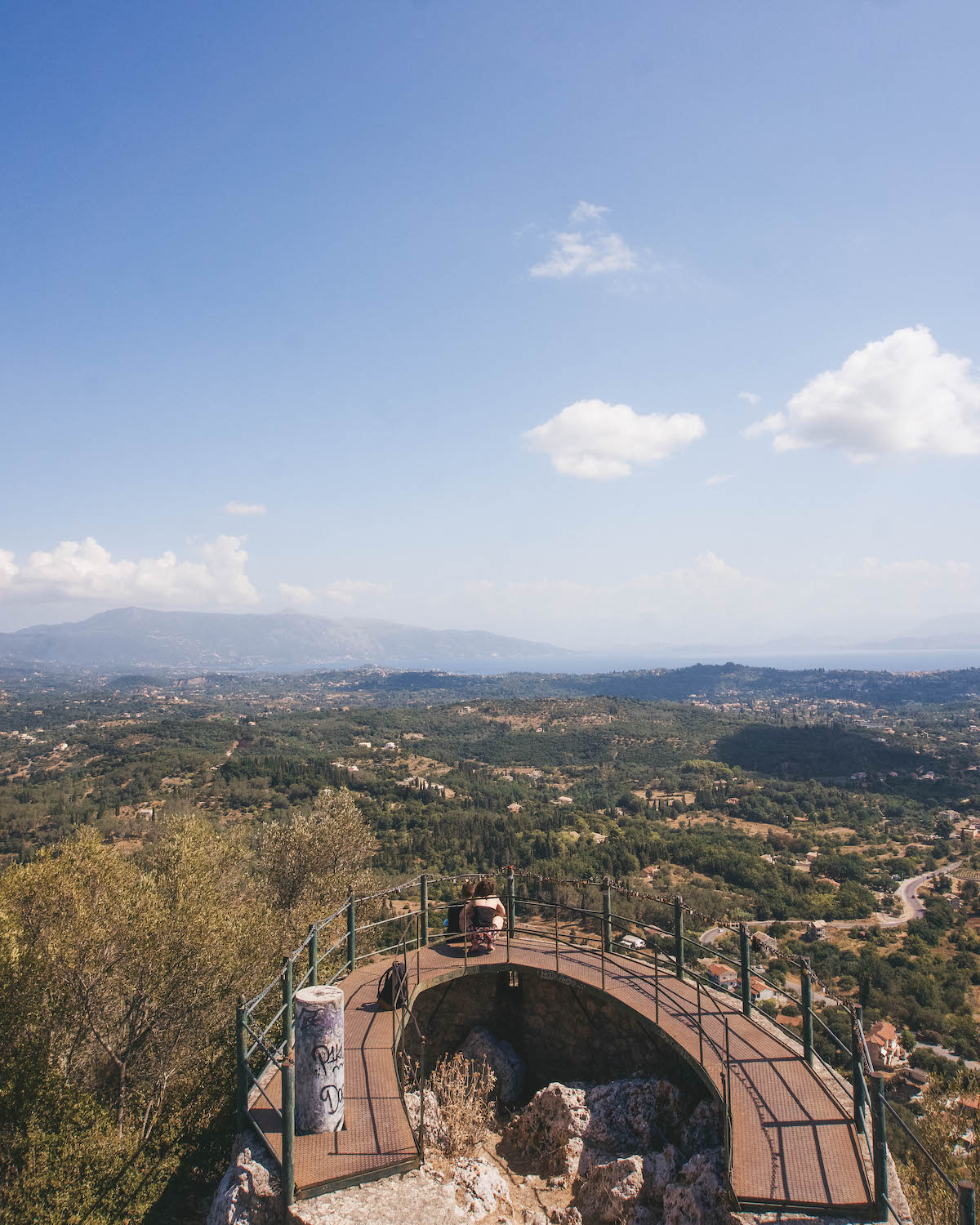 Kaiser's Throne is so-named because it's the site of the former observatory of Kaiser Wilhelm II. It's free to enter and offers a breathtaking panoramic view of Corfu island. There's a small garden near the main lookout point where you can sit and enjoy the view in the shade. 
Note that you can drive your car all the way to the lookout point and park at the paved lot (it's very safe and a decent size, so you won't get stuck at the top). Kaiser's Throne is a short drive from Achilleion Palace, so you can easily see both Corfu attractions in the same day. 
FAQs About Corfu Island in Greece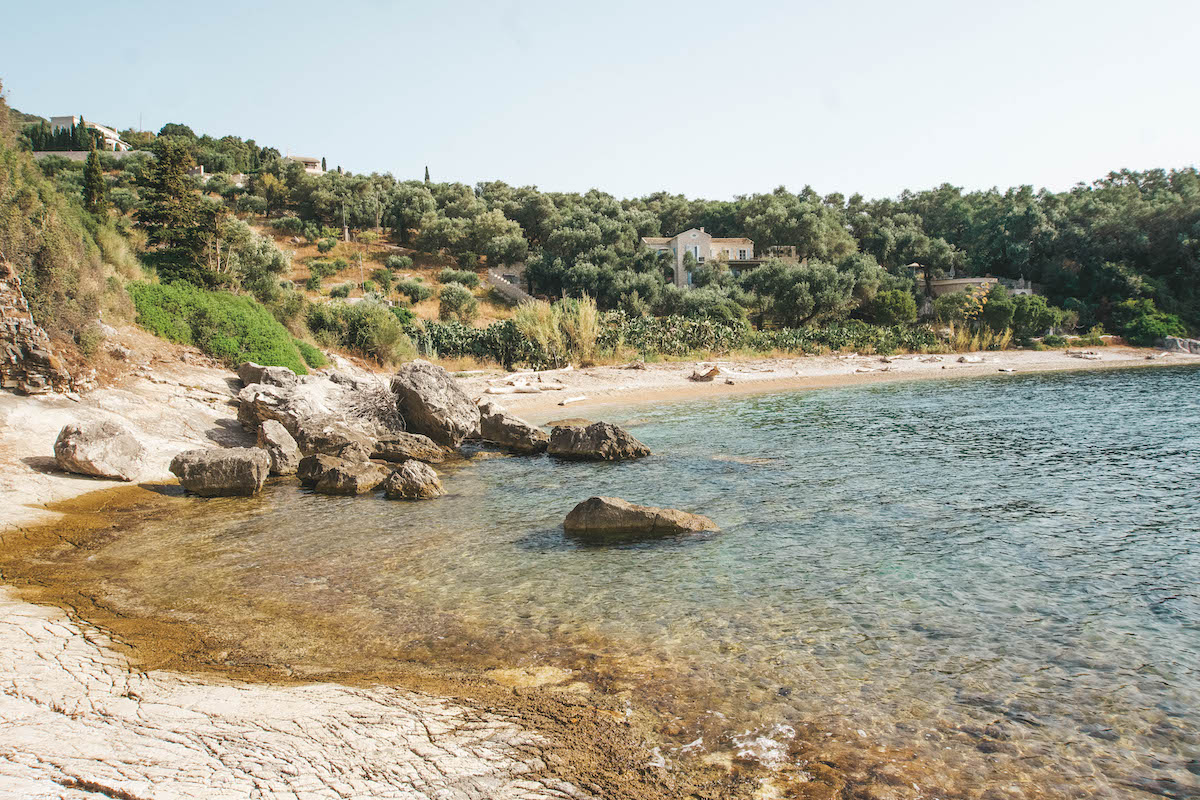 Where is Corfu located? Corfu island is located off the west coast of mainland Greece, near Albania. 
What's the weather in Corfu like? In the summer, Corfu is HOT. I visited in August and the temperature was 100ºF (40ºC) most days. November through April is typically in the 50s to 60s (in Fahrenheit), but rainier. May and June are warm and sunny, but not crazy hot. 
How many days are needed to see Corfu? I spent nine days on the island and felt like that was the perfect amount of time to see and do most of the main Corfu attractions. However, I think one full week would be enough time to squeeze in plenty of beach time as well as a few core cultural attractions. 
What's the best place to stay in Corfu? I highly recommend staying in Barbati town in Corfu. It's on the east coast, has a couple beautiful beaches, and is far enough away from the main tourist attractions that it's not overrun with people day and night. 
Do you need to rent a car to see Corfu? YES! Rent a car, or you'll regret it. There's a public bus that goes around the island, but it comes every 30 minutes and won't take you to lesser known attractions and private beaches. 
What's the currency in Corfu? The Euro. Bring cash as well as an international credit card, if you have one. 
What Corfu attractions are NOT worth visiting? Don't hate me, but Paleokastritsa and Canal d'Amour were hellish. So many people, and neither place felt even remotely authentic. Both were beautiful, though! 
Tips for Visiting Corfu Island in Greece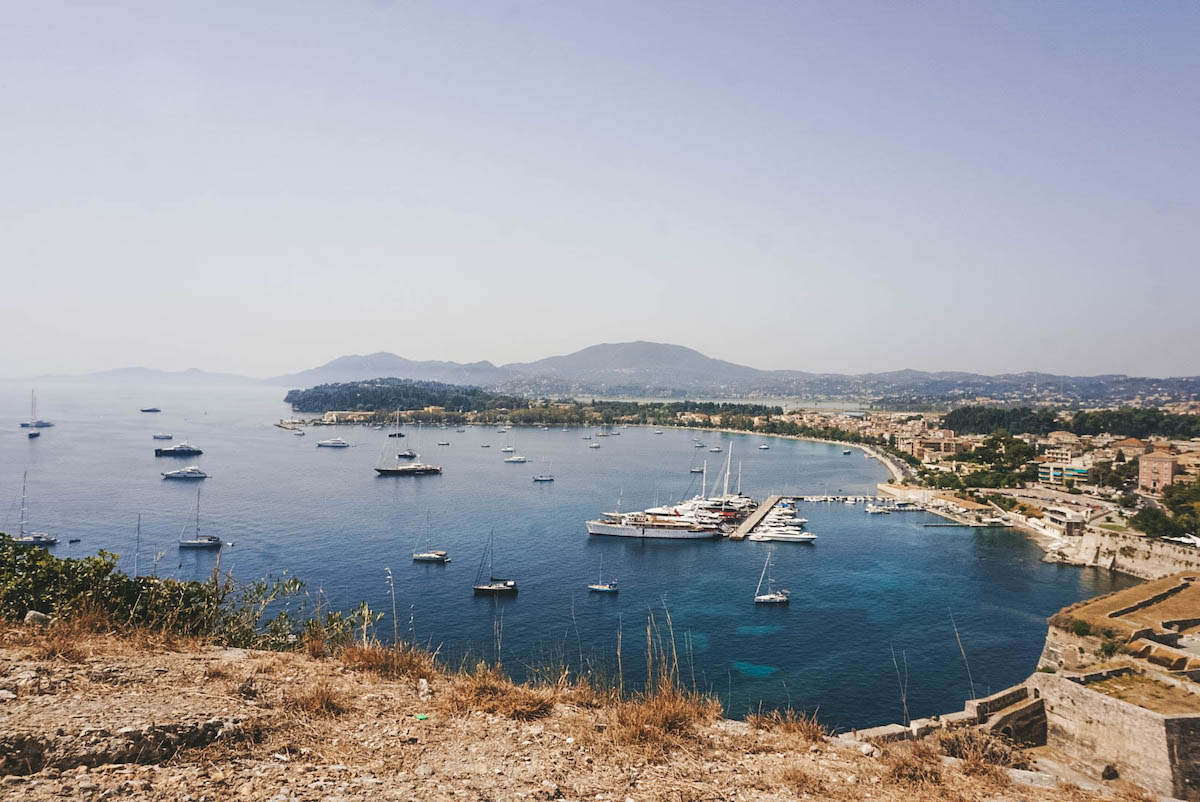 Drink only from water bottles and drink lots of it! The tap water isn't safe to drink. 
Don't flush toilet paper down the toilets. Plumbing on Corfu island isn't the best. 
Bring goggles and / or a snorkeling set. This is a great Greek island for snorkeling! 
Bring cash. Many restaurants accept card, but cash is still king on the island. 
Do cultural / sightseeing activities first thing in the morning before it gets too hot, otherwise you'll be miserable. 
Rent a car. Just do it! You'll be glad you did. 
Map of the Corfu Attractions I Mentioned 
Ready to Visit Corfu?!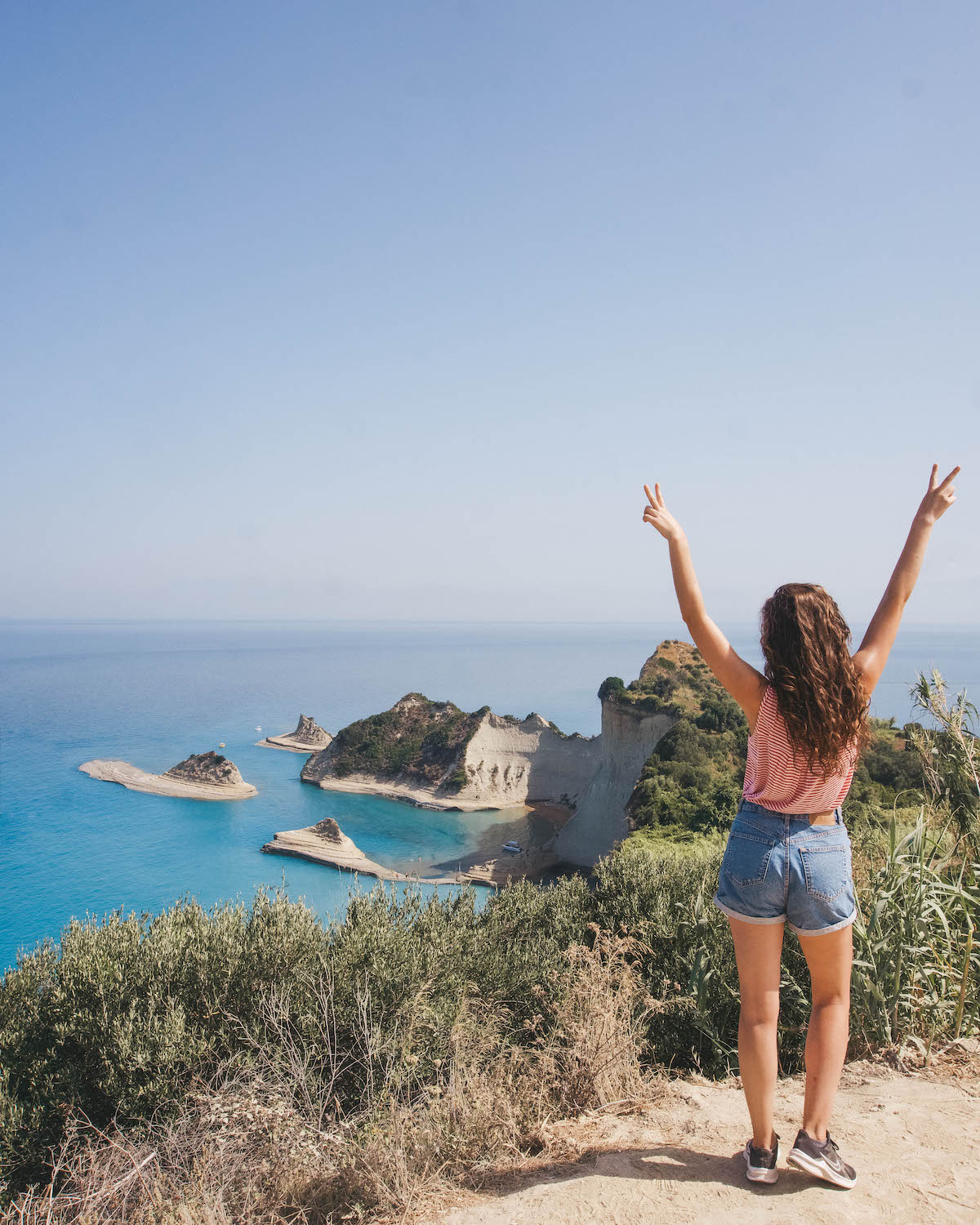 Now that you know what to do in Corfu, you can start planning your trip! Like I said before, this is by no means a comprehensive list of things to do in Corfu, but this is what I saw and did that I absolutely loved. If you have any questions about visiting Corfu or about a specific attraction listed above, drop me a comment below! 
Tell me: Have you been to Greece before?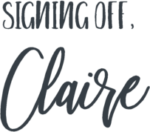 More Greece posts you'll love: