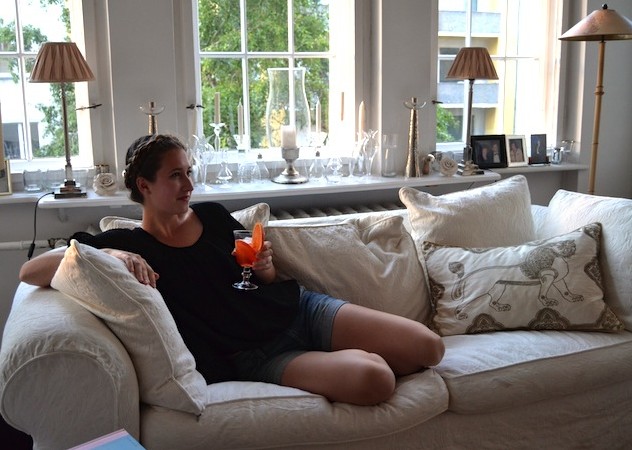 If you're anything like me, you've probably read a few travel posts before and thought, "How do they do it? How can bloggers travel non-stop without going broke?" The answer: they can't. Everyone has to slow down at some point and take inventory, so to speak. Whether it's because they need to save up for the next adventure or simply need to stay put for family or school reasons, bloggers and non-bloggers alike can't be away from home every day of the year. It's because of this the art of staycationing was born.
In case you don't know what I mean, here's the official Tall Girl Big World definition of a staycation: "When you want to travel to wildly exotic locations but don't have the time/money/ability to do it, so you make due with what you have at home (i.e. bring the world to you)."
Does this little conundrum sound familiar? I've had the itch to travel since returning from Paris in August, but I'm aiming to graduate in May, and a little bird told me that to graduate I actually have to show up to classes (go figure). So whether the holidays have sucked your bank account dry or you just have to focus on other things, don't let the need to stay at home weigh you down. If you need some ideas on how to staycation, here are a few I think you'll love.
Have some friends over
Number one best thing to do when you're in need of a break from reality is to invite your friends over. This sounds so cliché, but little things like cooking with someone else or having a sleepover (you're never too old for them) are the perfect pick-me-up when you have to stay in one spot. Besides, if you have the urge to go adventuring, your friends probably do too.
 Make a Special Dinner
While in Berlin, my friend Ellie and I made ourselves a fancy French inspired dinner. We went to this huge department store in the city (KaDeWe) and bought a baguette and some overpriced cheese and salami. We also made some Aperol Spritzes, even though I'm 99% positive that's an Italian drink (who cares? It was so tasty!). The moral of the story is this: make a nice dinner and treat yourself.
Watch a Foreign Movie
Alternately, you could watch a movie set in a foreign place (hello Eat Pray Love, I'm talking to you). Great movies really can help you escape reality for a bit, and they can show you parts of the world you haven't been to before. If you don't know any foreign films, Netflix and Hulu both have sections devoted to Bollywood movies and the like, which is a great place to start looking.
Pamper Yourself
I'm not just talking about the typical things like painting your nails or soaking in a bubble bath (not that those don't count as pampering), but really do something that makes you feel good. Maybe you've had your eye on a new pair of shoes—go out and buy them, then wear them out for a night with your friends. Or maybe you're so busy each week that all you want is a good long nap on a Saturday afternoon. Do it! Whatever you've been dying to do, just go out and do it, because that's what a good staycation is all about.
Eat at a New Restaurant
Whether it's the new pizza joint down the street or an upscale bistro you've been wanting to try, take yourself (and some friends!) out for a relaxed dinner. If you're feeling extra adventurous, order something you wouldn't normally go for, and you definitely need to save room for dessert.
Visit a New Museum
If you live in a city, this shouldn't be too hard for you to do. If you're from a smaller town, finding a new museum could be tricky, but that's what road trips are for! I live about 25 minutes from the nearest city, so whenever my friends and I drive over we make it a day trip where we try to find as many new places as possible (you can read about my time in Indianapolis here).
Go Shopping…and Try Everything On
True story: sometimes when I go to more upscale shopping malls, I go into Tiffany & Co. and try on their engagement rings just for fun. I absolutely love going into high end stores and talking to the staff and trying stuff on. It's just so fun for me, and the sales people are always so sweet about it. Take an hour or two to treat yourself to an over-the-top try on session. I promise you'll feel extra special afterwards (even if you're as broke and I am and can't afford anything).
Get Out of Your Routine
If you're trying to escape the humdrum routine of your everyday life, it only makes sense to break from that routine. If you usually spend your day surfing the web, put your laptop away and read a book. Spending most of your time inside? Slap on some SPF and go for a hike. Just do something totally new, even if it's just for one day.
What do you like to do when you're stuck in a rut and can't go anywhere? I'm always looking for new ways to shake up my routine a bit! Also, if you were able to travel anywhere in the world right now, where would you go? (Maybe think about how you can recreate that experience at home as well!)
Signing off,
Claire