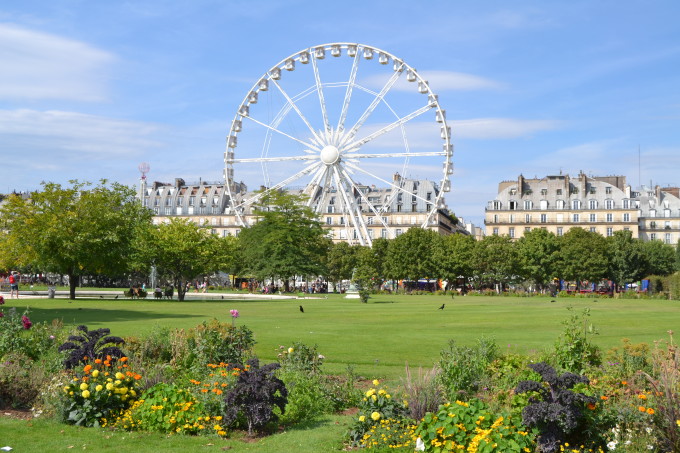 2015 has been a whirlwind of a year for me. When I started Tall Girl Big World a year ago today, I had no idea I'd travel so much, eat so much food, meet so many new people, or have such an amazing year. I've had my ups and downs figuring out the whole "blogging thing," but I'm so proud of how far I've come with my writing, and I can't believe how much the Tall Girl Big World community has grown. To end the year on a high note, I figured a look back on 2015 was necessary. Be warned: I've done a lot of traveling this year.
January
Happy birthday Tall Girl Big World! I started this blog on New Year's Day as a resolution to write more so I could share my time overseas with friends and family. My first few posts were interesting, to say the least, and my cat may or may not have had his five minutes of fame…
February
Kassel, Germany
After spending over a month at home, the big day finally arrived when I left for my semester in Germany. Before traveling to my new university, I spent a week with my friend Hannah in Kassel. I'd done an exchange here in high school and was itching to go back. Kassel isn't necessarily a tourist destination, but it definitely shows how Germans really live.
Frankfurt, Germany
I spent a day in Frankfurt with my friends Jo and Hannah. It was a bitterly cold day and the sky was gray, but we had so much fun popping into stores and snacking on Jo's never-ending supply of cookies.
March
Freiburg, Germany
At long last, I finally made my way down to the southern tip of Germany where I'd begin my semester in Freiburg. I spent most of March exploring my new home, going on hikes in the Black Forest, and prepping for my travels in April.
April
I had a long break from school in April, so my friend Hannah and I jetted off for an extended trip through Switzerland and Italy (different Hannah from Kassel—don't be confused friends).
Basel, Switzerland
We started our trip with a weekend in Basel, which is just a 30-minute train ride from Freiburg. We met up with a family I had met while working at a ranch last summer, and they showed us all around the city. We also had an evening of tasty Swiss food, which is still one of my favorite meals I had in Europe.
Rome, Italy
Hannah and I had a blast in Rome! We happened to bump into a few other people from our program in Freiburg, so we spent lots of time together exploring Vatican City and the Roman Forum. The highlight of our trip was being able to hear the Pope speak on Easter Sunday. I'm not Catholic, but it was incredible nonetheless to be in Rome during such an important time.
Florence, Italy
Florence was one of the most beautiful cities I've been in (it was so beautiful I even wrote an entire post about it!). Between the delicious food and jam-packed art museums, I really didn't know how my trip could have been any better. There are so many side streets to explore in Florence, I wish I had had more time to wander around. Hannah and I particularly enjoyed our visit to the Duomo, but the lines we had to wait in were absolutely killer.
Venice, Italy
Venice is one of those rare cities where you don't need to come with a list of things to do—the city itself is an attraction. There are, of course, plenty of sights to see. I loved my time in the Doge's Palace; St. Mark's Square in general is just a great place to hang out. Venice is every bit as beautiful as you'd think, and I couldn't stop taking photos of the canals (I think I have over 50 photos of them….).
Milan, Italy
Some people will tell you that Milan isn't worth visiting because it's "too modern" or "doesn't have much to do." Don't listen to them, Milan is amazing. The Duomo is absolutely breathtaking and there are a handful of inexpensive museums in the area that are definitely worth checking out. However, there were a few attractions I didn't think lived up to the hype, which you can read about here.
Verona, Italy
Because we had a special deal with our Eurail passes, Hannah and I took the train to the famed city of Verona to see what all the fuss was about. The Giusti Gardens were easily the highlight of my day, but I also enjoyed trekking across the city to visit its five major basilicas.
May
Brussels & Bruges, Belgium
I took the plunge in Brussels and couch surfed with an amazing girl named Sophie. Brussels was easily the cheapest city I explored because it had so many inexpensive things to do (and eat!). My day trip to Bruges was everything I could have hoped for. It rained during most of my visit, but that didn't dampen my excitement at walking through medieval-looking streets and eating Belgian chocolates.
Salzburg, Austria
After having a few months to myself, my family popped over for a visit. We began our journey in Salzburg, and had a blast exploring the Hohensalzburg Fortress. My one regret is not going on the Sound of Music tour; it's so touristy, but I so wish I had gone!
Hallstatt, Austria
We took a day trip to Hallstatt, which is arguably the cutest little postcard town to ever exist. There's not a lot to do in Hallstatt, per se, but it's a nice town to wander around in for half a day. You'll be the envy of all your friends too with the gorgeous photos you're sure to take home.
Vienna, Austria
After spending just a day in Vienna, I realized that I needed much more time to see all that the city had to offer. Schönbrunn Palace was lovely, and I thoroughly enjoyed meandering around its gardens. Vienna is one of those cities that's just bursting with energy, and I love that it has so much history to discover.
Munich, Germany
Munich is my favorite German city that I've visited so far. The people are friendly, the food is great, and it's just a wonderful place to wander around in. From Munich, we took a day trip to see Neuschwanstein castle and the lesser known Linderhof. We also tried some oh-so-tasty pork knuckles for the first time, which I wish were served in the States.
June
London, England
Before starting on my final papers, I took a spontaneous trip to London as a little birthday present to myself. I had a few relaxed mornings strolling through Hyde Park and hit up plenty of world class museums. London is one of my all-time favorite cities as there's so much to do, and it's impossible to ever feel bored there.
Oxford, England
Oxford was an absolutely magical city to visit. Just 90 minutes outside of London, Oxford is filled with picturesque buildings and is surrounded by the gorgeous English countryside. The best part of my day was my tour of the Bodleian Library—I'm a book nerd, what can I say?
July/August
Stuttgart, Germany
My history class took a quick trip to Stuttgart at the end of the semester to blow off some steam before finals. Stuttgart is a great city to live in, but not necessarily to be a tourist in. There's plenty of shopping to be done, but not lots of museums, etc. I personally would go back just because I love anything German, but I don't think it should be #1 on your list of places to visit by any means.
Normandy, France
After wrapping up a stellar semester in Freiburg, I met my dad in France for a week of adventure. We explored a big chunk of Normandy and had some incredible experiences (an evening stroll through Mont Saint-Michel and a visit to the American Cemetery at Omaha Beach, to name a few). Most of our stay in Normandy was centered around our time in Bayeux, which was the cutest town just off the coast.
Paris, France
I ate a lot in Paris, and I don't regret a single bite. I honestly can't pick my favorite part of Paris—the Louvre was stunning all around, and Versailles had the most surprises (its gardens went on for ages), but exploring different parts of the city was also fun. Looks like I'll just have to go back soon to do some more exploring.
Cincinnati, Ohio
After being home for a week, I drove over to visit my friend Julia in Ohio. She ever so graciously agreed to take a mini-road trip with me to Cincinnati, where we relaxed by the river walk and went into tons of mom and pop boutiques.
October
Nashville, Tennessee
My friend Elise and I went to Nashville with a mission: find the best restaurants in town and eat our hearts out. I think we rose to the challenge beautifully. We also took a fun day trip to Franklin, TN and found a local plantation to explore.
[Side note: October was also the start of my Food Friday series. Hooray for food!]
November
Absolutely nothing. My November consisted of me sitting around doing homework and stressing out about final papers (ugh).
December
Wilmington, North Carolina
The family and I had an oddball Christmas this year on the beach, but we made the most of it. We toured the USS North Carolina, walked through the Bellamy Mansion, and have had plenty of other exciting adventures I can't wait to share with you in the new year!
If you made it through this crazy 2015 in review with me, yay for you! But such a crazy year as the one I've had deserves a big blog post. Whether you've been following along with my adventures since the very beginning or for just a few days, thank you so much for being part of the Tall Girl Big World family. I can't wait to see where 2016 leads me (graduating and finding an awesome job, hopefully!), and I pinky promise to take you along with me wherever I go.
Before I sign off for the final time this year (!!), I'd love to hear what your 2015 highlights were. What adventures did you have this year? Any exciting plans for 2016? Tell me everything friends!
Signing off,
Claire
PS. I just realized I haven't shared any of my adventures in Potsdam, Berlin, or San Diego yet. Keep an eye out for those as well!