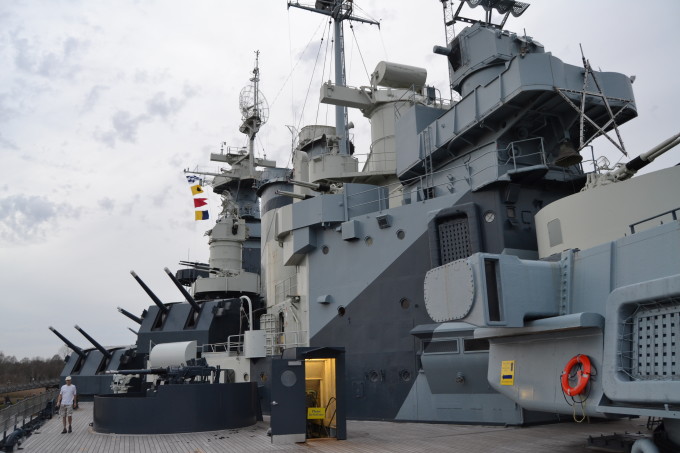 Docked across the river from Wilmington, NC is the World War II battleship USS North Carolina, which was saved from the scrap heap by the citizens of North Carolina in the '60s. Since I spent my time in North Carolina with my dad and brother, we couldn't not visit the famed battleship. I was a bit hesitant at first because a) I know absolutely nothing about ships/guns/war stuff, and b) I've toured boats before and have hated them for the exact reasons I mentioned in part "a" of this sentence. However, I was pleasantly surprised by how much I enjoyed our tour of the ship.
Before I talk about the tour, I feel the need to give a brief overview of its history, because historical sites aren't all about the cool photos you get from your visit. The USS North Carolina was part of every major naval offensive in the Pacific during WWII, destroying 24 enemy aircraft and protecting many US carriers. The ship was opened to the public for visits in 1961 as a memorial to the 11,000 North Carolinians who fought during the war.
See, that wasn't so painful was it?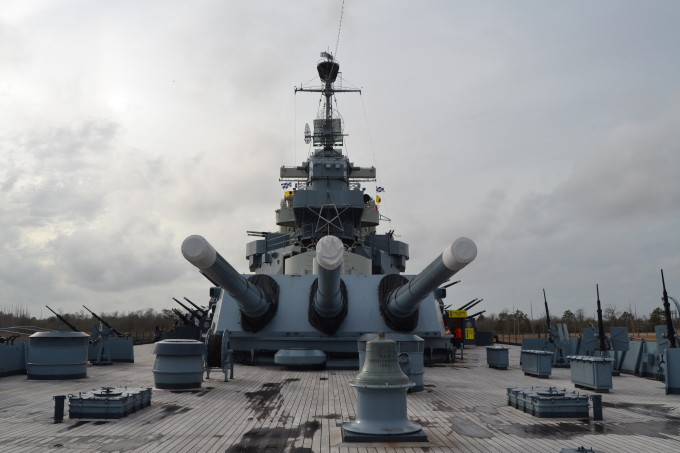 What I enjoyed most about the tour was that we got to wander around the ship at our leisure. I'm the type of person who can't pay attention for 2+ hour long tours of anything, much less a war ship, so I was glad that I could bug my dad with questions about what I was seeing, what happened in certain areas of the ship, etc. because otherwise I would have had no clue what I was looking at. Now, something you need to understand is that the USS North Carolina is HUGE. I mean, it's really massive. When you first look at the deck, you think, sure that's big but how can it take over 2 hours to go through?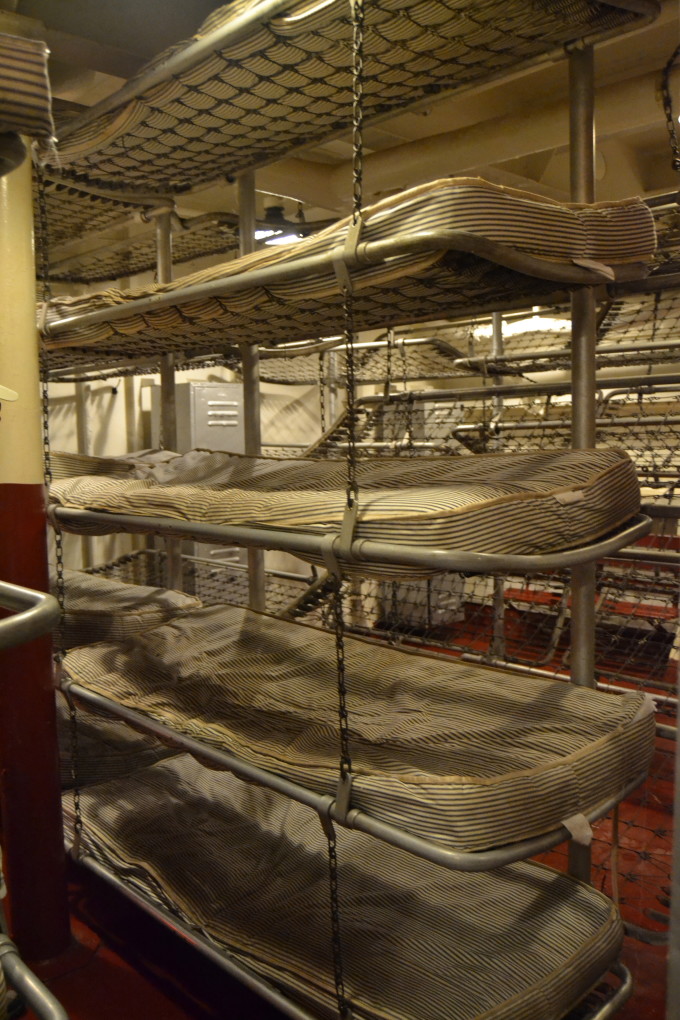 What you (and by you, I mean me) don't realize is that to power a ship that large you need huge engine rooms, hundreds of bunks for the sailors operating the ship, and the list goes on. Basically, I'm trying to tell you that the bowels of the battleship go on forever. I got so turned around when I was walking under the deck I thought for sure we'd gotten lost a few times. Luckily, whoever planned the tour knew that people like me would be visiting, so they used neon yellow arrows for directions. Smart people.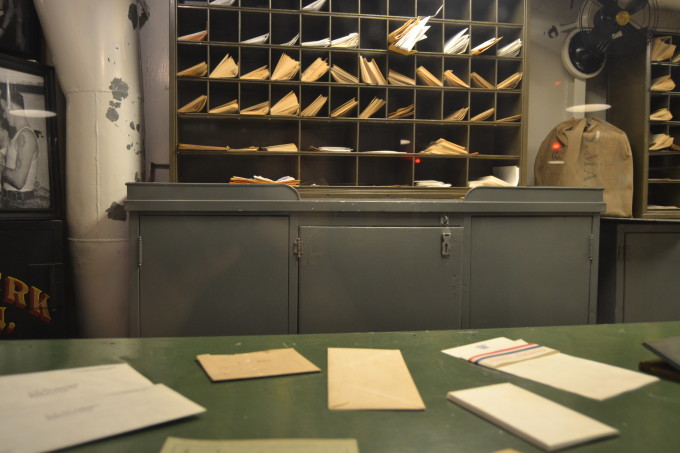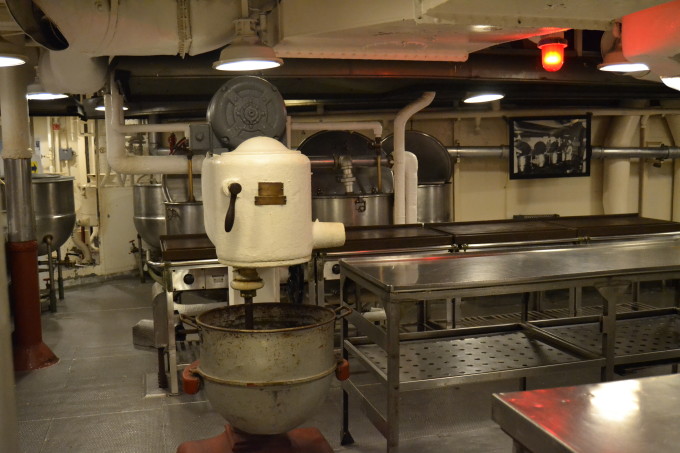 My favorite rooms of the ship were the various worksites. I loved seeing the mess halls and kitchens where the sailors cooked and ate, and peeping into the '40s-era barber shop and post office just made my day. I know plenty of sailors still work like this today, but I honestly can't imagine living in the bowels of a battleship for months at a time.
Another cool part of our tour was that we basically had the entire battleship to ourselves. We toured it the day before Christmas, and we never ran into anyone else while we were exploring the area below the deck. It was a bit eerie, if I'm being perfectly honest. I loved seeing all the '40s rooms and such, but it felt a bit like an abandoned ghost ship at times because it was so quiet.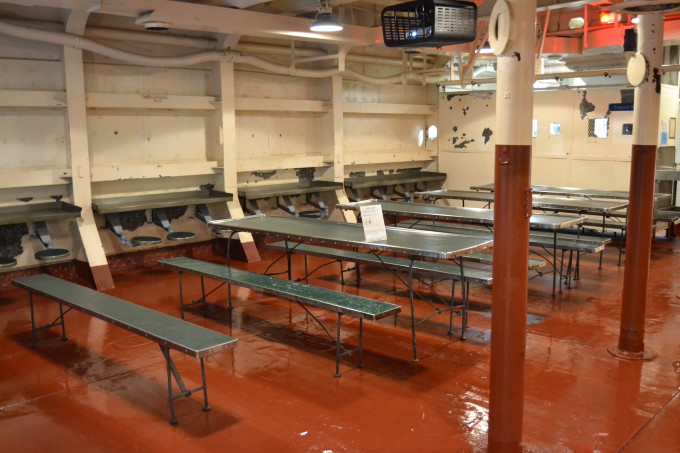 The USS North Carolina is open 365 days per year and costs $14 for adults. The tour is self-guided and is marketed as only taking about two hours to visit, but we spent three whole hours there, so be sure to plan accordingly. Even if you're not a huge war buff, I think you'll really enjoy the USS North Carolina.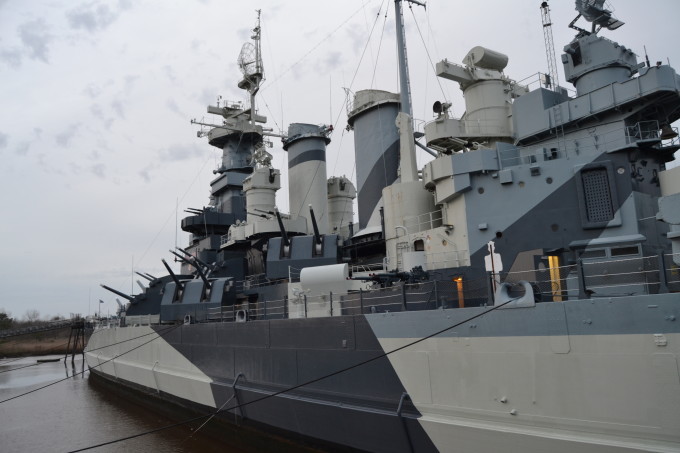 What sites have you been pleasantly surprised about visiting? Any hidden gems I should know about? Leave me a comment below, and feel free to share this post with any battleship fans in your life!
Signing off,
Claire