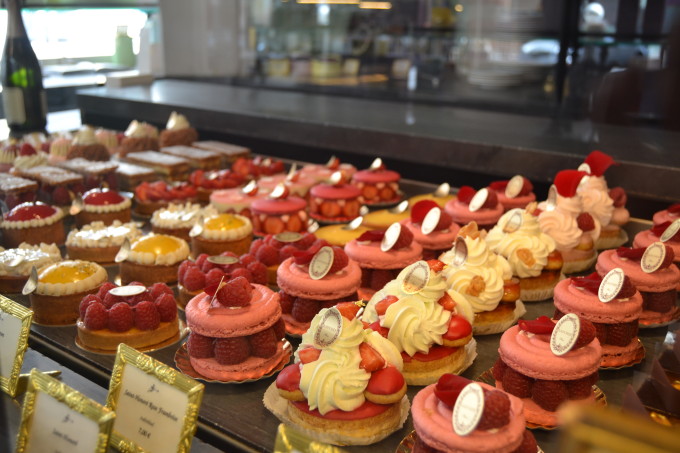 France: the land of butter, pastries, and more butter. Just kidding, there are a lot more foods in France than butter (thank goodness), and I did my best to try as much tasty food as possible. Hey, it's a tough job, but someone's got to do it.
Whenever I travel I always take pictures of my meals to document my epic food journeys in the hopes of compiling a mouth-watering food diary some day. For this week's Food Friday, I'm doing just that. I spent a week in France with my dad, traveling along the coast of Normandy and back to Paris. Along the way, we ate some of the best seafood I've ever had and took every opportunity possible to indulge in decadent French desserts.
But I know you don't really care about my gorgeous intro. Let's face it, we're all just here for the #foodporn.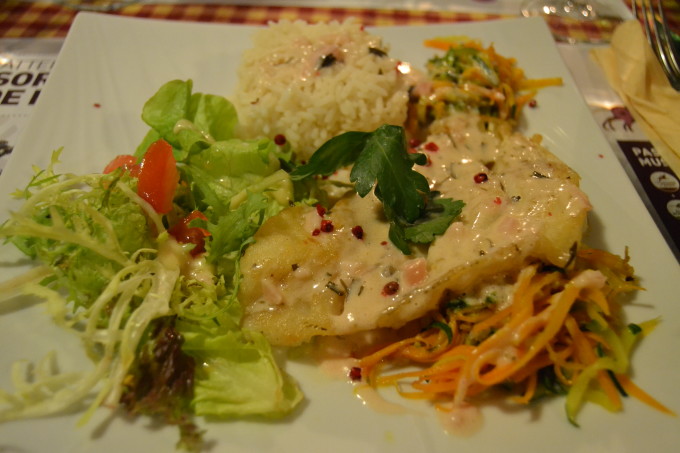 To get a taste of the local cuisine, I ordered the "daily catch" my first night in Bayeux. It was served with fresh steamed veggies and this magical rice that left me wanting more.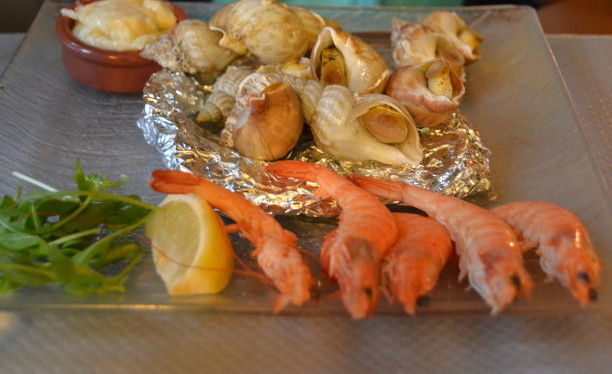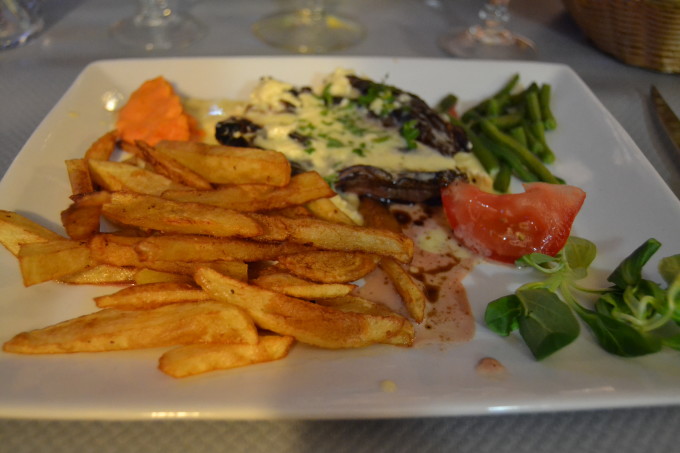 Our second night in Bayeux, I may have made a mistake when I ordered my food. I got salmon tartare, which I didn't realize was raw fish (oops). I tried it, didn't like it, and my dad was nice enough to eat it for me (aka he paid for it and knew someone had to eat it). So instead I got his steak smothered in fresh cheese–an excellent trade off. We also polished off a plate of snails and shrimp and did our best to not fling the snails everywhere (those suckers are tough to get out of their shells).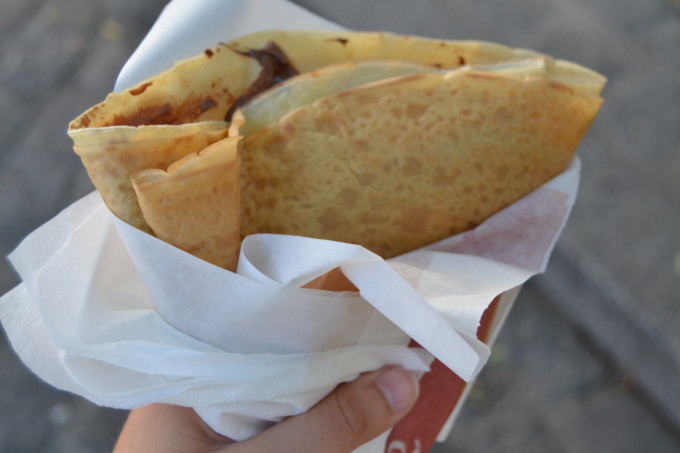 As yes, the basic "look Ma, I got a crepe in Paris!" photo. 'Tis true, I ate many a crepe in France, and this was darn good.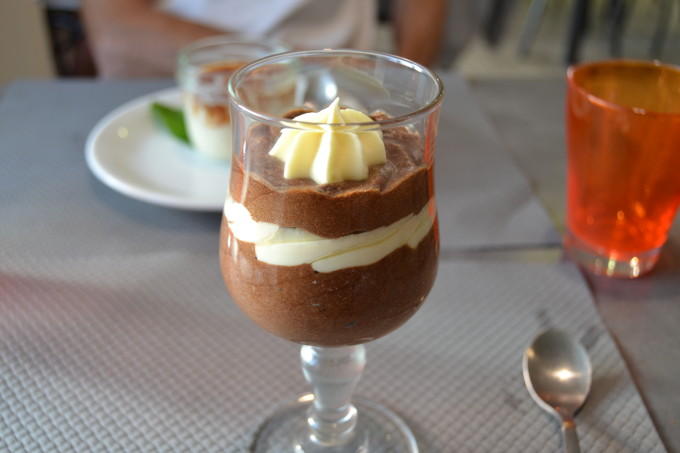 LOOK AT THOSE MUSSELS. So fresh, so tasty, so smelly, so French. We inhaled these before our visit to Mont Saint-Michel. For dessert, I had some incredible chocolate mousse, and my dad got a cup of decadent caramel rice pudding. Wowsa that was a tasty meal.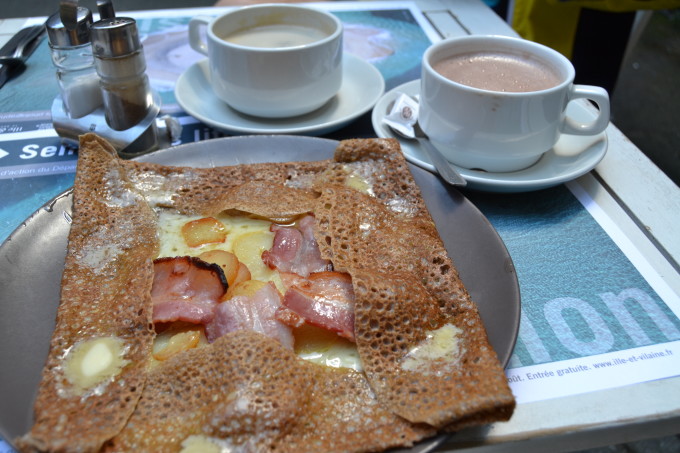 Holy crepe was this a good meal! I forget what this particular type of crepe is called, but it was savory and filled with chunks of onion, potato, ham, and fresh cheese. The crepe itself was delightfully crunchy and super buttery. Paired with a huge cup of hot chocolate, this was the perfect lunch.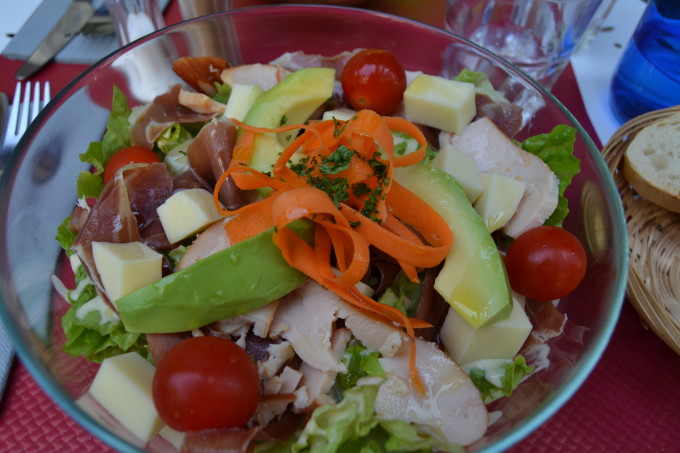 I may have felt a bit guilty about eating so much buttery goodness before, so I got a salad one day for lunch. It was actually quite spectacular; it had cherry tomatoes, mozzarella, and prosciutto on it and made my tummy very happy.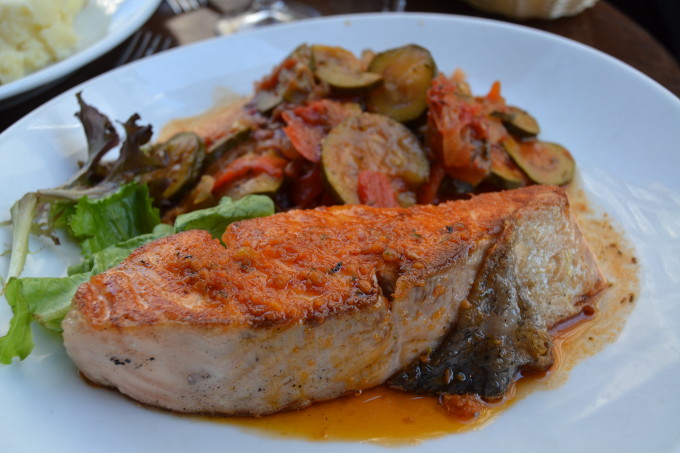 OMG WOW THIS SALMON. As I'm looking back at my food diary photos I'm beginning to salivate all over again at my amazing meals. This was served with a side of homemade ratatouille–yum.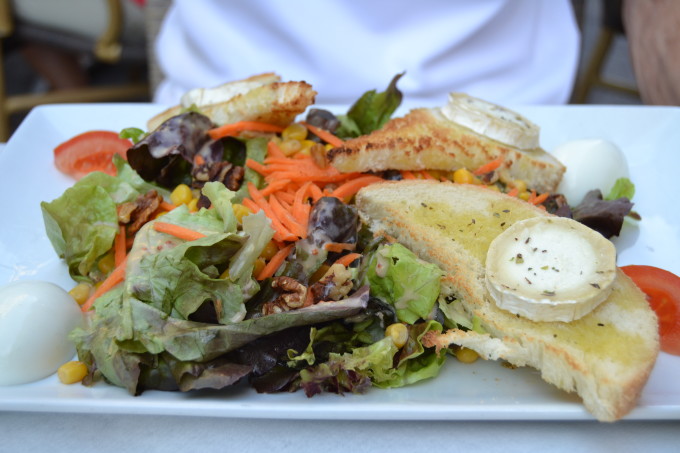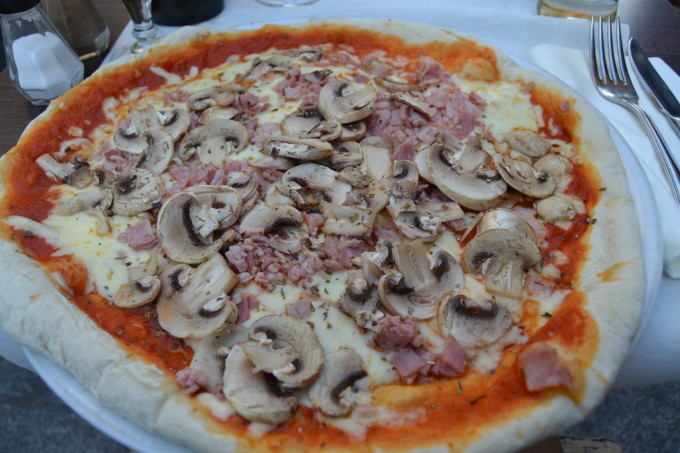 After walking around Versailles all day, we had worked up quite the appetite.  We thought we'd be healthy and split a "small" pizza and "side" salad. Little did we know that we'd found the only place in France with American-sized portions (ironically, it was called "Claire's" which should have tipped me off immediately…). Can we just take a moment to appreciate the hunks of brie on top of the toast in the salad? France, you're killing me (in the best way possible).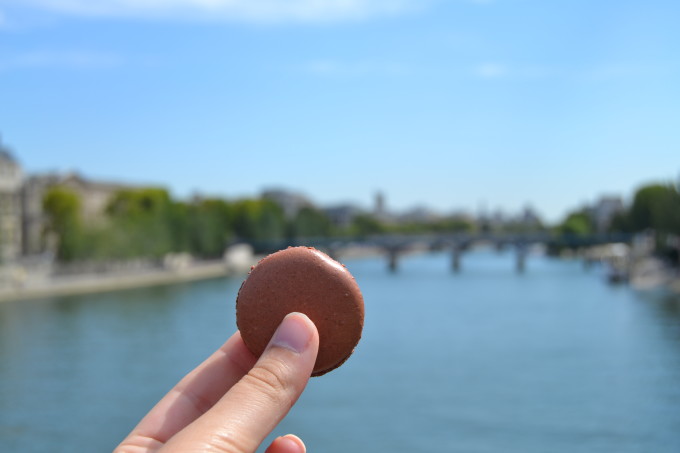 The photo at the start of this post is what I wanted from Laduree. This photo is what I actually got: a single, beautiful chocolate macaron. So worth the 2 Euros it cost.
This final photo is of the breakfast we were greeted with at one of our AirBNBs. Our hostess was so sweet; her name was Marilyn, and she was Australian and had the cutest 2 month old kitten ever. The yogurt she served at breakfast was from a local farm and was simply life-changing.
Are you hungry yet? I certainly am! If you guys enjoy these food diaries, please let me know. What's your favorite meal you've had while traveling? Leave me a comment down below, and feel free to share this post with friends if you liked it!
Signing off,
Claire