Alexandria is a quick metro ride away from Washington DC and makes for the perfect day trip. Here are the best things to do in Alexandria, including where to eat and shop.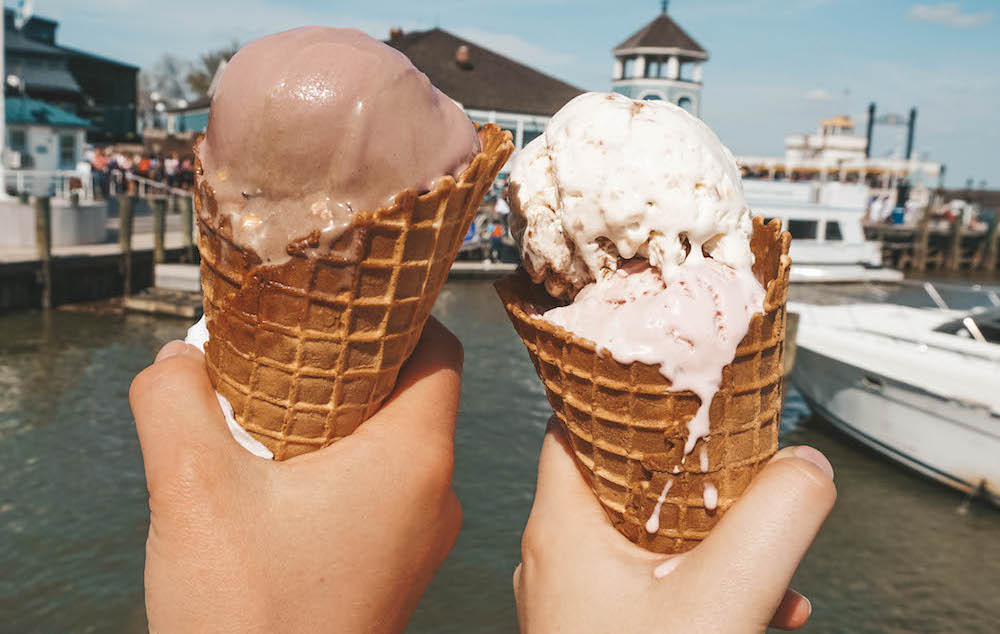 In the summer, it's pretty much impossible to escape the thousands of tourists who flock to Washington DC. However, a day trip to Alexandria does wonders for anyone who's feeling overwhelmed by the crowds. Alexandria is just far enough away from downtown DC that you have to plan when you want to visit, but it's close enough that you can easily get there with the metro.
I've been to Alexandria a few times, but this weekend my friend Grace was my personal tour guide. Grace and I prefer walking most places since exploring on foot lets us see more in a day. After our afternoon in Alexandria, we were absolutely exhausted, but we were all smiles because it's one of the most picturesque towns. If you're planning a day trip from Washington DC, definitely consider visiting Alexandria. To help you out, I've made a quick guide on things to do in Alexandria VA to help you make the most of your adventure.
Getting to Alexandria
The easiest way to get to Alexandria from downtown DC is to take the metro. If you want to start shopping right away, get off at the King Street station. You can also get to Alexandria from the Braddock Road, Eisenhower Ave, and Van Dorn Street stations. From here, it's a short walk to Old Town Alexandria (about 15-20 minutes).
If you're feeling adventurous, you can also bike the Mount Vernon Trail from Arlington to Alexandria. Bike rental stations are scattered throughout the city, and you can drop your bike at any bike station along the way.
Getting Around Alexandria
The best way to get around Alexandria is on your own two feet! This is a beautiful town with too many photo-worthy side streets to count. If your feet get tired, rest for a bit by the waterfront (there are lots of benches!). If you get really tired, there's a free King Street trolley that takes you up and down the main shopping street.
Things to Do in Alexandria
For such a small town, there's so much to see and do! Here are just a few of my favorite things to do in Alexandria:
Window shop along King Street—King Street is the shopping street in Alexandria. It has a good mix of larger chains and local boutiques, making it a window shopper's paradise.
Walk down Queen Street—King Street gets most of the attention because it's the main shopping street, but Queen Street absolutely can't be missed. It's lined with the prettiest old homes and is the ideal place to take photos in Alexandria. If you're paying attention, you'll spot one of the narrowest houses in the US along Queen Street as well!
Tour the Carlyle House—Built by a wealthy merchant in the 1750s, Carlyle House is a great place to learn what life was like in America before it was officially a nation. Much of the house has been reconstructed relatively recently, but it still provides an interesting glimpse into the past. The gardens behind Carlyle House are open to the public and are especially pretty in the warmer months.
Walk along the waterfront—Is there anything better than being by the water on a hot summer's day? I think not. When I visited Alexandria, they had just discovered a 300-year-old ship buried near the waterfront and were preparing to begin excavation. Pretty cool, huh?
Visit the George Washington Masonic National Memorial—This is part memorial, part museum, and all George Washington. The building itself is stunning, and there's an observation deck at the top with a great view of Alexandria.
Walk or Bike the Mount Vernon Trail—Walk or bike along the Mount Vernon Trail for a truly unique view of DC. Much of the trail is along the Potomac, and it's absolutely stunning in the summer months. Bring a water bottle along so you don't get dehydrated!
Where to Eat in Alexandria
I can't recommend too many places to eat in Alexandria (yet!) because Grace and I make most of our meals at her place when I'm in town. However, two standout eateries I can recommend are:
Pop's Old Fashioned Ice Cream Co.—Did you really go on vacation if you didn't eat ice cream at least once? Pop's has tons of unique flavors for a reasonable price. I got a scoop of s'mores and a scoop of black cherry in a homemade waffle cone and inhaled it all in about two seconds.
Myron Mixon's Pitmaster Barbecue—If you're thinking about getting ice cream later, split a bbq plate with someone. The pulled pork is excellent, as are the baked beans.
You can easily spend a full day exploring Alexandria (especially if you're an avid window shopper like I am!). However, half a day in this beautiful town is enough time to take in the main attractions and get a good feel for the place. I'll definitely be making a return trip to Alexandria in the future!
Tell me: Do you like planning day trips or do you prefer to stay in one area when you travel?
Signing off,
Claire
Love DC? You'll love these posts: 
Pin it!