Earlier this year, my mom and I took a two-week vacation to Greece. The first leg of our trip was in sunny Rhodes, and I had to take three separate flights to get there. Because it was an international trip, I took advantage of the free checked bag policy and hopped on my first flight to Europe, blissfully unaware that my connecting flight had already been canceled due to staffing issues. Fast forward to me landing in the Brussels airport: I had just come off of a 7-hour flight, my time schedule was totally messed up, and I was so. hungry. When I saw that my connecting flight had been canceled, I made my way to the help desk like the good traveler I was and stood there for an hour while they figured out the best flight for me.
Needless to say, the changes to my flight schedules meant that my checked bag didn't make it to Rhodes when I did. In fact, I wasn't reunited with my bag for another THREE DAYS. Lucky for me, my mom and I are similarly sized, so I was able to borrow her sundresses and shoes. But all of my travel essentials — my face wash, toothbrush, underwear, contacts — were in my checked bag, so I looked and felt a little gross those three days.
I tell you all of this in hopes that you'll learn from my mistakes and that you'll take this list of carry-on essentials to heart. I know 10 essentials sounds like a lot, but you really do need all of these items in your bag just in case!
1. Spare underwear
Nothing—and I mean nothing—is worse than being separated from your luggage and having to sleep in the same pair of underwear you've had on all day. Now, I already know you're going to say, "Can't you just go out and buy some cheap underwear?" In theory, yes you can. But what if your flight lands after dark and the stores are all closed? What if the nearest stores don't carry your size? There are too many 'what ifs', so I now always pack a few pairs of undies in my carry-on bag. I've learned that I can suck it up and re-wear the same clothing I wore on the plane, but I absolutely have to have clean underwear.
2. Toothbrush & toothpaste
Yes, being separated from my face wash and moisturizer sucks, but I can usually get by with a few splashes of water and a gentle scrub with a washcloth. But not being able to brush my teeth after a long flight? Absolutely not—I refuse to put myself through that anymore. There's just something about clean teeth that makes me feel like I can tackle the day ahead of me, and I hate having to go any longer than necessary between brushes. I keep a travel-sized toothbrush and toothpaste in my backpack for those times when I can't access my luggage.
3. A change of clothes
For longer travel days or international trips, I always pack a change of clothing just to be safe. I typically pack something light so it doesn't take up too much room in my bag (like plain leggings and a cotton shirt). Again, you just never know when you're going to need a change of clothing during your travels. And if your flight gets delayed or canceled because of bad weather, you might even need a spare set of clothes while you're waiting at the airport.
4. Travel packets of detergent
Like the best life lessons, I learned this trick from my mom. She always packs a few travel-sized detergents in her bag so that she can do laundry in the hotel sink if needed. This has saved our butts more than once, and it's thanks to her detergent packets that I was able to wash and wear the same pair of underwear a few days in a row when I was without a bag in Rhodes.
5. Chargers & electronics
No matter how short or long my flight is, I always pack my electronics and chargers in whatever bag I plan on putting under my seat. I avoid putting chargers and electronics in my carry-on suitcase because I sometimes wind up having to check that bag at the gate (this usually happens for super full flights or when I'm about to board a really small plane). Having my electronics on my person at all times keeps me from worrying about losing them and means I can work on my laptop or listen to my iPod whenever I want.
6. Cash
I keep my foreign currency on me at all times, because I never know how expensive a ride from the airport to my hotel will be, or if I'll need extra cash as soon as I land for foodstuffs, etc. I keep my cash in an unmarked envelop in my backpack and store it in an inner zipper compartment. This way, I won't accidentally lose the envelop and no one can just reach in and grab it.
7. Tampons
Ladies, even if you're not on your period, there's a good chance someone traveling with you will need a spare tampon at some point during your travels. Pack a few to be safe—you'll be thankful you did!
8. A Pen
Pens are an underrated carry-on essential that everyone should have on hand. You'll definitely need a black pen to fill out customs forms when entering a foreign country, but it's also great to have one in your bag if you want to write in your journal, do a crossword, or literally anything else that requires a writing utensil.
Read more: 5 Reasons You Should Start Journaling Your Travels
9. Hand sanitizer
Plane bathrooms — need I say more? Public transportation in general is germ heaven, and I always have a small bottle of hand sanitizer in my bag. I always use a squirt of it just before I eat or after I've touched something I know is really gross, like a subway seat.
10. Eye mask
Until recently, I thought eye masks were incredibly bougie and overrated. And then I got one…and LOVED it. Admittedly, I do feel a little extra whenever I put on my silk eye mask (it even has a cringey slogan on it about needing my beauty sleep that I love to hate), but that thing works so well! I never used to be able to fall asleep on planes because the overhead reading lights and the glow from the TVs in the seatbacks would keep me awake. But with the eye mask on I'm able to fall asleep within minutes. I also like having an eye mask whenever I travel with friends and family, because I invariably go to bed way before everyone else, so it's nice to block out the light while they're still up.
Tell me: What's one thing you can't live without in your carry-on?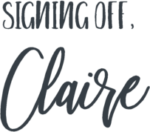 More posts you'll love:
Pin it for later!