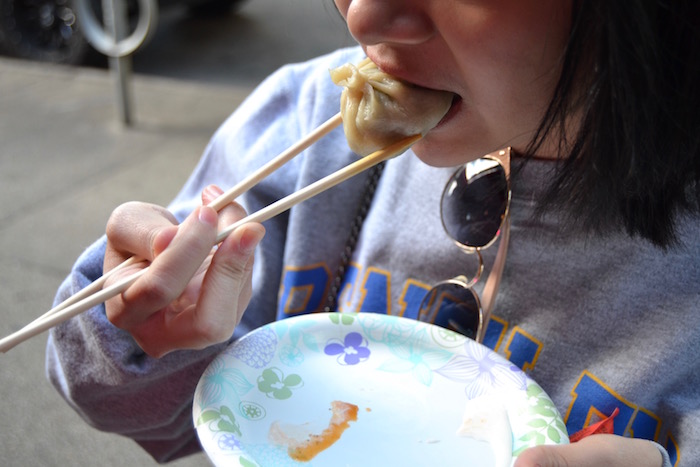 Momo are Tibetan dumplings about the size and shape of your typical dumpling and are filled with everything from beef to chicken to any range of veggies. I can't say as I've eaten too many dumplings in my lifetime, but any noodle stuffed with yummy fillings is automatically tasty in my book. When I heard about the Momo Crawl in Jackson Heights, the first thing I did was text my roomie and tell her we were going. No questions about it—we had to try as many momos as possible.
The Momo Crawl's premise is simple: you show up to an agreed upon spot (Diversity Plaza), buy a momo map for $5, and set off for as many momo shops as possible between 2-5pm. Tricia and I love a challenge, and we were in particularly fine form at the start of the Momo Crawl. Each momo cost $1, so it's actually a pretty pricey event.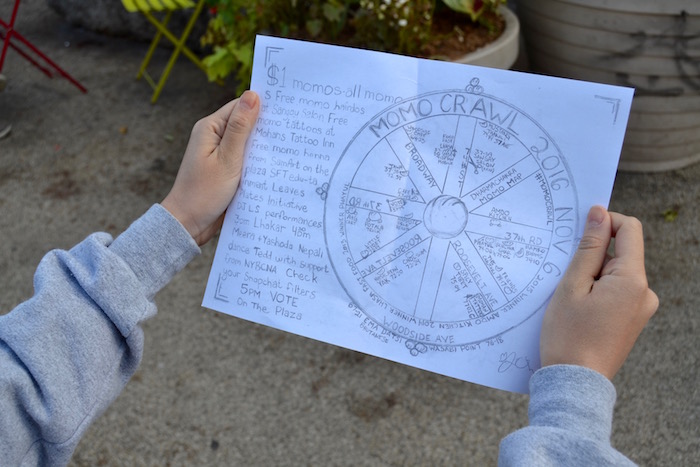 Being the dedicated blogger that I am, I channeled my inner food critic and took a notepad with me for the crawl so I could actually remember what I ate. I'm sad to say that the cold weather made us leave before the tasters voted on the best momo, but 90 minutes and 9 stops later, Tricia and I had definitely sampled our fair share of momo.
Stop 1: Namaste Momo 
We stopped here simply because the map they gave us was basically useless, and this was the first open restaurant we saw. I got a beef momo, and it tasted like soup in a little dumpling pocket. The spicy red sauce complemented it nicely, and I pretty much inhaled this bite-sized morsel. The only drawback to this particular momo was the lack of filling—it was all noodle, no meat, which put it in my bad books.
Stop 2: Amdo Kitchen
Tricia and I made a beeline for the Amdo Kitchen food truck, last year's momo champion. Right away, we noticed how much we were getting ripped off by trying their momo for this crawl. A typical order of 8 dumplings from here is only $5, meaning they made serious bank from the $1 momo deal. Whatever. Hardcore food reporter Claire was willing to buy a $1 momo.
The chicken momo here had a lot more meat in it than the first stop, and it also had some pickled onion on the side (although I'm not totally positive it was actually onion). The dumpling itself was much better formed and was super juicy. All in all, a solid momo. At this point, we were still super warm and were excited for an afternoon of eating.
Stop 3: Phayul
Phayul's momo weren't ready when we got there, and we stood in line for a few minutes before we could even place our order. A lady in line behind us whispered, "The momo here are so good!" That made us willing to stay put until the dumplings were ready. Finally, we were able to place our order: one beef dumpling each—woah there big spender.
With lips tingling from the chili sauce on my last two momos, I dived right back in to my beef momo. Holy cow, this was a good dumpling. Actual beef broth spilled out of my momo as soon as I took a bite, mixing in with my chili sauce and making a yummy soup in my bowl. The beef in the dumpling was much more substantial here, and the dough was cooked "al dente" as well, which I liked. At this point, this was my favorite momo thus far.
Stop 4: Nepali Bhanchha Gha  
After waiting in a very short line, we bit into comparably massive momo under the watchful gaze of the Dali Lama. The chicken momo here was piping hot and was filled with chicken chunks, rather than the meatball-like blobs in the previous dumplings. The yellow sauce at this place is a must-try, but you'll definitely need some serious chopsticks skills to eat the momo here because they don't hold together well.
Stop 5: A&G Himalayan Fresh Food Truck
The beef dumpling here was somehow creamy on the inside (not sure how beef can be creamy, but we're just going with it). This was definitely one of the best looking dumplings of the day, but the dough was a touch too thick for my liking. Tricia dropped her dumpling on the ground after taking a single bite, which also soured our opinion of the place. An absolute tragedy.
Stop 6: Cholsum Tibetan Restaurant
This place gets two thumbs up from me simply because it had the best ordering system. They had customers pick up their desired number of dumplings first, then hand off the money at the cash register, which made the process much faster.
The chive momo here was fabulous. It was packed with chives that still had a little crunch to them. After so much meat-filled yumminess, some fresh veggies hit the spot. The momo here stayed together well despite being twisted oddly. At this point, Tricia and I were getting quite chilly and were losing our steam. Never ones to be defeated, we soldiered on to the next stop.
Stop 7: Little Tibet
Little Tibet was Tricia's favorite simply because it was the first place we were able to sit down to eat our momo. The mashed potato momo tasted eerily like pierogi and got me thinking about how good my Thanksgiving mashed potatoes are going to taste. The chives in the potato mixture added a pop of flavor, and made the momo a bit more exciting overall.
Spoiler: Little Tibet was announced the 2016 Momo Crawl winner, so I guess a lot of people loved it!
Stop 8: Lhasa Fast Food
Tucked behind an electronics store, a cell phone store, and a jewelry store (it's a long building) was Lhasa Fast Food. By the time we got here, there was a line down the block for last year's momo champion. By this point, Tricia and I were pretty tired of standing out in the cold, but we kept telling ourselves this would be the best momo ever.
It wasn't, unfortunately, but it was pretty good. The chives momo wasn't as good as the momo from stop #6, but the beef and chives was a winner. It had a robust flavor and was super juicy. Even better, the momo here were piping hot—just the thing we needed after waiting in line for 30 minutes.
Though we only made it to eight momo shops, over 20 participated this year. I'm sure next year's Momo Crawl will be just as fun, and I highly recommend checking it out. If you come out next year, bring plenty of cash as this is a semi-expensive venture.
Have you done any food crawls like this before? I'd love to hear about it if you have!
Signing off,
Claire