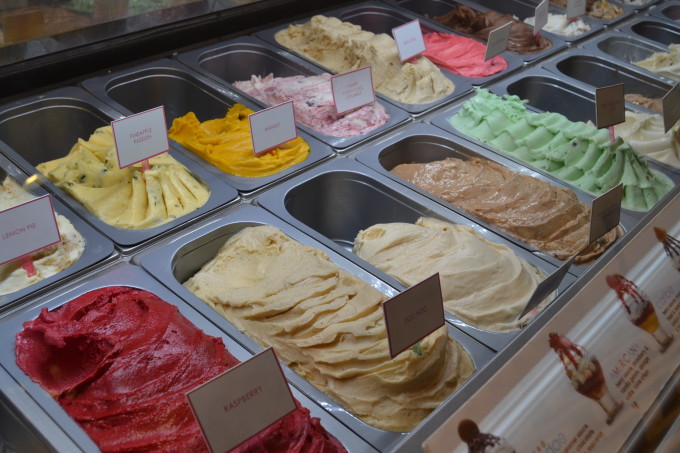 In case you couldn't tell by my New Orleans bucket list, the city has got some incredible food. New Orleans is best known for being the home of Cajun and Creole food (which are two distinct cooking styles, by the way), Po Boys, and a slew of other delicious (and often unhealthy) eats. Since I was only in the city for three days, I didn't let prices stop me and ate whenever and whatever I wanted. Now that I'm back home I'm slightly regretting eating so much, only because I've had to do extra Pilates workouts to make up for it (#worthit).
I've labeled this post as a food diary because a) it is, and b) I didn't eat enough places to do a full-on restaurant post on the city, but one day I'll have conquered enough restaurants in NOLA to tell you exactly where to eat. As it is, every meal I had was out-of-this-world fantastic, so you should definitely check some of these places out.
Breakfast
Stanley's
I'm usually not a huge breakfast eater, but how could I not try some good eats in The Big Easy? My first stop was at Stanley's, which is on Jackson Square. I was initially hesitant to eat here because it seemed a tad overpriced, and I was afraid it would be run-of-the-mill tourist fare. Thankfully, my fears were for nothing because WOW did Stanley's have some amazing eggs benedict.
I ordered the Breaux Bridge Benedict, which was a poached egg and hollandaise sauce on top of a heap of homemade boudin (spicy pork hash with onions and peppers), all served on toasted French bread. It was absolutely incredible, and the staff was super friendly as well. A bit overpriced, but mighty tasty.
The Ruby Slipper
First of all, I've got to say how much I love this restaurant's motto. It opened after Hurricane Katrina hit the city with the slogan "There's no place like home." I found that so touching, for some reason.
The Ruby Slipper is a total knockout, and I ordered another round of eggs benedict because they're known for their eggs bennie (as they call them). Is eggs benedict with a twist a New Orleans thing, or did I just happen to stumble upon the two restaurants in the city known for the dish?
Anywho, I got a plate of The Ruby Slipper's Chicken St. Charles eggs benedict, which is a buttermilk biscuit topped with fried chicken, a poached egg, and a healthy drizzle of pork tasso cream sauce. I could almost feel my arteries clogging as I ate it, and I couldn't finish it because it was so filling. It was served on a bed of spinach though, so really I had a salad for breakfast (something tells me no one will believe that…).
Lunch/Dinner
Johnny's Po Boys
I flew into New Orleans around lunchtime and didn't make it into the French quarter until after 1. I was starving and was on a mission for a big meal to fill me up. Little did I know that the Po Boys in New Orleans are literally the size of my head and stuffed so full that they're impossible to eat without making a huge mess. Johnny's Po Boys is a no-nonsense restaurant that cranks out sandwiches at the speed of light. I went for a fried shrimp Po Boy, and it was so big I got the shrimp sweats from eating it (you know, like the meat sweats, but with shrimp. It was a lot of food, okay?).
Coop's Place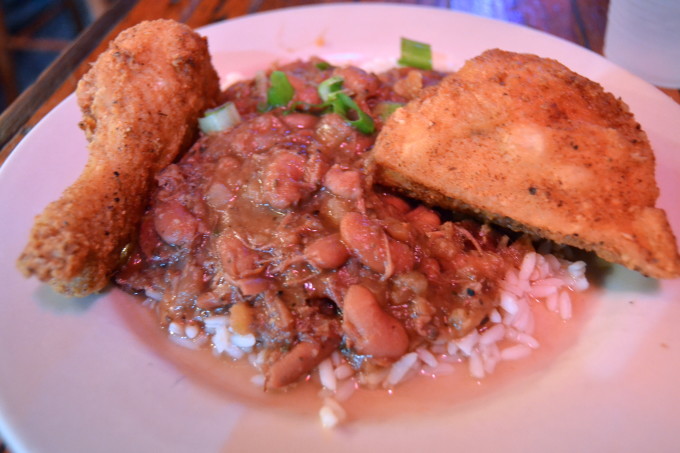 As soon as I walked into Coop's Place I immediately turned back around to check that I'd found the right spot. The place is a total dive, not gonna lie. It's a mildly sketchy looking bar that's dimly lit and has rickety tables. It was kind of weird to be in there solo, but I reminded that I was there on a mission: to try the best fried chicken in the world.
Coop's Place didn't disappoint. I ordered some red beans and rice and fried chicken, and it was *incredible*. To be honest, the red beans and rice weren't spectacular, but that fried chicken though. It had the most perfectly crunchy skin and was so flavorful (mildly spicy, and super juicy). Forget everything else on the menu and order a plate of Cajun fried chicken, you won't regret it.
French Market
The French Market is great if you can't decide want to eat and want to sample a little of everything. Because I was staying in an AirBNB a few blocks from the French Quarter, I knew I needed to find something for dinner that I could take with me. A giant Muffaletta sandwich was the perfect pick, as it's made for traveling and gets better with age. Layer upon layer of dried meats, cheeses, and olive salad made up my Muffaletta and transported me to sandwich heaven.
The Rum House
I got a bit peckish while exploring the Garden District (no surprise), so I popped into a restaurant on Magazine Street called The Rum House. As with Stanley's, I was a bit afraid that The Rum House would be another lame-o Mexican food joint, but again I lucked out. I ordered two tacos (pork and steak) that were topped with all sorts of tastiness and had a side of sweet potato chips and mac and cheese. A bit eclectic, I know, but so good! The mac and cheese really surprised me, because I could tell it was homemade. It also had a bit of spice in it and tasted amazing drizzled with hot sauce.
Camellia Grill
Camellia Grill is the place to go if you're tired of spiced Cajun dishes and just want good diner food. The inside of the grill is super cute and has a long bar twisting its way around the room. On my first visit, I got a piece of pecan pie with a huge scoop of ice cream on top. They warm up the pie on the griddle with a little bit of butter so it gets nice and crunchy and oh-so-buttery. I went back later and grabbed a burger and fries before watching a parade, and it definitely hit the spot.
Dessert
Café du Monde
You can't visit New Orleans without trying some of Café du Monde's famous beignets. They're essentially deep-fried dough covered in powdered sugar, and I pinky promise they'll make your tummy very happy. Since Café du Monde is a tourist hot spot, the beignets here are a bit overpriced, but they really are amazing.
Sucre
Sucre is hands-down one of my favorite dessert places ever. They're known for their macarons and handmade gelato, but I went for something more my speed: a S'mores skillet. The S'mores Skillet was served in a mini cast iron skillet (so cute!) and had a graham cracker crust and a graham cream and chocolate cake pudding center, all topped with a gooey homemade marshmallow and served with a scoop of vanilla gelato. Need I say more?
Laura's Candies
Laura's Candies is the definition of overpriced pralines, but while in NOLA I had to get my hands on one of those bad boys. And by bad, I mean sinfully delicious. I couldn't get a good picture of my praline because they honestly don't look super great, but they taste so good. They're vanilla-y, sugary, bites of yumminess. But I stand by what I said in my bucket list: just try the free samples.
Hmmm, did I eat enough in New Orleans? I think so. Probably (definitely) too much, but hey, you gotta live it up while you can, right? Which restaurant are you most excited to try when you visit New Orleans?
Leave me a comment below and feel free to share my New Orleans food diary with your friends!
Signing off,
Claire