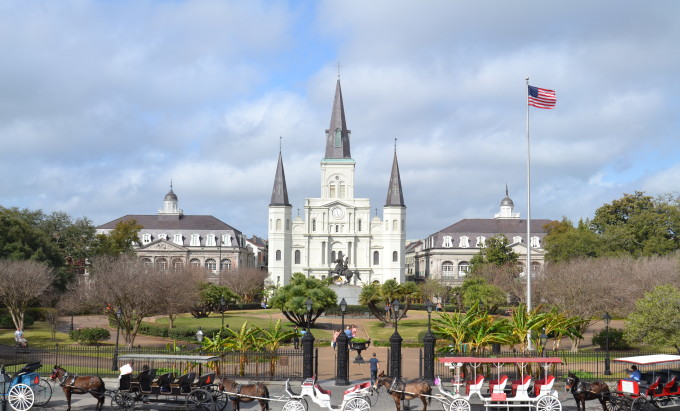 As you probably noticed, I've been AWOL on my blog and social media accounts for a week. I do apologize for that, but I was rather busy stuffing my face with all the delicious food in New Orleans and didn't have enough hands to keep posting pictures (don't worry, an epic food diary is coming soon).
Alright, now that the "real business" has been accounted for, let's get to the good stuff, shall we? While perusing one of my favorite travel blogs, I found a great post for a Venice Bucket List, which I thought was just such a cute idea. I figured I'd share my New Orleans bucket list with you so that you'd know exactly where to go/what to eat/what to do while in The Big Easy.
Stroll down Royal Street
Don't hate me, but I absolutely detested Bourbon Street. The French Quarter in general has a certain "tourist" air about it, but it's the type of touristy that I love, you know? But Bourbon Street was a whole other story. There are tons of bars, tacky tourist shops, and drunk people (it just isn't my scene), which is why I'd recommend hopping one block over and visiting Royal Street instead.
Next to Bourbon Street, Royal Street is the busiest in the French Quarter, but instead of being littered with bars, it's filled with tons of cutesy boutiques and antique shops sure to catch your eye.
Watch Beignets frying behind Café du Monde
Besides ordering a plate of beignets (yum), you can watch them being made behind Café du Monde. If you peek behind the building by the carry-out window, you'll find a window into the kitchen. There's a machine that flattens the dough and cuts it into squares, and then the workers will literally fling the raw dough into the hot oil (like, splash zone fling them. I have no clue how/why they do this).
Take a walking tour of the French Quarter
The French Quarter is gorgeous. The buildings are filled with history, but unless you visit a museum or take a tour, you'll never learn about the district's unique stories. I took a culinary tour of the French Quarter, which combined my two favorite things: food and history. To answer your question, yes, I'll be posting about my foodie tour experience very soon.
Rest Your Feet in Jackson Square

The French Quarter is surprisingly large, and between walking all day and sampling tons of yummy local food, you'll need to rest for a bit at some point in the day. Jackson Square is the iconic New Orleans image you've probably seen in every NOLA post known to man. With the St. Louis Cathedral looming in the background and plenty of street musicians just outside the square, this is the perfect spot to kick back for a bit.
Oogle the Million Dollar Homes in the Garden District
The Garden District is about 30 minutes away from the French Quarter by trolley, and is well worth the $1.25 trolley ride. I'm not exaggerating when I say "oogle the million dollar homes." The houses in the Garden District are huge, old, and largely original (i.e. they cost a LOT).
As with the French Quarter, I would recommend taking a walking tour of the Garden District for a few reasons. First, you have to remember that people still live here, so it's less awkward to take photos of people's actual houses when you're with a designated group. Second, there aren't signs or anything in the neighborhood telling you the history of each house, so unless you take a tour you won't know what makes each place unique.
[Side note: The Garden District has houses that were once owned by Anne Rice, Nicholas Cage, etc. and the Manning family still lives there. I definitely felt like a creeper walking around…]
Visit the WWII Museum
The WWII Museum in New Orleans is arguably one of the best museums I've ever been to. In addition to its display of old tanks and airplanes, it has two exhibits tracing the American involvement in both the European and Pacific theatres. What I loved about these particular exhibits is that the rooms were designed to simulate the environment Allied soldiers would have fought in, and the information wasn't presented only via text. There was a good mix of audio and surround-sound as well as interspersed movie clips.
If you're at the WWII Museum, be sure and grab a ticket for the film Beyond All Boundaries. It's a short film produced and narrated by Tom Hanks that's supposed to be fabulous. Unfortunately, I didn't have enough time to see it, as I visited the museum a few hours before it closed.
Find an Epic Street Performer (and leave a tip!)
This particular item shouldn't be too hard to do, as New Orleans is filled with street performers. Whether you're looking for a palm reading in front of St. Louis Cathedral (which would be rather ironic, all things considered) or just want to listen to some good music, you're sure to find a starving artist somewhere who could use a smile and a tip.
Experience Mardi Gras…Even if it's just a Parade
This one is a bit tricky to fulfill if you're not in town before Fat Tuesday, but that just means you'll have to return for a second visit! I visited New Orleans the week before Mardi Gras, and the city was in full swing for its preparations. I waited along Canal Street my last night in NOLA for one of the dozens of Mardi Gras parades, and it didn't disappoint. So get into the Mardi Gras spirit however you can when you visit!
Eat an Entire Po Boy Without Puking
Haha, good luck. Po Boys are enough to feed two people, and then some. I had a killer Po Boy sandwich my first day in the city, which I'll be talking more about in an upcoming post.
Take a Cooking Class
Ranging in price from $28-$32 depending on the session you're in, the classes at the New Orleans School of Cooking are the perfect way to immerse yourself in the local foodie culture. In the demonstration classes, the meal is prepared before you while you're sipping on sweet tea and lemonade. At the end of the class, you get to eat what your instructor just prepared and you'll have recipe cards to take back home with you so you can bring some of that amazing Cajun and Creole cooking back home.
Treat Yourself to a Hella Expensive Meal
New Orleans is full of restaurants serving up super affordable meals, but while you're in town you might as well splash out for a truly incredible meal. The top dogs include Antoine's, the oldest family-owned restaurant in the city, K-Paul's Louisiana Kitchen, and NOLA. Antoine's has an awesome lunch deal as well (3 courses for around $20), and you don't have to dress up.
See the French Quarter in the Early Hours
No, I don't mean get super smashed and staying up until 3am (although you can certainly do that!). Wake up a bit earlier one morning and try and get to the French Quarter before 8am. You'll see some bar bunnies wandering home, street performers musicians warming up, and can just soak in the early morning sunshine before the tourists come out for the day. 
Listen to Live Music on Frenchmen Street
Frenchmen Street is basically Bourbon Street, but less 'drunk and disorderly' and more classy adult-ish. Frenchmen Street is the place to be for great live music away from the really touristy parts of the city, and I highly recommend spending an evening listening to some awesome performers.
Ride the Trolley up Canal Street
Contrary to popular belief, the trolleys will not implode on the ride up Canal Street, although they sure sound like they might. As I mentioned earlier, a one-way trolley ride is only $1.25 and a day pass is $3. Even if you have nowhere to go, take a quick ride for kicks and giggles.
Do an Unofficial Praline Tasting Tour
The pralines in New Orleans are to-die-for delicious, but holy poops are they expensive. I bought one for $2, which is insane considering they're basically sugar, butter, and pecans. For all you penny pinchers out there, don't be afraid to nab every single praline sample you see. Pretty much every candy store will have praline samples in multiple flavors. So go ahead and try a few dozen, they are free after all.
(Side note: In New Orleans it's a prah-leen, not a pray-lean.)
Walk Through NOLA's Cities of the Dead
You simply can't visit New Orleans without visiting at least one of its famous cemeteries. I visited the Lafayette Cemetery No. 1 in the Garden District and loved it. The city's cemeteries really are like tiny cities; they're in a grid pattern with street names and all the tombs are aboveground. Oooh, spooky.
If you ever find yourself in The Big Easy, I hope my New Orleans bucket list helps you enjoy the city to its fullest. Have you visited New Orleans before? If so, what else do you think should be on my bucket list? If not, which bucket list item are you most excited to do? Leave me a comment below!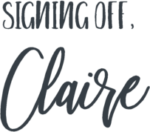 More posts you'll love:
Pin it for later!