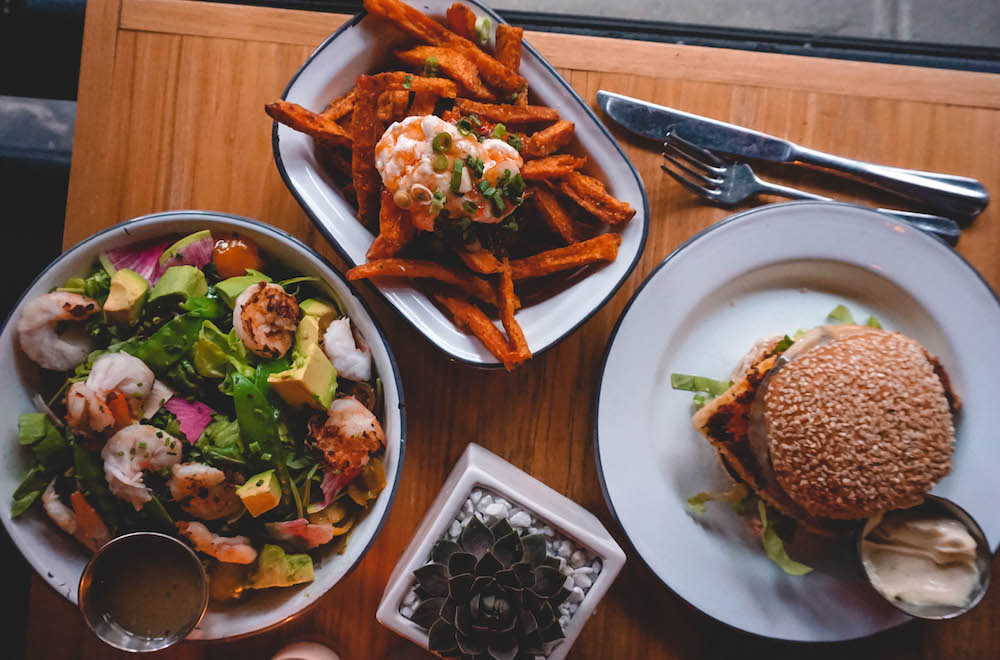 It's rare that I eat at a restaurant in New York City that isn't good. That's partly because NYC is blessed with tons of great food options, but also partly because I have a knack for picking top-notch restaurants (shameless brag, don't mind me). Earlier this week, my friend Caroline mentioned an Australian café in Murray Hill called Ruby's. To be perfectly honest, I'm not sure what makes a dish authentically Australian, but I'm down to try anything once so we made plans to walk to Ruby's Café after work.
Oh my word, Ruby's was so good. First off, it's one of those places that makes you squeal a little bit because it's so cute inside. Not girly cute, but tropical cute—painted palm trees on the walls, neon signs, and minimalist tables. You definitely get an Australian vibe here, which makes you feel instantly cooler.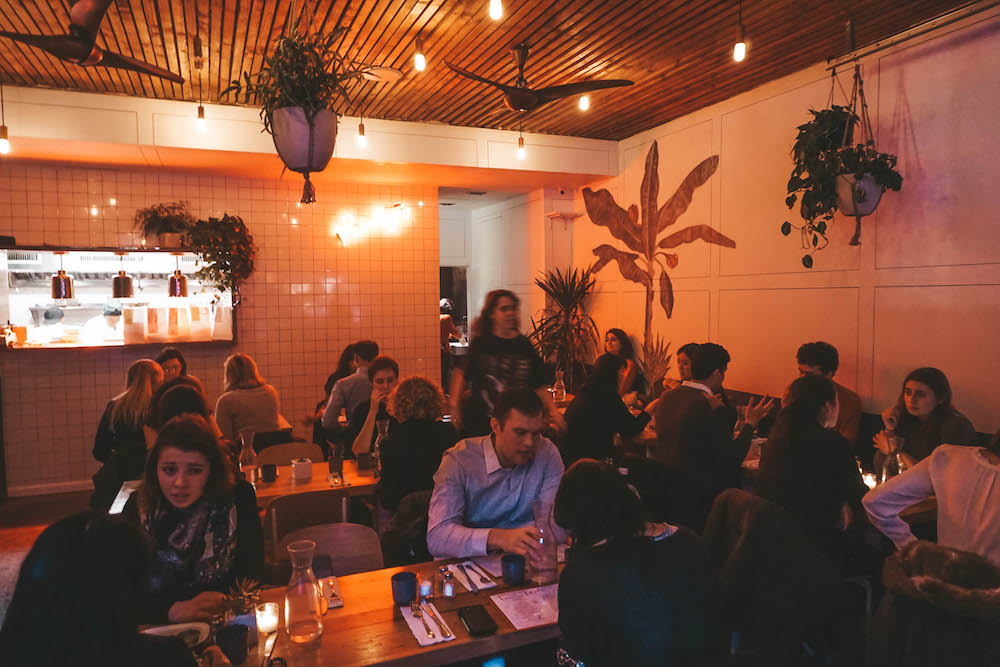 Caroline and I opted out of ordering drinks (neither of us really drink alcohol, though the cocktail list seemed to have good options), and we ordered a few things to share. First up was the Bondi sandwich—grilled citrus chicken, lettuce, mayo, chili sauce, and cheese. This was a knockout sandwich. I love anything that has a kick of chili, and the sauce on the sandwich was just the right level of spicy. Just be warned that it doesn't come with a side, so you'll definitely want to get something extra to nosh on.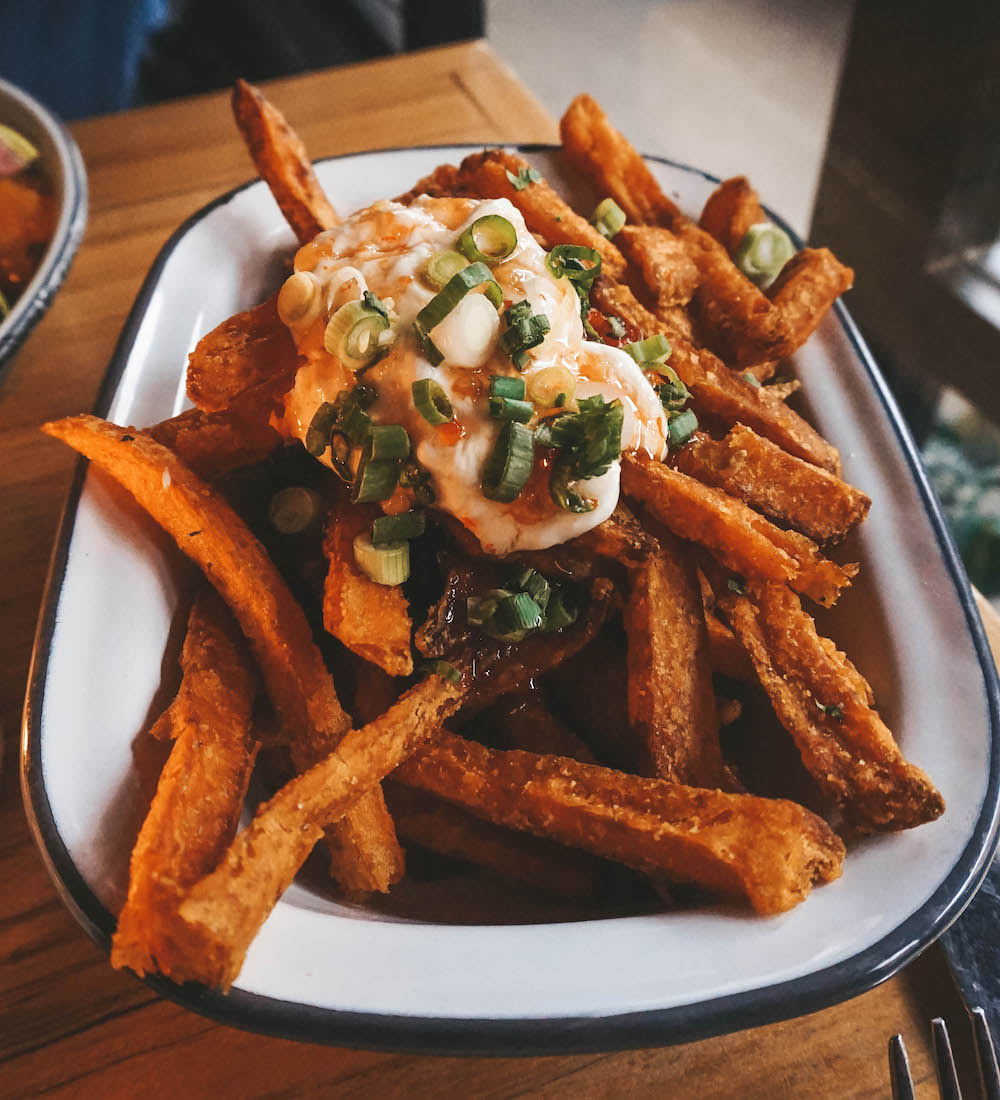 We ordered a side of sweet potato fries to split as well, and they didn't disappoint. Smothered in some sort of fancy mayo and sweet chili sauce, the fries were just the right level of crispy. We wound up having leftovers, which I sent home with Caroline to feed her boyfriend (the human garbage can, as she fondly calls him).
Weirdly, the star of the meal was the shrimp avocado salad. I say weirdly, because I'm not really a huge fan of salads. Across the board, salads are usually "pretty good" but rarely do I leave a restaurant already thinking ahead to the next time I'll be able to swing by to order the same salad. That just doesn't happen with me.
This salad though, was an exception. Ruby's somehow managed to source ripe avocado and cherry tomatoes for this salad (a miracle in a winter that seems never ending), and the vinaigrette on top was so flavorful. On paper, "mustard cider vinaigrette" seems pretty blah, but it was actually amazing.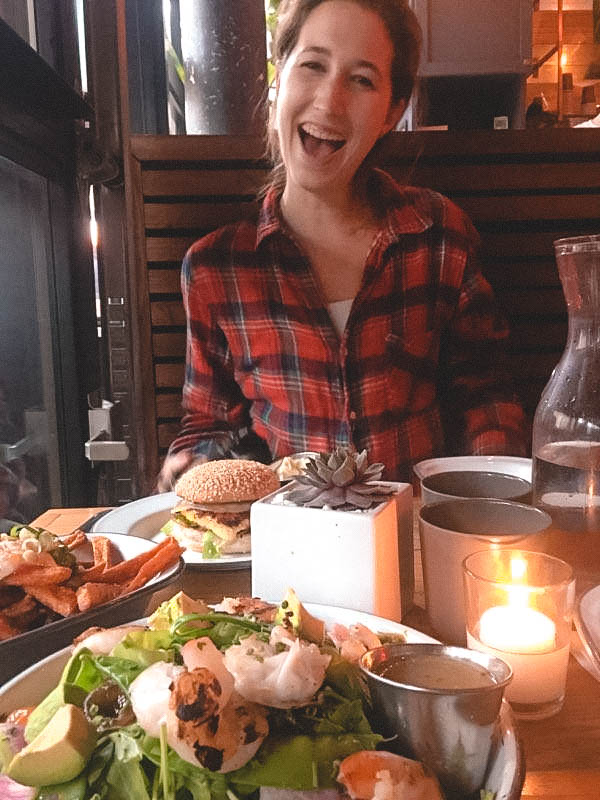 If you're in the Murray Hill area, definitely check out Ruby's Café. I really want to go back and experience Australian "Brekkie," and I think it'll be easy to convince a few friends to join me.
Tell me: What's your favorite type of food? I usually gravitate towards Italian restaurants, but lately I've been hankering Thai a lot.
Signing off,
Claire
Getting hungry?