Back in November, I went to the opening of Wagamama's first NYC location. After eating myself silly with a coworker and my friend, Claire (great name, huh?), we were given goody bags that included a token that could be redeemed for $50 at lunch.
Months later, Claire and I cashed in our tokens, resulting in the most epic lunch I've had in a long time.
Wagamama is an Asian fusion restaurant that's hugely popular in the UK. Alas, it's just now being introduced to the States and has locations only in Boston and NYC. The roomie had been to the Boston location when she was in college, so the other Claire and I dragged her (willingly) along.
Have you ever ordered with complete and total abandon before? Before today, I hadn't, and now that I've done it once I'm hooked. Too bad my wallet can't afford this under normal circumstances!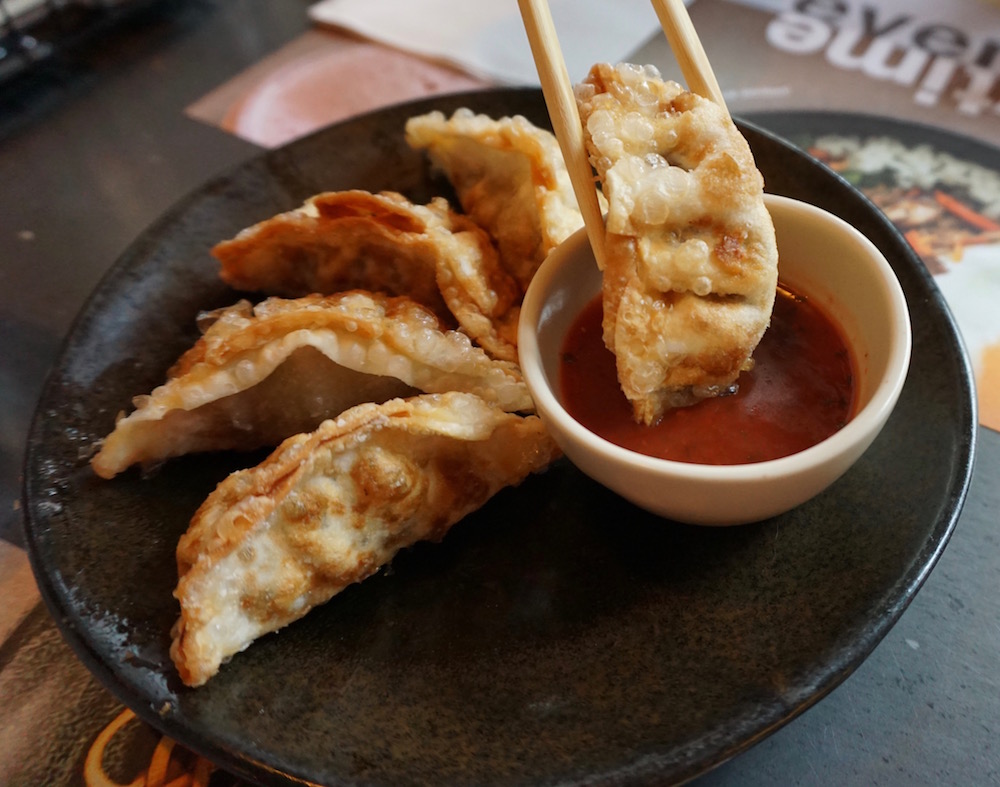 To start off the feast, we ordered a few types of gyoza. The fried duck gyoza was superb—crispy exterior, steaming interior, and the most incredible chili sauce to accompany it.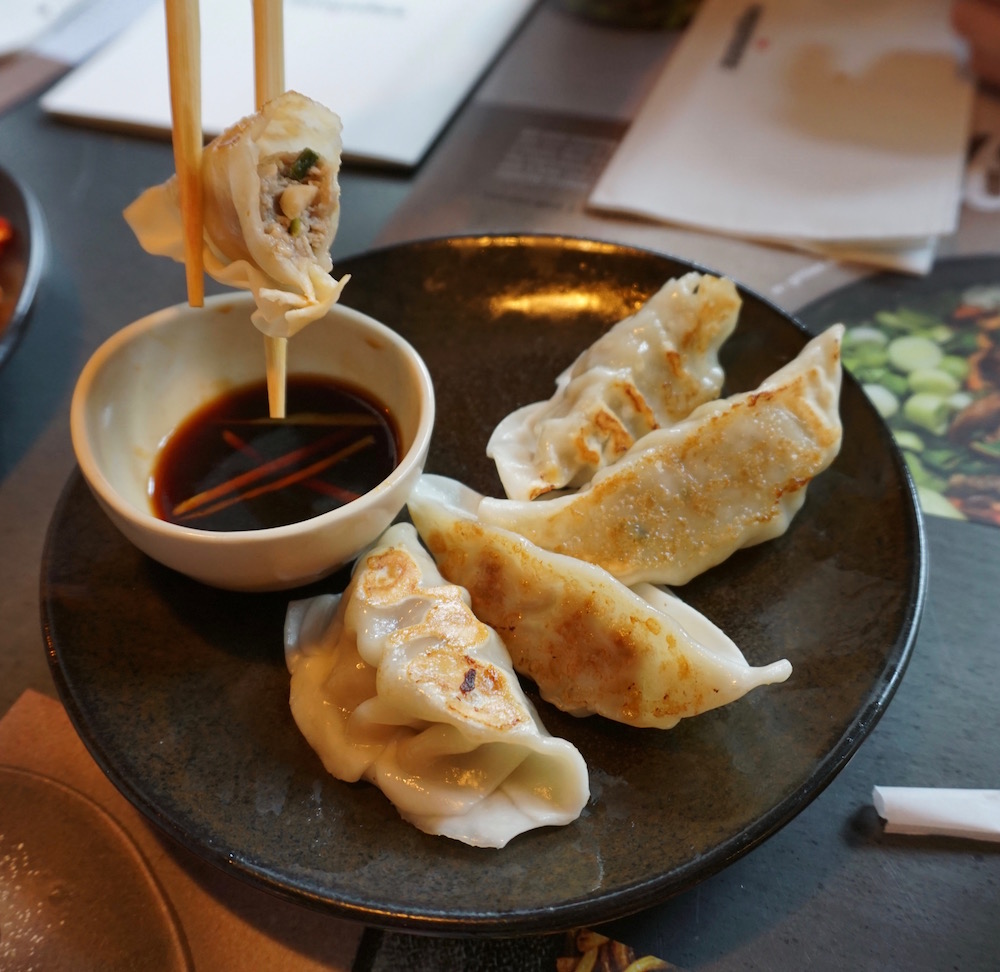 The steamed pork gyoza was also delicious, but be careful of the pork juice that will dribble down your chin. It's not pretty to eat if you don't handle chopsticks well, but it's worth it in my books.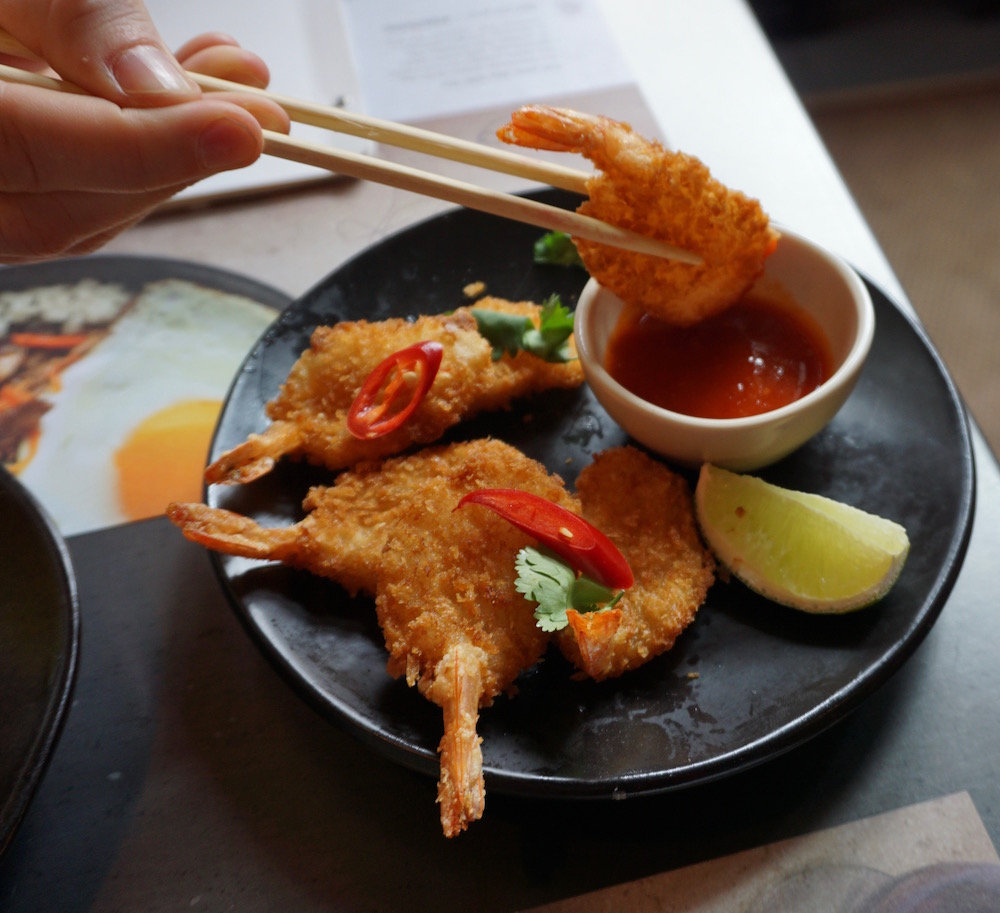 The ebi katsu are essentially flattened shrimp that have been breaded and fried. They come with a sweet chili dipping sauce that's fairly average—not bad, but not amazing, you know? I personally liked dipping the shrimp in the duck gyoza's sauce.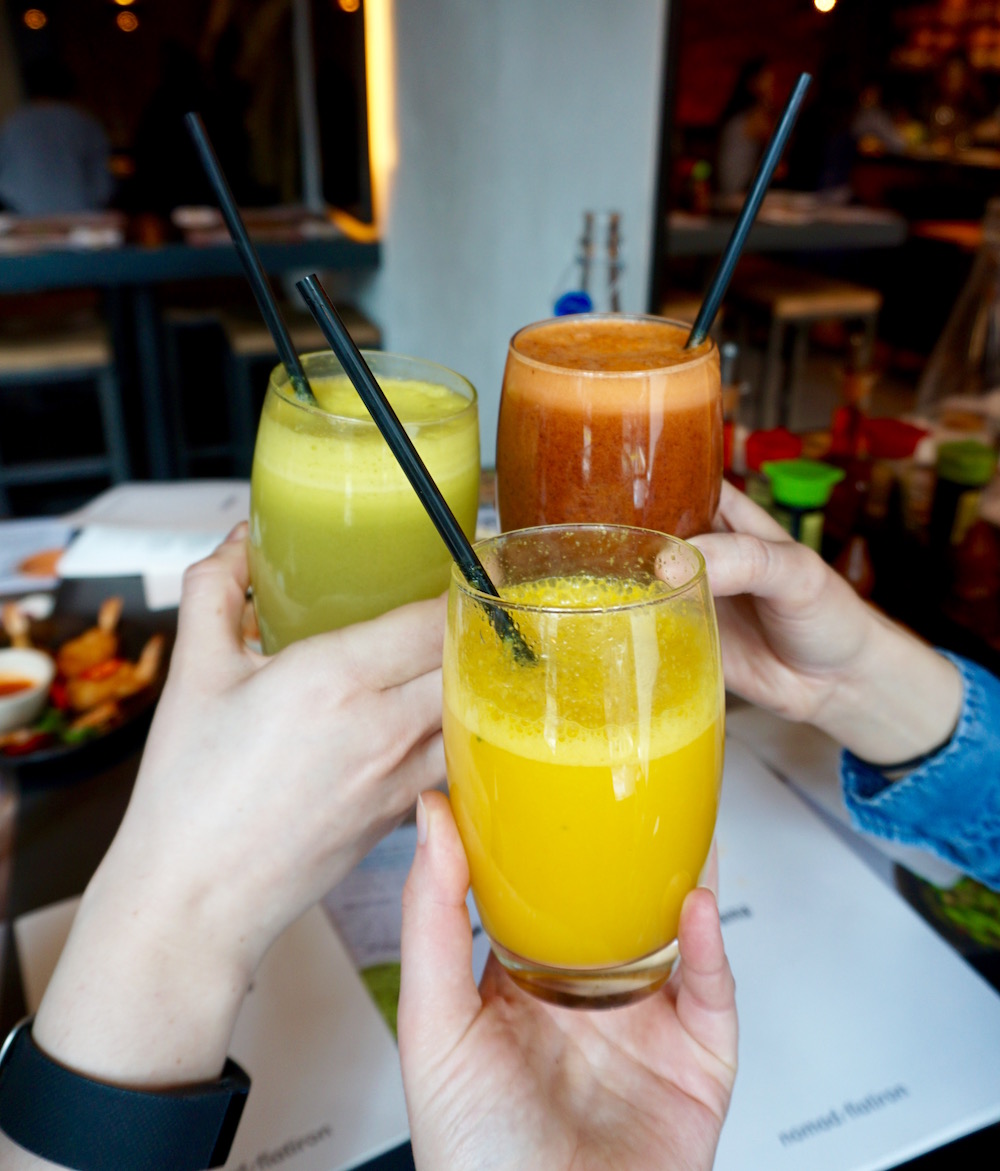 By this time, we were pretty thirsty, so we got a round of fresh pressed juices to knock everything back. I had the tropical juice—mango, apple, and orange juice. Super fresh, and just the thing to balance out the salty appetizers.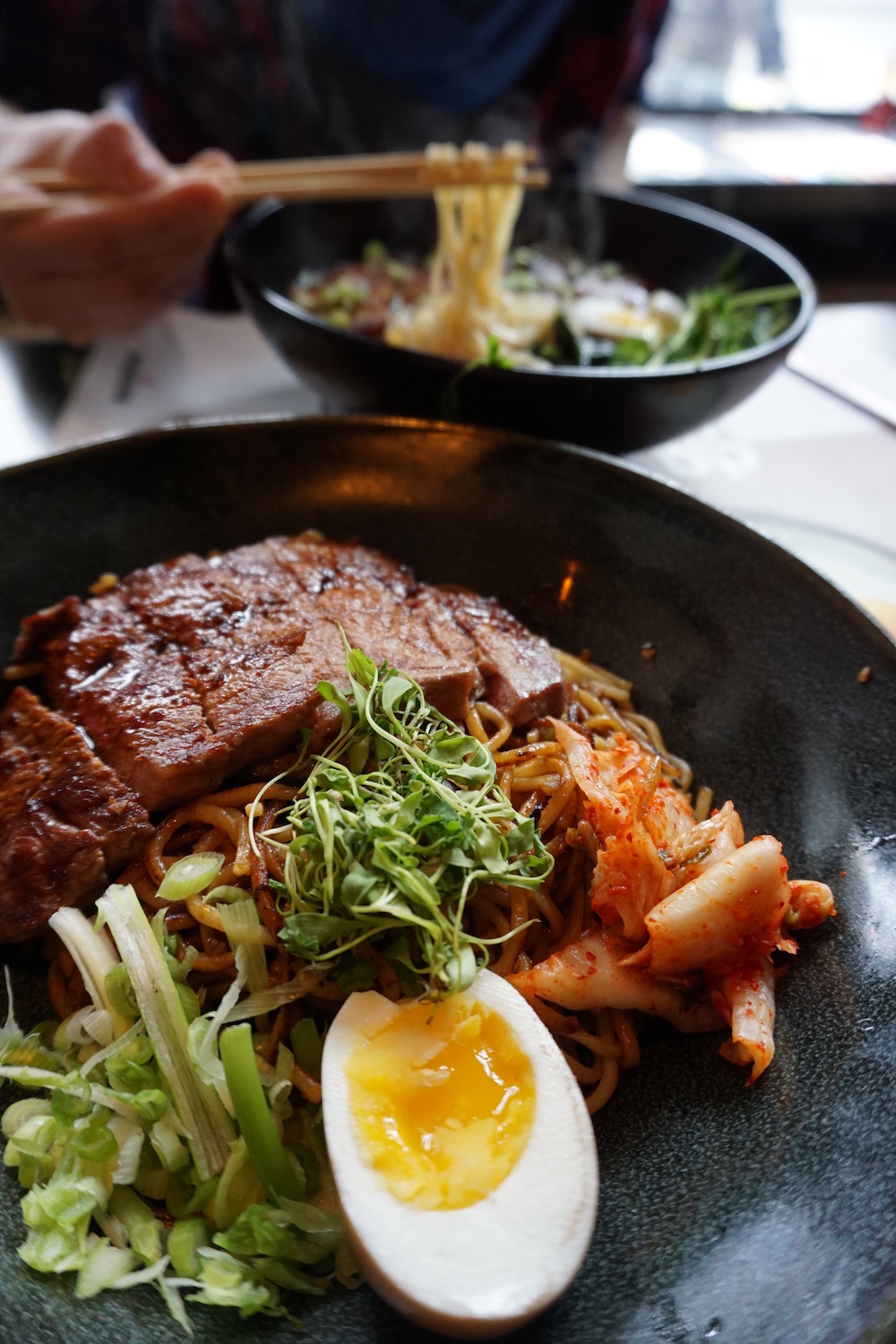 For the main course, we tried a bit of everything. I ordered the steak bulgogi, which had a piece of sirloin steak on top of a bed of soba noodles with eggplant, scallions, and a tea-stained egg (whatever that means). It was good, but not something I'd reorder. The sauce tasted a bit pre-packaged, and the dish as a whole was too heavy for me. Good for anyone who's super hungry though!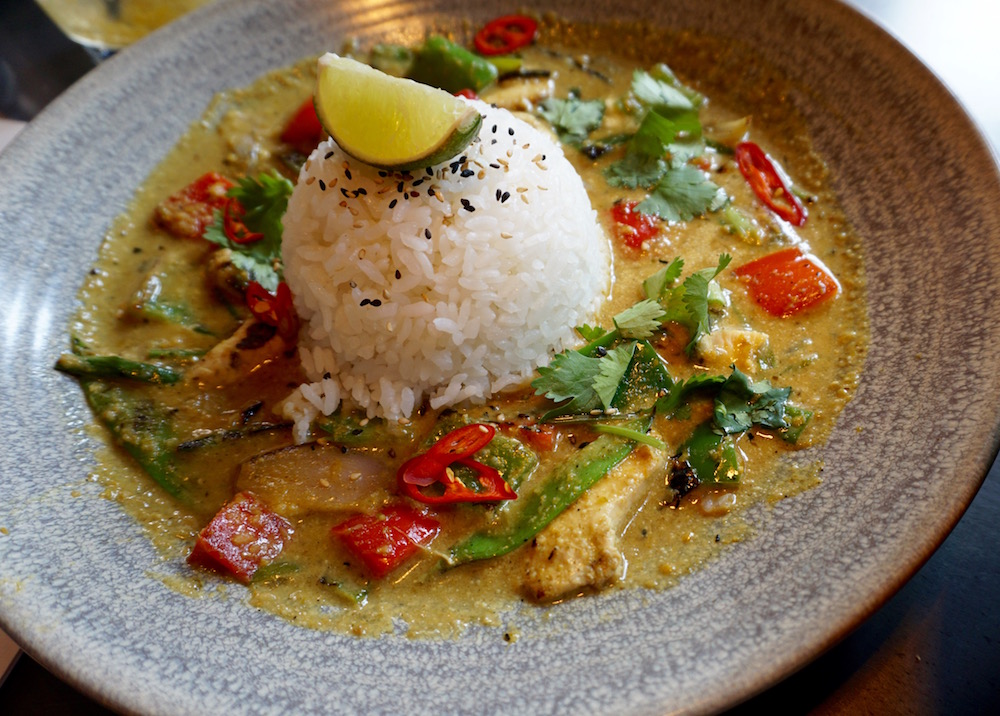 The roomie got the chicken raisukaree, which was essentially a green curry. It was very light in flavor and didn't weigh you down. We all agreed that it was good, but tasted like something we could easily make at home.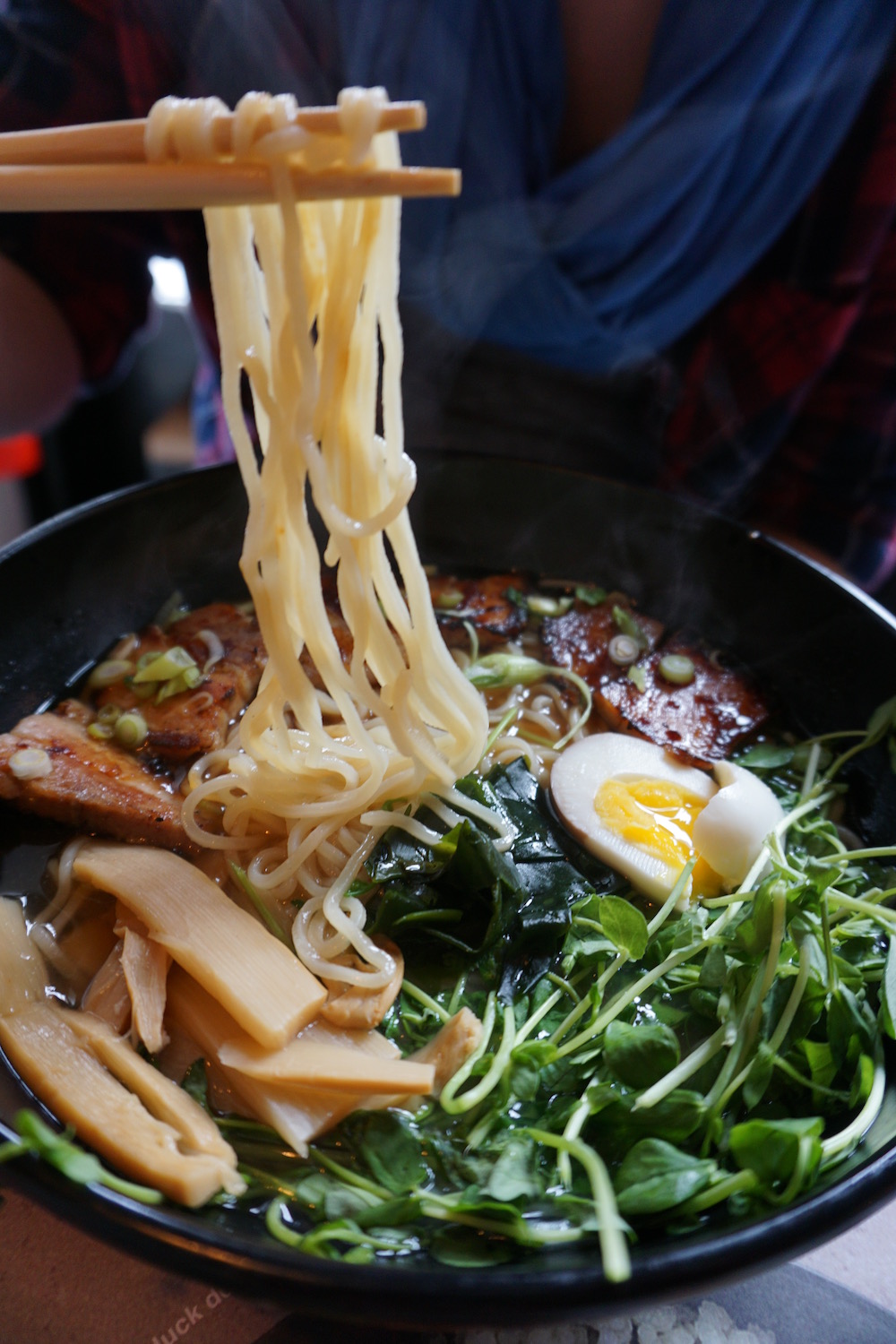 The other Claire got the grilled duck ramen. I think Claire won the entrée round, as her ramen was flavorful, but didn't sit in your stomach too heavily. Plus, slurping up ramen noodles is arguably the most fun you can have while dining out.
You didn't think we'd skip dessert, did you? Claire and I knew we had to order the mango mousse cake again (I think we ate two and a half slices between us at the opening months prior). It's incredibly light but tastes like pure mango. It has a mango jelly on top and is held together by a thin, but fluffy layer of vanilla cake. Oh, and it comes with a scoop of lemon sorbet on the side—so refreshing!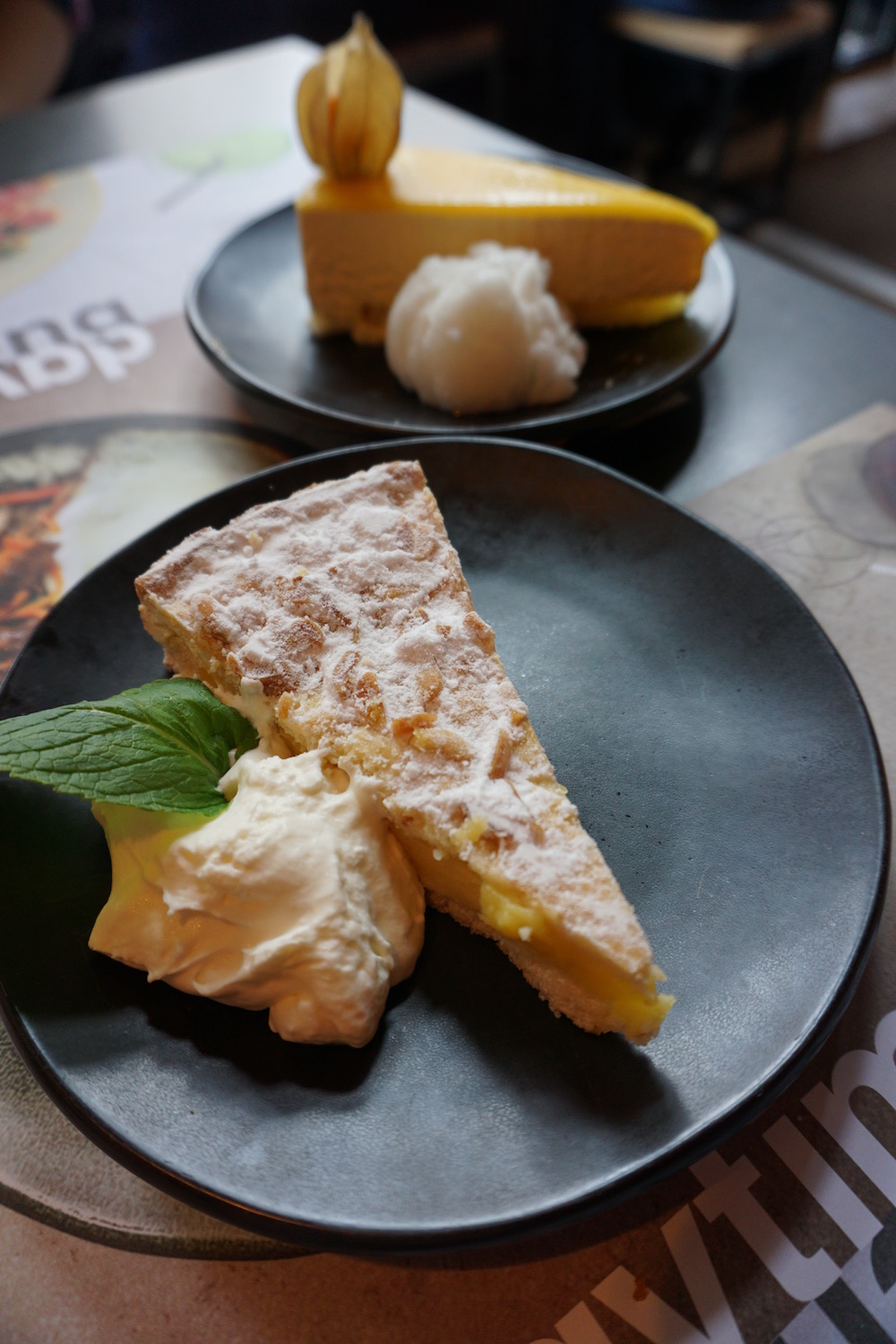 We also ordered a slice of the lemon and almond tart, which also hit the spot. In contrast to the mango mousse's tangy, refreshing flavor, the tart was almost too sweet (but in a good way). The crust was solid and just barely sweet, leaving room for the ultra-rich lemon filling to shine.
All in all, I think we cleaned up pretty nicely. While I'm sad I won't have another $100 dining experience anytime soon, our lunch at Wagamama won't soon be forgotten.
My advice if you eat here: ask what your waiter recommends for an entrée, as I've found they're very hit and miss (the quality isn't the same for all of them). The appetizers are all delicious—and I mean all of them. Between this lunch and the press dinner, I've actually sampled all of them!
For the desserts, the mousse cake and tart are definite hits. The chocolate layer cake is good if you enjoy chocolates with a kick of spice in them, and the vanilla cheesecake is pretty average, so don't waste your money on it. The banana katsu is supposedly one of their top sellers, but I'm not sure why. It's like bananas foster, but isn't that fantastic, if I'm being honest.
Now that you know more than you probably wanted to about Wagamama, I hope you get to visit it one day! As long as you go knowing which dishes are the standouts, you'll love the experience.
Signing off,
Claire
More posts you'll love: