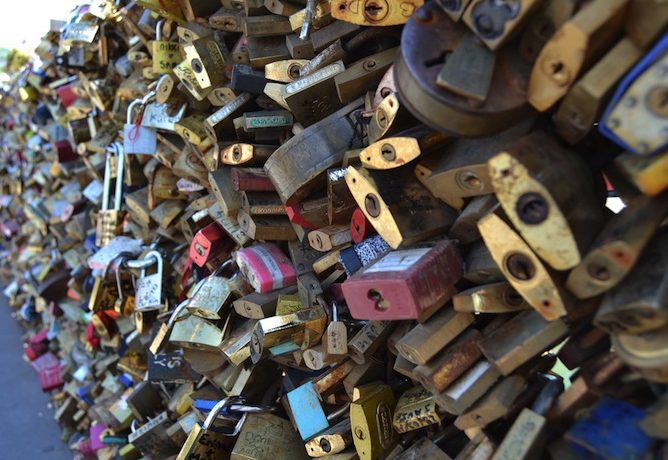 In a perfect world, all bloggers would have their fancy-pants DSLR camera on them at all times to capture life's precious day-to-day moments. Unfortunately, life isn't perfect, and sometimes I just can't be bothered to lug around a jumbo camera all day. When I want to snap a quick photo with my phone, there are a few tried and true tricks I always use to capture the best shot.
Clean the lens
It seems so obvious, yet so many people forget to take an extra moment to clean off their camera lens. Remember: clarity is key. If your followers can't tell what they're looking at, they won't like the pictre.
Move Your Feet
Camera phones make it so easy to zoom in on specific objects. Really though, the zoom function is your enemy. Every inch you zoom closer using just your phone, you pixelate your image, which can make for a crappy picture in the long run.
Here's how you fix this: move your feet. Revolutionary, I know. By simply walking closer to what you want to want to photograph, you'll get a better perspective of the object and won't compromise on clarity.
Never use flash

Oooh, appealing… (not)
Nothing looks good with the flash on. Your tasty meal suddenly looks like dog barf, your BFF has beady red eyes, and that gorgeous sunset looks like a massive blob on the horizon. Just don't flash, kids. If you absolutely have to use artificial light, use a pocket flashlight with a handkerchief covering it. You'll get some diffused light this way and can avoid harsh white lighting.
Don't center the object
The rule of thirds is a real thing, and it's one photography trick that's actually worth its weight in gold. Avoid taking photos with your desired image smack in the middle. Shake things up a bit: tilt your phone, shoot things off-center, take a photo upside-down. Keep trying new things to spice up your photos, and you'll eventually get the hang of it. If it makes you feel any better, I'm still learning myself!
Add human elements to the frame
Sometimes a good ol' skyline shot is great. Other times, that same skyline seems dirt boring. How do you spice things up? Add a person! People (and animals) add depth to an image and help bring the story you're trying to tell to life. If no one is around to help you out, invest in a tripod or simply set your camera on a nearby ledge and snap a shot of yourself. Alternately, you can include just parts of bodies in your photos (like a nicely posed hand, not a severed leg, obvs).
Consider the relevance of jewelry or tattoos
When you add people to your photos, see if there's something special about them you want featured. Maybe someone has a cool tattoo that will help you share your story, or maybe they're wearing a fun sweater you want to highlight. If anything of interest stands out to you, you're followers will probably think it's cool too.
Pay attention to visual trash
Things to avoid in your photos include your shadow, random garbage cans in the foreground, feet (especially when taking photos of food), etc. If possible, physically move whatever is in your frame so you can take your ideal shot. If you can't, you'll have to edit things out later, which brings me to my next point…
Don't be afraid to crop
At the end of the day, you'll never get every shot just right, and that's okay. When it comes time to post your photos online, crop out whatever crap is on the edges of your image. No one but you will ever know!
Use men's hands for small objects
I don't know what it is about large man hands holding tiny things, but that's always a good way to capture things. If you're on the beach and you find a cool shell, find a guy to hold it for you. I'm not being sexist here; there actually is something to having a man hold stuff for your photos (although man hands holding kittens is easily the best).
Utilize editing apps
Finally, know that editing apps are your friends. I use Snapseed most often, as it's user-friendly and doesn't take a lot of time to use. VSCO is another popular app, but it's a bit too advanced for me. Google "editing apps" and you'll get tons of information for which are the best.
Hopefully you all feel like phone photography pros now! If you have any other helpful hints, I'd love to hear them! I'm always looking for ways to amp up my photography game.
Tell me: were there any tips I shared that were new to you?
Signing off,
Claire
PS. Speaking of phones, I'd like to shamelessly give a shoutout to my Instagram (tallgirlbigworld) and Snapchat (Claire284) accounts. Follow me for all my fun adventures!