Not sure what to do in Copenhagen? Here are 10 things to do in Copenhagen the first time you visit. Give yourself a few days to see it all!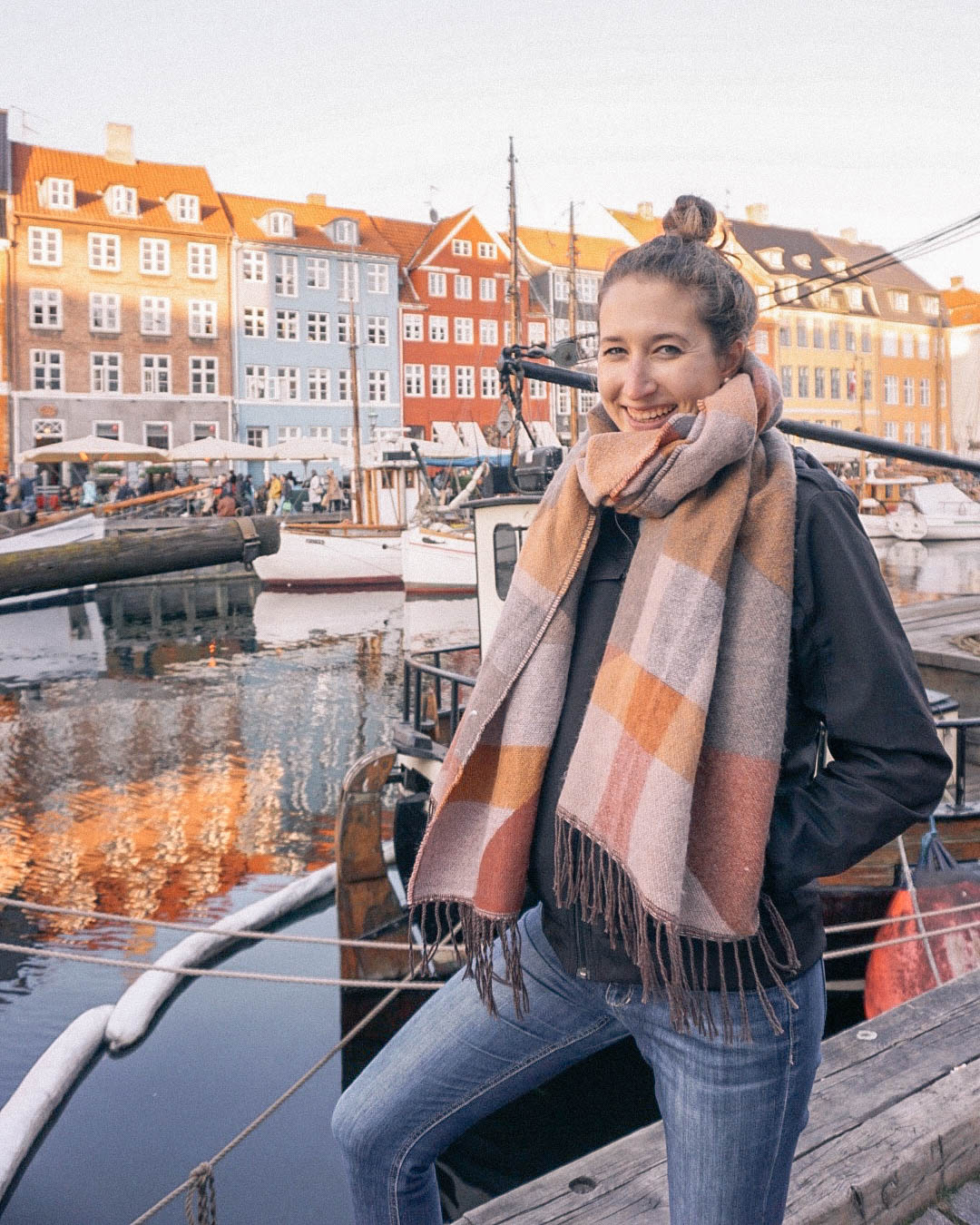 My trip to Copenhagen was thrown together fairly last minute. I booked my flight after a long day at the home office. I was frustrated with my living situation in Berlin and was itching to get out of the city for a bit. Looking at my freelance work schedule, I was a bit panicky. When could I possibly take off work to go on the vacation I so desperately needed? In the end, I threw my hands in the air and just cleared my calendar for an entire week because I needed a break that badly.
Initially, I hesitated to book an entire week in Copenhagen. While studying abroad in college, many of my friends took a weekend trip to Copenhagen and told me that's all you really needed to see the sights. But because I was desperate for a real vacation (i.e. one where I could sleep in and take things slow), I set aside a whole week in this beautiful city to properly explore it and take in the sights.
I have to say, I'm SO happy I had a week in Copenhagen. Don't listen to the people who say Copenhagen is a weekend destination — it's not! There are so many things to do in Copenhagen, and I can't imagine enjoying my time there if I condensed everything down into two or three days.
But no matter how much time you have to visit this gorgeous city, here's what to do in Copenhagen the first time you visit. You may not be able to do everything on this list, but these are the 10 things I think are absolutely worth visiting. You'll need a few hours for most of the activities on this list, so plan accordingly!
Table of Contents
Click "show" to see the full table of contents for this post. You can jump around the post as desired by clicking on the individual sections listed below.     
Take a Free Walking Tour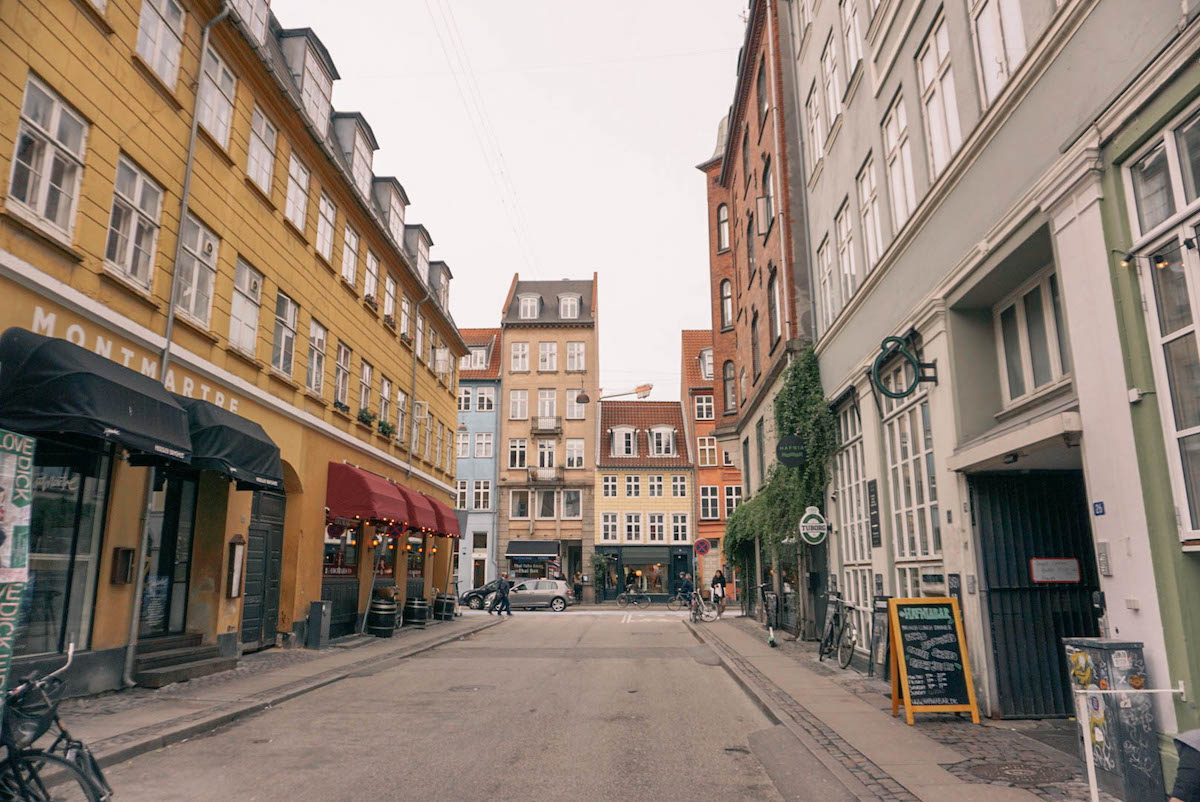 By now, you all know I love going on walking tours. They're a great way to orient yourself in a new city and get an overview of the main attractions while learning a bit about their history.
I typically use Free Tours by Foot but was recently introduced to the Sandemann tours in Europe. I took my first Sandemann's tour in Hamburg, Germany and was eager to go on their Copenhagen tour when I say they offered a free tour there as well.
The walking tour starts at City Hall and winds its way over to Amalienborg Palace, where the Danish royal family resides. During the 3-hour walking tour, we learned about Copenhagen's history as a port city, the multiple fires that ravaged the town, and how the various invasions and wars Denmark was involved in shaped Copenhagen into the city it is today. All in all, pretty fascinating stuff.
Tour Rosenborg Castle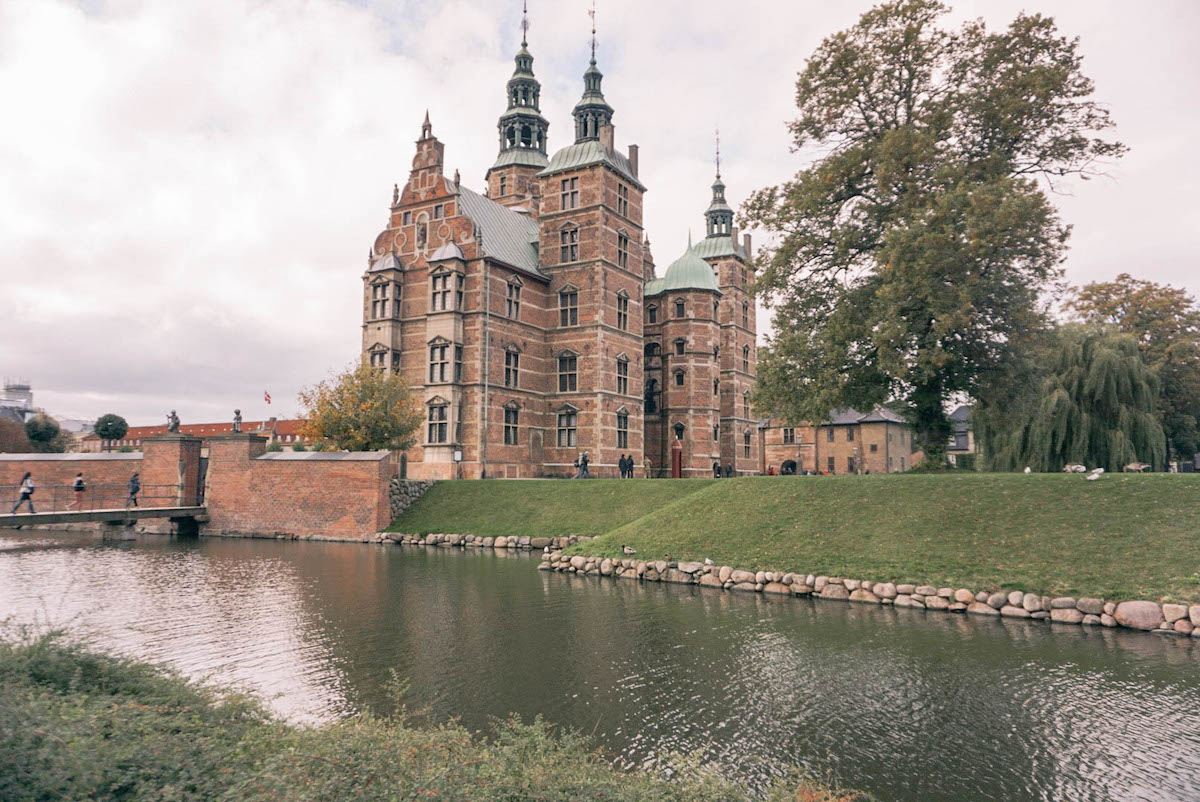 Built in the 17th century by King Christina IV, Rosenborg Castle is a must-visit attraction in Copenhagen. Slightly run down and poorly lit inside, walking through Rosenborg Castle truly feels like you're stepping back in time.
But don't let the lived-in interior turn you off, this castle is still stunning by anyone's standards! Each of the rooms are furnished as they would've been throughout its history, and special display cases showcase mementos, precious jewelry, and other personal artifacts saved by the royal family over the years (including a blood-stained shirt one king wore during battle).
On the top floor is the immense Great Hall, which has thrones on either end guarded by massive silver lions. Off the Great Hall are two smaller, jam-packed rooms filled with fine porcelain and works of glass. The presentation of these private collections was so over the top — royals, amiright?
In the cellar, you'll find some of the crown jewels, including three hefty crowns, various brooches and necklaces, and many more shiny trinkets I wish I could've stuffed in my suitcase.
One thing to note about visiting Roseborg Castle is that it gets incredibly busy. I visited in early October during the off-season, and by 11am the castle was filled to the brim with visitors. It made me a bit antsy after a while; if you have a similar dislike for crowds, I recommend getting to the castle right when it opens.
Visit the Glyptotek Museum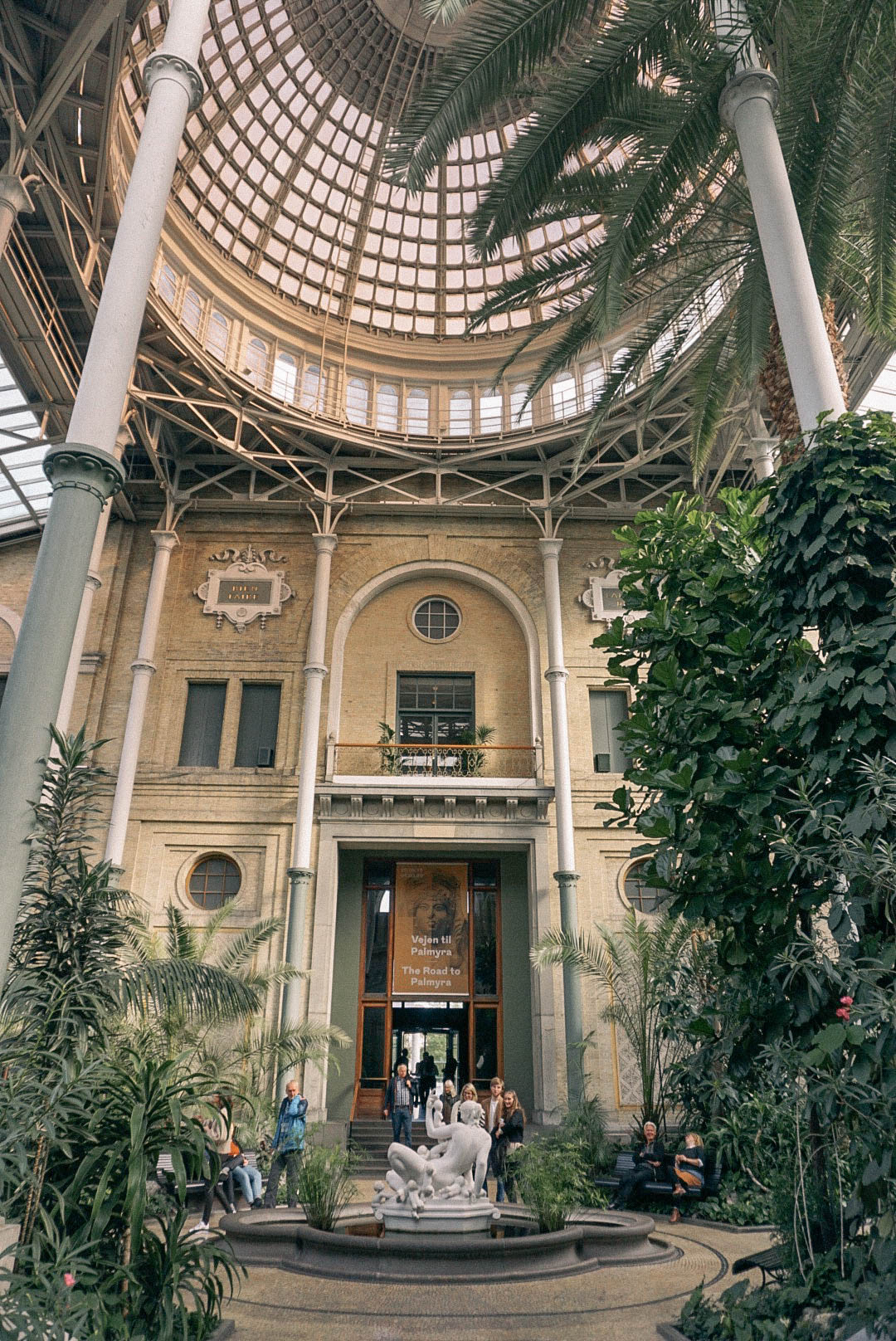 The Glyptotek museum is a highly underrated thing to do in Copenhagen, if you ask me. When I was creating my itinerary for this trip, vey few websites recommended visiting the Glyptotek and I'm so confused how that's the case. Because here's the thing: the Glyptotek is AMAZING.
My friend, Caroline, and I visited on our last day in Copenhagen, thinking it was just "something to do" to pass the time before we had to head to the airport. Little did we know that we were stepping into one of the most beautiful museums we've ever seen!
At the heart of the Glyptotek is its winter garden, which has soaring palm trees that stretch up to a glass domed ceiling. On either side of the winter garden are its exhibitions on ancient Egyptian art and artifacts, Danish sculpture, French impressionist paintings, and more. There's a decent amount of variety within the Glyptotek's collection, but the bulk of their artwork is sculptures.
Before visiting this museum, I thought I disliked sculptures, but as it turns out I just hadn't seen any that sparked my interest.
If you have 3 to 4 hours to spare, I highly recommend visiting the Glyptotek while you're in Copenhagen. You won't regret it!
Admire the Marble Church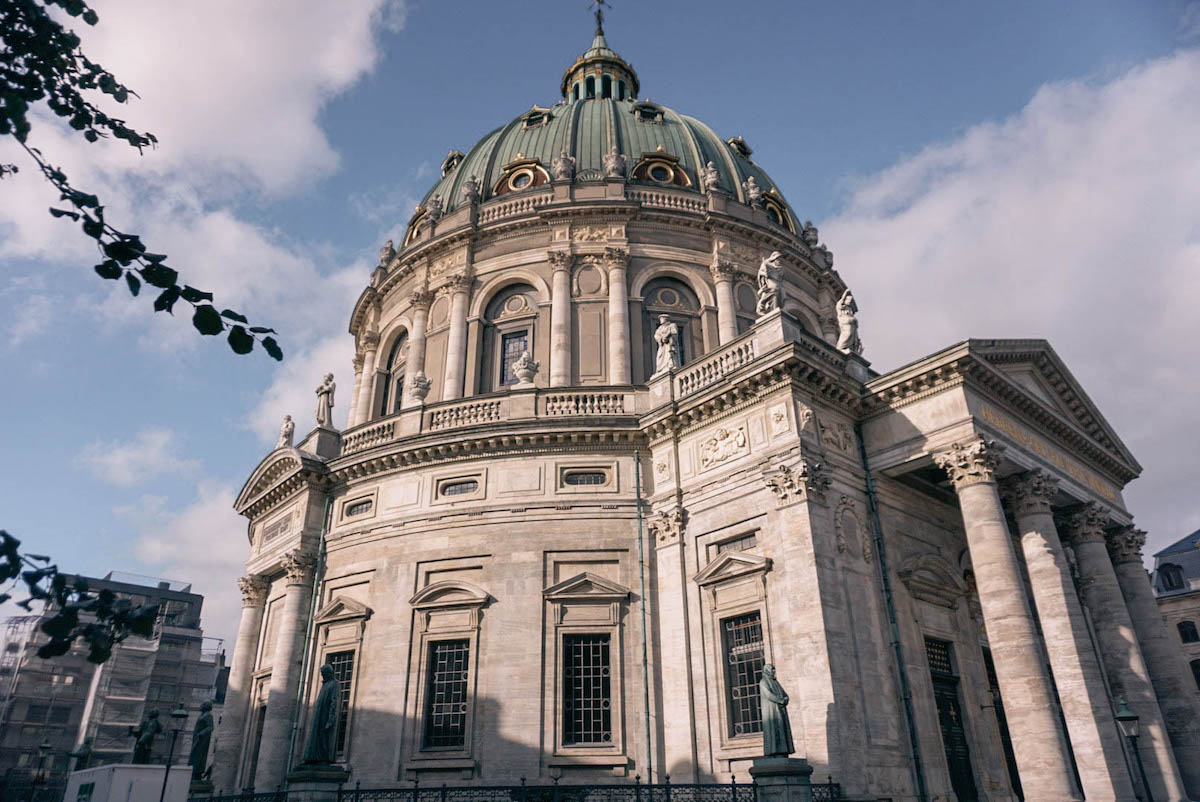 Nestled in the middle of the beautiful Frederiksstaden just beyond Amalienborg Castle is Frederik's Church, aka the Marble Church.
For years, the Marble Church sat half finished, making it appear as though there were ancient ruins in the middle of the city. King Frederik V laid the foundation stone in 1749, but the church wasn't completed until the late 1800s. As the name suggests, the church is made entirely of marble and has a massive copper dome.
It's absolutely stunning inside and is certainly worth popping into for a few minutes when you're in the area.
Window Shop Along Strøget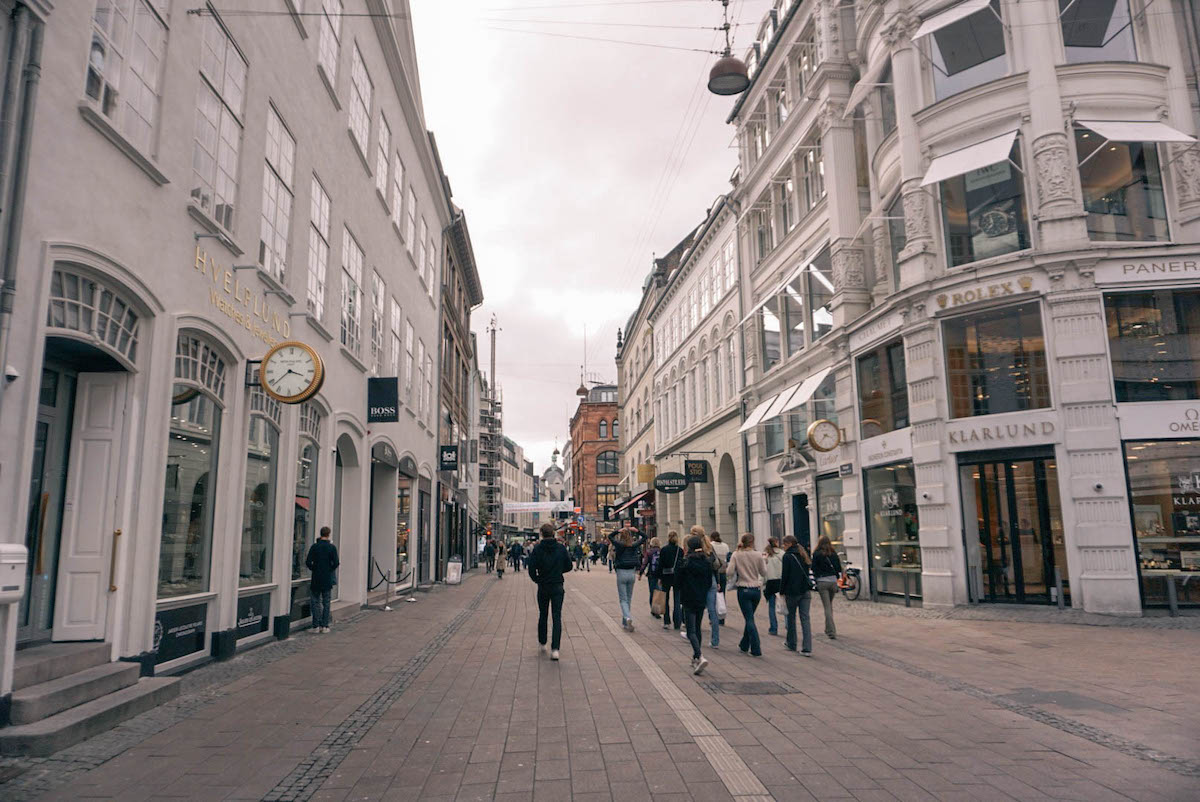 Running from the City Hall Square to the picturesque Kongens Nytorv is Strøget, one of the longest pedestrian streets in Europe. Lined with stores ranging from Louis Vuitton to H&M, there are also plenty of cafes and eateries dotted along the street as well.
To be honest, I'm not sure why anyone would come to Copenhagen to actually shop because things here are so expensive! But a walk (or two) down Strøget is highly recommended because it's so beautiful.
The buildings are multicolored, and the shopping street runs through lots of cute squares filled with fountains, statues, and more. Homeware junkies should stop by the Royal Copenhagen porcelain shop. The fine porcelain plates and tea sets will make you swoon (am I starting to sound my age?).
Tour Christiansborg Palace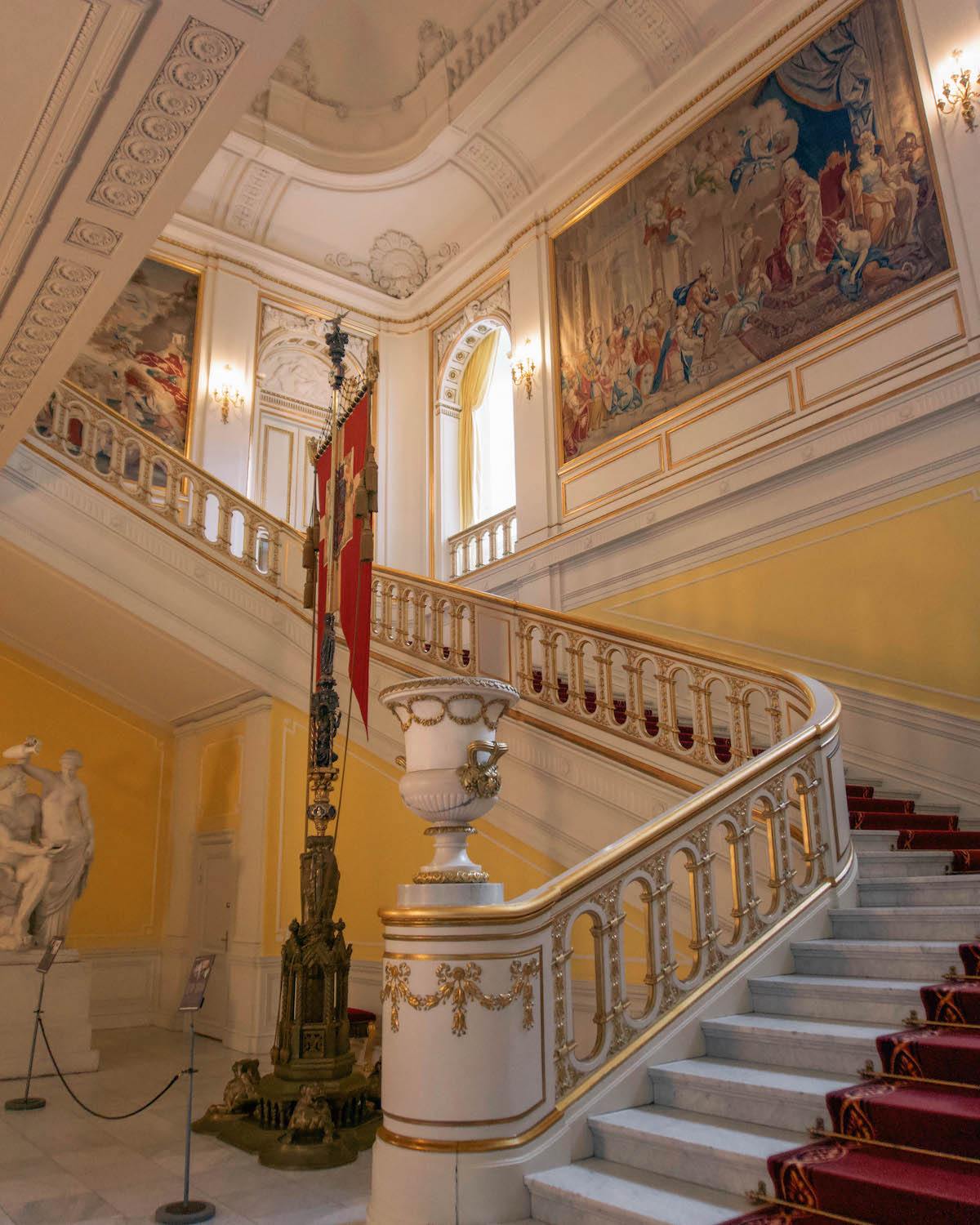 Home to the Danish Parliament, Supreme Court, and Ministry of State, Christiansborg Palace is a functioning palace in the heart of Copenhagen. Unlike Rosenburg Castle, the rooms at Christiansborg Palace aren't fully furnished and are decked out with modern appliances and lighting.
The slightly modern feel of the palace doesn't diminish its beauty whatsoever though. The sky-high ceilings, chandeliers, and priceless pieces of art broadcast its royal status.
When visiting Christiansborg Palace, you can purchase a combined ticket to see the royal apartments, kitchen, royal stables, and the ruins underneath the castle altogether, or you can buy cheaper tickets for each of the individual attractions.
Personally, I think you should skip everything else and just visit the royal apartments. They're the prettiest rooms by far and have the most history. If possible, hop on a guided tour of the royal apartments. You'll learn so much more about the palace this way and will get the chance to ask questions about the artwork, the royal family's history, and more.
Walk the Ramparts of the Citadel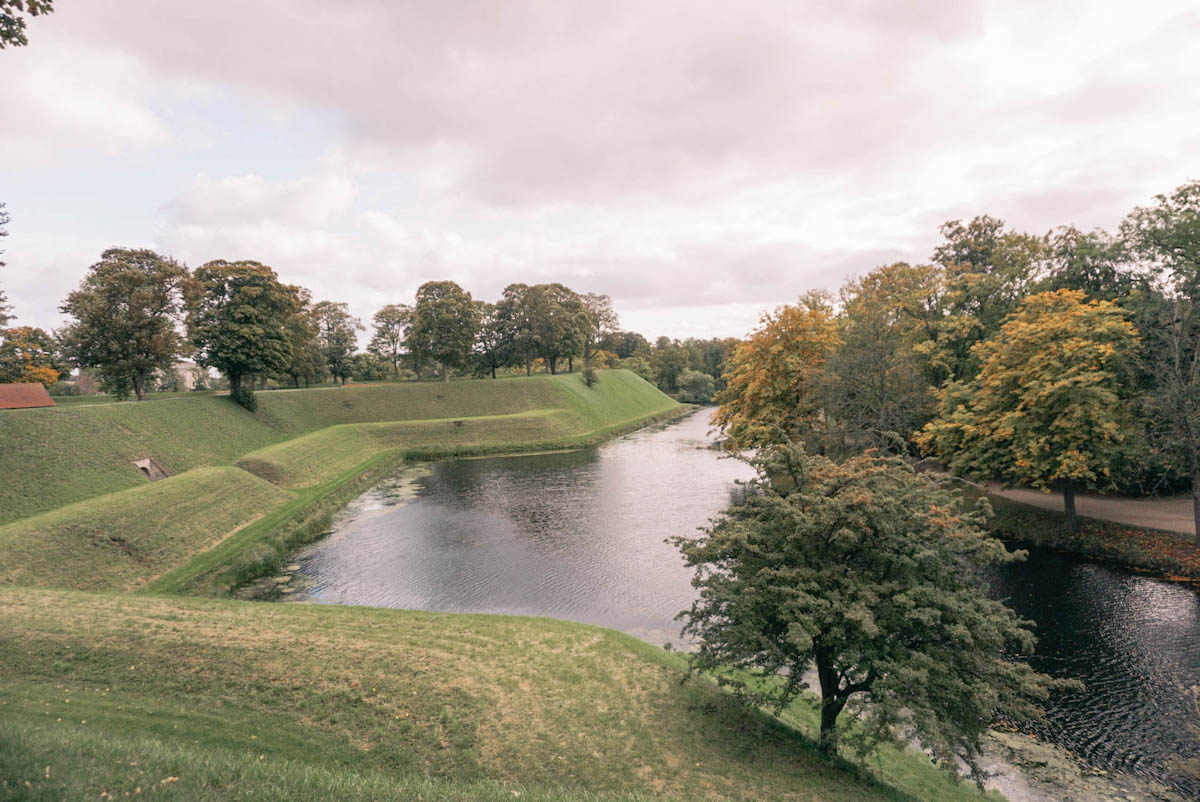 Founded in 1626 by King Christian IV, the Citadel now houses military barracks and offices. The star-shaped ramparts are surrounded by a moat and are lined with trees.
Although a functioning military base, the Citadel's ramparts are open to the public and on sunny days you'll see lots of people strolling around them. Because the ramparts are raised, you get a nice view of the surrounding area. The Citadel was fairly empty when I visited, and I get the vibe that it's not a top tourist attraction.
If you like to squeeze in some greenery on vacation and fancy stretching your legs, definitely visit the Citadel on a nice day. It's absolutely beautiful, and so peaceful!
Oh, and be sure to admire the windmill while you're there. It was originally built to grind the grains needed to make bread for the military and is the only one of many left standing on the property.
Visit the SMK Art Museum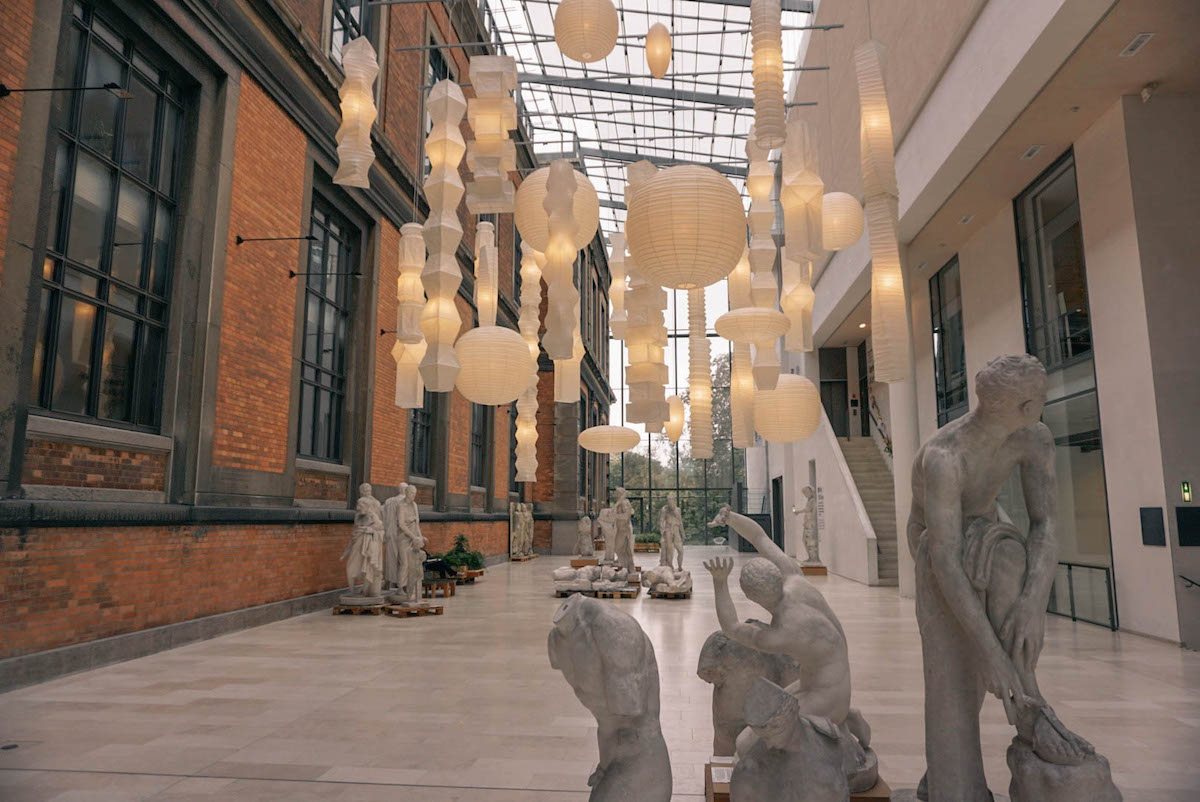 I know this is the second art museum I've mentioned on this list, but both are truly fantastic and I couldn't bring myself to share just one of them. The Staatens Musem for Kunst, or the SMK as most people call it, is Denmark's largest art museum.
Although the SMK's collection of modern art and broader European art is impressive, its collection of Danish and Nordic art has the truly phenomenal pieces, in my opinion. Having grown up the US, I didn't learn much about Nordic history, and being introduced to so many works of art from beloved national artists was pretty wonderful.
The SMK has a permanent exhibit on Danish and Nordic art from 1750 to 1900 that I highly recommend checking out. I realize that the SMK is an art museum, but I think art can teach you so much about a country's history as well. I took my sweet time going through the Nordic art wing and soaked up as many cultural and historic details as I could from the paintings.
I should also mention that the building the SMK is housed is itself quite lovely. A modern art wing was recently added to the back of the building, and they connected the two structures with a statue garden. It reminded me of The Metropolitan Museum of Art's statue garden back in NYC, and I felt like I'd walked back in time to the last time I visited New York!
Stroll Through the Botanical Gardens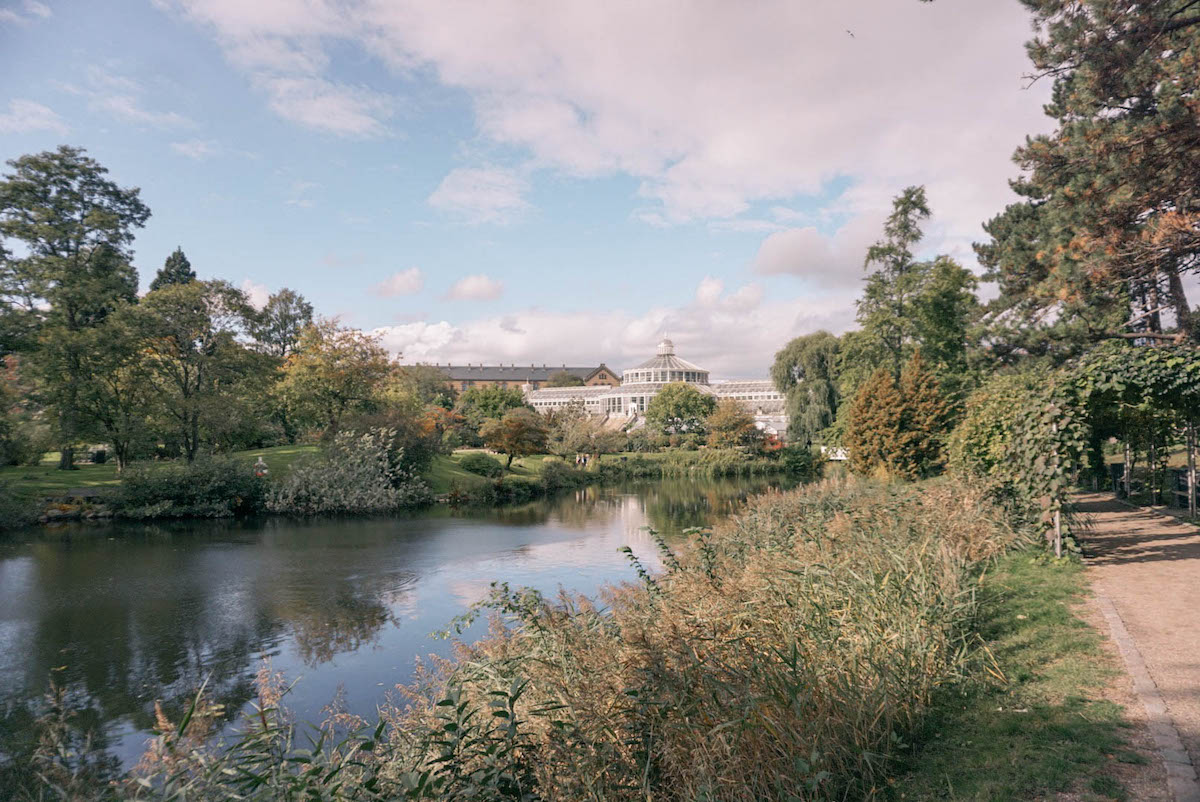 The Copenhagen Botanical Garden is wonderful for a few reasons: 1) It contains over 13,000 species of plants, 2) It covers 10 hectares of land, and 3) It's free to enter. Ding ding ding, we have a winner!
Although special attractions in the botanical gardens (such as the butterfly house) require a ticket to enter, the outdoor gardens are all free. There are plenty of paths winding through the gardens, and it's easy to escape the crowds here.
If you're looking for something to do in Copenhagen that's more relaxed, this is the place to go. It's across the street from Rosenborg Castle and is very easy to get to by foot or with public transportation.
Take Photos Along Nyhavn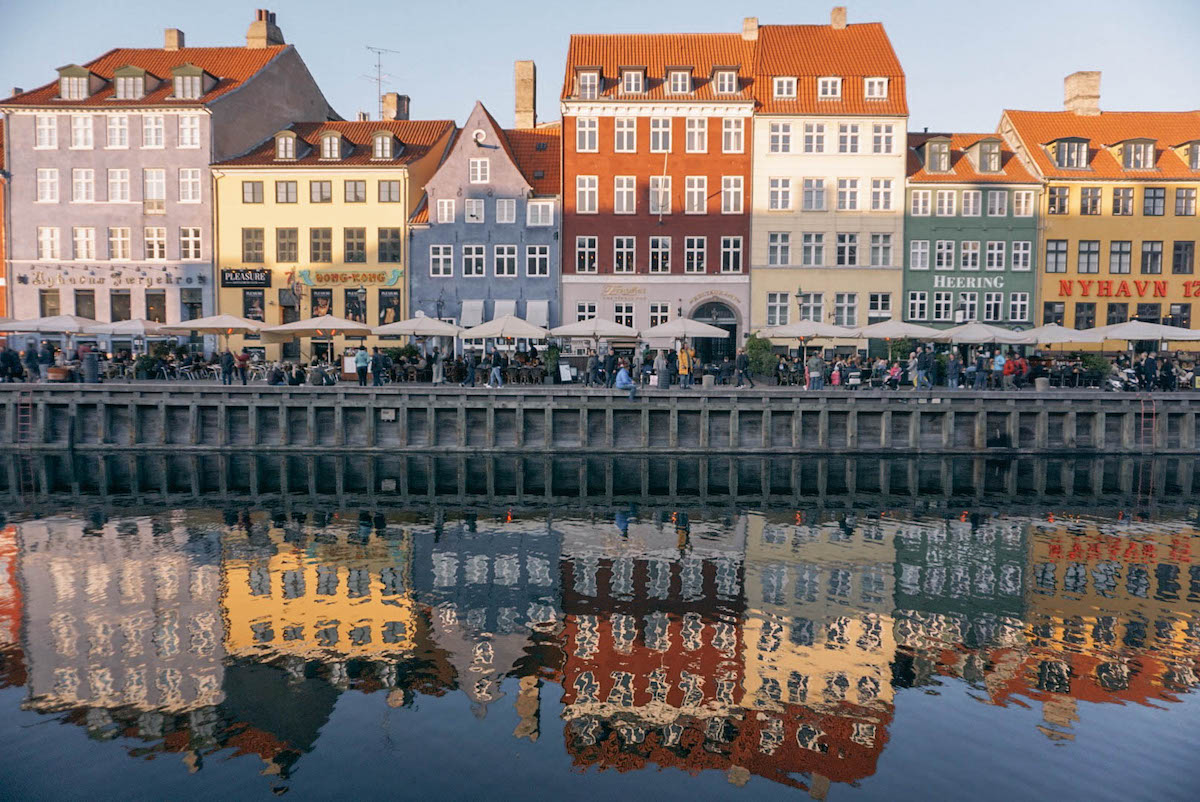 You didn't think I'd leave out Copenhagen's iconic canal, did you? Looking at the colorful waterfront buildings now, you'd never guess that they once housed Copenhagen's brothels.
Nyhavn was once a bustling port, and sailors apparently didn't want to travel far to — ahem — reacquaint themselves with the pleasures of dry land. At some point, the government decided it'd had enough of the red light district and ordered the police to clear out the area so "decent folk" would be inclined to visit Nyhavn.
The beautiful wooden ships you see today were sailed into the canal to signal the change, and locals enjoyed the ships so much that they never moved the boats.
Nyhavn is quite touristy and gets crowded on the side where all the restaurants and cafes are. However, it's definitely worth taking a stroll down the canal and snapping a few pictures. It's very picturesque, and I really enjoyed looking at all the old boats.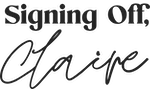 More posts you'll love:
Save this post to Pinterest!