Here are the 10 winter hiking essentials you need to have a safe (and fun!) hike, including what to wear on winter hikes and more!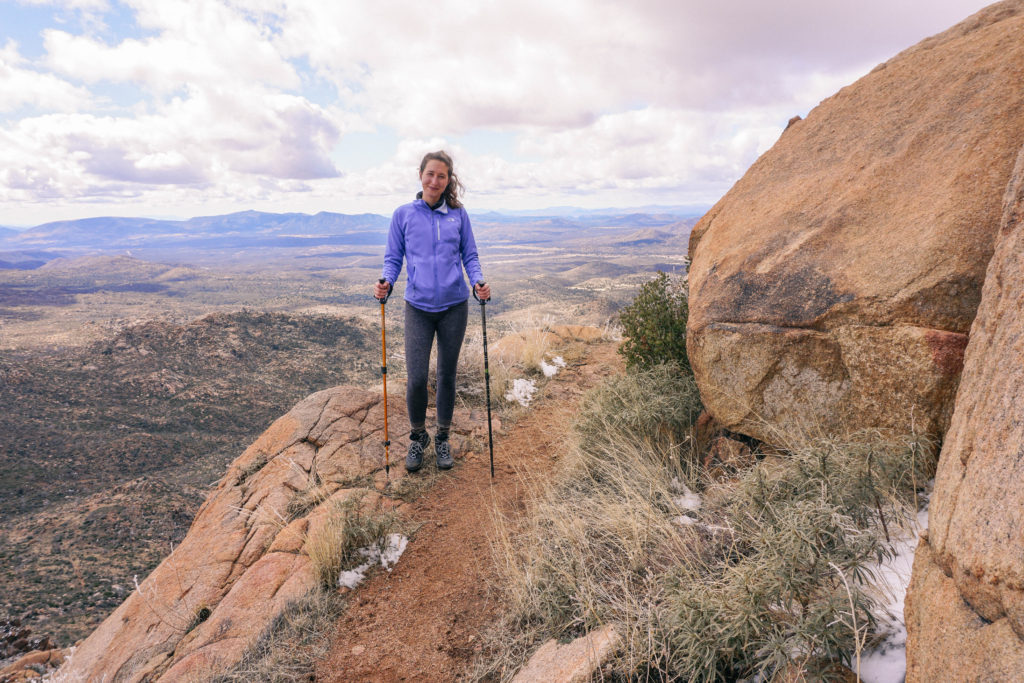 I must say, I was not expecting to write a post about winter hiking after my trip to Arizona. After all, Arizona isn't exactly considered a winter destination. But during my two weeks in Prescott, I spent three whole days snowed in thanks to the 15 inches of snow we got halfway through the trip. Crazy, right? Initially, I was bummed about all the snow, but by the end of the trip I was totally enamored. My dad and I went hiking through pine forests dusted with snow, and we even got to hike the Grand Canyon with almost a foot of compacted snow on the ground.
Although the winter weather presented its own set of challenges during our hikes, it made the trip out west even more memorable. And while I wasn't expecting the weather to be as cold as what we experienced, I'm thankful my dad advised me on what to pack ahead of time. So even though we were hiking through snow and slush, I had the right winter hiking gear on hand to handle it. If you're planning a winter hike yourself, here are the essentials you need to have on hand to make your day on the trail more enjoyable and safer. Note that this winter hike packing list is based on my experience taking day hikes only. If you have a more intense, multi-day hike planned, I can't speak to whether or not this packing list is the right one for you.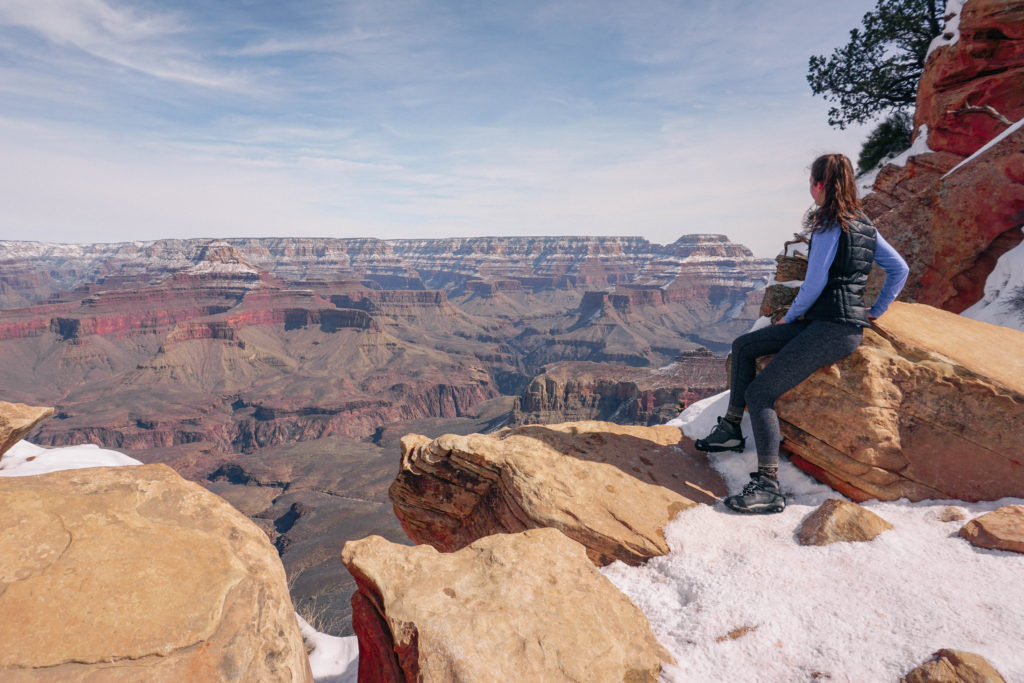 Layers
Layers are key when hiking in the winter. The temperature can change dramatically based on how cloudy it is, if it's windy, etc. While hiking in northern Arizona, it was 30 to 40 degrees most days, and I was comfortable wearing a down vest, a long-sleeved shirt, and a light sweatshirt on top. The down vest in particular was great to have on, as it kept my core nice and warm while the rest of my upper body was comfortably chilled.
Wool socks
Wool socks are lifesavers, let me tell you. I have a few extra tall pairs of Smart Wool socks that kept my feet warm and dry throughout all of our hikes. What makes wool so great? Unlike cotton, wool socks insulate your feet even if they get wet, which is a major perk if you're hiking in snow and slush. Wool also has antibacterial properties that prevent your feet from stinking up your hiking boots, and it dries fairly quickly. Even if you don't have wool socks, make sure to wear tall socks to prevent your hiking boots from rubbing against your ankles and causing blisters (on days when I knew we'd be going on longer hikes, I doubled up my socks to be safe).
Hiking poles
I'd never used hiking poles before this trip, and at first I hated them. They seemed super clunky, and I wasn't sure what to use them for. But once we got into the ice and snow near the end of our first hike, I was so happy my dad thought to pack hiking poles. Hiking poles kept me stabilized on uneven and icy ground, and they also came in handy when crossing streams. I'm happy to say I'm now a hiking pole convert!
Water-resistant hiking shoes
Water-resistant hiking boots are a must if you know you'll be hiking in the snow. If your feet are cold and wet, it's unlikely you'll want to finish the hike. Not to mention that having freezing cold toes for an extended period of time isn't healthy. I invested in a pair of water-resistant Columbia hiking boots for this trip, and they were great. They're super comfortable, and they kept my feet dry even after hiking through mud and slush for 5 hours straight.
Long pants
This is a given, but I wanted to mention it nonetheless. If possible, find a pair of long pants that you can tuck into your hiking boots so that you're not constantly kicking snow into your shoes.
Lightweight gloves
It's important that you keep your extremities warm while hiking. Find yourself a pair of lightweight gloves; if you're anything like me, you'll take them on and off a million times during the hike as your hands alternately become overheated and chilled. You'll be glad you brought them though!
Backpack
A sturdy backpack is important for any hike, as you can use it to stash your layers as you warm up, as well as water, snacks, and more. I prefer hiking with a backpack that has pockets for water bottles on the outside, since it's easier to grab the bottles without having to stop for a designated water break.
Sunglasses
Sunshine reflected off freshly fallen snow is brutal on the eyes. Remember to bring a pair of sunglasses with you, even if it looks like it'll stay cloudy most of the hike. I prefer sunglasses that are polarized, as I find they protect my eyes better from glares.
Chapstick & lotion
Winter weather has a tendency to wreak havoc on your skin. Bring lip balm with SPF in it on your hike to prevent your lips from drying out too severely. And if your hands crack in cold weather, you might want to bring a small bottle of hand lotion as well.
Crampons
If you think the trail will be icy, I highly recommend packing a pair of crampons. Crampons are attached to the bottom of your hiking boot and make it easier to walk on icy surfaces. Some crampons are insanely expensive (like the ones from REI, for example), but if you're an occasional hiker I'm sure a cheaper pair from Amazon would do the trick. We used crampons both times we hiked the Grand Canyon in the winter — there's no way we could've hiked the icy rim without them!
Tell me: Have you ever hiked in the snow before?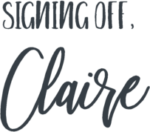 More posts you'll love:
Pin this for later!