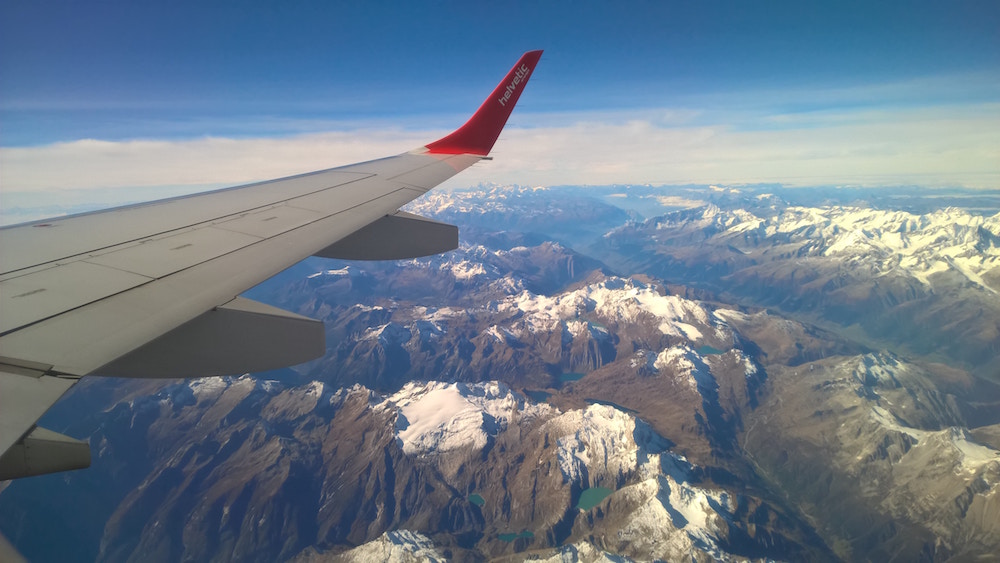 Let's rewind to 2013 when I took my first trip to Asia. I was flying with a volunteer group to Cambodia, and our return home added up to about 30 hours of traveling. I wish I could say it was a formative experience that showed me how resilient a traveler I am and that I enjoyed every second of the adventure. Honestly, what I remember most vividly from that return trip home is everyone in the group puking their guts out (food poisoning at its finest) and feeling like my legs were going to walk away from me because I got so jittery after sitting for hours and hours.
After a long power nap in my own bed, I woke up feeling mildly better and resolved to never ever let myself be that miserable on a flight again. Since then, I've made it my mission to make flying as pleasant an experience as possible. Today I'm sharing some of my best tips and tricks for having a stress-free (dare I say pleasant?) flight. You won't find any tips about applying a hair mask or answering emails offline to fill time—these are practical things to do on a long flight that make me happy.
Choose an aisle seat
If possible, pick an aisle seat for long flights. You can stretch out your legs more easily and you don't have to jostle your neighbor every time you need to use the bathroom.
Avoid caffeinated drinks
Avoiding caffeine on long flights is key, otherwise you might not be able to get on the right sleep schedule once you land. Caffeine is especially bad if you're an anxious flyer; stick to caffeine-free beverages like water, herbal tea, and juices for a better flight.
Pack your own snacks
Airplane snacks are often salty and aren't very filling. I always have an apple and a granola bar in my backpack when I travel since they don't get squished easily and actually fill me up. Avoid packing snacks that need to be refrigerated and anything that's really smelly.
Bring your own tea bags 
My mom does this when she travels, and I think it's absolutely genius. The tea choices on planes are usually less than ideal, and they often contain caffeine. Bring along a few of your favorite tea bags and ask the stewardess for hot water when you need it.
Bring a reusable water bottle
You'd think I was a camel storing up for a long journey across the desert by the amount of water I drink on planes. I try to bring a reusable water bottle with me on flights so I don't have to ask the stewardess for a tiny cup of water every 30 minutes. If you have time, stop by a Starbucks or another coffee shop in the airport before you board your flight—they'll fill up your water bottle free of charge.
Wear Compression socks
Compression socks are game changers. You'll look ridiculous, but it's amazing how much better I sleep on flights when I'm wearing them. Without compression socks, my legs feel a bit jittery when I fly and I can't make myself fall asleep. When I do wear them, I'm much more comfortable and my ankles aren't swollen when I land.
Say no to scheduled meals
Whenever the stewardess comes around with meal trays, my dad usually says something like, "they're coming 'round to feed the cattle again." Funny, but kind of true. Have you ever stopped to consider if you're actually hungry when the flight attendants come by with food? I never did until recently, and I now feel comfortable refusing a meal tray if I'm not hungry. Remember, that food will still be on the plane later if you need it. And if you pack your own snacks you won't starve.
Use essential oils
Another tip coming straight from my mom. She swears by essential oils and uses them for everything from stress relief to fighting off colds. There are rollerballs with germ fighting essential oils that are great to use before getting on public transportation, but you can also buy oil blends specifically tailored to calming anxiety.
Walk around
I can't sit still for more than 90 minutes on a flight, and even that is pushing it. If there's no turbulence, take a few laps around the cabin. This will get your blood flowing and is simply a good way to take care of yourself. If I can't sleep on a flight, I'll walk around for 15 minutes or until I wear myself out.
Bring your own headphones
The headphones provided by airlines are never good quality (understandably) and it's often difficult to hear the movie through them. If you can swing noise-cancelling headphones, get them.
Pack a large scarf
A massive knitted scarf is a must on long flights, even if you're traveling to somewhere warm. A chunky scarf will keep you warm and it can double as a headrest if you can't sleep with your head cocked back at an angle.
Change the time zone on your phone
Get yourself in your new time zone as soon as you step foot on the plane. This will help you get on the right eating and sleep schedule, as you'll be able to decide in the air when it's better to keep yourself awake and vice versa.
Lower the window shade
If you're an anxious flyer, it can help to block out the thousands of miles of land stretching out below you (sorry, am I making you nervous?). It's also good to block out the sunlight if you need to rest to get acclimated to a new time zone.
Load podcasts onto your phone
No matter what fancy headphones you bring with you, you'll never be able to understand what's being said during the in-flight movies. I've found that listening to podcasts on your phone is a better way to entertain yourself since they're easier to hear.
Bring something to do with a travel buddy
At some point, you're going to get bored on your flight. I always reach that point on flights where I'd give anything just to get off that stupid plane. If you're traveling with a friend, pack a puzzle book so you have something to do together. Crosswords are especially good since it gets you talking and makes you think about something other than flying.
If there's one thing you remember from this list, please let it be the importance of getting yourself on the proper time zone while you're flying. There's nothing worse than landing in a new place and wasting the first few days of your once-in-a-lifetime trip battling sleep. Actually, I lied. I also want you to buy a pair of compression socks right now, because they really make that much of a difference.
Tell me: What's one flight ritual you have?
Signing off,
Claire
More posts you'll love:
Pin it!