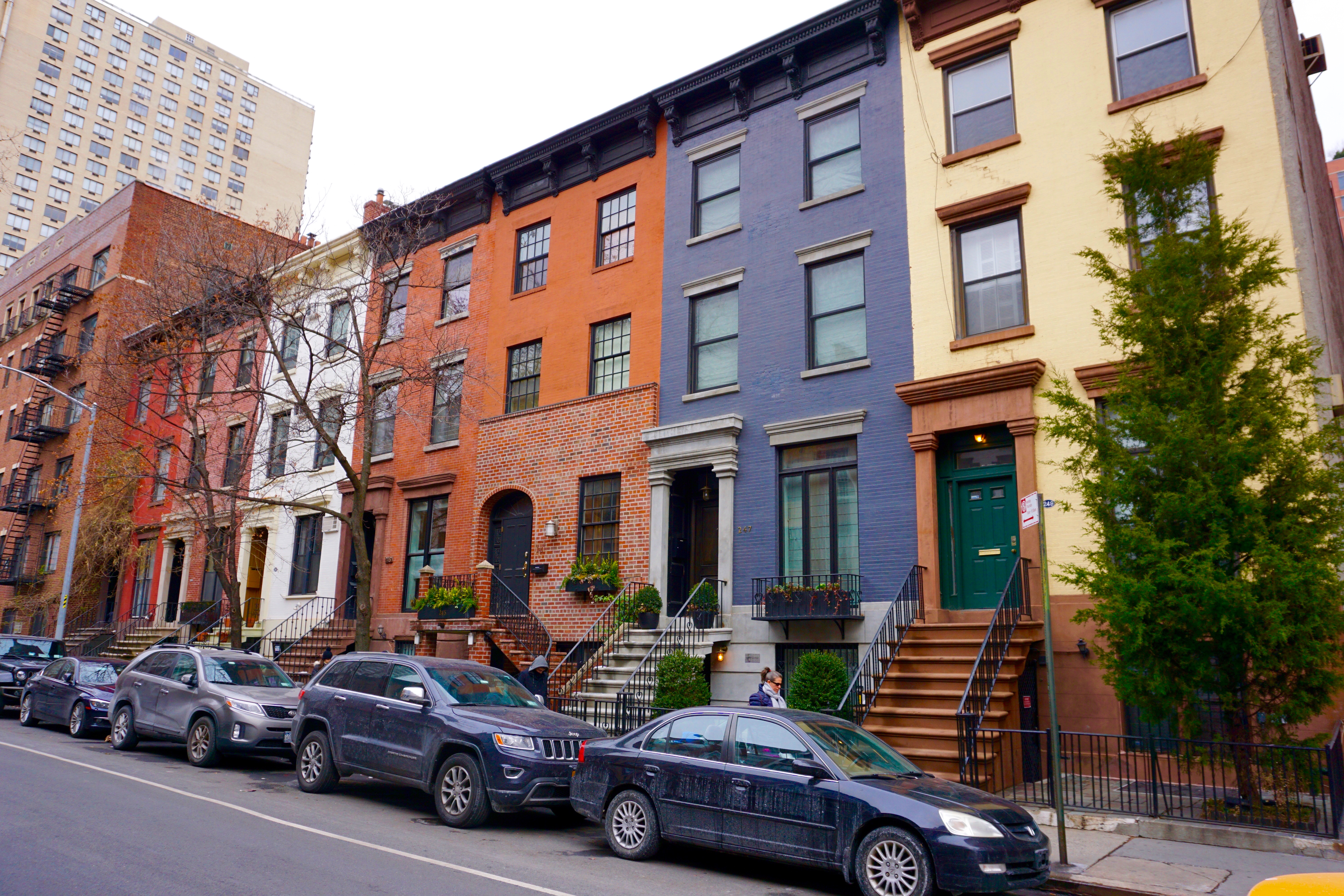 Midtown has been my primary stomping ground ever since I moved to New York City. I work here, many of my friends live here, and I spend much of my time exploring the museums and restaurants here. This week I'm moving offices (don't worry, I still work at Spoon!), and as a farewell to the part of Manhattan I've grown so fond of I wanted to share my favorite spots in Midtown with all of you.
It's bittersweet knowing I won't get to walk through Bryant Park every morning on my way to work, and I'll no longer be able to pop over to see the Macy's display windows whenever I want. As much as I love Midtown, I'm so excited to fall in love with new neighborhoods in NYC. Also, I realize I've just rambled on about Midtown as if it's about to be removed from the face of the earth, but hopefully that tells you just how incredible it is! Without further adieu, here are the best things to do Midtown NYC.
What to See & Do
Bryant Park—My favorite green space in the city. Behind the public library, Bryant Park is the perfect place to rest your feet for a bit. In the summer, there are free film screenings Monday nights on the lawn. In the cooler months, check the Winter Village (think ice skating and tons of shops).
Public Library—The public library is one of NYC's gems. The Rose Main Reading Room steals the show; plan on spending about 30-40 minutes exploring the library.
Rockefeller Center—Rockefeller Center is almost as jam-packed with tourists as Times Square is, so visit at your own risk. In the winter, it's decorated with tons of lights and the ice skating rink is always full.
St. Patrick's Cathedral—St. Patrick's is a Neo-Gothic style cathedral with the most incredible arched ceilings. Not to mention it's absolutely massive (an entire city block!). It's a working cathedral, so check their service schedules in advance, otherwise you won't be able to explore much.
Empire State Building—Honestly, I don't think the Empire State Building is worth waiting in line for, but I wanted to mention it since it's a point of interest for many. If you want to see NYC from up high, visit a rooftop bar instead.
Times Square—NYC's #1 tourist spot is always crowded. Check out Times Square at night for a more magical (and slightly less crowded) experience.
See a Broadway Show—NYC has the best shows, period, end of story. Check out my tips on how to score cheap Broadway tickets before you visit Midtown.
Morgan Library & Museum—One of my favorite underrated NYC museums, the Morgan Library & Museum was once the private library of financier JP Morgan. The library looks like something out of Beauty and the Beast, and the museum has a rotating display of rare books and manuscripts.
Museum of Modern Art—The MoMA is best visited with friends, in my opinion. I prefer discussing modern art with others, because the meaning of each piece is lost on me otherwise.
Where to Shop
5th Avenue—Every chain store you could possibly want is on 5th Avenue. Whether you're seeking luxury stores like Louis Vuitton or more affordable options like Zara, 5th Avenue has what you need. Make sure to get some shots of the gorgeous Saks Fifth Avenue building. In the winter, Cartier also goes all out with the decorations.
Grand Central Terminal—The ceiling in the Main Concourse is iconic. It depicts various constellations and zodiac signs and is utterly breathtaking. Don't limit yourself to the Main Concourse, though. Grand Central Market has lots of great food options, and there are also lots of dining and shopping options scattered throughout the building.
Macy's—The flagship store on 34th street is one of the largest department stores in the world (2.5 million square feet, in fact). The second floor is home to every shoe you could possibly want. It's a touch overwhelming, but it's the place to window shop.
Where to Eat & Drink
I rarely eat out at pricier sit-down restaurants, so many of these places are great for a quick bite to eat before a show or after a morning of shopping. As a rule of thumb, I encourage you to avoid the Times Square area when you're looking for spots to eat (all you'll find there are overpriced chains).
Xi'an Famous Foods—If hand-pulled noodles are your thing, come here. The dishes are packed with flavor, filling, and pretty cheap. Everything is served on styrofoam plates; it's nothing fancy, but it's mighty tasty.
Shake Shack—I'm sorry, I just had to include this. Shake Shack is a must if you've never had it before. Go for a burger and fries, and split a concrete with a friend.
2 Bros Pizza—This is one of the few remaining dollar slice places in the city. Again, the pizza here isn't anything fancy, but if you're in a rush or are on a tight budget it hits the spot.
Cho Dang Gol—This is some of the best Korean food I've had in a long time. They're known for their house made tofu, and you're given a bowl of it with lots of toppings as an appetizer. The japchae is a good choice if you don't handle spice well, otherwise share a hotpot with friends.
Halal Guys—What started as a single food cart in NYC has become something much larger. Head here when you're craving the world's best gyro. I recommend splitting a platter with a friend, because the portions are enormous. Also, be careful when adding hot sauce—it's really spicy.
Pure Thai Cookhouse—This place dishes up homemade noodles in classic dishes like Pad See Ew and Pork Noodle Soup. The restaurant is fairly small, but the service is quick and the food is on point. Even the dishes labeled as "mildly spicy" are super spicy to this Midwestern girl, so order with caution if you can't handle the heat!
Mighty Quinn's Barbeque—Mighty Quinn's is arguably the best restaurant I've discovered since moving to NYC. The restaurant is very casual; you order at the counter and your food is ready in less than 10 minutes. The crispy chicken sandwich and pulled pork are out of this world, but the burnt end baked beans really steal the show (they throw in the ends of the brisket to marinate in the spicy-sweet beans. Heavenly). The brisket here can be hit or miss, so order at your own risk.
Tacombi—This taqueria has a small menu, but every single thing they serve is top-notch. If you need a good-sized meal that won't leave you feeling like a beached whale, split an app with a friend and order two tacos for yourself. The crispy fish taco is my all-time fave, but I've yet to try something here that isn't good.
Blue Bottle Coffee—You didn't think I'd forget your caffeine fix, did you? In the spirit of honesty, I feel obligated to tell you that I don't drink coffee; however, my friends swear by their coffee. At the very least, this is a super trendy spot so you'll definitely get a good shot for the 'gram.
Dean & Deluca—I love Dean & Deluca's SoHo store because it has the prettiest bakery selection, but their Midtown location is great for a grab-and-go lunch. It's a little pricey for what you get, but you're buying from a gourmet grocery chain so it's expected.
City Kitchen—This is the perfect spot to hit up before you see a Broadway show. City Kitchen is a small food hall near Times Square that features some iconic NYC restaurants (Dough Donuts and Luke's Lobster are my two faves).
Amy's Bread—This is one of the most popular bakeries in NYC. If you're popping in for a quick lunch, go for one of their lunchbox deals; you get a sandwich, cookie (yum!), piece of fruit, and a drink for $16.
There are so many more amazing Midtown restaurants, but these are just a handful I highly recommend trying. Before I sign off, I want to remind you that although Midtown is a great place to spend a day or two, there's so much more to see in NYC! Midtown is a great jumping point to Williamsburg, Park Slope, FiDi, SoHo, and more. Since it's in the middle of Manhattan, every subway line converges here, meaning you're free to hop on the nearest train and see where it takes you!
Tell me: What's one area of NYC you've never explored, but are dying to visit?
Signing off,
Claire
More posts you'll love:
Pin it!