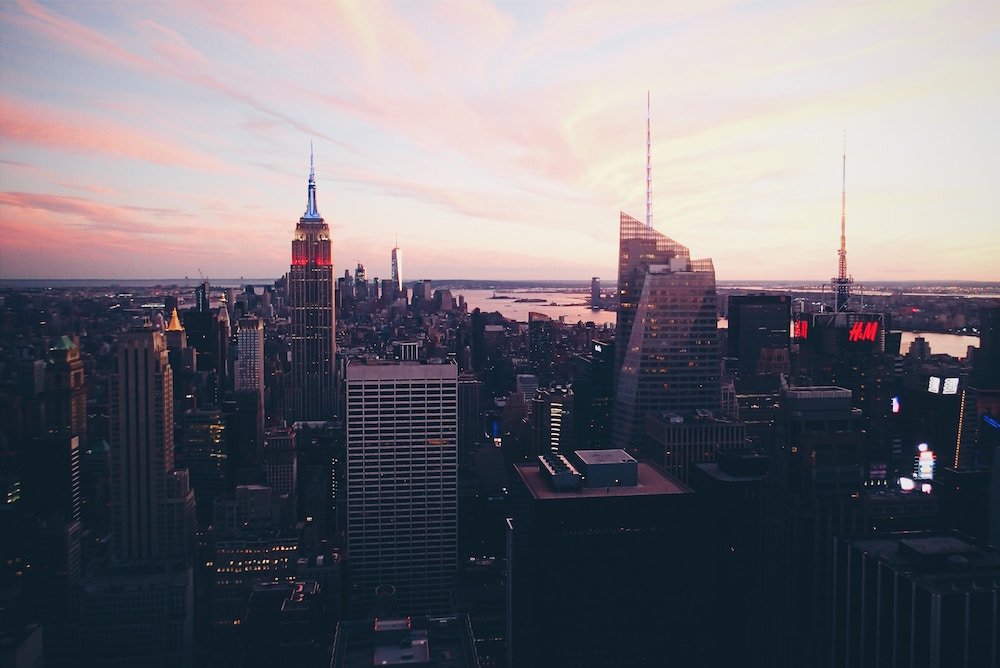 There's not a lot to do in the Indianapolis suburbs, so whenever a friend asked me to hang out when I was growing up, I could safely assume that meant watching a movie at their place and chatting. The town I went to college in wasn't much different, and while my friends and I would occasionally go to a bar we typically spent our nights catching up on each other's couches.
Moving to New York City ushered in lots of life changes, but the one thing that I'm still trying to get used to is the different way I hang out with my friends in the city. More often than not, I meet up with friends at bars or restaurants. Rarely do I just hang out at a friend's apartment and chat, which is one of my favorite things to do. I'm not sure if it's because of how small apartments here are or if this is just what adults with jobs prefer to do. Either way, I don't enjoy going to bars much, so I've had to get creative with what I do with friends at night.
New York's nightlife extends well beyond the bar scene. Whether you're uninterested in bar hopping or are just looking to mix up your time in the city, here are 10 things to do in NYC at night other than going to bars.
See a Broadway Show
I've said it before, and I'll say it again—if you didn't see a Broadway show, did you even visit New York City? Unless you're set on seeing a particular show, I suggest going to on of the TKTS booths and getting discount tickets the day of the show. You can also download the Today Tix app and look for cheaper tickets that way. One thing to keep in mind is that the Disney shows (Aladdin, The Lion King, etc) don't often have sale tickets, so it's usually best to bite the bullet and buy those tickets ahead of your visit.
Visit a Comedy club
NYC has a ton of comedy shows, and you can easily find one that fits your budget. Upright Citizens Brigade, Comedy Cellar, and Broadway Comedy Club are all popular spots, but there will likely be a comedy joint in whichever neighborhood you're staying in.
Go to the Ballet
I went to my first New York City Ballet performance in December, and I seriously regret not going to a show sooner. The ballet troupe here is incredible. Even if you're not a "dance person," I recommend attend a ballet performance at Lincoln Center. Word to the wise: you should dress up a bit for the performance.
Attend an Opera
The Met has surprisingly well-priced tickets, and even offers student discounts. If you've never been to the opera, this is the place to do it because you're unlikely to see a performance as good as the ones The Met puts on. Also, if this is your first time attending the opera I recommend choosing a shorter performance. I love the opera, but even my eyelids start to droop a bit if I have to wait through two intermissions.
Go to a sports game
Theatre not your thing? NYC has great sports teams as well. Basketball, baseball, hockey—and likely a few more sports I haven't thought of—can all be enjoyed at one of New York's sports stadiums. In particular, I like going to Yankees games because Yankee Stadium has great food options (what can I say? I'm not really a huge sports person…).
Take a walking tour
I normally hate group tours (like day-long excursions and bus tours), but walking tours are my jam. I always recommend Free Tours by Foot to people, mainly because they're free, but also because every single tour I've taken through them has been phenomenal. Free Tours by Foot has a 9/11 Memorial night tour and a Midtown evening tour, plus a few other options.
Visit museums
Most museums in the city cost $15+ to enter, but you can usually get in for free on certain nights. The MoMA is free from 4:30-8pm on Friday nights, and the Morgan Library & Museum from 7-9pm on Fridays. For a full list of museums with free evening admission, click here.
Go to a concert
Popular singers and bands almost always include NYC on their tours. Barclays Center and Madison Square Garden are the two largest concert venues, but lesser known singers perform in venues all over the city. In the summer, there are concerts in Central Park and Prospect Park, which I love going to.
Visit a Local Market
Seasonal markets pop up all over NYC. A quick Google search will show you what's happening during your visit; my favorites are the holiday markets at Union Square and Bryant Park. They're open late and have good eats and lots of booths selling a variety of clothing, books, and knick knacks.
See a movie
Seeing a movie might seem a bit lame, but even New Yorkers need to unwind after a long day in the big city. If you're seeing a movie on the weekend, you might want to swing by the theatre to purchase your tickets in advance because tickets can sell out fast depending on the location.
I know it's exhausting walking around New York City all day sightseeing, but I encourage you to enjoy the nightlife while you're here too! There are so many things to do in NYC at night, and it'd be a shame for you to come all the way to the city and not experience it fully.
Tell me: What does your perfect night out involve? I'd want a good dinner (with dessert, duh!), followed by some dancing or a karaoke night with friends.
If I've missed any of your favorite things to do in NYC at night, let me know!
Signing off,
Claire
Love NYC? You'll love these: