While in Copenhagen, a day trip to Hillerød, Denmark is a must! Frederiksborg Castle and its gardens are the main attraction, but the cute town center is also fun.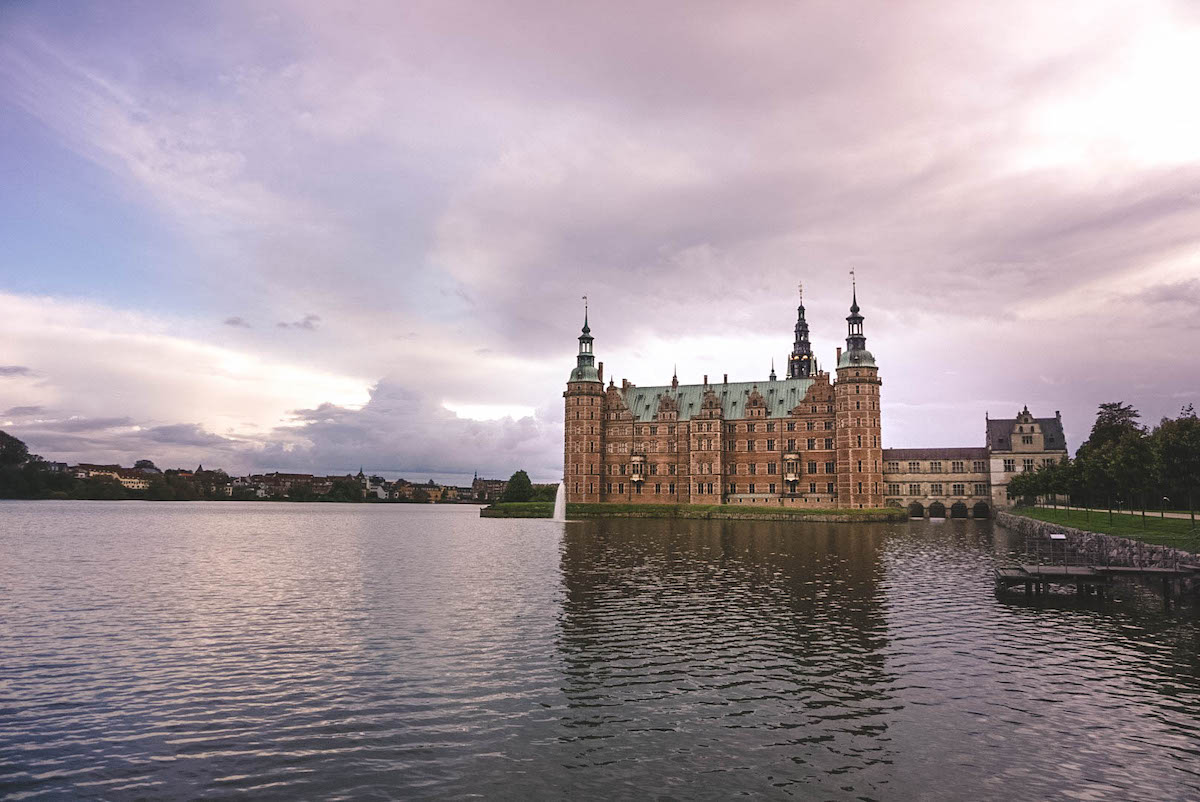 By now, you all probably know that I love castles. Like, a LOT. If I'm traveling someplace that's even remotely close to a castle, you can bet your buckets I'll make a day trip of it. Which is precisely what I did while visiting Copenhagen. If the many photos I've shared of Copenhagen didn't already make it abundantly clear, it's a beautiful city. But even though the stunning city center is littered with castles (I counted three in total, but it's possible I'm missing one), I was itching to see another one. So I woke up bright and early one morning and hopped on a train to quaint Hillerød, Denmark to see its famous castle, Frederiksborg.
Nicknamed the "Danish Versailles," I was more excited to visit this castle than a 20-something-year-old really should be. I'd seen photos of the castle online, but I didn't fully comprehend what I'd be stepping into, nor did I know how much of the castle I'd have access to. Without spoiling things for you too much, Frederiksborg Castle was absolutely amazing. I'll get into the nitty gritty details in a moment, but to get straight to the point you absolutely must plan a Copenhagen day trip to Hillerød. To help you plan your trip, here are the key details you should know about this exceptional day trip from Copenhagen. 
Getting from Copenhagen to Hillerød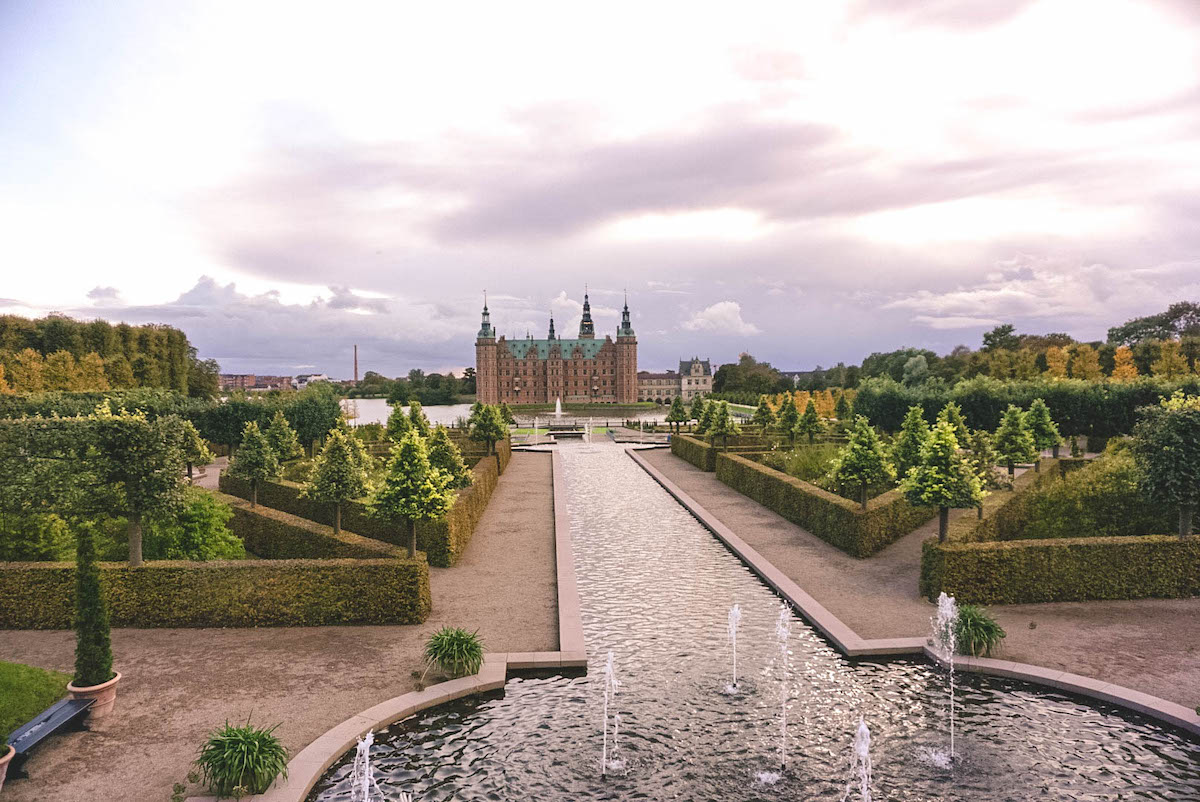 Traveling from Copenhagen to Hillerød couldn't be simpler. You'll want to purchase a Copenhagen City Pass Large from a ticket machine at the central train station. Buying a day pass is cheaper than paying for a round-trip ticket to Hillerød, Denmark.
You can take the A train directly to Hillerød, but be aware that the schedule may change due to track maintenance, etc. When I visited Hillerød, I wound up having to take a different train part of the way and then transferred to the A train later on. I had to ask for instructions at the central station's help desk and they told me how to get to Hillerød that day (just something to note). Even with the transfer, the trip took no more than 45 minutes. The perfect distance for a day trip from Copenhagen!
Visiting Frederiksborg Castle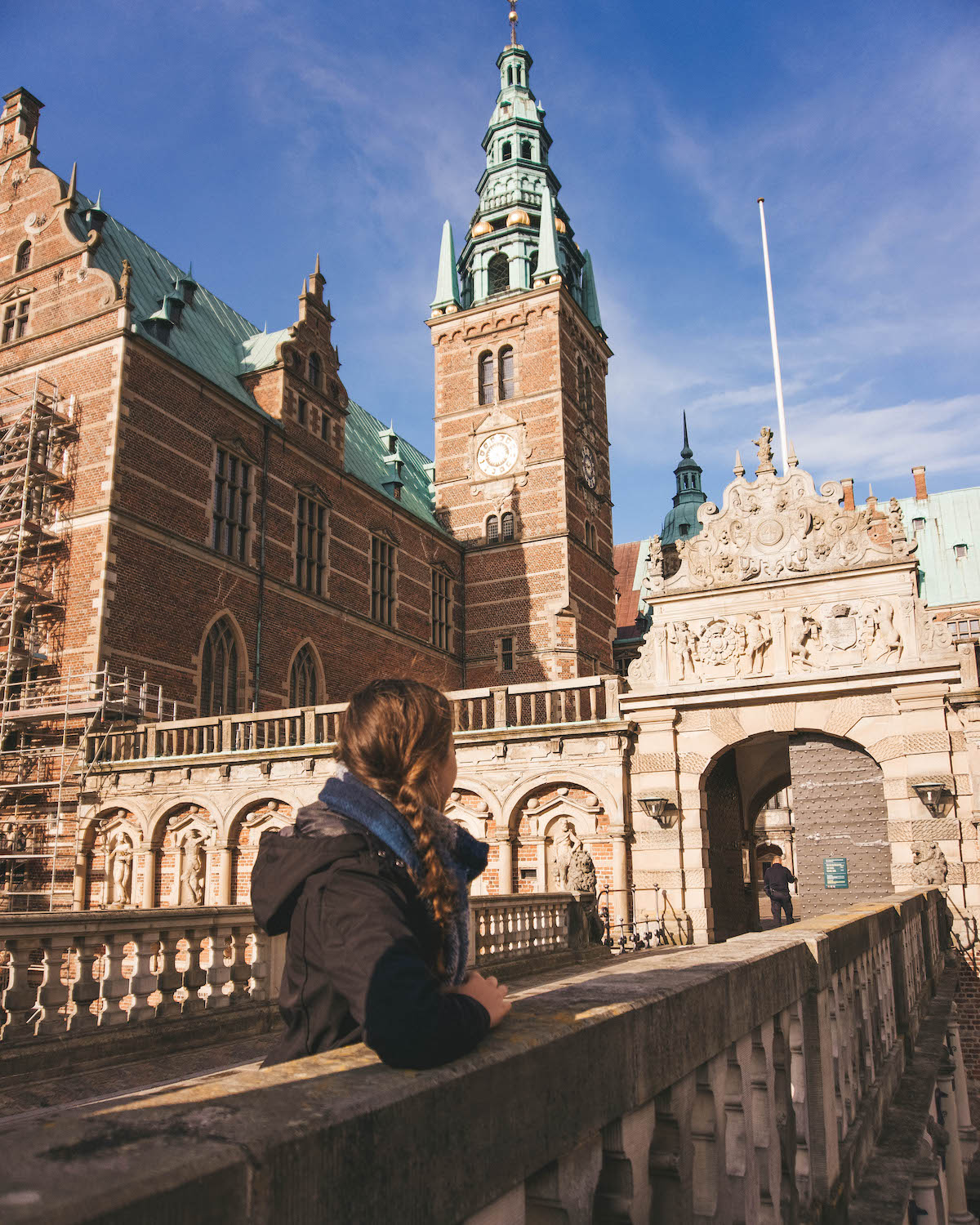 Frederiksborg Castle is more than meets the eye. It's by no means small, but if I'd visited without knowing anything about what it was or who it was built for, I wouldn't necessarily have guessed that it was a castle. Compared to places like Buckingham Palace, Neuschwanstein, and Versailles, Frederiksborg is on the petite side of things. But don't let that fool you, you can easily spend four or five hours inside if you're a die-hard history buff like me.
Complete with a moat, baroque gardens, and four storybook-esque turrets, Frederiksborg Castle is really something. Online it's labeled as a "Museum of National History," but only a handful of rooms look even remotely museum-y, and the rest of the castle was, well, a castle. Fully furnished and decked out from floor to ceiling with more priceless artifacts than you can imagine.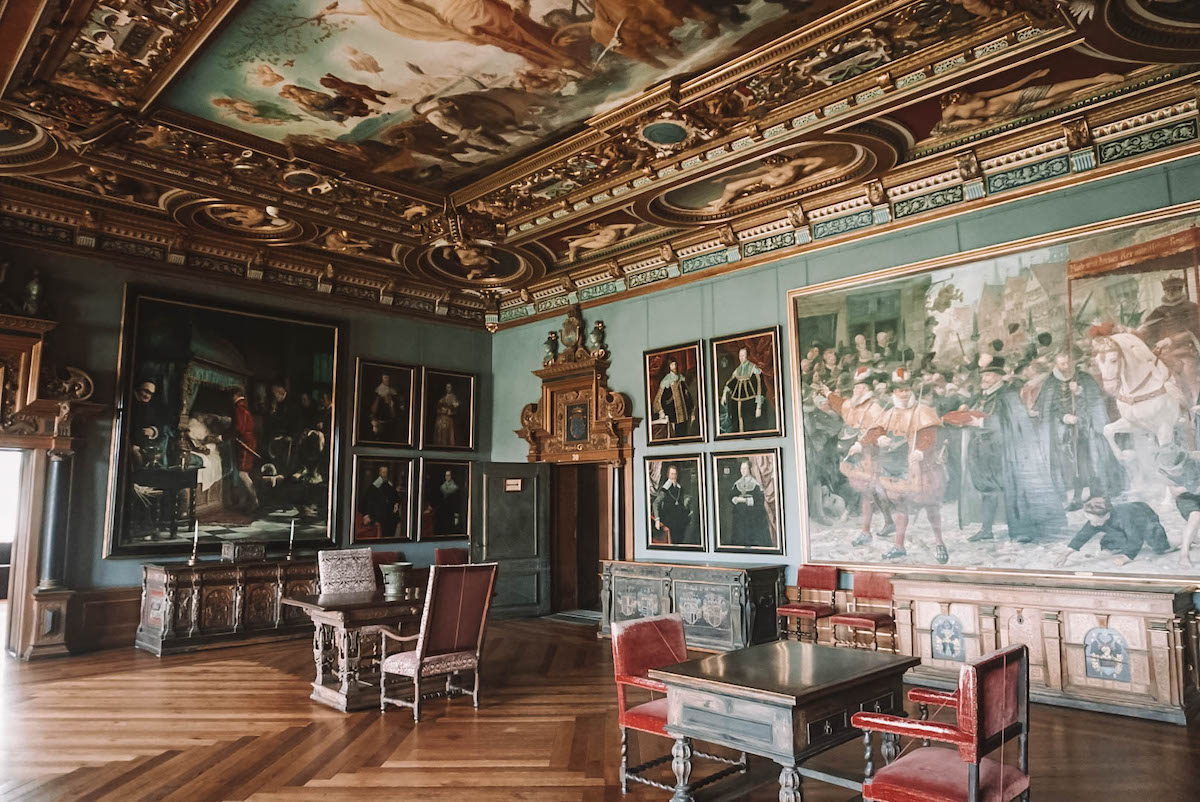 Frederiksborg is one of the few castles I've visited were it felt like real people had lived there. Yes, there were lots of nice furnishings I can only dream of ever owning, but despite the plethora of beautiful things lying around, the castle felt like a family home. I think that's partly because it's so old. Frederiksborg Castle was built in the early 17th century by King Christian IV, which may have something to do with its smaller size and more lived-in feel.
Unlike other great castles I've visited in Europe, hardly anything was barred to guests at Frederiksborg. There are over 70 rooms for visitors to explore, and I only saw a handful of security guards during my time in the castle. The rooms weren't divided by velvet ropes, and I was able to get as close to the artwork, furniture, and so on as I wanted to get a better look at things. Obviously, you shouldn't touch anything, but otherwise you're free to roam pretty much at your own leisure.
In a word, I found Frederiksborg utterly magical. The clocks all chimed on the hour (noisy but enchanting in such a place), countless royal ancestors stared down at you from the walls, and the unlit rooms made for a moody atmosphere. Simply wonderful.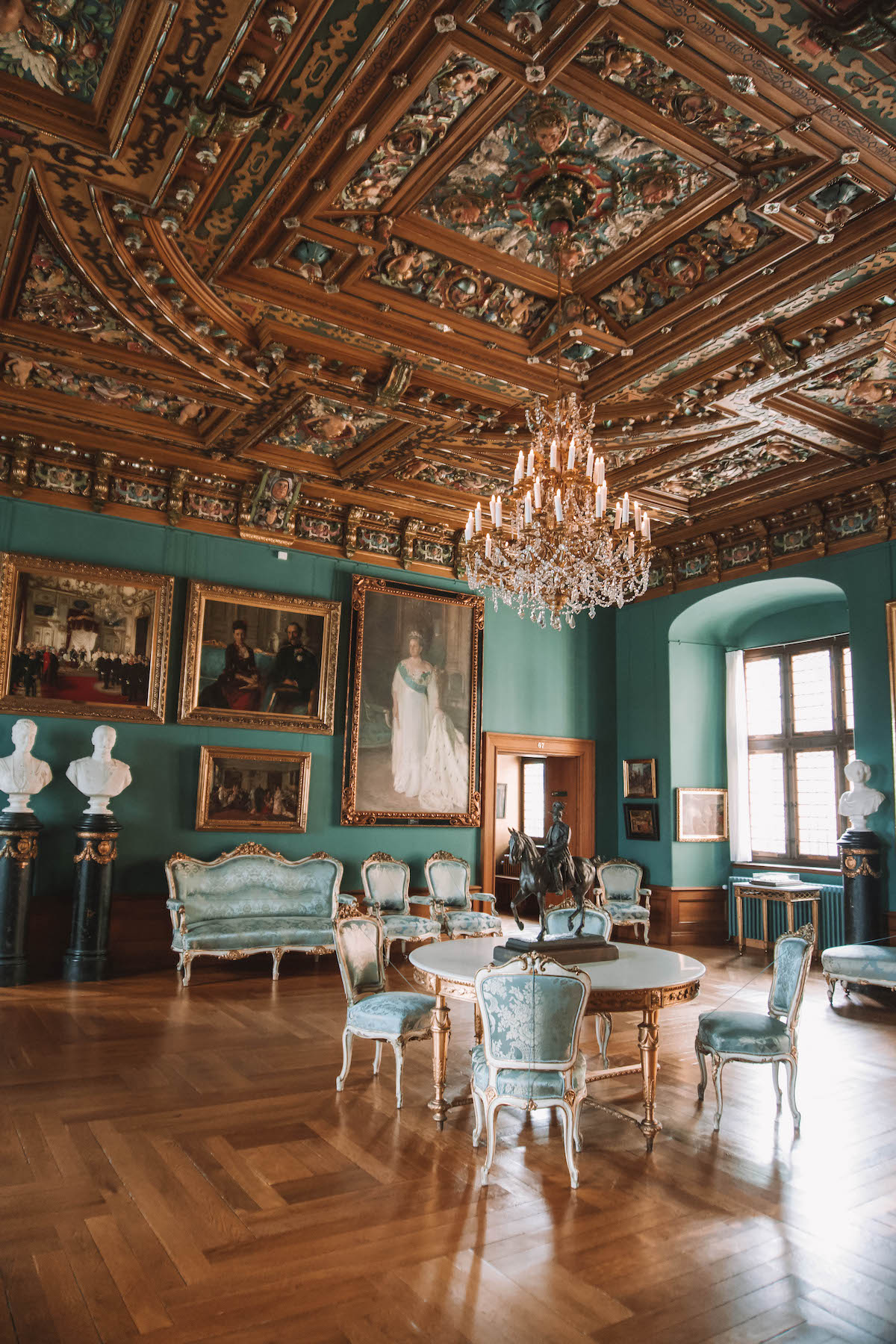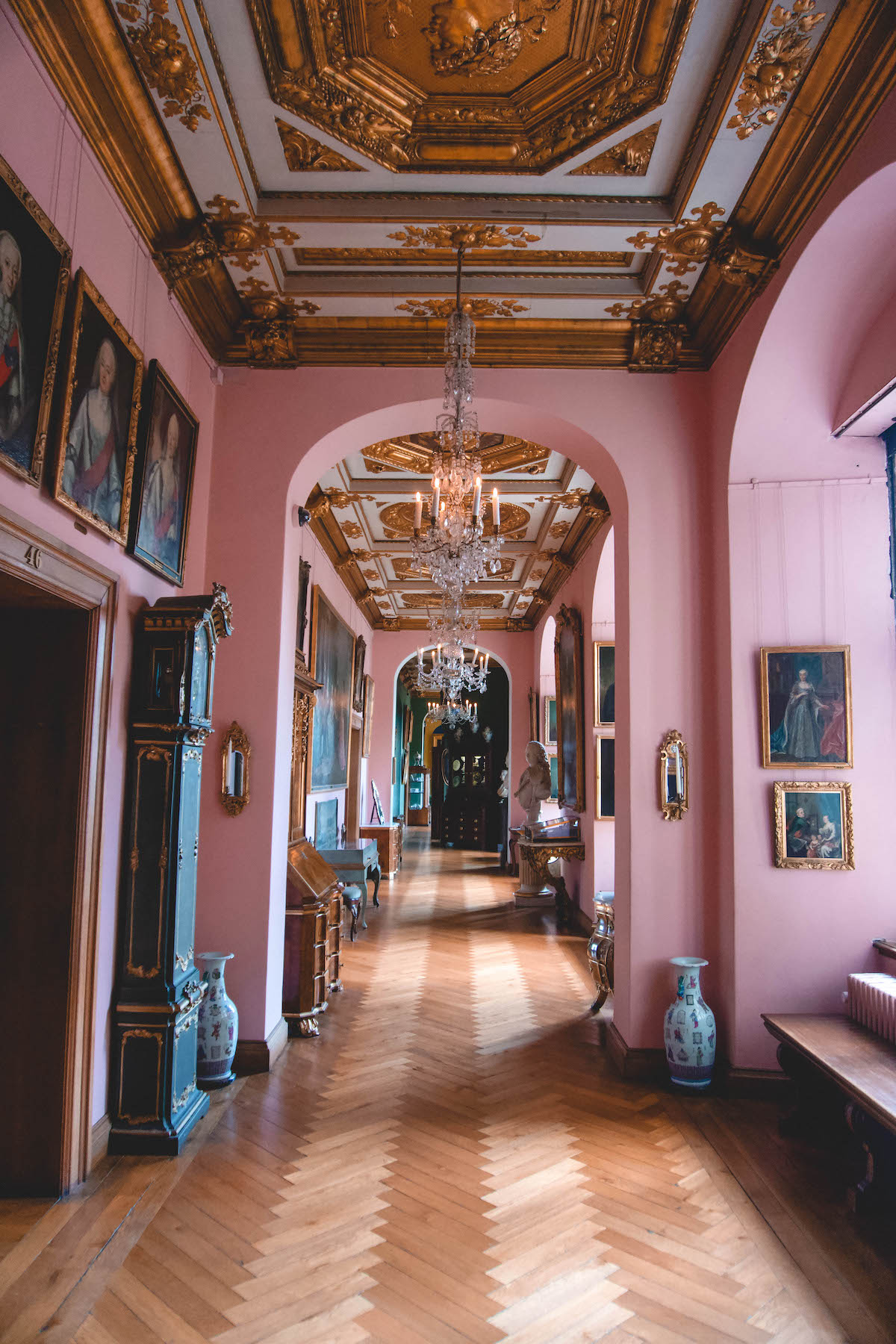 Oh! I've just realized I've forgotten the best bit. Inside the castle is a massive chapel. During the period of absolute monarchy in Denmark, kings were anointed in the castle chapel. Its gold, silver, and ebony altarpiece dates back to 1606, and the organ was built in 1610. The chapel is one of the first rooms you see on your visit to the castle, and it certainly sets the bar high for the rest of your visit. To say the chapel is breathtaking is an understatement. I've never seen a place so ornate — coats of arms decorate the walls, every inch of the vaulted ceilings are painted, and it seems that every surface in the place shimmers.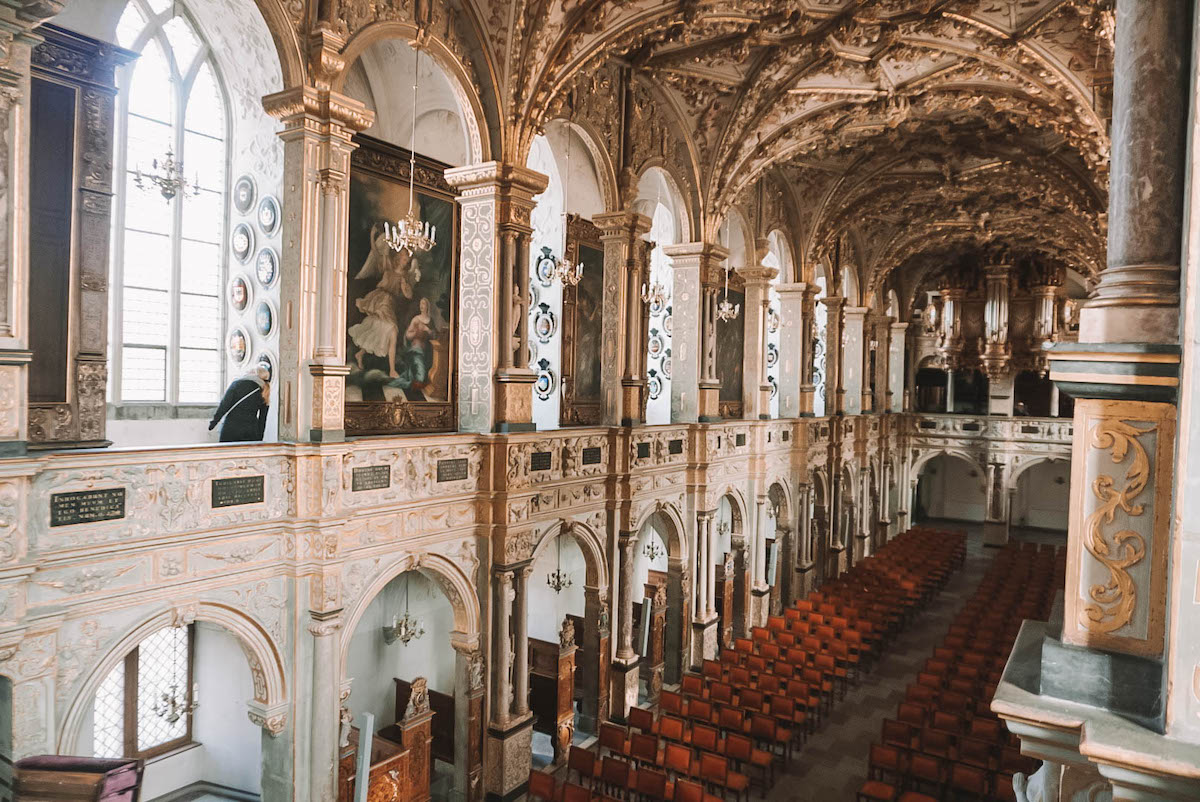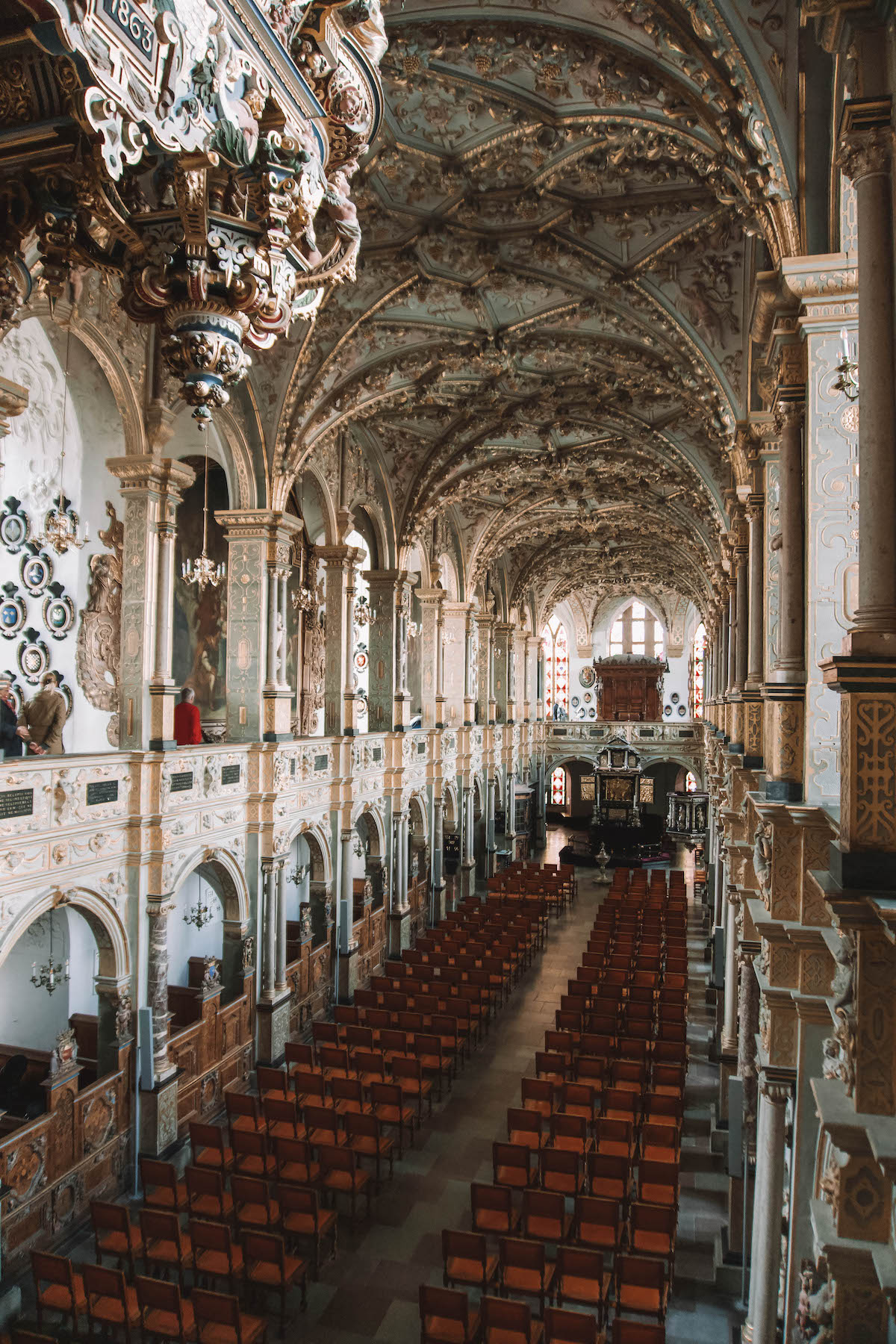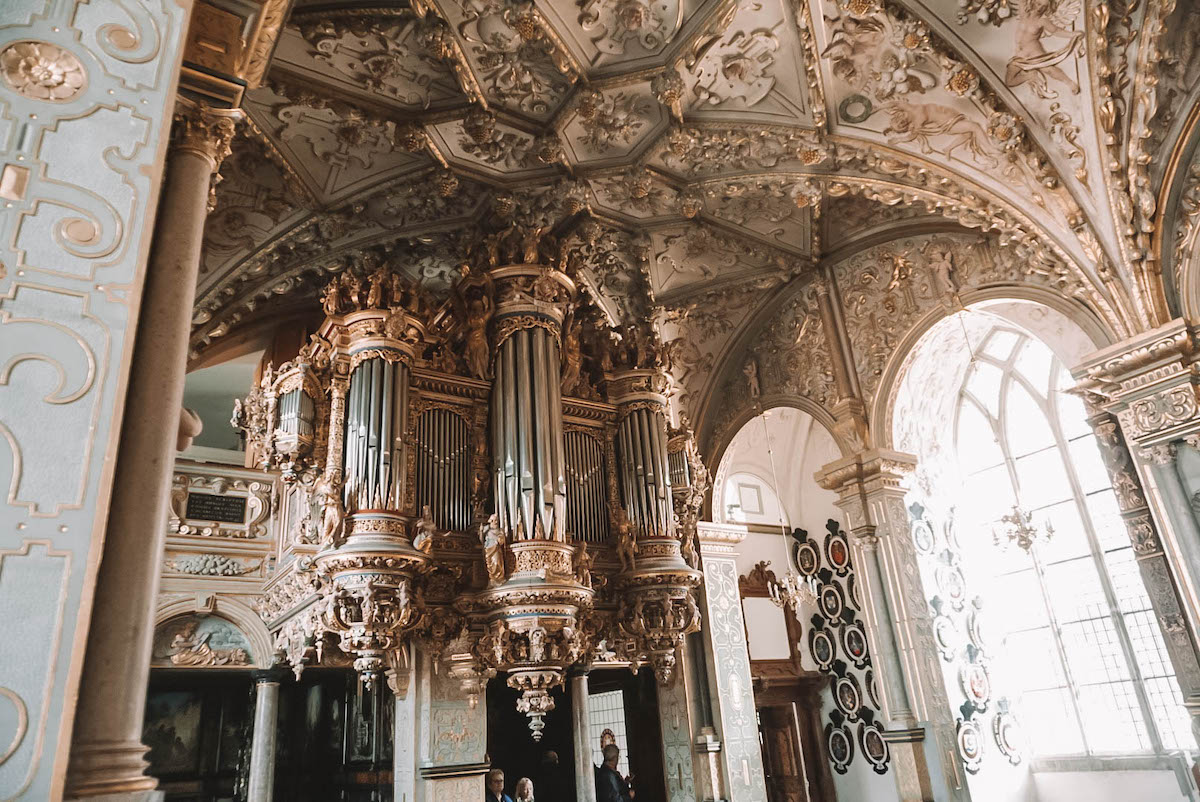 Around the castle's moat (because, naturally, there's a moat), are the castle gardens. Beautiful, but not mind-blowing, the gardens were designed in the baroque style. At the bottom of the gardens are box hedges that have been shaped to form the royal monograms of Frederik IV, Frederik V, Christian VI, and Margrethe II. Take a stroll down the tree-lined paths and enjoy a walk around the pond — which is stunning in the fall, by the way.
The manicured gardens are only a small part of the castle grounds, so be sure to explore beyond the gardens and see what else you can uncover in the area. I visited on a cold, blustery fall day so I didn't get the chance to explore too much before the rain came. I did find a bathhouse on the property though that looks approximately 600 times nicer than any real house I've ever lived in. There's also a small orchard on the property that's nice to walk through.
Other Things to Do in Hillerød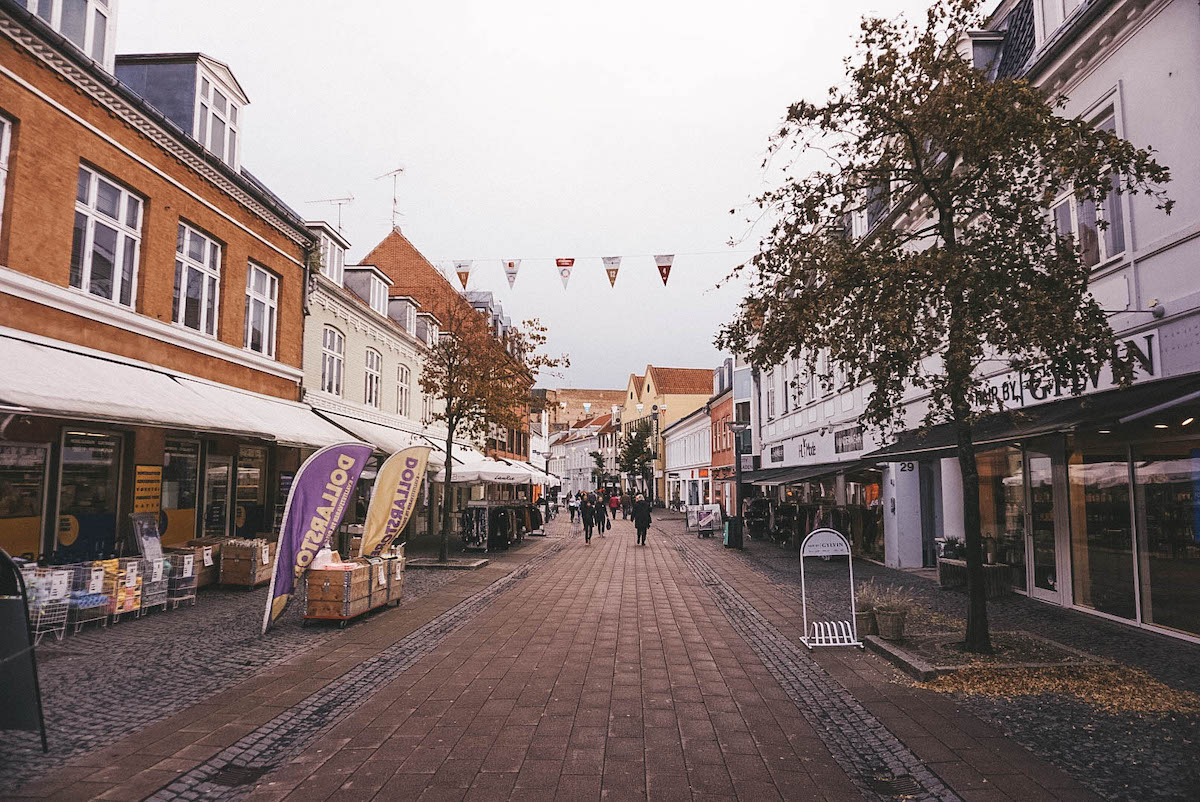 Honestly, there's not much else to do in Hillerød, Denmark besides Frederiksborg Castle. I didn't mind that at all since Hillerød is so close to Copenhagen (i.e. no crazy long travel time for just one attraction), and because you can spend so much time exploring both the castle and its gardens. With that being said, if you're curious to know what else you can do in Hillerød, here are your options:
Gribskov — Denmark's fourth largest forest, you can spend a couple of hours hiking here. I wasn't able to visit on my trip since the weather was rainy and I was short on time, but from the photos the forest looks beautiful! If you've visited before, please leave me a comment telling me about your experience.
Hillerød's city center — Downtown Hillerød is lined with boutiques and cafes. After your trip to the castle, meander down the main street and pop into a few shops. There's also a larger shopping center if you're looking to do some serious shopping.
Tips for Visiting Frederiksborg Castle
Hopefully you're now itching to visit Frederiksborg Castle. It's truly spectacular and well worth a visit. If you do plan on taking a day trip from Copenhagen to Hillerød, here are a few key things to keep in mind for you visit.
Arrive early — I wish I'd arrived in Hillerød earlier in the day. Frederiksborg was bigger than I thought it'd be and I would've loved to have had more time to walk around the gardens and surrounding property before the castle closed for the day. If possible, plan on getting to the castle when it opens. That way, you can take your sweet time exploring, then head back to town for a late lunch, and then retrace your steps and enjoy the gardens for a bit.
Visit during the work week — I've never been to Frederiksborg on the weekend, so I'm not sure how busy it gets. But visiting on a random Tuesday during the workday was fantastic. It really felt like I had the castle to myself. I think I saw 20 other visitors maximum the entire time I was in the castle, and the gardens were empty too.
Bring layers — Even if you visit in the summer, I recommend bringing something to throw on while you're in the castle. It's an old Renaissance castle, so it's extremely drafty. You'll enjoy your visit more if you're not chilly, trust me.
Eat a snack beforehand — Understandably, no food is allowed inside the castle. Definitely eat a big breakfast before leaving Copenhagen and then eat a little something extra before you pop inside Frederiksborg. This isn't a castle you want to rush through, so fuel up properly before going inside so you can take your sweet time exploring on a full stomach.
Tell me: What's been your favorite mansion or castle you've visited in the past?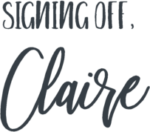 More posts you'll love:
Save this post to Pinterest!