Warnemünde is a popular beachside town just 30 minutes away from Rostock, Germany. Here's a full guide to spending one day at the Baltic Sea!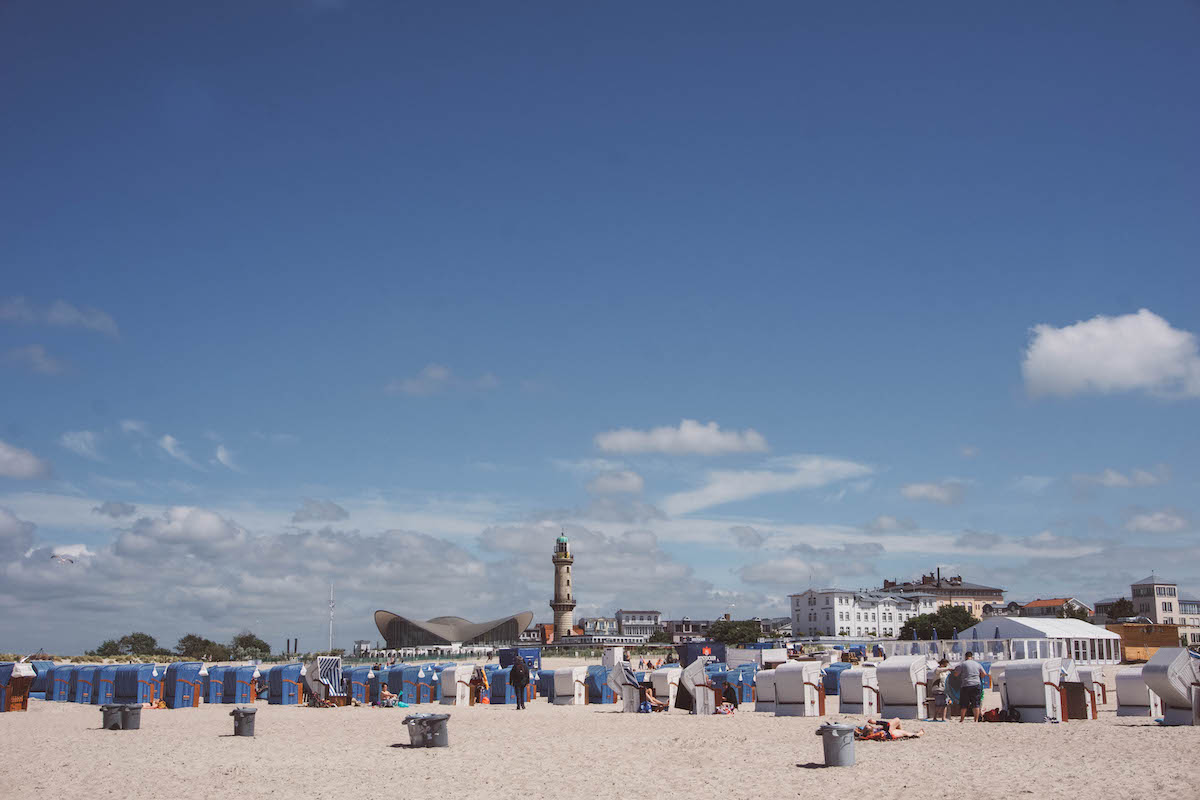 Just 20 minutes away from charming Rostock is Warnemünde, a beachside town that's a popular port of call for cruise ships. In fact, it's one of the busiest cruise ports in Germany!
Wandering around Warnemünde today, you wouldn't realize that it was once a small fishing village. It officially became a part of the city of Rostock in 1323 and its reputation as a seaside resort developed in the 1800's. 
The main attraction in Warnemünde is its beach; it's over 5km long and consists mostly of white sand. The famous Warnemünde lighthouse and "Tea Pot" building greet visitors on their way to the beach. 
I hope this list of things to do in Warnemünde (plus extra tips and info on where to stay!) shows you that although it's teeny tiny, it's still worth spending an afternoon here!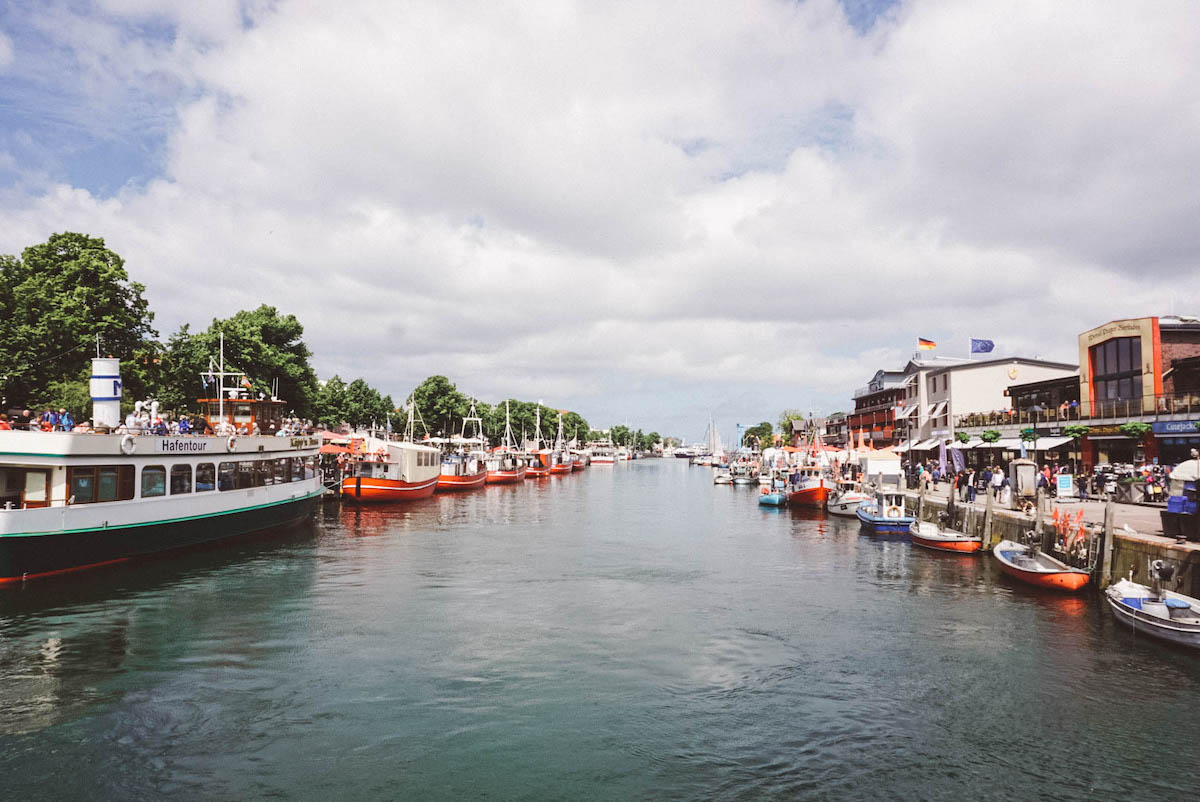 Where Is Warnemünde?
Warnemünde is a small town in northern Germany, near Rostock. It's located along the coast of the Baltic Sea (Ostsee in German) in the state of Mecklenburg-Vorpommen. 
How to Get from Rostock to Warnemünde 
Getting to Warnemünde is so easy! The beach town is roughly 20 to 30 minutes away from Rostock's city center, depending on whether you drive or take public transportation. 
Getting there with public transportation: Take the S1, S2, or S3 to the station called "Warnemünde." (There's a station just before it called "Warnemünde Werft," which is NOT what you want). 
Getting there with a car: You can follow the B103 most of the way from the city center to Warnemünde beach. From there, follow the road signs. 
Where to Stay in Warnemünde, Germany 
I recommend staying at a hotel along the promenade so that you'll have easy access to the beach. Even if you visit during the off-season when it's too cold to go swimming, being right by the beach is so magical. Late-night walks along the sand are a must no matter the season!
I stayed at the Hotel Stolteraa and would recommend it for anyone traveling on a budget. It's by no means the fanciest hotel, but it has an old-school charm that I loved.
The included breakfast at the hotel was very German (lots of bread rolls, spreads, and fresh fruit), and it was lovely being able to look out at the sand while sipping on a cup of tea.
The hotel is located at the end of the promenade, so while I was a longer walk from dinner at night, it also meant that the stretch of beach nearest the hotel was practically empty all day!

What to Do in Warnemünde, Germany 
I've had the pleasure of visiting Warnemünde a couple times, and each time the weather was completely different (one day warm and sunny, another cold and wet, and yet another incredibly windy). No matter the temperature, a trip to Warnemünde is always fun!
However, if the weather is nice I can pretty much guarantee that you'll want to spend your entire day at the beach anyways! The rest of the Warnemünde activities I'm sharing are just icing on the cake. 
1. Wander Along the Alter Strom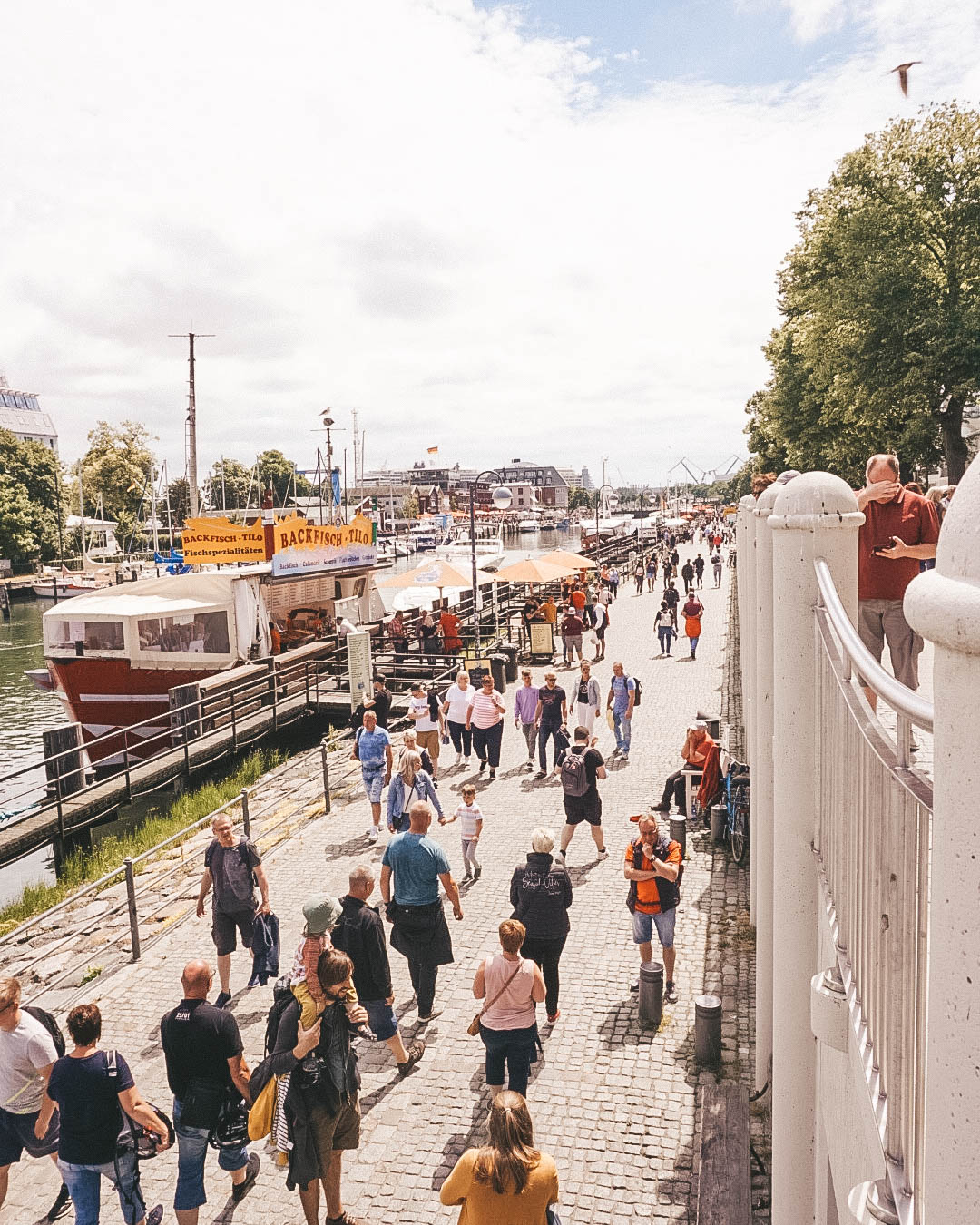 Until 1903, the Alter Strom served as the sole shipping passage to Rostock's harbor. Today, the Alter Strom is lined with boutiques and restaurants. The Alter Strom is not even 5 minutes away from the train station, and it leads you directly to the beach. It's a picturesque area that quickly fills up on sunny days. 
Although you can definitely sit down and eat at one of the restaurants in the area, I opted to order a Fischbrötchen (fish sandwich) from one of the boats moored along the Alter Strom. I enjoyed people watching while eating my lunch on the water. 
2. Relax at Warnemünde Beach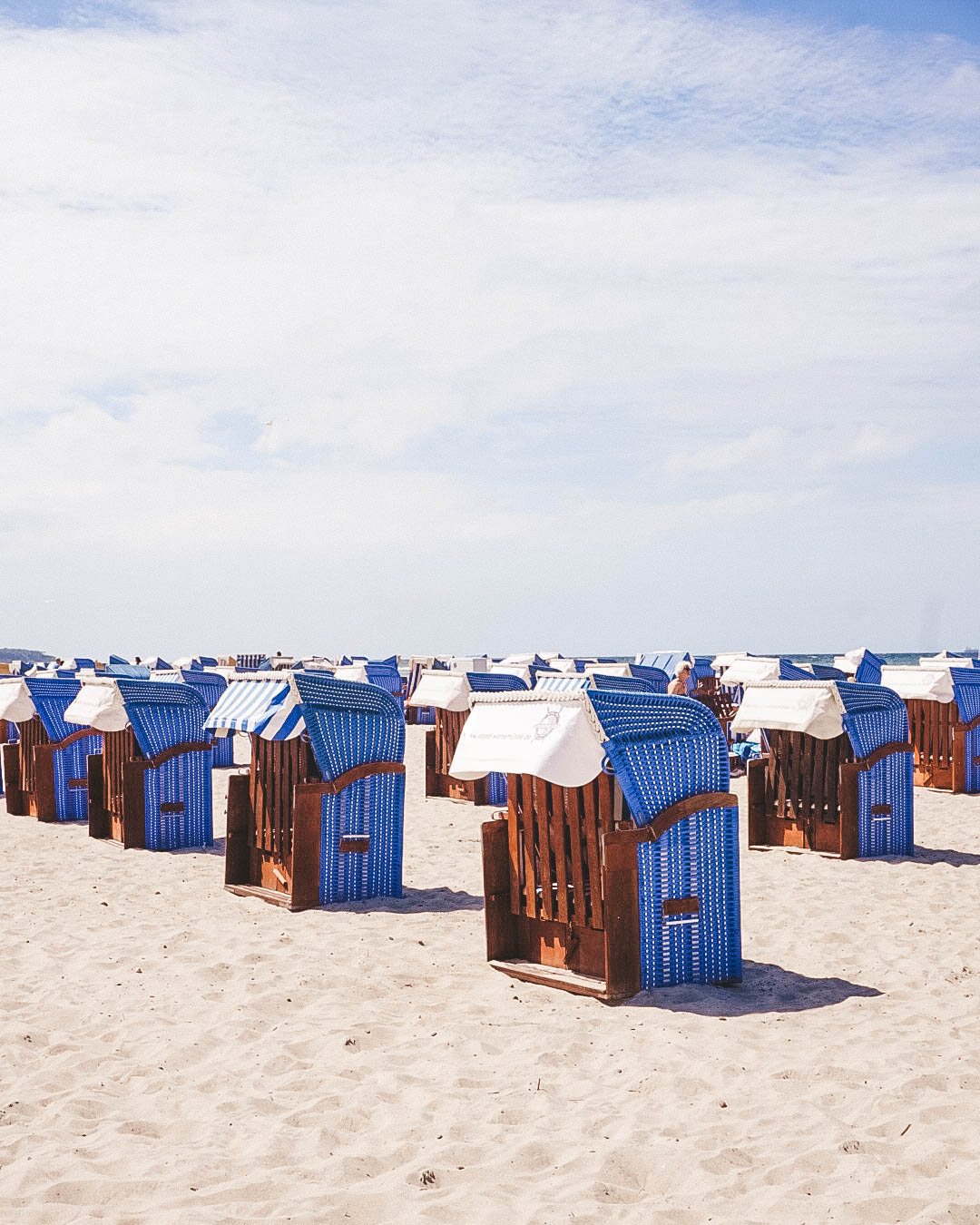 Let's be real, the reason you're visiting Warnemünde from Rostock is to lay out at the beach. I don't blame you, that's what I visited for too! The beach is actually quite nice for the Baltic Sea; the water is chilly but fairly clear and good for swimming, and the beach itself is mostly white sand. 
If possible, rent a Strandkorb for the afternoon. It's basically a covered structure that you can sit in and also use to lock up your personal belongings while you're in the water. Strandkörbe are quintessentially German and you'll find them at every beach along the Baltic Sea! 
Tip: At the end of the beach, you'll find the "FKK" section (sections 18 -22 of the beach). This is the nudist area. This is also very typical of German beaches, so don't be surprised if you walk past some naked people! 
3. Walk Along the Promenade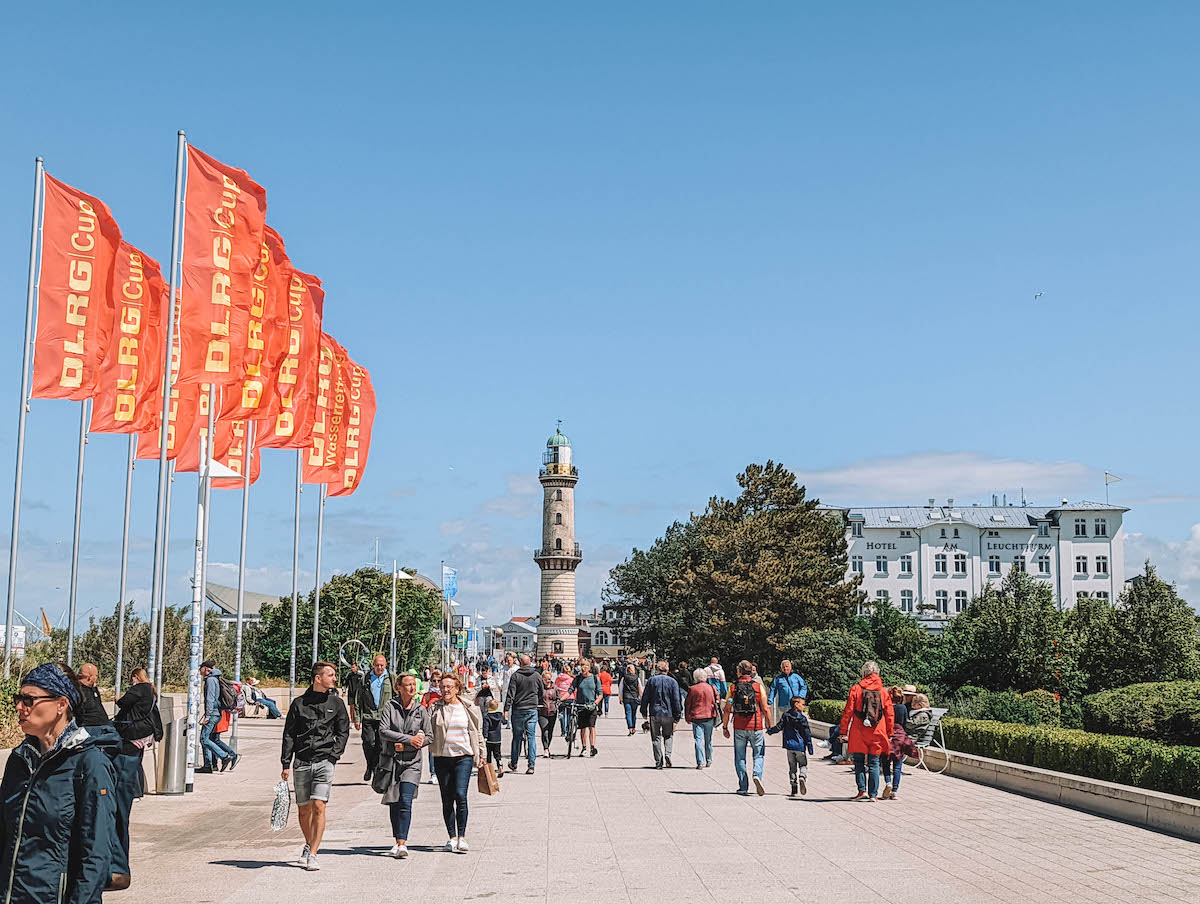 The Warnemünde promenade stretches roughly 2km along the length of the beach. It starts at the Tea Pot building (more on that in a bit!) and takes you to the coastal forest on the west side of the city. The promenade is a lovely place to stroll and is a good spot to take photos along the beach. 
4. Walk Out to the Sea Pier
From the Alter Strom, you can walk along the mole (a nautical term for a pier that's used as a breakwater) to the Westmole Leuchturm, or west mole lighthouse. The pier ends at the lighthouse, and has a lovely view of the entire beach and the east mole lighthouse. This would be a great place to enjoy an ice cream cone, just saying! 
5. Discover the Former Captains' Houses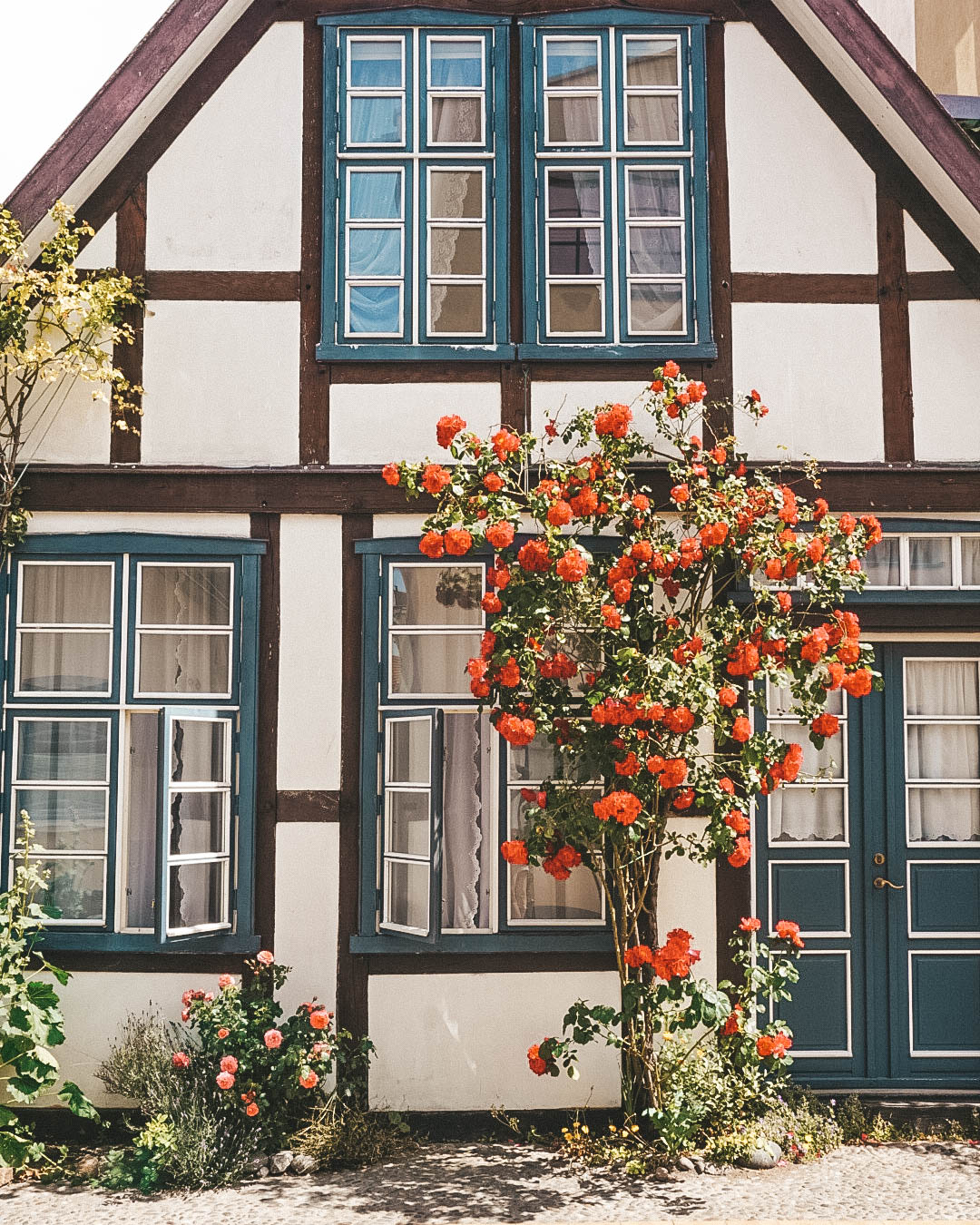 The Alter Strom gets most of the love when people write about Warnemünde, but I discovered quite a few cute side streets during my explorations. Once you're away from the Alter Strom, the crowds thin out significantly. 
The street one over from the Alter Strom (Alexandrinenstraße) is absolutely gorgeous! Keep an eye out for the old captains' houses. You'll also pass some half-timbered homes. 
6. Walk Through Hollyhock Paradise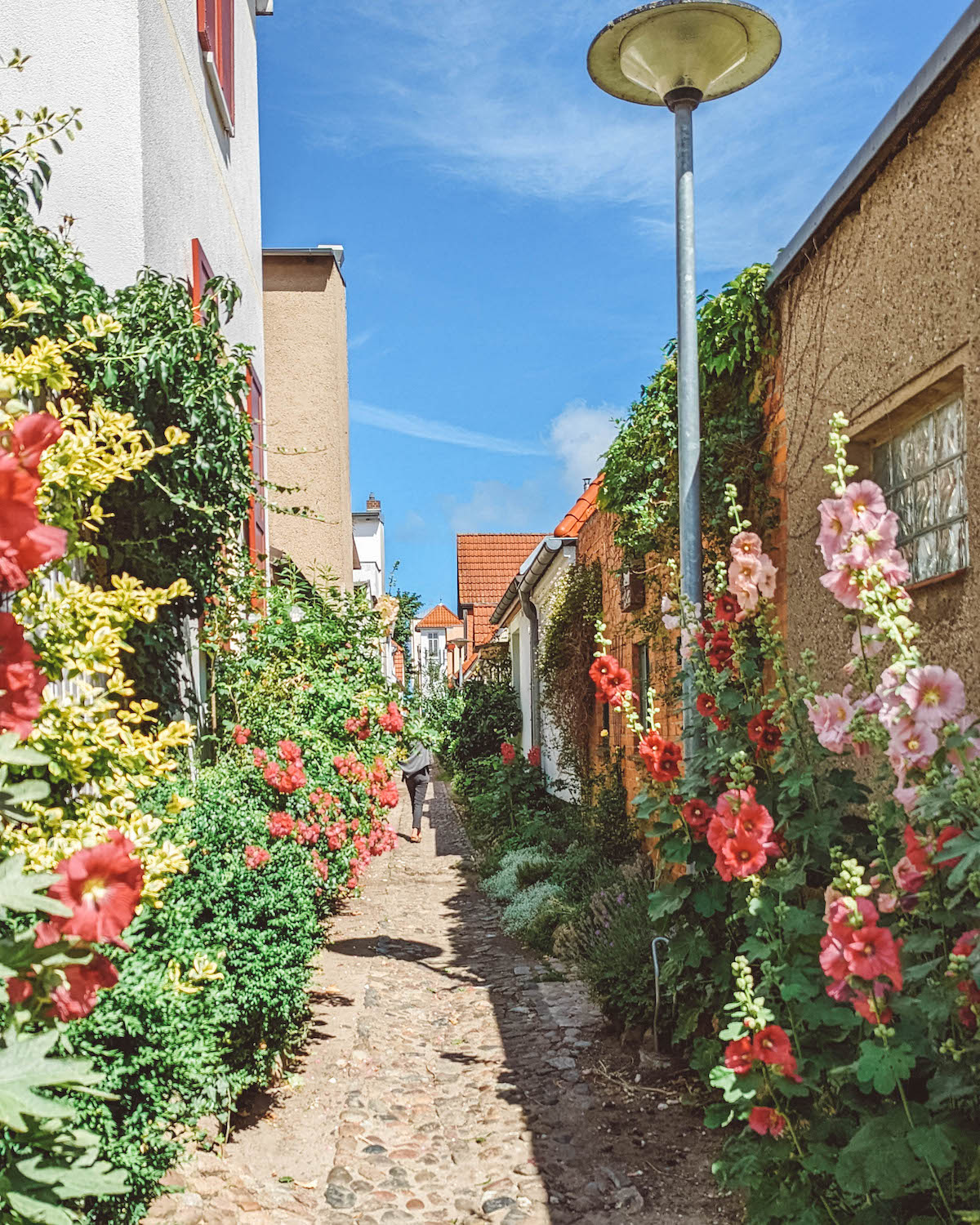 During my wanderings through Warnemünde this summer, I stumbled upon what looked to be a scene from a fairy tale. A quaint alleyway was overflowing with hollyhocks, with a small path between the houses. 
The real name of "Hollyhock Lane" is Katergang, which is located off of busier Hermannstraße. Hollyhocks have a long blooming season — mid-summer to early fall — but this magical alley can still only be visited during certain times of the year.
Tip: Note that this alleyway is residential. Please be courteous when taking photos, and never take photos of someone's front door. 
7. Climb the Old Warnemünde Lighthouse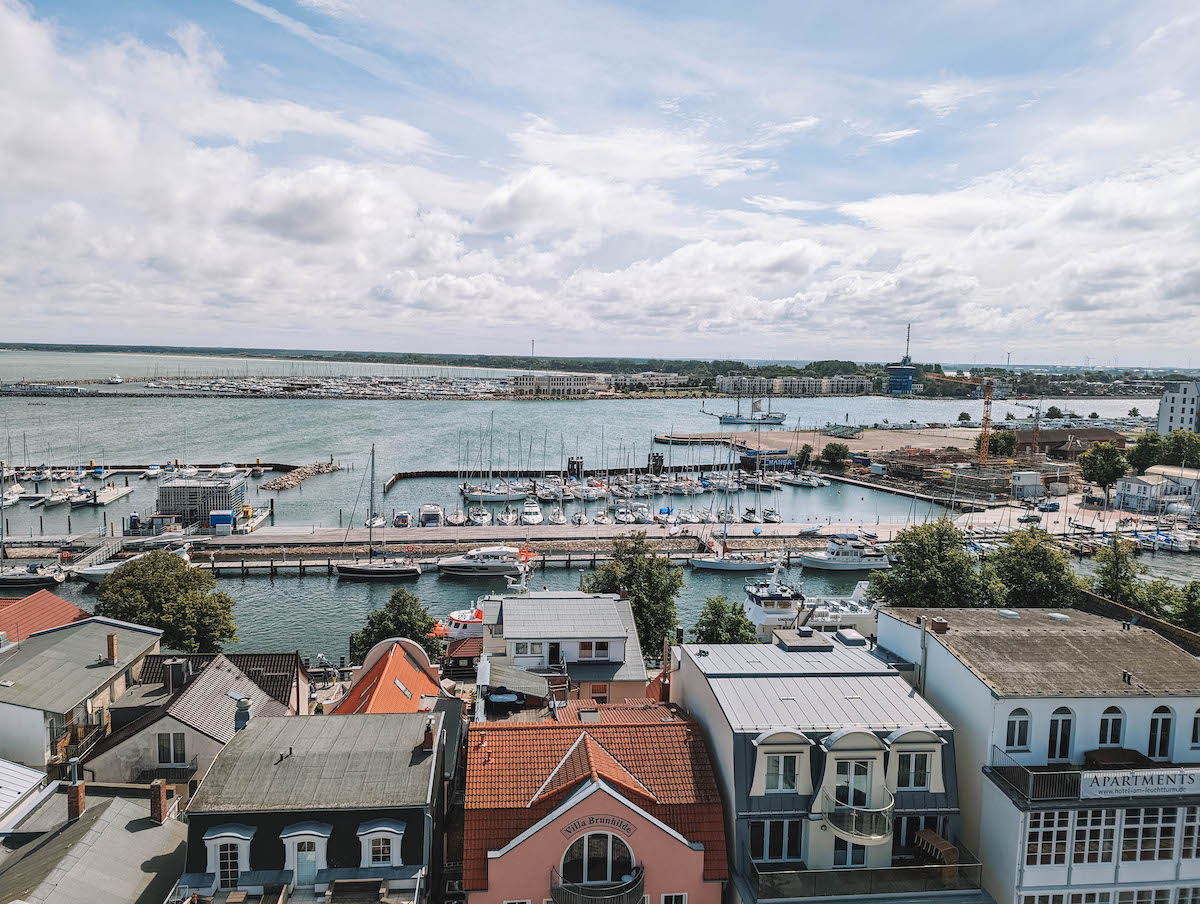 Warnemünde's iconic lighthouse rises 31 meters high and is made of white glazed bricks. It was built in 1897 as a means to signal ships to harbor. For just 2 Euros, you can climb to the top of the lighthouse for a view of the beach and the town of Warnemünde. 
There are multiple levels of the lighthouse where you can pop your head out at. It can be very windy at the top, so hold onto your hat!
8. Admire the Tea Pot Building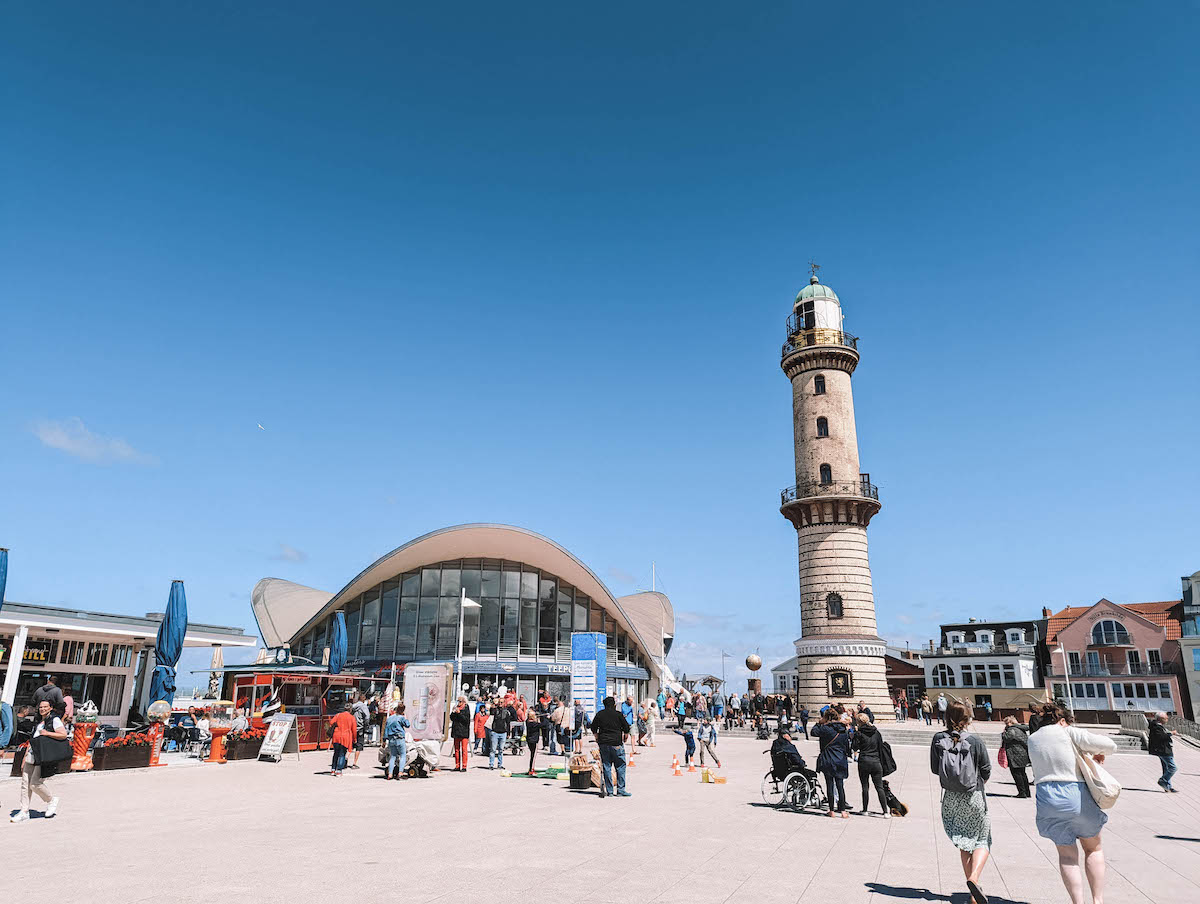 Right next to the lighthouse is a building called the Teepott (tea pot). It's a funny round building that was built in the 1960's. There are various restaurants housed within the Tea Pot, and if nothing else it's worth poking your head around to look at. 
9. Visit Warnemünde Church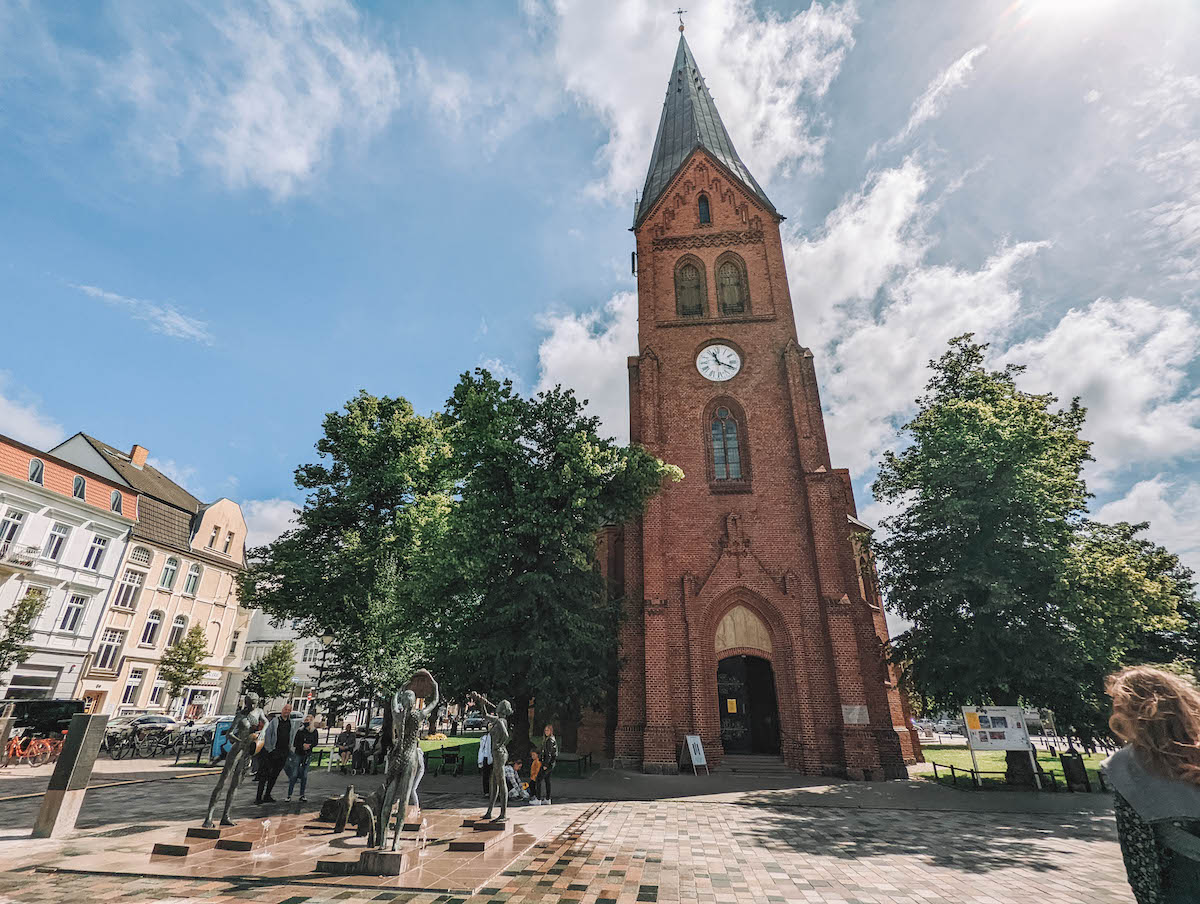 For a dose of local history, stop by the town's church. It's not one of the absolute top things to do in Warnemünde, but you might as well swing by if you're exploring the town on foot!
It's a pretty neogothic, red brick church that was consecrated in 1871. The interior has a subtle maritime flair to it.
10. Eat a Fischbrötchen
While you're at Warnemünde beach, you simply must try a Fischbrötchen. Northern Germany is known for this type of fish sandwich, so it'd be a shame to miss the opportunity to try one! 
Fischbrötchen is the general name for a fish sandwich, but there are lots of different types to try. I love eating a Backfisch sandwich — it's basically a fried piece of fish sandwiched between two pieces of white bread and topped with remoulade (and possibly fresh veggies, if you're lucky). 
You can also try Fischbrötchen made with smoked salmon (Lachs), smoked herring (Matjes), shrimp (Garnelen), and more. Fischbrötchen are typically sold alone, but you can often order potato salad, fries, or another side to enjoy on the side. 
While you're walking along the Alter Strom, look for the Fischbrötchen boats that are moored along the water. They'll have the freshest fish for sale, so grab a sandwich from one of them. 
Tip: Beware the seagulls! Seriously, those buggers are vicious at Warnemünde and they will try to steal your food. 
11. Visit the Weekend Fish Market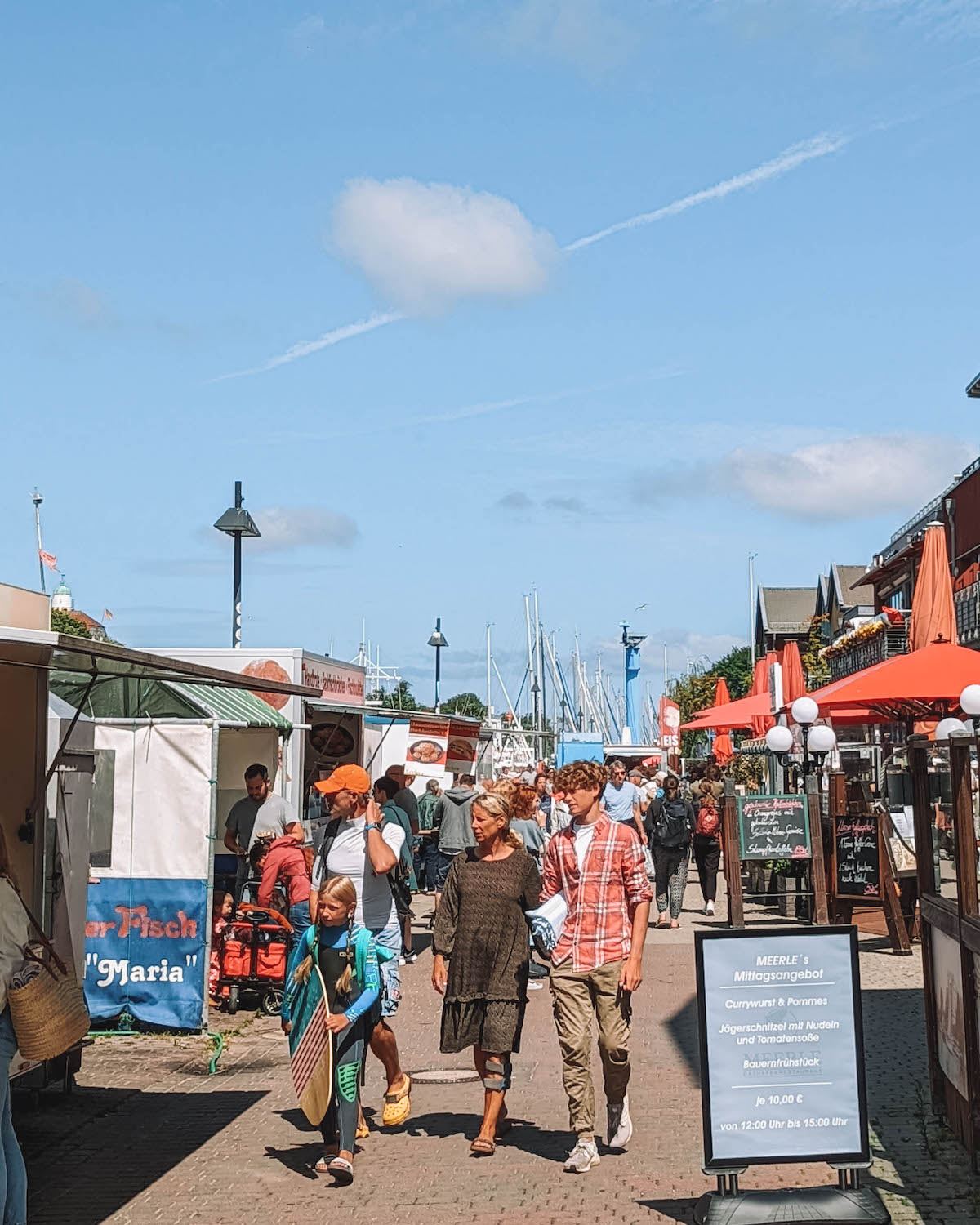 A weekly fish market takes place every Saturday and Sunday in Warnemünde, along the canal on the opposite side of the Alter Strom. (There's a big sign pointing to it, you can't miss it!)
There are lots of stalls selling freshly caught fish, smoked fish, fish sandwiches, and more. If you're in town for a few days and want to cook with local seafood, come to the fish market!
Tips for Your Visit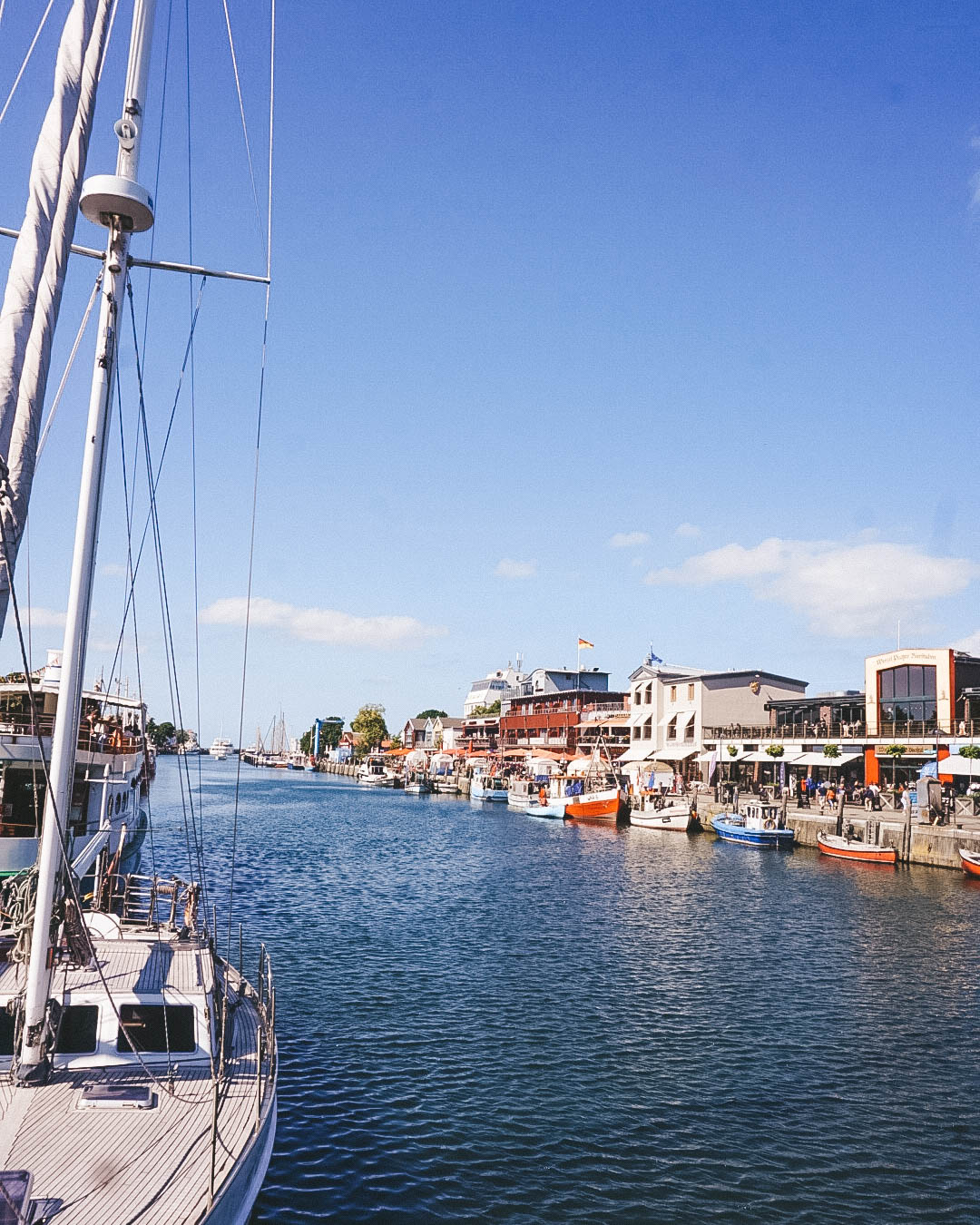 Wear layers — The Baltic Sea is always chilly, and Warnemünde can be fairly windy. I visited on a sunny summer's day and was glad I brought a light sweatshirt to wear while walking along the beach. 
Book a Strandkorb in advance, if possible — Strandkörbe are very popular, and on busy days (especially on weekends) you might not be able to reserve one day-of. However, it's worth seeing if any are available because it really makes a visit to the Baltic Sea picture perfect! 
Get there early — The crowds at Warnemünde really swell around lunchtime, so get to the beach early if you're serious about securing a good spot. 
Bring cash — Most of the restaurants along the Alter Strom accept credit card, but to use the bathroom, rent a Strandkorb, buy a Fischbrötchen, etc. you'll need cold hard cash. 
Time needed — I recommend giving yourself anywhere from half a day to a full day to visit Warnemünde. It really depends on the weather and if you'll be laying out at the beach or not. 
Go for an early morning dip in the sea (just do it!) — My most recent trip to Warnemünde beach was cold and windy. But seeing as I was with two hardy Brits, we took morning dips in the sea. The water was very cold, but those 10 to 15 minutes in the cold water did wonders for my mood!
What to Do in Warnemünde for a Day? 
Warnemünde makes for a great (albeit long) day trip from Berlin to Baltic Sea. It's also a great day trip option if you'll be staying in Rostock.
If you only have one day in Warnemünde, I recommend spending most of your time at the beach (even if it's windy!), exploring the Alter Strom and nearby side streets, and climbing the lighthouse. It's quick and easy to get around the town on foot, so take your time and enjoy being by the sea!
Ready to Swim in the Baltic Sea?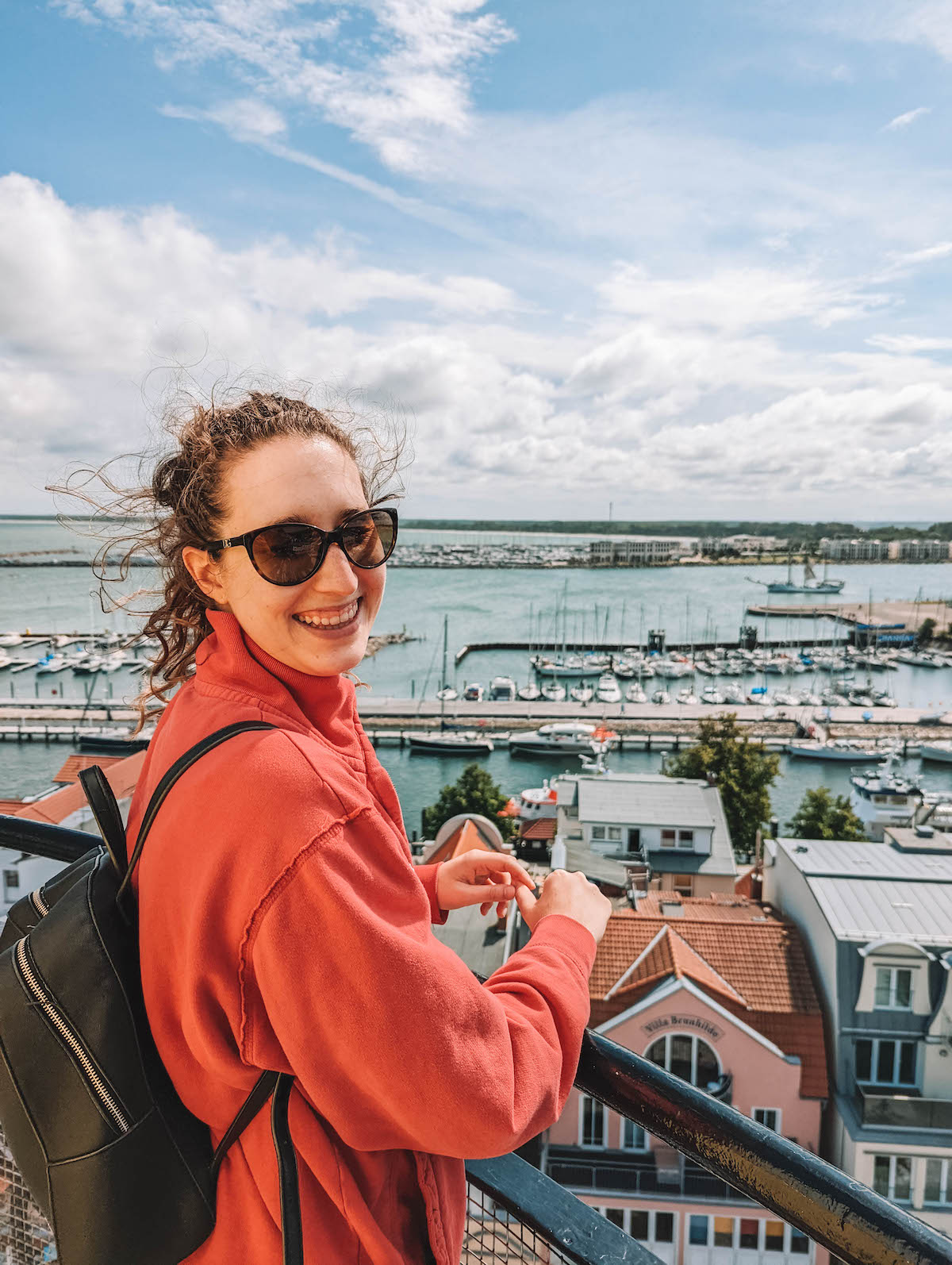 I hope this list of things to do in Warnemünde, Germany has proven helpful! When I told my friends from the US that I was going to be spending a day here, they all sheepishly said they didn't know Germany had beaches. Luckily for me, Germany has some great beaches, with Warnemünde being one of my new faves. 
Swimming in the Baltic Sea is certainly a — ahem — refreshing experience, but on a hot day the cold water feels amazing. Leave me a comment below if you have any questions about visiting Warnemünde. Otherwise, enjoy your trip! 
Don't forget to follow me on Instagram to keep up with my daily adventures in Berlin and beyond!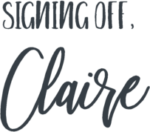 More posts you'll love!