There's something about warm weather that makes time pass even more quickly than usual. I mean, how has it been over a week since I left Charleston? Madness. One of the first things I do after any trip is make a list of all the possible blog posts I could write. When brainstorming what all I could share with you about my Charleston trip, I wrote "favorite restaurants???" (emphasis on the multiple question marks). I initially hesitated to write this list simply because I hadn't eaten at a ton of places. Whenever I write restaurant guides for you all, I prefer to have tried a ton of eateries in the area so I can be 110% sure I'm recommending the best places.
But then I thought, why does it matter? If a restaurant is amazing, a restaurant is amazing. Who cares if I've tried a hundred places or just a handful? When I've found a bucket list-worthy restaurant, I want to share it with you, which is precisely what I'm doing today. Although I was in Charleston for just a week, I had some incredible meals while I was there. Below is a sampling of where to eat in Charleston. There are many more restaurants I want to try on my next visit, but these were my faves from this trip.
Hominy Grill
Hominy Grill is the Southern restaurant to visit in Charleston. Literally every restaurant list I read recommended Hominy Grill, and I'm pleased to say it lived up to the hype. I had a fried green tomato BLT for lunch and it was heavenly. Paired with a side of spicy vinegar coleslaw, it was the perfect lunch. The woman at the table next to me was celebrating her birthday, and she downed TWO of their homemade chocolate puddings for dessert. I was too full to stuff in dessert, but her zealous enjoyment of that pudding was an A+ recommendation if ever I saw one. Hominy Grill is only open until 3pm and it gets pretty crazy on weekends. Visit for a late lunch during the week to avoid a wait.
Brown's Court Bakery
This bakery is a little out of the way if you're staying downtown in the historic district. But if you book a room further north near Cannon Street, Brown's Court Bakery is a good spot to have tucked up your sleeve. The shop itself is fairly small, but there's free WiFi you can use if needed. Their house made iced teas are delicious and you get to choose how much sugar goes into your cup. Whatever you do, don't leave without getting at least one pastry—they're all made in-house and are ridiculously good.
Belgian Gelato
I've never been to Disney World, but I imagine the pineapple sorbet at Belgian Gelato tastes like Disney's iconic Dole Whip. The prices at Belgian Gelato are a little steep, but it's right next to Charleston's pineapple fountain and waterfront, so it's to be expected. The gelatos and sorbets all taste very high-quality, so flavor-wise it's definitely worth getting a cup!
Leon's Oyster Shop
I'm actually not a fan of oysters, so I can't speak to the quality of Leon's shellfish. However, their chicken sandwich is dang tasty, and reasonably priced as well. Leon's is pretty casual; I wore jean shorts and a tank top in and didn't feel out of place.
Xiao Bao Biscuit
As much as I love southern food, I couldn't eat it for five days straight. Enter: Xiao Bao Biscuit, aka the best Asian fusion I've eaten in a long time. This restaurant was near my AirBNB, and came highly recommended by my host. In the summer, you can sit outside on picnic benches to soak up some Vitamin D while enjoying your meal. I went for the black bean fried chicken and oh my word was it good. The chicken was super crunchy on the outside, but moist on the inside, and it came with a spicy papaya salad, which perfectly complemented the rich chicken.
Republic Ice Cream
Of all the ice cream places on this list, Republic is my favorite. You can get creative flavors here, but none of them are so out of the box that you hesitate to commit to an entire scoop. Republic is also the cheapest ice cream place I found (still around $4 a scoop though), and their portions were the largest. The strawberry ice cream was surprisingly my favorite—it actually tasted like fresh strawberries, and I liked that there were chunks of berries throughout my scoop.
Five Loaves Café
Finding vegan and vegetarian options is a little tricky in Charleston, but Five Loaves Café is really accommodating to customers with dietary restrictions. This is a no-frills café that has a really solid sandwich, soup, and salad menu. I did the half sandwich, half salad combo and it was the perfect amount of food for me. Even better, the service here is quick and the food is pretty cheap. If you get a salad, choose one with homemade polenta croutons on it.
Brown Dog Deli
Brown Dog Deli is close to the historic city market, making it the perfect lunch spot when you're exploring downtown. This deli is another no-frills, inexpensive sandwich place with big portions. Their reuben was simply magical. I know corned beef and sauerkraut aren't "fresh" ingredients, but somehow their reuben tasted fresh. By no means was it a small sandwich, but I didn't feel weighed down after I inhaled it. You can get your lunch to-go here as well, which I recommend doing if you're jetting off to one of Charleston's many plantations.
Jeni's Splendid Ice Cream
This is the last ice cream place, I promise! Jeni's is a smaller chain with scoop shops scattered throughout the Midwest and the South. Their ice cream is pretty expensive for how much you get, but it's obvious they use only top notch ingredients in their flavors. Jeni's is the place to go if you like more inventive flavors. I ended up getting a scoop of the brambleberry crisp and the brown butter almond brittle. Making ice cream this delicious should be illegal!
Jestine's Kitchen
While I'm sure Charleston's higher end restaurants serve great fried chicken, I absolutely refuse to pay $18+ for it. In my experience, the best comfort food is usually served at the more casual, hole in the wall places. Jestine's is by no means a hole in the wall (I've heard they have a line out the door for dinner!), but it is super casual and the food is pretty cheap. If you don't get the fried chicken, you'll regret it for the rest of your life. Perfectly crisp on the outside, and juicy on the inside, it's just what the doctor ordered. And get a glass of sweet tea to go with it, because no southern meal is complete without it.
Looking back, I'm not sure how I didn't explode after eating so much good food in Charleston. When in Charleston, definitely get your hands on some local seafood and lots of classic southern dishes. Most importantly, make sure to leave room for dessert after dinner—you're on vacation, after all!
Tell me: What's your favorite southern dish? You already know mine!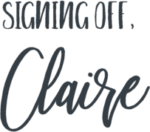 More posts you'll love:
Pin it!