If you'll be staying in Nuremberg for a few days, you'll definitely be able to take a day trip! These 9 day trips from Nuremberg are all accessible by train and less than 2 hours away.
When planning a trip to Bavaria, many visitors make Munich their base and travel around the area from there. Although I love Munich, I can also highly recommend selecting Nuremberg as your jumping off point for exploring southern Germany.
Nuremberg is a smaller city than Munich, and it's often less crowded and more affordable to visit (unless it's Christmas market season!). Like Munich, Nuremberg is located along many of the region's main train routes. Coupled with its more northern location in Bavaria, Nuremberg is a gateway to other major cities in central and southwest Germany.
This list of day trips from Nuremberg will take you to some of the most interesting cities in Bavaria and beyond. You can easily get to all of these day trip destinations by train (see my tips at the end of this post for navigating the train system in Bavaria).
I'll update this list as I take more day trips from Nuremberg, but so far these are the only ones I've been to and can wholeheartedly recommend!
Note that this list is ordered by how long it takes to travel by train from Nuremberg. You're welcome.
Table of Contents
Click "show" to see the full table of contents for this post. You can jump around the post as desired by clicking on the individual sections listed below.
Bamberg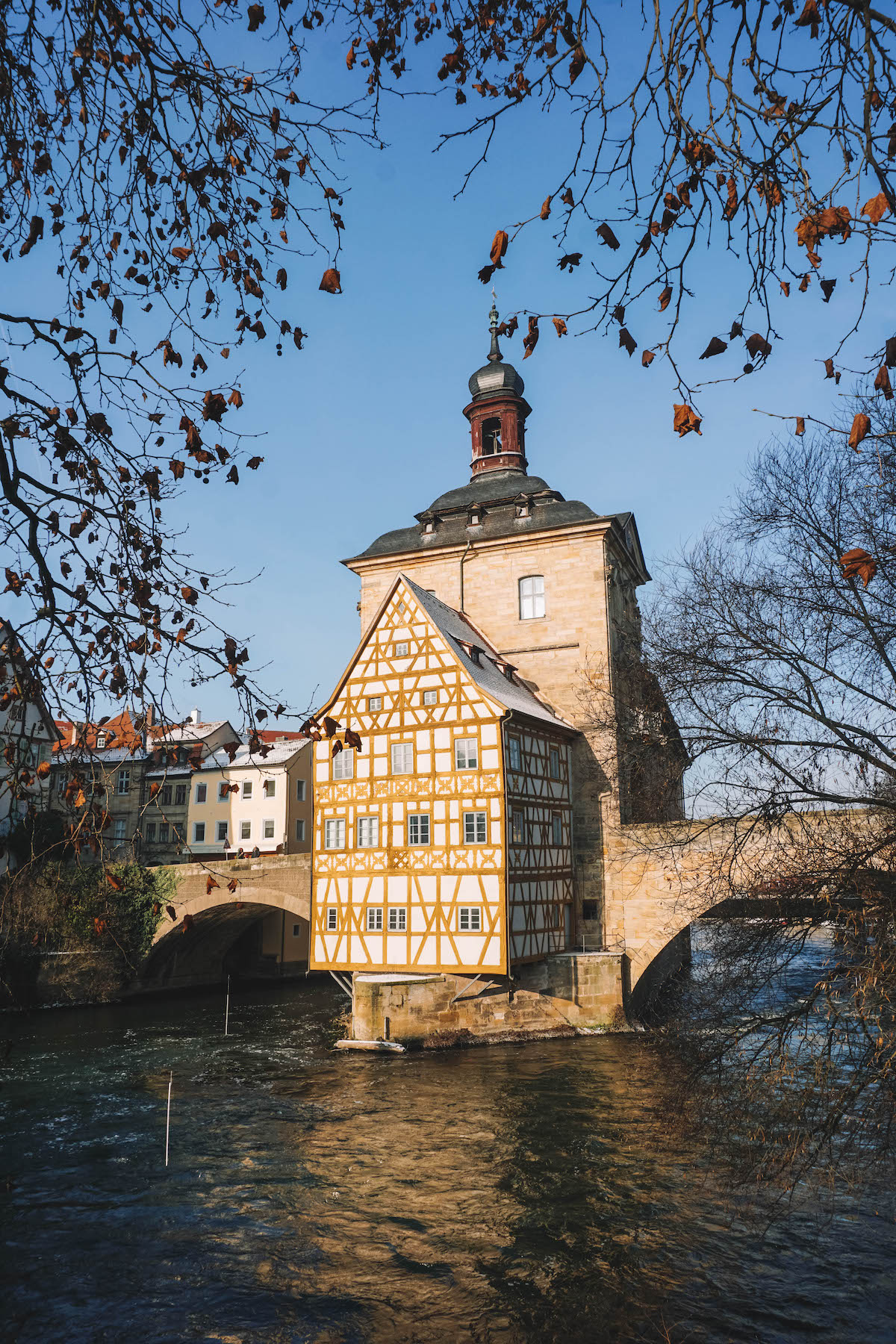 Travel time: 1 hour via RE train
Bamberg is one of the prettiest towns in all of Germany. The Old Town area is a protected UNESCO World Heritage site, and it's home to half-timbered houses and historic buildings galore.
Because Bamberg is so compact, you can easily show up for the day without an itinerary and uncover the city's gems at your own pace. However, I recommend seeing:
"Little Venice" (Klein Venedig)
Old town hall
Cathedral
Rothenburg ob der Tauber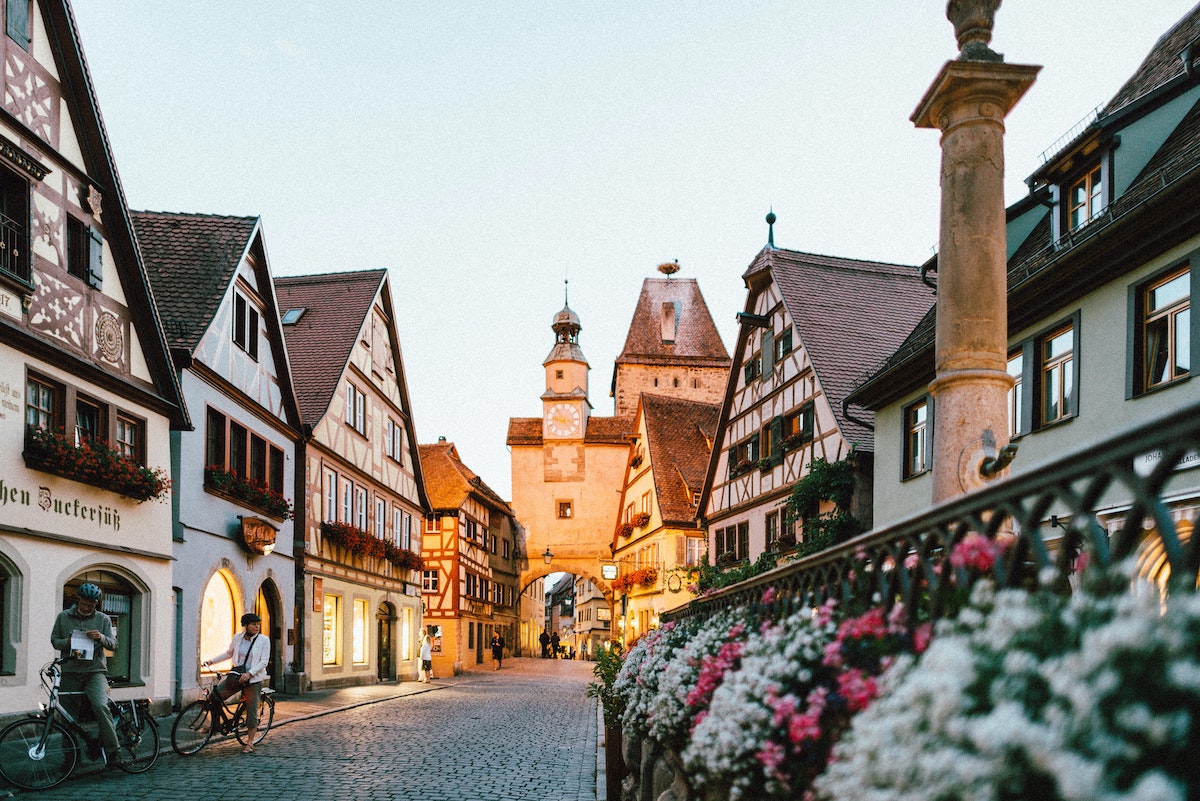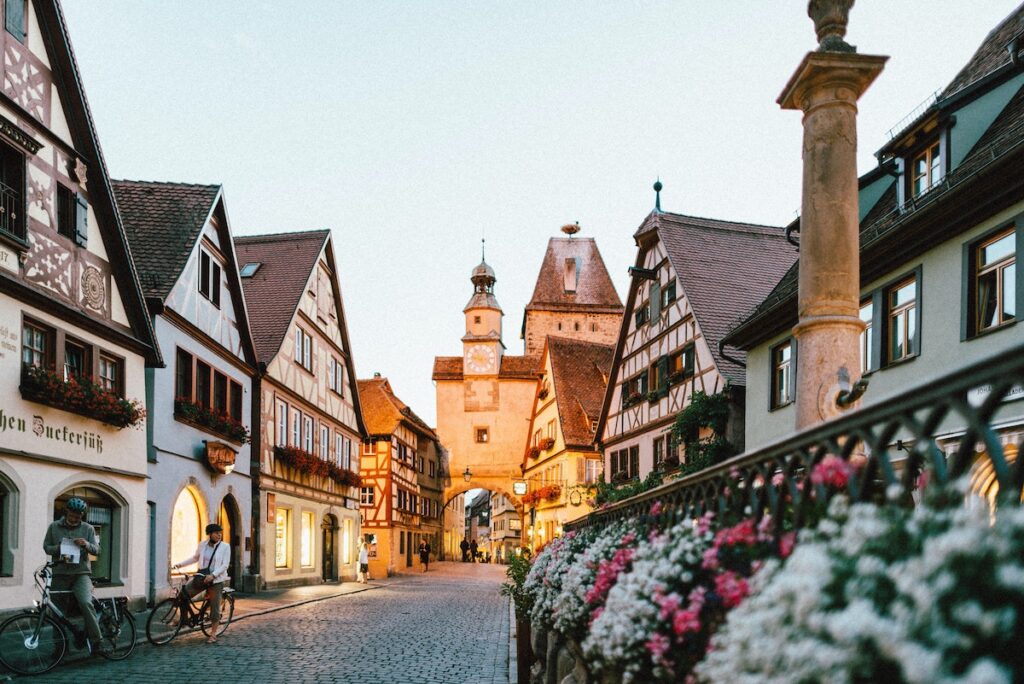 Travel time: 1 hour (with two train changes)
Rothenburg ob der Tauber is quite possibly the most fairy tale-esque town in Bavaria. It's thought to be the "Christmas capital" of Germany, with the popular Christmas shop chain Käthe Wohlfahrt having been founded there.
Rothenburg ob der Tauber is a stunning walled city with lots of activities to keep you busy for the day, including:
Plönlein (the iconic photo of Rothenburg. It's lovely street with half-timbered houses)
Käthe Wohlfahrt Christmas Museum
Walking the city walls
Marktplatz (main square)
Note that of all of the Nuremberg day trips on this list, Rothenburg ob der Tauber is the most difficult to reach by train. It only takes about an hour to travel between the cities, but you have to change trains twice and the layover times are quite short. It's doable, but timing will be tight!
Regensburg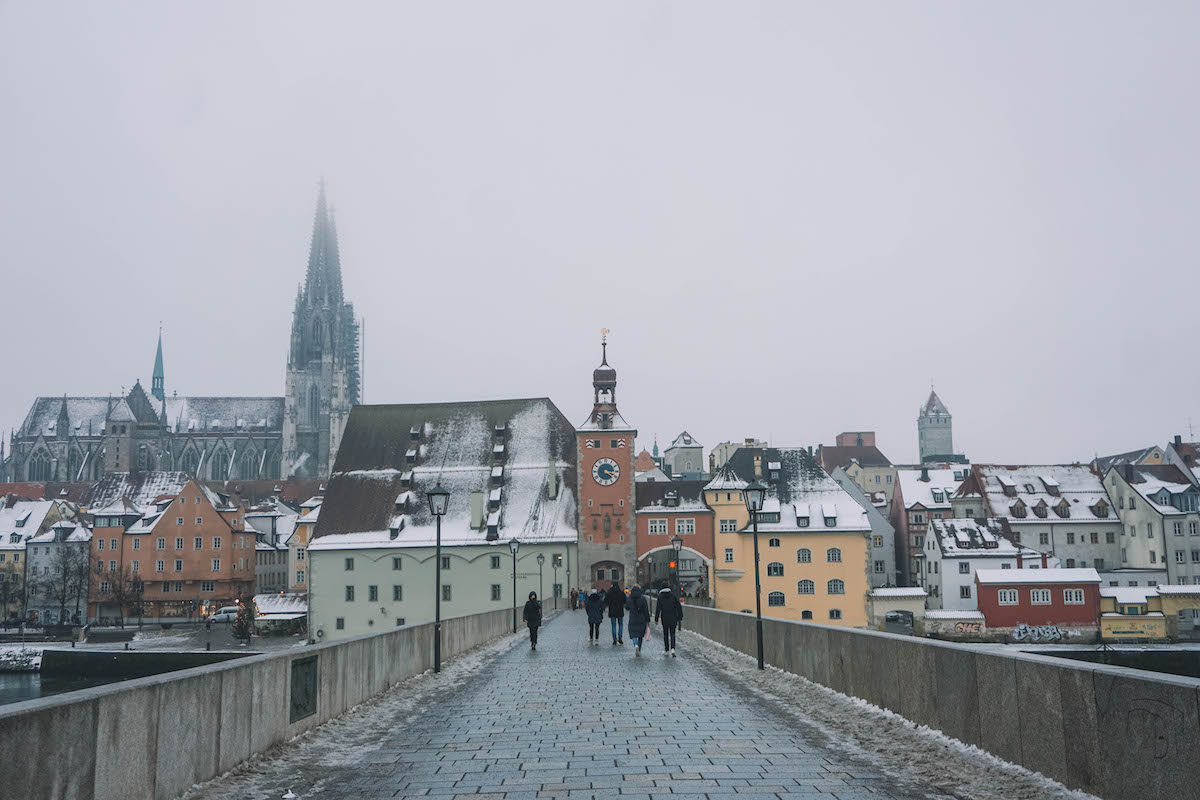 Travel time: 1 hour via RE train
One of the lesser known day trip destinations is Regensburg. It's a small city situated along the Danube River. You can see pretty much all of the main attractions in Regensburg in a single day.
While you're here, be sure to:
Wander the Old Town — It's a UNESCO World Heritage Site!
Tour the Schloss St. Emmerman, Thurn und Taxis — A gorgeous rococo palace where a noble family still resides. You can only visit on a guided tour, and I recommend booking your ticket in advance!
Walk across Old Stone Bridge — You'll be treated to a gorgeous photo op from other side of the Danube River.
Visit St. Peter's Cathedral (Dom St. Peter) – A beautiful High Gothic cathedral that was built in the 1200s.
Munich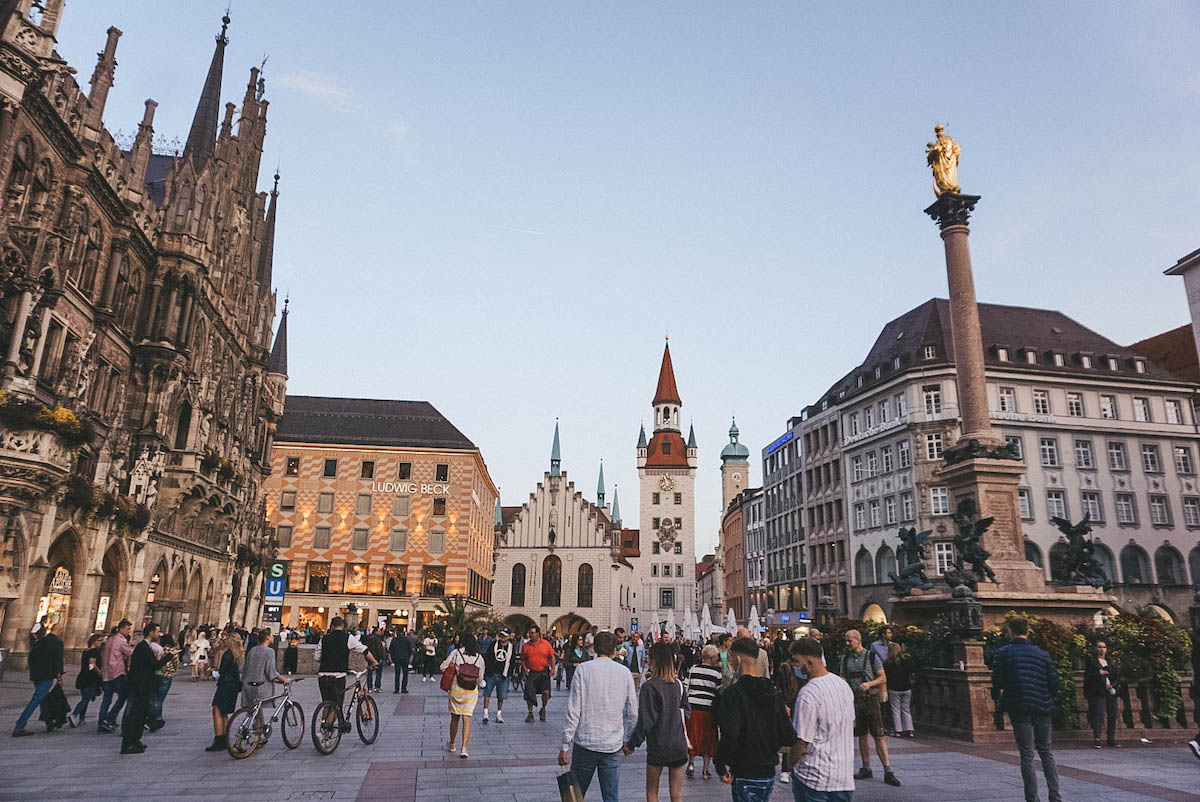 Travel time: 1 hour via ICE train
One of the best day trips from Nuremberg (and possibly the easiest to reach!) is undoubtedly Munich. The capital of Bavaria, Munich was home to the Bavarian royal family, the Wittelsbachs, for almost 700 years. It was also here that Adolf Hitler rose to power and helped establish the Nazi party.
When foreigners think of "German culture," what they usually envision is a variation of Bavarian culture since that's what is popularly showcased in movies and TV shows (albeit a stereotyped version).
There are far too many things to do in Munich than what you can realistically accomplish in a single day, but if you just have one day in this beautiful city I recommend the following itinerary:
Touring the Residenz
Walking around the Old Town
Sipping a beer at the original Hofbräuhaus
Unwinding in the English Garden
Augsburg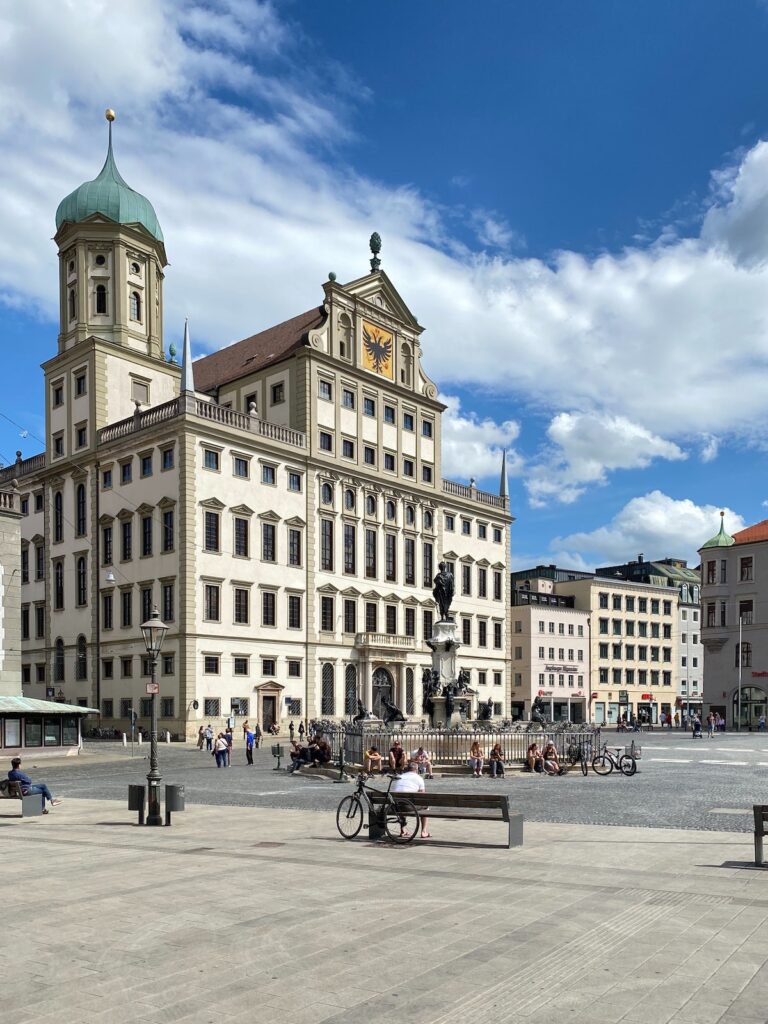 Travel time: 1 hour 15 minutes via ICE train
As one of the oldest cities in Germany, Augsburg is a worthwhile day trip from Nuremberg. You won't see the entire city in a day, but you can see most of it!
Highlights of any day trip include:
A visit to the Town Hall – It's considered the most important Renaissance-style building north of the Alps. The Golden Hall is the main draw.
Seeing the Fuggerei – The world's oldest social housing complex. A small portion of the complex is now a museum.
Visiting the Cathedral — It dates back to 995 AD!
Exploring the Old Town — In general, this is where you'll see main sights.
Dachau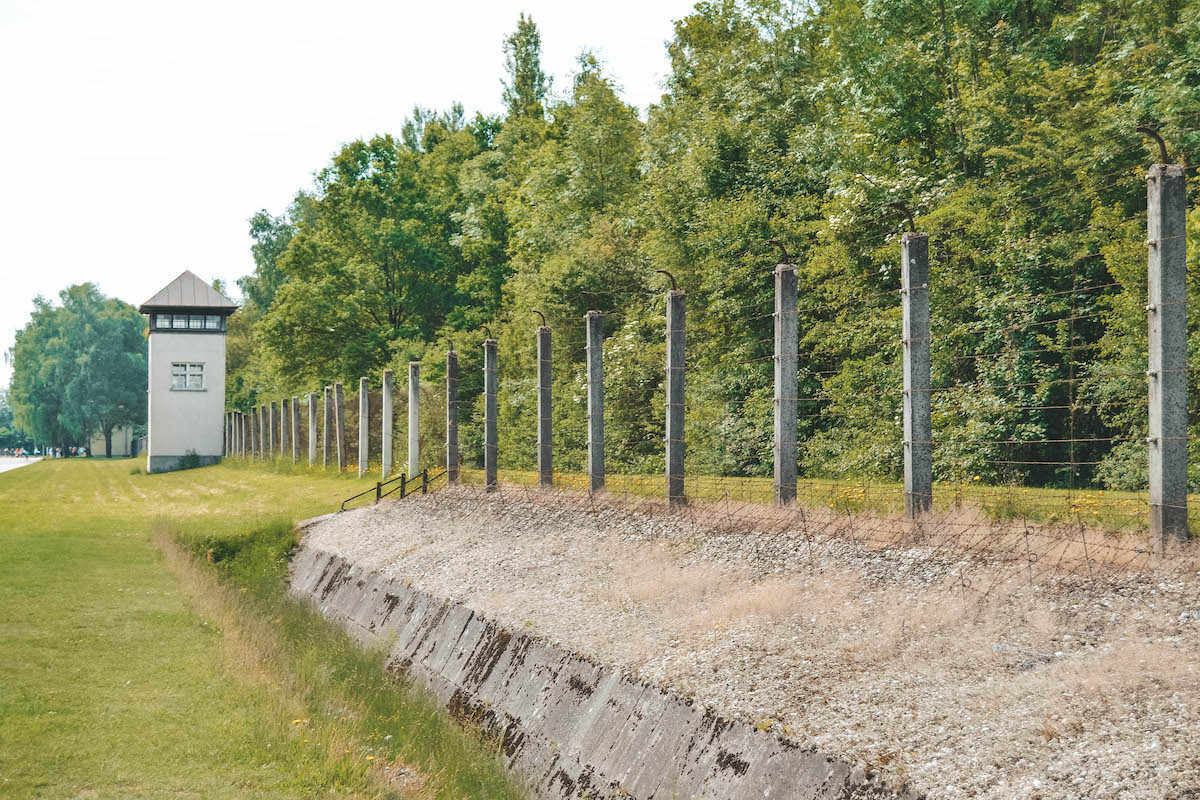 Travel time: 90 minutes via train (at least 1 transfer)
Just 20 minutes from Munich, you'll find one of the darkest sites in Germany.
The Dachau Memorial Site was formerly the Dachau concentration camp, the first concentration camp built by the Nazis. Dachau served as a model for all other concentration camps built during WWII.
An estimated 41,500 people were murdered here. Many of the original buildings are still standing at the memorial site, and some contain exhibitions that explain the camp's history and its victims in more detail.
The Dachau Memorial Site is free to enter, but I recommend paying the small fee for an audio guide to make the most of your experience.
Coburg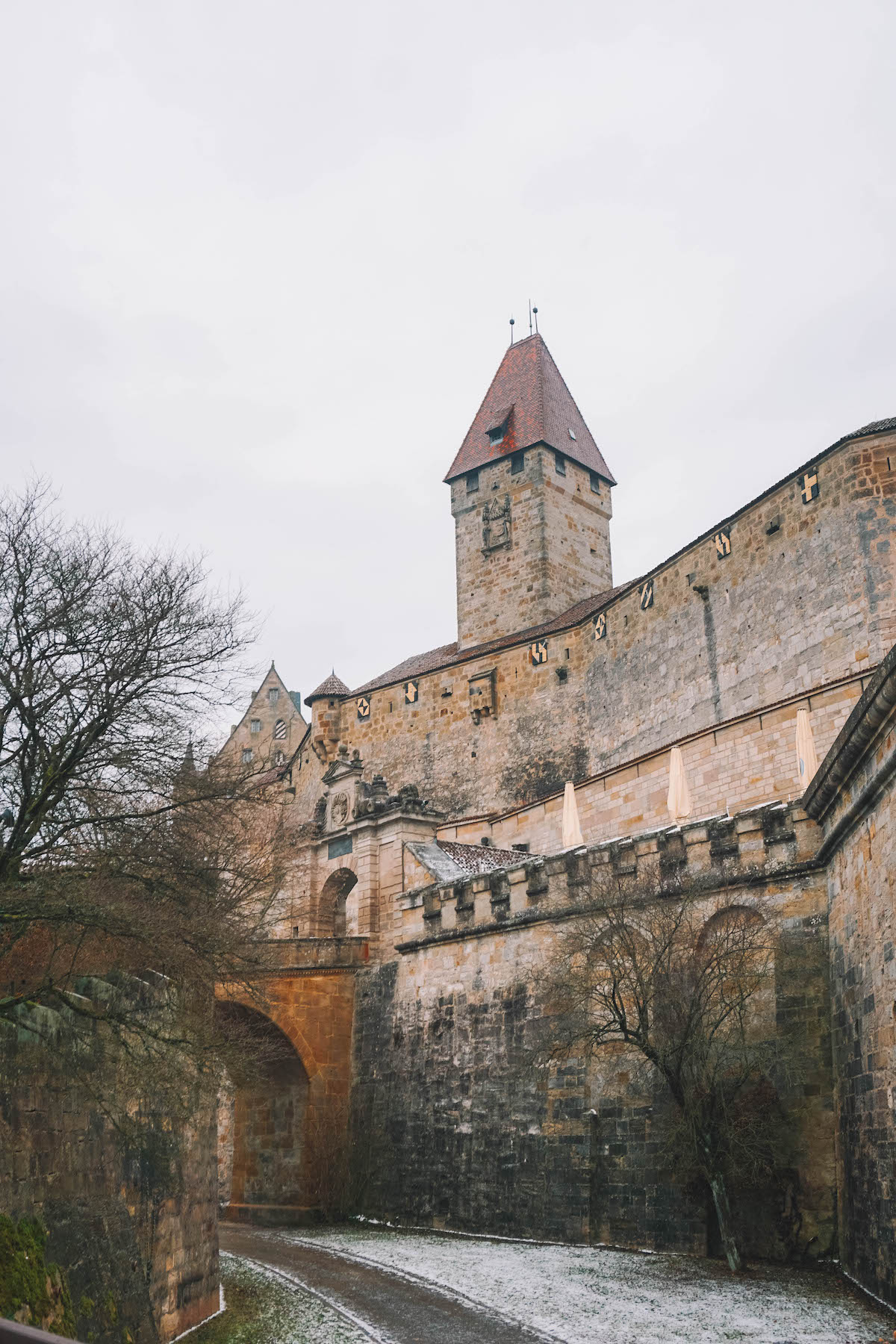 Travel time: 1 hour 45 minutes via RE train
A small but historically important city in Bavaria, Coburg was first mentioned in 1056. The area was gifted to the Archbishop of Cologne by the Queen of Poland.
If you're well versed in the history of the British royal family, you may recognize the name Coburg. Prince Albert (consort to Queen Victoria) was born in Rosenau Palace, near Coburg, and spent much of his childhood in Ehrenburg Palace near the city center.
Fill your day in Coburg by visiting:
Veste Coburg – A stunning medieval fortress complex atop a hill. Martin Luther lived here for 6 months!
Ehrenburg Palace – Located in the heart of the city, so it's perfect for day trippers who don't want to travel to the outskirts of the city to see the other palaces. The guided tour takes you through the beautifully maintained palace and you'll learn more about the Ducal family and its history (including its most famous member, Prince Albert!)
Old Town – Small but lovely, with a cute Christmas market on the main square in December.
Stadtkirche St. Moritz — The oldest church in the city.
Frankfurt am Main
Travel time: 2 hours via ICE train
Of all things, Frankfurt is known for its mass of skyscrapers (other cities in Germany have high-rise buildings but to my knowledge Frankfurt is the only one with multiple skyscrapers).
Frankfurt is also Germany's financial capital. As name suggests, Frankfurt is situated on the beautiful river Main.
Of all the Nuremberg day trips on this list, Frankfurt is the most modern feeling city — likely because it was all but destroyed during WWII and later rebuilt.
While there for a day, I recommend:
Old Town (very small, pre-WWII was one of the largest in Germany)
Walk the Eiserner Steg (footbridge) across the River Main
Cathedral (can climb to bell tower for view)
Palmgarten (largest botanical garden in Germany) or visit a museum like the Städel Museum (European art)
Stuttgart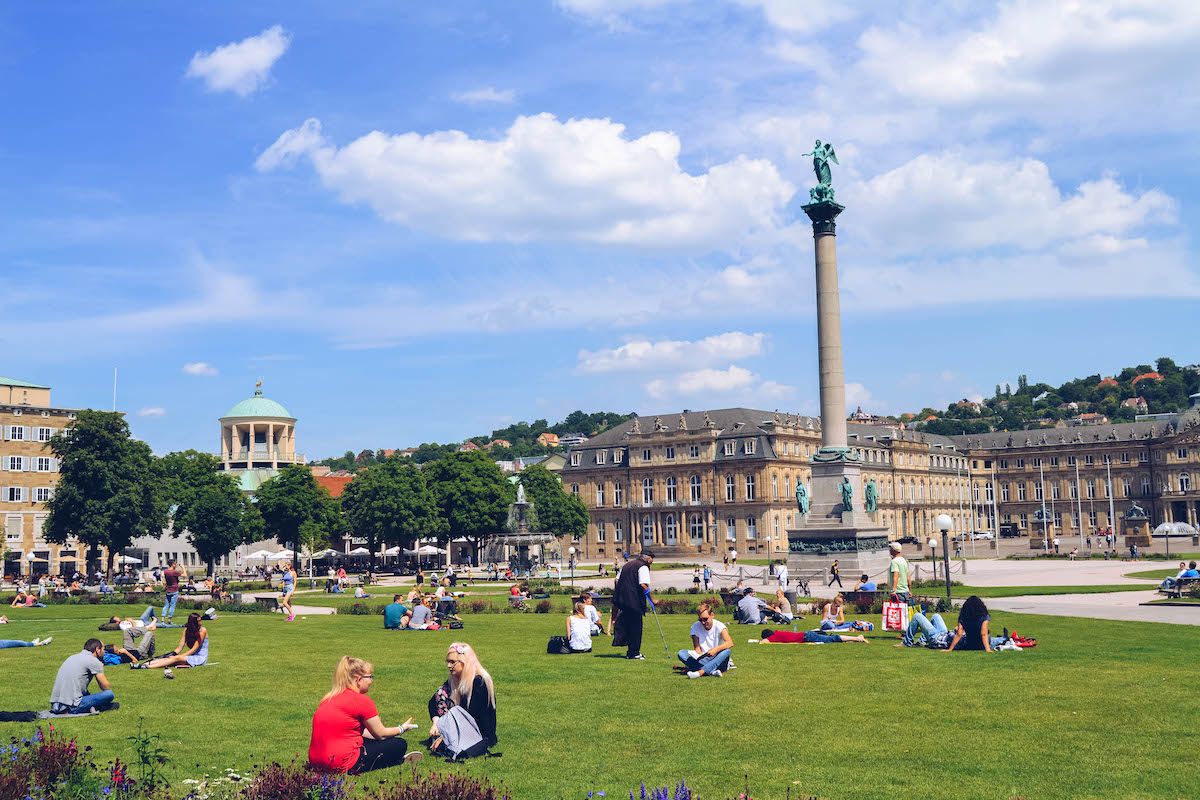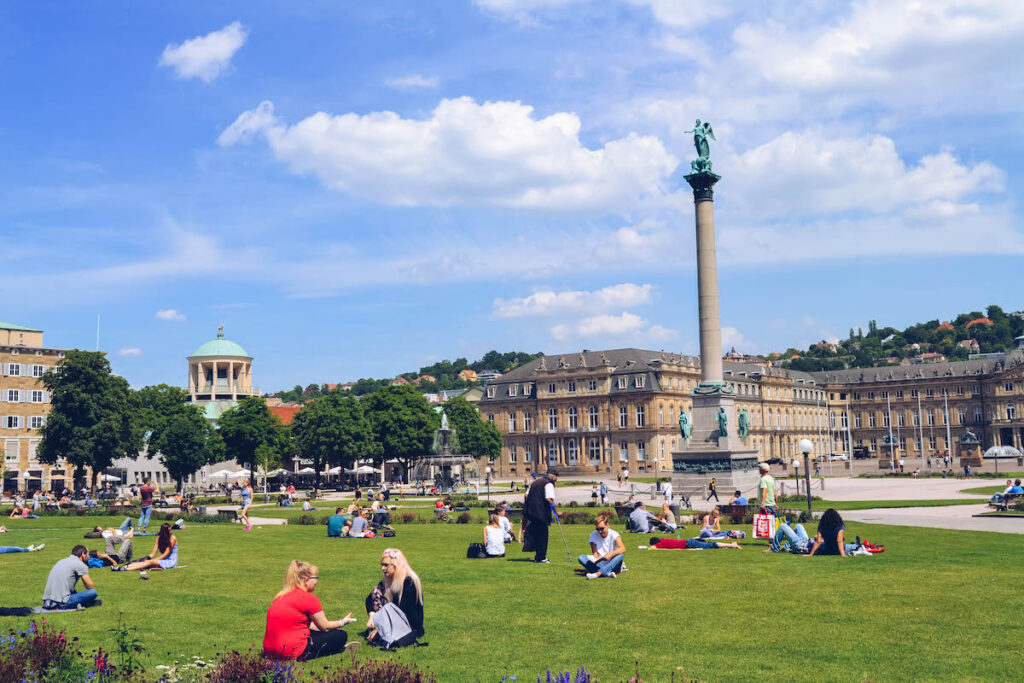 Travel time: 2 hours 11 minutes via ICE train
Automobile fanatics MUST make the day trip from Nuremberg to Stuttgart. Known as the "cradle of the automobile," Stuttgart is home to Porsche and Mercedes-Benz.
Things to do on a day trip to Stuttgart include:
Mercedes-Benz Museum or Porsche Museum — Pick your poison!
Staatsgalerie Stuttgart (State Gallery) — Known for its 20th century paintings, but has art from other eras as well. One of the top-visited museums in Germany.
Eugensplatz – Has great view of the city
Explore the area around the Schlossplatz – It's the older part of the city center and also one of the prettiest areas.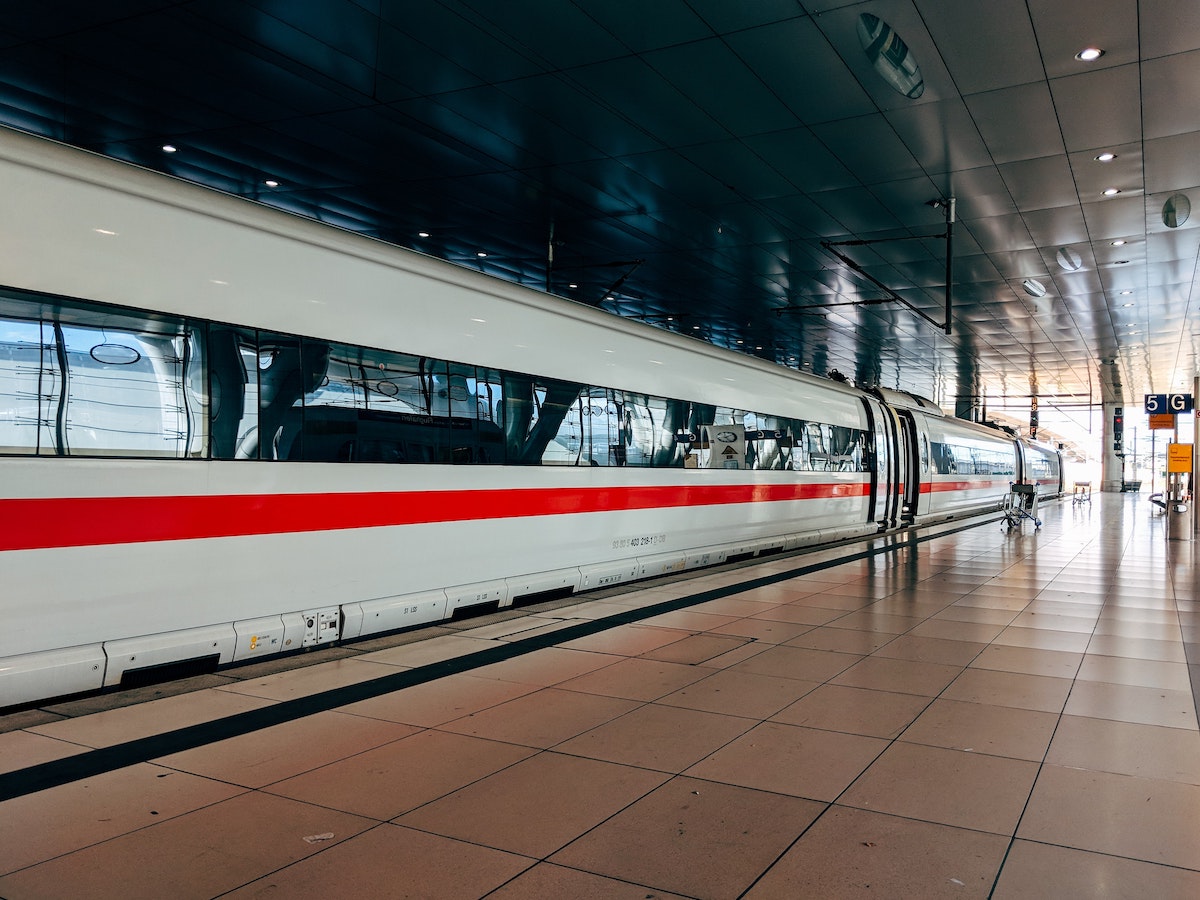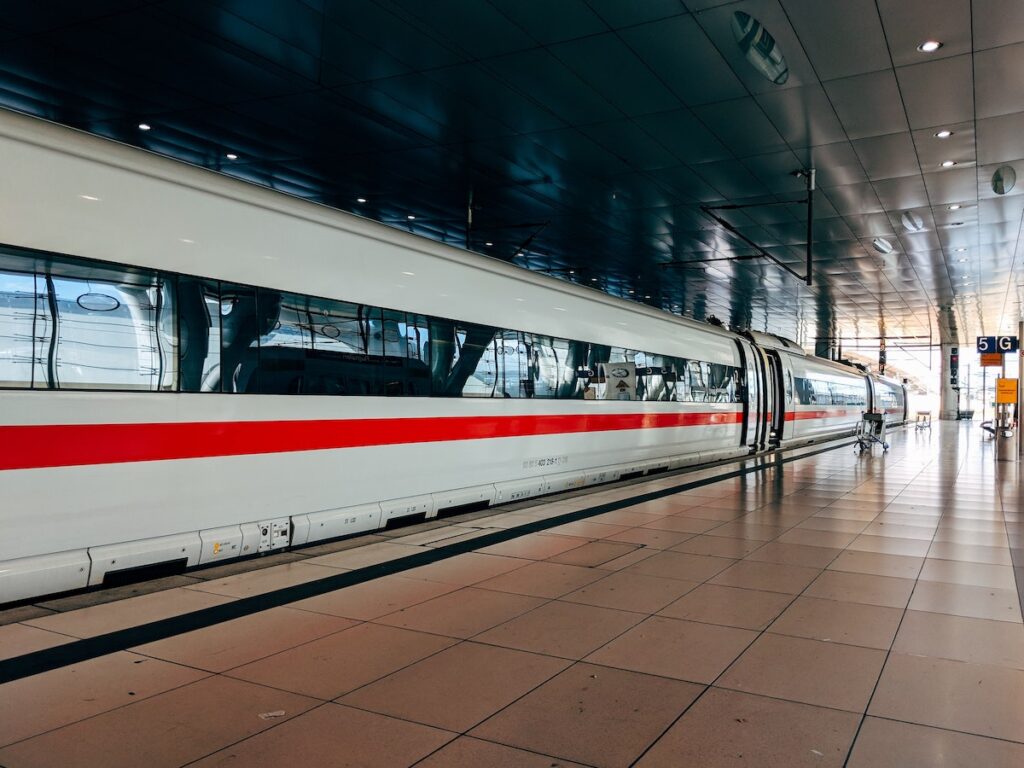 When traveling around Bavaria, I often buy my train tickets day-of via the Deutsche Bahn app or directly from the Deutsche Bahn website.
Ticket prices sometimes increase if you book them the day you plan on traveling, but since I often use the regional trains for day trip excursions the prices often remain the same. (It's only when you're booking last-minute high-speed / ICE trains that the prices can skyrocket!)
Another reason I prefer booking my train tickets for day trips around Nuremberg is because it allows more flexibility in my schedule.
Depending on your timing and how soon you want to reach each day trip destination, you might want to consider buying a BayernPass. The BayernPass costs just 27 Euros for one person and lets you take an unlimited number of trips on the regional (RB) and regional express (RE) trains within Bavaria for one day.
However, you can only travel with the BayernPass from 9am to 3am the following day, Monday to Friday. On weekends the BayernPass is valid from midnight to 3am the following day.
Looking Forward to Your Day Trip?
You definitely don't want to shortchange your stay in Nuremberg (read my guide to Nuremberg's Old Town here!), but if you have the time, a day trip or two would be great!
Hopefully this list of day trips from Nuremberg proves useful in your trip planning. Please leave me a comment below letting me know if you visit any of the cities I mentioned!
Don't forget to follow me on Instagram to keep up with my daily adventures in Berlin and beyond!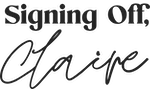 More Places Worth Visiting in Germany: