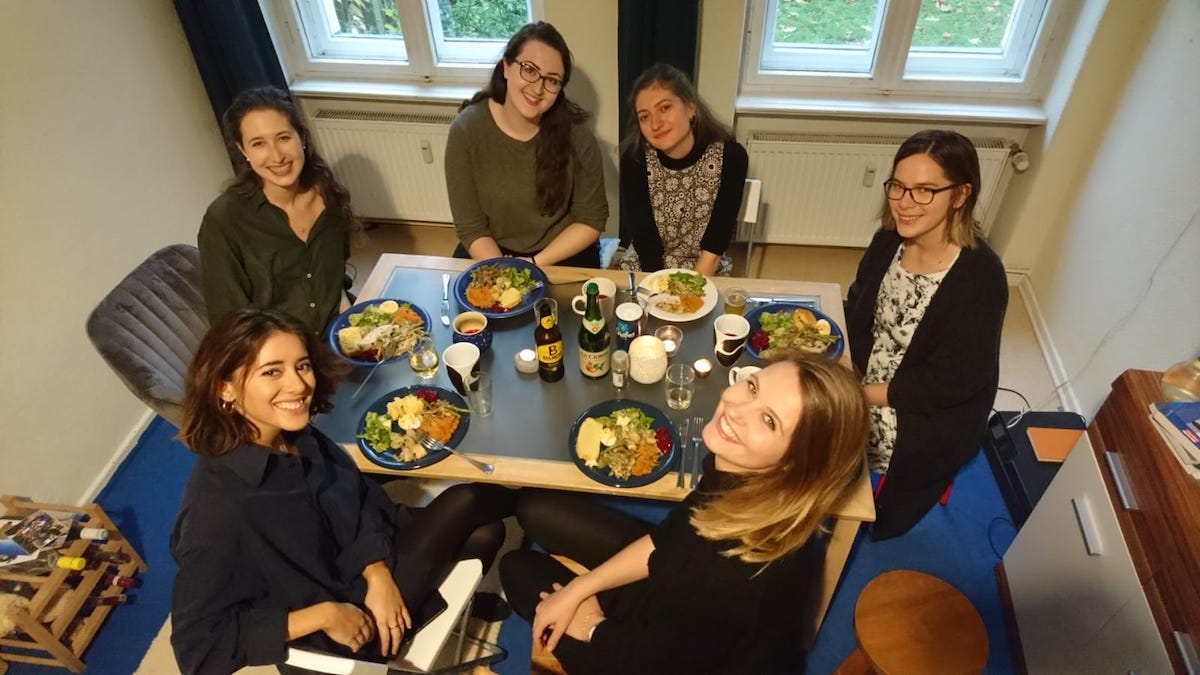 Greetings from my food coma. I've spent the last 48 hours steadily working my way through my Friendsgiving leftovers and I'm pretty sure I'm part deviled egg now. That, or part sweet potato casserole. I've eaten a horrifying amount of both since hosting my — dare I say? — EPIC Friendsgiving last Saturday. But I'm not complaining in the least, because I'm always happy to wind up with leftovers, especially if said leftovers contain more butter than my arteries can reasonably withstand. That's how you know the food was good in the first place, after all.
As I'm writing this post, I can smell my leftover turkey noodle soup bubbling away on the stove. My stomach is growling just smelling it, but before I scarf down a bowl alongside a chunk of homemade cornbread, I want to sit down and chat about the American Thanksgiving I hosted here in Berlin last weekend. I invited all of my Berlin friends to my apartment (they magically were all free on the same day, score!) and we feasted on American food galore — sweet potato casserole (sans marshmallows, i.e. the best kind), green bean casserole, roast turkey breast, cornbread, and more.
I outdid myself, if I do say so myself.
At the risk of making you supremely jealous for not getting an invite (sorry!), here's a glimpse into what went down on Saturday.
Planning the Thanksgiving Feast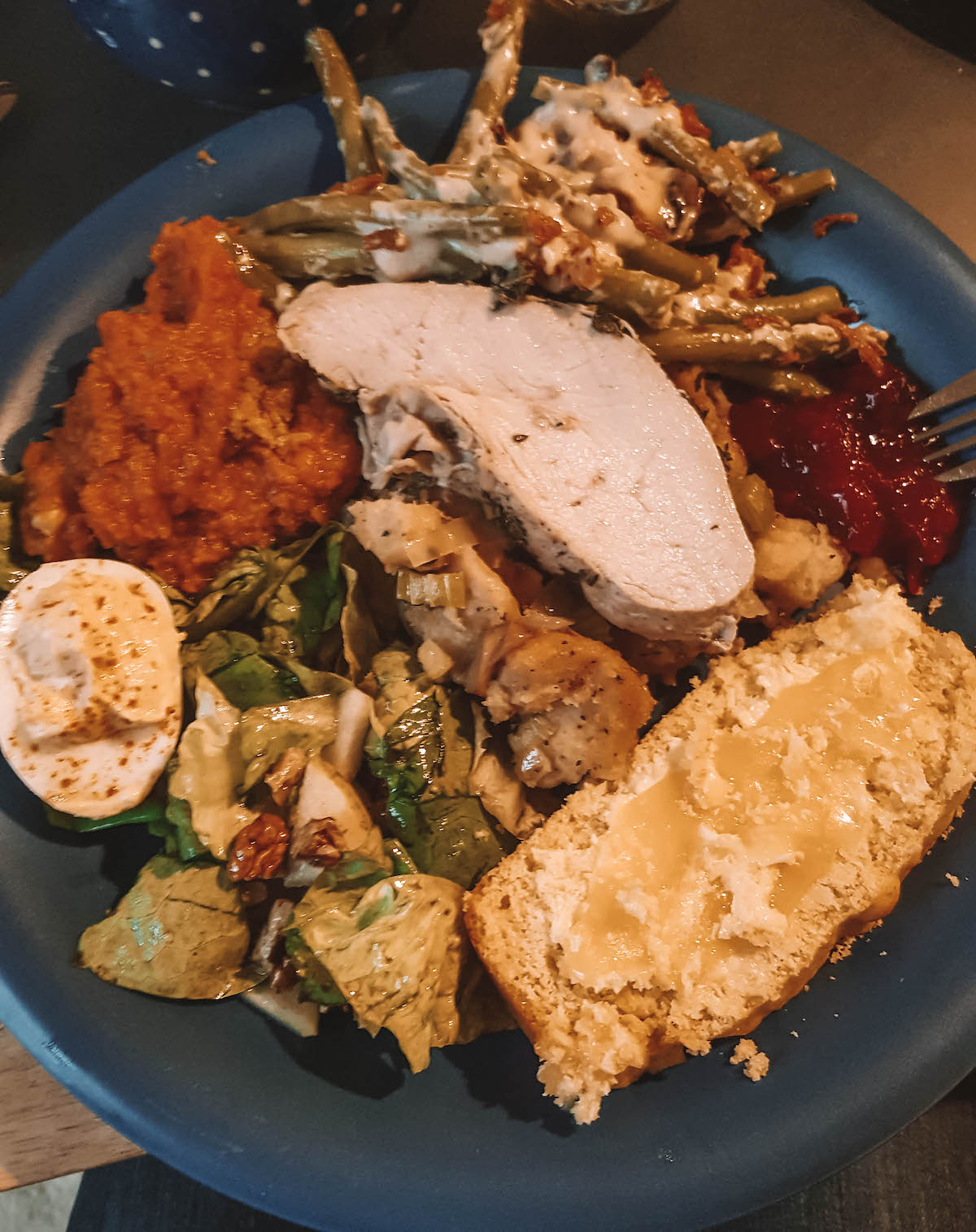 Going into this, I knew I wanted to prepare all the food myself instead of host a Thanksgiving potluck. Normally I LOVE potlucks, but since my European friends had never experienced the magic of Thanksgiving before I wanted to make all the traditional American dishes myself so they could have a proper Turkey Day. If you've ever hosted Thanksgiving dinner at your house, I'm sure you're already shaking your head thinking, What did you get yourself into, Claire?
I'll admit, planning an entire Thanksgiving dinner by myself was a tiny bit stressful, but it was my favorite kind of stress. I worked as the cook at a dude ranch one summer, and ever since then I've had an unquenchable urge to cook for people. I think it's something about the way people react to home cooked food. The yummy noises people make when they taste my food is borderline addicting, and I love when people ask for seconds. So, for the month leading up to my Thanksgiving in Berlin I spent much of my free time reading articles about how to prep for Thanksgiving, how to keep certain dishes warm, and so on. It sounds so lame, but this is the stuff I live for.
Initially, I thought I'd have to make some adjustments to the classic American recipes since half of my friends are vegetarian. But, as everyone knows, the sides are the best part of Thanksgiving, and it just so happens that all the sides I planned on making were vegetarian. Thank goodness for small miracles.
Before I knew it, the event I'd eagerly awaited for weeks was upon us. Because the fridge in my apartment is teeny tiny, I wasn't able to gradually stock up on supplies like I might have done back home. Instead, I did a massive food shop a few days before the dinner — I'm pretty sure the lady at the cash register thought I was crazy when she saw how much food I plopped on the conveyor belt. I should also mention that I don't have a car in Berlin, so I had to walk to and from the supermarket with my groceries shoved into my backpack. I somehow managed to squeeze the Thanksgiving supplies into my backpack and a tote bag, but it wasn't pretty.
Being the Type A person that I am, I jotted down a cooking schedule to follow in the days leading up to the dinner. On Thursday, I boiled the eggs for the deviled eggs and roasted the sweet potatoes for the sweet potato casserole. I also made the cranberry sauce since that keeps well in the fridge for a while. On Friday, I roasted the turkey breast, assembled the sweet potato casserole, and dried out the bread for the stuffing. Oh, and I baked the cornbread since that's delicious warm or cold. The rest of the prep I left for Saturday morning.
The Day of Thanksgiving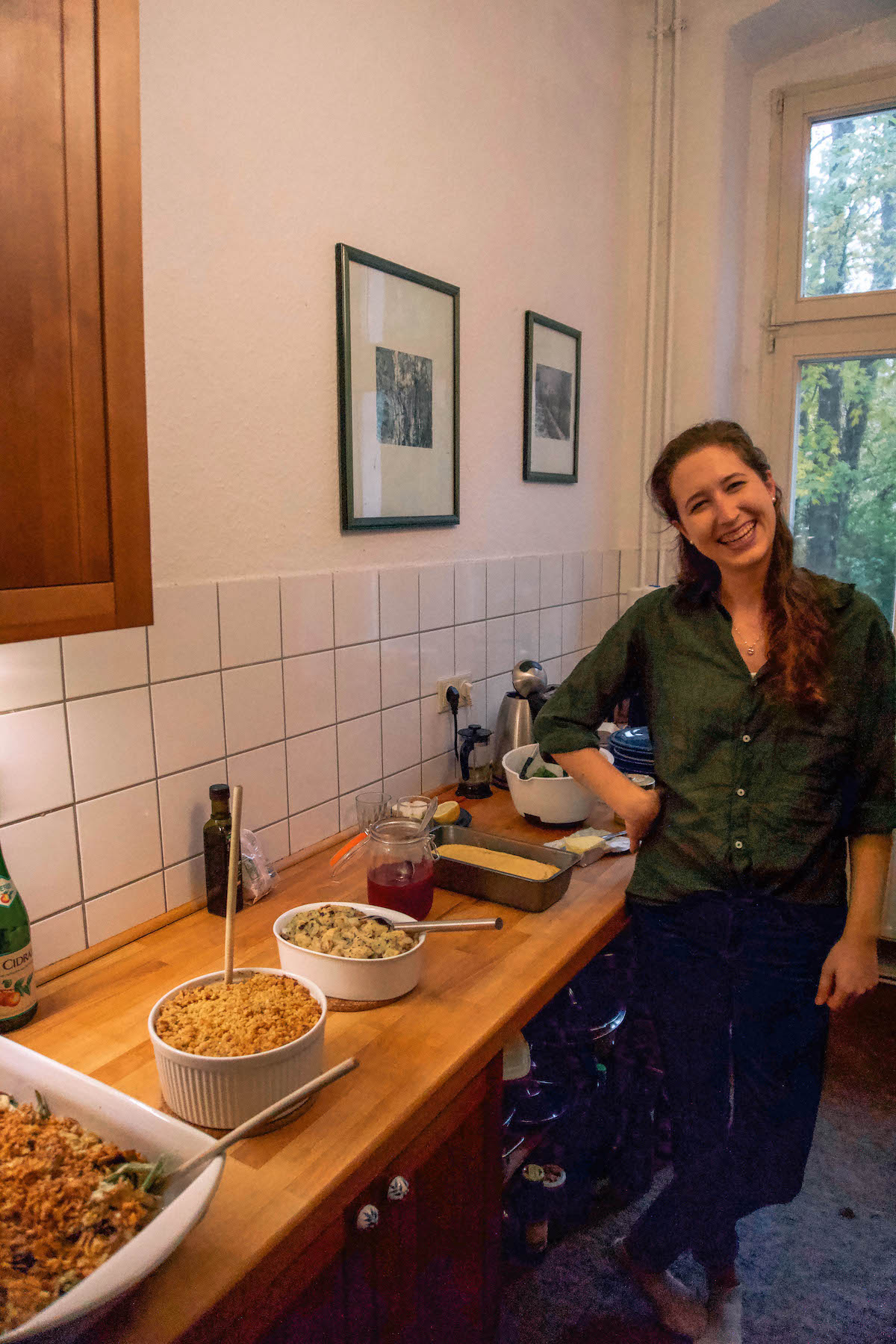 On "Thanksgiving" morning, my friend Rachel came over early to help me finish prepping the feast. We somehow managed to get everything made and in the oven before the rest of my friends came over, but by the end of it all my kitchen looked like a war zone. On one side of the kitchen, all the dishes were neatly lined up buffet-style, ready for my friends to dig in. And on the other side, all the dishes were piled up in the sink. And in the middle of the kitchen were the seven of us, all oohing and aahing over the food.
In the end, this is the Thanksgiving menu I settled on:
Deviled eggs
Roast turkey breast
Sweet potato casserole
Green bean casserole
Bread stuffing
Cornbread
Cranberry sauce
Apple crisp with ice cream
I wound up making the green bean casserole totally from scratch because I couldn't find cream of mushroom soup in the supermarket. Plus, I thought the mushy casserole I grew up eating wouldn't be well received by the European palate. I was nervous about making it completely homemade since it involved béchamel sauce and a roux, but it wound up being everyone's favorite dish! I guess I shouldn't be surprised since homemade green bean casserole is basically just green beans topped with a buttery, cheesy sauce and fried onions. What's not to love?
I had my camera out the entire dinner, but I wound up taking less than 10 photos the entire afternoon. I'm bummed I don't have more photos to commemorate the occasion, but at the same time I'm quite pleased. The fact that no one had their phones or cameras out the whole time shows what a great time we had in each other's company.
And on that note, I've got to say the entire Thanksgiving experience wound up being more uplifting for me than I expected. Thanksgiving is my favorite holiday, so I knew I'd have a good time. But as I was planning this dinner, I somehow forgot that none of my friends knew each other. Seeing my dear friends — who I know very well but who are strangers to each other — interact with one another and so obviously enjoy each other's company made me happy in ways I can't express.
At the end of the night, more than one person told me in private that they'd forgotten how wonderful it was to be surrounded by so many intelligent, funny women. Hearing my friends say this reminded me once more that Thanksgiving isn't about the delicious food, but rather about spending time with those you love and giving thanks for all you have. And in case it's not abundantly clear, I'm very thankful for this life I've built in Berlin and the friends I've made already. I didn't think I'd find my niche in Germany so quickly, but somehow I have.
Tips for Hosting Thanksgiving in Germany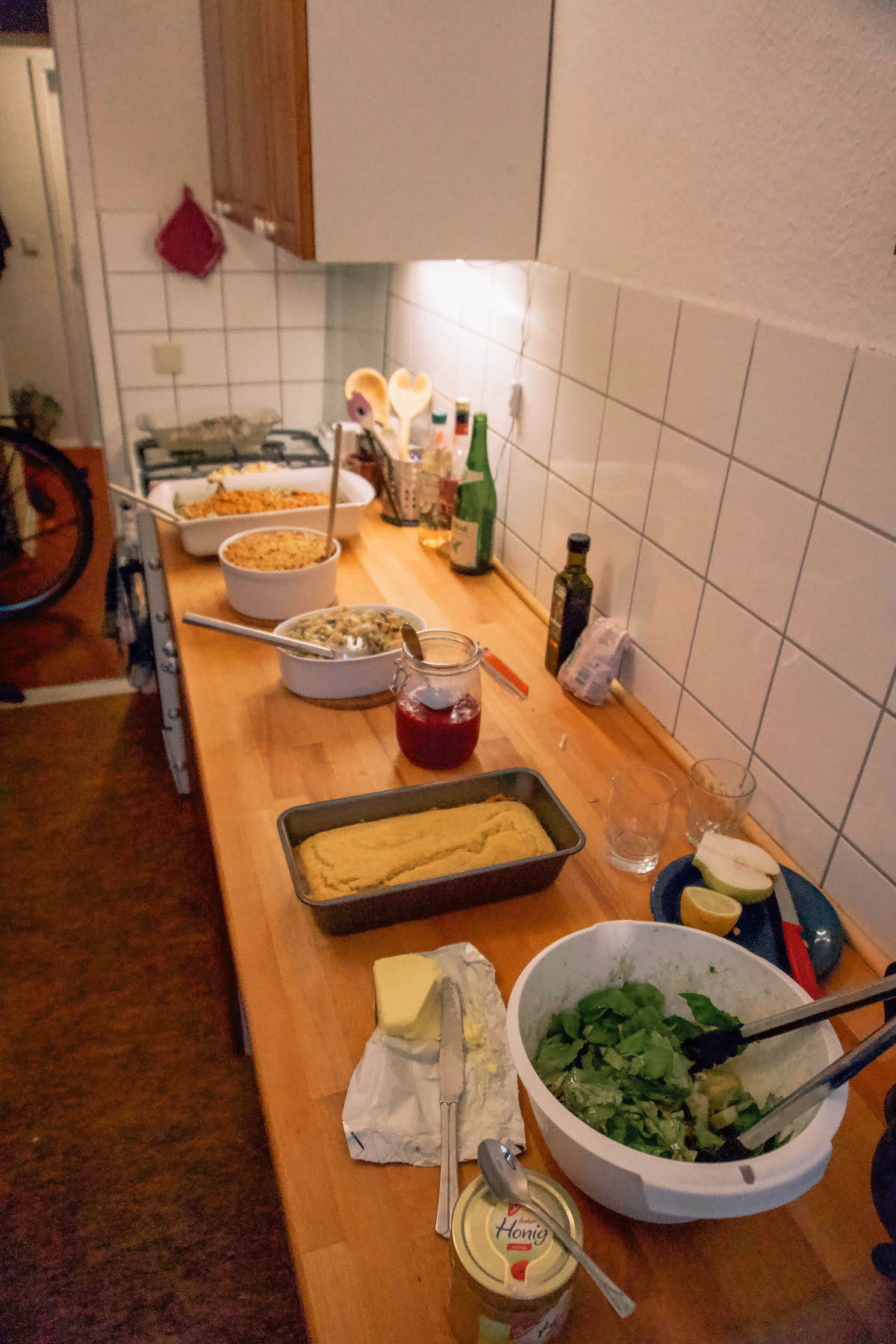 Before I sign off, I wanted to quickly jot down a few tips that may help any fellow Americans who are planning their own Thanksgiving dinner in Berlin. Quite a few traditional American recipes require ingredients you can't find in an average Berlin grocery store, so I wanted to share where I found some of those special supplies:
Cranberries — can be found in Turkish supermarkets and in some fruit and veggie stands. They're fairly expensive, just FYI.
Pumpkin puree — Rewe sold it in stores this year. It's labeled as Kürbismus.
Cornmeal (for corn casserole or cornbread) — Look at health food stores and Bio stores. It's labeled as Maismehl.
Molasses — Can be found at Bio shops. Labeled as Melasse.
French's Fried Onions — Can be found at most supermarkets. If you can't find the French's brand, the store should have something similar from another brand.
Turkey breast — I found mine at Kaufland in the regular poultry section. Word on the street is that Lidl sells whole frozen turkeys as well.
Pie crust — Store-bought pie crusts in Germany don't have the same texture as American pie crusts. If you want to make apple or pumpkin pie, I suggest making your own pie crust (it's really easy!).
I hope you all enjoyed reading about my Thanksgiving in Berlin. You seem to enjoy these little life updates, so I'll continue writing them as fun things pop up in my life.
Tell me: What's your favorite Thanksgiving dish?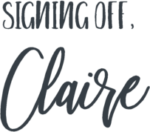 PS. Sorry for the poor quality photos. Like I said, our phones were all tucked away during the meal and photography was the last thing on my mind when my friends were all over!
More posts you'll love: