There's so much to see and do at the Middleton Place plantation near Charleston! Here's a complete guide so you can make the most of your visit.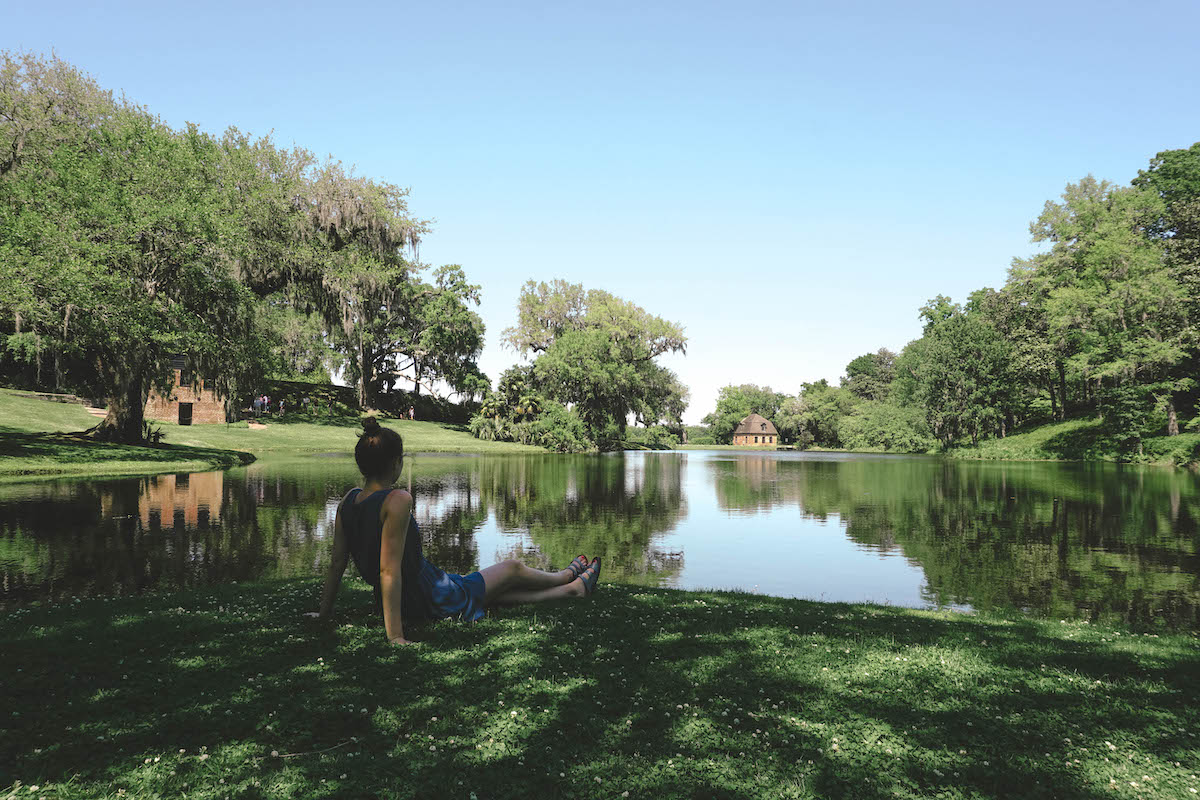 Let's travel back in time together, shall we? All the way back to spring 2018, well before I was laid off from my NYC editorial job and my subsequent move to Germany. That spring, I managed to escape the city for a week and fly down to sunny Charleston for a much needed dose of vitamin D.
Over the past few weeks, my blog posts on Charleston have blown up on Pinterest. (Seriously, I've never had traffic like this to my blog before!). Between that and the fact that Berlin is still in lockdown I wanted to revisit my lovely trip to Charleston and share some more of my favorite attractions around the city with you all. And because I journal all of my travels, I remember exactly what I liked / didn't like about each place I visited!
Up first is a guide to my favorite Charleston plantation, the Middleton Place Plantation. In my travel journal, I wrote that "Middleton Place was by far my favorite!" So it's safe to say I think you'll love it too. Middleton Place boasts the oldest landscaped gardens in the US and the property spans a whopping 110 acres. Visitors today drive up to the plantation, but back in the day they would have taken a boat up the river to access it.
Below is darn near everything you need to know about visiting Charleston's Middleton Place plantation, including its history, highlights of the property, FAQs, and more. Let's hop right in, this is going to be a long one!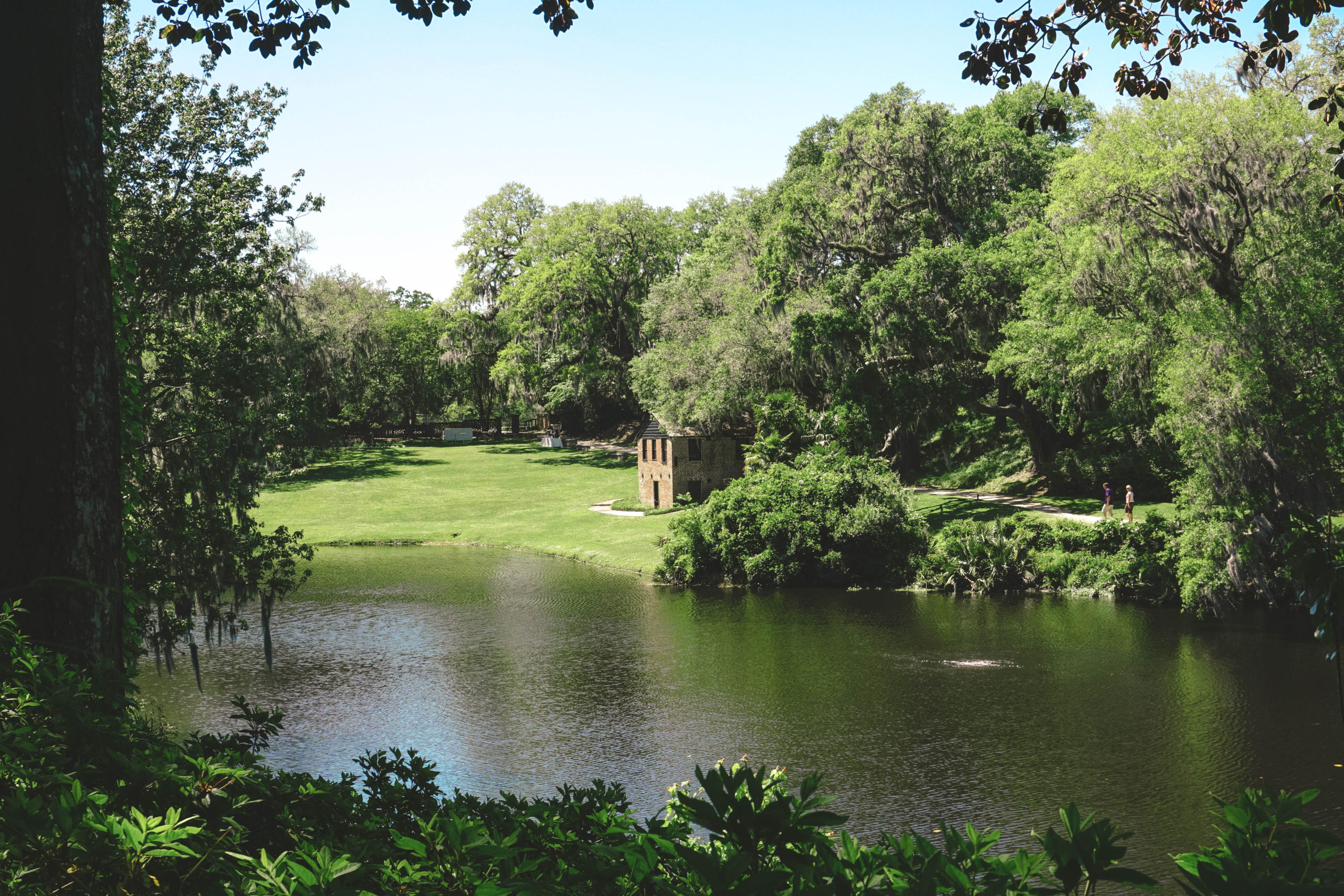 A Brief History of Middleton Place Plantation
Middleton Place as we know it today was built up by a man called Henry Middleton. Henry married a wealthy heiress named Mary Williams in 1741. She inherited a large tract of land from her father, as well as the house that later became known as Middleton Place.
Henry and Mary enjoyed a very notable life together. They had seven children who survived to adulthood. In 1774, Henry was elected the second president of the First Continental Congress. His son, Arthur, went on to be one of South Carolina's four signers of the Declaration of Independence in 1776!
But I'm getting ahead of myself. Mary and Henry made significant changes to the Middleton Place property during their lifetimes. As their family grew, they required more room. They built two flanker buildings on either side of the main house in 1755 (a single flanker building is all that's left on site today). They also completed work on the land itself, with the landscaped gardens taking center stage.
Henry died in 1784, but Middleton Place's legacy lived on. His descendants continued to add buildings onto the property to meet their needs, and the family house was gradually improved upon.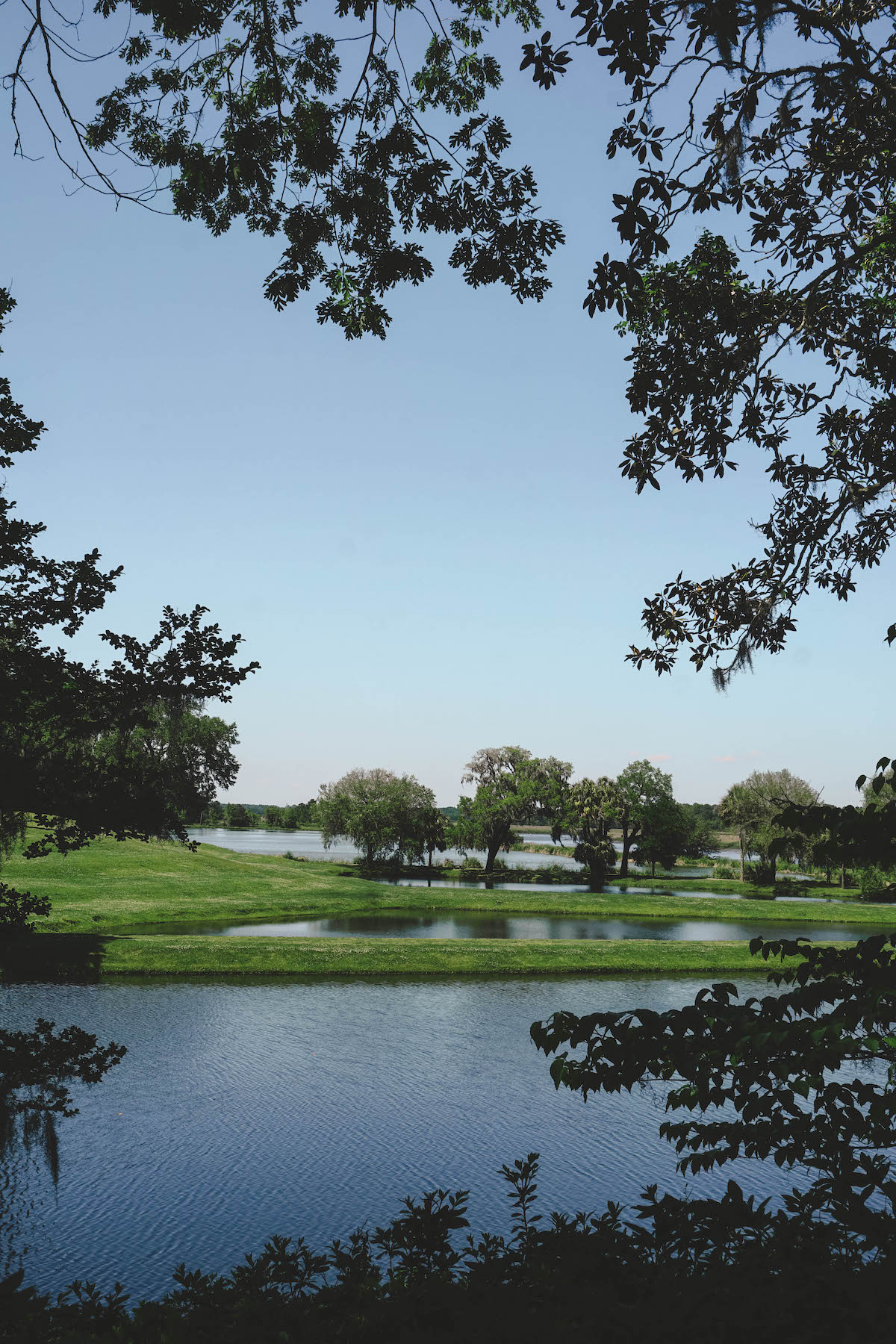 During the Civil War, Union troops burnt much of Middleton Place to the ground in 1865. You may recall that South Carolina was one of the southern states that had seceded from the Union, so the Middleton's property (as well as the rest of Charleston) was subject to mass destruction by the northern troops.
Later, the Great Earthquake of 1886 destroyed much of the main family building. From that point onwards, Middleton Place lay in neglect.
That all turned around when JJ Pringle Smith, a descendant of Henry Middleton, inherited the property in 1916. As you can imagine, restoring the property to its former glory required significant funding, so he and his wife weren't able to begin the work until 1925.
Charleston's Middleton Place was designated a national historic landmark in 1972 and is now run by the Middleton Place Foundation.
Note: Like all the plantations in Charleston, Middleton Place was able to flourish due to the family's participation in the institution of slavery. The history of Middleton Place that I could find online spoke only of the Middleton family itself, so I unfortunately do not have any information about the slaves who were forced to work the land and in the family home.
I touch more on this in the following section, but please note that although I find the history of Middleton Place interesting I am also aware that the family were willing participants in an abhorrent system.
Highlights of Middleton Place Plantation
I cannot emphasize enough how beautiful South Carolina's Middleton Place is! The one remaining building from the family's residential complex is elegant, yet simple in design. There are free roaming sheep scattered across the property, and the scent of the flowers in the garden waft across the lawn to wherever you are.
Here's an overview of what you have to look forward to on your visit to Middleton Place Plantation.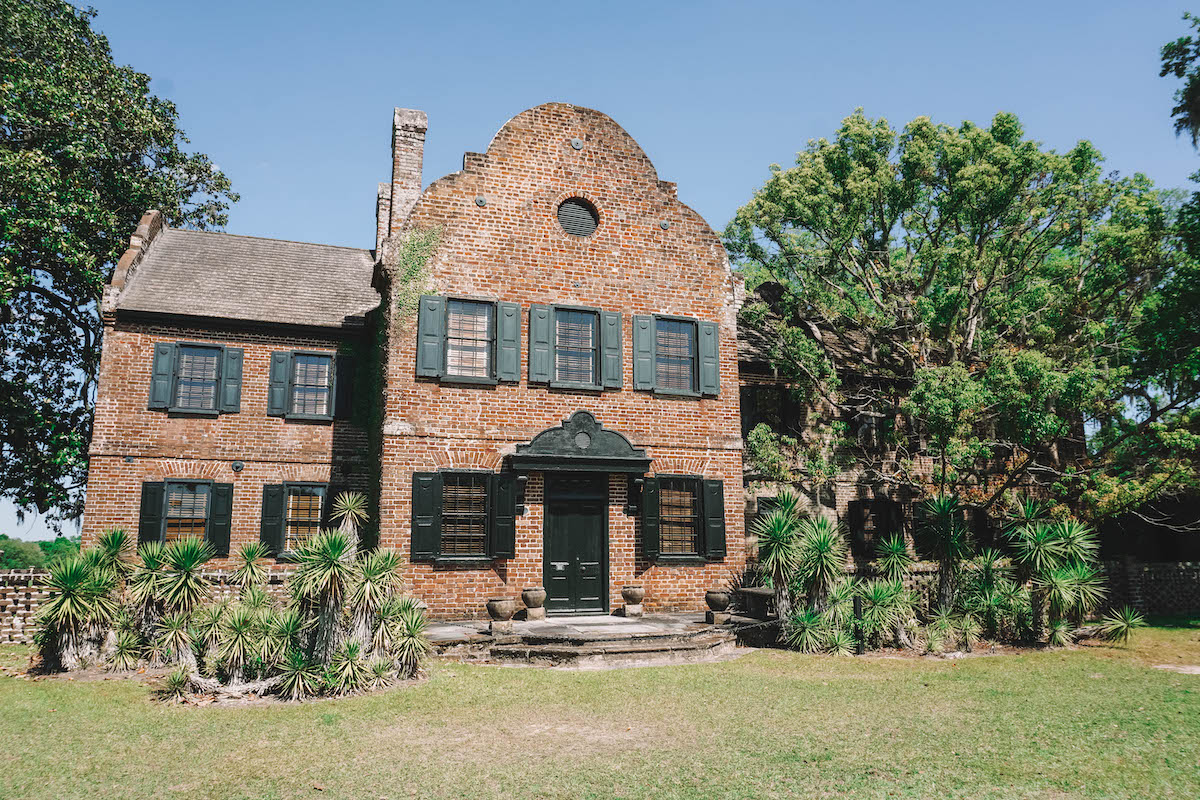 1. The House Museum
You guys know I love historic homes of any shape or size, and the Middleton home was no different. The building you see today was actually the South Flanker (remember, the main family home was fired by Union troops in 1865 and then largely destroyed by the Great Earthquake of 1886).
The South Flanker was originally built as a gentlemen's guest quarters and an office. As such, the interiors aren't as elegant as you'd expect a wealthy Charleston landowner's home to be. However, it did serve as the main residence for the Middleton family from 1870 onwards, so there are plenty of personal touches to admire around the home.
Guided tours of the house museum walk you through the family's history and also touches on the lives of the enslaved peoples there. I loved how many original family heirlooms and artifacts have survived over the years. Much of them are in glass cases, of course, but the tour guides do a great job of explaining the family's history and bringing them to life, so to speak.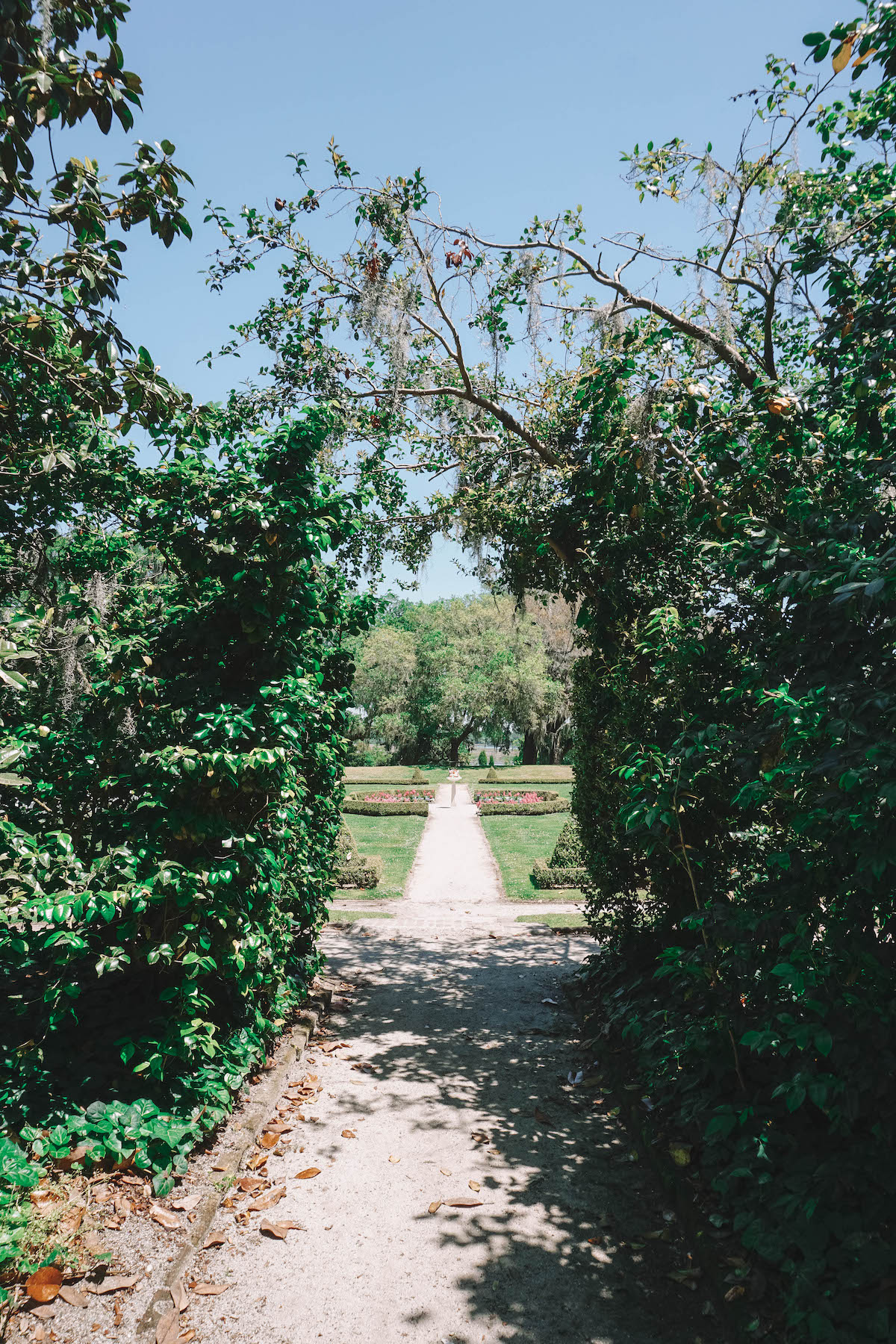 2. The Gardens
Middleton Place is somewhere you just have to visit on a sunny day because the gardens are so spectacular! They span 65 acres and are the oldest landscaped gardens in the US. Plans for the gardens began in 1741, and they were designed to reflect the "grand classic style" that was popular in Europe at the time.
There are quite a few formal landscaped gardens, as well as rolling green lawns leading down to the river where guests would have arrived by boat in the 1700s. There are over 100,000 azalea bushes on the property, as well as camelias and countless other blooms. The Middleton Place website actually tells you what's in bloom each month of the year, so you can keep an eye out for your favorite flowers while you're touring the property!
Tip: There are guided garden tours each day on the hour. They only last 30 minutes, so this is a great way to learn more about the property without being too overwhelmed.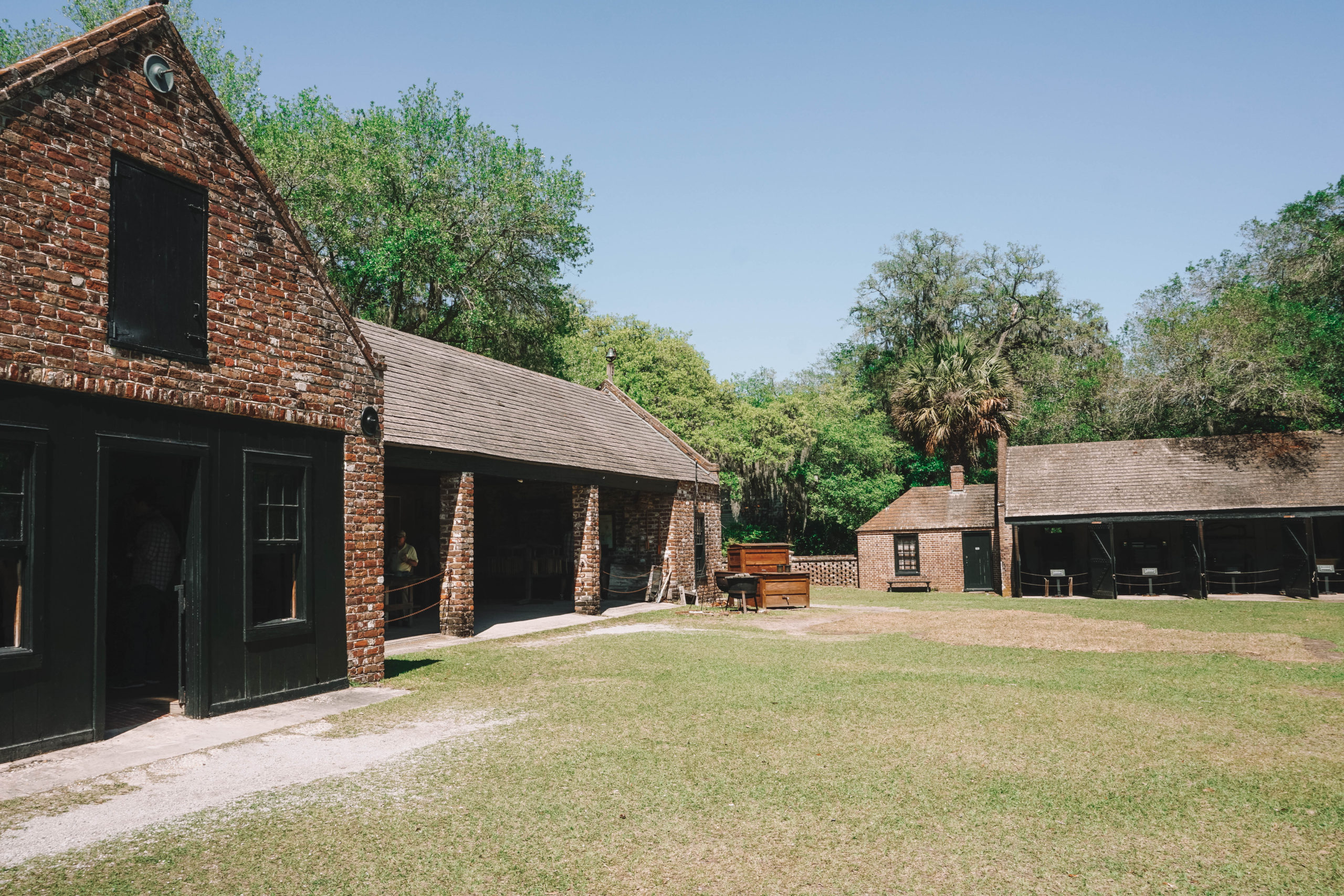 3. "Beyond the Fields" Tour
One thing I appreciated about my visit to Charleston's Middleton Place Plantation is that they didn't try to cover up the fact that the Middleton family employed upwards of 3,500 slaves throughout the years. There's even a special guided tour dedicated solely to the generations of enslaved peoples who worked the fields of Middleton Place, called "Beyond the Fields." The tour lasts 40 minutes and is a good starting point for learning about the slaves who lived and worked there.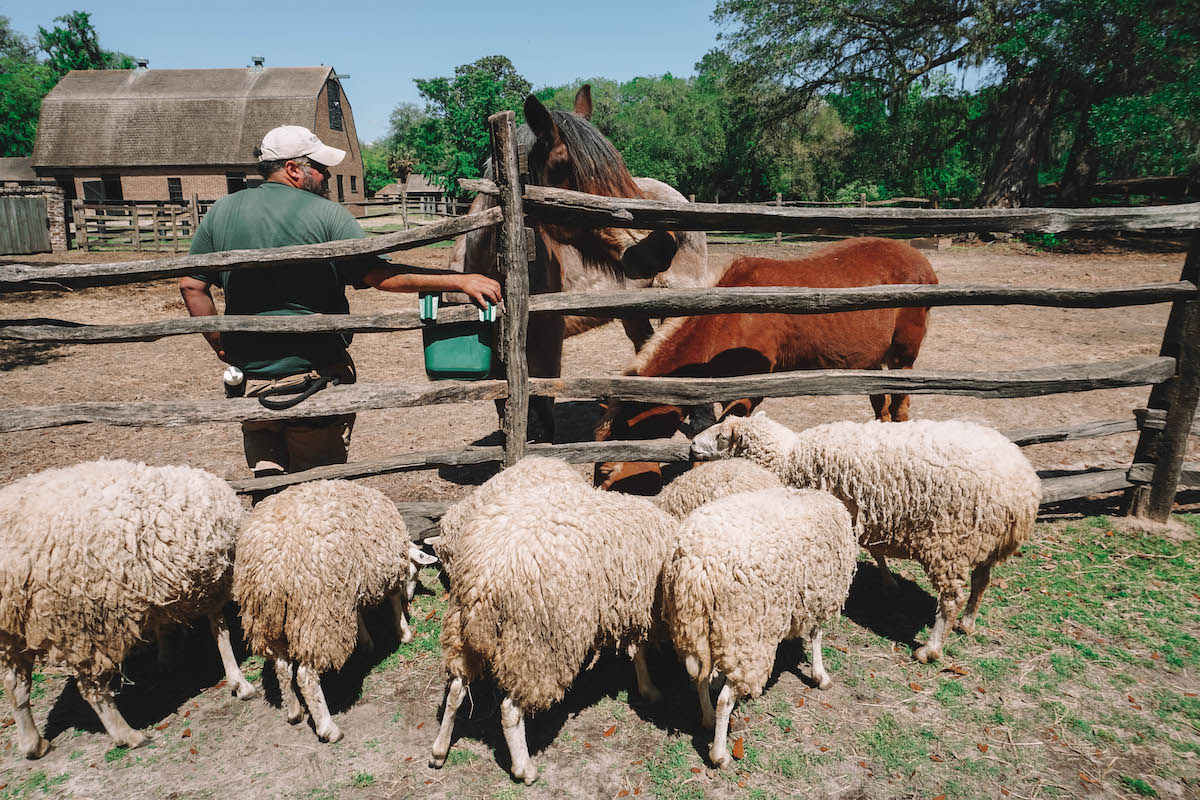 4. The Stable Yards
The stable yards were definitely a highlight for me. I mean, the animals alone are reason enough to visit Middleton Place! The free range sheep were my personal fave, but there are also Belgian draft horses, goats, pigs, water buffalo, guinea hens, and so many more animals.
If you see an employee working with the animals, I highly recommend stopping to chat with them. I was lucky enough to stumble across a groundskeeper feeding two retired 24-year-old draft horses. As soon as the sheep saw the man bringing over the horses' food, they legged it over as fast as they could.
The groundskeeper explained that because the horses are so old, they're very messy eaters. The sheep like to hang out under their heads to eat any of the feed that lands on the ground! The groundskeeper also joked that the horses were on a "401 hay" retirement plan (I cracked up at that).
Besides all the cute farm animals, there are also costumed interpreters in the stable yards. There's a working blacksmith, carpenter, and potter onsite that you can watch at work and ask questions of. I believe their wares are sold in the gift shops, so you can actually purchase goods made right at Middleton Place!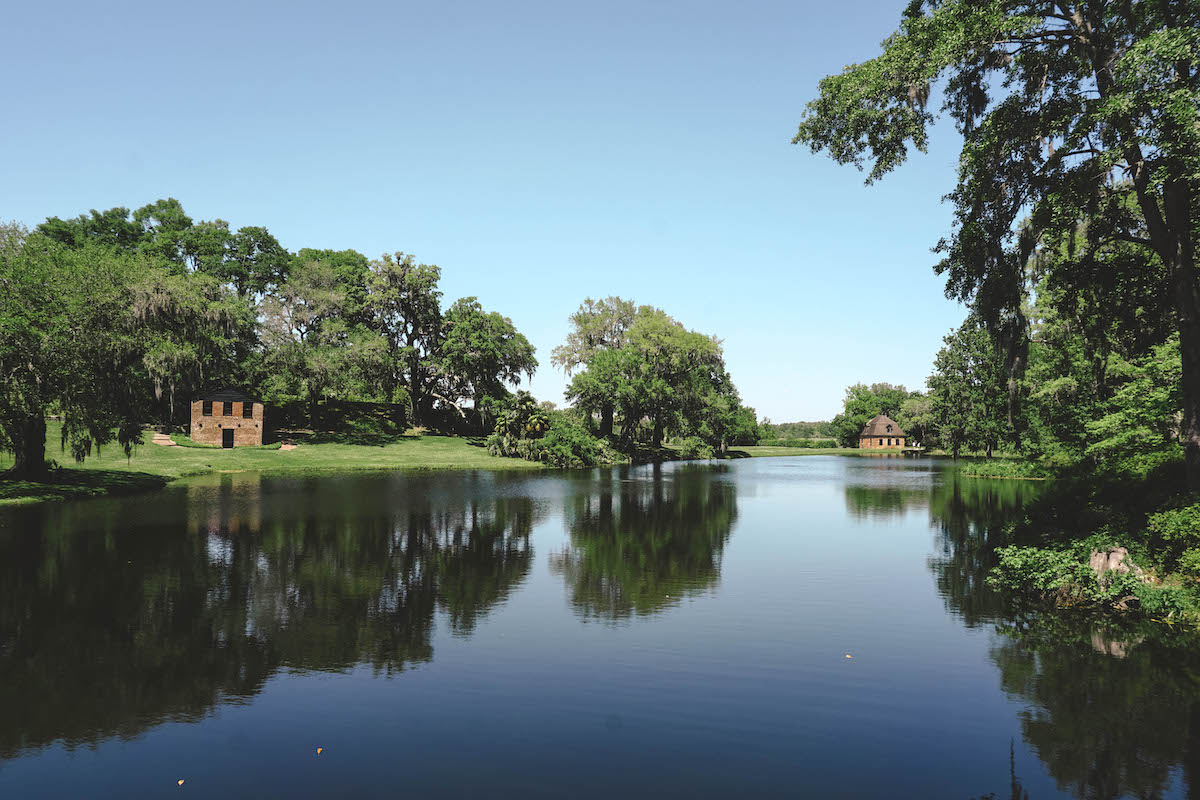 FAQ's About Middleton Place
How much are tickets? General admission tickets for adults cost $26 if purchased in advance. Students with a valid ID pay $15.
What does a general admission ticket include? You can take the following tours: garden tour, meet the livestock tour,  and "Beyond the Fields" tour.
Does touring the house museum cost extra? Yes, you must pay an extra $15 on top of the general admission price to tour the house museum.
Is there a place to eat on the property? Yes, there's a restaurant on site that serves local fare. It's a bit pricey though, so if you're traveling on a budget or with a big group you may want to pack snacks or plan to eat lunch in town.
Are dogs allowed on the property? Sadly no! Trained service animals are of course allowed, but pets aren't because there are free roaming livestock on the property.
How much time is needed to see the property? I spent half a day at Middleton Place and that was perfect for me. I arrived right when it opened and headed back to Charleston around 1pm to grab lunch.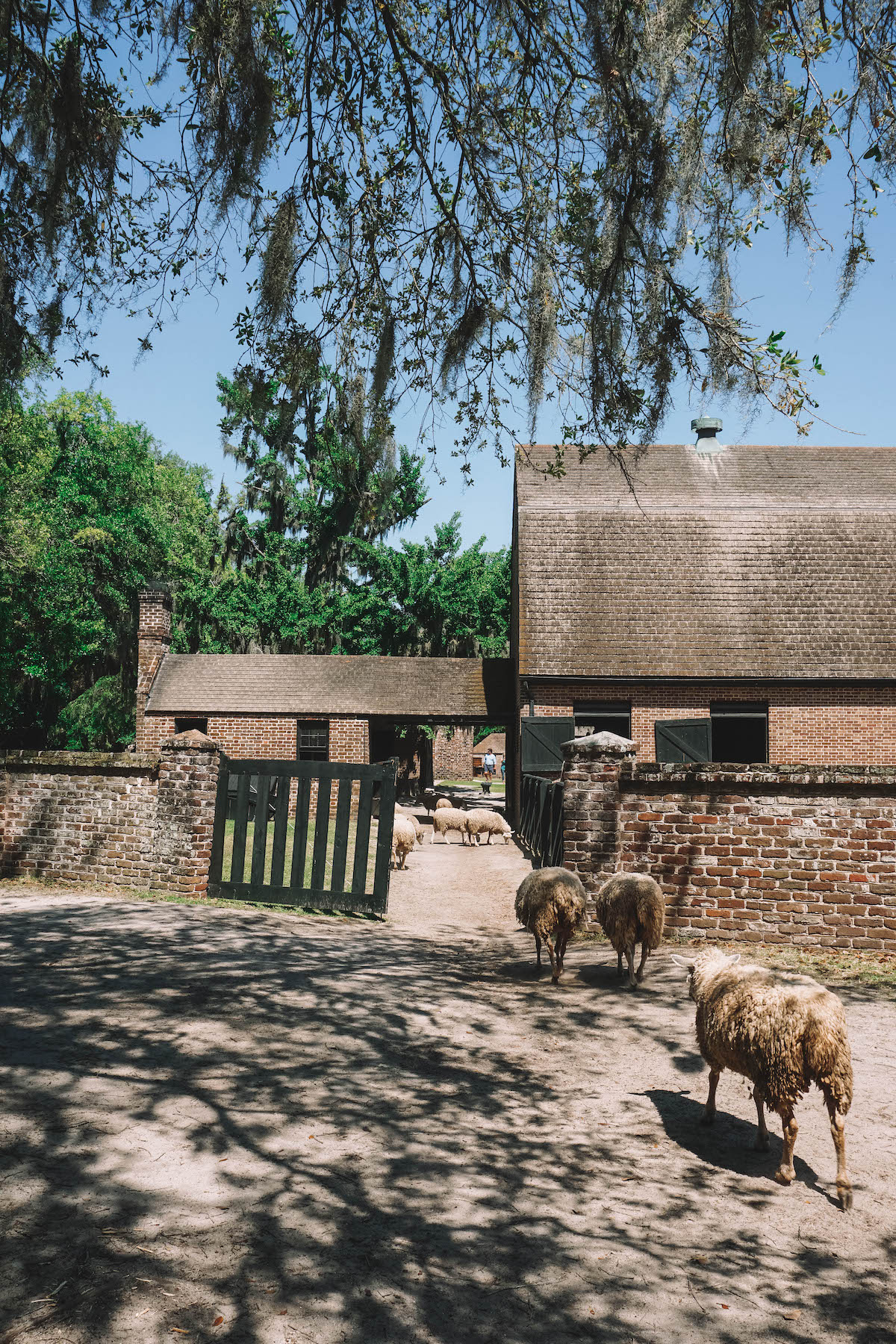 Tips for Your Visit
I always make blog posts longer than intended, so I'll keep this section short but sweet.
Bring water: From springtime onwards, Charleston is hot and muggy. Bring a big water bottle with you when you visit Middleton Place plantation and remember to drink up.
Wear comfy shoes: The property is huge and you'll be walking over grass and dirt most of the time. Also, there are free range livestock on site so you may step in something — ahem — unpleasant by mistake.
Arrive early — Charleston heats up quickly in the sunnier months, and Middleton Place can become crowded by midday. I recommend arriving as close to opening time as possible so you can enjoy your visit at a leisurely pace.
Bring your credit card — Middleton Place plantation is card-only, no cash allowed.
Don't feed the animals — You're not allowed to pet or feed the farm animals, no matter how cute they are. This is for their benefit, so pretty please don't feed them any of your snacks.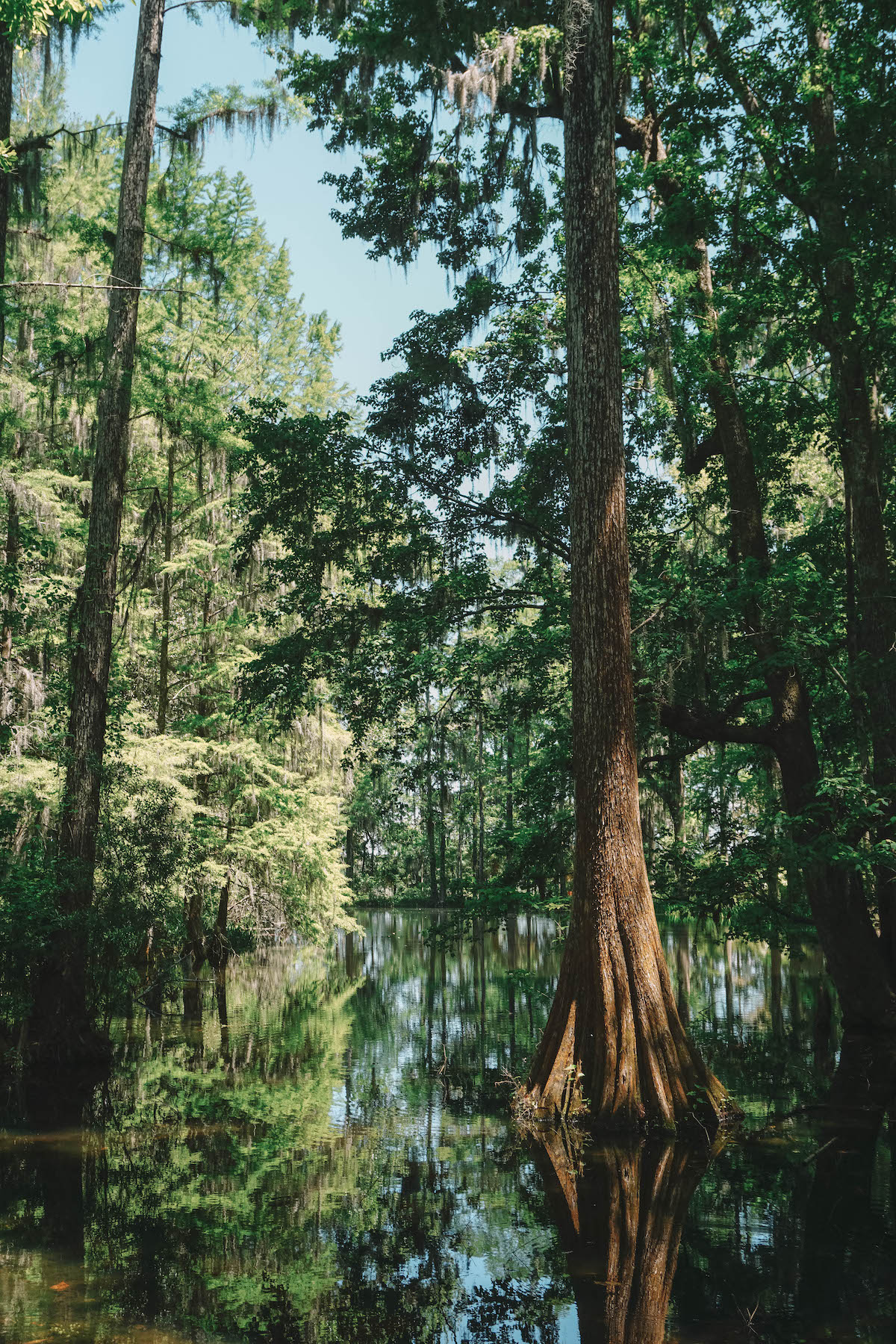 Interested in Visiting More Plantations?
Middleton Place was my favorite plantation in Charleston, but there are a couple more in the area that are definitely worth visiting. I actually wrote a post about my four favorite Charleston plantations right after my trip, so check that out for my recommendations.
If you know you'll be visiting lots of the main attractions while you're in Charleston, it might be worth investing in a Charleston Tour Pass. With the Tour Pass, you pay a fee upfront to get into 40+ attractions in the area. If you play your cards right, you can save quite a bit of money this way! Many of the plantations and house museums are included with the Tour Pass, just FYI.
Tell me: What excites you most about Middleton Place? Touring the house, exploring the property, or seeing all the animals?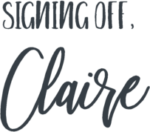 More Charleston Posts You'll Love: 
This post contains affiliate links (read my affiliate policy here). This means that if you purchase a service or item using the link I've provided, I earn a small commission at no extra cost to you. I only recommend services / products I actually like and have used! Your support means I can continue making amazing FREE travel resources for you in the future.