Wondering what's worth seeing Boston? Here are some of the top historical things to do in Boston, including shopping areas, museums, neighborhoods, and more!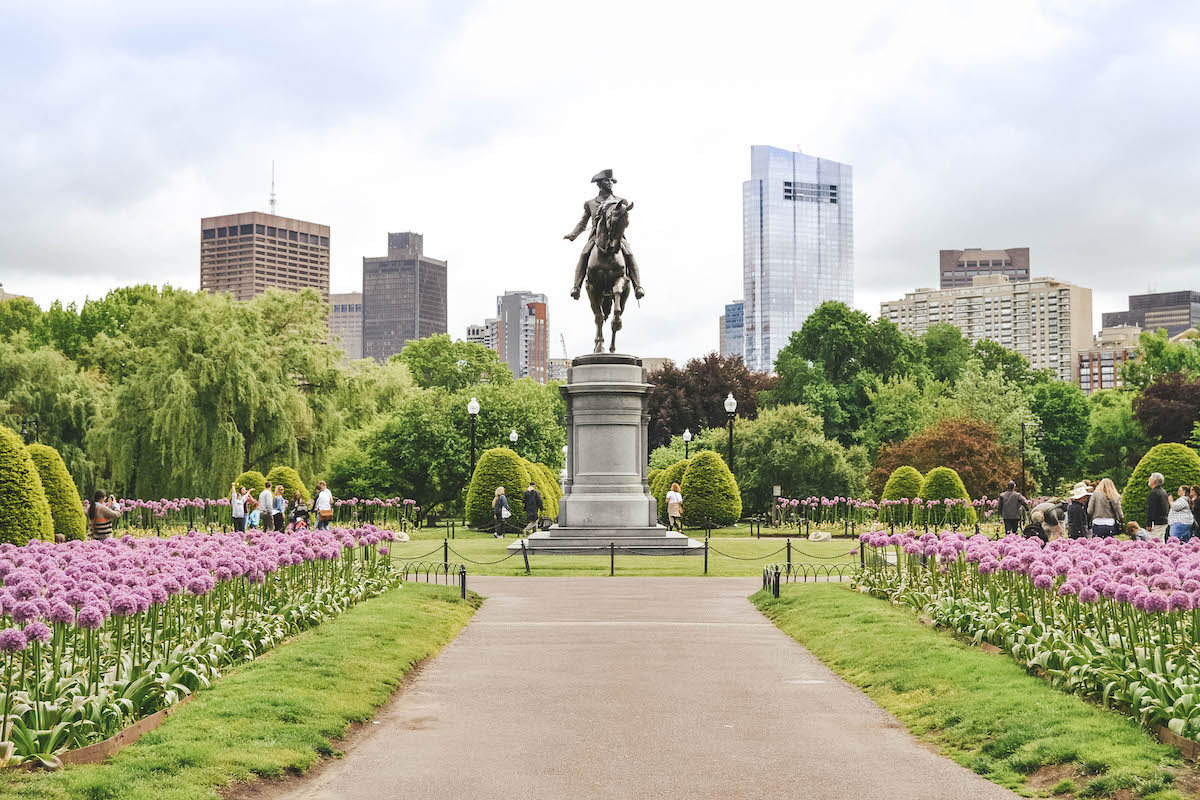 Boston's storied past makes it one of the most historically important cities in the US. From the arrival of the Puritan colonists in 1630 to its pivotal role in the American Revolution, Boston is every history lover's dream destination. There are so many historical things to do in Boston — and I'm not just talking about artifact-laden museums!
Many key figures in American history called Boston home, so in addition to world-class museums, there are also a number of graveyards, churches, house museums, and more to visit. Best of all, Boston is one of the few places where the typical tourist attractions actually live up to the hype (which is a miracle, if you ask me).
In this post, I'll be sharing the top things to do in Boston. I focused primarily on Boston's historical sites because that's what drew me to this gorgeous waterfront city in the first place. However, there's so much stuff to do in Boston so leave me a comment below if you'd like even more recommendations!
1. Walk the Freedom Trail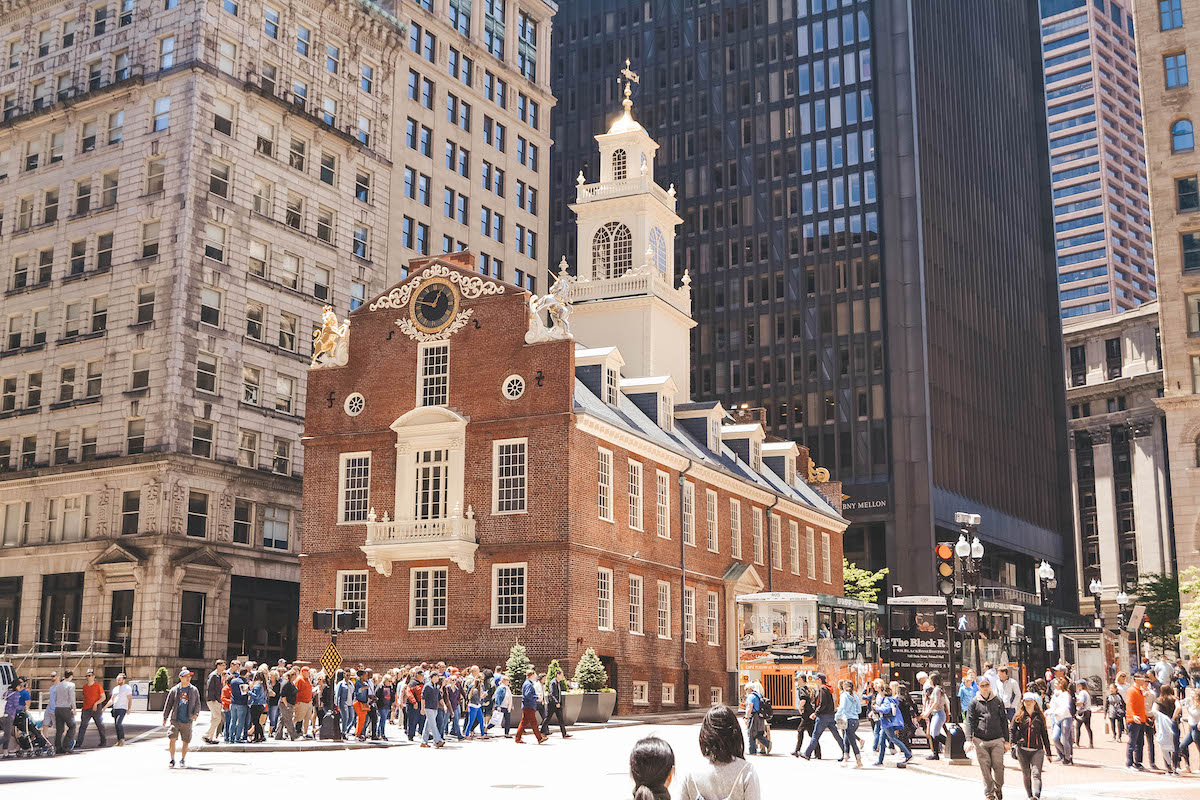 When in Boston, walking the Freedom Trail is a must. If you're unfamiliar with the Freedom Trail, it's a 2.5-mile walk through Boston's historic city center that's dotted with sites from the Revolutionary War. There are 16 stops along the Freedom Trail, some of which I've included in this blog post because I felt they deserved their own place on your bucket list.
Some of my personal favorite stops along the Freedom Trail include:
The Granary Burying Ground — The final resting place of revolutionaries like John Hancock, Samuel Adams, and Paul Revere.
Faneuil Hall — The site where Bostonians first protested the Stamp and Sugar Acts. It's now a bustling marketplace.
Old North Church — The famed church where Paul Revere's lanterns were hung.
There's so much more to know about this historic Boston walking path! I've written an entire guide to walking the Freedom Trail, which includes a map, details about each stop, FAQs, and more.
2. Visit the Old South Meeting House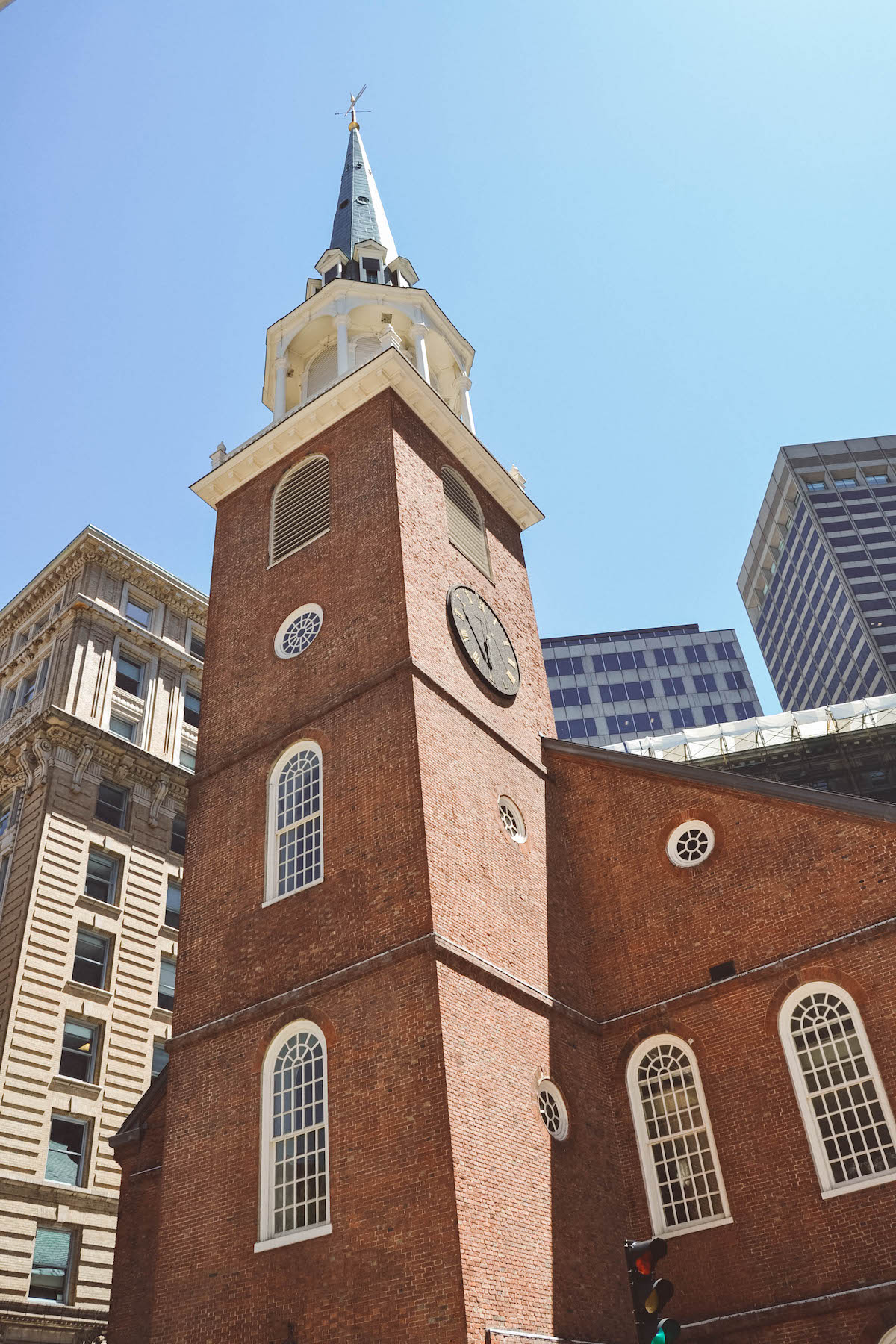 Personally, I'd rank the Old South Meeting House as one of the top 10 things to do in Boston if you love learning about Colonial America. It was here that the colonists decided the fate of the 30 tons of tea that sat in the Boston Harbor. I'm sure you've heard that story, right?
You only need about 45 minutes to tour the Old South Meeting House, but I highly recommend going inside. It's now a museum and is set up as it would've been during the Revolutionary War. There are also exhibits inside that explain the building's significance following the war.
3. Window Shop at Faneuil Hall & Quincy Market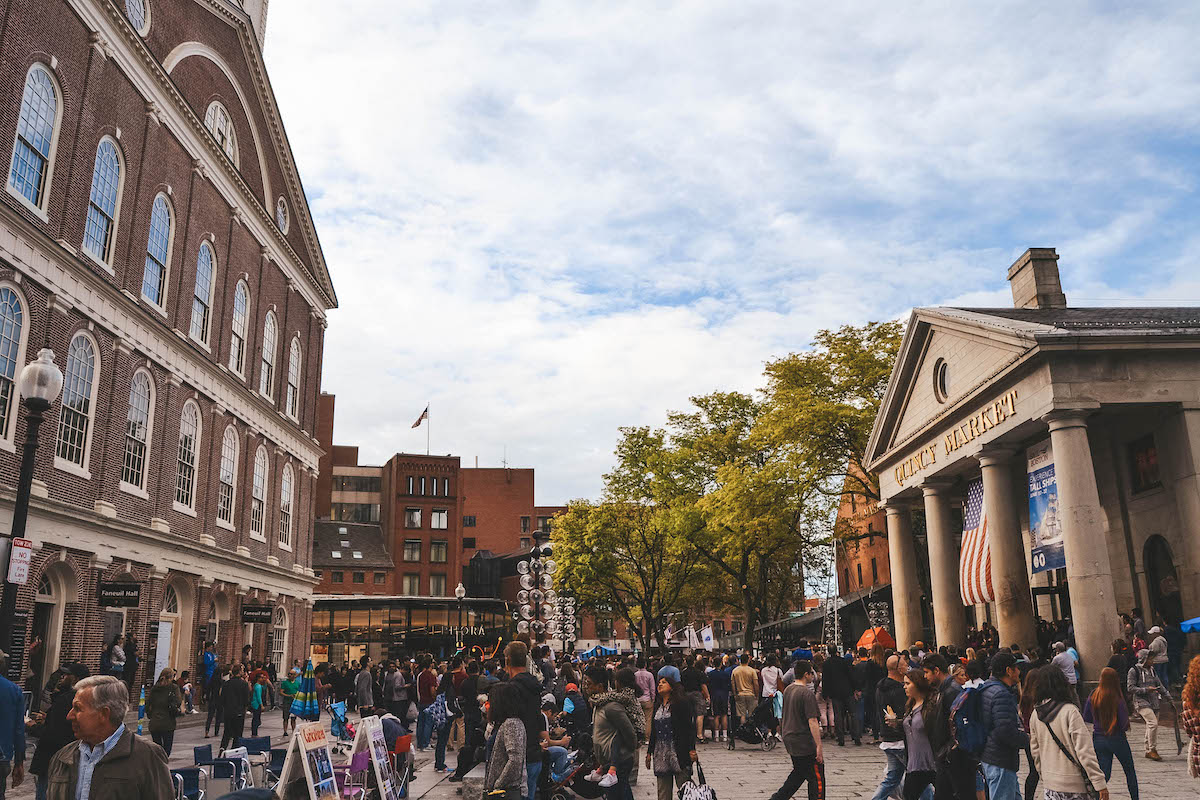 Faneuil Hall and the surrounding area is your one-stop shop for … well, pretty much anything your heart desires. Faneuil Hall itself is a unique historical thing to do in Boston. It's where the colonists protested the Stamp and Sugar Acts, and is also a historic marketplace.
Today, Faneuil Hall is filled with shops and restaurants. While you're here, be sure to check out the Quincy Market, as well as the North and South Markets. There are mostly chain stores in this shopping area, but you can find some local boutiques as well. This area is very busy on the weekends and during peak tourist season, so consider visiting in the morning during the work week to avoid crowds.
I should note that Faneuil Hall is a stop on the Freedom Trail, but I wanted to mention it separately since you can easily spend a couple hours here if you actually want to shop. 
4. Tour Paul Revere's House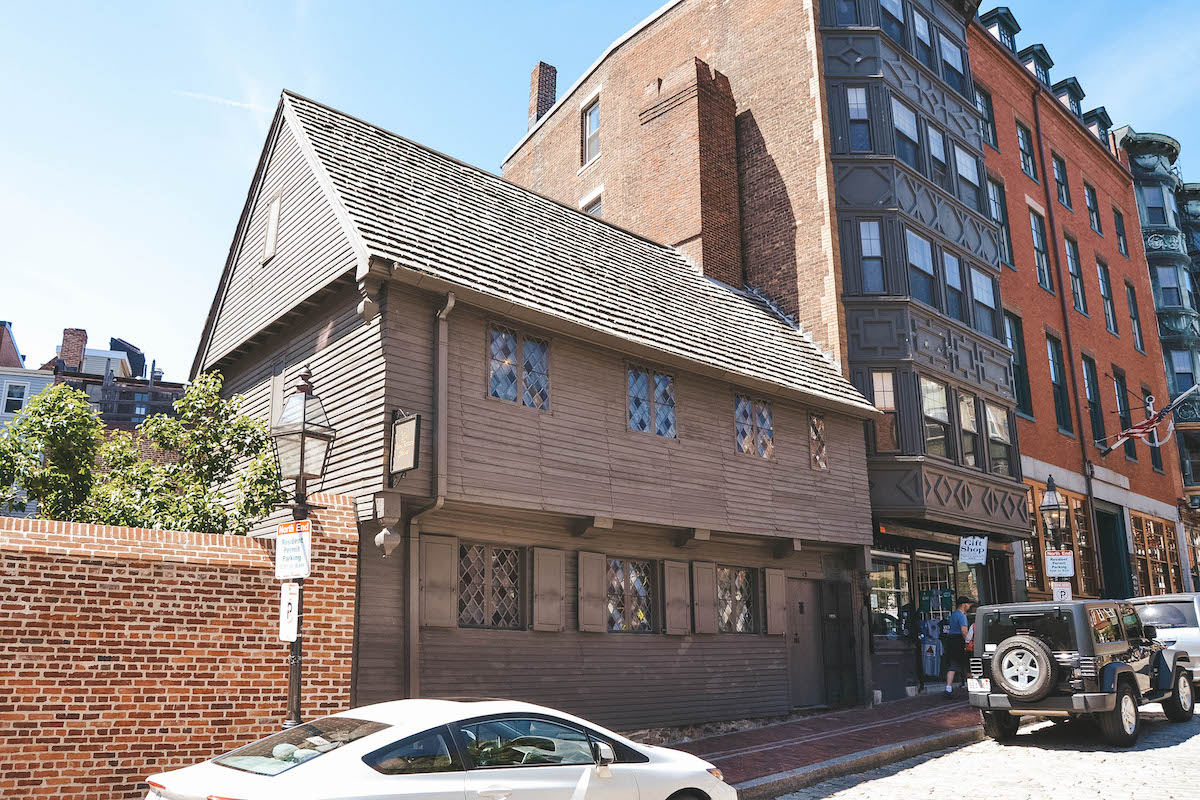 This is yet another stop along the Freedom Trail that I feel warrants its own spot on this list of historical things to do in Boston. Again, if you're as fascinated by Revolutionary War history as I am, I have no doubt you'll agree that this is one of the best things to do in Boston!
Paul Revere is one of the best-known revolutionaries of his time, thanks largely in part to Henry Wadsworth Longfellow's poem, "Paul Revere's Ride." Revere was a goldsmith and engraver by trade, and he lived with his wife and 16 children in this small home.
There are only four rooms in Paul Revere's House, and each is decorated as it would have been during his lifetime. There's a guide stationed in the corner of each room, and they're very knowledgeable so definitely ask them questions!
5. Board the USS Constitution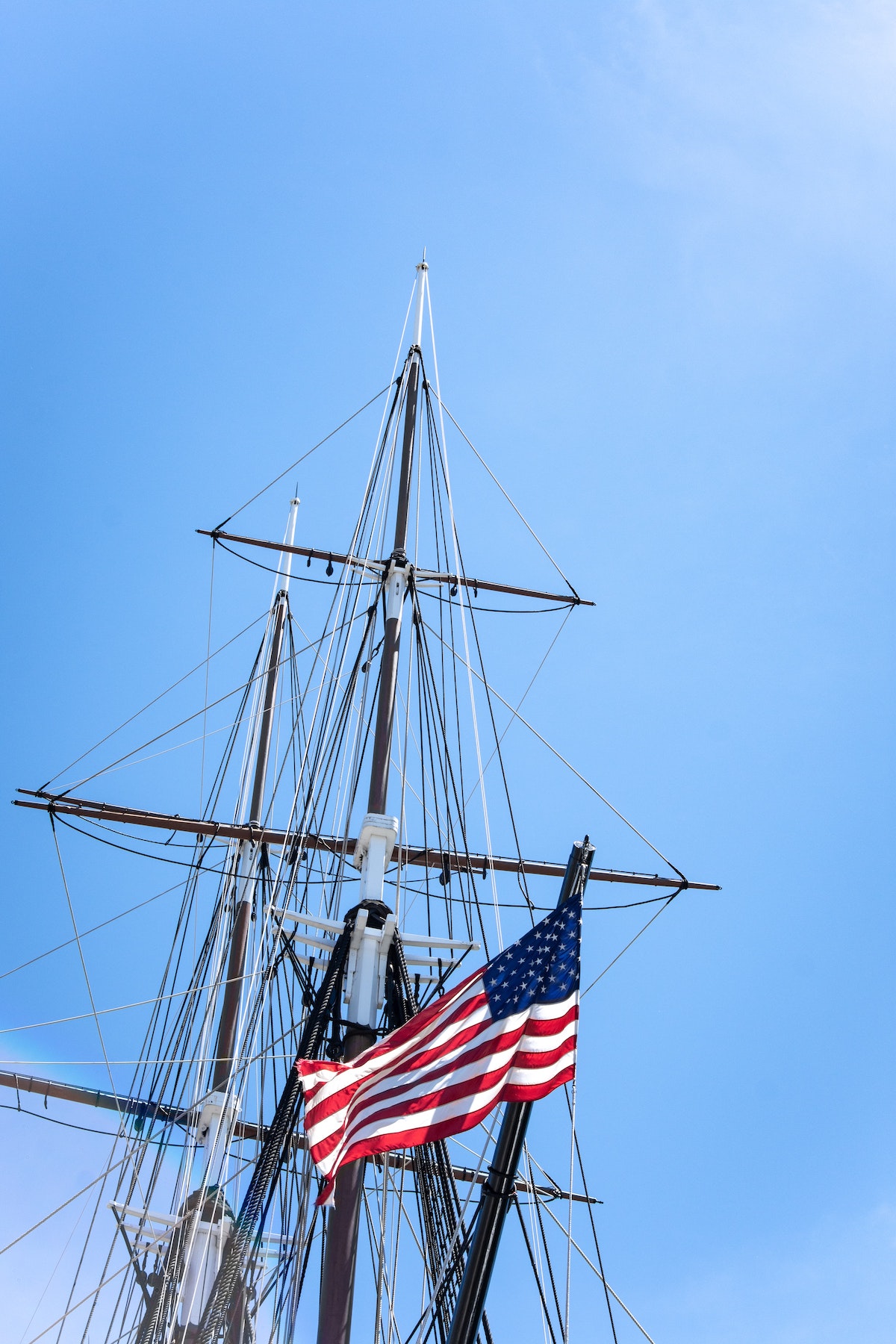 Better known as "Old Ironsides" due to its role in the War of 1812, the USS Constitution remains a commissioned war ship to this very day. She doesn't see much action these days, but if you're in Boston for the Fourth of July you can watch her sail in the harbor for the celebrations!
You can board the USS Constitution for free, and there's also a museum nearby to visit. I haven't visited the museum yet, so I can't speak to its quality. The ship itself though is cool to see, and is a historic Boston attraction that I think anyone can appreciate!
6. Eat Your Way Through the North End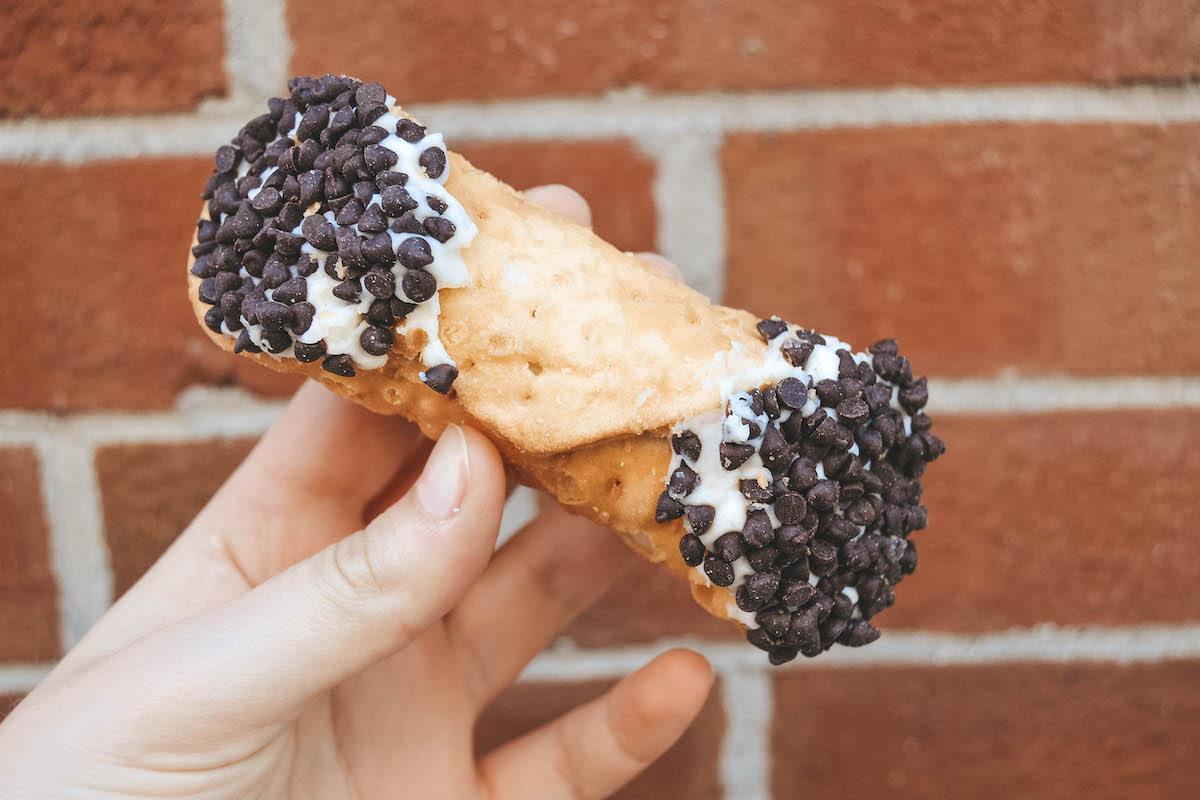 Ask any Bostonian what you need to see in the city, and their first answer will likely be the North End. This historic neighborhood is home to many of Boston's Italian restaurants and bakeries, as well as some of the more exciting Freedom Trail sites. 
The chances are good that you'll find yourself in the North End for a mid-afternoon cannoli every day of your visit. You'll hear no judgment from me, I did the exact same thing! If the line at Mike's Pastry is too long for you (which is always), try a few treats from Bova's. A family-run bakery, Bova's cannoli are amazing, as are their butter cookies and cheesecake.
7. Explore Beacon Hill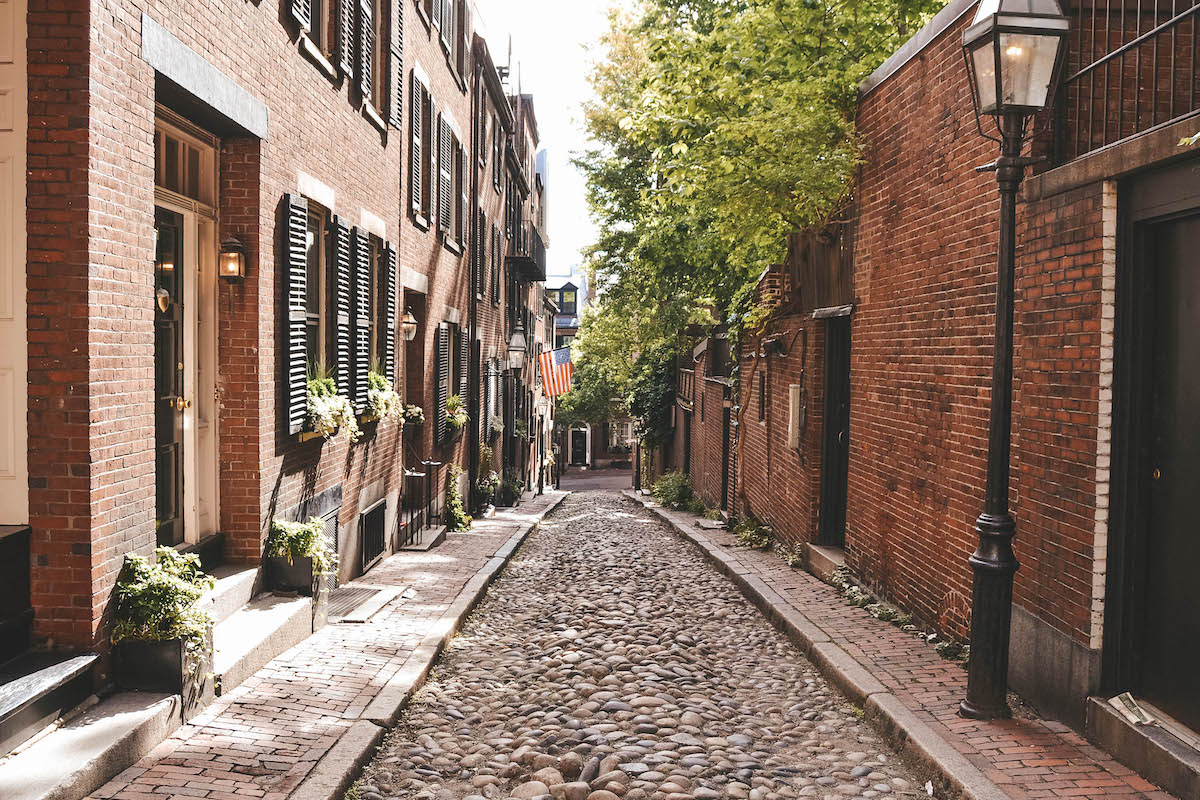 Beacon Hill is a ritzy historic neighborhood in Boston that's too beautiful to miss. The first home to be built on Beacon Hill was erected in 1625, just to give you an idea of how old the neighborhood is. In 1962, Beacon Hill was made a National Historic Landmark. Although it's a residential neighborhood, it remains one of Boston's top historical sites. 
While there's nothing to do in Beacon Hill in terms of attractions, you'll have no problem passing the time staring at gorgeous Federal-style row houses—seriously, the window boxes here are next level!
While in Beacon Hill, you need to hunt down Acorn Street. Acorn Street is the most photographed street in Boston and looks like it was taken from a Better Homes & Gardens magazine. If you're itching to get lots of photos here, I'd recommend visiting in the morning before others get the same idea. The tiny alley gets clogged with visitors quickly (can't imagine living here myself, too many people!).
8. Relax in the Boston Common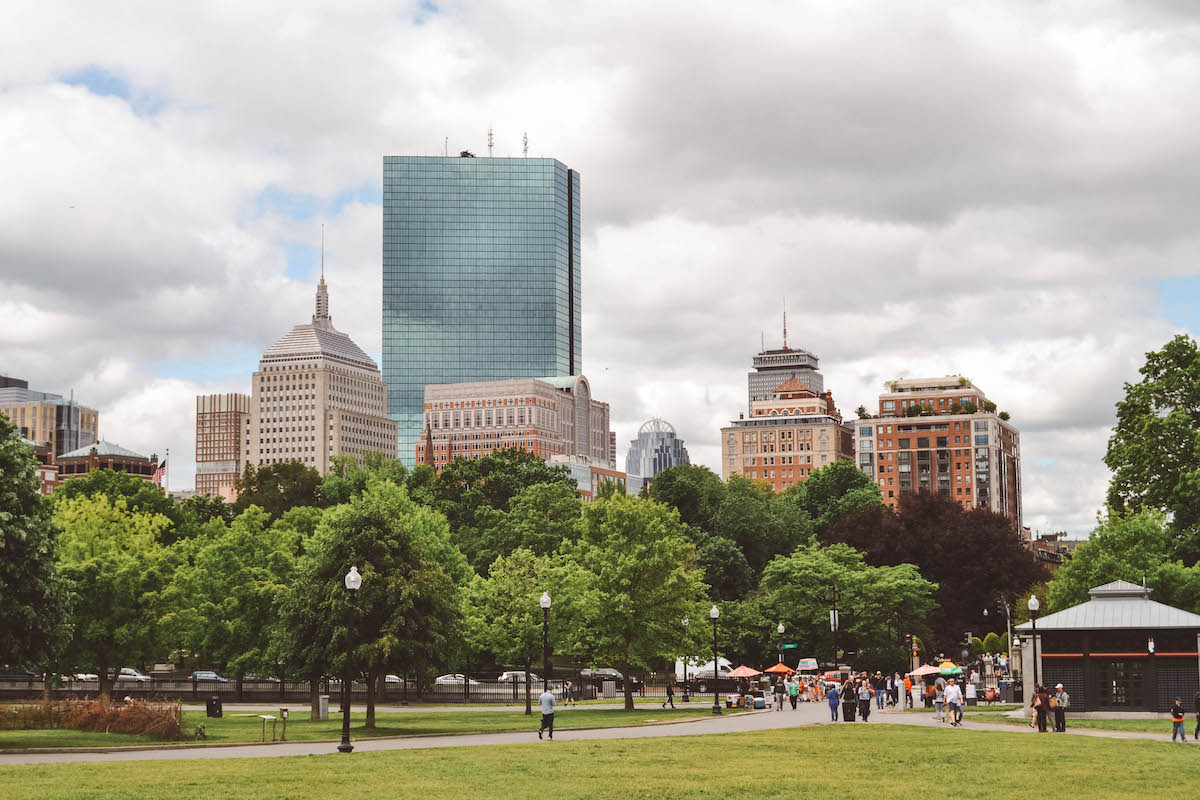 The Boston Common was established in 1634, making it the oldest park in the USA. The land for the Common was purchased by Puritan colonists. They originally used the space to graze livestock. During the Revolutionary War, it's estimated that over 1,000 Redcoats camped on the Common and trained there. Generations later, Martin Luther King Jr. held a Civil Rights rally on the Common!
If you're unsure what to see in Boston, go to the Common! It's both a fascinating historical site, but also a lovely park with lots of grassy space and benches to relax on after spending the morning on your feet.
9. Admire the Public Garden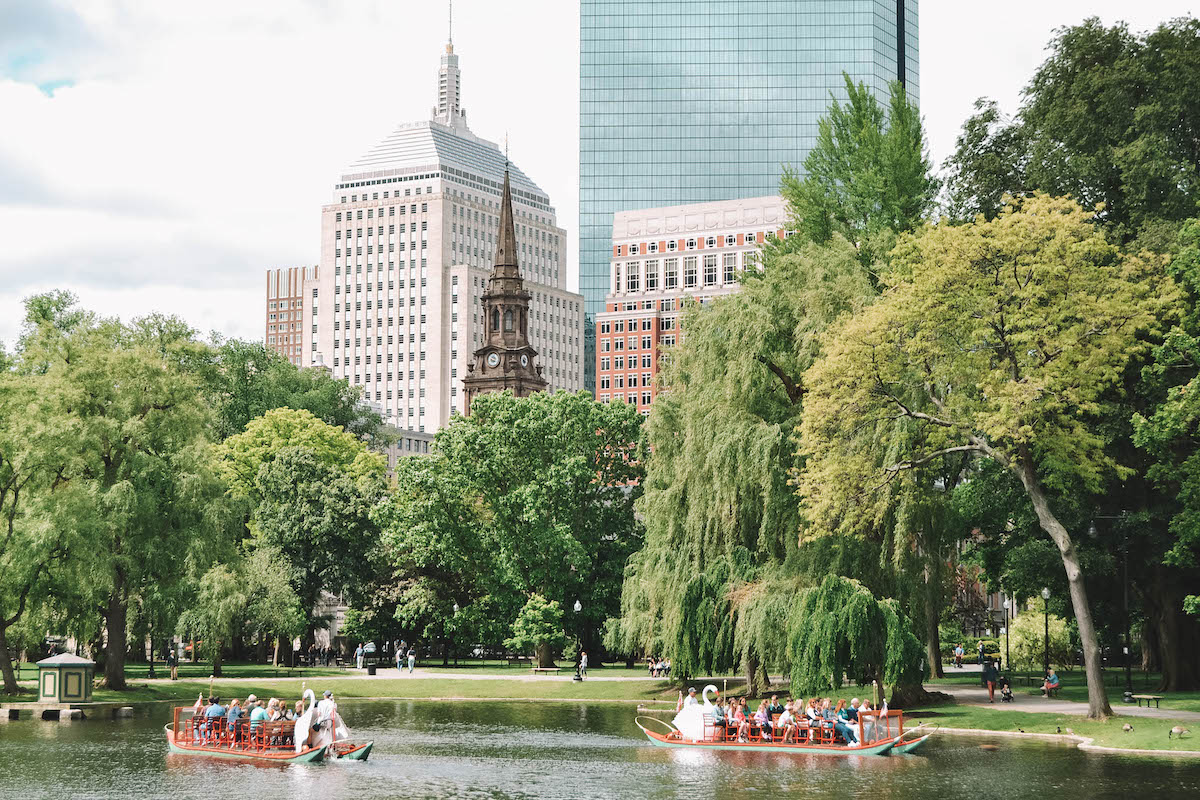 Established in 1837, the Boston Public Garden was the first botanical garden in America. Whereas the neighboring Boston Common was created for practical purposes, the Public Garden was intended to be a place of leisure and beauty. The Public Garden retains its original Victorian atmosphere, and it's here that you'll find Boston's iconic swan boats drifting gently on the surface of the lake.
Don't forget to visit the Make Way for Ducklings statue in the Public Garden! Locals dress up the ducklings for the holidays, and it might just be the cutest site in all of Boston.
10. Walk Down Commonwealth Avenue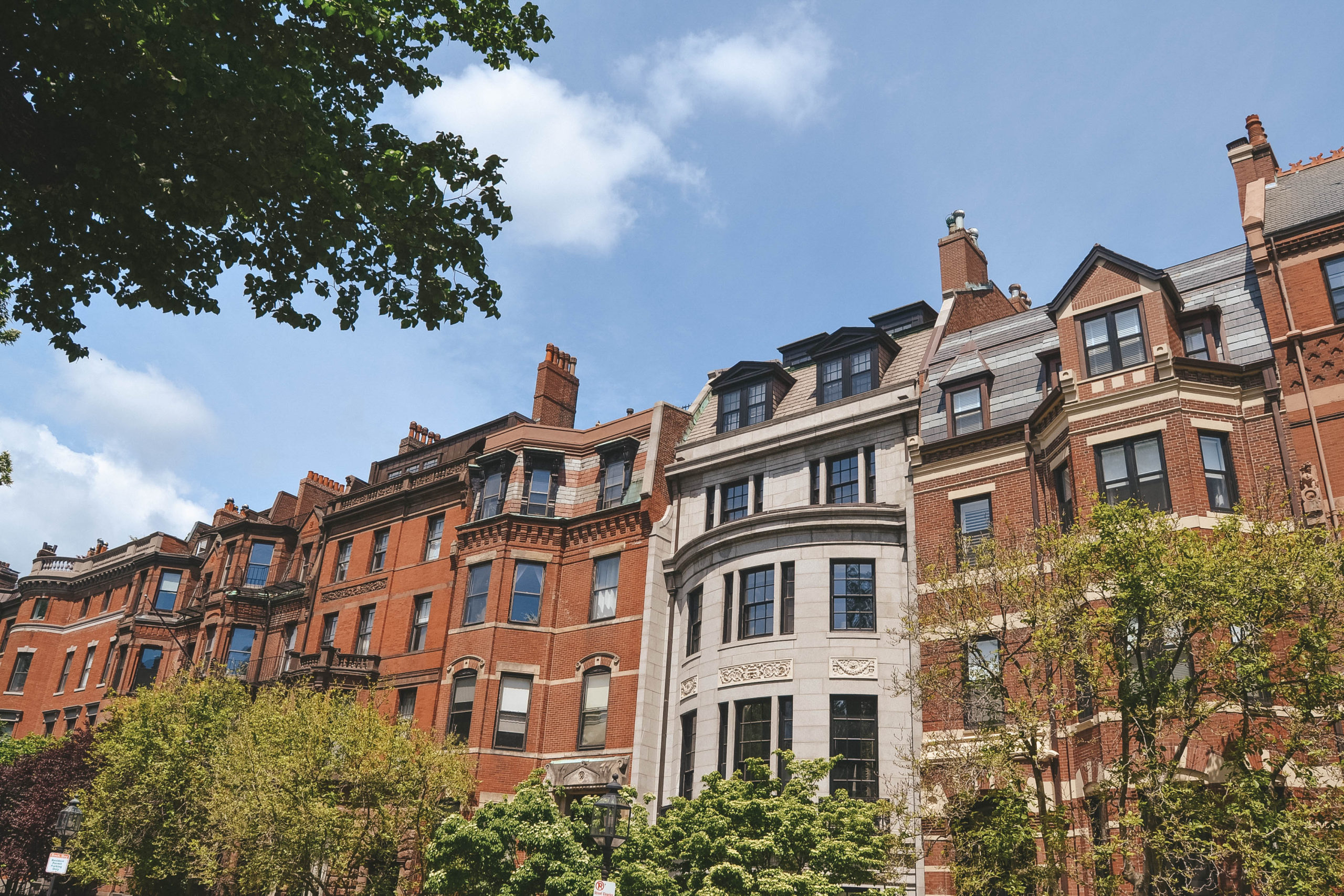 The brownstones along Commonwealth Avenue give Beacon Hill a run for its money. This beautiful boulevard starts at the western edge of the Boston Public Garden. It's impossible to miss — just look for the statue of Alexander Hamilton on the grassy mall!
Once you reach the end of the mall (about a 30-minute walk from the Public Garden), you'll enter Boston University territory. From there, Commonwealth Avenue stretches on for longer than your feet can take you. However, the 1.5-mile stretch between the Public Garden and Kenmore Square is worth exploring. Bring your camera, this historic area is gorgeous in all seasons!
11. Window Shop on Newbury Street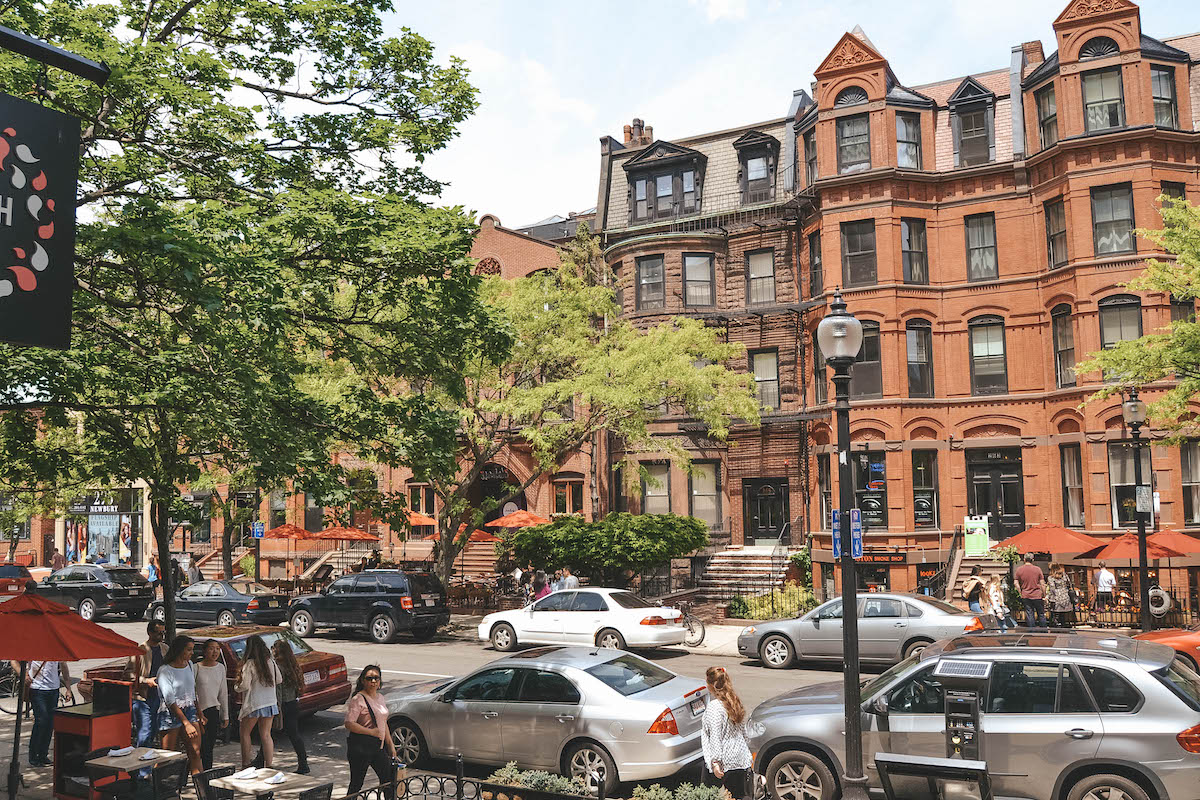 Once you've walked down Commonwealth Avenue, take a left and walk down Newbury Street. Parallel to Commonwealth Avenue, Newbury Street is full of shops and restaurants. The shops are a decent mix of local boutiques and chain stores, but all look absolutely adorable in the brownstones.
Newbury Street has a unique history in that it used to be part of the Boston Harbor. Yes, this street used to be under water! Beginning in 1857, the harbor was slowly filled to create the neighborhood you see today. Many of the buildings along Newbury Street were built in the late 1800's. The area was heavily influenced by European design elements, which you can see in the building facades and wide boulevards.
12. Visit the Boston Public Library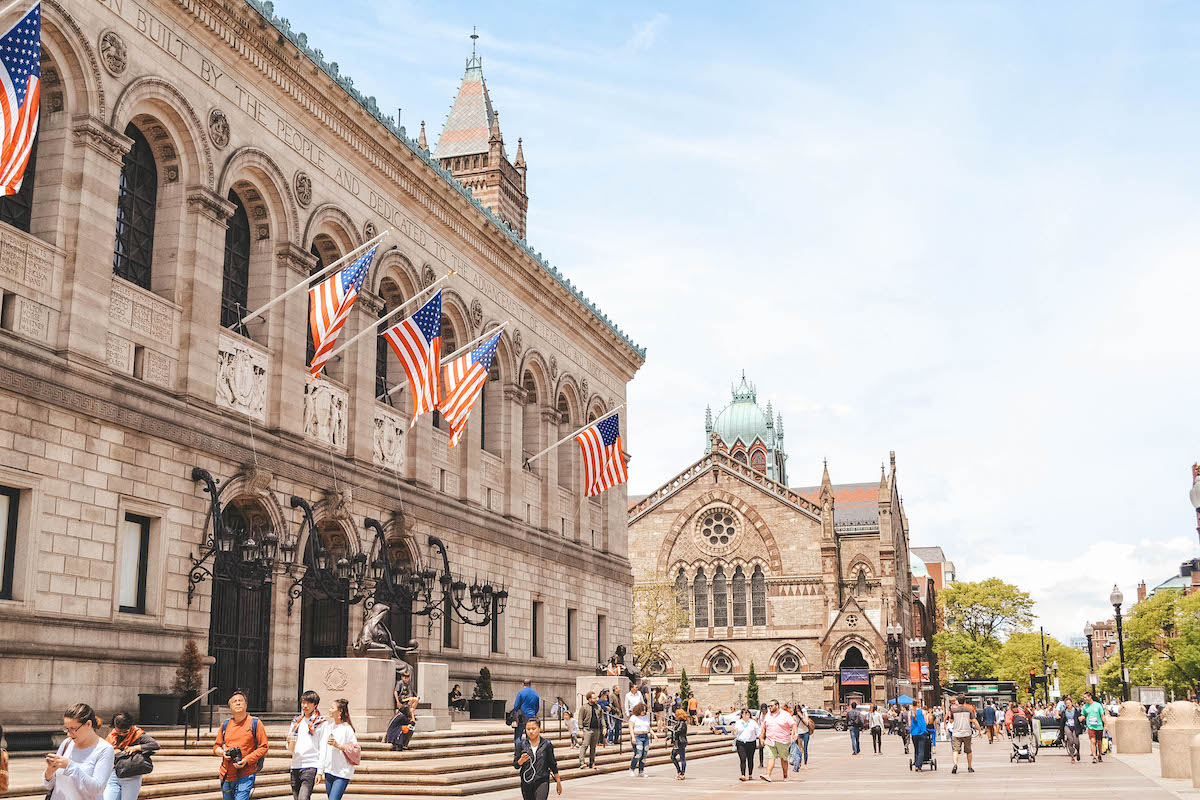 Just a short walk from Newbury Street, you'll find the stunning Boston Public library. It was founded in 1848 and was the first large free municipal library in the US. The library originally opened with 16,000 volumes and was located in an old school house. It quickly outgrew that space and changed location many times until it finally settled in its current location along Boylston Street.
In 1986, the central branch building was designated a National Historic Landmark. The building was labeled as "the first outstanding example of Renaissance Beaux-Arts Classicism in America."  The central library building has a main reading room that rivals New York City's main library on Fifth Avenue, plus a courtyard that will have you googling how expensive it'd be to host your wedding here. You can explore the library solo or join an hour-long tour.
13. Stroll Along the Harborwalk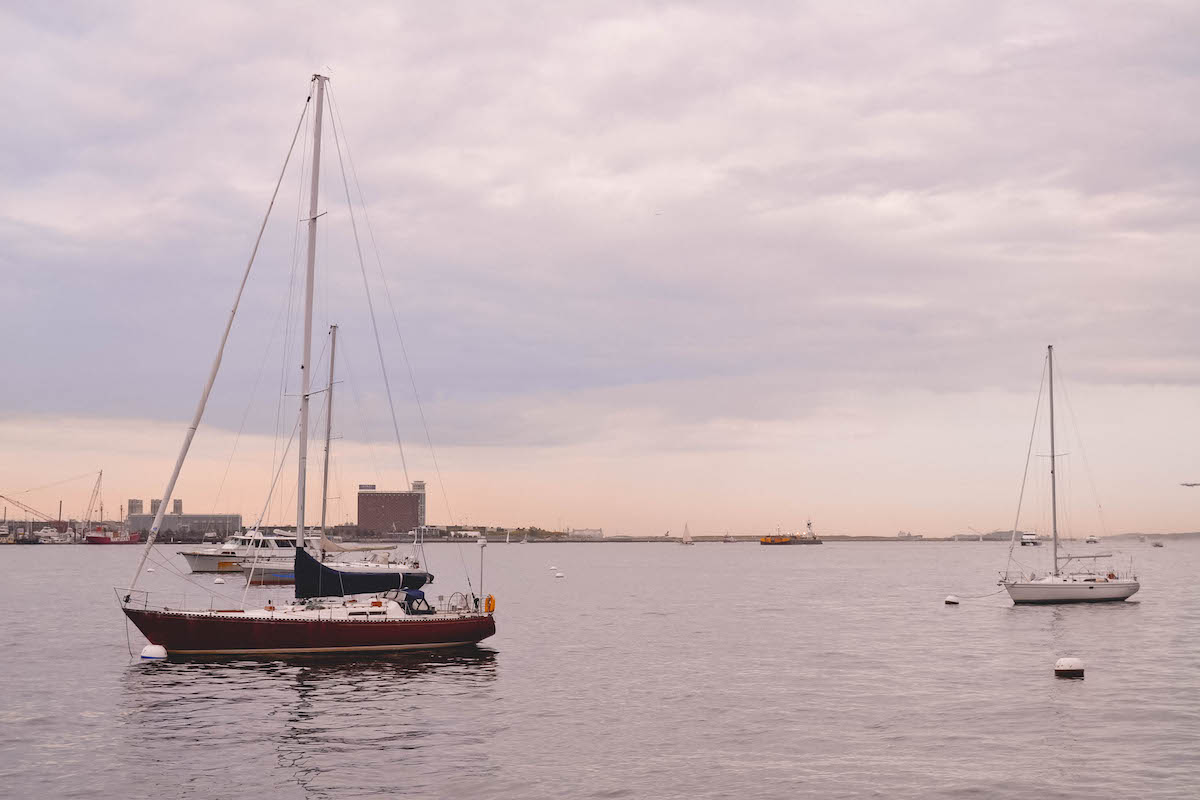 The Charles River is another great place for a stroll after you've had your fill of downtown Boston. However, you can only explore a small fraction of this continuous, 43-mile waterfront walk. I recommend visiting the official Harborwalk website for a detailed map of all the historic sites and attractions along the Harborwalk. Look to see which attractions you're near, and head on over!
And if you're lucky, the Harvard rowing team will be on the water. It makes for one heck of a photo!
14. Tour Harvard University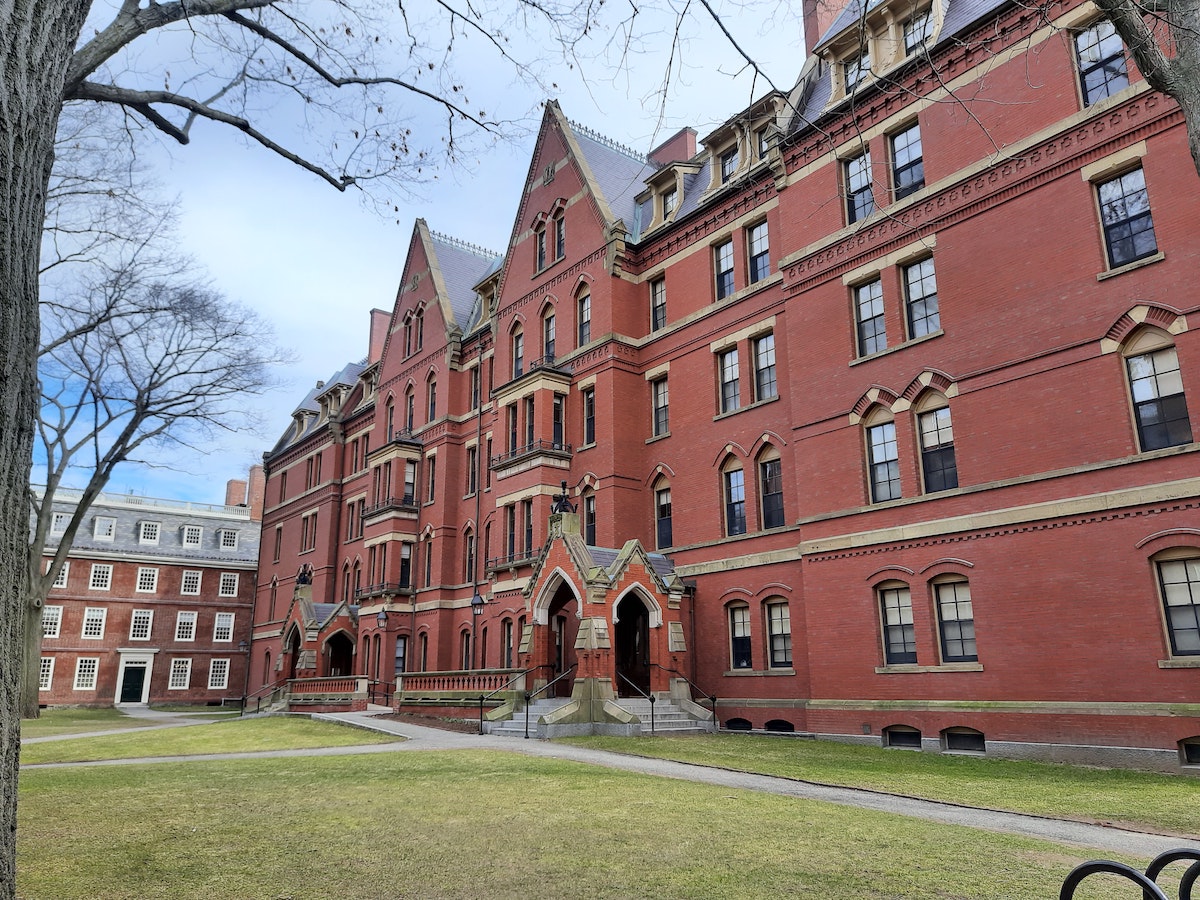 Harvard is almost synonymous to Boston. You can't think of one without thinking of the other. Harvard Yard is smack in the middle of Cambridge and is the oldest section of the university. This grassy area is also beautiful, and you'll feel smarter just by touring the campus. Other historic (and pretty!) spots on Harvard's Campus include the Arnold Arboretum, Radcliffe Yard, and Tercentenary Theatre.
Harvard University is situated in the quaint college town of Cambridge, Massachusetts, which is just 15 minutes away from downtown Boston. After exploring the campus, be sure to walk around Cambridge. There are lots of local shops and restaurants here, and the vibe is much different from Boston's historic district.
15. Visit the Isabella Stewart Gardner Museum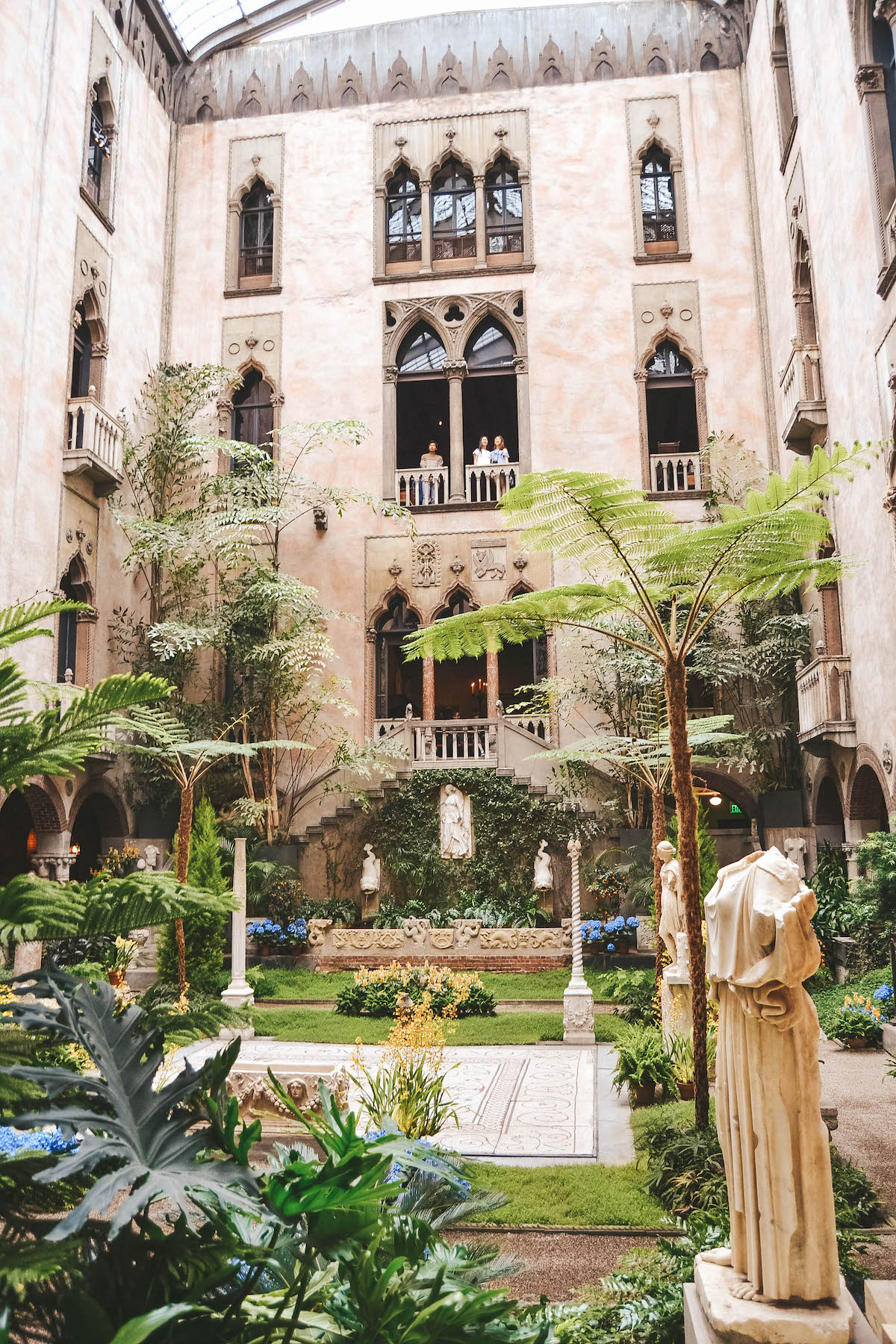 If there's one museum you visit during your visit to Boston, please make it the Isabella Stewart Gardner Museum! This "museum" was once the home of Isabella Stewart Gardner. She built the home following the sudden death of her husband, Jack Gardner. Construction on the building began in 1899.
From day one, the home was intended to become a public museum. Isabella lived on the private fourth floor, but filled the first three floors with her collection of tapestries, sculptures, manuscripts, and more. The museum was opened to the public in 1903 and was left to the city following her death in 1924. In her will, Isabella stipulated that the galleries remain unchanged and that none of the items in her collection be sold.
This is truly unlike any other museum I've been to before or since. It feels like it's part house museum, part art museum, all mixed together with the wonderful narrative of Isabella Stewart Gardner's life. This is one of the best things to do in Boston, in my humble opinion, and I've recommended it to so many friends over the years!
Even More Things to Do in Boston, MA!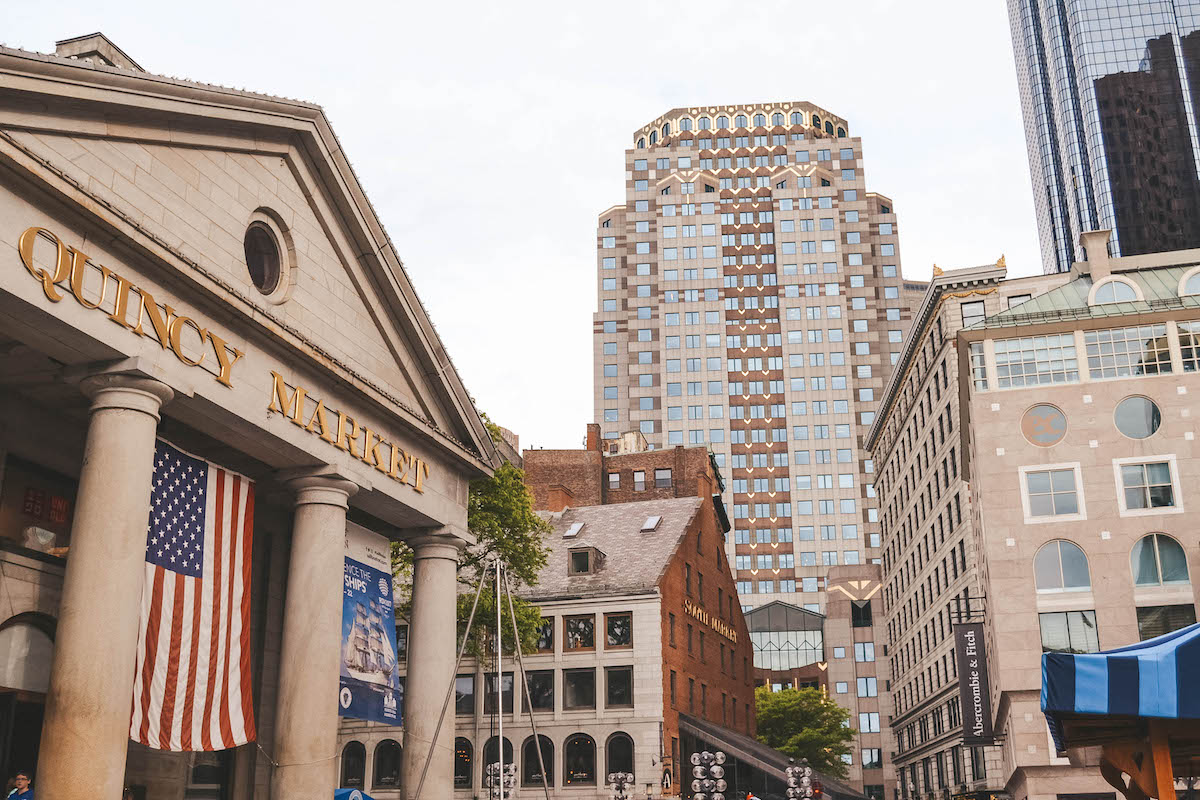 Still wondering "what is there to do in Boston?" I hope not! But if so, here are some more things to do in Boston. Some of these I've experienced myself and can recommend, while others are suggestions from friends who attended college in Boston.
Museum of Fine Arts — If you're looking for a more traditional art experience, the Museum of Fine Arts is for you. With the usual mix of paintings and statues, this is a solid place to spend a rainy afternoon.
Harvard Museum of Natural History —This is a good museum for people who hate museums. It's on the smaller side since it's a university museum, but there's a decent variety of exhibits. The museum is centered around nature (go figure) and has a lot of flower and animal exhibits.
Public Market — A great place to grab a bite to eat! It's an indoor, year-round marketplace that houses over 30 New England artisans and food producers.
FAQs About Visiting Boston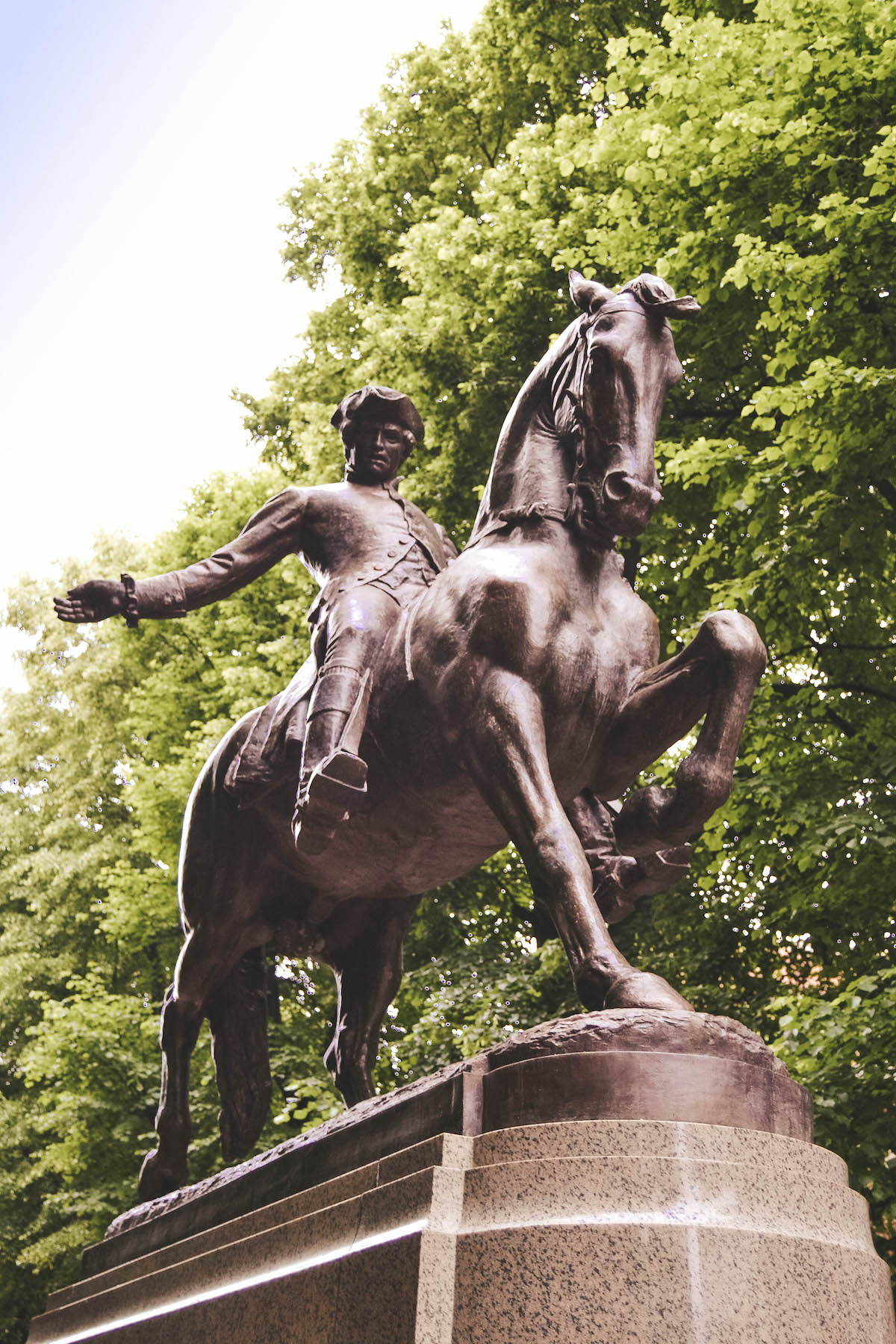 When is the best time of year to visit Boston? I recommend visiting Boston during the shoulder seasons (April / May or September / October). The weather will be fairly good during these months, and there will be fewers tourists.
The one major exception is the Fourth of July — the city goes all out for America's birthday, and while it'll be packed with people I think visiting Boston on the Fourth is worth doing at least once in your life!
How many days should I spend in Boston? Boston is the perfect size for a weekend getaway. There are enough historical places in Boston that you'll leave wishing you'd had more time to see them all, but you'll also feel like you've experienced much of the city.
Where should I stay in Boston? If you'll be in Boston for just a few days, I recommend staying near the historic city center if it's within your budget. Personally, I think it's worth staying near the main Boston historical sites so that you can reach most of the attractions on foot.
What's the best way to get around Boston? You can visit most of the Boston, MA historical sites shared above on foot. However, Boston also has an easy-to-navigate public transit system, called "The T," so consider buying a 1-day or 7-day pass if needed.
Ready to Explore Boston?
These are just some of the top things to do in Boston, and believe it or not there are even more historical sites that I didn't mention in this blog post! If you're looking for even more things to do in Boston, make sure to read my complete guide to the Freedom Trail. I go into much more detail about other historical things to do in Boston in that post, plus I share my top tips for walking the famous 2.5-mile trail.
Tell me: Is Boston on your bucket list? Tell me what you're most excited to see!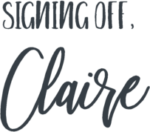 More East Coast Cities Worth Visiting:
This post was originally written June 2017 and was updated October 2021.