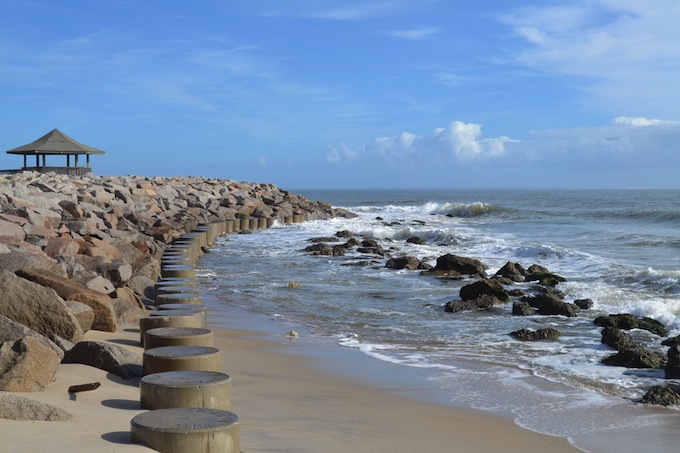 Just a short drive from the coast, Wilmington, North Carolina is about as cute a small town can get in the States. Although it's smaller in size, there are so many great things to do in Wilmington that you're sure to love. Whether you're visiting for a day or a week, here are six things you have to do during your stay.
Tour Bellamy Mansion
An absolute must-see in Wilmington is the Bellamy Mansion. First owned by the Bellamy family (and subsequently tossed around during the Civil War), this mansion is gorgeous inside and out. It just screams Deep South, and you'll want nothing more than to sit back in a rocking chair while sipping sweet tea when you visit. There are a few things you should know before you visit, which I've written about here, but it's definitely worth visiting!
Stroll through the Airlie Gardens
If you find yourself in Wilmington on a day when it's gloriously sunny, then you absolutely must make a visit to the Airlie Gardens. There's a bit of everything in the Airlie Gardens; freshwater lakes, an azalea garden, an old churchyard with a beautiful cemetery, and so many turtles piled up on logs it's amazing the wood doesn't break in two. I loved the grotto that jutted out into one of the lakes. There were swans swimming by and Spanish moss covering the trees. Like so much of Wilmington, the Airlie Gardens just exude the Deep South vibe, which I just love.
Explore the River Walk and Historic District
The River Walk in historic downtown Wilmington is arguably the most peaceful place to take a stroll in the evening. After you go out for dinner, make sure to walk along the riverbank and enjoy the night air. During the day, the entire historic district is filled with people all popping into mom and pop boutiques and chatting away. The historic district is fairly small, but is a great way to spend most of a day in Wilmington.
The old Cotton Exchange is the most well known part of the historic district and is well worth a visit. It's now filled with shops and restaurants, but you can just imagine the history of the building when you see the old brick and wooden beams.
Discover the USS North Carolina
I've said it once, and I'll say it again: the USS North Carolina is surprisingly fun to tour. I say that only because I typically don't enjoy taking tours centered primarily on ships or military equipment because I don't know anything about that type of stuff. However, the USS North Carolina has an easy-to-follow self-guided tour that breaks down all the ship mumbo jumbo in such a way that everyone will enjoy. If you want to read more about the USS North Carolina, check out my post on it here.
 Visit nearby beaches
I visited Wilmington in the dead of winter, so unfortunately I couldn't go swimming in the ocean. That being said, it was still 70 degrees when I was there, so I took plenty of relaxing walks along the beach with my family. The closest beaches to Wilmington are Carolina Beach, Kure Beach, and Wrightsville Beach. I'm sure you don't need me to tell you how calming a stay at the beach can be and how much fun boardwalks are.
Enjoy Fort Fisher & its Aquarium
Fort Fisher is located in Kure Beach and is an awesome way to spend an hour of your day. The site is free to walk around, and you get to see the ground where the fort used to reside. It's essentially a huge mound of dirt, but it's cool to learn about its role during the Civil War and the battles it was part of.
The Aquarium at Fort Fisher is just down the road from the historic site, and is one of the best aquariums I've been to in a long time. It is quite small, so I'd say you could only spend half a day there maximum, but the exhibits are phenomenal. The first room you walk into is like its own little ecosystem with free range box turtles and ground birds. There's even a rescued bald eagle there, oddly enough, and an albino alligator. In the next room you're able to pet horseshoe crabs and sting rays, which love jumping up out of the water to say hello! The staff at the aquarium is mainly volunteer-based, but they're all very knowledgeable and love chatting with you about the sea life.
Though small, Wilmington has so many things to do and is the perfect place to stay for a weekend getaway. If you're in Wilmington during the summer, you'll probably spend most of your time at the beach, but I encourage you to explore the town a bit too and see what all it has to offer.
Over to you: What's your favorite small town you've visited? Are you more of a city person or do you like the coziness of smaller towns? Leave me a comment below with your thoughts! I'm definitely more of a city girl, but I love exploring the countryside too.
Signing off,
Claire
PS. There's plenty to eat in North Carolina as well, so be sure to try out all the local foods while in Wilmington!