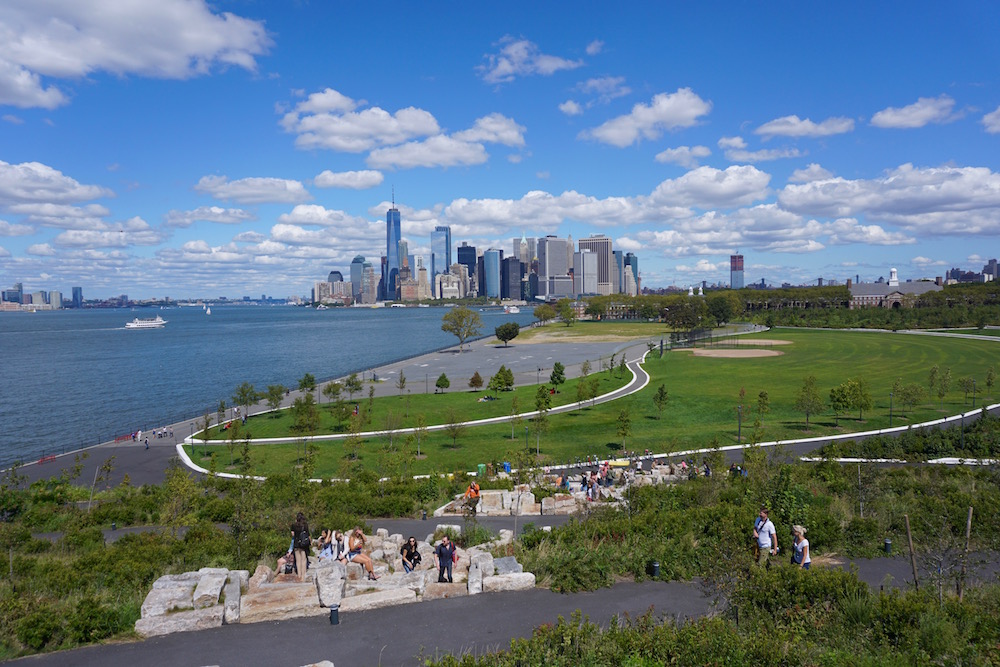 Sorry to interrupt all the Scotland articles, but while the weather in NYC is still warm I wanted to go on a few more adventures. Naturally, I had to fill you all in on what I've been up to! Last weekend, I checked a big item off my NYC bucket list: Governors Island. I visited Governors Island with my mom when I was in high school, but we had terrible weather and I really couldn't remember anything about the island. Luckily, my friend Claire was eager to visit Governors Island as well, so we made a day of it last weekend.
Governors Island is one of New York's not-so-hidden gems. Everyone has heard of it, but many treat it like a beach vacation—you might visit it once during the summer and that's pretty much it. It's a shame that more people don't visit it regularly because it's a mere 800 yards away from the southern tip of Manhattan. The ferry to the island is just $2 round-trip and takes a whopping 15 minutes to get there.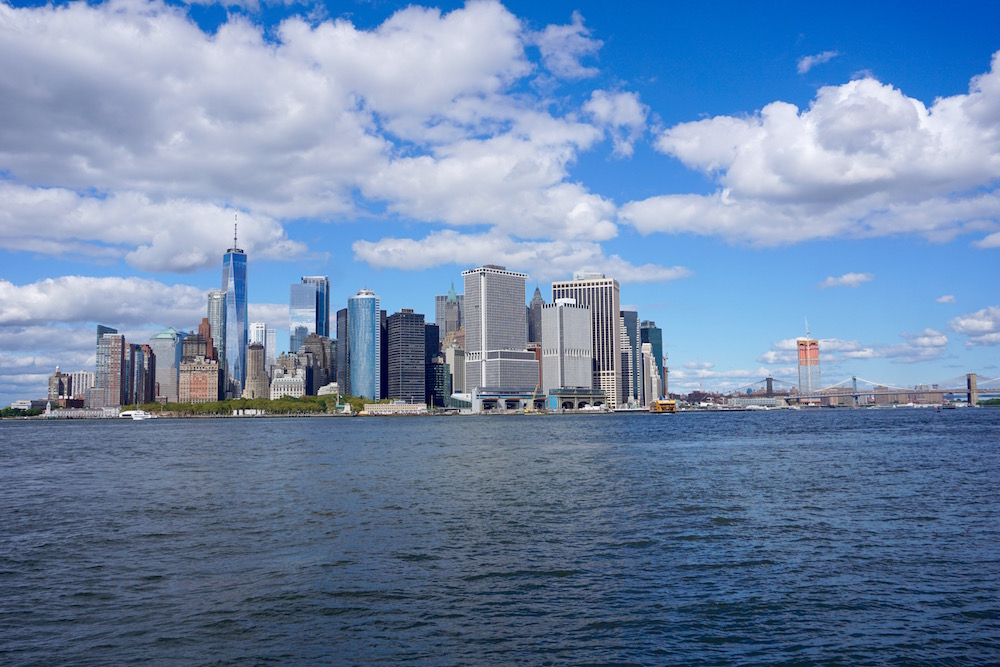 Sounds too good to be true, doesn't it?
Governors Island got its name from the royal governors who used to live on the island before America's founding fathers were even born. The original island was much smaller than what you see today, as part of the island was built out using the dirt and debris collected when the New York subway system was dug. Three cheers for recycling resources!
Claire and I were fairly gob smacked the entire day because we had no idea how amazing Governors Island is. We hopped onto a free walking tour of the island first thing, and our guide took us to the main attractions and filled us in on the history. He explained that the newer side of the island was built in a way that's supposed to make you feel like you're in a completely new area every time you turn a bend. The paths wind through tall mounds and hills, which prevents you from seeing what's coming up around the bend.
It's really an adventure just walking the island, and knowing that some clever landscape architect planned everything makes everything feel more magical.
What to Do on Governors Island
Governors Island is quite small—170 or so acres, I believe—and if you set your mind to it you can walk around the island in around an hour. But although it's tiny, there's a lot to do here and you can easily spend an entire day on the island. Below were some of my favorite things we did on the island, plus a few we unfortunately didn't have time for.
Fort Jay—An old military base, Fort Jay has been used for a little bit of everything over the years. It's served as army barracks and also as housing for Coast Guard families. I highly recommend taking a walking tour of the island or attending one of the porch talks at the fort, otherwise you won't soak up any of the fort's history.
Hammock Grove—Claire and I came to the island with the sole desire to find a hammock and nap. Sadly, the 50 or so hammocks were all full by the time we wanted to nap, but they seemed to be a hit with everyone who was snoozing in them.
Teaching Garden—The teaching garden sells fresh produce on the weekends and prices its goods on a sliding scale, depending on what you can afford to pay. I bought a pint of cherry tomatoes and they were absolutely delicious. They also had the most beautiful eggplants and peppers for sale.
The Hills—The newest development on the island, the Hills are exactly what they sound like: massive hills. On one, you can clamber up a pile of rocks called "The Scramble" (it's actually very safe and sturdy) to reach the most beautiful view of NYC. From the top of this hill, you can see the Statue of Liberty, NYC, Jersey City, and all of Governors Island. Another hill has NYC's largest slide, which makes me smile just typing it out!
Nolan Park—If old houses are your thing, you'll love Nolan Park. Military officers and their families once lived in these homes, but they're now used as exhibition spaces. There's a green space in the middle of the homes, which is perfect for picnics in the summer. Definitely walk through this area and snap a few photos!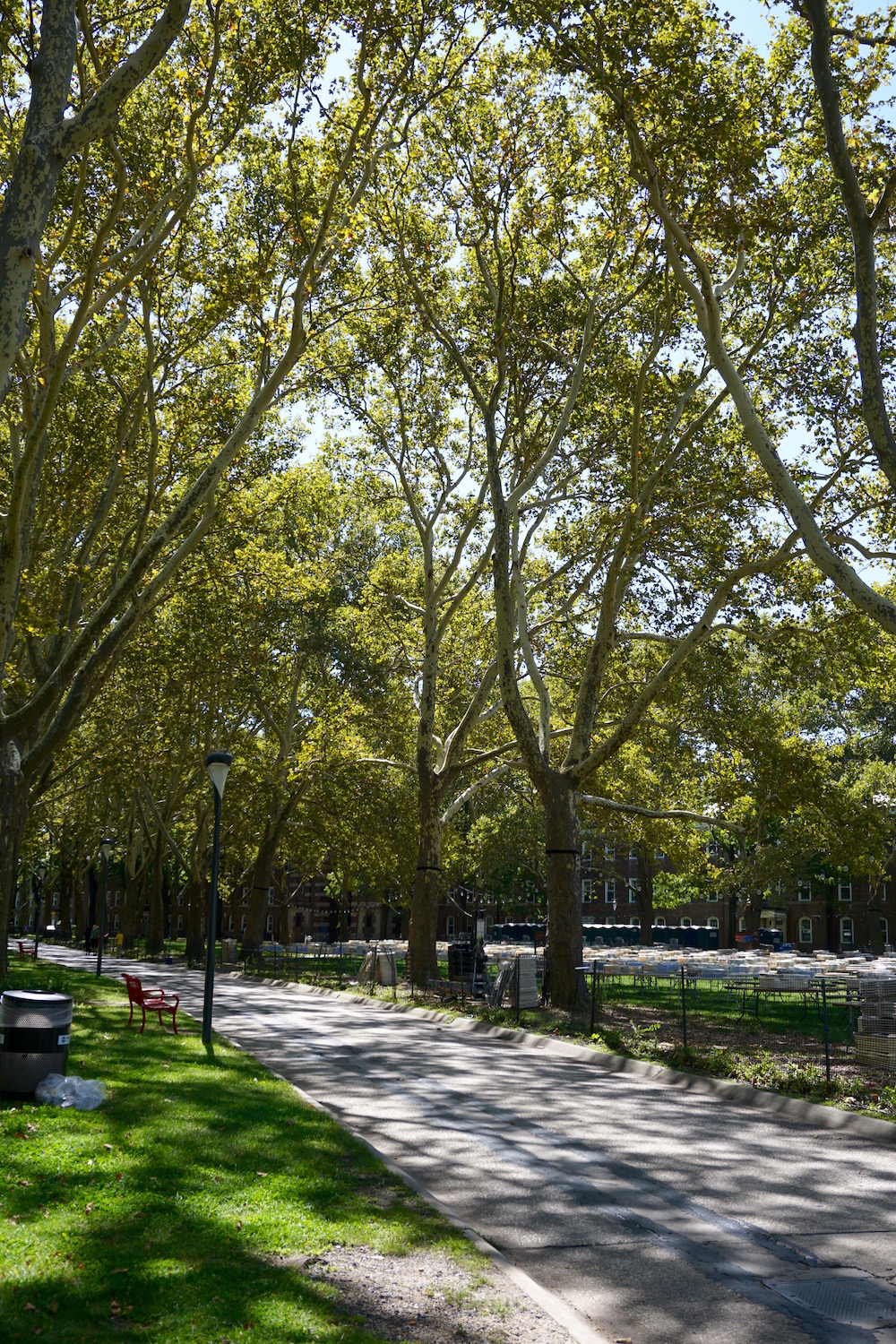 Colonels Row­—Another beautiful area of the island lined with old homes, Colonels Row also doubles as an event space in the summer. When I visited, a giant pop-up dinner was being set up in the middle of the green and the old houses lining the walk were being used for an art exhibit. You never know what's going to pop up on Colonels Row, so check the Governors Island website before visiting to see what'll be there.
Walking Tour—As I've already mentioned, the hour-long walking tours are a must if you're visiting the island for the first time. I appreciated the scenery much more once I learned the island's history. And because the island is considered a public park, there aren't many signs telling you about the history or the buildings you're seeing, so the tour is extremely helpful.
Castle Williams—Built in the early 1800s to protect New York Harbor from naval attacks, Castle Williams is quite the sight. It's made of red sandstone and is a giant circle. Like Fort Jay, Castle Williams has had many roles since it was first built. It was used as a military barracks during the Civil War and later transformed into a prison.
Governors Island is open from May until the end of October, so be sure and visit this year while you still can! I was thoroughly exhausted after my day on the island, but had the best time exploring it with Claire.
Tell me: What's one thing you're dying to do in NYC?
Signing off,
Claire
Love NYC? Me too!