The movie may have brought your to London's Notting Hill neighborhood, but its colorful houses, antique market, and cute cafes will keep you coming back time and again! Here are the best things to do in Notting Hill.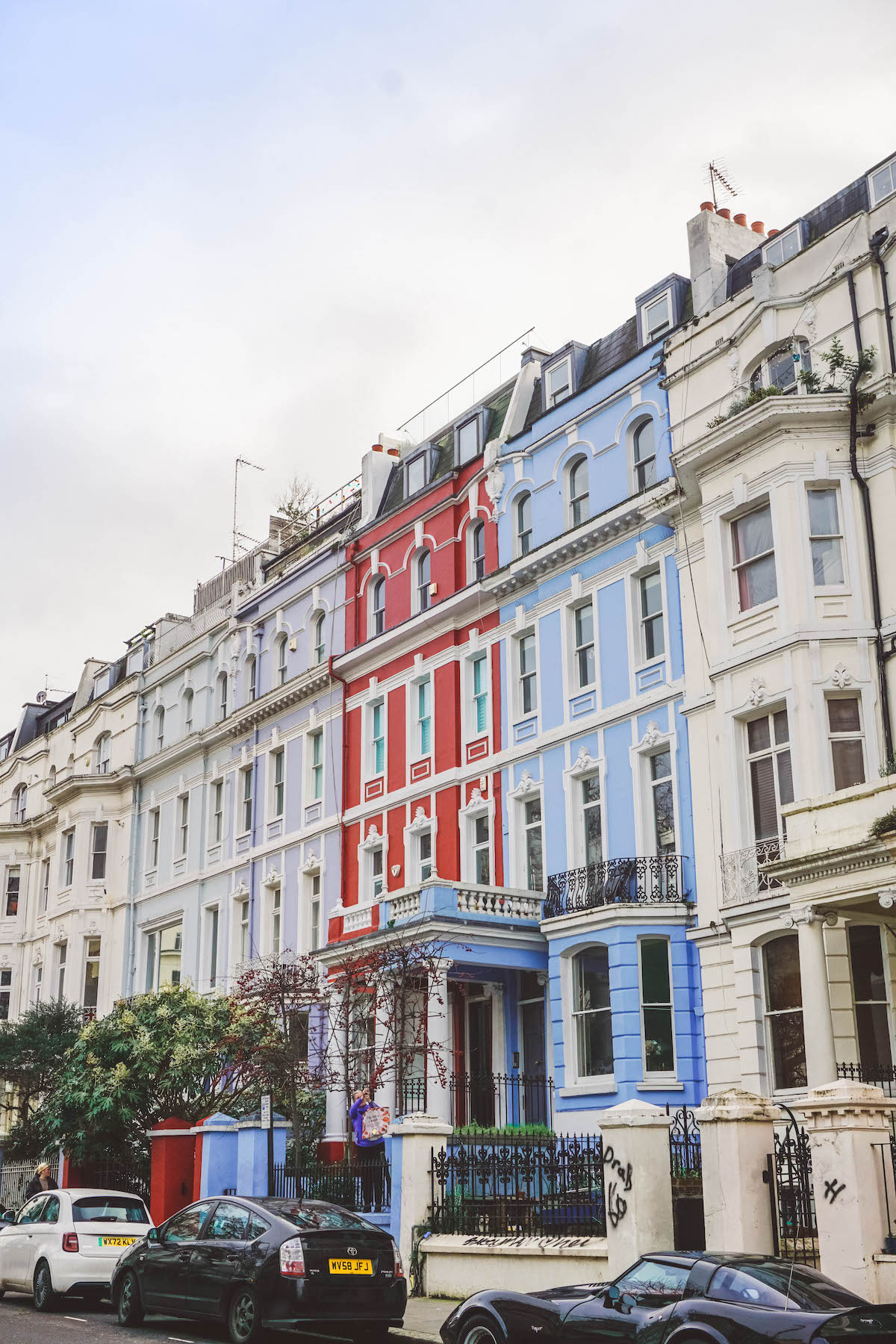 "I mean, I know she's an actress and all that, so she can deliver a line—but she said that she might be as famous as can be, but also…that she was just a girl, standing in front of a boy, asking him to love her. Oh, sod a dog. I've made the wrong decision, haven't I?" — William, Notting Hill
You may have stumbled across Notting Hill in West London by sheer chance, or perhaps you were leafing through a guide book and happened across a reference to this quaint neighborhood. Or, like thousands of others — myself included! — you fell in love with the idea of Notting Hill long before ever planning a trip to London, thanks to the eponymous movie starring Hugh Grant and Julia Roberts.
Even if you've never seen the movie, Notting Hill is worth visiting in its own right. It's chock full of pastel row houses, picturesque mews, cozy cafes, and shops galore. Oh, and it boasts the largest antique market in the WORLD.
In this guide, I'll be sharing what to do and where to go in Notting Hill to make the most of your time in one of West London's most famous neighborhoods.
Table of Contents
Click "show" to see the full table of contents for this post. You can jump around the post as desired by clicking on the individual sections listed below.
Where Is Notting Hill?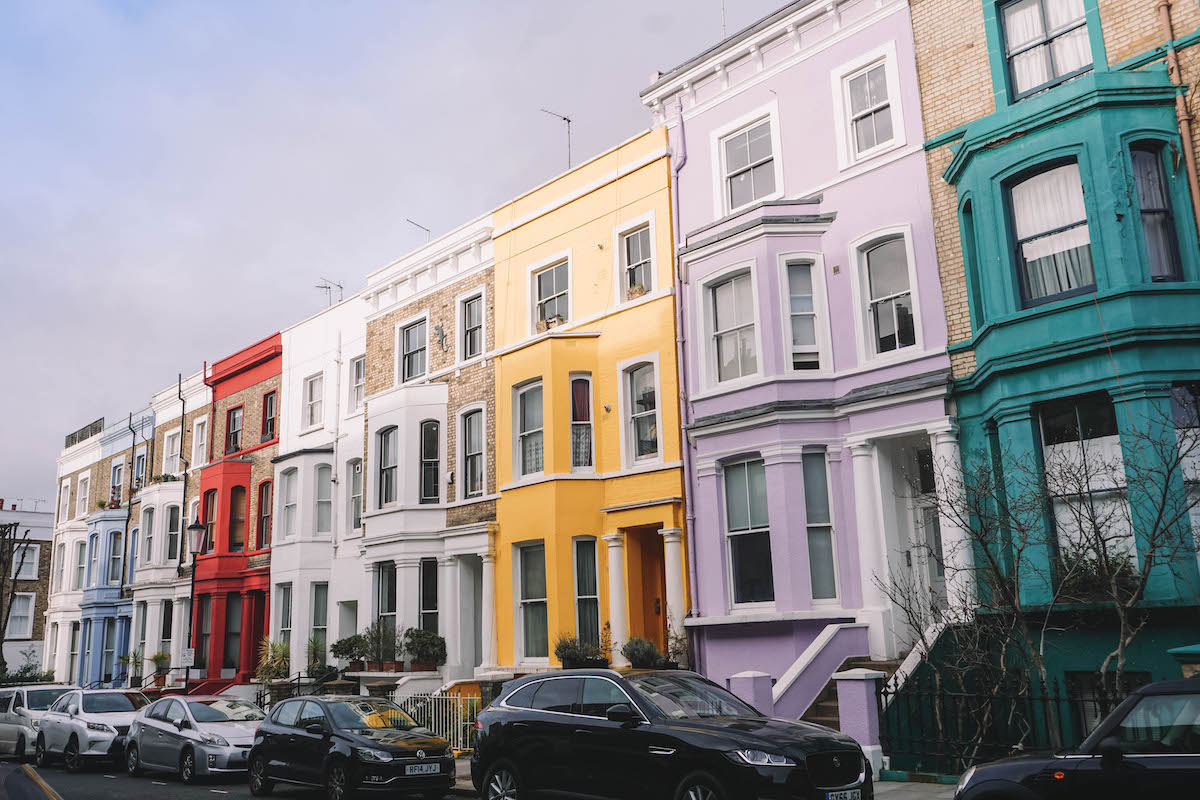 Notting Hill is located in West London and is part of the Royal Borough of Kensington and Chelsea.
It's a very beautiful, clean, and safe neighborhood that's easy to reach via public transportation.
How to Get to Notting Hill
The easiest way is to take the Circle, District, or Central tube line to the "Notting Hill Gate" station.
From there, it's about a 10-minute walk along Kensington Park Road to Portobello Road where the main shopping street is with the restaurants and attractions.
Or, take the Circle and Hammersmith or City lines to Ladbroke Grove station and it's about 5 minutes to Portobello Road from there.
Fun Things to Do in Notting Hill
I'm sure there are more things to do and places to see in Notting Hill than are mentioned in this post. But if you're unsure what to do in the area, consider this a jumping off point for your adventures.
This is an overview of my personal top highlights of Notting Hill to give you an idea of how to spend a morning or afternoon here. It's an easily walkable neighborhood and you can see everything mentioned in this post in 3 to 5 hours.
Portobello Road Market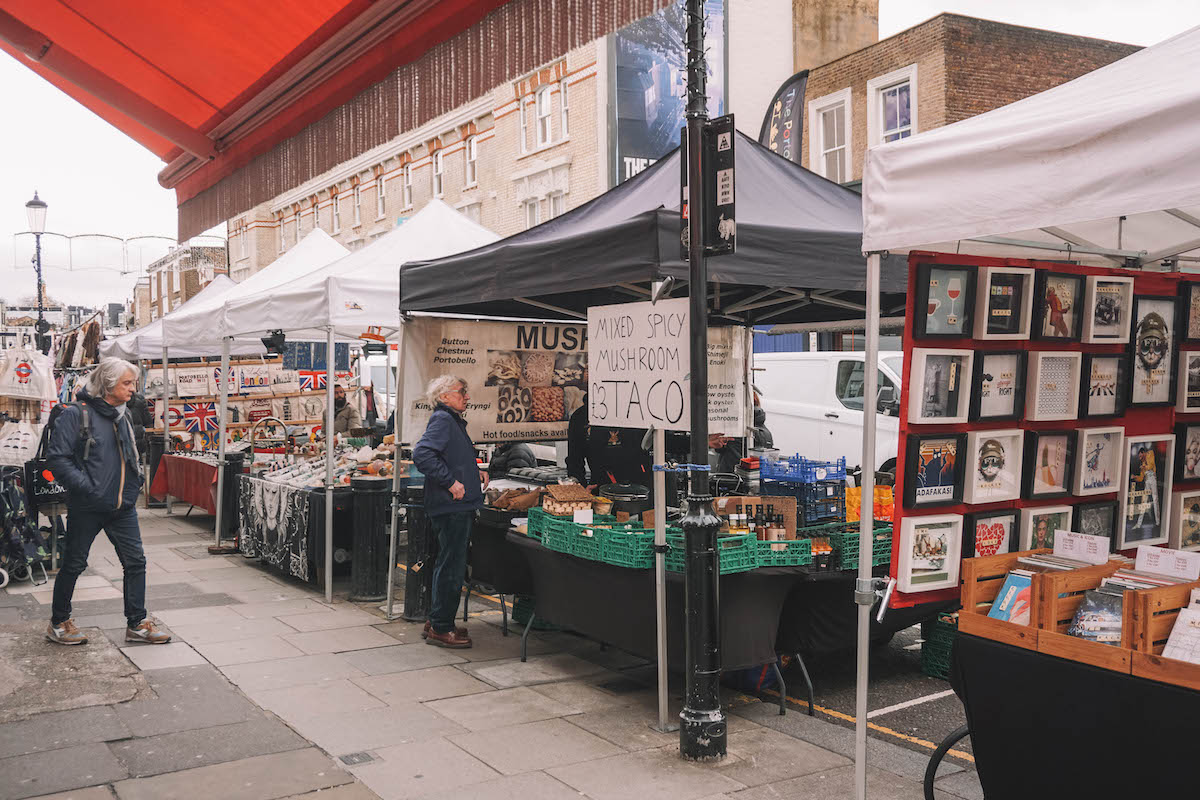 THE thing to do in Notting Hill is shop at the Portobello Road Market.
The Portobello Road Market is the largest antiques market … in the world! The antiques market takes place every Saturday and stretches about half a mile down the road starting near the Notting Hill Gate tube station.
Trading at the Saturday antiques market begins around 9am, but it's worth arriving earlier in the morning. Typically, if a stall is set up — regardless of what time it is — they're open for business.
If you're looking for specific antiques, it's best to arrive as early as you can on a Saturday morning because by mid-morning the road is packed with people (as in, bumping shoulders as you move at a snail's pace through the stalls).
With that being said, it's still worth visiting the Portobello Road Market even if you don't have the time to visit Notting Hill on a Saturday! There's a market of some kind every day (except Sundays) along Portobello Road, featuring anything from produce to handicrafts to household items.
During the week, the market is quieter and less crowded, which makes it easier to leisurely explore the rest of Notting Hill at your own pace.
Colorful Houses
Following the Portobello Road Market, a close second for what to see in Notting Hill is the colorful houses.
Notting Hill's pastel row houses are truly iconic. You can't research the neighborhood without seeing pretty photo after pretty photo of the homes here. They're everywhere!
The best places to see the colorful houses in Notting Hill are:
Lancaster Road
Colville Terrace
Elgin Crescent
Just remember that these are private homes. While exploring Notting Hill, I noticed that some [people have had to put up ropes to block off their stoops to prevent people from taking photos on them. Be respectful when taking photos — people actually live here!
Mews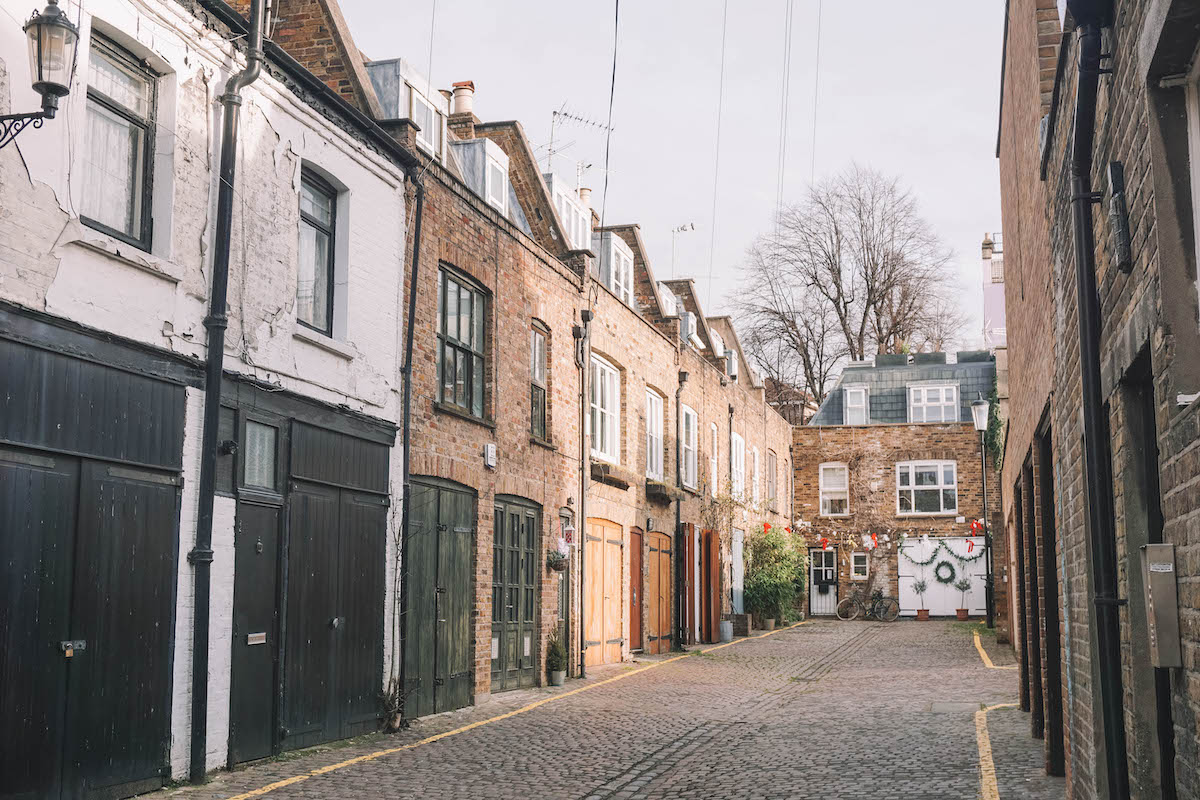 The mews of London are famous, and they're one of those sights that you'll notice everywhere you go once you realize what they are — and Notting Hill has quite a few!
Mews are former stables that have been turned into homes. They're much smaller than the traditional row houses in Notting Hill and are typically located behind the larger houses. You'll also notice that mews are located around a central paved courtyard.
Ironically these small homes are now some of the most-desired places to live in London!
You can see Notting Hill's historic mews at:
St. Luke's Mews (it's the most famous in the neighborhood; the baby pink house is where Kiera Knightley's character lived in the movie Love, Actually)
Pencombe Mews
Colville Mews
Again, remember that these are private homes so you need to be respectful when taking photos.
Bookstores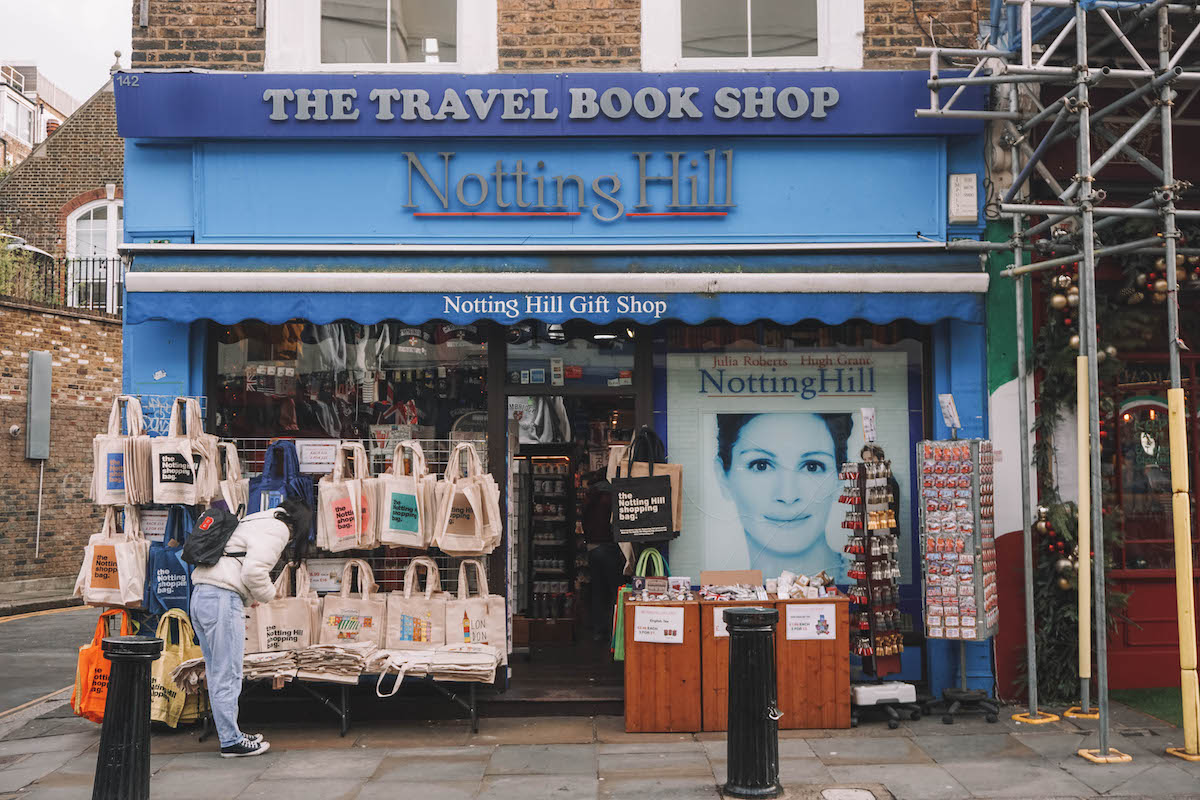 If you're wondering where to go in Notting Hill to recreate the famous bookstore scene, the answer is somewhat complicated.
The Notting Hill Bookstore from the movie is actually The Travel Bookshop (142 Portobello Road). However, the bookshop was actually recreated in a film studio, so neither Julia Roberts nor Hugh Grant filmed here.
As the name of the bookshop suggests, the focus is still mostly travel, but there's also a lot of London souvenirs and Notting Hill movie souvenirs inside. Honestly, it's not worth visiting in my opinion!
The other popular bookstore in the area is (confusingly) The Notting Hill Bookshop (13 Blenheim Crescent).There was a line out the door when I visited during the work week and while it looked very pretty from the street I was not about to wait in line just to look around!
This isn't even the bookstore the film was based on, but lots of people come here mistakenly thinking this is "the" bookstore.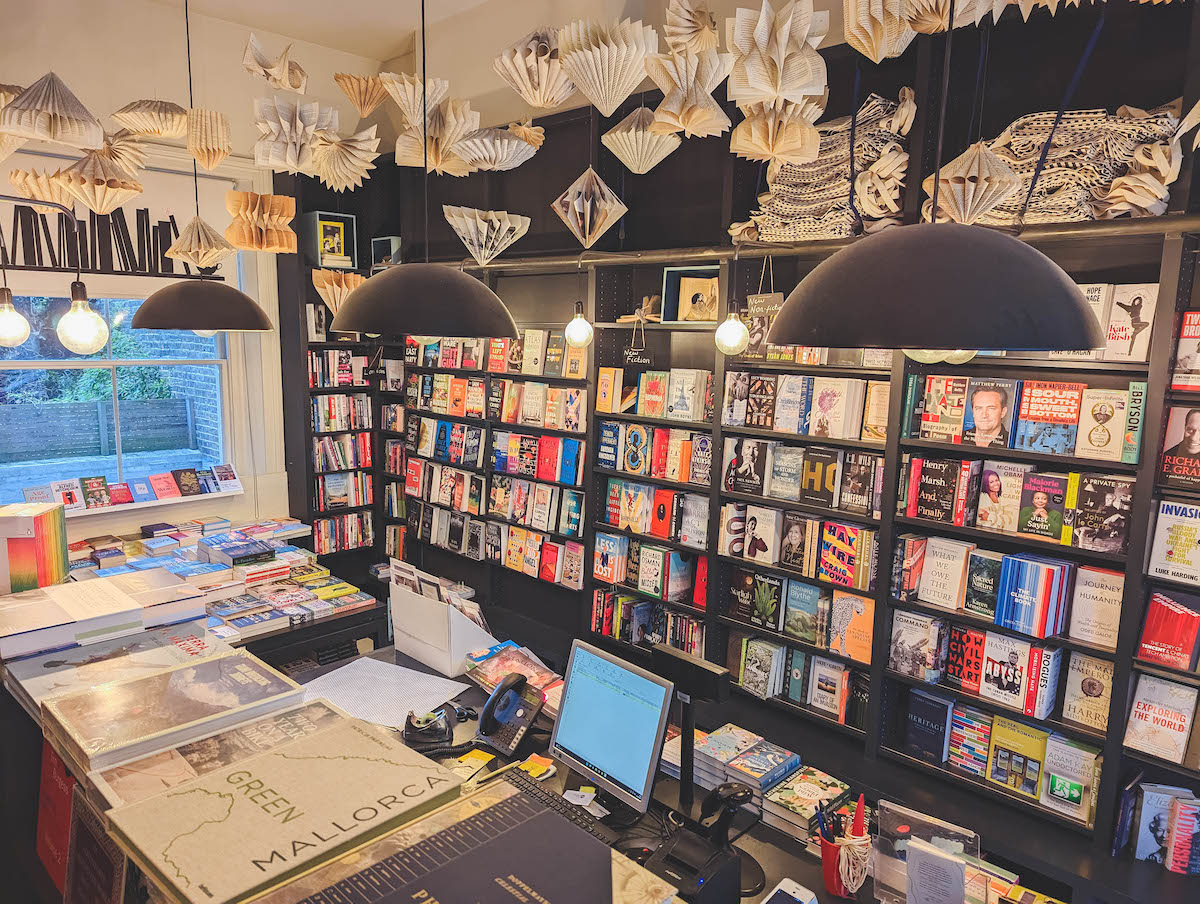 Which brings me to my actual suggestion for the best bookstore in Notting Hill: Lutyens & Rubinstein (21 Kensington Park Rd).
If you're a die-hard lover of the movie Notting Hill, you can visit one or both of the bookstore above and go home happy. But if you genuinely just want to peruse rack after rack of books, I suggest going to the lesser known Lutyens & Rubinstein.
It's a small but mighty bookstore with a variety of classics, new releases and lesser known authors.
A more niche recommendation is Books for Cooks (4 Blenheim Crescent), which specializes in cookbooks and also has a small cafe at the back!
Shopping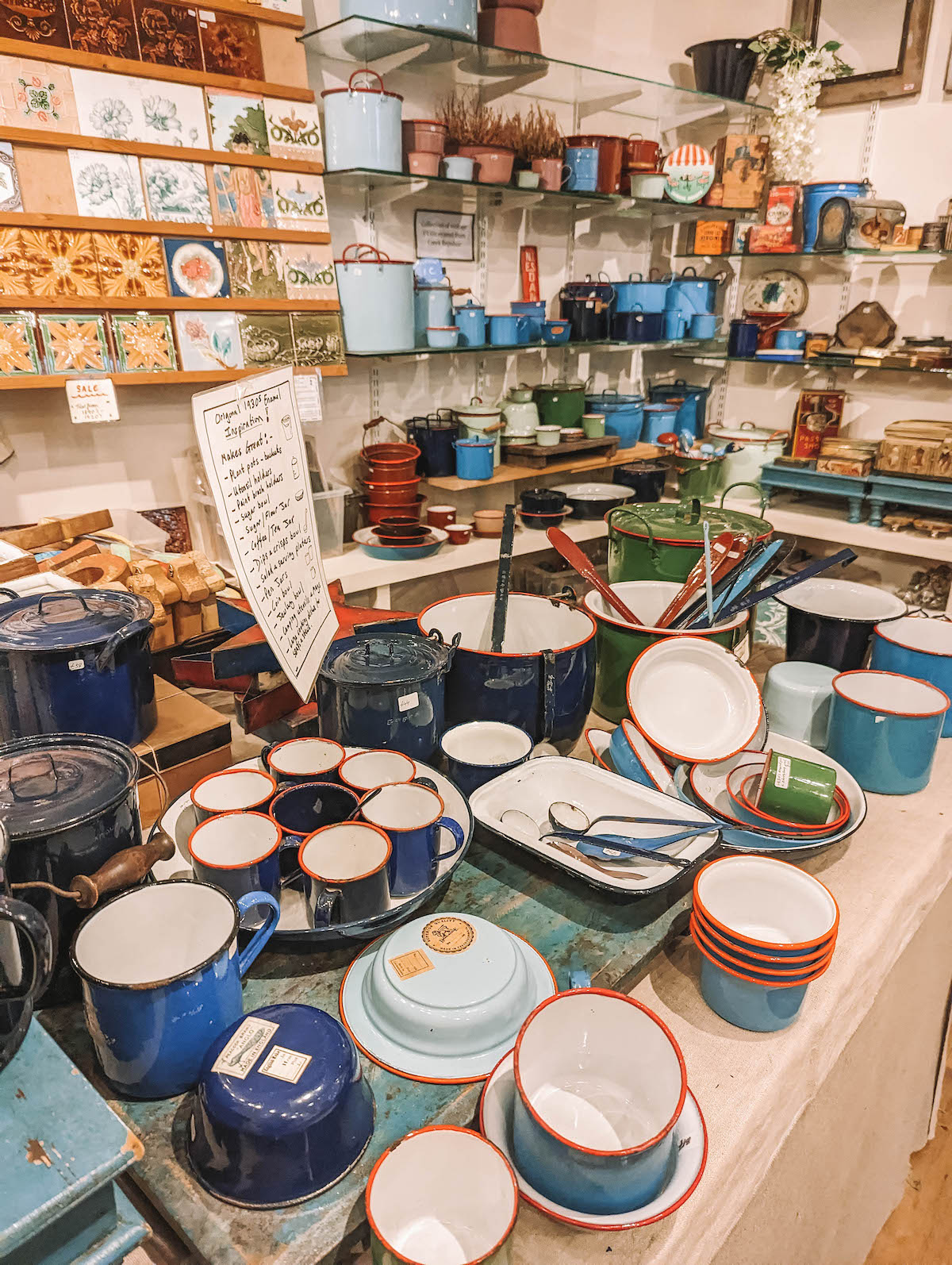 Yet another of the top attractions in Notting Hill is the variety of stores in the area.
The main shopping street in Notting Hill is Portobello Road, which is very easy to navigate when the Saturday market isn't going on. My favorite stores in Notting Hill include:
Alices (86 Portobello Rd) — a small and quirky antiques shop that's packed with hidden treasures.
Pepper Tree (Unit1, 253 Portobello Rd) — sells an eclectic variety of vintage and second-hand clothing.
Chloe Alberry (84 Portobello Rd) — a specialist store selling hooks, door knobs, and handles (sounds boring but it was so beautiful!).
Another shopping street to know about is Kensington Park Road, which runs parallel to the more popular Portobello Road. My favorite shops on this street are:
Biscuiteers (194 Kensington Park Rd) — a popular bakery selling iced biscuits (cookies).
Lutyens & Rubinstein (21 Kensington Park Rd) — my favorite bookstore in the neighborhood.
Note that there are also lots of charity shops (aka second-hand stores) in Notting Hill, such as Fara, the British Red Cross Shop, and the Oxfam bookstore. This is a very nice neighborhood, so you can find some real gems at the charity shops here!
Biscuiteers
Biscuiteers is one of the most popular spots in London to buy special occasion biscuits (those are cookies, for my American readers!) for friends, family, or to treat yourself.
Biscuiteers biscuits are all handmade and are iced with the most adorable designs.
The store in Notting Hill has a few tables inside, but they fill up quickly so this isn't the best place to come to sit down and leisurely eat your cookies.
If you're in London for a longer period, consider taking an icing class at Biscuiteers. I haven't taken the class yet, but it sounds so fun!
Tip: Biscuiteers biscuits would make a wonderful souvenir to remember your time in London!
Portobello Green Arcade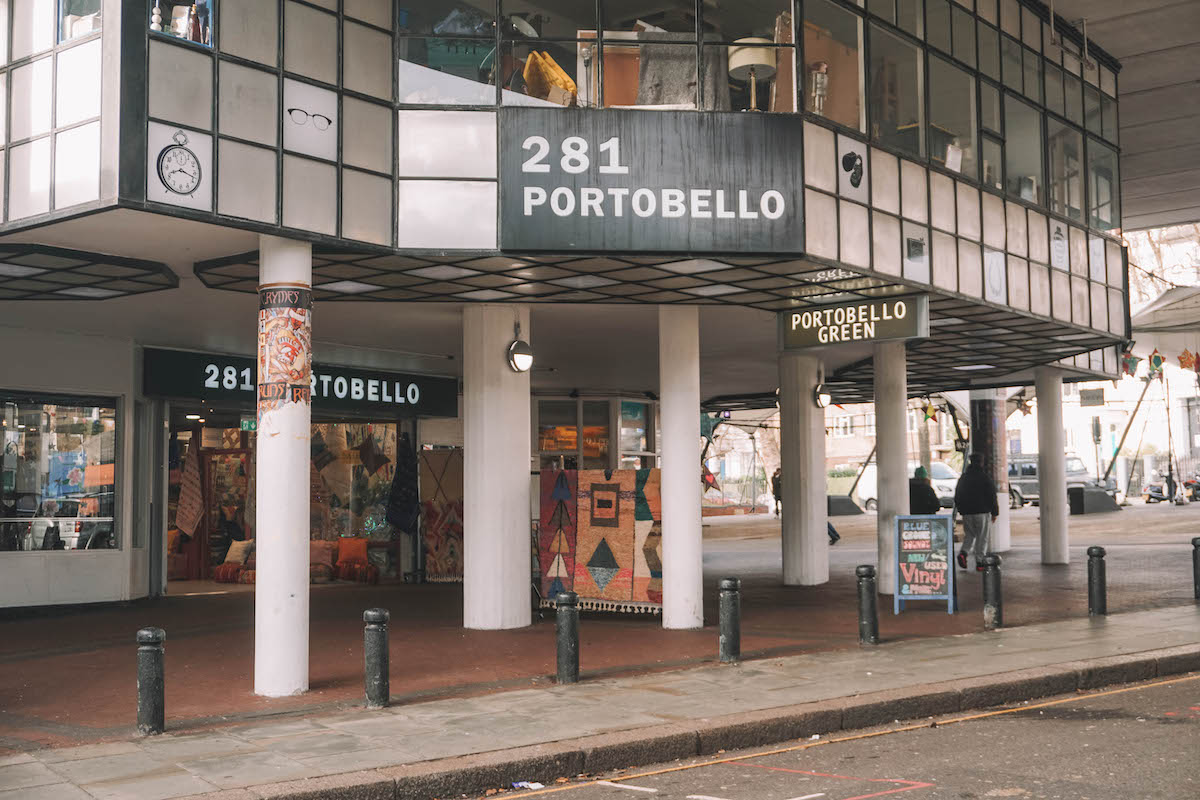 A hidden gem in Notting Hill is the Portobello Green Arcade. It's located at the far end of Portobello Road, away from the hustle and bustle of the main shopping area.
The Portobello Green Arcade is a group of independent boutiques selling everything from old records to vintage clothing to tea. The storefronts are quite small, but there are a lot of them to go through!
Electric Cinema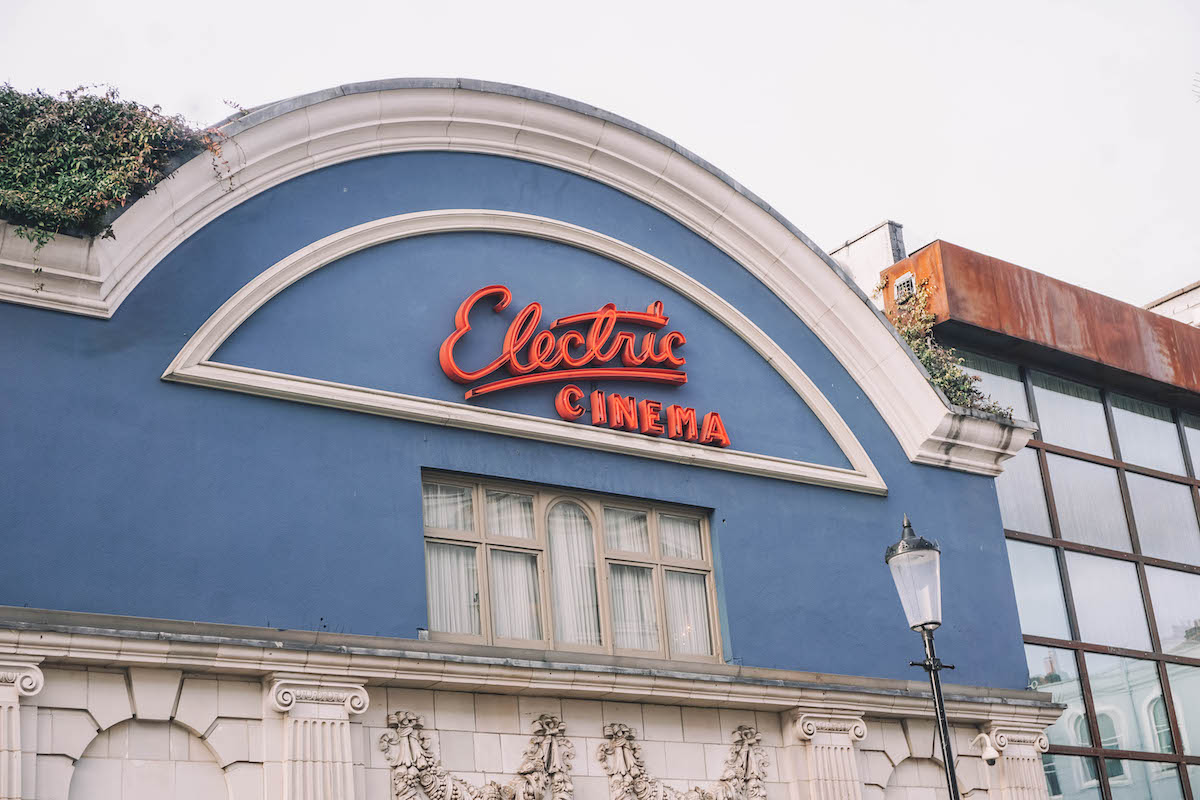 One of the coolest places in Notting Hill is the Electric Cinema. Opened in 1911, it's one of the oldest operating cinemas in Great Britain (and the oldest in London!).
Because it's such an old cinema, it feels very luxurious compared to modern day movie theaters. The theaters have plush red seats and small side tables for your drinks and snacks.
It's a one-of-a-kind movie experience, making it one of the best things to do in Notting Hill!
Museum of Brands
If you're looking to go off the beaten path in Notting Hill, head to the Museum of Brands.
This quirky museum explores consumer culture from the Victorian Era to the present day. The exhibits showcase British history via everyday objects that would normally be tossed in the trash.
It's a unique way to examine the country's history, making it a great museum even for those who wouldn't call themselves "museum people."
Churchill Arms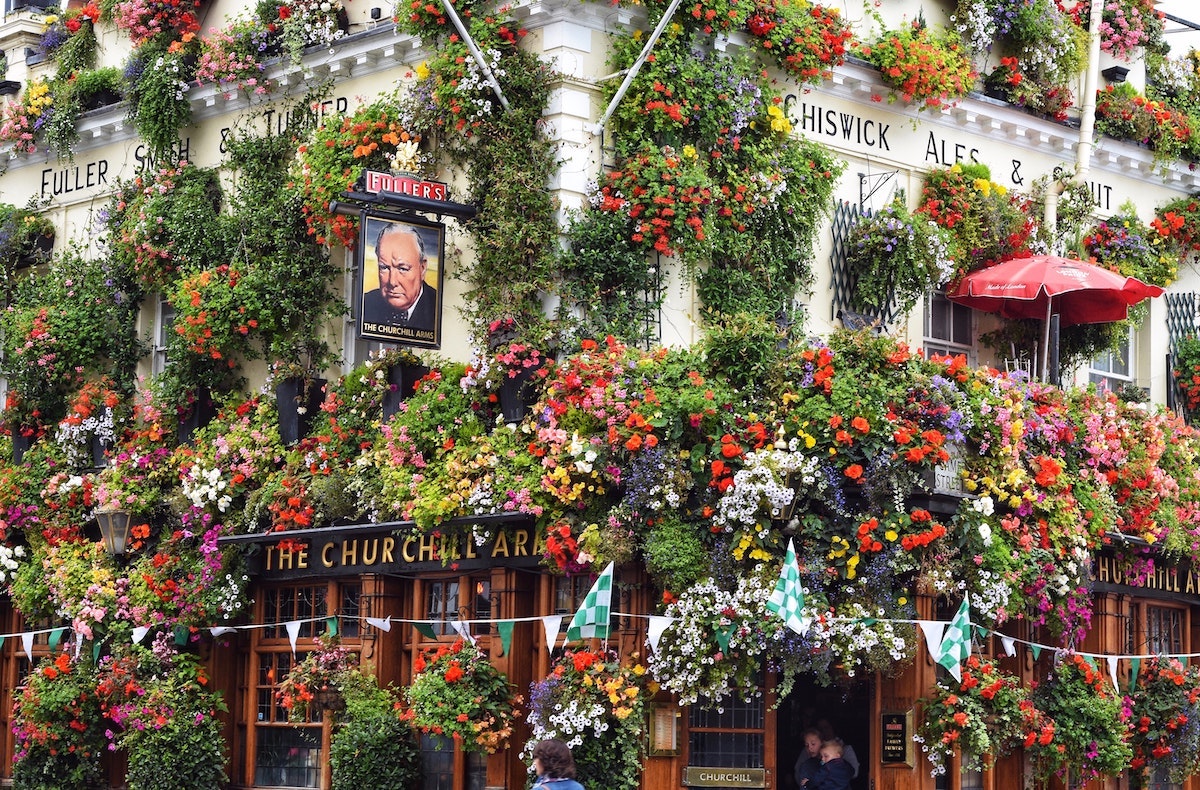 One of the most recognizable places in Notting Hill is the picturesque Churchill Arms pub. Even if you don't go inside, it's worth tracking down just to see the flower-bedecked exterior!
Built in 1750, the Churchill Arms pub is now one of the most photographed pubs in all of London — which is saying something, because this city loves its pubs. The exterior of the pub is covered in flowers, and the interior is packed with British memorabilia.
However, this isn't your average pub. Believe it or not, it's known for its excellent Thai food! You can, of course, pop in for a pint of whatever's on tap if you don't want any Thai food.
Fun fact: Winston Churchill's grandparents frequented the pub, and following WWII it was renamed after the Churchill family.
Where to Eat in Notting Hill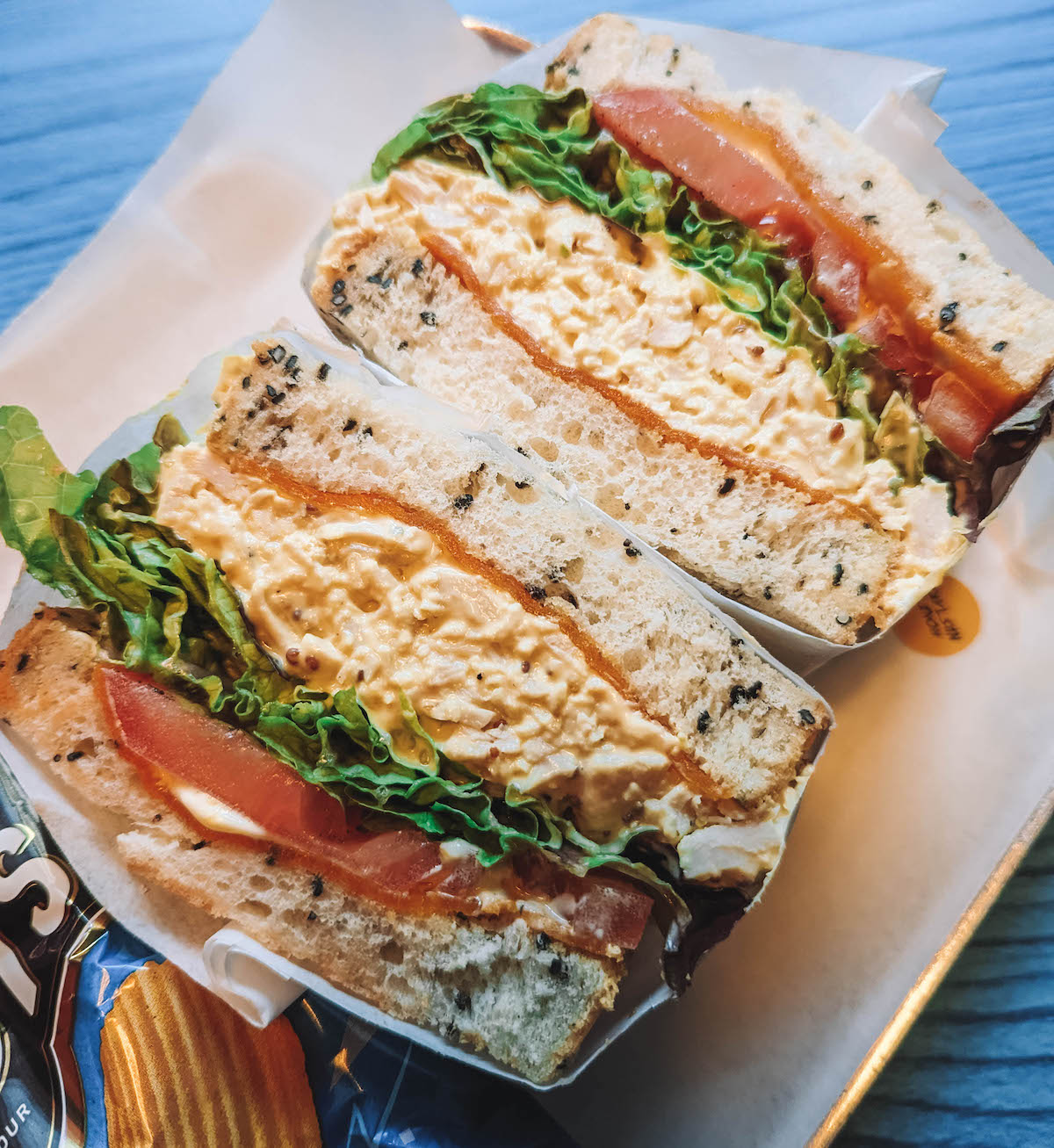 Notting Hill isn't just pretty, it also has some great food! There are lots more restaurants worth visiting in the area, but here are some recommendations to get you started:
Secret Sandwich Shop – less than 10-minute walk from Portobello Road. They make genuinely the best sandwiches I've ever eaten!
The Hillgate – a traditional pub
Farm Girl — a trendy spot for juices and brunch
Electric Diner – elevated diner fare; the menu has all of the classics but done really well
Buns From Home – was created during the first Covid lockdown and now has multiple locations all over London (the Notting Hill location was the original). It's a bakery specializing in sweet buns, not just classic cinnamon but all types!
Churchill Arms – famous pub with a killer Thai menu
FAQs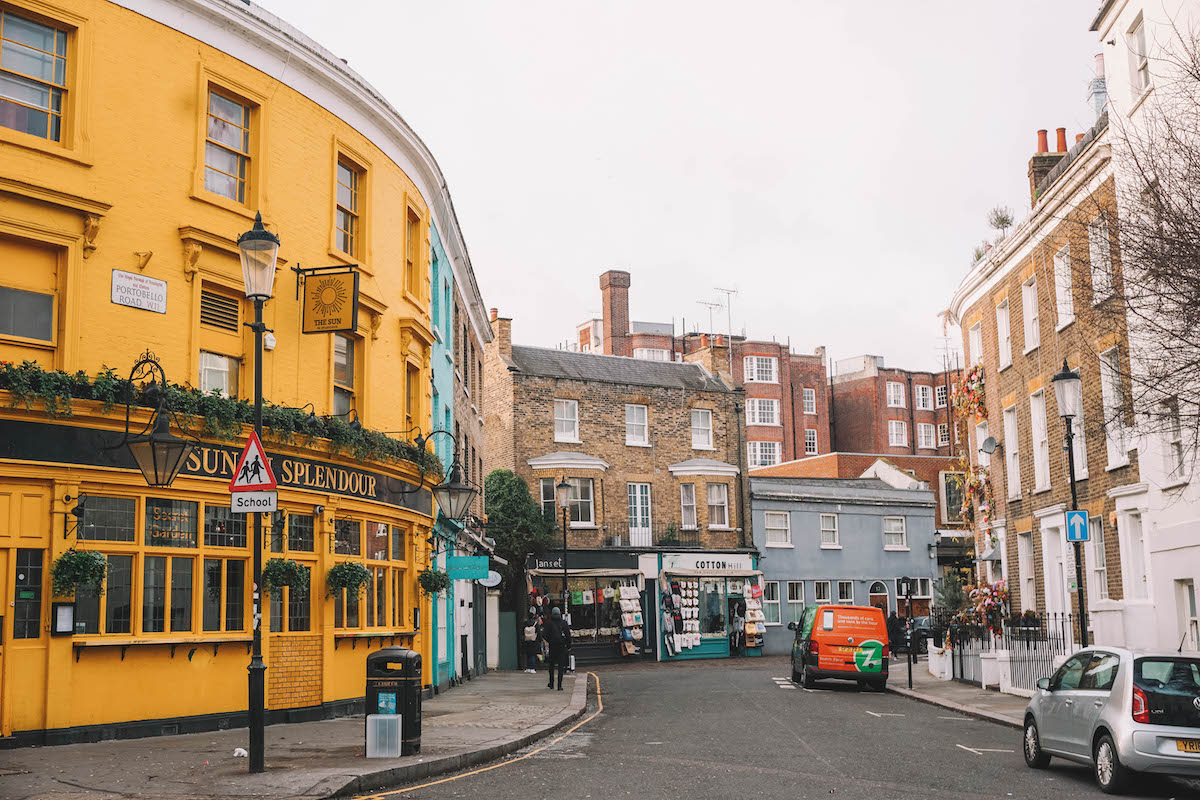 Is Notting Hill Worth Visiting?
Yes! Hopefully this list of things to see in Notting Hill has already convinced you to visit, but if not let me say it loud and clear: VISIT NOTTING HILL.
It's a gorgeous neighborhood that's worth visiting whether or not it's the day of the antiques market.
However, I wouldn't put it on your "must see" bucket list if this is your first time ever in London. I've been to London twice before I went to Notting Hill and that was okay for me because Notting Hill – although it has some very famous attractions such as the antiques market – is more of a local hangout area still, so it's a great "bonus" neighborhood to visit when in London.
Where's the Blue Door in Notting Hill?
Hugh Grant's character, William Thacker, "lived" at 280 Westbourne Park Rd and the iconic blue door is still there. Note that only the door was in the movie – the filming of the interior took place on set.
What's the Best Time to Visit Notting Hill?
For the antique market, you'll want to visit early on a Saturday. Otherwise I'd say go mid-afternoon during the work week for a relaxed visit to the neighborhood.
What's the Best Day to Go to the Portobello Road Market?
Saturday! That's when the famous antiques market takes place.
However, there's some kind of market along Portobello Road throughout the week as well, but it's much quieter and isn't antique-focused.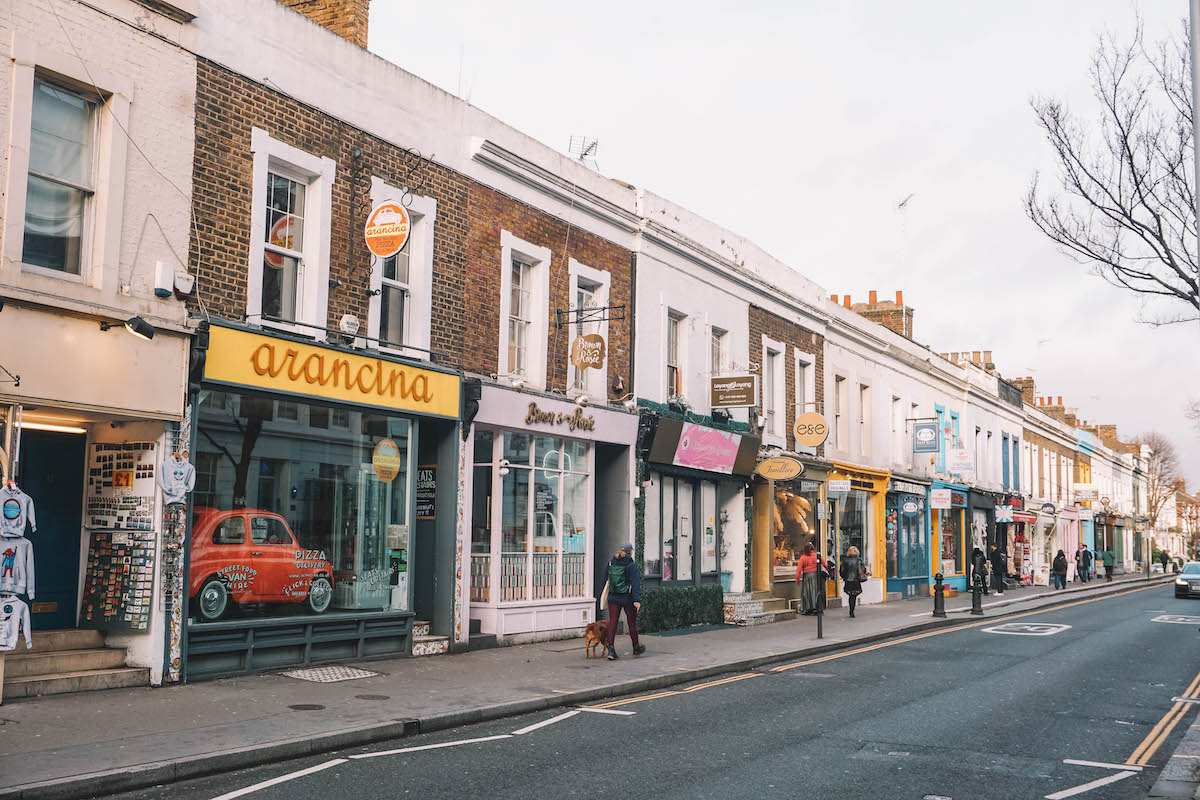 When Does the Portobello Road Market Open?
Monday to Wednesday 9am to 6pm
Thursday 9am to 1pm
Friday and Saturday 9am to 7pm
Sunday is closed
What Are the Best Places to See Colorful Houses in Notting Hill?
You can see Notting Hill's colorful houses along Lancaster Road, Colville Terrace, or Elgin Crescent.
How Much Time Is Needed to See Notting Hill?
Give yourself 3 to 4 hours if you plan on leisurely perusing the shops and stopping for lunch. You might need more time if you plan on seeing a movie at the Electric Cinema or spending time in the Museum of Brands.
What Is There to Do Near Notting Hill?
Notting Hill is one of the best things to do in West London! Nearby attractions worth visiting include:
Holland Park – a large wooded park with a Japanese-style "Kyoto Garden" in the center.
Leighton House – the stunning home of the Victorian artist Lord Leighton.
Kensington Palace and Gardens – you can visit certain rooms in this working palace, then take a turn through the beautiful gardens.
Sambourne House – the former family home of the Punch cartoonist Edward Sambourne. It's a gorgeous Victorian home that's been wonderfully preserved!
Map Showing Where to Go in Notting Hill
Enjoy Your Movie Moment in London's Notting Hill!
Now that you know what to do and see in Notting Hill, it's time to start exploring! Leave me a comment below if I left any of your favorite Notting Hill attractions off of this list. I'm always looking for recommendations!
Don't forget to follow me on Instagram to keep up with my daily adventures in Berlin and beyond!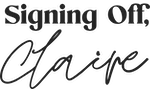 More Great Places to Visit in the UK: