The best New York souvenirs come from some of the city's most popular local businesses! Skip the "I Heart NY" shirts and invest in something that you can enjoy for years to come!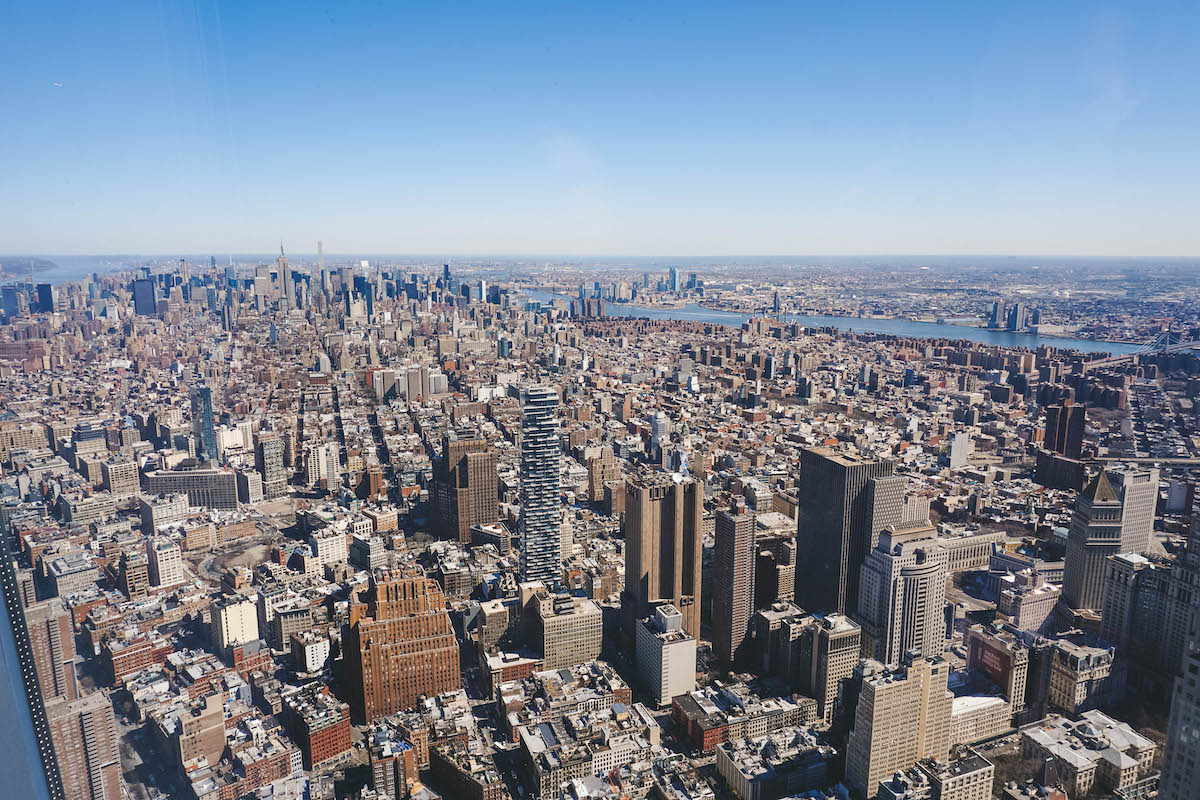 I used to love finding the perfect souvenir to take home with me after an amazing trip (and as a kid, all trips felt amazing). My parents like to tell the story of our trip out west when I spent hours scouring souvenir shops for the prettiest dream catcher to take home with me. The whole thing was ridiculous, and I wound up getting not one, but two dream catchers because I couldn't decide between them. Fast forward to my teens, and I was still hooked on souvenir shopping. In high school, my dresser was littered with all kinds of knick-knacks, from miniscule ceramic boxes I never found a use for to miniatures of the Statue of Liberty.
It wasn't until I packed up my life and moved to New York City that I realized how much crap I had accumulated on my travels. I'm not sure how I fell into this obsessive souvenir-buying mindset when I was younger, but as a woman who now travels extensively throughout the year it's just not practical or necessary for me to fill my space with mementos from my travels. But that's not to say I don't purchase anything to take home with me. Instead of trinkets, I prefer buying books or necklace charms to remind myself of wonderful experiences.
In the spirit of meaningful shopping, I wanted to create a list of my personal favorite NYC souvenirs that will not only remind you of your trip to the Big Apple, but that also won't feel like unnecessary baggage later in life. The New York souvenirs I'm sharing come from some of the city's most popular local businesses and are items that you can use and enjoy over and over again. In no particular order, here's what I consider to be the best New York souvenirs.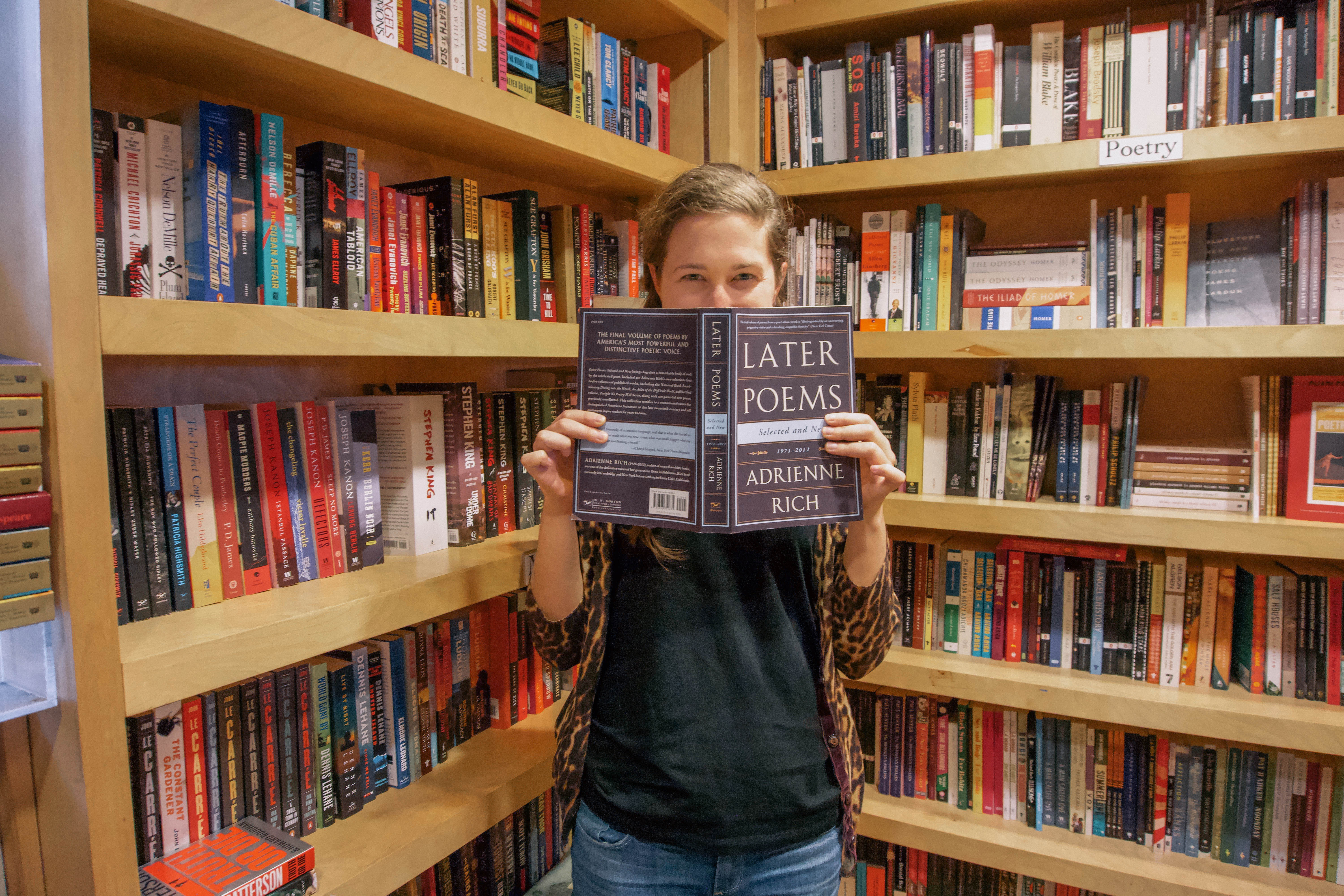 Book from Strand Bookstore
Boasting 18 miles of books in its flagship store, Strand is one of New York's best known bookstores. Strand has a little bit of everything on its shelves, so give yourself enough time to properly scour the shelves for the perfect book. They carry new, used, and rare books, and their bargain book bin is always overflowing with good titles. If you buy a book from Strand, make a note of the date and place you bought it so you can forever remember your trip to NYC. 
Chocolates from Li-Lac Chocolates
Manhattan's oldest chocolate house, Li-Lac has been in business since 1923 and still makes all of its chocolates by hand in small batches. I worked in Chelsea Market for almost a year and regularly sampled goodies from the Li-Lac stall there, and let me tell you, their stuff is good. Yes, it is a tad pricey, but the quality of the chocolate really shines in each bite. I'm all about edible souvenirs, so pick a few chocolates from their vast assortment to enjoy later. You'll thank yourself later, I promise.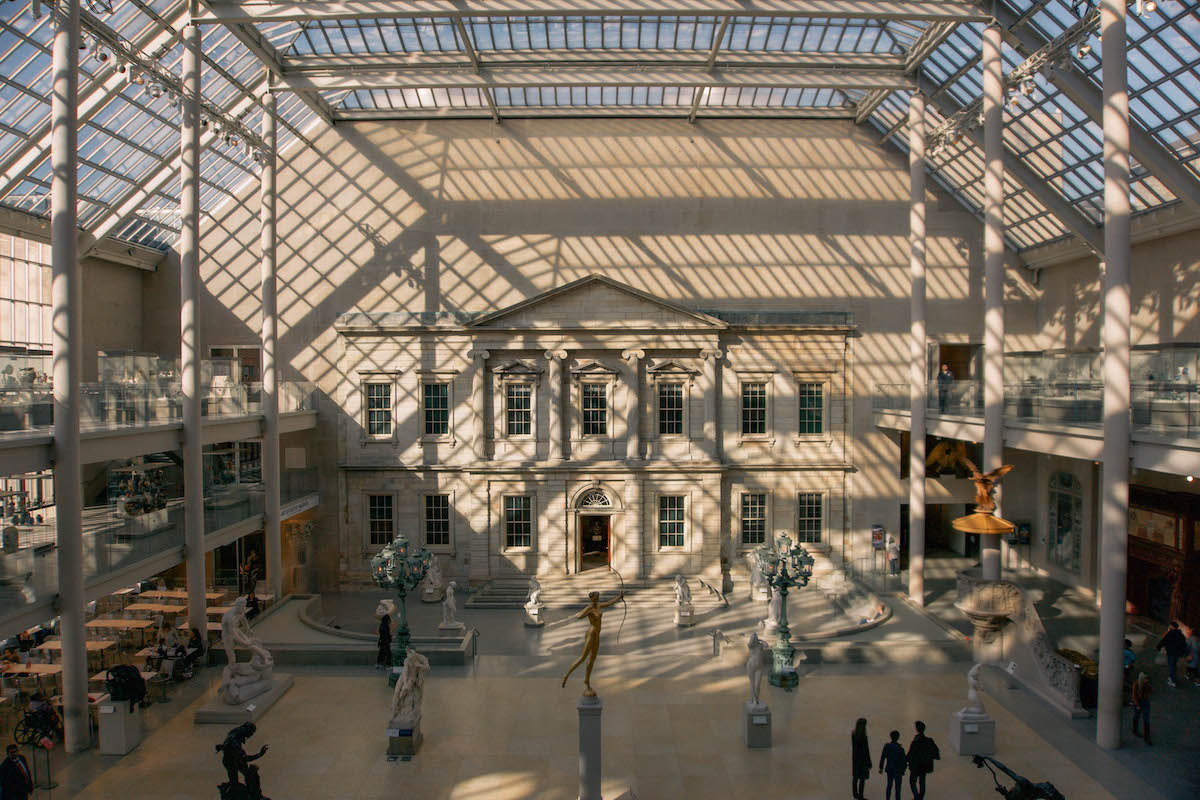 Ornaments from The Met Store
The Metropolitan Museum of Art's gift shop is packed with all sorts of tempting goodies, from luxe coffee table books to silk scarves to postcards. While it's definitely worth checking out The Met Store year-round, I personally like their Christmas ornaments best. My mom bought me an ornament from the Met when I was in elementary school, and to this day it makes me think of my first trip to the Big Apple whenever I hang it on our Christmas tree. The Met's ornaments are a nice departure from the cheap 'I Heart NY' ones street hawkers sell and are a tad pricey, but it's worth bringing one home as a souvenir!
Coffee From the Brooklyn Roasting Company 
Coffee lovers, look no further than the Brooklyn Roasting Company for your New York souvenir. The Brooklyn Roasting Company is based in — you guessed it! — Brooklyn, and they source third-party-certified beans to help ensure a living wage for historically impoverished farmers. You can find bags of coffee beans for sale at their flagship store in DUMBO, but if you wind up not having room in your suitcase for them you can also order them online.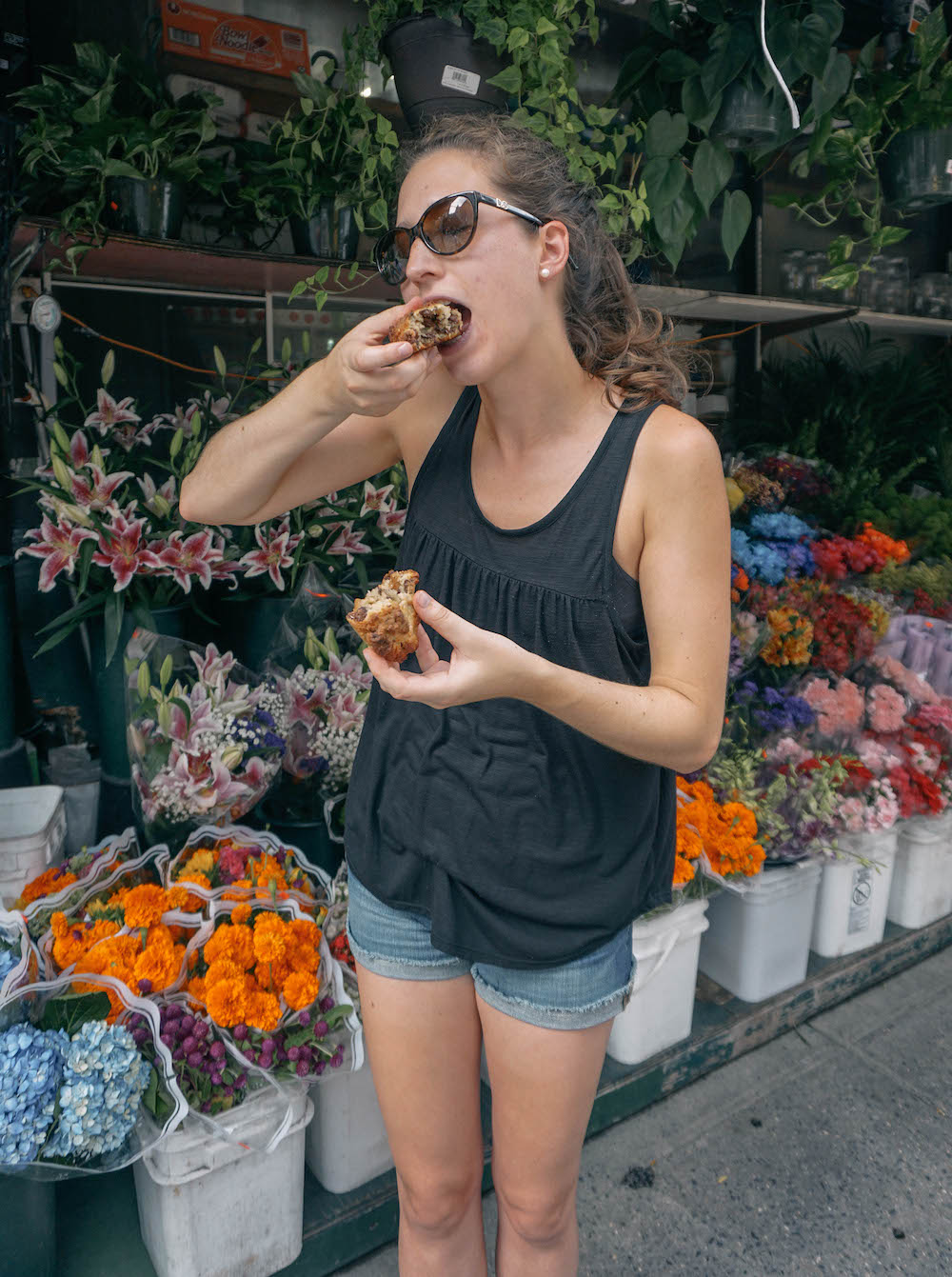 Stock Up on Famous NYC Foods
Obviously, not every visitor to NYC can stock up on some of the famous foods. But if you drove to the city or you have a short flight home, I highly recommend taking some goodies back with you. After all, food makes for the best souvenirs from NYC! Some of the easiest foods to pack in your carry-on are baked goods and classic New York bagels. Think: black and white cookies, cookies from bakeries in Little Italy, and so on. A couple cookies from Levain Bakery would also be fab souvenirs! I've even brought mini cannolis back home for friends, and while they did get a little squished in my bag they were still perfectly edible!
Soap from Sabon
Sabon is an Israeli soap company with a few locations scattered throughout NYC. Although Sabon has stores in 14 countries, visiting their stores in the city doesn't feel like you're walking into a big chain. Sabon's soaps are the easiest souvenir to pack and bring home with you, but if you're checking a suitcase it might be worth buying a bottle of their hand lotion too. The store employees will give you a skincare demo if you ask for it, which lets you try out the products before purchasing them.
Cookbooks from famous restaurants / food halls
What better way to reminisce on your trip to NYC than by making recipes from one of its famous restaurants? Many bakeries, food halls, and restaurants in the city have released cookbooks — just do a little research ahead of time to see which iconic New York eateries you should visit and check online to see if they have a cookbook. Cookbooks are a great NYC souvenir idea for anyone in your life who loves cooking or oogling pretty food photos.
Yankees hat from Yankee Stadium
I tried to steer clear of overtly touristy souvenirs on this list, but how could I not mention Yankees merchandise? (Sorry, Mets fans!). You can get a Yankees ball cap from any NYC souvenir shop or street vendor, but if you're a baseball person the pilgrimage uptown to Yankee Stadium is worth it. To be honest, I don't even like baseball that much, but I really enjoyed the Yankees game I went to with my friends. It's easy to score cheap Yankees tickets too, assuming you're willing to sit in the nosebleed seats.
A Toy From FAO Schwarz
Founded in 1862 by Frederick August Otto Schwarz, the FAO Schwarz toy store is a New York City icon. The flagship store is located at historic Rockefeller Plaza and it's packed with a little of everything. Popular brands for sale here include Barbie, Steiff, Trolls, and Sharper Image — you can find something for kids of any age here! I highly recommend visiting during the workweek because the store is packed on the weekends. You'll find the best New York souvenirs for kids here!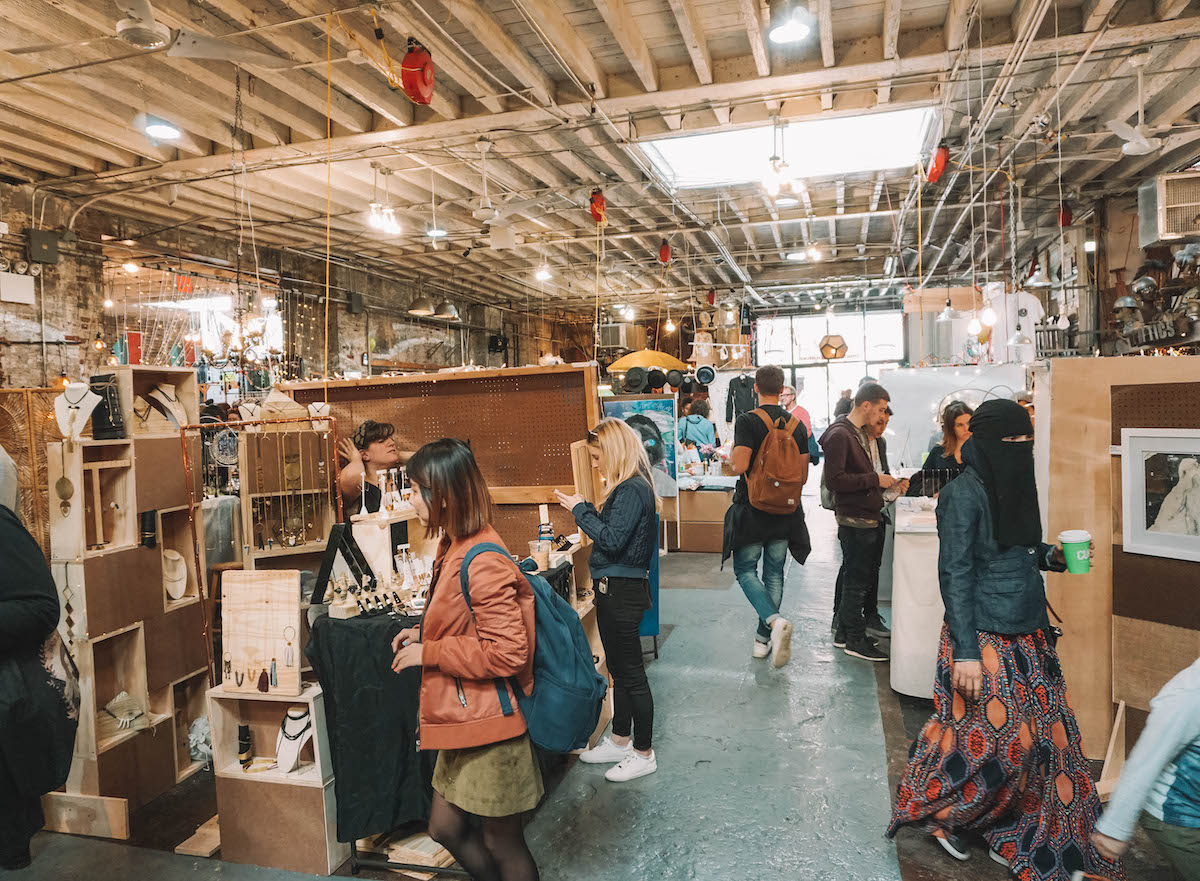 Locally made goods from Artists & Fleas
Artists & Fleas is set up in flea market style and sells exclusively locally-made goods. There are three locations in NYC, and you can find literally anything you want here. I've seen vendors selling homemade and upcycled jewelry, vintage clothing, soap, cards — you name it. Because there's such a wide variety of vendors, you can find a souvenir at any price point. And even if you don't want to buy anything, it's still worth checking out Artists & Fleas!
Artwork from a Street Vendor
There are street vendors on practically every corner of the city selling artwork and home décor. Much of the artwork on display is printed en masse somewhere and sold to vendors wholesale, but some vendors are true artists who will make you a custom piece of art right in front of you. You're guaranteed to find street vendors near the most popular tourist attractions — Central Park, The Met Museum, Times Square, Rockefeller Center, etc. If you want handmade artwork, it's best to ask the vendor about the artwork on display. Much of it is produced en masse, as I said, so it's best to double check!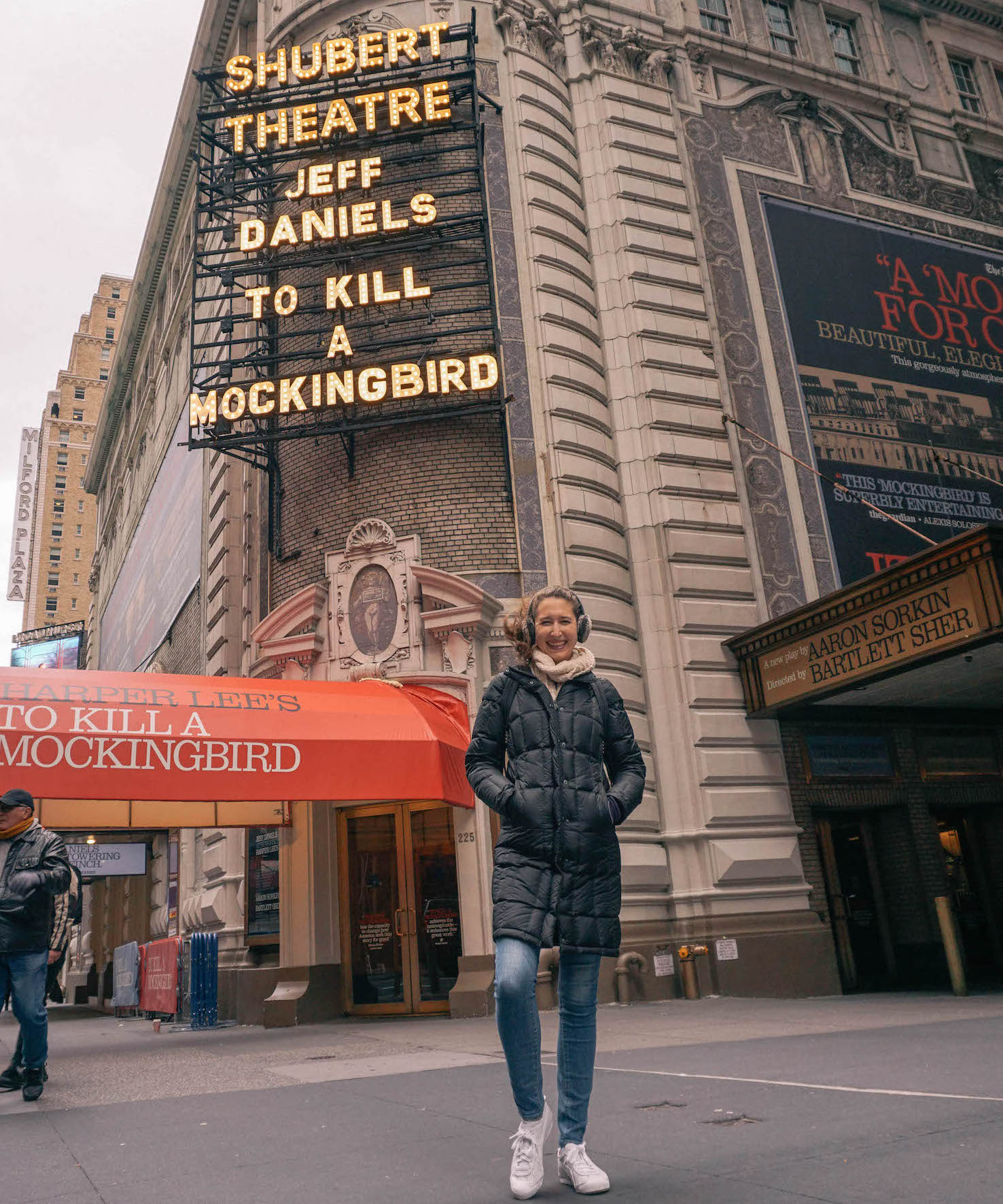 Merchandise from a Broadway Show
Sorry not sorry, the inner theatre nerd in me couldn't share a list of the best NYC souvenirs without mentioning Broadway merch. Yes, the shirts they sell in Broadway theatres are wildly overpriced, and yes, they're worth it. My advice is to wait until the end of a show to decide whether or not you want show merchandise. The line will likely be shorter (most people buy merch at intermission), and you'll know for sure whether the show was amazing enough to make dropping $35 on a t-shirt worth it. 
Final Thoughts…
Not sure where to get souvenirs in New York? Look around you! In my experience, the best souvenirs from NYC don't come from a souvenir shop. Keep an eye out for local shops and vendors that you can support. I guarantee you'll find something of much better quality that you'll be able to enjoy for longer.
Tell me: What's your favorite souvenir you've ever purchased?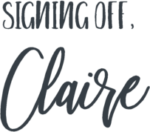 More NYC posts you'll love:
Pin it for later!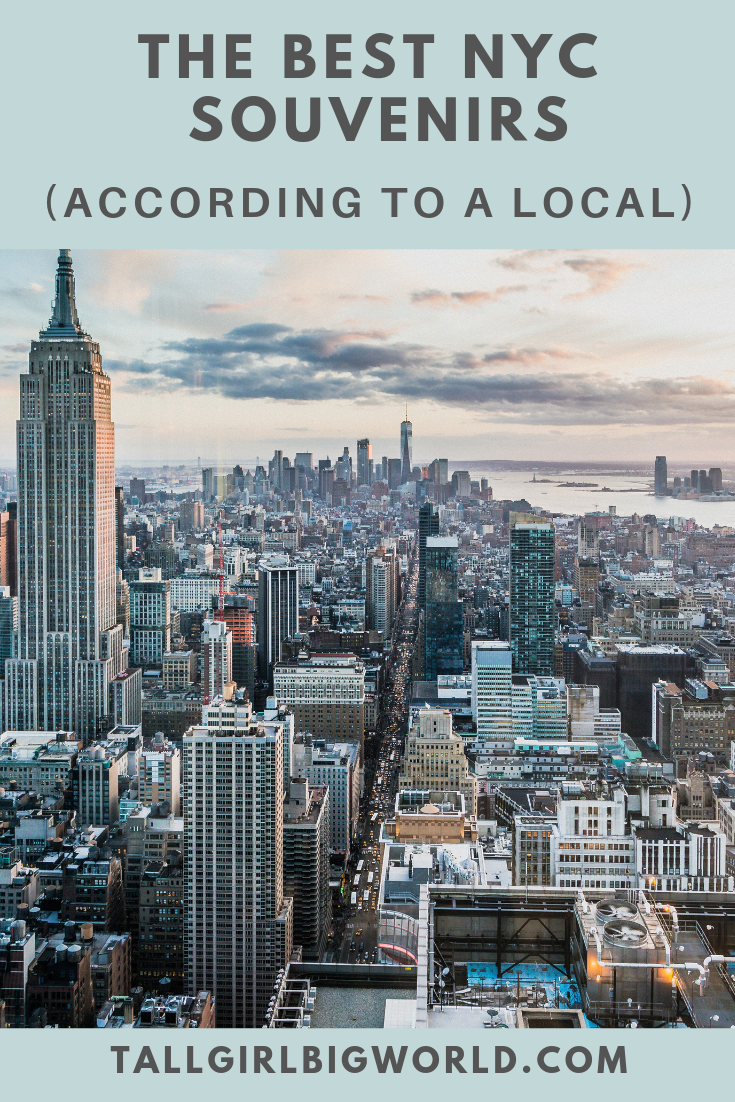 This post was updated on January 15, 2021.