Glensheen Mansion in Duluth, MN is one of the hidden gems of the Midwest! Here's everything you should know about visiting the mansion and its fascinating history.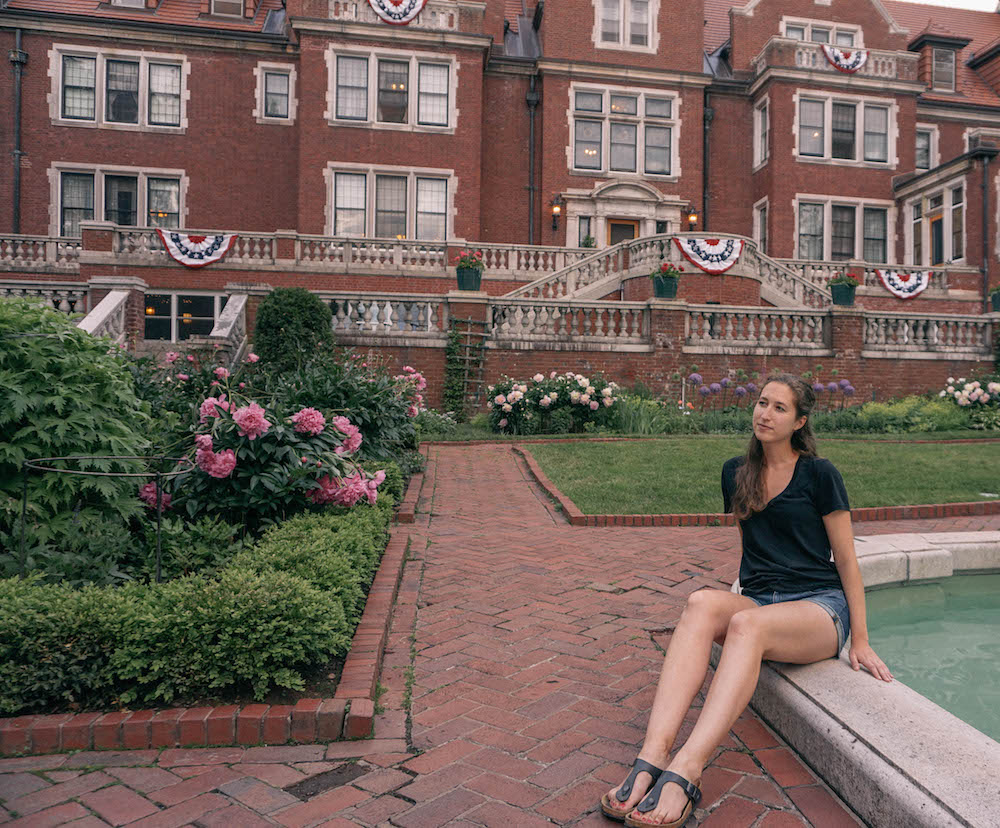 There's a good chance you're reading the title of this post and thinking, "Claire, how'd you wind up in Duluth, Minnesota?" Long story short, one of my childhood friends (hi, Betsy!) went to school in the area and now works in Duluth. I hadn't seen her in ages, so I popped over to the Northwoods for a hearty dose of Midwest hospitality and comfort food.
I'll admit, I had never heard of Duluth before my friend moved there. But although it's a small town by my NYC standards, it used to be one of the largest ports in the US. Located on the tip of Lake Superior, Duluth has seen a lot of trade in its day and used to have a booming shipping industry. But while I could go on about the adorable downtown area or the scenic lake walk, I want to draw your attention to what I think is the real gem of Duluth: historic Glensheen Mansion.
Built in the early 1900s by the Congdon family (the second richest family in Minnesota at the time), Glensheen is a proper mansion that overlooks Lake Superior. It's overflowing with priceless paintings (some done by the family members!), antique furniture, and all sorts of nooks and crannies for you to get lost in.
Here's everything you should know about the Glensheen historic estate, including its unique history, an overview of the mansion tour, additional tips, and more!

Getting to Glensheen Mansion
Glensheen is about 5 miles north of downtown Duluth, MN. To get there, you'll need to take I-35 N to No. Shore exit #259. The entrance to Glensheen will be on your right. It's a very short drive to Duluth's mansion, so there's no reason not to visit!
The Glensheen Mansion Story
I find Glensheen Mansion's history fascinating. It was built between 1905 and 1908 by Clara and Chester Congdon. Chester Congdon was incredibly wealthy and made his money largely in the iron and mining trades. The Congdon's lakeside property originally spanned 22 acres, and they instructed landscape architect Charles Wellford Leavitt, Jr. to preserve as much of the existing natural beauty as possible.
It was very important to Chester and Clara that Glensheen be as self-sufficient as possible and that the landscape of the surrounding area be altered as little as possible. The mansion cost the Congdons a pretty $854,000 to build (I don't even want to know what that is by today's standard!). There are a whopping 39 rooms in the mansion spanning 27,000 square feet.
The Congdon family spared no expense when building the mansion, as they envisioned it being passed from generation to generation for years to come. Case in point: the ceilings are 16 inches thick and packed with fire-retardant material. Now that's what I call foresight!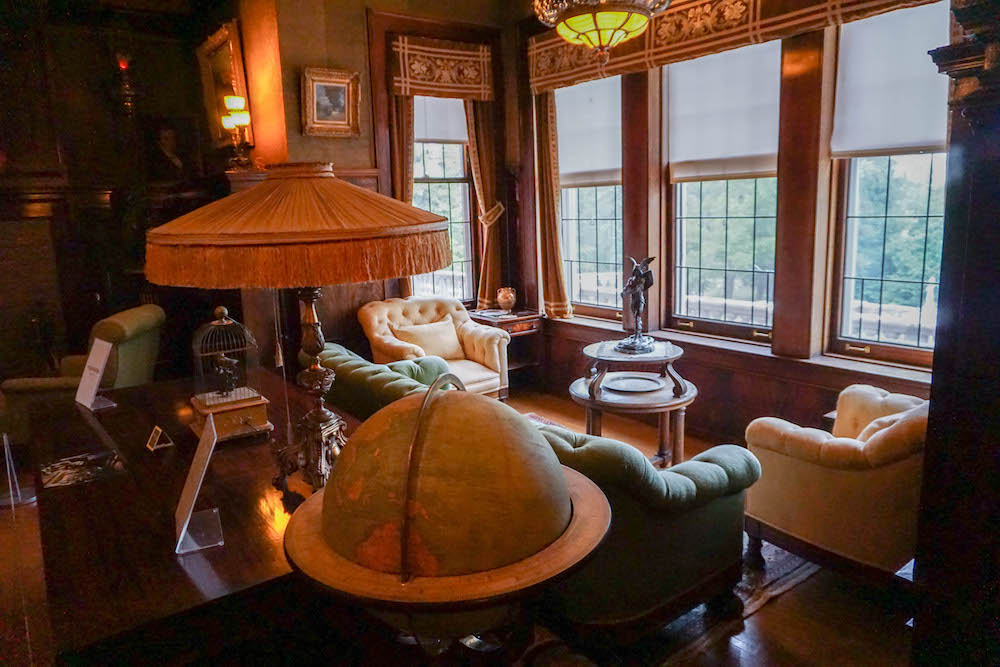 Now, up until this point Glensheen Mansion's history sounds pretty normal, right? I mean, as normal as building a nearly million-dollar mansion can be… But did you ever wonder how such a beautiful mansion built a little over 100 years ago came to be open to the public?
As MPR news so aptly put it, "it's the stuff of an Agatha Christie novel." One June 27, 1977, the last living child of Chester Congdon — a daughter named Elizabeth — was smothered to death while sleeping. Investigators charged Elizabeth's adopted daughter, Marjorie Caldwell, and her husband, Roger, with the murder. In the end, Roger ended up confessing to the murder of Elizabeth Congdon but it remains unclear whether or not Marjorie had anything to do with it. Read the full article here for a rundown of the murder and subsequent trials.
Following the murder, the Congdon family donated the estate to the University of Minnesota. To this day, tour guides are instructed not to discuss the murder on tours of the mansion. However, they'll answer any questions you might have about the murder and how the home was passed on to the university.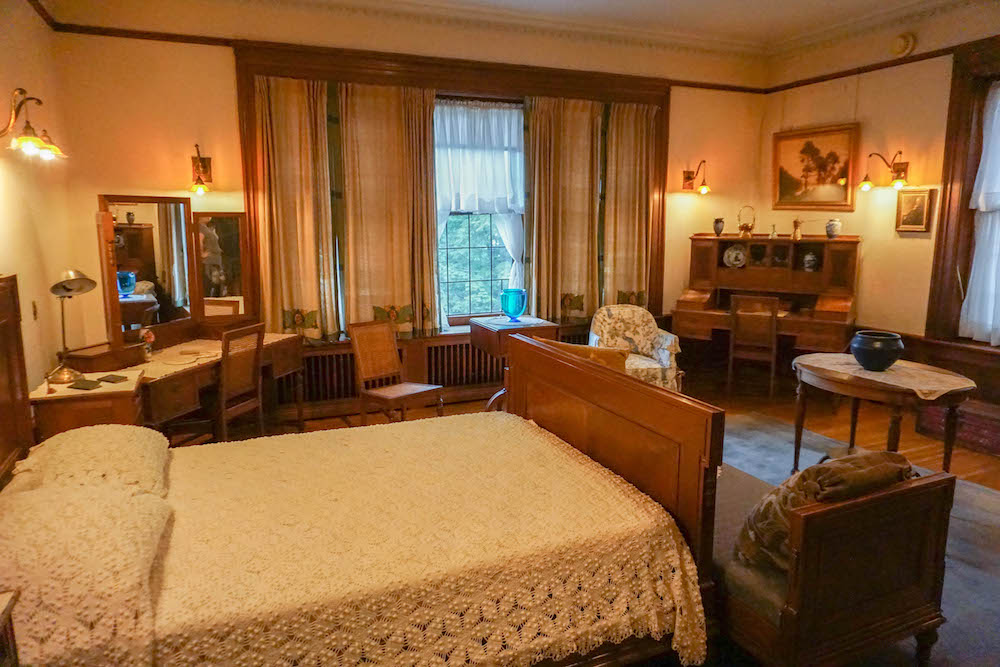 Touring Historic Glensheen Mansion in Duluth, MN
Betsy and I opted to skip the classic tour and chose instead the summer evening tour, and I'm so happy we spent the extra money on it! The classic tour only grants you access to the first two floors of the house and is self-guided, whereas the summer evening tour takes you to all five floors of the mansion (including the attic) and is led by a guide.
Note: At the time of updating this post, the summer evening tour is not currently being offered. But similar tours are still offered on their website!
I'm not normally one for group tours, but I was pleasantly surprised at how knowledgeable our guide was. Had we gone through the house on our own, I don't think we would have learned much about the Congdon family's history, not to mention we would've missed out on some gorgeous rooms.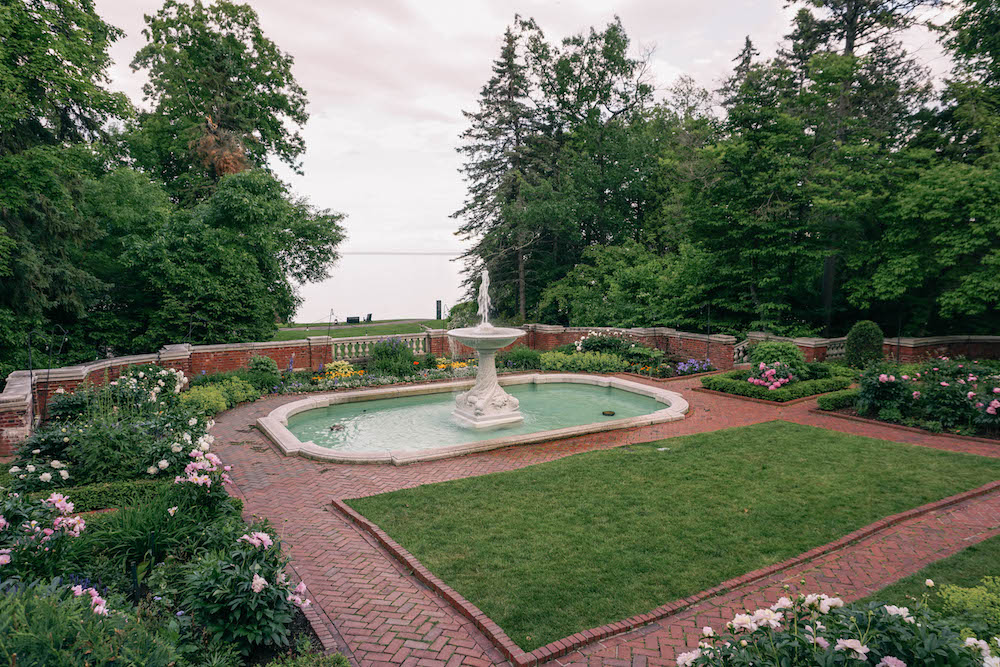 What's remarkable about Glensheen is that almost all the furniture is original to the Congdon family and was purchased for the house when it was completed in 1908. Because of this, you get a much better feel for what the family was like and what their tastes were. Sadly, some of the rooms have suffered severe water damage over the years, so the whole house isn't in pristine condition (it's slowly being restored though!).
Although I loved snooping around the house, the real gem of Glensheen is its formal garden out back. You exit the house onto a large stone terrace overlooking a quaint garden overflowing with blooming flowers in neat little boxes. There's a fountain in the center, and beyond that is a lawn that stretches all the way out to the beach (I use the term 'beach' loosely, as Lake Superior is freezing cold year-round).
Out back, you'll find a patch of forest that's hiding a fire pit (which visitors can use for roasting marshmallows and the like) and a picturesque stone bridge. Betsy and I attempted a photo shoot on the bridge, but it's too narrow to get a decent shot on. But it sure is pretty to look at from afar!

FAQ's About the Congdon Mansion
What are the opening hours? The hours of operation vary depending on the season, so it's best to check the mansion's website. In the summer, the mansion typically offers summer evening tours.
How much are tickets? General admission tickets for adults start at $18. If you want to see all five floors of the mansion, tickets are $30.
Are the tours self-guided? It depends on the type of Glensheen Mansion tour you sign up for! General admission tours are self-guided. I HIGHLY recommend signing up for a tour that include a tour guide, as you'll get so much more out of your visit that way.
Can I take photos inside? Yes! Just don't use the flash. Note that some areas of the home are not allowed to be photographed, but staff members will tell you which ones.
Do I have to pay for parking? Nope! If you're touring the mansion or grounds, the onsite parking is free.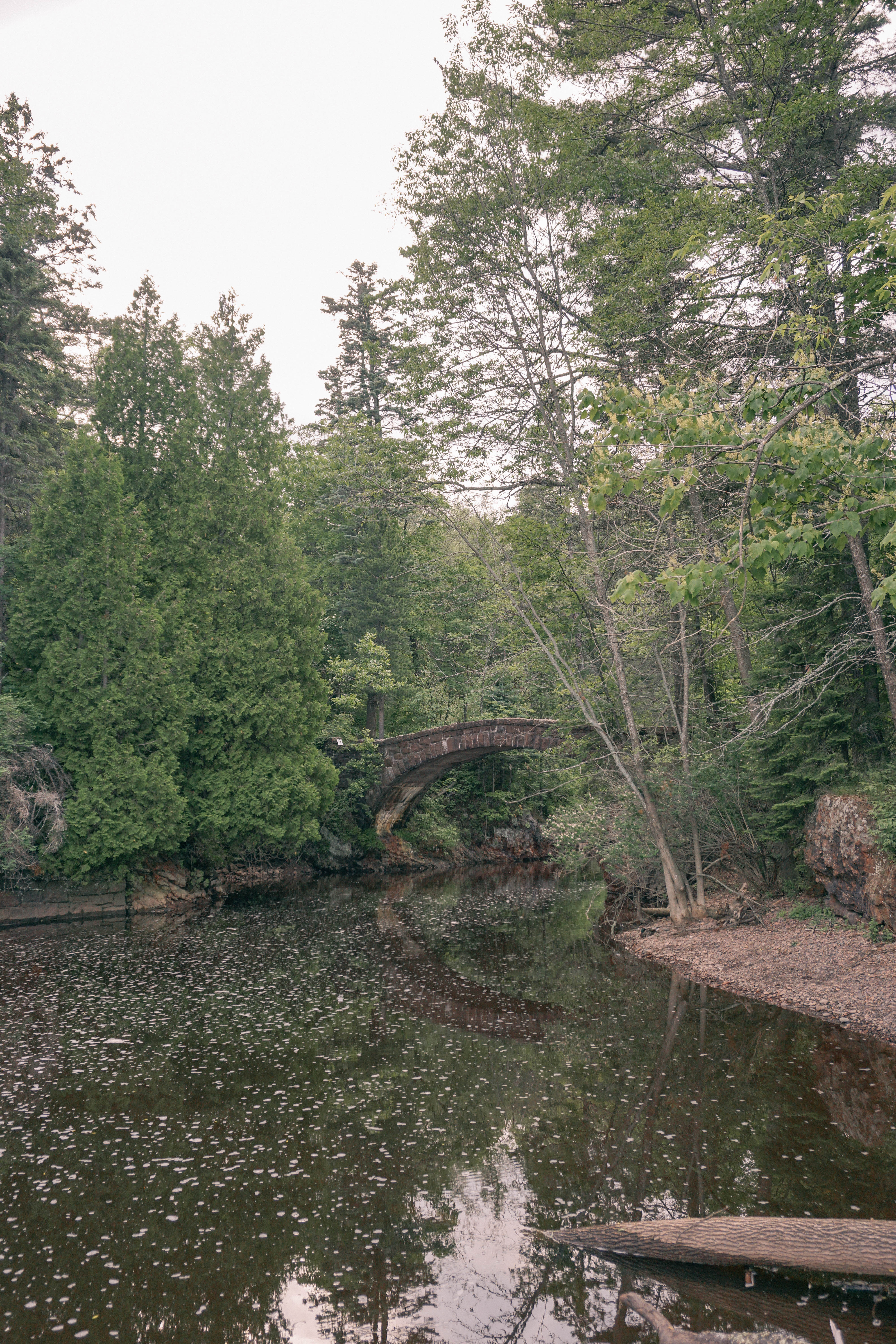 Final Tips for Visiting Glensheen Mansion  
Download the Glensheen app to get the most out of your visit to the historic Congdon mansion.
If you're taking a self-guided tour of the mansion, give yourself at least 90 minutes to see the entire home.
Ask staff members lots of questions! They're incredibly knowledgeable and you'll learn so much more about the family that way.
Hang out in the gardens. Staff members won't rush you off the property, and it's so nice to sit by the lake on warm days.
Bring a picnic! You're allowed to bring drinks and food along with you to enjoy outside. Note that you may not eat or drink inside the mansion.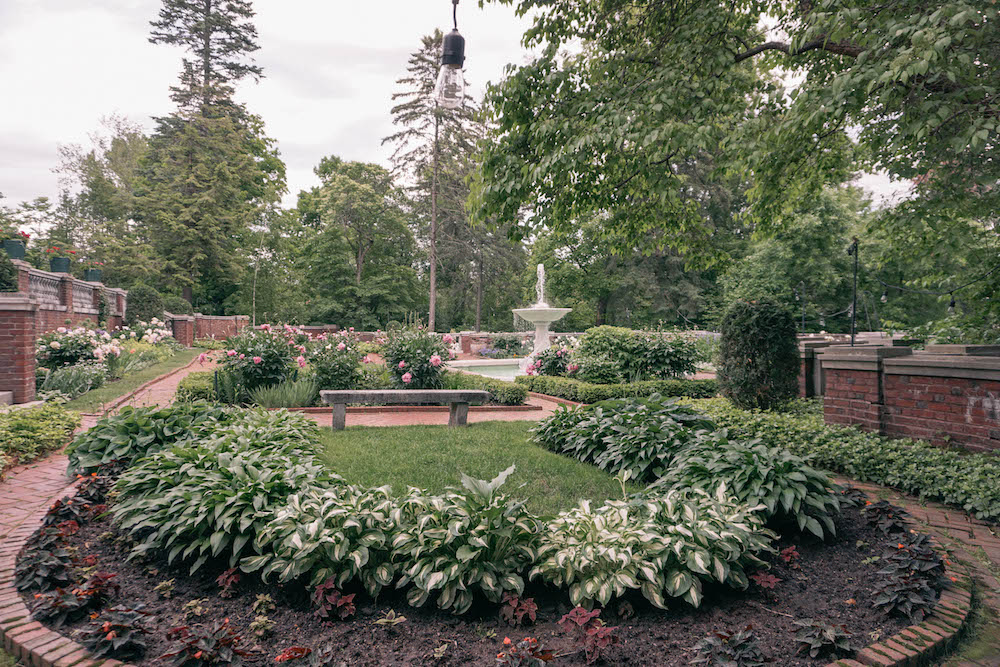 Excited to Visit the Glensheen Historic Estate?
In all honesty, I'm a little stunned that such a beautiful mansion exits this deep into the Midwest. Although I grew up in the Midwest and love it, I can't say it's the fanciest of areas. I associate lush gardens and historic homes with the east coast, so it was exciting to see an estate of this level in Duluth.
If you're passing through the area, I cannot recommend the Congdon masnion enough. If it's within your budget and time constraints, the more expensive Glensheen Mansion tours are worth it. Having a guide take you through the house is a must, as it allows you to see more of the house and learn more about the Congdon family.
Tell me: What's the prettiest estate you've ever visited?

More USA travels I recommend: 
Pin it!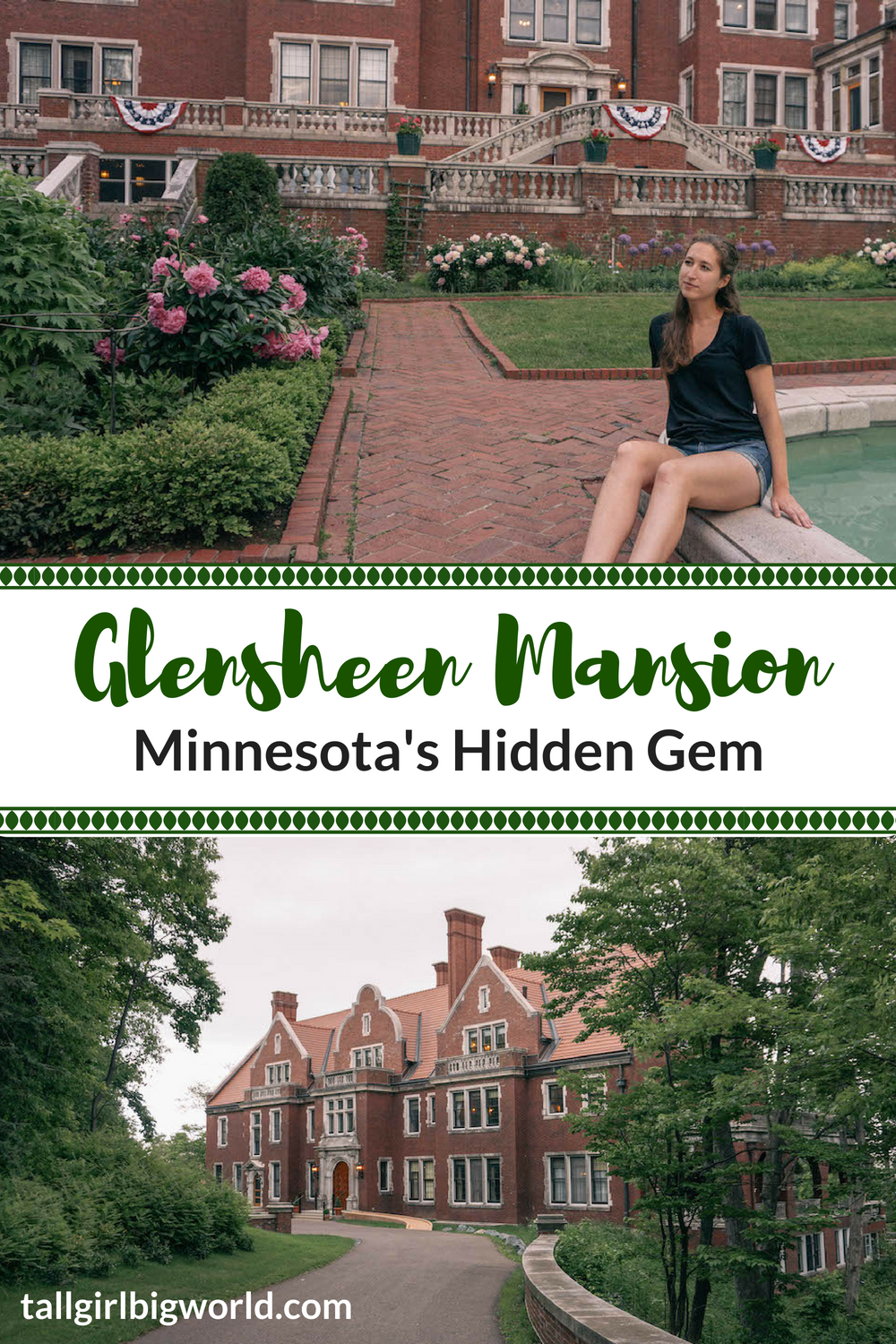 This post was updated on March 12, 2021.