A weekend in Charleston is the perfect amount of time to see the top attractions and get a feel for the city. Here's a flexible 3-day Charleston itinerary for first time visitors!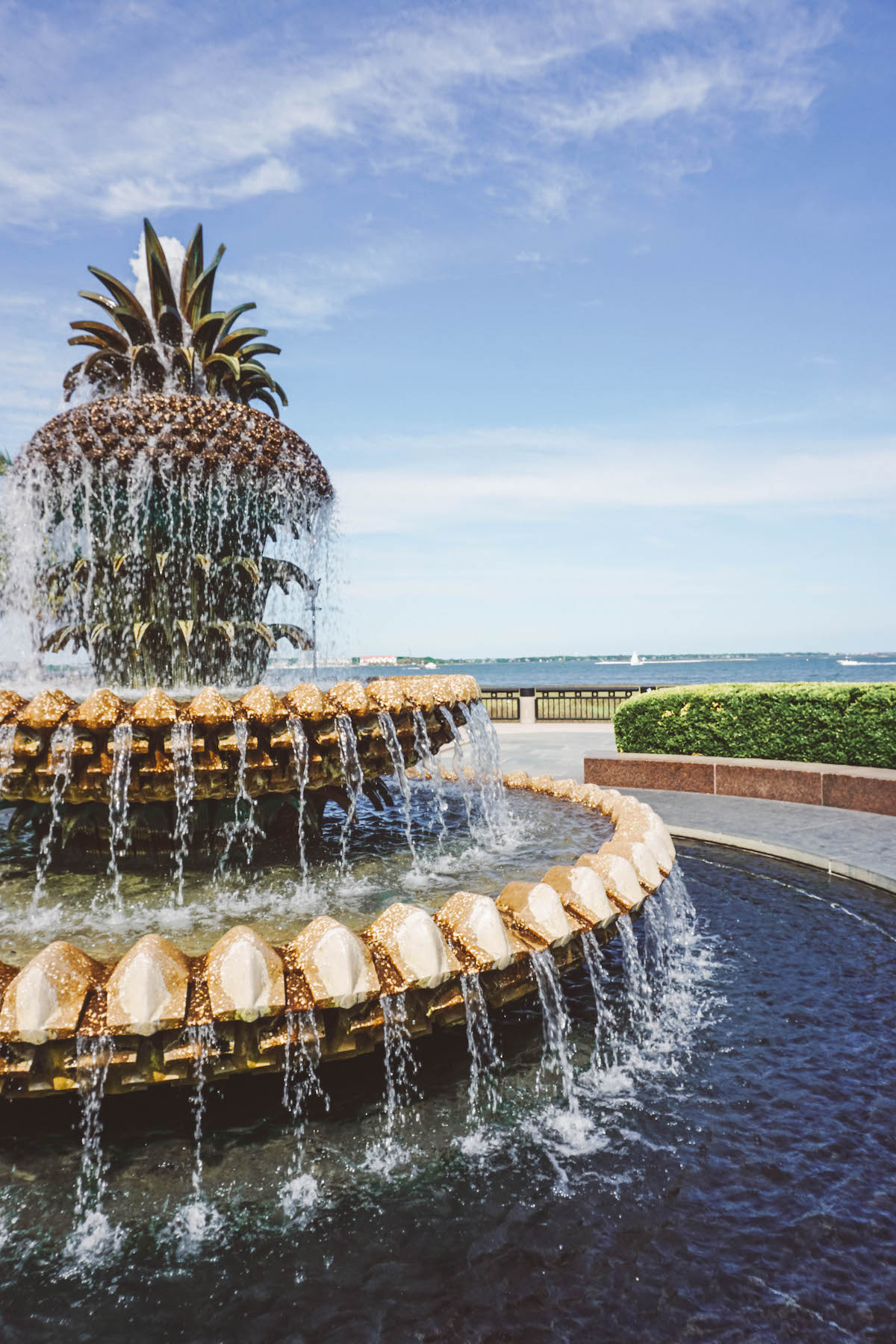 Oozing with southern charm, Charleston is the place to visit if you love picture-perfect houses, shopping at local boutiques, great food, and American history. It's big enough to spend a long weekend in and still have things left to see on your next trip, but small enough that you don't have to wake up early every morning to squeeze everything in.
In short: a weekend in Charleston is the perfect amount of time for first time visitors!
If you're planning a long weekend in Charleston, here are the best things to do in this colorful city. This 3-day Charleston trip itinerary covers the top attractions, but I've listed additional activities near the end of this post for anyone who's been before and is looking to experience new things.
Table of Contents
Click "show" to see the full table of contents for this post. You can jump around the post as desired by clicking on the individual sections listed below.    
Charleston Itinerary Day 1: Nathaniel-Russel House, Battery, Rainbow Row, City Market & Sullivan's Island
You'll be spending the first of your three days in Charleston exploring the city center, and you'll end the day at the beach. There are quite a few attractions on Sullivan's Island besides the beach, so don't fret if the weather's not super warm!
You'll want to start your day around 9 or 10am, as most of the attractions in the area close by 6pm.
Nathaniel-Russell House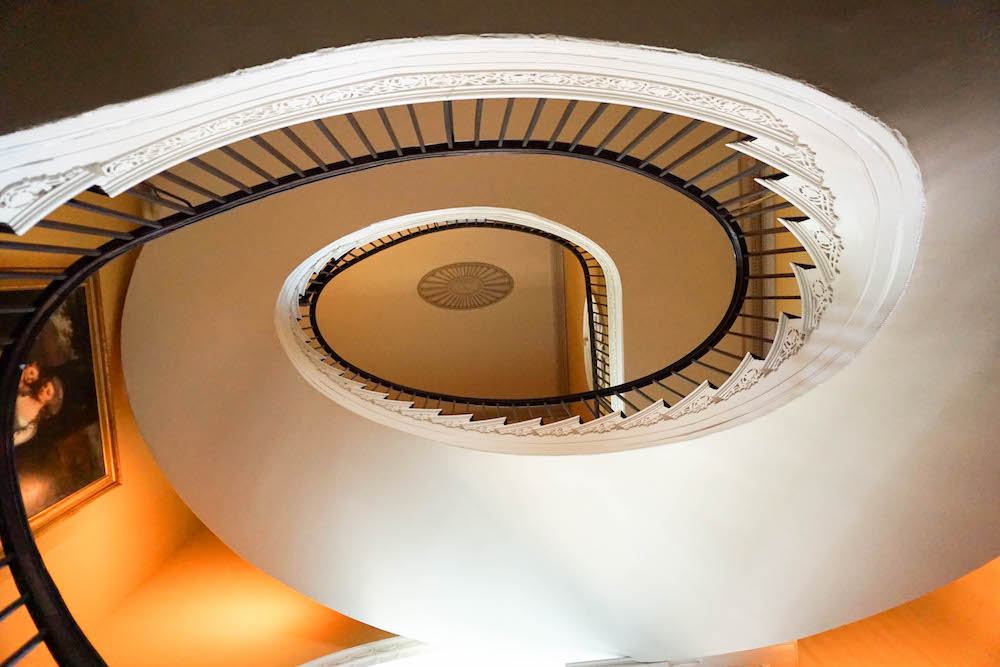 Suggested time: 1 hour
Start your weekend in Charleston with a tour of one of the city's best house museums. The Nathaniel-Russell House belonged to one of the city's wealthiest merchants and has been meticulously refurbished to reflect how the house would have looked upon its completion in 1808.
Unlike the majority of homes in the area, the Nathaniel-Russell House was built in the Federal style and lacks the two-story porch Charleston houses are known for.
During the 45-minute tour, you'll have a chance to admire Charleston's most famous staircase—a three-story, free-flying feat of engineering (the secret is that each step rests on the previous step, which holds the entire structure up!).
After the tour, take time to explore the formal gardens. Although small, they're incredibly beautiful.
The Battery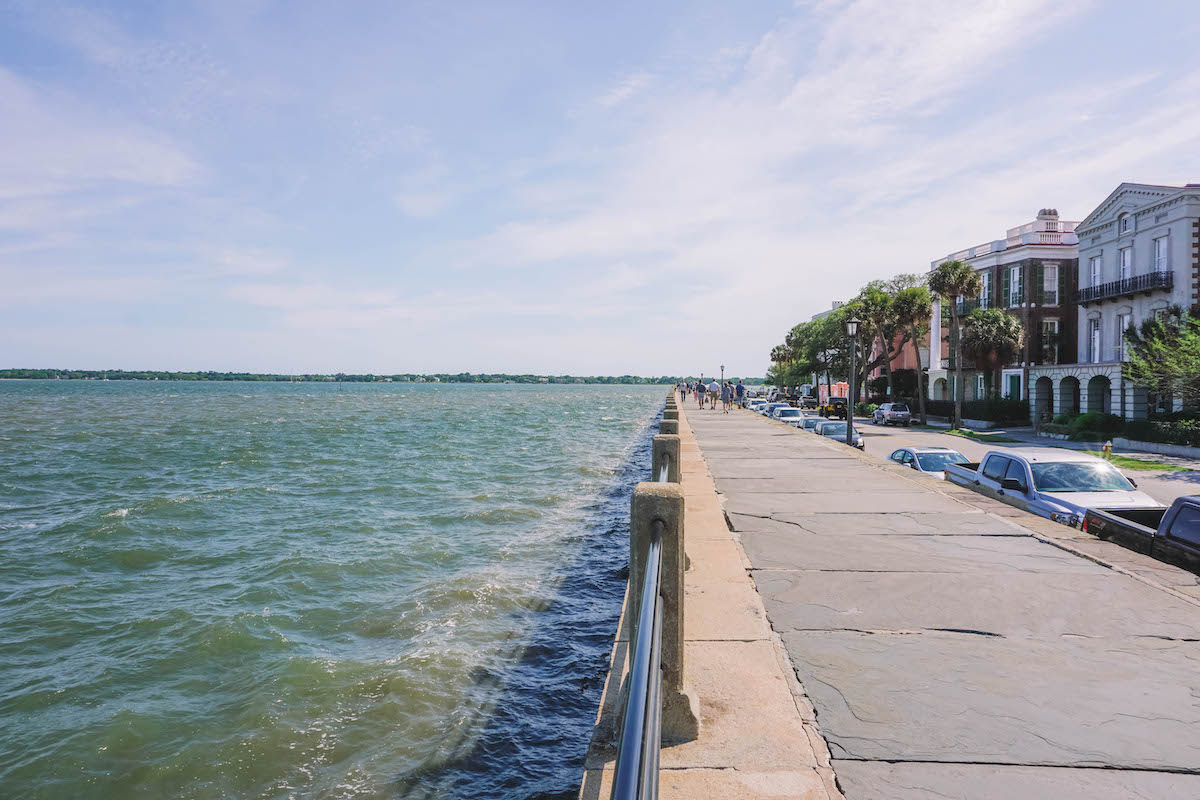 Suggested time: 30 minutes
Just 10 minutes south of the Nathaniel-Russell House is the lovely White Point Garden. Walk through the garden to Murray Boulevard and head left onto the battery.
Here you'll see cannons that were used to defend the city from invaders, and you'll get a good look at the French Quarter's most expensive mansions as you walk north along the water's edge.
Take your time, as there are often dolphins in the bay. You'll need a good eye to spot them, though!
Rainbow Row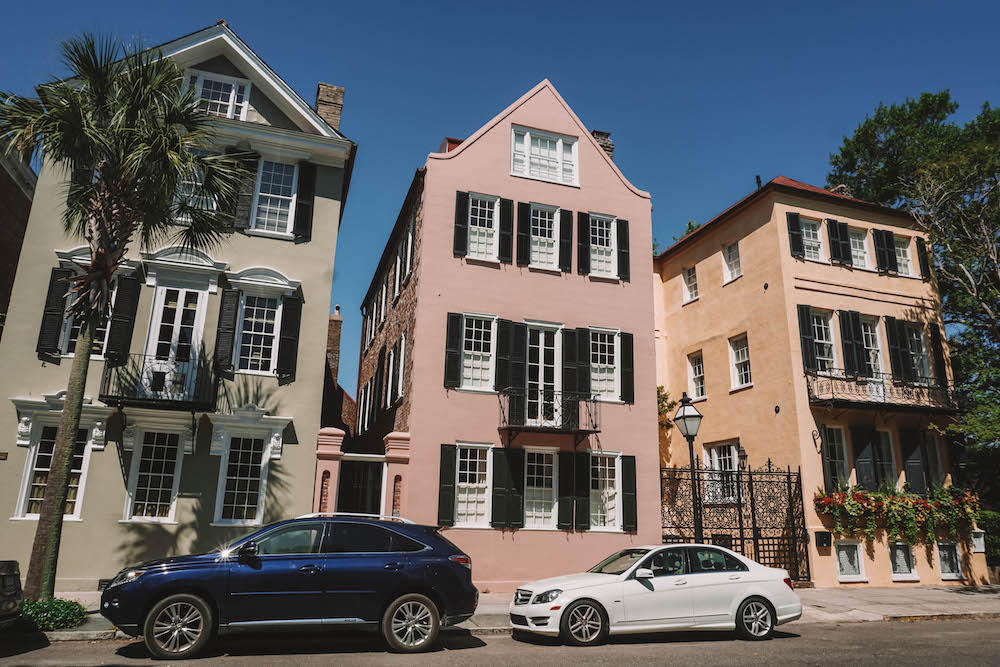 Suggested time: 20 minutes
Keep walking along the battery until you hit Rainbow Row, a collection of pastel-colored houses that no trip to Charleston is complete without seeing.
Rainbow Row dates back to the early 1700's when the houses used to sit near the waterfront (Charleston's city limits have since expanded and the houses are no longer on the water).
Merchants used to do business on the bottom floor of these homes and would live above their shops to save money. No one is completely sure why these houses were painted in such bright colors, but one popular theory is that the colors were meant to help drunk sailors find their way home.
City Market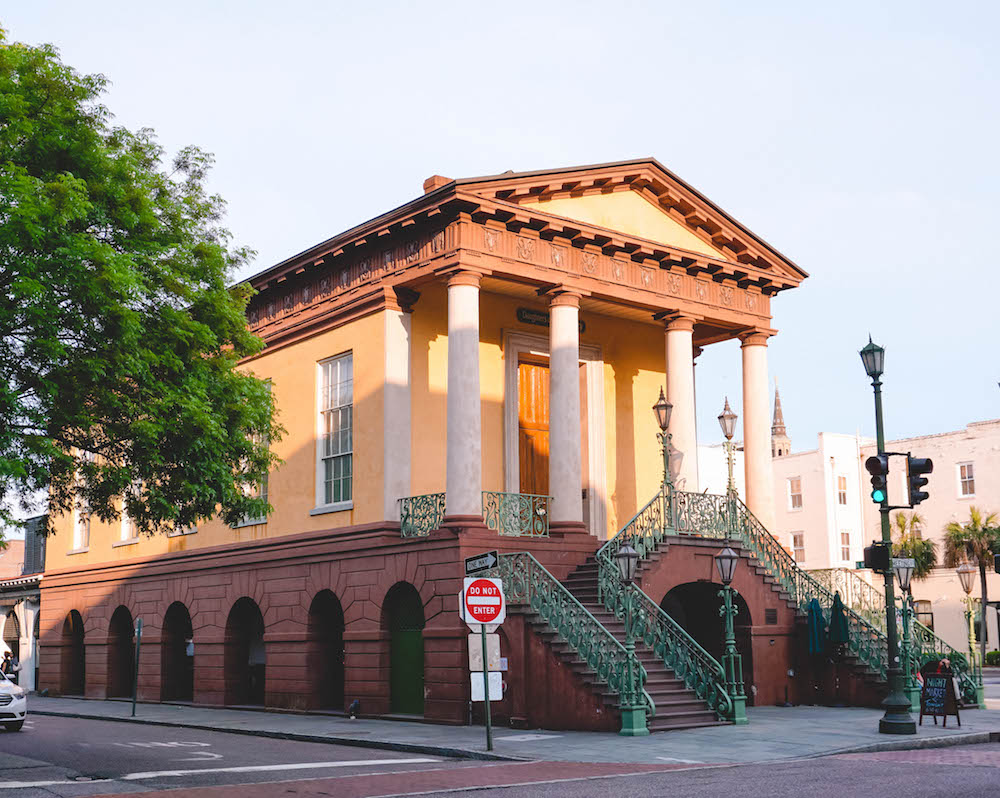 Suggested time: 1-2 hours
Charleston's Historic City Market is one of the oldest markets in the US and is open every day except Christmas. While there are plenty of normal touristy souvenirs for sale here, there are also lots of one-of-a-kind watercolor paintings of Charleston's famous landmarks, homemade spice blends, home wares, and more.
Sweetgrass baskets are a particularly popular souvenir and are handmade in Charleston by Gullah artisans. The Gullah people are descendants of enslaved Africans, and their language and basketry skills are unique to South Carolina.
Sullivan's Island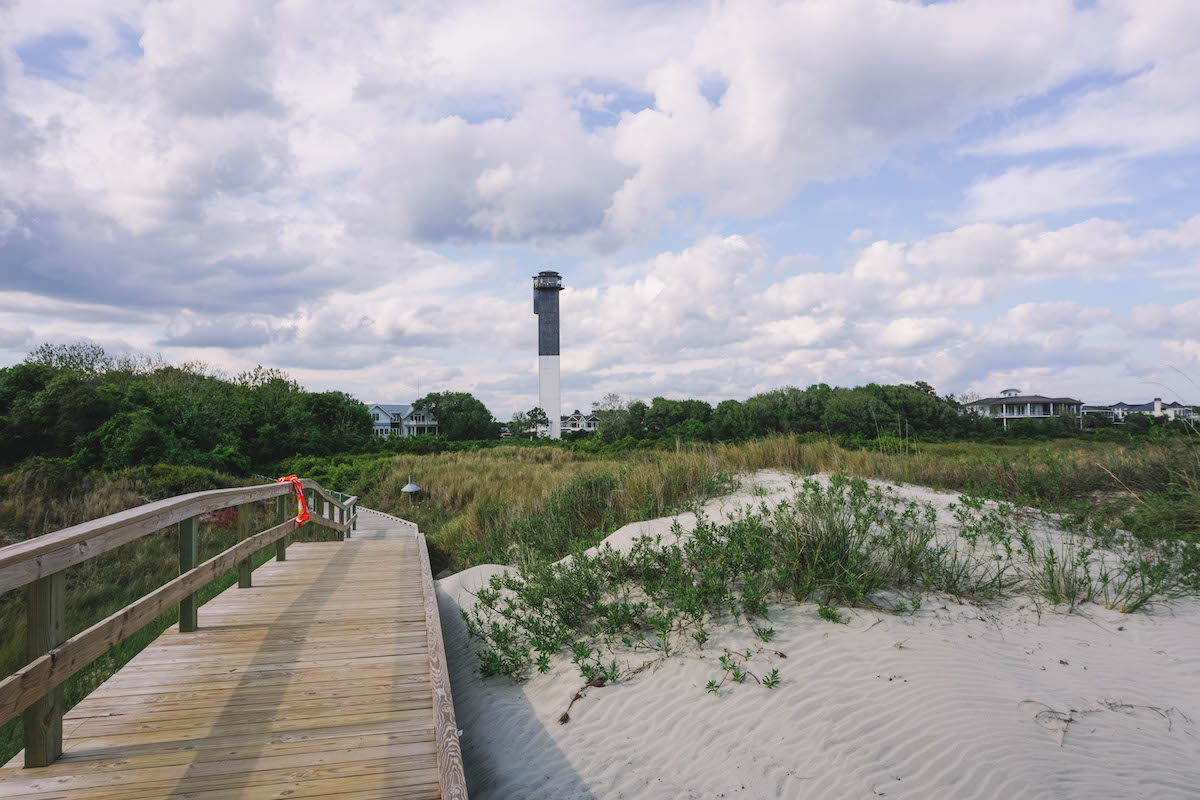 Suggested time: 2-4 hours
Although quite small, there's lots to do on Sullivan's Island. If the weather is nice, bring your swimsuit and spend the afternoon on the beach. The waves aren't big near the beach, so you can go swimming with younger kids here if you're traveling with family.
If you're a history buff, a visit to Fort Moultrie is a must. When the British attacked in June 1776, the men at Fort Moultrie (then called Fort Sullivan) beat them back and saved the city from invasion. After the nine-hour battle, the fort was renamed Fort Moultrie in honor of its commander, Colonel William Moultrie.
Charleston Itinerary Day 2: Magnolia Plantation & King Street Shopping
Although you'll be on your feet for much of your second day in Charleston, it's the most relaxed day of this 3-day Charleston itinerary since you'll be at a plantation all morning.  
This is one day that you might wish to change up the afternoon activity. I spent half of my day at Magnolia Plantation, as listed below, but if window shopping isn't your thing take a look at the additional Charleston activities I've listed at the end of this itinerary if you'd rather not spend so much time on King Street!
Magnolia Plantation & Gardens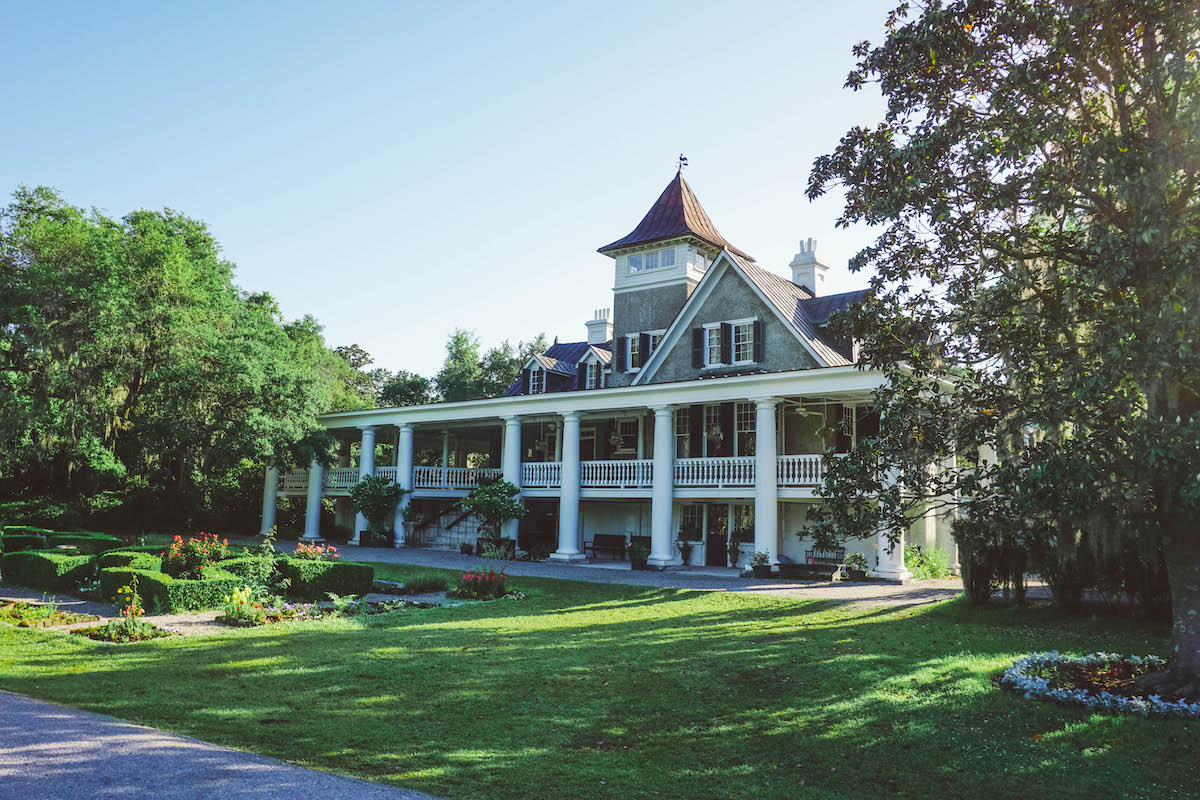 Suggested time: 4-5 hours
The most visited plantation in Charleston, Magnolia Plantation and Gardens is truly spectacular. It was founded in 1676 by the Drayton family and is a private home to this day.
The entrance fee is a little steep ($29 for just the grounds, plus additional fees for more activities), but it's well worth your money. You'll want to arrive early so you can tour the house and gardens before too many visitors arrive.
Magnolia Plantation is good for both solo travelers and families, as it has a variety of tours and programs, including a nature train and a swamp tour.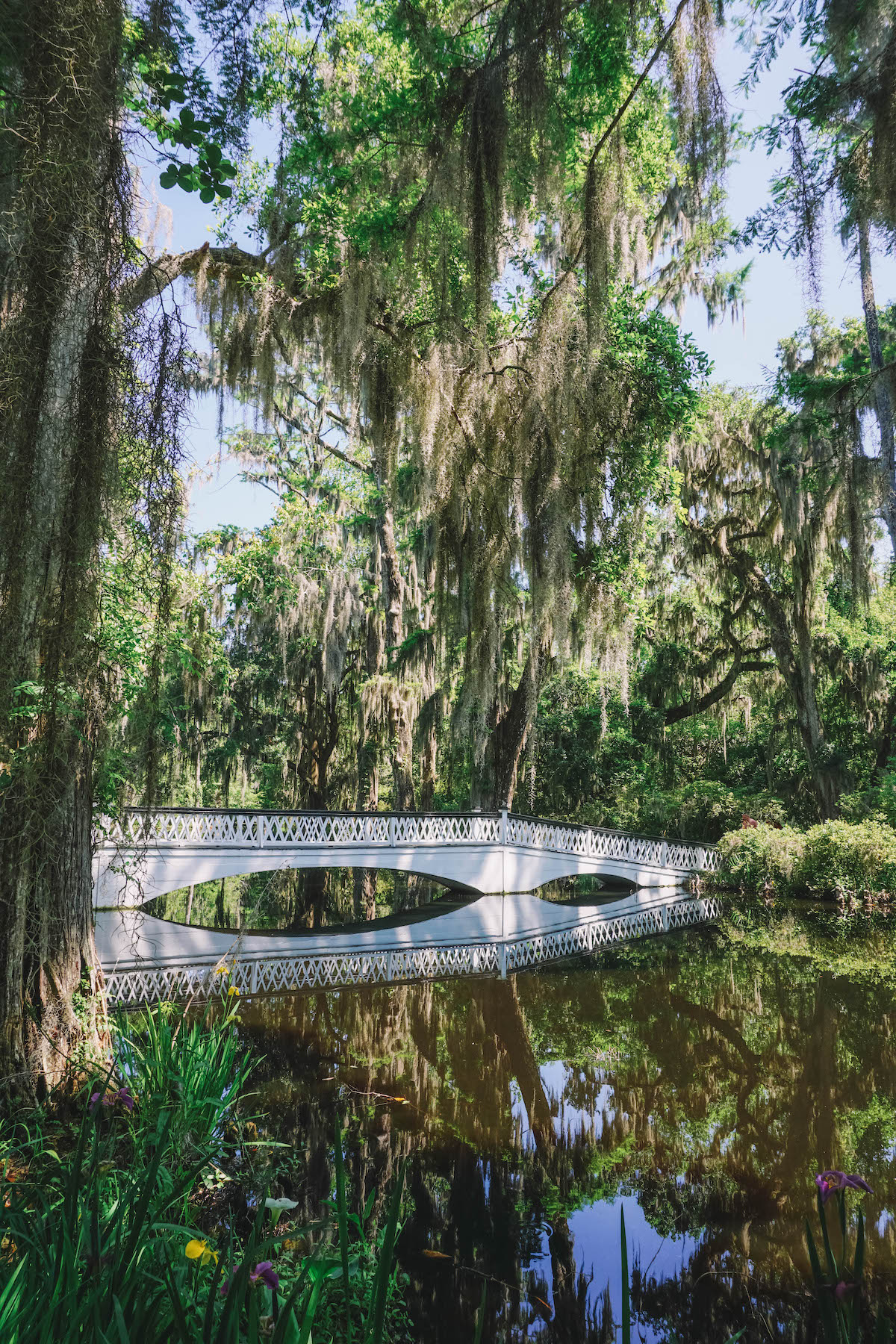 Give yourself lots of time to properly explore the gardens around the plantation. Just keep a lookout for alligators as they like to hide in the water. (They're small, don't worry! But you shouldn't touch them).
You'll need the entire morning to see Magnolia Plantation, so save yourself some time afterwards and eat lunch at the Peacock Café onsite. The food is nothing fancy—hot dogs, chips, sandwiches, and such—but it's reasonably priced.
Claim one of the nearby picnic tables and have fun watching the peacocks strut about the yard. They roam freely and are incredibly entertaining!
Window Shop on King Street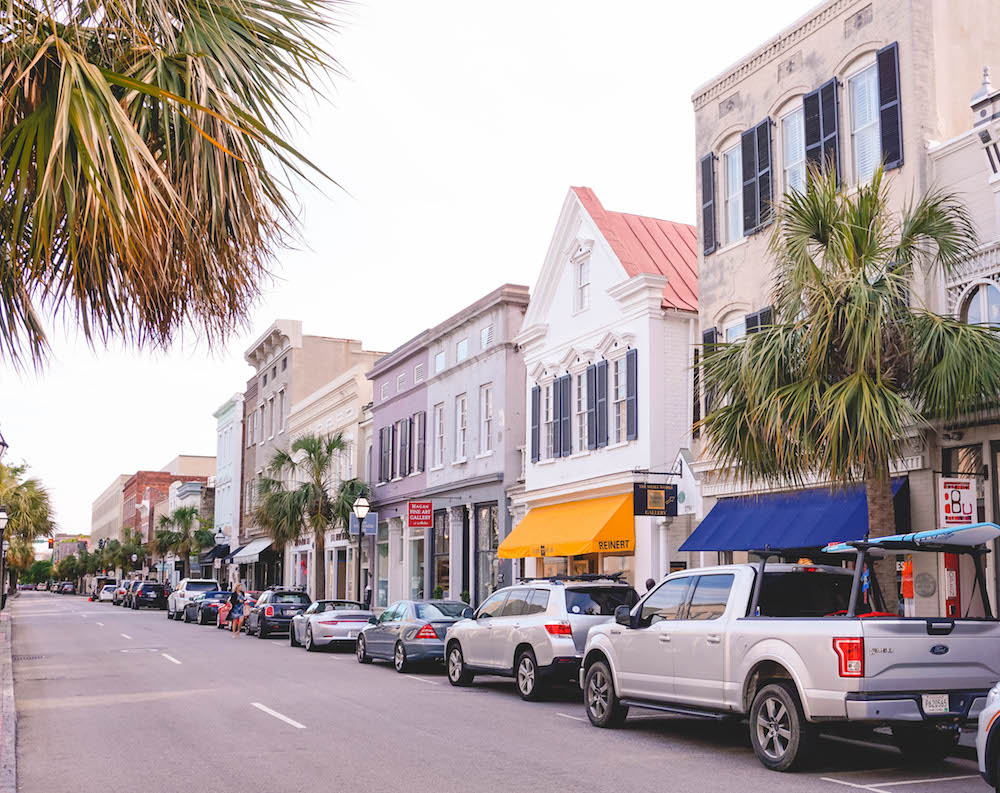 Suggested time: 90+ minutes
You didn't think I'd let you spend 3 days in Charleston without window shopping along its most famous street, did you?
King Street is lined with a variety of stores ranging from high-end boutiques to local thrift shops.
Avid readers should visit Blue Bicycle Books and jewelry lovers will swoon over the Peyton William Jewelry shop. If you're looking for less expensive souvenirs, the Savannah Bee Company sells a range of local honeys that adhere to TSA's liquids rule.
Charleston Itinerary Day 3: Fort Sumter, William Mansion, French Quarter, & Pineapple Fountain
Grab your comfiest walking shoes because your third and final day in Charleston will be spent touring historic sites and admiring old homes. What a wonderful way to end three perfect days in Charleston!
Fort Sumter
Suggested time: 2.5 hours
Fort Sumter was the site of the first battle of the American Civil War. The only way to get to the fort is by boat, which you can catch from Liberty Square in downtown Charleston.
On the 30-minute ride to the fort, you'll learn about the events that led to the Civil War. The fort now houses a museum, and you'll have about an hour on the island to see where one of America's best known battles took place.
Williams Mansion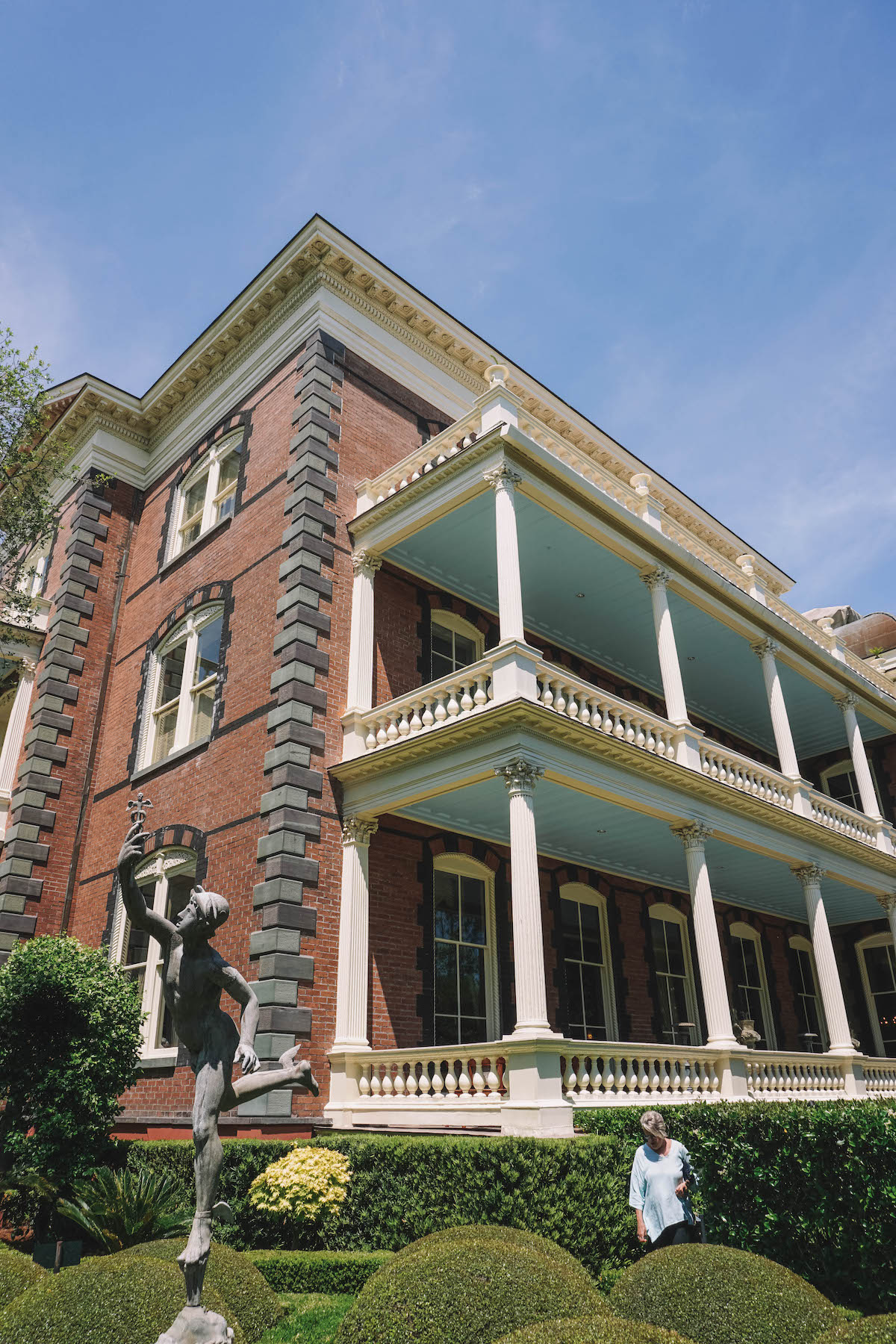 Suggested time: 90 minutes
The Williams Mansion (formerly the Calhoun Mansion) was built in 1876 and is the largest single-family residence in Charleston.
It's a whopping 24,000 square feet and has 35 rooms, all of which are stuffed with an array of antique furniture, priceless paintings, and Louis Comfort Tiffany lighting fixtures.
Because someone still lives in the house, no photos are allowed inside. The best I can do to explain what the interior looks like is tell you to imagine the genie's cave of wonders in Aladdin — except that instead of being buried under a pile of sand, the treasure is all sitting in an ornate Gilded Age mansion in Charleston.
French Quarter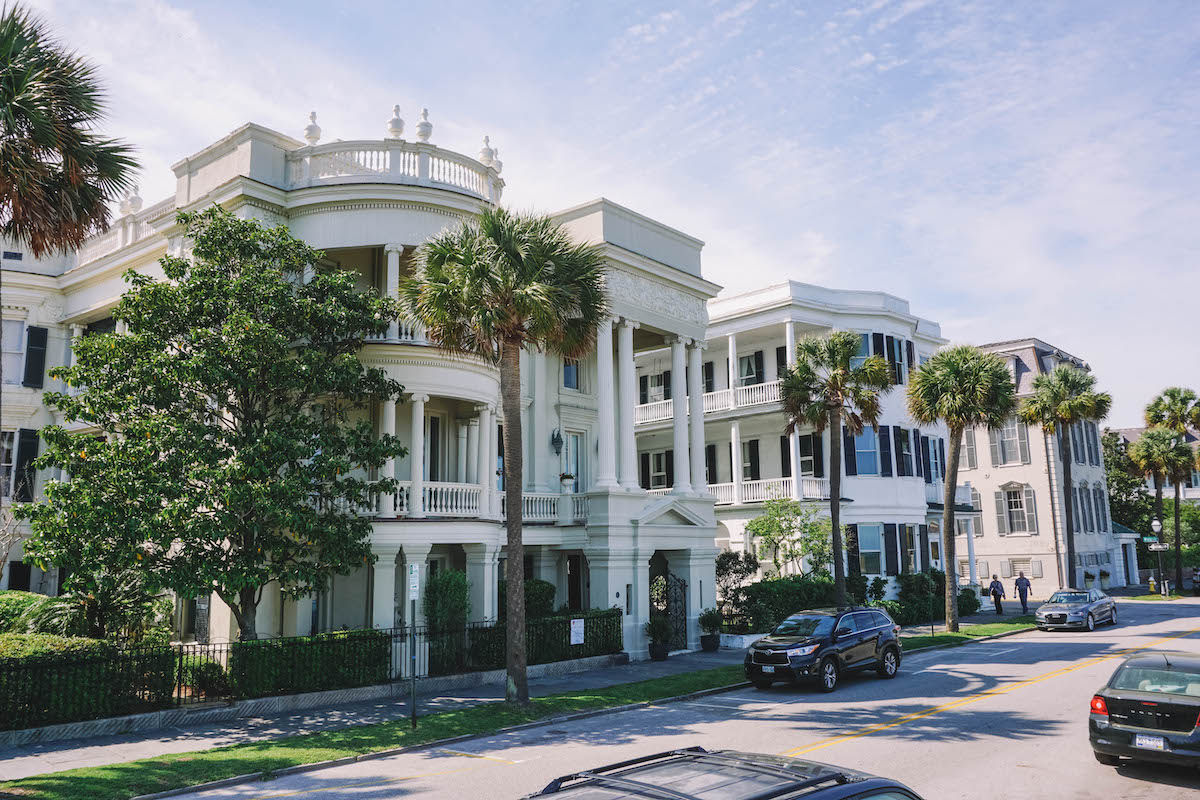 Suggested time: 90 minutes
The French Quarter is chock-full of million-dollar homes that are mostly used as summer houses. Because this area is residential, there's not much to do here except meander around taking photos of all the gorgeous mansions.
During the off-season, the French Quarter is basically deserted, which makes it easy to get great shots of the houses. There are also quite a few art stores in this area, so pop in and see if there are any pieces you'd like to take home with you.
Joe Riley Waterfront Park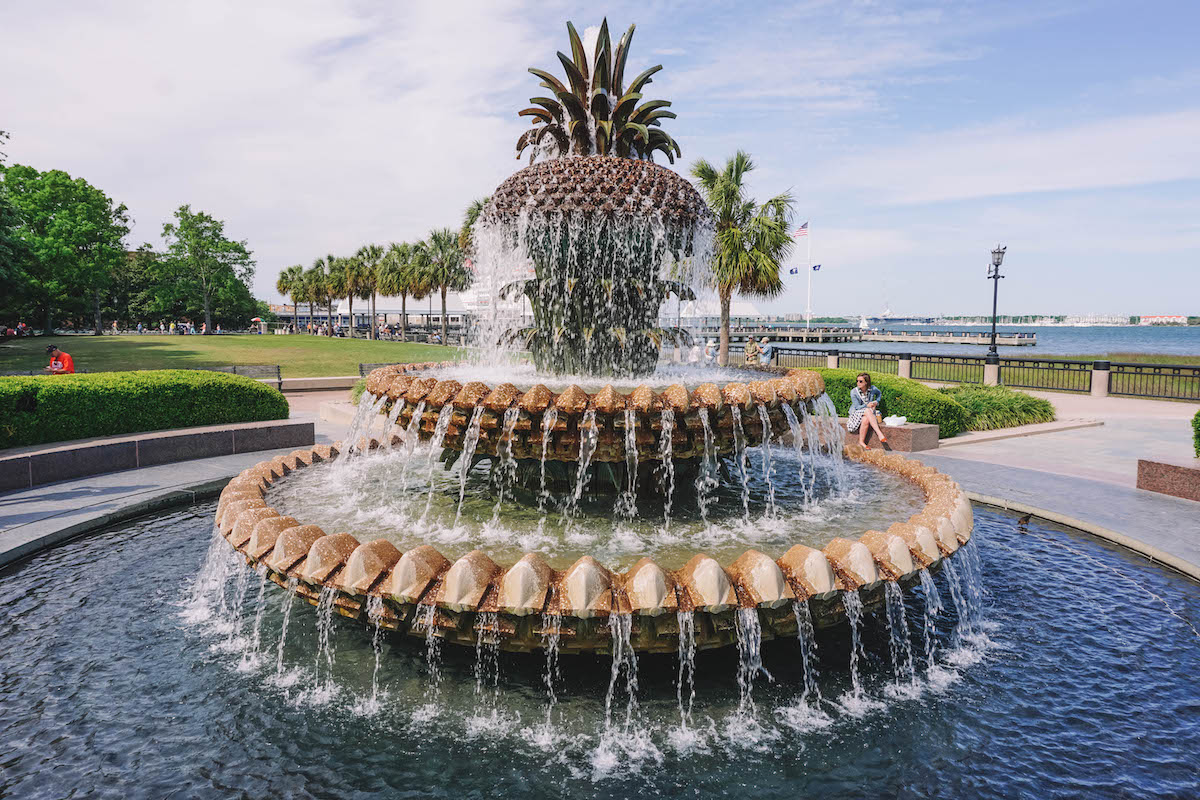 Suggested time: 30-45 minutes
After being on your feet all day, you'll definitely need a rest. Take a load off at Waterfront Park near Charleston's iconic Pineapple Fountain. The pineapple is a symbol of hospitality and can be seen on signs all over the city.
Find a bench near the fountain and enjoy the people watching; cruise ships dock near Waterfront Park and there's always a crowd of people coming and going. If you're in need of a pick-me-up, hit up Tinto y Crema for a refreshing scoop of artisan gelato.
Looking for Even More Things to Do in Charleston?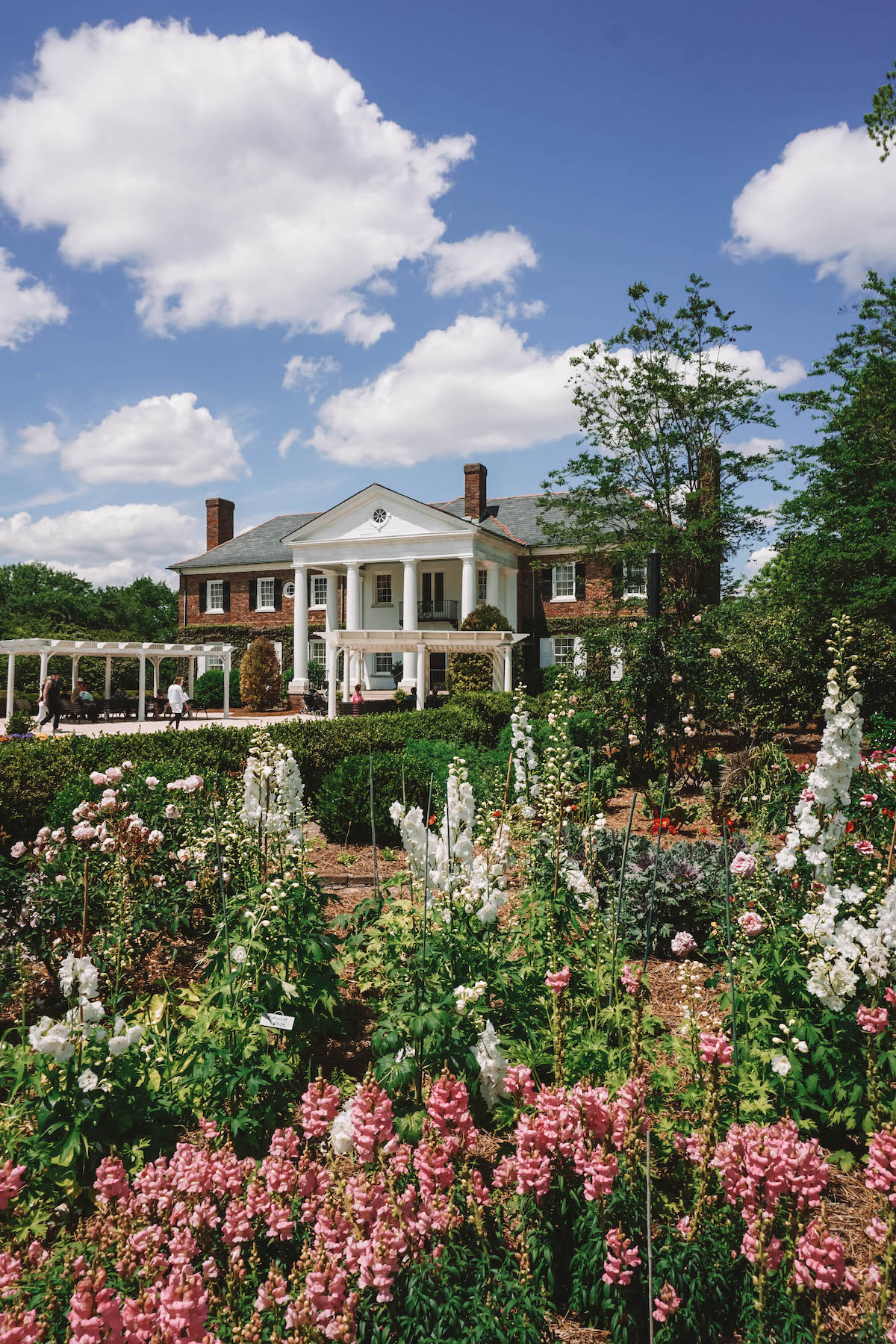 This 3-day itinerary for Charleston will take you to the absolute must-see attractions. However, if you've been to the city before or find yourself zooming through the activities on this itinerary faster than anticipated, know that there are many more things to do in and around the city center.
Check out my guide to Charleston for all of my recommendations on what to do in the city. Everyone travels at a different pace, so it won't hurt my feelings if you deviate from this itinerary — it's your vacation, after all!
Other top attractions that you could tack on to this Charleston trip itinerary include:
FAQs About Visiting Charleston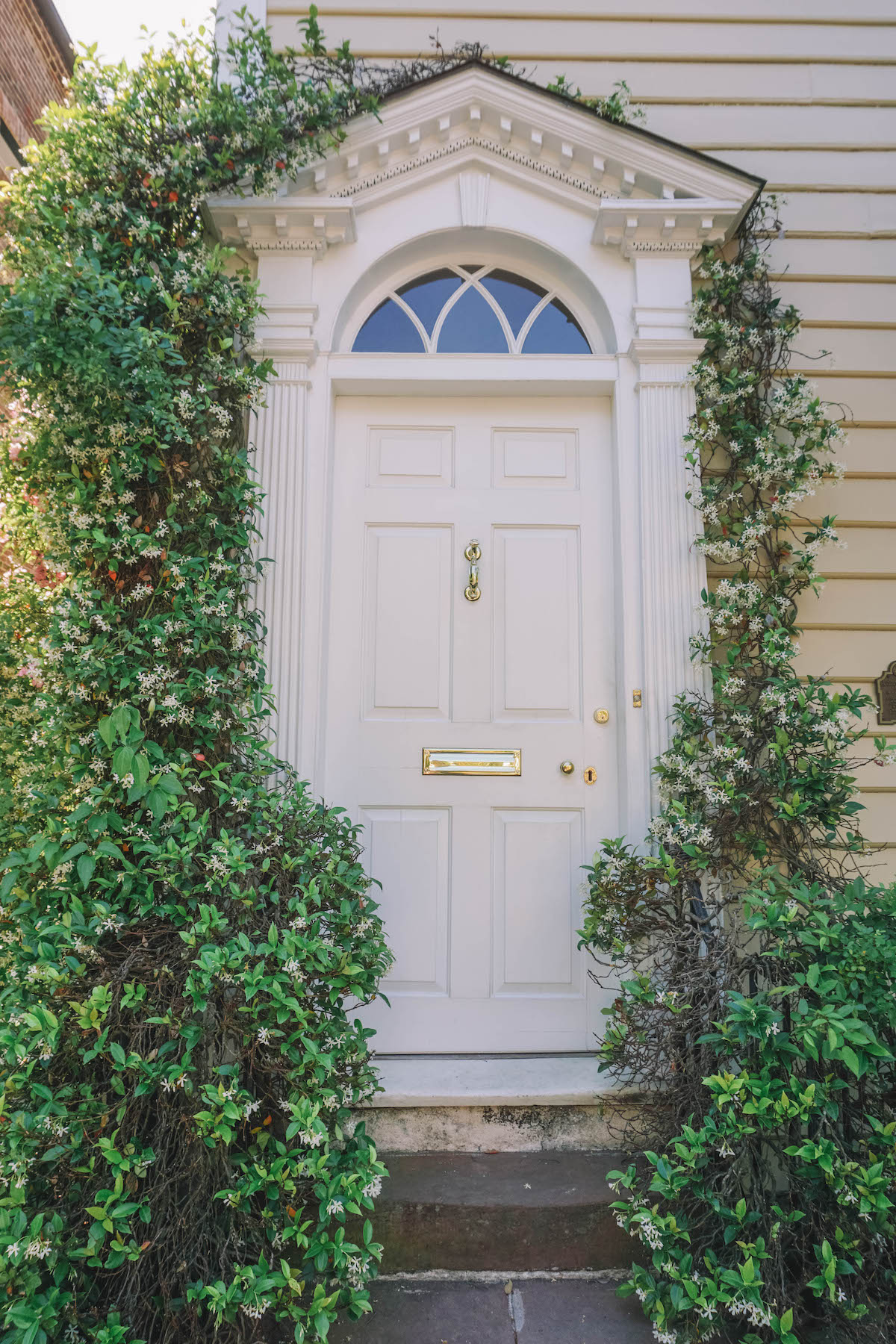 How many days are needed in Charleston?
At least three full days are needed to see the top attractions in Charleston and get a good lay of the land. A long weekend in Charleston would be perfect, but you could easily fill up to five days in the city since there's so much to do and see.
Can you see Charleston in a weekend?
Most of it, yes! I'm sure a local would say differently (there's always something else to do in any big city!), but I think a weekend is a good starting point for exploring Charleston.
What's the best way to get around Charleston?
You can get around the city center on foot or by bicycle (there are bike rentals everywhere these days!). However, for getting out to Sullivan's Island and the nearby plantations, a rental car would be welcome.
Should I rent a car when in Charleston?
If it's in your budget to rent a car, I recommend doing so. With that said, I followed this exact 3-day itinerary for Charleston without a rental car and managed just fine — but the Uber and taxi fees really added up!
So if you're like me and can't or don't want to mess with renting a car, remember to budget for additional taxi / Uber fees during your trip.
When's the best time to visit Charleston?
I've only visited Charleston in the spring (March / April) and highly recommend visiting then if possible. Charleston in the summer is incredibly hot, muggy, and crowded.
However, in the spring it's typically warm enough to go outside with just a light jacket or cardigan, there are fewer bugs out, and the city center and beaches aren't that busy.
Bonus Tip: How to Save Money on Admission Fees!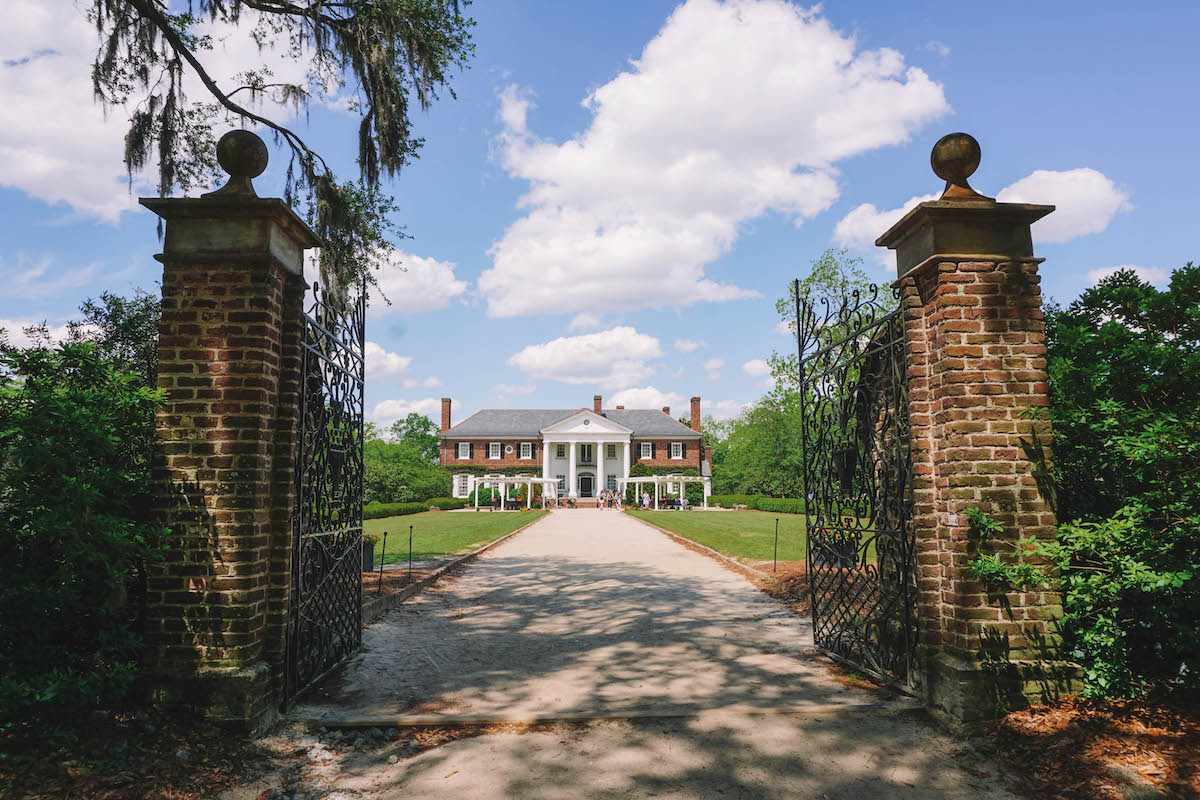 To save money on some of the most popular attractions when visiting Charleston, consider buying a Charleston Tour Pass. You can buy a pass for 1 to 5 days, and save up to 40% on retail admission.
The Charleston Tour Pass gets you into over 40 attractions in the area, so definitely check it out and crunch the numbers to see if it's a good fit for your weekend trip to Charleston!
Enjoy Your Trip to Charleston!
Although smaller in size, Charleston is one of those cities that you can visit over and over again and always find something new to do. I hope this 3-day itinerary for Charleston is a useful jumping off point for planning your own travels.
If you visit Charleston using this itinerary and have feedback for me — positive or constructive! — don't hesitate to drop a comment below.
Don't forget to follow me on Instagram to keep up with my daily adventures in Berlin and beyond!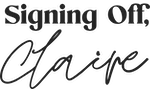 More Cities to Visit on the East Coast: