Planning a trip to New York City this spring? Here are the top 15 NYC spring activities you should add to your itinerary!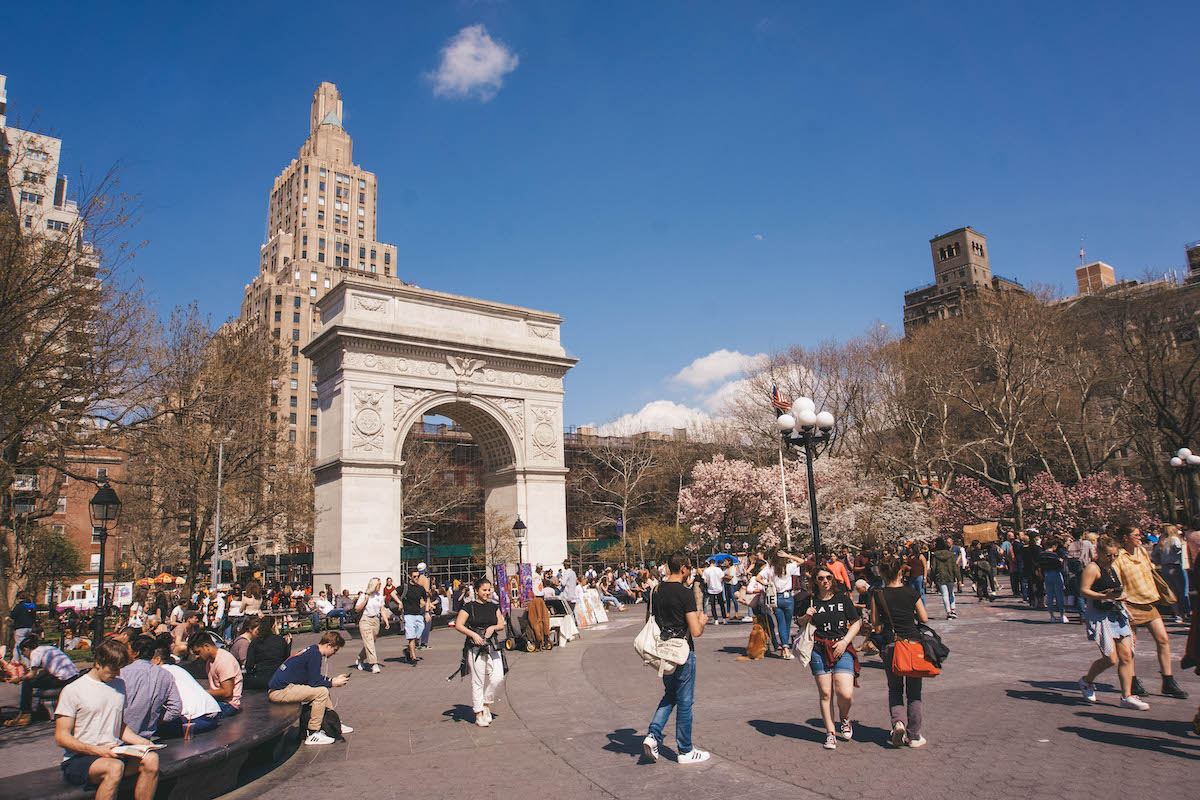 NYC comes alive in the spring — all the New Yorkers who went into hibernation for the winter emerge from their hidey-holes and the city feels full again. Everywhere you look, flowers are slowly starting to bloom, the air smells cleaner, and a general feeling of excitement sweeps the city and sunny days become the norm again.
If you're planning a trip to New York City in the spring, I've popped my top recommendations on things to do and places to see down below. While the weather can be temperamental this time of year, springtime is perfect for exploring the city on foot. But really, spring in NYC is the perfect time to do just about anything you'd like!
The list below features some outdoor things to do in NYC in the spring, as well as some indoor activities for those rainy days.
When Does Spring Start in New York City?
The first official day of spring is March 20th, and it's rare for NYC to feel spring-like before that. After living in NYC for three years, my experience has been that New York doesn't warm up and feel like spring until early April. Some years we get blessed with a warm March, but more often than not March is a temperamental month with more rain than sunshine.
1. Visit a Botanic Garden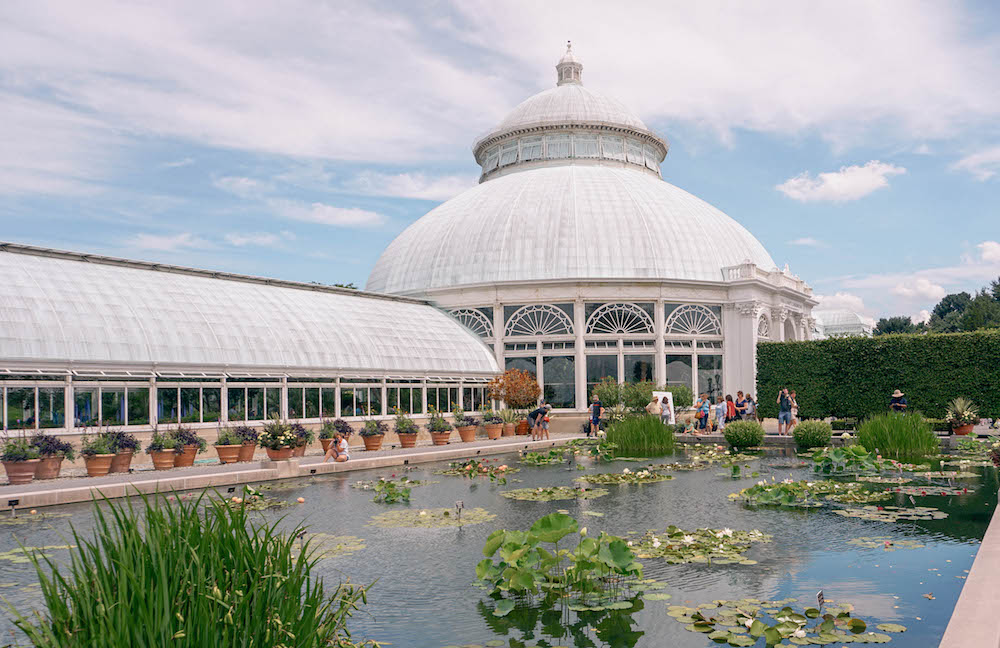 NYC is lucky enough to have three stunning botanic gardens — there's one in the Bronx, one in Queens, and one in Brooklyn. Spring is easily the best time to visit the botanic gardens. Flowers that lay dormant all winter start peeping through the soil, and for a few brief weeks the gardens come alive with tulips, daffodils, and more.
Spring is also cherry blossom season; die-hard cherry blossom lovers may want to attend the Brooklyn Botanic Garden's Cherry Blossom Festival. The two-day festival can get quite crowded and is a bit pricier, so keep in mind that the cherry trees will be blooming following the festival as well. To see when exactly the cherry blossoms are blooming, use the garden's online tracker to check their progress!
Another annual flower festival worth attending is the Orchid Show at the New York Botanic Garden in the Bronx. The Orchid Show typically runs from mid-February until mid-April, so you have more time to visit. During this time, thousands of orchids are displayed to showcase a new theme every year. The show is truly spectacular and is definitely worth adding to your NYC spring bucket list! 
2. Explore Governors Island
One of my personal favorite things to do in NYC in the spring is take the ferry to Governors Island. It's completely free to visit and the ride only takes about 20 minutes. As the name suggests, Governors Island is a small man-made island off the coast of Manhattan. The royal governors used to live here (hence the name), but nowadays it's a massive park space of sorts.
You can tour an old military fort on the island, plop down with a book in Hammock Grove, visit the exhibition spaces in the former military homes in Nolan Park, and more!
Tip: Save your trip to Governors Island for a sunny spring day. There aren't many places to cozy up inside once you're on the island.
3. Walk Through Central Park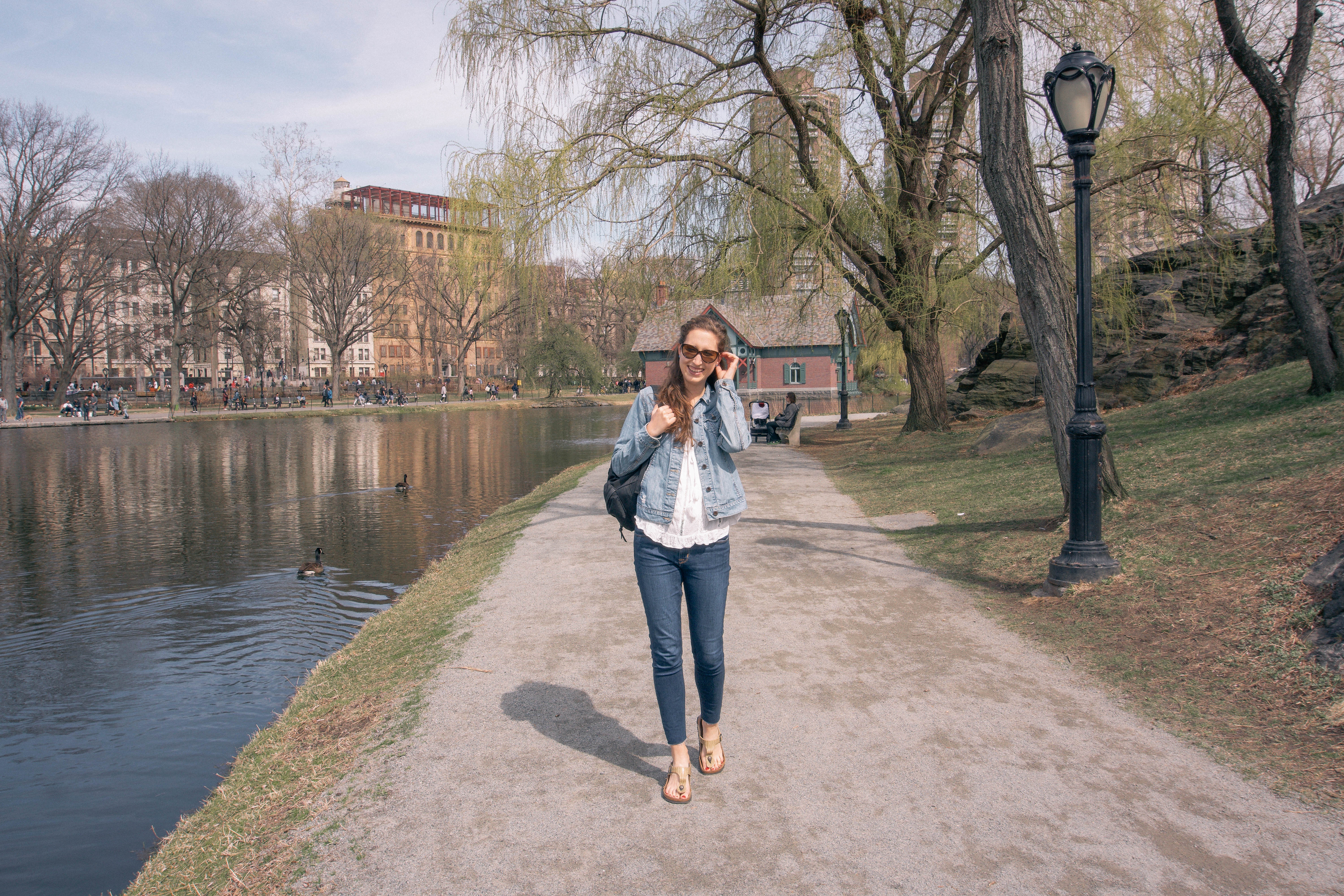 Okay, you caught me. I suggest walking through Central Park no matter the season, but that's because it's just that beautiful! Like the rest of the city, Central Park wakes up come springtime.
On the first warm, sunny spring day of the year, the park is guaranteed to be filled with locals and tourists alike. Dogs will be running after balls, birds will be chirping, and trees all over the park will slowly be unfurling their green leaves. The southern area of the park is typically the most crowded, whereas the northern part is where more locals congregate.
If it's a warmer day, I recommend stretching your legs in The Ramble (a 38-acre forested area with lots of walking paths) or strolling around one of the lakes. Central Park is also dotted with statues and other points of interest. Give yourself at least an hour to get lost in the park, and wear comfy walking shoes. 
read more: A Quick-ish Guide on What to Do in Central Park
4. Visit NYC's Historic Churches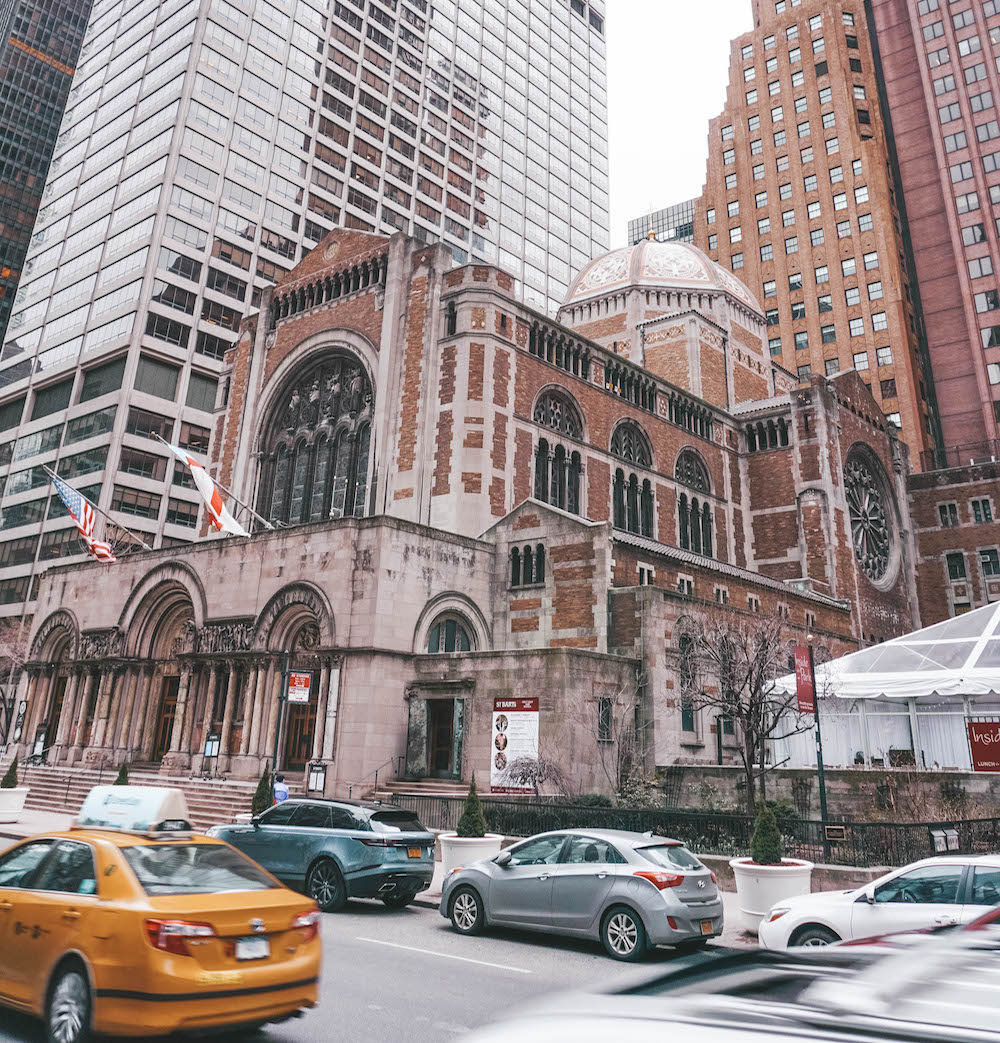 I know visiting old churches isn't at the top of everyone's to-do list, but it should be! In my opinion, one of the best activities in NYC for history and architecture lovers is visiting the city's many historic churches. Many visitors pop into St. Patrick's Cathedral on Fifth Avenue — it's impossible to overlook the massive cathedral sandwiched between modern day designer shops — but NYC has so many gorgeous churches worth visiting.
A few of my favorites are St. Paul's Chapel and Trinity Church in FiDi, and The Cathedral Church of St. John the Divine in the Upper West Side. If you're visiting New York in the spring around Easter, pop into these churches during the week to see their holiday décor. There are flowers everywhere and the atmosphere is totally different somehow.
If you're religious, you may want to look up the service times as well. Otherwise, a quick visit during your stay in the city is well worth it. 
read more: Where to Find the Prettiest Churches in Manhattan
5. Walk the High Line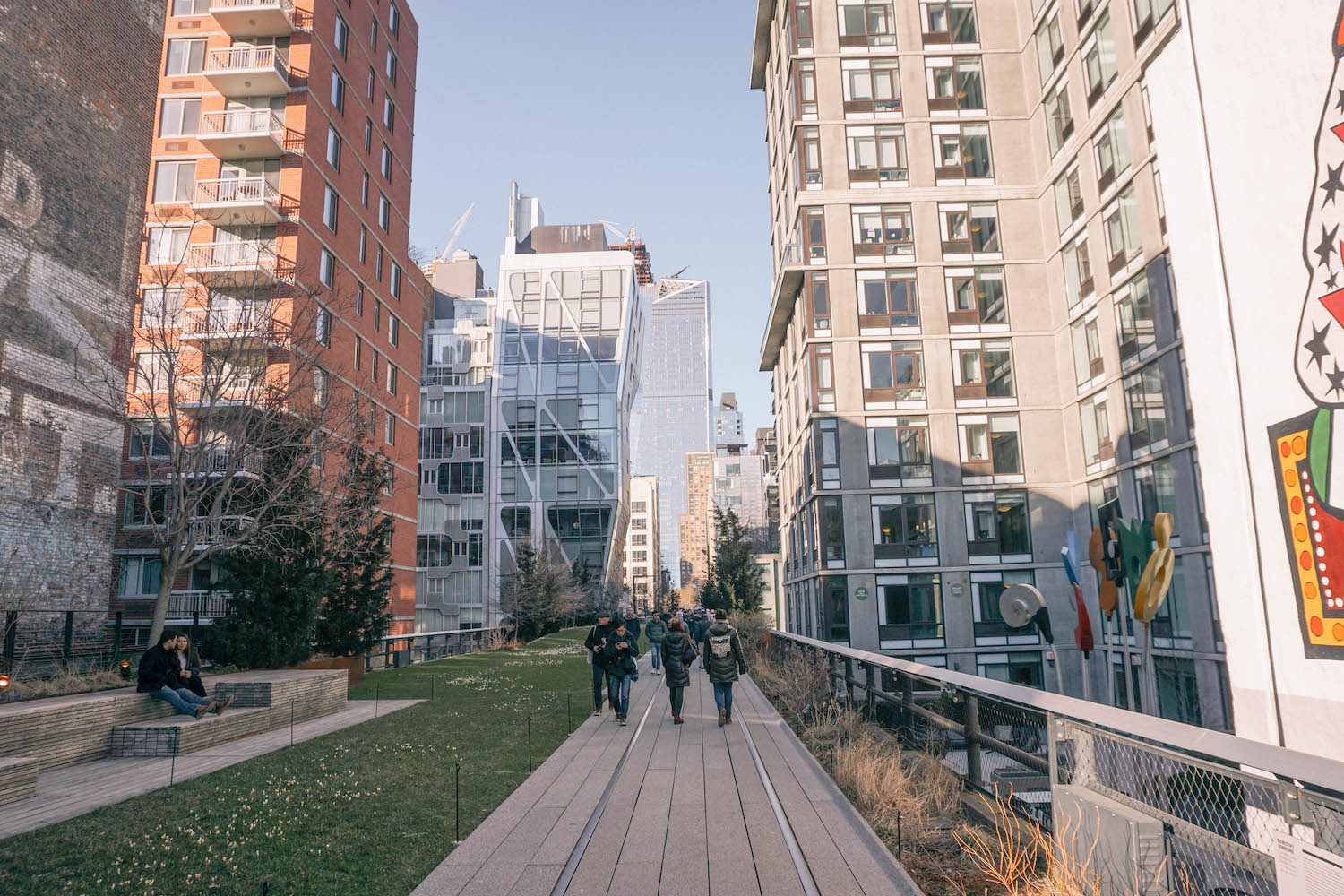 The High Line is a converted railroad track that's now used as an elevated walking path. It starts in Hudson Yards and stretches all the way down to Chelsea. Along the way, you'll pass murals, sculptures, and other pieces of street art.
The High Line is raised a few floors above street level and you're surrounded by a mixture of greenery and soaring skyscrapers. There's no other place like it in New York, so you should definitely visit in the springtime once the trees start to bud!
Tip: Visit the High Line in the morning to avoid the worst of the crowds — otherwise your walk will turn into more of a shuffle!
6. Oogle the Macy's Flower Show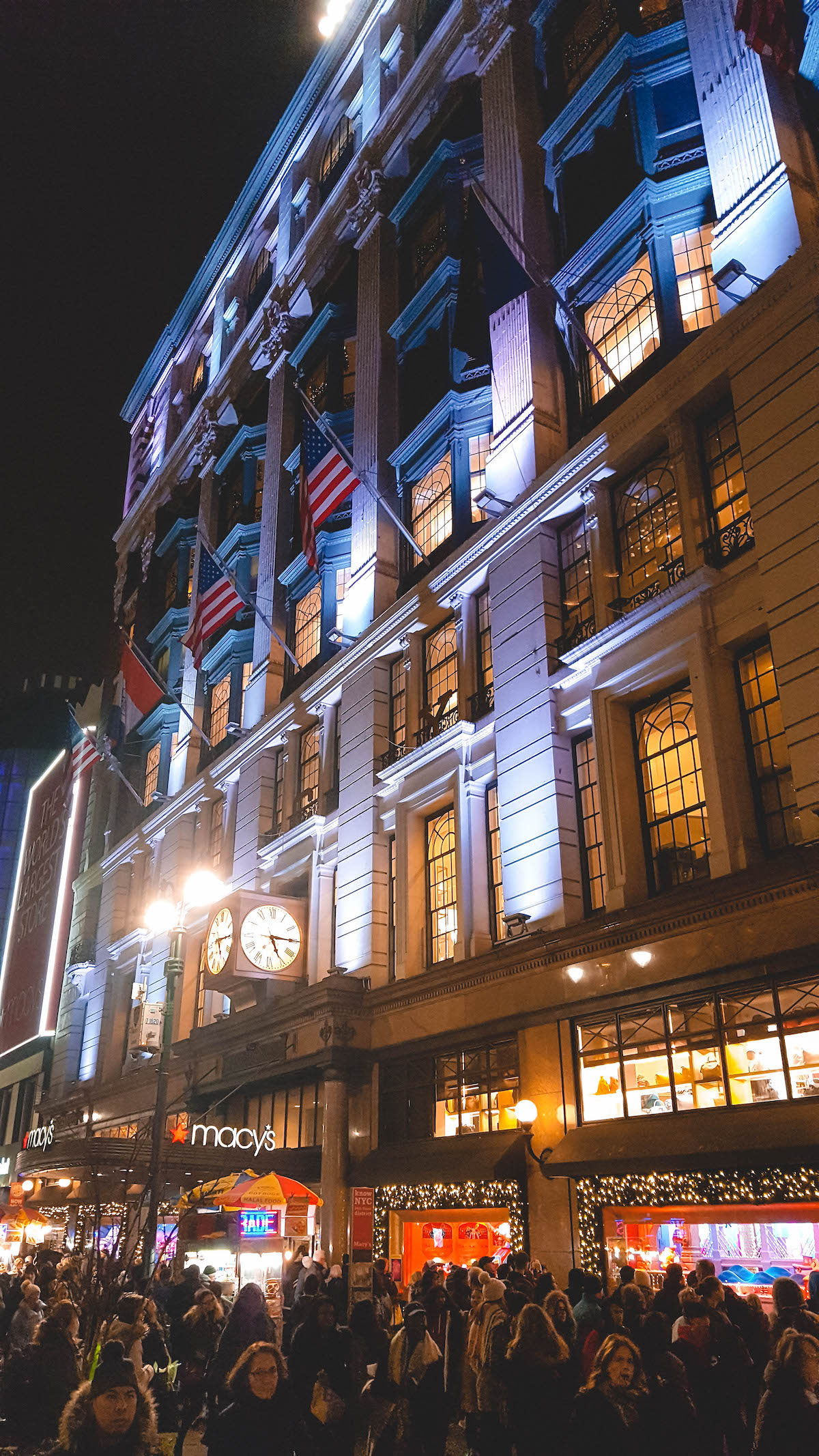 The Macy's Flower Show is equal parts magical and overwhelming. Magical, because the ground floor of the historic Macy's store is decked out in the most incredible floral arrangements. Overwhelming, because I swear half of the city is packed inside, jostling to snap photos of the arrangements.
If crowds aren't your thing, I recommend visiting the flower show first thing in the morning during the work week when the rest of the city is tucked away in office buildings. Note that the Macy's Flower Show runs only one week at the end of March / early April, so be sure to cross-reference your travel dates if you're eager to see the displays. 
7. Go Crazy on St. Patrick's Day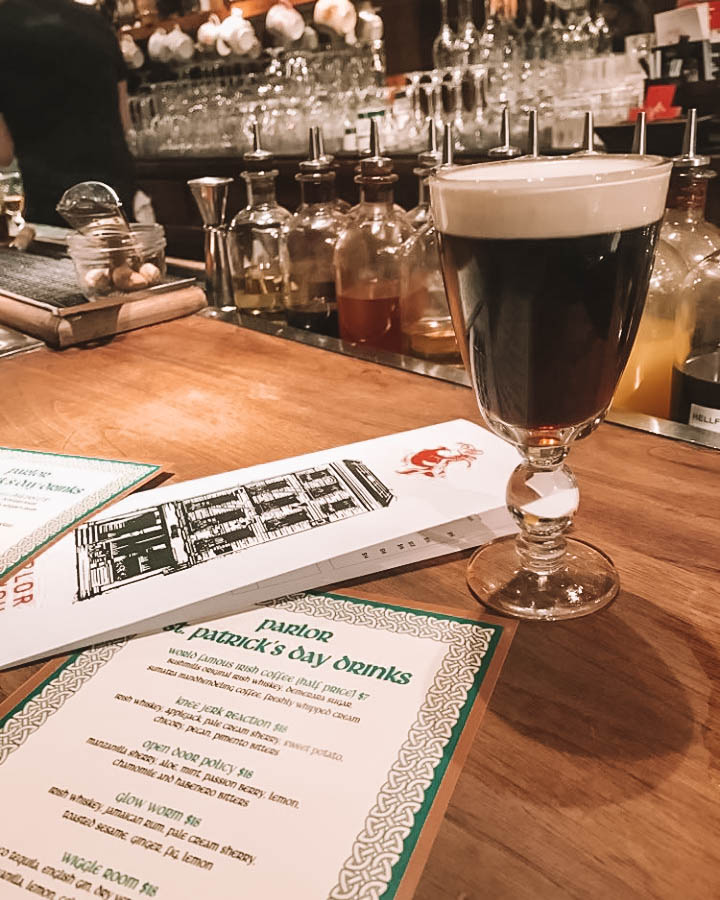 NYC goes nuts on St. Patrick's Day. There's a massive parade on St. Patrick's Day that lasts for a few hours, every Irish bar in town overflows with revelers, and the city is generally just chaotic. A fun kind of chaotic, but chaotic nonetheless.
If you're lucky enough to be in NYC for St. Patty's Day, slap on something green and grab a Guinness with some friends. (Or, if you're like me, order a Shirley Temple and politely excuse yourself when your friends become obnoxiously drunk.)
Even though I don't drink, I enjoyed going out on St. Patrick's Day in NYC. After weeks of being shut up indoors due to gray skies, snow, and slush, it was always such a relief to be out and about with friends.
Whether or not you'll be imbibing, I recommend looking up Irish bars in NYC with live music. Those are always the best ones to visit, but they fill up fast so get there early afternoon if possible. Note that most bars charge a cover fee on St. Patrick's Day as well, so you'll want to have some small bills on you. 
8. Take a Walking Tour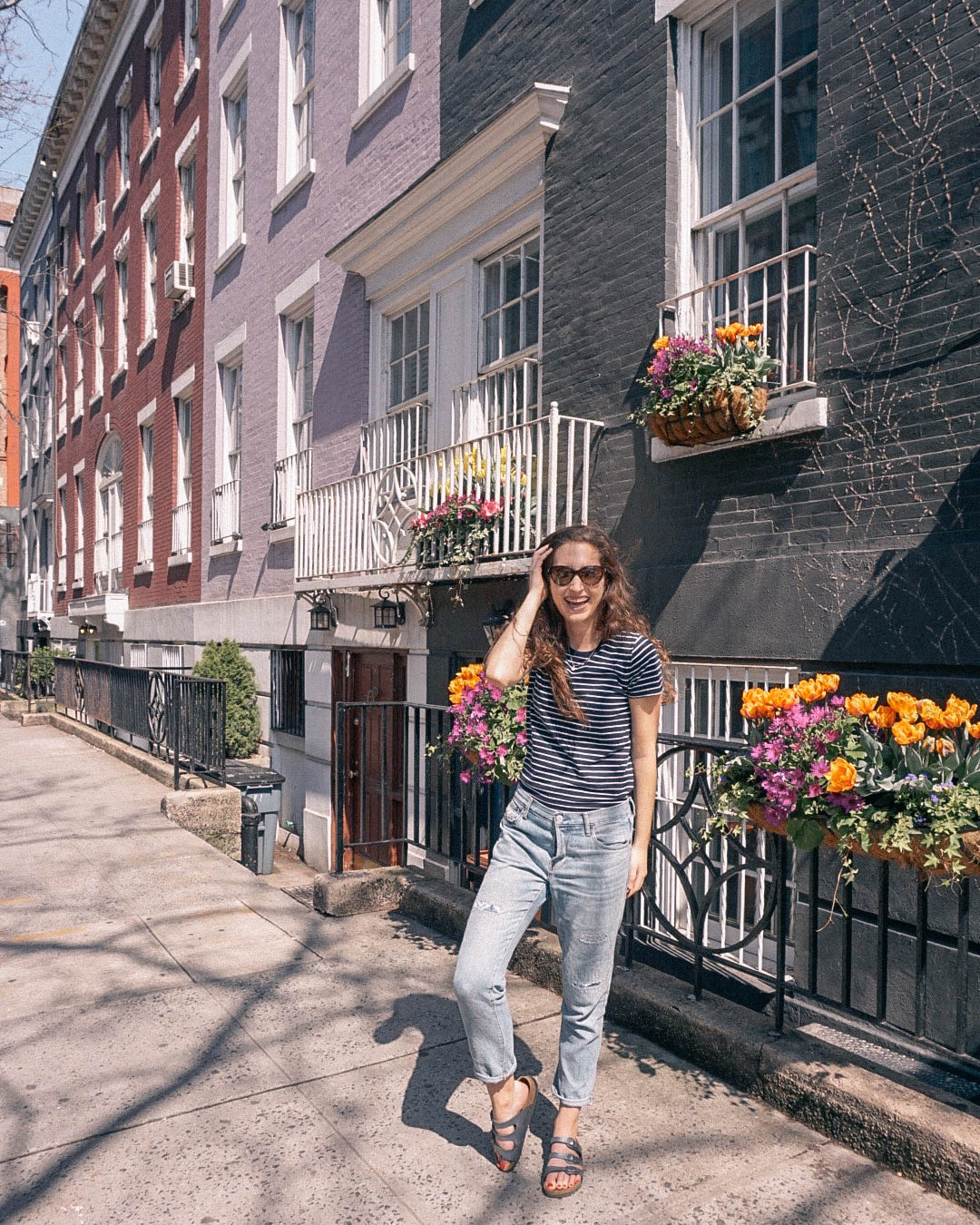 Another activity that winds up on every seasonal post I write about NYC is a walking tour. Despite not being the biggest fan of group tours in general, I'm always down to take a good walking tour.
My favorite walking tour company is Free Tours By Foot, which offers pay-what-you-want tours. I've done multiple walking tours with them in the past (both in NYC and abroad), and their tour guides never disappoint. Their tours are usually around two to three hours long, which has always felt like the perfect amount of time for me. Whether you're interested in a classic walking tour, a food tour, or a history-based walking tour, Free Tours By Foot has you covered.
If you're not sure which part of NYC you'd like to tour, I recommend visiting an area of the city you don't plan on exploring much on your own. Harlem and FiDi are chuck-full of history, but most visitors to NYC don't fully understand just how important these neighborhoods are to New York.
The Brooklyn walking tours would also be a memorable addition to your trip, as most first-time visitors to NYC tend to stay in Manhattan. 
9. Visit Green-Wood Cemetery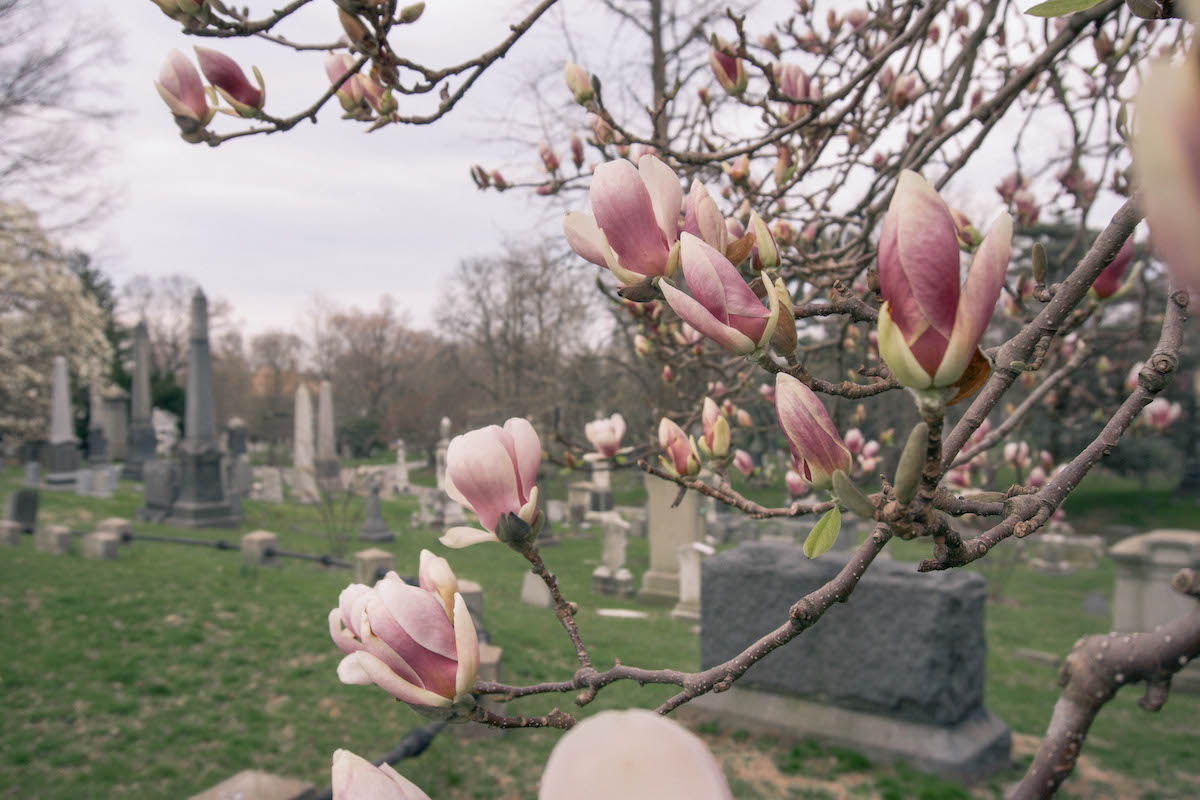 Believe it or not, Brooklyn's Green-Wood Cemetery was once one of the most popular tourist attractions in the US — second only to Niagara Falls! This historic cemetery spans 478 acres and is the final resting place of famous figures like Boss Tweed, Leonard Bernstein, and Louis Comfort Tiffany. It's also dotted with magnolia trees, and visiting during blooming season makes it one of my favorite NYC spring activities!
10. Eat Your Way Through Smorgasburg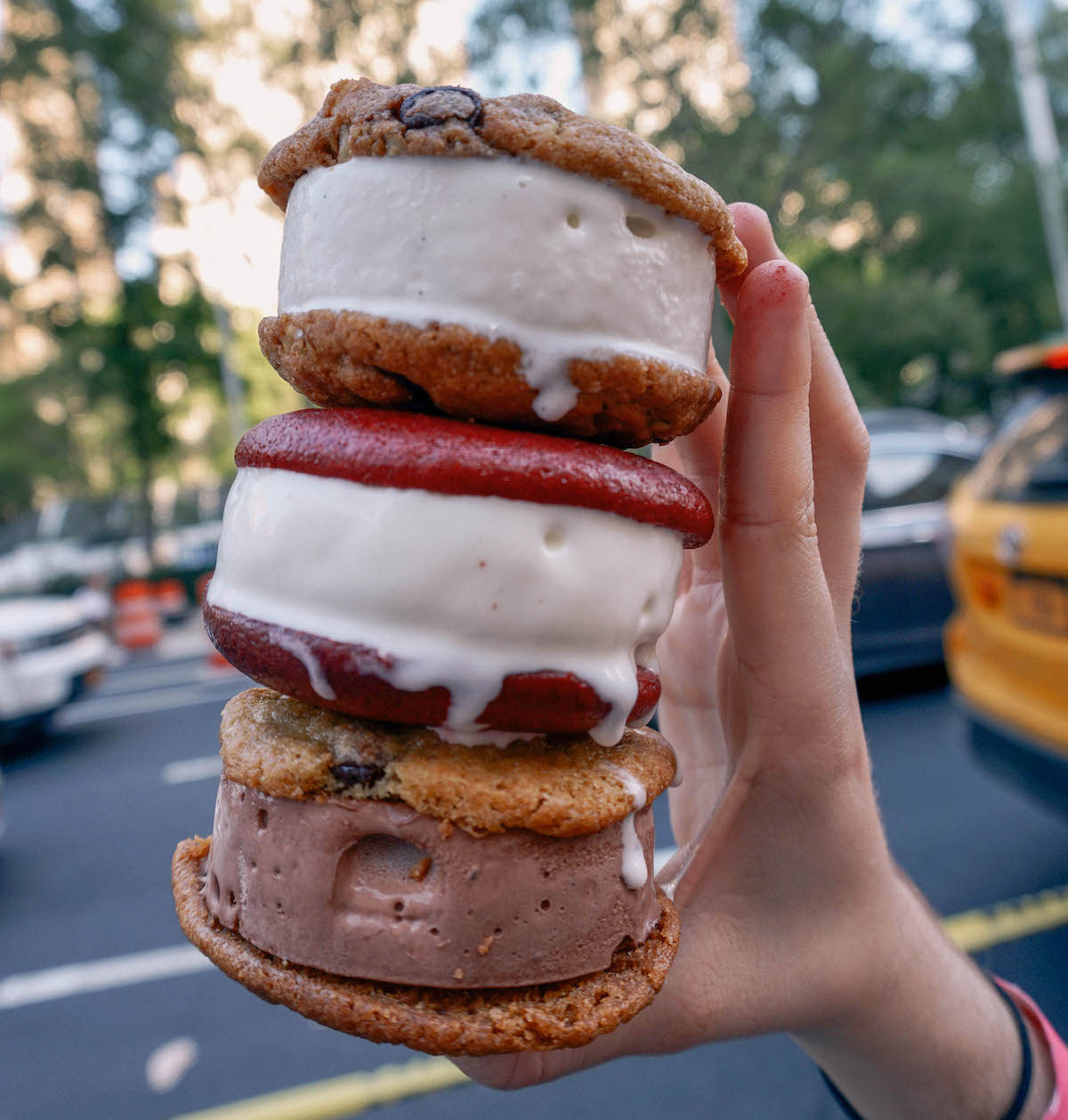 By now, Smorgasburg is incredibly well known, but I wanted to mention it because the food here is phenomenal. Essentially, Smorgasburg is an open-air food market with 100 local vendors selling everything from ramen burgers to empanadas to vegan ice cream. As you can imagine, this place is packed on the weekends but I promise the long wait times are worth it.
If crowds overwhelm you, I recommend grabbing a few different eats to sample with friends and then finding a place to sit on the outskirts of the marketplace so you can enjoy your food in peace.
Tip: Smorgasburg now has pop-ups throughout the week in different parts of the city, so if the main Saturday market in Williamsburg isn't doable, keep in mind that many of the vendors participate throughout the week as well.
11. Stock Up at the Farmers' Market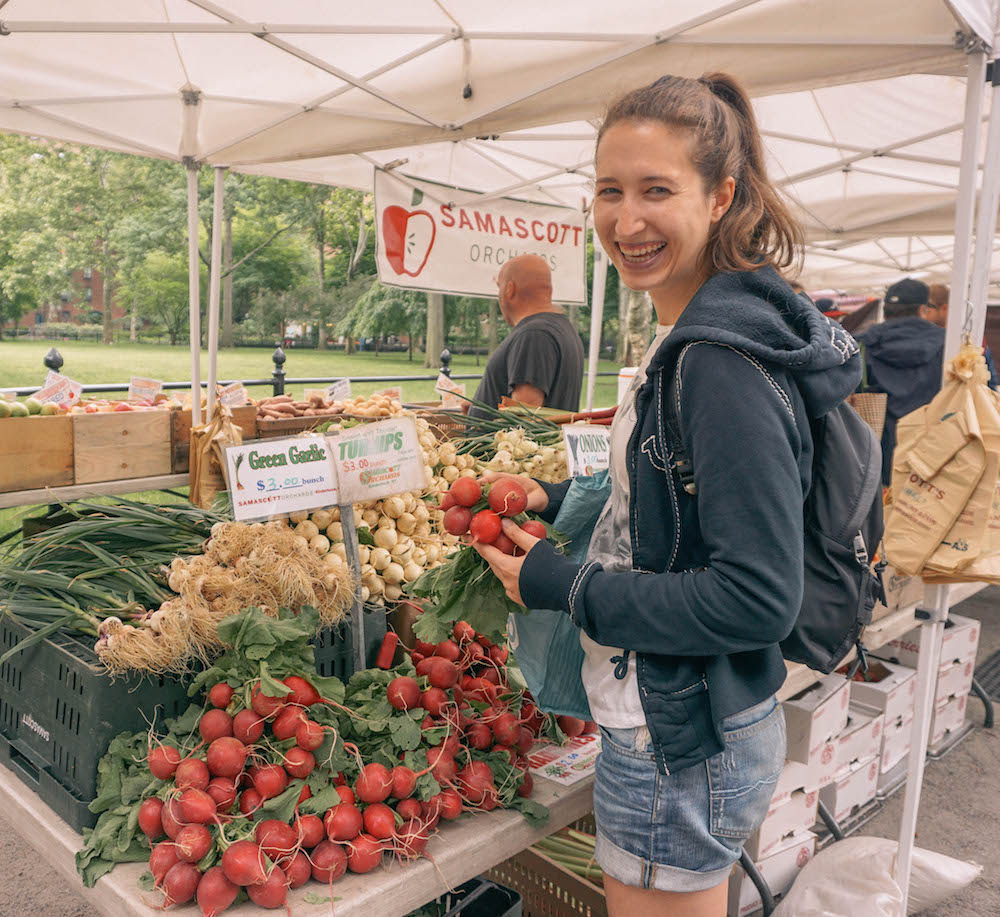 Spring and summer are by far the best times to visit NYC's farmers markets. In the spring, there are so many different greens, asparagus, and rhubarb for sale — I always visited for one thing and returned home with a backpack full of produce. Can anyone else relate?
Even if you have no intention of buying produce, I still recommend nosing around a farmers' market if only to experience my favorite NYC weekend activity. Many of the vendors have samples you can try, and it's just fun to look at everything on display.
My favorite farmers' markets in the city are: the Union Square Farmers Market (which happens to be by an extremely large Barnes & Noble bookstore, just saying) and the Grand Army Plaza Farmers' Market in Brooklyn. There are plenty of markets to choose from though, so do your research to see if there's one near your hotel.
12. Go to the Zoo
Each borough in NYC has its own zoo — there's the Bronx Zoo, Staten Island Zoo, Queens Zoo, the list goes on. The Bronx Zoo is by far the largest, but the Central Park Zoo is probably the prettiest thanks to its location in the city's favorite green space. A trip to the zoo is one of the best things to do in NYC in the spring when the weather is nice. Fingers crossed it'll be warm enough for the animals to make an appearance!
13. Walk the Brooklyn Bridge
Another NYC spring activity that I never tire of is walking the Brooklyn Bridge. Yes, it's touristy, and yes, it's worth it. To avoid the crowds, walk the bridge first thing in the morning and treat yourself to a well-deserved breakfast on the other side.
I personally prefer walking from the Manhattan side of the bridge to the Brooklyn side. From Brooklyn, you have the most amazing view of the New York City skyline and there are quite a few waterfront eateries on that side of the bridge as well.
If you've walked the Brooklyn Bridge before or are dead set on avoiding crowds, walk across the neighboring Williamsburg Bridge instead. The bridge itself isn't as picturesque (and there are cars driving down the center lanes), but you'll be able to see both the Brooklyn Bridge and the NYC skyline from the Williamsburg Bridge, which makes for lovely photos.
14. Hit Up a Museum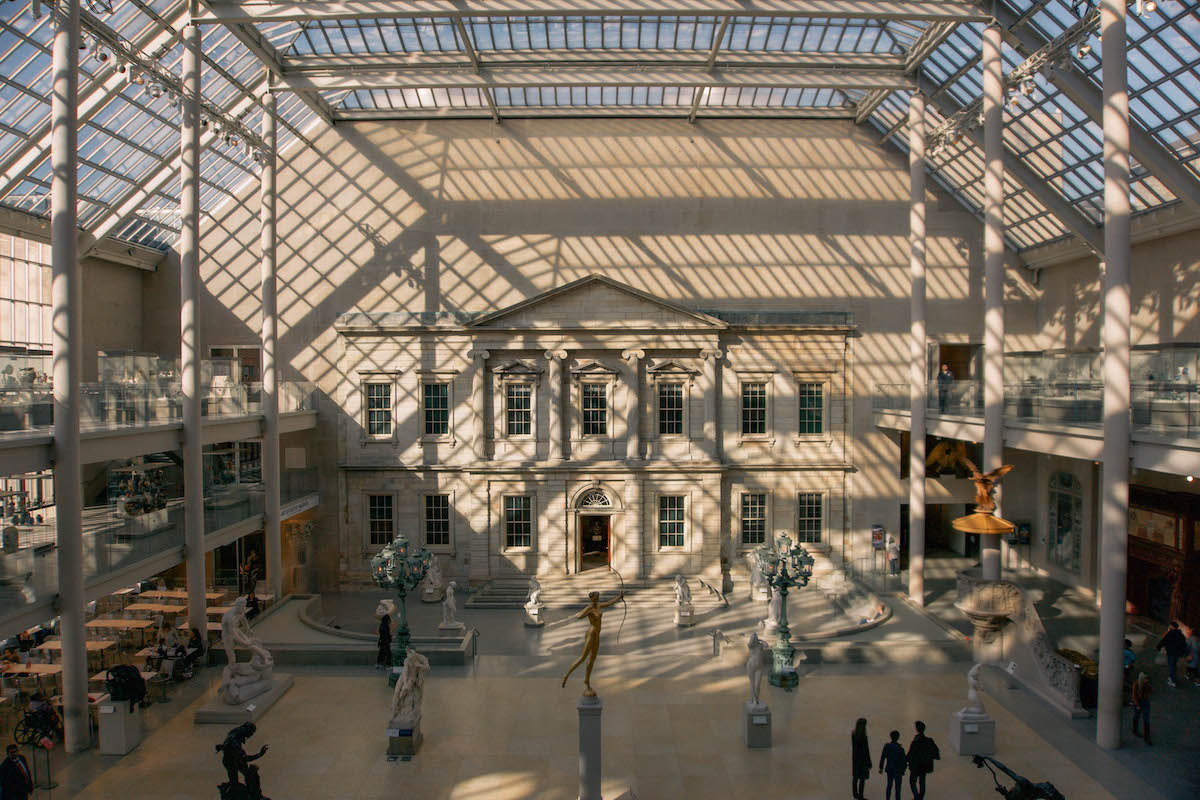 So many of the NYC spring activities on this list are outside and are wonderful things to do once the weather warms up and becomes, well, spring-like. But it's worth mentioning that spring weather in New York can be unpredictable; one minute the sun is shining and the birds are chirping, and the next minute you're ducking under the nearest awning to avoid the rain.
If you need an indoor spring activity, you can't go wrong with one of NYC's many world-class museums. I have so many favorite museums in New York, but my top recommendations include:
15. Take a Day Trip to Beacon, NY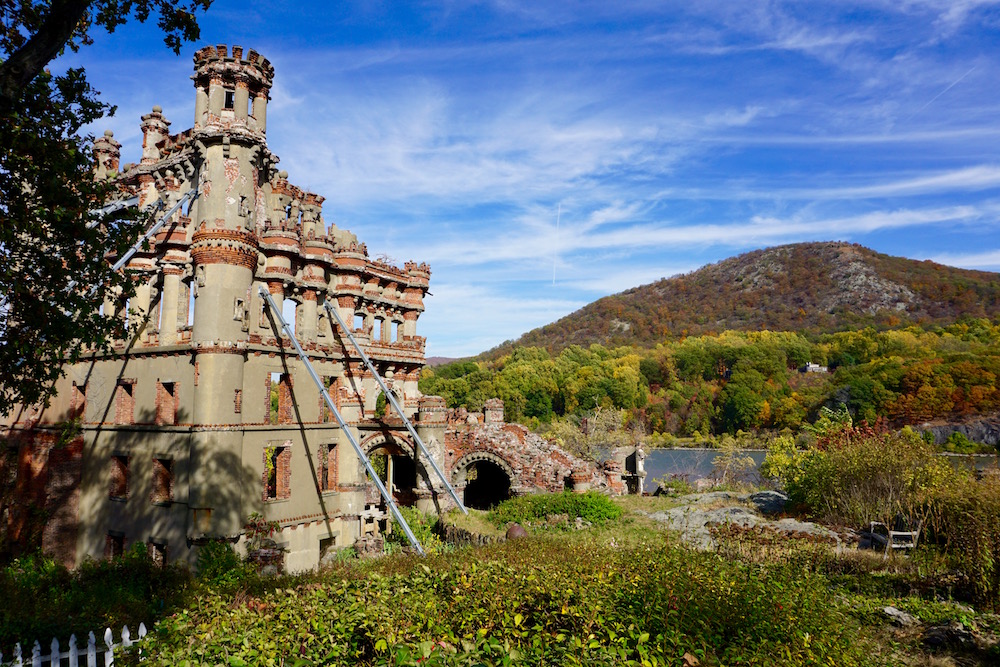 If you're looking for places to visit near NYC in spring, look no further than quaint Beacon, NY. It's a picturesque town on the banks of the Hudson River just 90 minutes north of the city. You don't even have to rent a car to visit! The train ride up to Beacon is quick and painless, and the views from the banks of the river are unparalleled.
A trip to Beacon includes a tour of the "castle" on Bannerman Island (accessible only via boat, so you have to pay for a tour), window shopping along Beacon's main street, and a visit to the Dia art museum. Or, skip all that and go hiking in the area instead! The region is known as the Hudson Highlands and is especially beautiful in the spring and fall.
Excited for Spring in New York City?
Spring in New York is wonderful, even if the weather can be temperamental. Pack plenty of layers and a change of shoes in case your feet get wet, and plan on a mixture of indoor and outdoor spring activities just to be safe. And if you're looking for things to do in NYC on a rainy day, I actually have a whole post dedicated to just that topic!
If you found this post helpful, be sure to follow me on Instagram to keep up with my travels.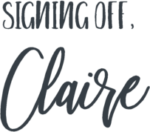 More NYC posts you'll love:
Save this post to Pinterest!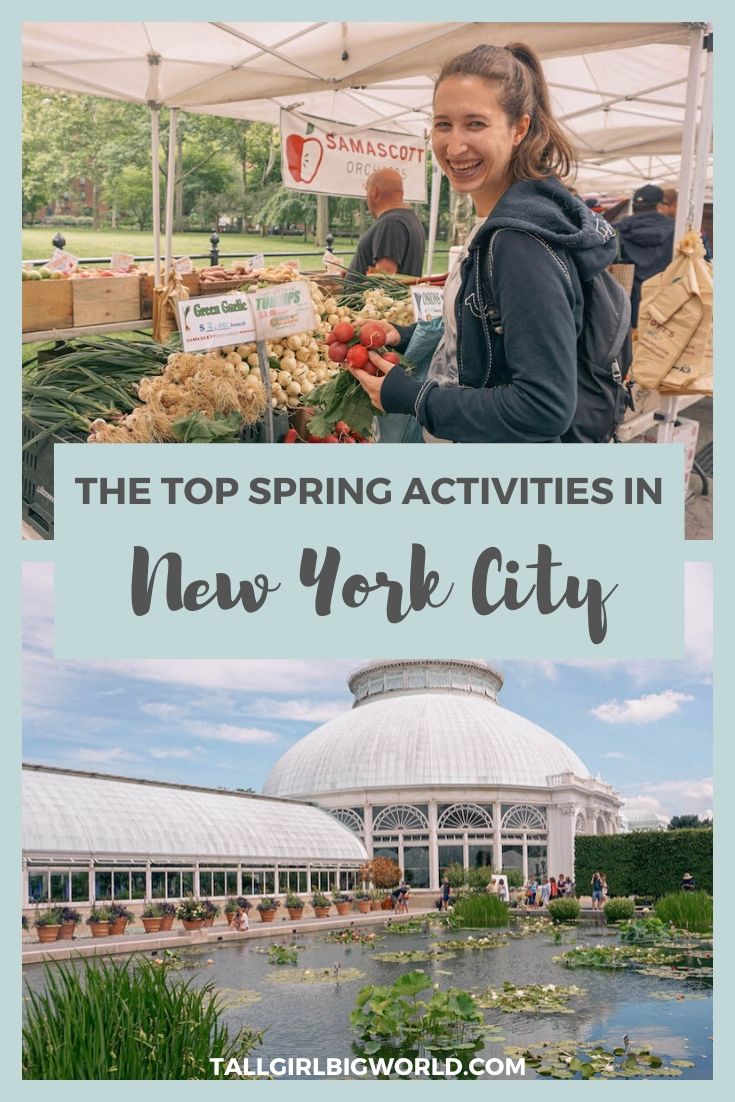 This post was updated February 18, 2022.