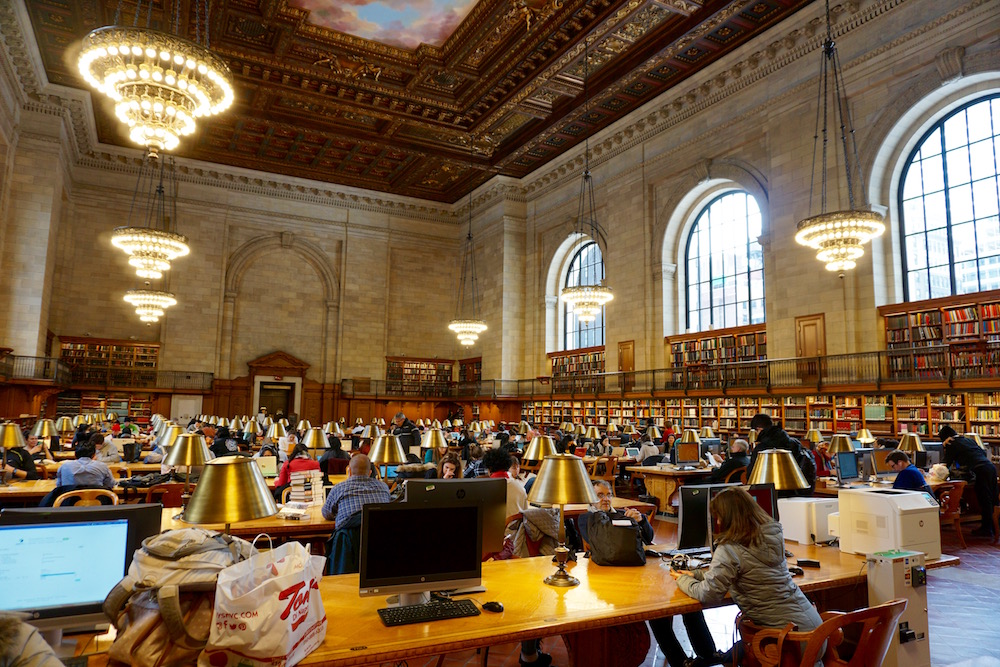 Last week, I found myself in the unfortunate position of traipsing all around Manhattan in below freezing temperatures against the wind. Oh, and there was about 8 inches of snow on the ground thanks to the mini blizzard that hit the east coast last week.
Why did I spend part of my week outside in the cold? My friend Carolyn was visiting from back home, and we were bound and determined to see as much of the city as possible during her short visit.
This list of indoor activities in NYC is perfect for rainy days, or really any time the weather is crappy. Do yourself a favor and don't spend half your time outside when the weather turns nasty—you'll be a happier tourist because of it.
Chelsea market has a little bit of everything—food, boutiques, and a pop up space that showcases a new group of NYC artists every day. I highly recommend the taco stand inside of Chelsea Market; it sells cactus meat tacos that you need to try at least once in your life.
The Met is a classic NYC activity, rain or shine. It's a huge museum and it's pay what you want, meaning the crappy weather won't cost you a cent to stay entertained. If the weather is truly abominable, you can choose to eat at the museum's café. Be careful though, it's a bit pricey.
Just across Central Park from the Met is the Museum of Natural History. Filled with stuffed animals, dinosaur bones, and all sorts of interesting artifacts, this is one museum anyone will enjoy. There will likely be lots of families with screaming kids if the weather is bad, so brace yourself.
Wander Around Grand Central Station
The main hall of Grand Central is lovely to look at, but did you know the station has lots of shops and restaurants inside of it as well? There's even a little market inside if you get hungry halfway through the day and want some quality eats. You can't spend the whole day here, but you can easily burn a few hours wandering around.
Whether you're dealing with rain, snow, or some horrible combination of the two, you'll likely be exhausted by mid-afternoon (bad weather always makes me sleepy). Put your feet up (metaphorically) at the public library. You'll want to go to the library at Bryant Park; it's known for its grand reading room. The entire space is pretty quiet and is a good spot to sit down and think about your next move.
See a Broadway Show
When in doubt, see a show. Matinees are a great way to pass an otherwise dreary afternoon and fill the awkward space between lunch and dinner (because I know you're really just in NYC for the food).
The Strand is a now-iconic bookstore in Manhattan. It boasts over 18 miles of books and is a great place to choose your next novel. The only downside is that there's no place to sit inside the bookstore. I recommend buying a book and then hot footing it to a nearby coffee shop and sitting down with your latest buy.
Admittedly, it's a bit of a drag to get all the way out to Brooklyn, but the botanic garden has a few conservatories that will help you pass the time. If the sun ever peeps out of the clouds, you can follow up your visit to the gardens with a walk through Prospect Park, which is right across the street.
Window Shop in SoHo
I realize SoHo isn't really an indoor activity, but there are tons of great stores packed into the area. Put your running shoes on before you leave the hotel and sprint between stores to avoid the rain—the adrenaline rush will keep you from experiencing the dreaded mid-afternoon slump.
If you're not willing to risk SoHo in the rain, just camp out at the Macy's flagship store. It's absolutely ginormous and I've actually gotten lost in it before (never put off finding the bathroom here. You'll likely end up peeing yourself looking for it amongst all the shoes and clothing). There are plenty of restaurants around Macy's, so you won't need to go far for a snack halfway through your window shopping.
Bad weather sucks, but that doesn't mean your stay in NYC has to. Before you visit, check the weather forecast and plan accordingly. While these 10 rainy day ideas will make your day a lot more fun, it's important that you plan your day out fully so you're not stuck in a random store trying to figure out what to do next.
What's your favorite rainy day activity when you're in a new city?
Signing off,
Claire